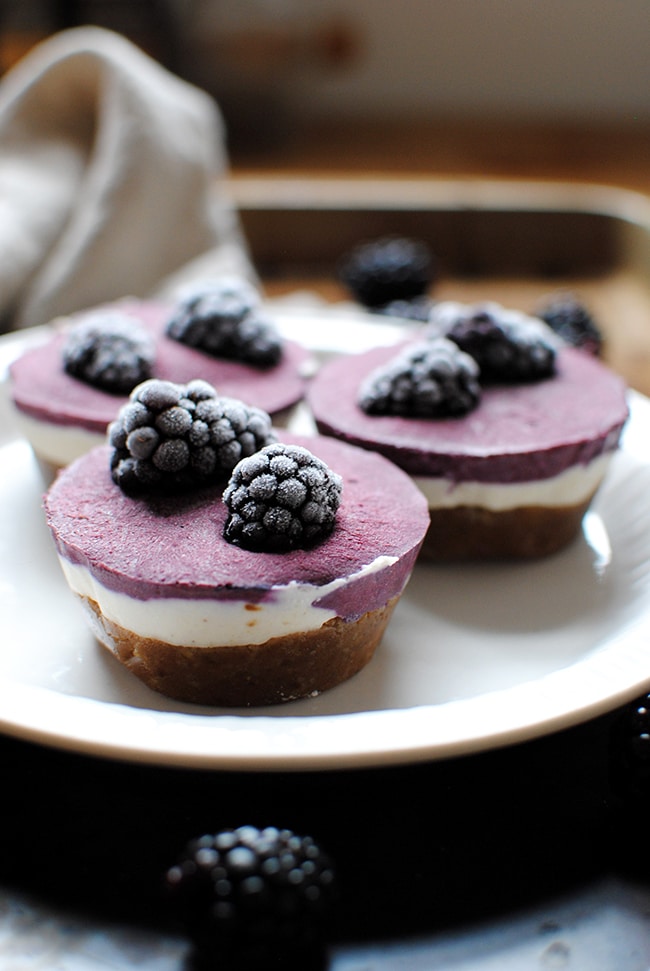 Raw blackberry cheesecakes. Yup.
Happy birthday 2017! I woke up yesterday and decided to start off 2017 on the right foot: with a whole milk latte and a delicious fig and feta scone from Intelligentsia. Because always first coffee. Right? Right.
And then, I decided to make cheesecake. But, not just any cheesecake. "Healthy" raw vegan blackberry cheesecake. I've been wanting to make a raw dessert for a long time and I used Tastemade's Mini Blackberry Cheesecakes and Broma Bakery's Blackberry Coconut Cashew Slices for reference.
What's the Difference Between Raw and No-Bake Desserts?
Raw desserts are desserts that haven't been cooked or overly processed. No-bake desserts are desserts that don't require an oven as part of the process. For instance, this devilishly-good-looking Snickers Peanut Butter Chocolate Oreo Ice Box Cake, is no-bake, but not raw. On the other hand, these Raw Chocolate Fudge Bars are both no-bake and raw.
While I can't see myself becoming a raw foodie, as I quite enjoy warm foods (I am writing this post under a blanket, in a sweatshirt, with the heat cranked up all the way, and all I can think of is having some tea) but I do like experimenting with other ways of cooking and that's something I want to dive more into this year. So, given that I for the moment could. not. eat. one. more. cookie. I decided to make raw cheesecakes. They're healthy! Or at least healthy adjacent. And come summertime when you really don't want to turn on the oven, raw desserts are definitely your friend.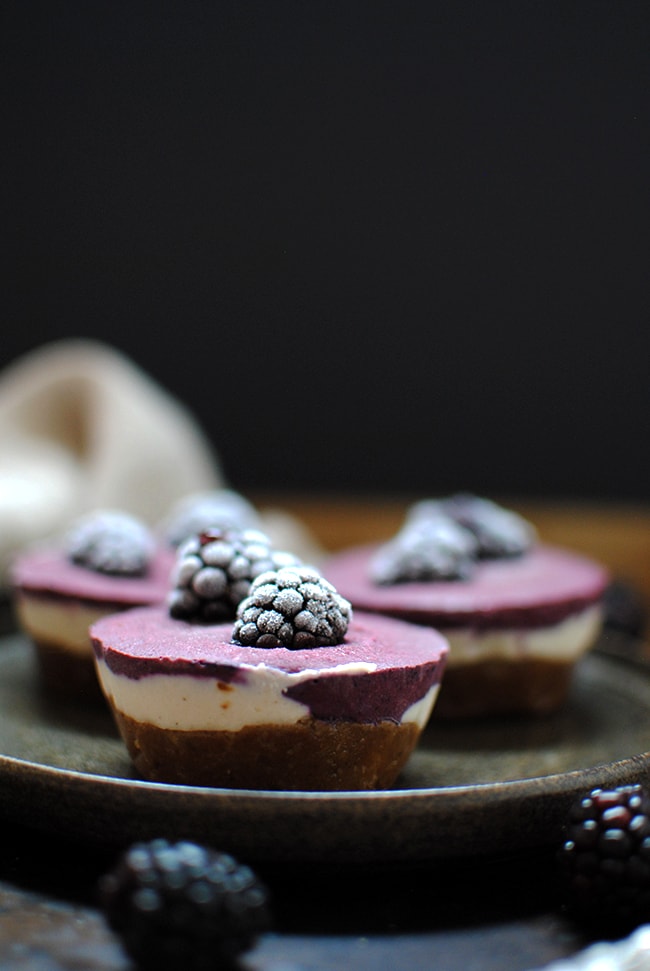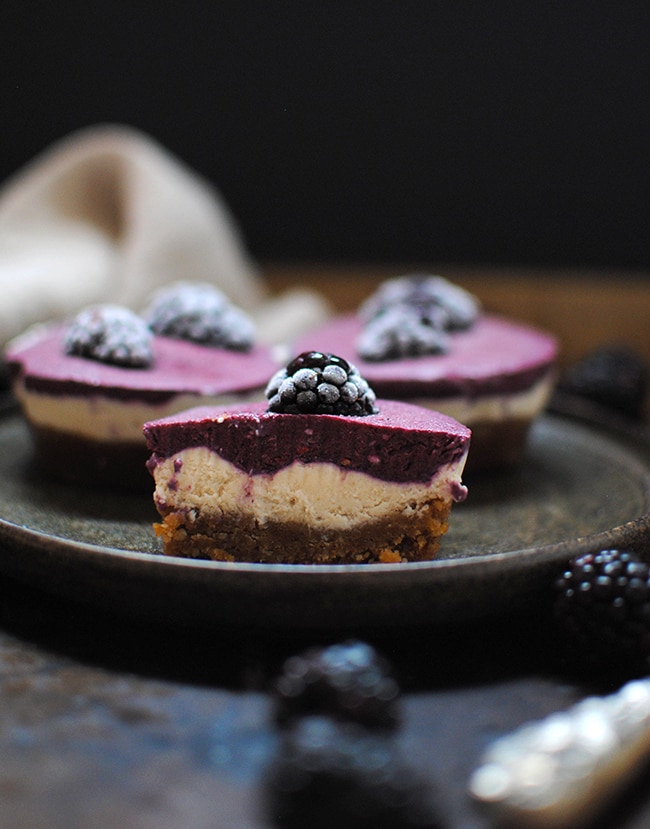 How to Make Raw Blackberry Cheesecakes
These raw cheesecakes are small enough to be considered "personal cheesecakes," although, really, any cheesecake can be personal-sized is you try hard enough. Case in point: when my parents were newlyweds, my mom was serving dessert and she started to cut what would be considered a normal-sized slice of pie for my dad for Thanksgiving. He kept asking for the slice to be bigger, to the point where my mom was so stunned by the size of the final slice that forevermore within our family large slices of anything are considered to be "Swanner-sized."
Still, if you're not in the mood to eat an entire regular cheesecake, these mini raw cheesecakes are perfect. Each is the size of a filled muffin cup which makes them just large enough to feel like a substantial dessert. Most raw desserts call for a base made from dates and nuts of some kind, and this raw cheesecake recipe doesn't stray from that approach. To make the base, you'll pulverize walnuts and dates together in the food processor until you have a slightly sticky "dough." You'll then want to press this into the bottom of each muffin tin.
When it comes to the filling, it used to be that a lot of vegan desserts relied on tofu. Can you imagine trying to convince a not-so-adventurous eater to try a tofu cheesecake? Yeah, good luck. In the past, I've tried convincing the less adventurous eaters I know to try a sip of a kale smoothie. It usually resulted in a firm "no," an eyebrow raise, or a sip followed by "blech!" I can't even imagine trying to get them to try a bite of tofu cheesecake.
Recently, the trend is to use cashews instead of tofu. If you soak cashews in hot water for at least an hour and then blend the ever-living crapola out of them, they become silky and smooth. And, believe me, it's gonna be a lot easier to sell someone on vegan cheesecake if you tell them it's made with cashews than if you tell them it's made with tofu. The only thing is that you have to add some sort of flavoring. OR ELSE YOUR DESSERT WILL TASTE LIKE CASHEWS. Um, well, you know. Just trying to really get that across. Because I made a made a cashew-based dessert once before and the frosting was really god-awful because it only tasted like cashews. Just, no.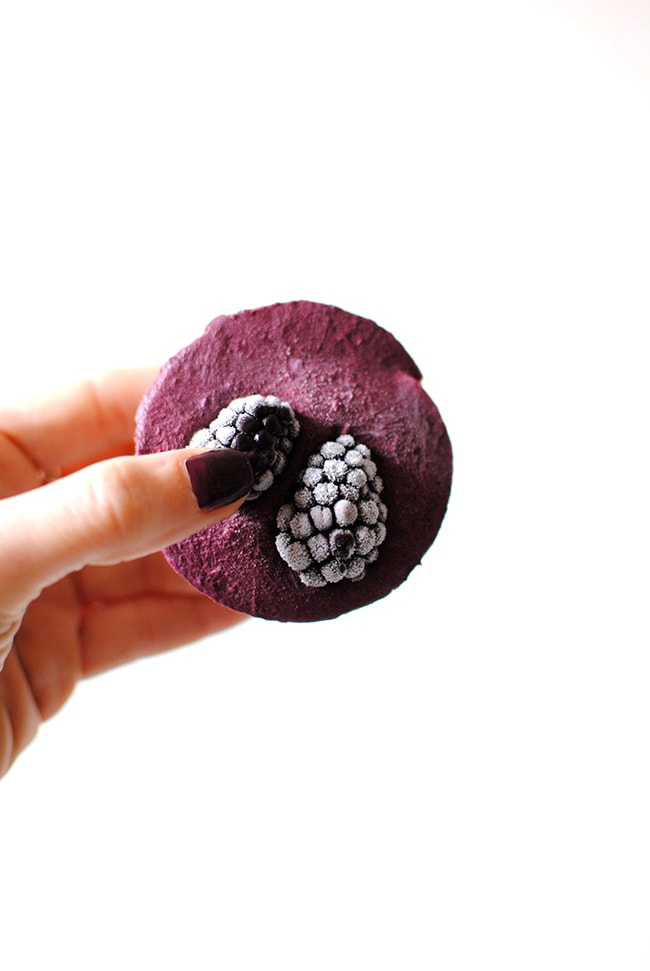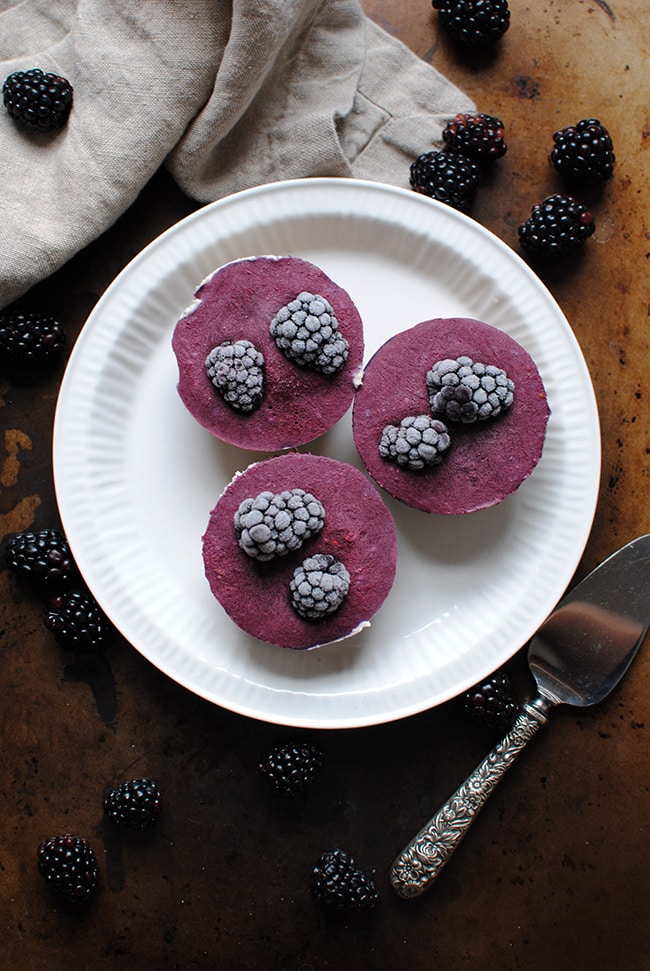 For these raw cheesecakes, I used blackberries and coconut milk to mask the cashew flavor for the top layer. For the middle, I used coconut milk and unsweetened coconut shavings, though adding a teaspoon of vanilla extract might be a nice addition. Don't get sweetened coconut. It'll be gross. Bob's Red Mill makes unsweetened coconut shavings and most grocery stores stock that brand these days and I've added an Amazon link to where you can find it below the recipe. I'm really keen on your cheesecakes tasting delicious! So, xnay the sweetened coconutay. K?
After you add each layer to the muffin tin, you'll want to pop the tin in the freezer so the layer can set. I found it took about 30-45 minutes for the base, an hour for the middle layer, and two hours for the top. My guess is that that has to do with the water content of the berries. If I had added more shaved coconut or more coconut milk, it probably would have firmed up faster. Before they set, I topped each raw cheesecake with two blackberries. This isn't a must, but it'll make your final desserts look pretty.
To get them out of the tins, just let them defrost on the counter for 10-15 minutes and then use the little parchment strips (see preparation steps) to pull them out. If your strips break when you try to remove one and you're really in a pinch, insert a fork down the side and it should pop right out.
Raw Blackberry Cheescake
Print Recipe
This easy 8 ingredient raw cheesecake recipe can be made in a blender or food processor in no time flat! Healthy, raw, vegan, gluten-free, and delicious!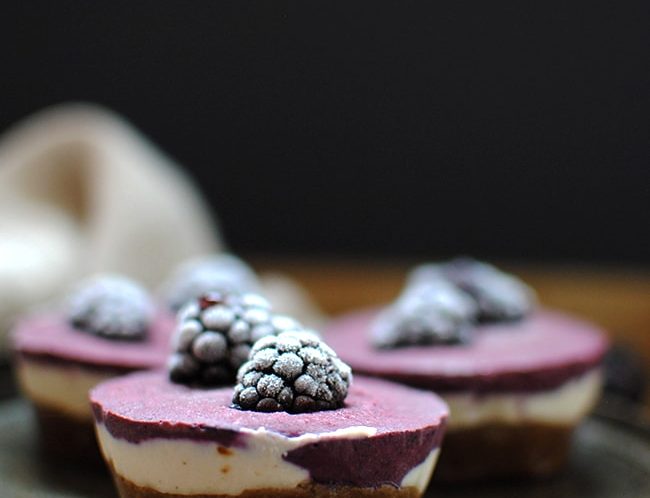 Servings: 12 cheesecakes
Ingredients
Base layer:
1.5 cups walnuts
1 cup dates (pitted)
Middle layer:
1 cup raw cashews
3 Tbsp. coconut oil
1/4 cup maple syrup
1/2 cup coconut milk (chilled)
1/4 cup shredded coconut (unsweetened)
Top layer:
12 oz blackberries (divided)
2 Tbsp. maple syrup
1/2 cup coconut milk (chilled)
1/4 cup shredded coconut (unsweetened)
Instructions
Place cashews in a bowl. Boil water and pour over cashews. Set aside for at least 1 hour.


Cut thin strips of paper and lie each across the bottom of a muffin tin. This will make the cheesecakes easier to remove.


In a food processor or blender, pulse walnuts and dates together until the walnuts are fully ground. (approx. 3 minutes). Smush the "dough" onto the bottom of the muffin cups to create a base layer. Freezer for 45 minutes.


Shake the can of coconut milk. If the can is separated when you open it, place contents in a bowl and whisk until fully combined.


Drain cashews and place in food processor or blender. Add coconut oil, maple syrup, coconut milk, and shredded coconut. Blend on high for 2-3 minutes until mixture is smooth and uniform. Divide mixture evenly on top of base layer. Freeze for 1 hour.


In food processor or blender, place 1/2 of the blackberries, maple syrup, coconut milk, and shredded coconut. Blend on high for 2-3 minutes until mixture is smooth and uniform. Divide mixture evenly on top of middle layer. Top each cheesecake with two blackberries. Freeze for 2 hours or until set.




Five More Raw Cheesecake Recipes
If you want to try your hand at other cheesecake flavors, here are a few more you might love from other bloggers!
Raw Lemon and Caramel Cheesecake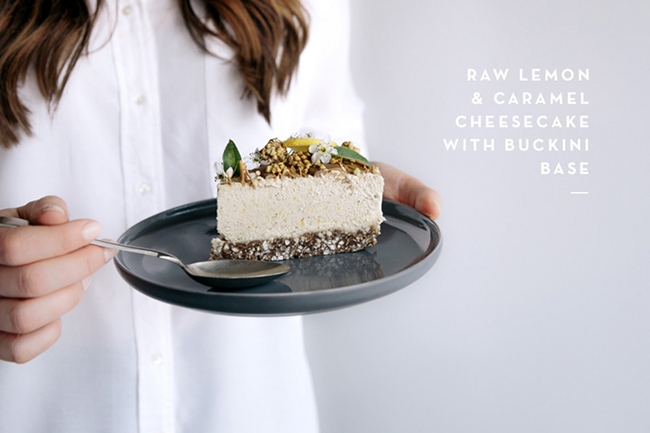 Raw Double Chocolate Orange Cheesecake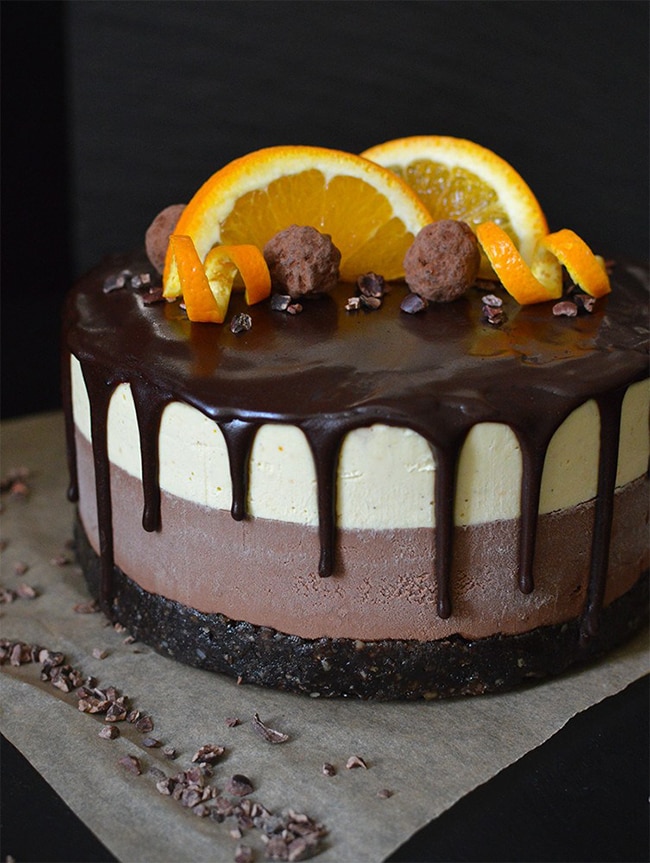 Raw Mango, Macadamia and Raspberry Cheesecake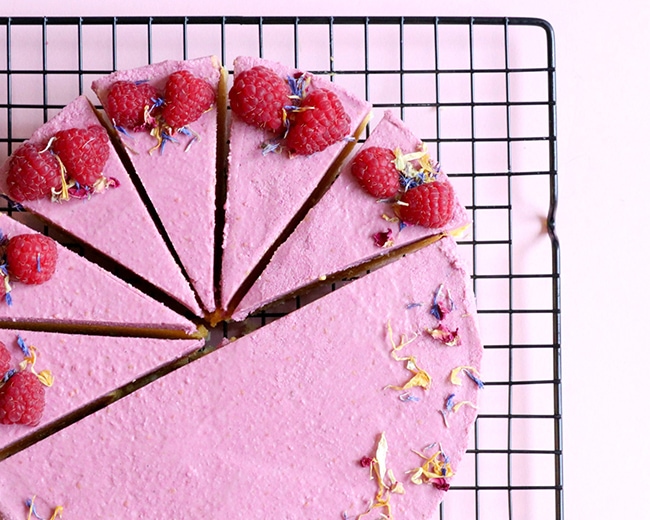 Save
Save
Save
Save
Save