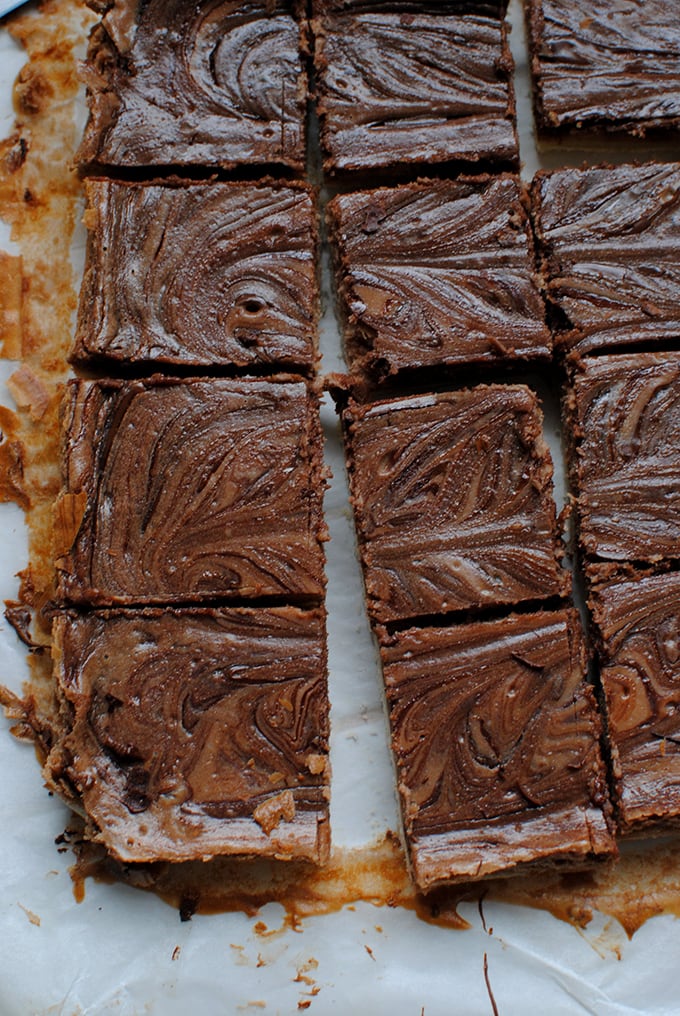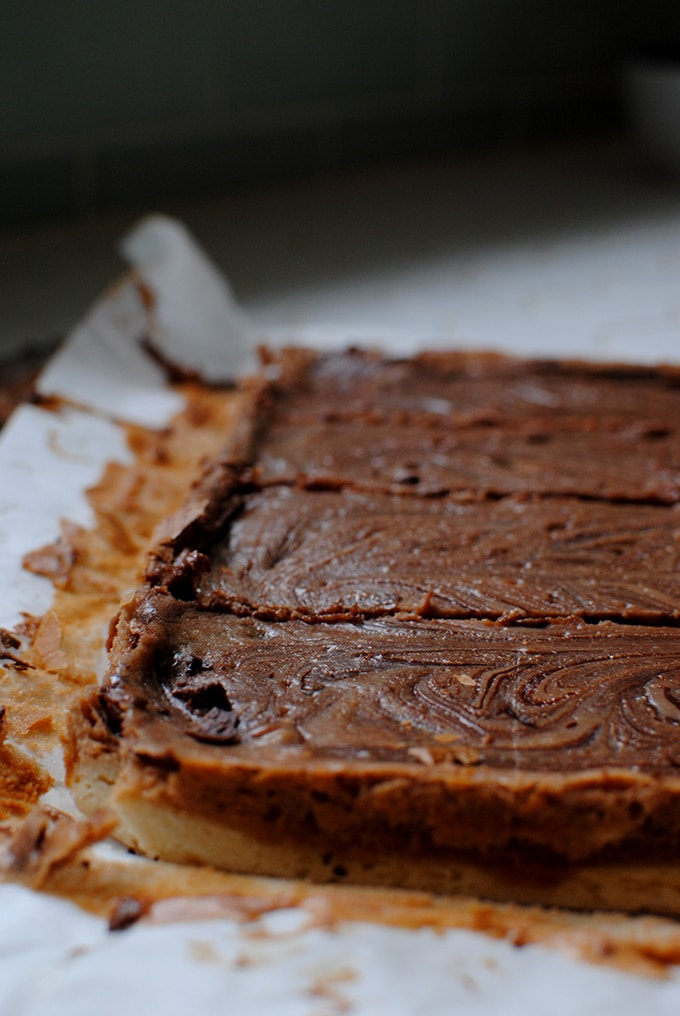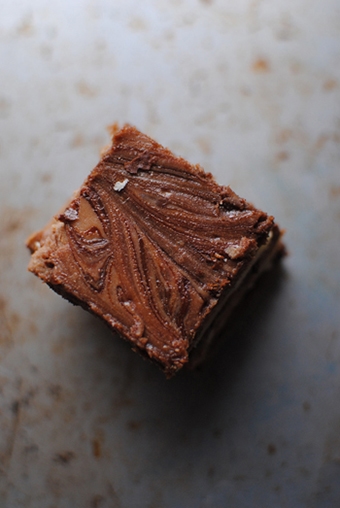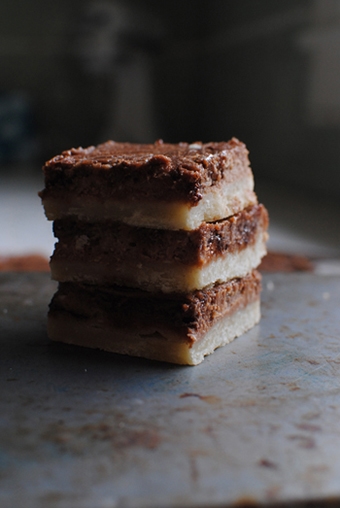 I have a confession to make.
You know last year, when everyone was going really bonkers over Daredevil? Well, I just couldn't get into it. Sure the fight scenes felt like The Matrix on acid and the writing was solid and I wouldn't kick Charlie Cox (who plays Daredevil) out of bed for eating crackers, but the show gave me nightmares. Am I a wimp?
This season, I'm hooked. Maybe it's because Fisk isn't [spoiler alert] smashing anyone's head with a car door or because I'm more familiar with the [spoiler alert again] the other characters they're bringing in, or because Cox is flashing that winsome smile more often, but for the past few days, it's been my dinner entertainment.
Which brings me to another indulgence…these Nutella Cheesecake bars. They're both dark and light, perfect for munching on while watching Daredevil (or Game of Thrones! Seriously, is Jon Snow dead? Is he alive? What's going on?! Thankfully we only have a few more days to go until we all find out).
They're not too sweet so the hazelnutty chocolately goodness of the Nutella is very front and center. Nom nom. And the shortbread base is simple as all good shortbread recipes should be. Once you whisk together the flour, sugar, salt, and butter for the cookie base, these bars are practically done.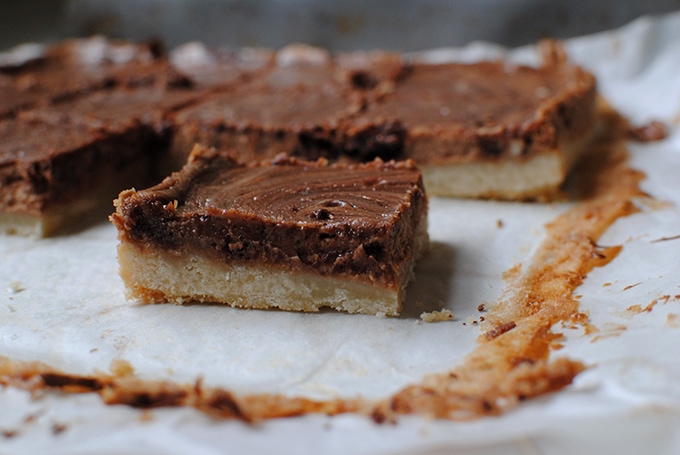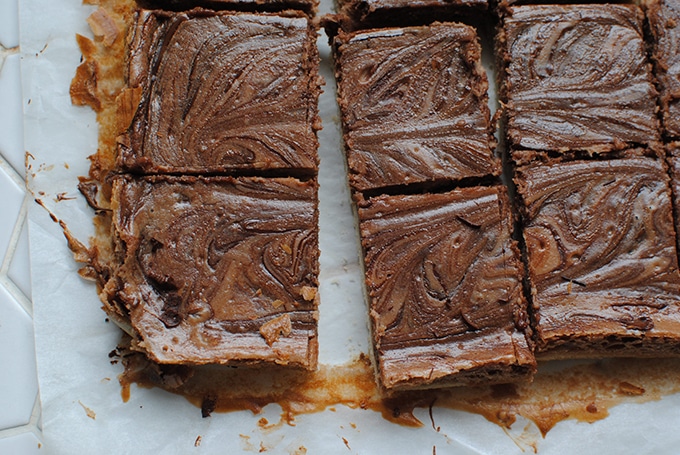 I love mixing. It's one of my favorite things about baking. Like with making ganache, at first, it's like oh my god, is anything ever going to happen?! And then it does. Patience is a virtue. Just not one I happen to have. Oopsy.
When you add the shortbread base it's the same. Nothing seems to happen. At first, it's like running your hands through snow. Snow with lumps of butter (which would seriously be the most delicious snow ever). You keep mixing and kneading, still nothing. More kneading. More mixing. Finally, something starts to happen! The texture begins to change and if you had given into temptation and just dumped the primordial crust into the pan and hoped for the best, it wouldn't have magically formed into a cookie! Ok, well, it might have, but not a very tasty one. But then, voila! Shortbread!
(p.s. aren't italicized exclamation points the cutest thing ever?)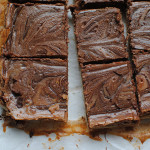 Nutella Cheesecake Bars
Rich, buttery, and totally addictive Nutella Cheesecake bars. Adapted from Savory Simple.
Ingredients
⅓

cup

granulated sugar

1¼

cups

all-purpose flour

¼

tsp

. kosher salt

½

cup

unsalted butter

room temperature, cut into tablespoons

8

oz

. cream cheese

softened

1

tsp

. pure vanilla extract

⅓

cup

granulated sugar

1

large egg

4

Tbsp

. Nutella

divided
Instructions
Preheat the oven to 350. Line a 9x9-inch pan with parchment paper.

Whisk together sugar, flour, and salt in medium bowl. Add the butter and mix until it shifts form and turns into something instantly recognizable as dough.

Press the dough evenly into the pan and bake for 15 minutes or until edges are just golden brown.

While the crust is baking, use a stand mixer and paddle attachment to blend the cream cheese, vanilla, sugar, egg, and 1 Tbsp. Nutella on medium speed until the mixture is uniform. Heat up the remaining 3 Tbsp. Nutella in a double broiler or in the microwave in 15-second intervals (stirring between each) until it's a consistency that is easy to stir.

When the crust is done, remove it from the oven, pour the filling over top, and use a spatula to spread it evenly. Using a spoon, draw lines of Nutella on top of the mixture and use the tip of the spoon (or a butter knife) to create swirls. Mind the crust.

Bake for 15-20 minutes or until filling is set. Cool for 30 minutes on a wire rack and then refrigerate for 30 minutes or until ready to eat. Cut into 16-32 bars and store in the refrigerator.
Save