So, you want to bake a cake. But, you don't have the right-sized cake pan. Or eggs. Well, we can help you with one of those. Your local supermarket or farmer's market should be able to help you with the latter.
Cake pans come in a wide variety of sizes and shapes from square and round to skull. Which, somehow wasn't on the geometry test. If you're swapping one for another, there's one thing you need to consider: volume. So, here's your guide to cake pan sizes so that you can bake your little heart out. Speaking of, there's probably a pan for that too.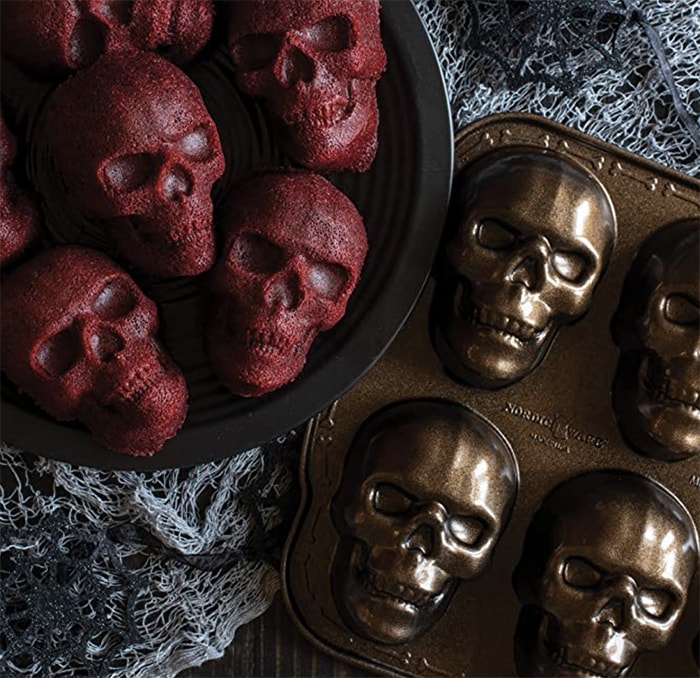 How Do I Substitute Cake Pans?
To switch between one cake pan and another, you'll need to know the volume of the pan you're starting with.
Square and rectangular pans: measure the length and multiply it by the width. Take your measurements on the inside of the pan.
Round pans: Multiply the radius by the height by π. (Or look at the list below.)
Specialty pans: Check the box or the sheet it came with. (For instance, that skull cakelet pan holds 2.5 cups of batter total.)
Once you know the volume, find a pan in the list below that has a similar volume. If you choose a shallower pan, you will need to shorten the baking time and raise the oven temperature. If you choose a deeper pan, you'll need to lengthen the baking time and lower the oven temperature.
To measure a baking pan's depth, place a ruler on the bottom and measure to the top of the pan, without slanting the ruler. Then ask what books it reads.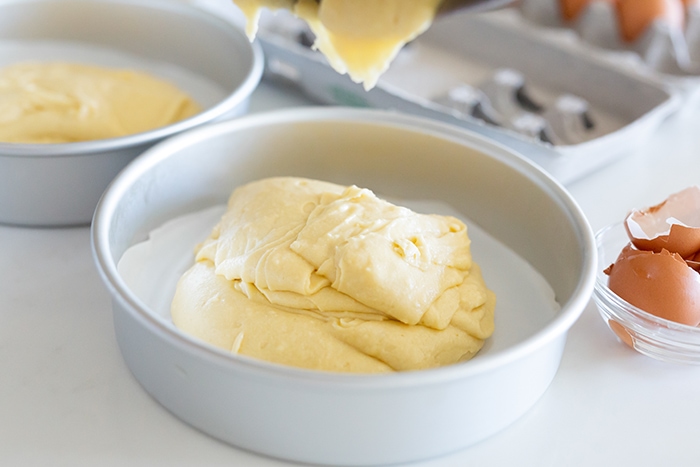 Can I Use an 8×8 Pan Instead of a 9×13?
You can but you will need to adjust your recipe. An 8×8 pan has a volume of 64 and a 9×13 pan has a volume of 117. 65 divided by 117 is .54. So, you can just halve the recipe. If you want to use a 9×13 pan instead of an 8×8, double your recipe.
If the measurements don't work out nicely — like if one pan is 35% larger — you'll need to increase the numbers in the recipe by that amount to accommodate.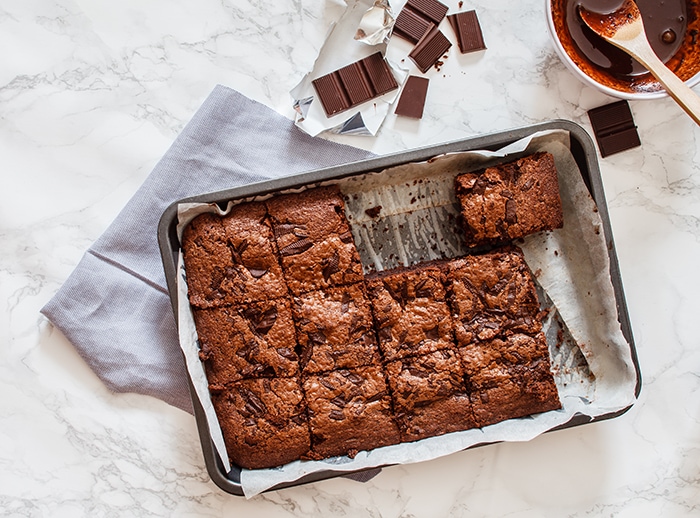 What Are the Different Sizes of Cake Pans?
Size
Volume
Square Pans

8 x 8 x 2 inches (20 x 5 cm)

8 cups (1.9 liters)
9 x 9 x 1.5 inches (23 x 23 x 3.8 cm)

8 cups (1.9 liters)
9 x 9 x 2 inches (23 x 23 x 5 cm)

10 cups (2.4 liters)
10 x 10 x 2 inches (25 x 25 x 5 cm)

12 cups (2.8 liters)
 
Round Pans (and Springform Pans)

6 x 2 inches (15 cm x 5 cm)
4 cups (948 ml)
8 x 1.5 inches (20 cm x 3.8 cm)
4 cups (948 ml)
8 x 2 inches (20 cm x 5 cm)
6 cups (1.4 liters)
9 x 1.5 inches (23 cm x 3.8 cm)
6 cups (1.4 liters)
9 x 2 inches (23 x 5 cm)

8 cups (1.9 liters)
9 x 3 inches (23 x 6 cm)

12 cups (2.8 liters)
10 x 2 inches (25 x 5 cm)

10 cups (2.4 liters)
10 x 10 x 2 inches (25 x 25 x 5 cm)

12 cups (2.8 liters)
Rectangular Pans
7 x 11 x 2 inches (28 x 18 x 5 cm)

10 cups (2.4 liters)
10.5 x 15.5 x 1 inches (27 x 39 x 2.5 cm)
10 cups (2.4 liters)
9 x 13 x 2 inches (23 cm x 33 x 5 cm)
14 cups (3.3 liters)
Loaf Pans
Mini Loaf: 11 x 15.75 inches (for all loaves)
4 cups (946 mL)
8.5 x 4.5 x 2.5 inches (21 cm x 1 cm x 6 cm)

6 cups (1.4 liters)
9 x 5 x 3 inches (23 x 13 x 6 cm)

8 cups (1.9 liters)
Bundt Pans
7.5 x 3 inches (19 x 8 cm)

6 cups (1.4 liters)
9 x 3 inches (23 x 8 cm)
9 cups (2.1 liters)
10 x 3.5 inches (25 x 9 cm)

12 cups (2.8 liters)
Tube Pans
8 x 3 inches (20 x 8 cm)

9 cups (2.1 liters)
9 x 3 inches (23 x 8 cm)
12 cups (2.8 liters)
10 x 4 inches (25 x 10 cm)

16 cups (3.8 liters)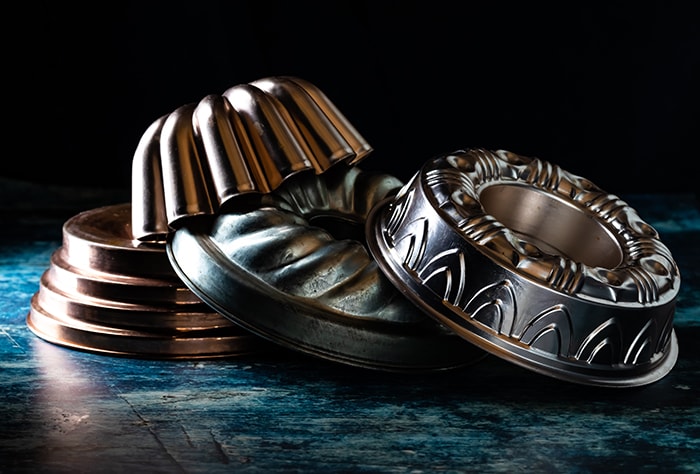 Baking Pan Conversion Chart for Substitutions
Pan
Volume
Substitution
8 x 2 inch Round Pan
6 cups
8 x 2 inch Round Pan
9 x 1.5 inch Round Pan
7.5 x 3 inch Bundt Pan
8.5 x 4.5 x 2.5 inch Loaf Pan
9-inch Pie Plate
9 x 2 inch Round Pan
8 cups
9 x 5 x 3 inch Loaf Pan
8 x 8 x 2 inch Square Pan
9 x 9x 1.5 inch Square Pan
10-inch Pie Plate
12 to 18 cupcakes
10 x 2 inch Round Pan
10 cups
7 x 11 x 2 inch Rectangular Pan
10.5 x 15.5 x 1 inch Rectangular Pan
9 x 9 x 2 inch Loaf Pan
15 x 10 x 1 inch Jelly Roll pan
Two 8-inch Round Pans
10 x 2 inch Round Pan
12 cups
9 x 13 inch Rectangular Plan
10-inch Round Pan
9x 3 inch Springform Pan
10 x 3.5 inch Bundt Pan
9 x 3 inch Tube Pan
Two 8 x 4.5 inch Loaf Pans
Two 9 x 1.5 inch Round Pans
Two 8 x 2 inch Round Pans
Two 9-inch Pie Plates
18 to 24 cupcakes

9 x 13 inch Rectangular Pan
16 cups
Two 8 x 2 inch Square Pans
Two 9 x 1.5 inch Square Pans
Two 10-inch Pie Plates
Two 9 x 5 x 3 inch Loaf Pans
24 to 36 cupcakes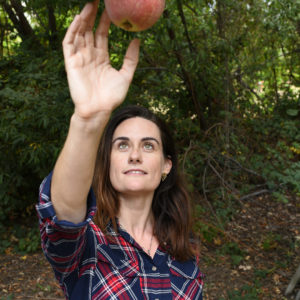 Latest posts by Rebecca Swanner
(see all)