Don't trust the living? Can't stand sandworms? End up on Saturn every time you try and leave your house? Well, you're either our cousin Larry or you're stuck in Tim Burton's Beetlejuice.
From subtle Beetlejuice cakes that incorporate the black and green color scheme, to over the top designs featuring Adam and Barbara Maitland's scary faces and more fondant than we are ever going to put in our face, here's a smorgasbord of cakes with enough sugar to raise the dead.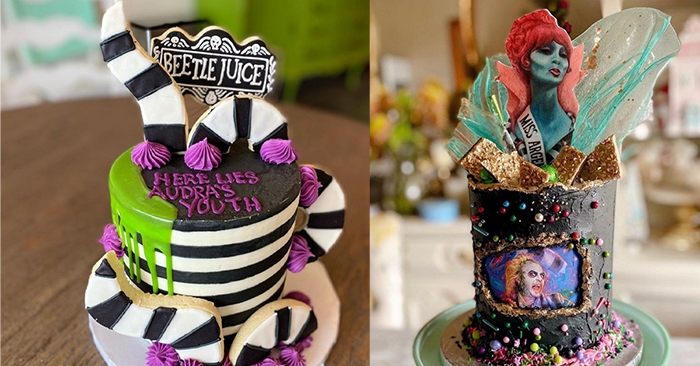 Beetlejuice Cake Ideas
1. Beetlejuice's Head
Devour a version of Beetlejuice's head. Before they shrunk it of course. These are cakes, not cupcakes after all.
2. Vegan Beetlejuice Cake
The gothic Southern California bakery Dark Heart Shoppe created this black-and-white striped vegan peanut butter cake with layers of chocolate buttercream, toasted coconut, and a handful of sandworms. They taste just like fake chicken!
3. Striped Drip Cake
This decadent drip cake by Sarah Whisted Harris with black roses and the iconic Tim Burton stripes feels perfect for Lydia's birthday. Once she finally comes down from the ceiling.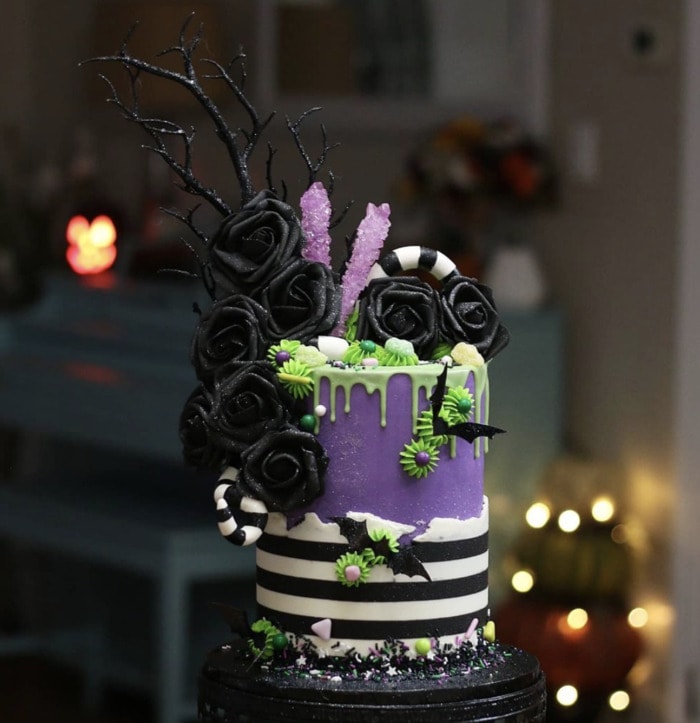 4. Purple and Green Striped Birthday Cake
You pay your money, you take your choice actually matters when choosing your guide through the afterlife. Does Virgil still have a waitlist?
5. Beetlejuice Cake Pops and Desserts
Calling a shrunken head cake pop a cake is a bit of a stretch, but apparently 5'10" is actually 6′. At least we get Kinder bueno Rocky road and dipped in dark chocolate with this.
6. Beetlejuice Photo Cake
It's showtime! Or, Tuesday. As long as it's not trash day we're fine with it. Sheet cake by Barn Owl Bakeries.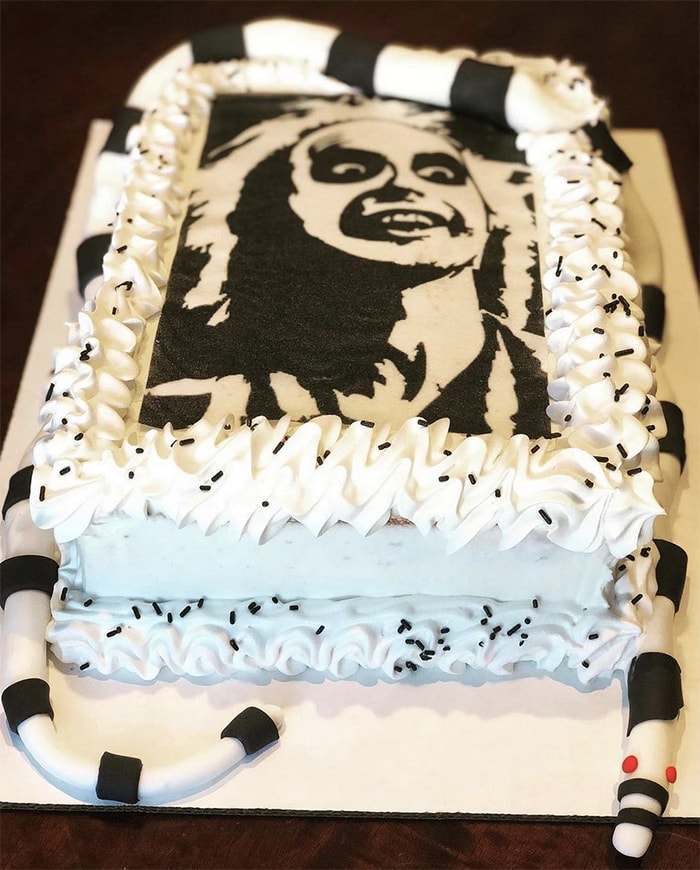 7. Beetlejuice Snake
When you want a birthday cake that will also give you nightmares, look to Cakes By Corrine. How she managed to get this serpent to sit still for a portrait, we'll never know!
8. Watercolor Sandworm Cake
Not sure if the sandworms are the real villain here, or the person who decided to eat this cake by Jennie Cotterill instead of putting in the MOMA.
9. Lydia Quote Cake
Strange, unusual, made mostly of sugar. Just the way we like our steak! Cake by Pistokek Bakery.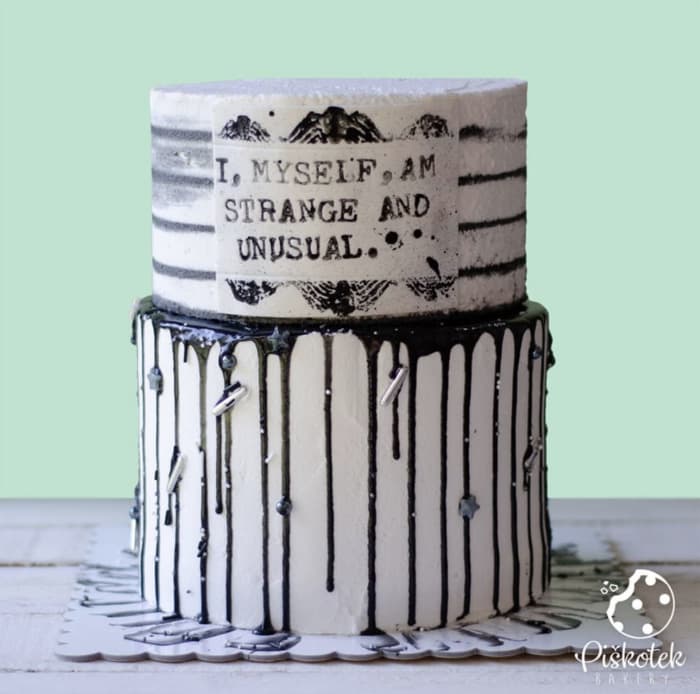 10. Barbara and Adam Maitland Wedding Cake
This is a sign that you've taken face yoga too far. Cake by the Little Cherry Cake Company.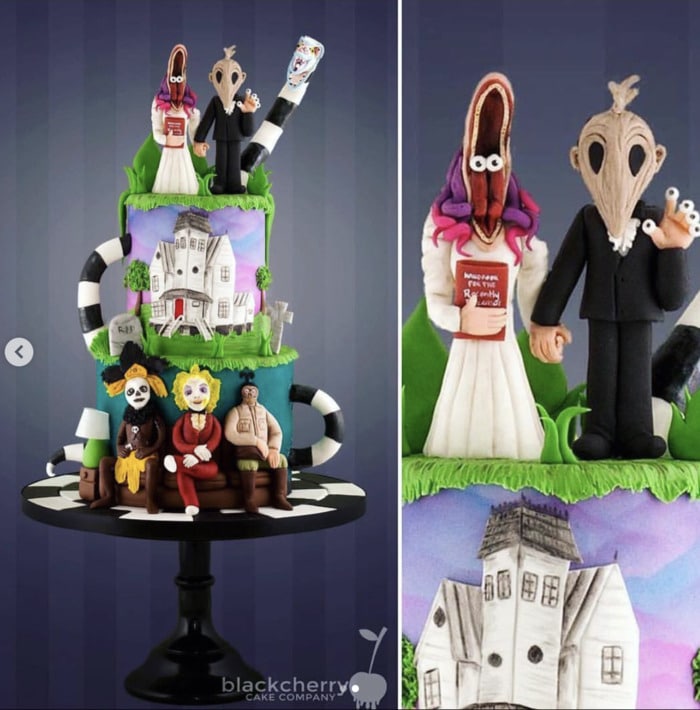 11. Carnival Cake
What child wouldn't love this bat mobile on this cake by Sheena? And by child we mean Millennial adult.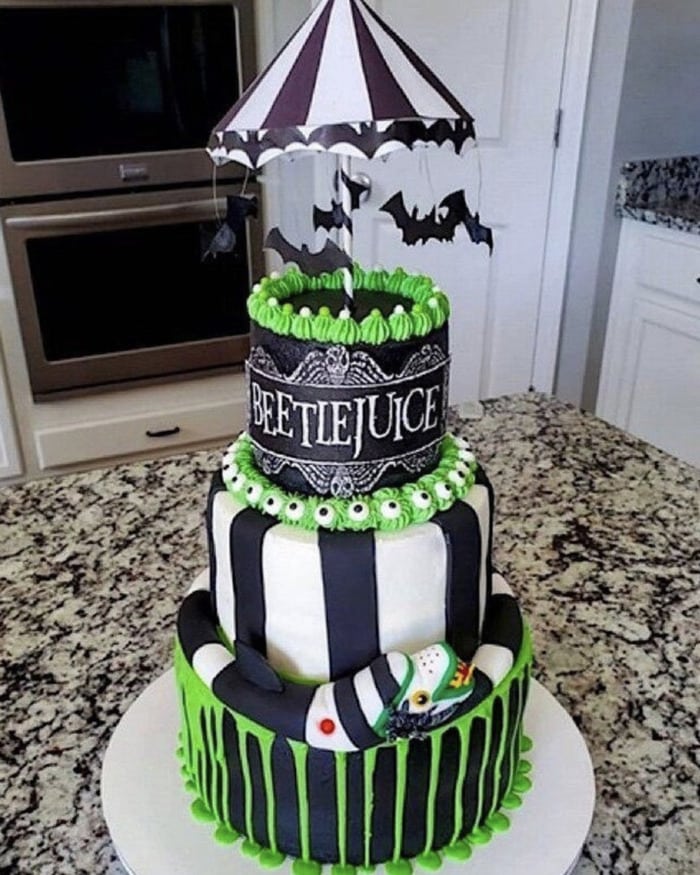 12. Miss Argentina Cake
How mad is Juno going to be if we don't save her a slice?
14. Intricate Beetlejuice Cake
When you need to weigh the cons of getting eaten by a Sandworm versus how much you really need that Recently Deceased Handbook. Actually, you know what, we'll just order a copy off Amazon. Cake by Michelle Sweet Art.

15. Opening Credits Cake
That's where it's been all this time? We thought it was locked in the Kaboodle. Cake by Sarah Sparkman.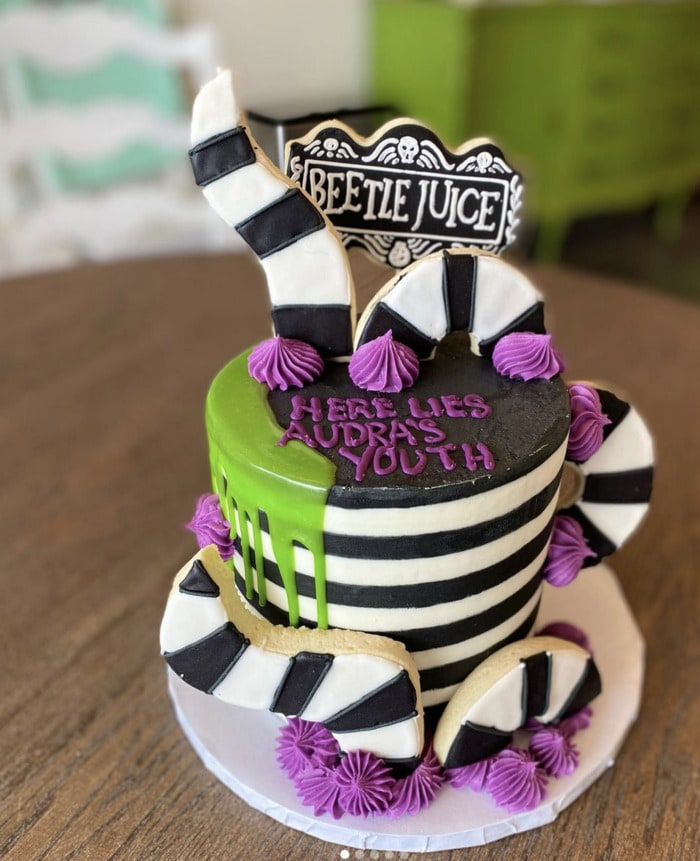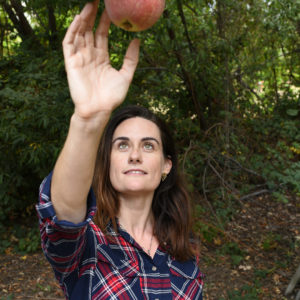 Latest posts by Rebecca Swanner
(see all)