Light-hearted Halloween film fans, rejoice! Hocus Pocus is returning with a sequel. Celebrate now with the original (now streaming on Amazon Prime or Disney+ ) and chowing down on these Hocus Pocus desserts.
We've got Sanderson Sisters Frappuccinos, cookies, spell book brownies, and more, so pull out your "BooOOooooK!" — er, cookbook — and embrace your inner kitchen witch. Seriously, she needs a hug.
10 Hocus Pocus Desserts
1. Spell Book Cake Pops
The Hocus Pocus witches may not be very charitable, but you can support local communities while still expressing your love for Hocus Pocus. Sanderson Sisters & Co. donates its profits to the NY Restoration Project which is dedicated to transforming open space in under-resourced communities in New York City. And check out how cute these Spell Book cake pops are! Get them here.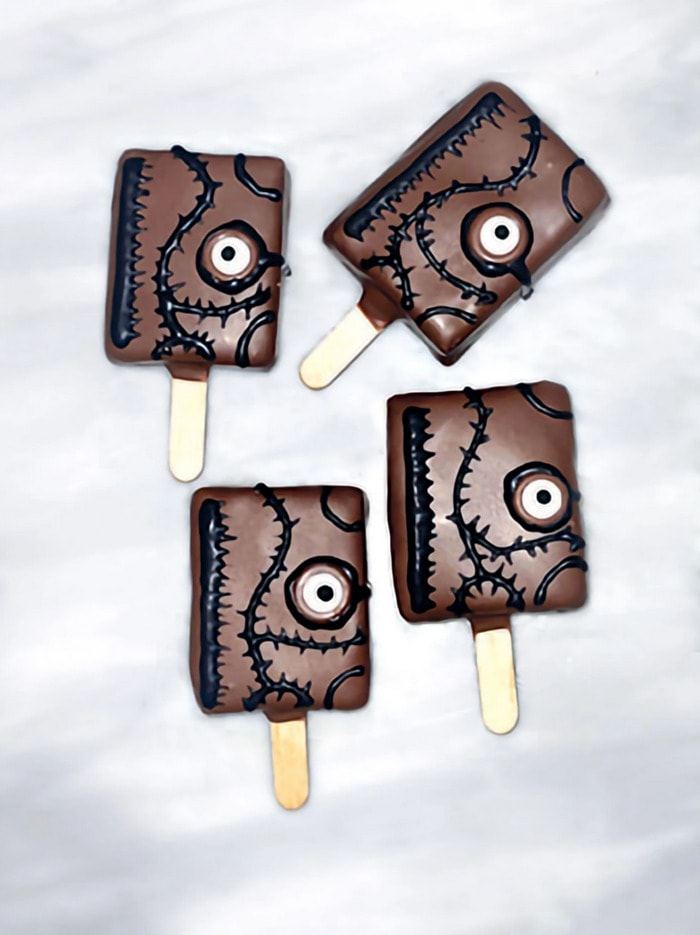 2. Cookies from Wicked Sweets
These sugar cookies from Wicked Sweets are sure to put a spell on you — eat them all and you'll be feeling very, very sleepy. It would be a shame to eat these hand-piped works of art. But that's what we said about last Sunday's spaghetti dinner, and framing it was a steaming hot mess.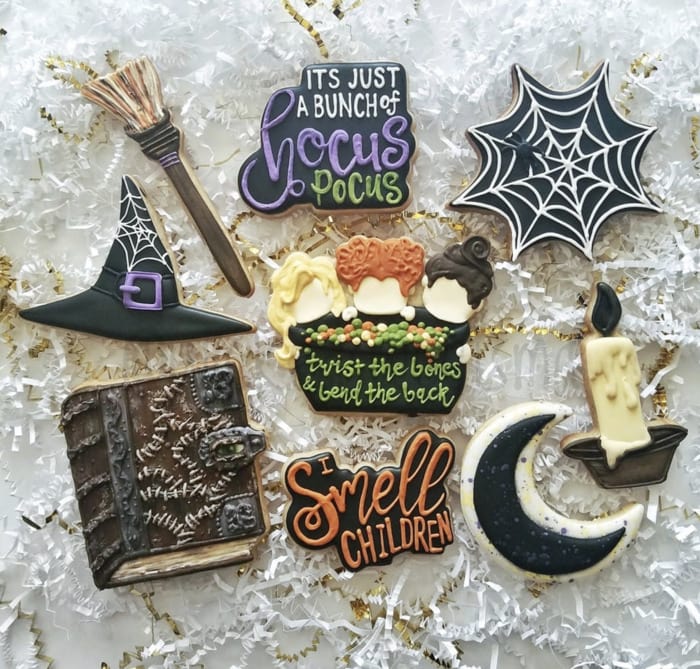 3. Poison Apples
The Sanderson Sisters & Co. are at it again with these poison apples, each covered with a black candy shell and if they were actually covered with hemlock, very likely to land you in the hospital. That's where dentists work, right?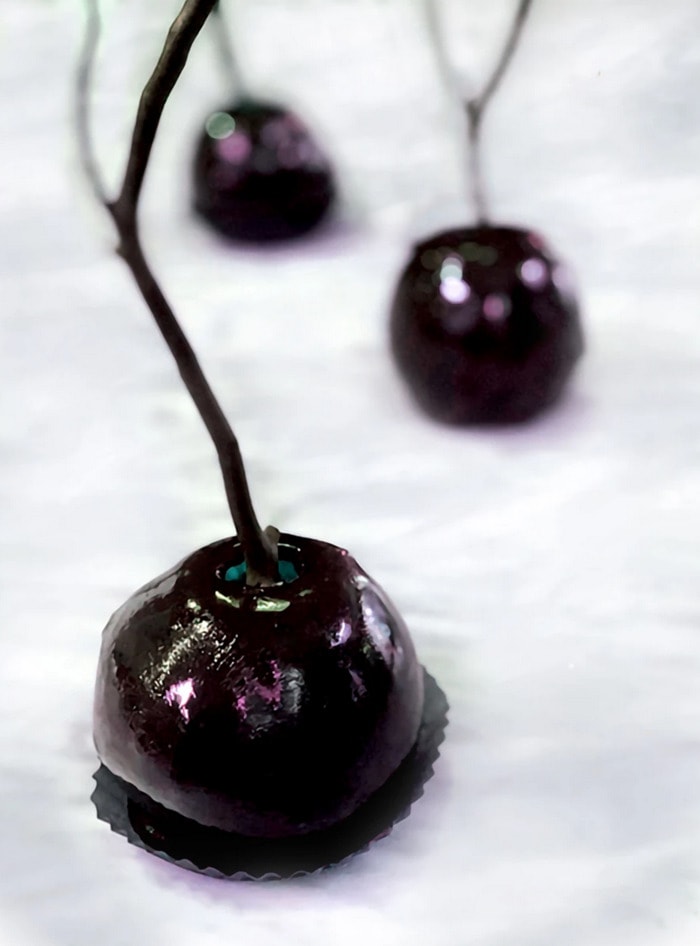 4. Hocus Pocus Potion Cupcakes
Whisky + Sunshine enchanted us with these cauldron cupcakes. The toppings consist of green and purple gumballs and Sixlets. Use the leftover candies to entice children into your oven.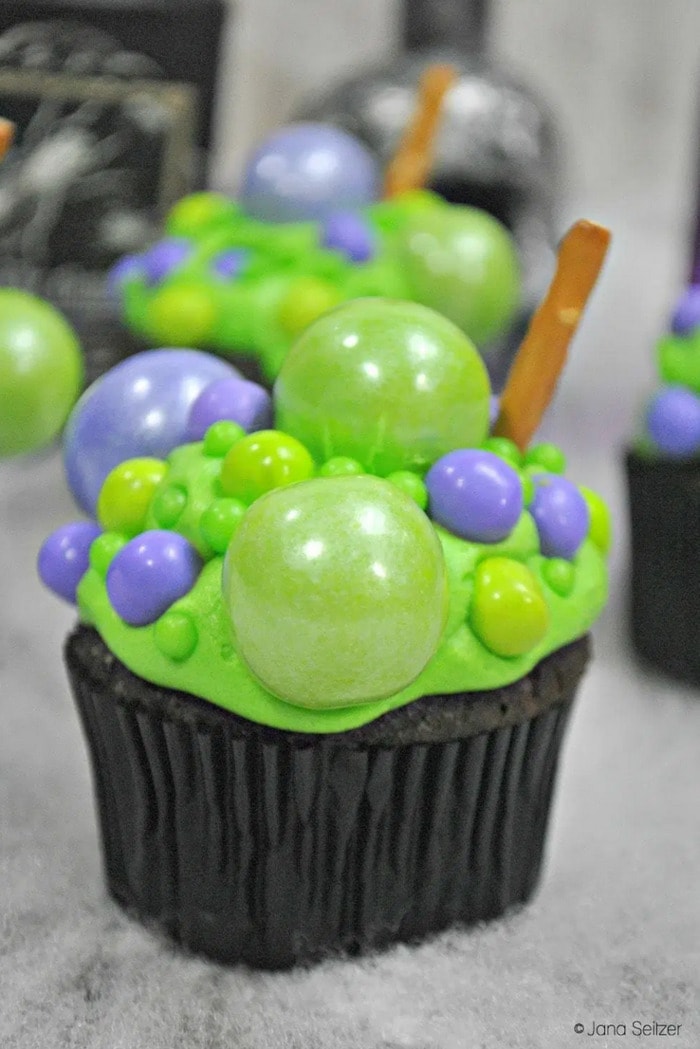 5. Apple of Thine Eye Lollipops
More off-putting than the leering, magical eye of these pops? The prospect of sucking on anything this tart for more than a few seconds. That's why we only lick! Available here.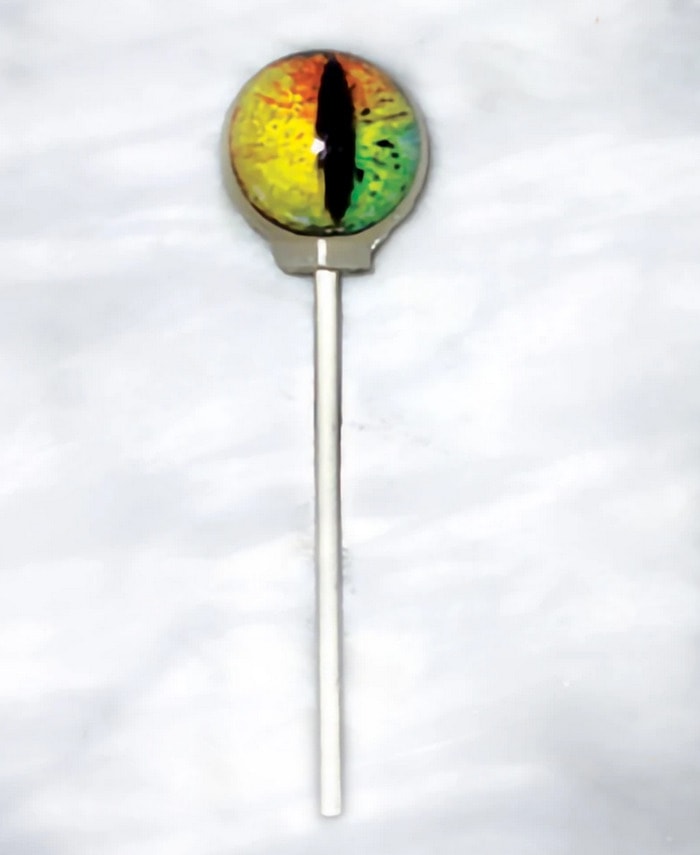 6. Hocus Pocus Sugar Cookies
We don't smell children, but we do smell freshly baked cookies! Winifred thinks that only the best ingredients make powerful potions. The Little Baker agrees. That's why the company only uses butter, eggs, flour, and fragrant vanilla. Each order comes with a dozen cookies — perfect to share with trick-or-treaters or each of the twelve compartments of your belly. Get them here.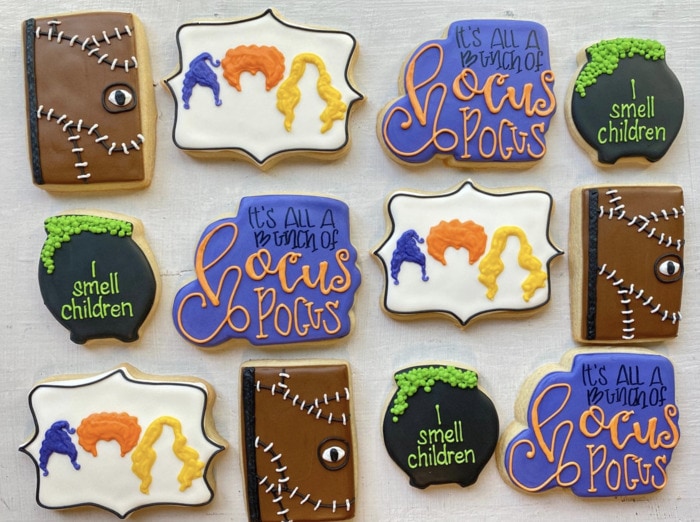 7. Sanderson Sisters Surprise Cupcakes
The Sanderson sisters shocked Salem when they rose from the dead on Halloween. So let these cupcakes from Foodstirs take your guests by surprise. Each bite reveals purple, green, and orange sprinkles, representing the three Sanderson Sisters: Mary, Sarah, and Winifred.
The real magic of these cakes is that they look super professional, but they're so easy to make! The fake magic of these is that you'll grow a third eye if you eat them.
Hocus Pocus, our Halloween Cupcakes with pure ingredients will put a spell on everyone! pic.twitter.com/zVqUKtR9tF

— Foodstirs (@foodstirs) October 18, 2018
8. Witches Broomstick Peanut Butter Pretzel Cookies
Ever feel like jumping on your broomstick and flying away? We tried it, but couldn't get the broom past airport security. If you can't zip through the sky with a broomstick (or a vacuum cleaner) like the Sanderson sisters, at least you can enjoy these pretzel cookies by Just a Pinch.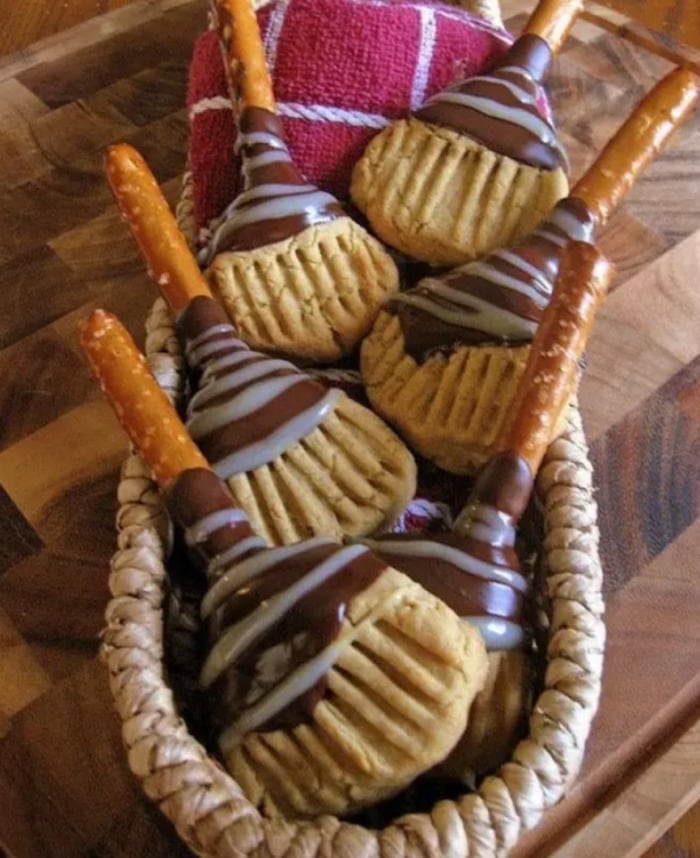 9. Spell Book Brownies
These brownies from the The TipToe Fairy are a showstopper. All you need to make your own evil (but oh so cute) edible spell book is a box of brownie mix, some black icing, a candy eye, and a pinch of magic. Vegans can substitute cinnamon for magic.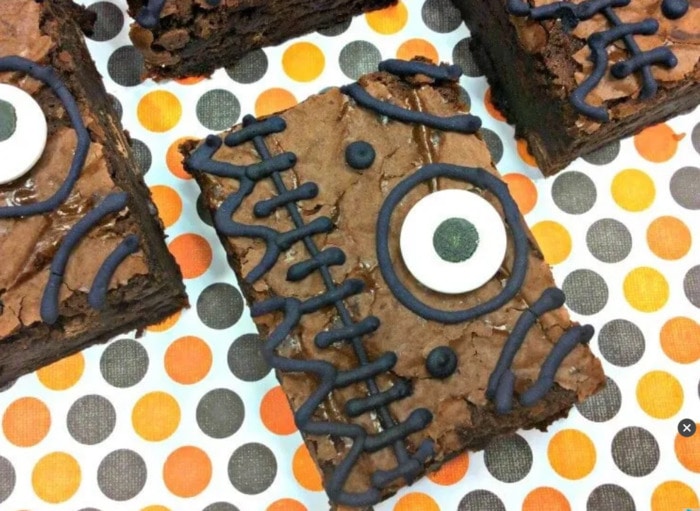 10. Binx Black Cat Cupcakes
You didn't think that we'd leave out Thackery Binx, did you? Binx was the real hero of Hocus Pocus, and these black cat cupcakes will be the saving grace of any Halloween party. They won't actually save Grace, though — she ate a real poison apple.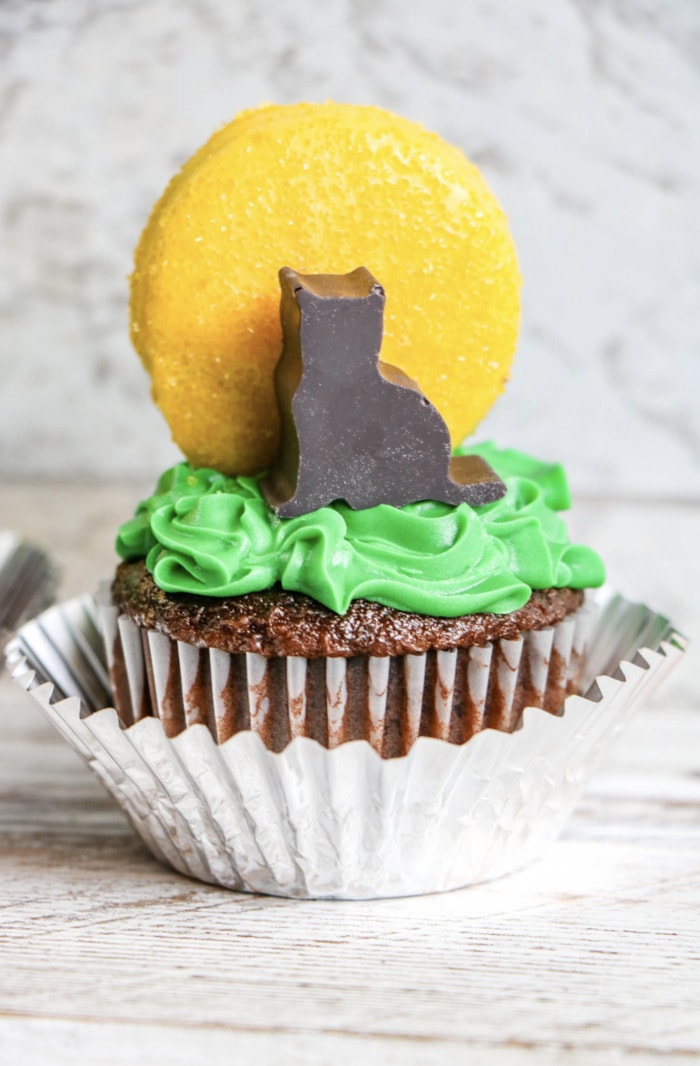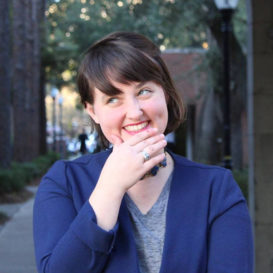 Latest posts by Laken Brooks
(see all)