Halloween wouldn't be Halloween without candy. It would be Samhain. And, everyone has their opinions on the best Halloween candy… and the worst. (It's Sixlets.) So, with the help of Google Trends, Zippia put together a map the reveals the most popular Halloween candy in each state.
For everyone who loves candy corn, you should know that Circus Peanuts have made it onto the map. Finally, a whole state with worse taste in candy. Oklahoma, what happened?
Now excuse us while we chow down on some Brach's Pumpkins.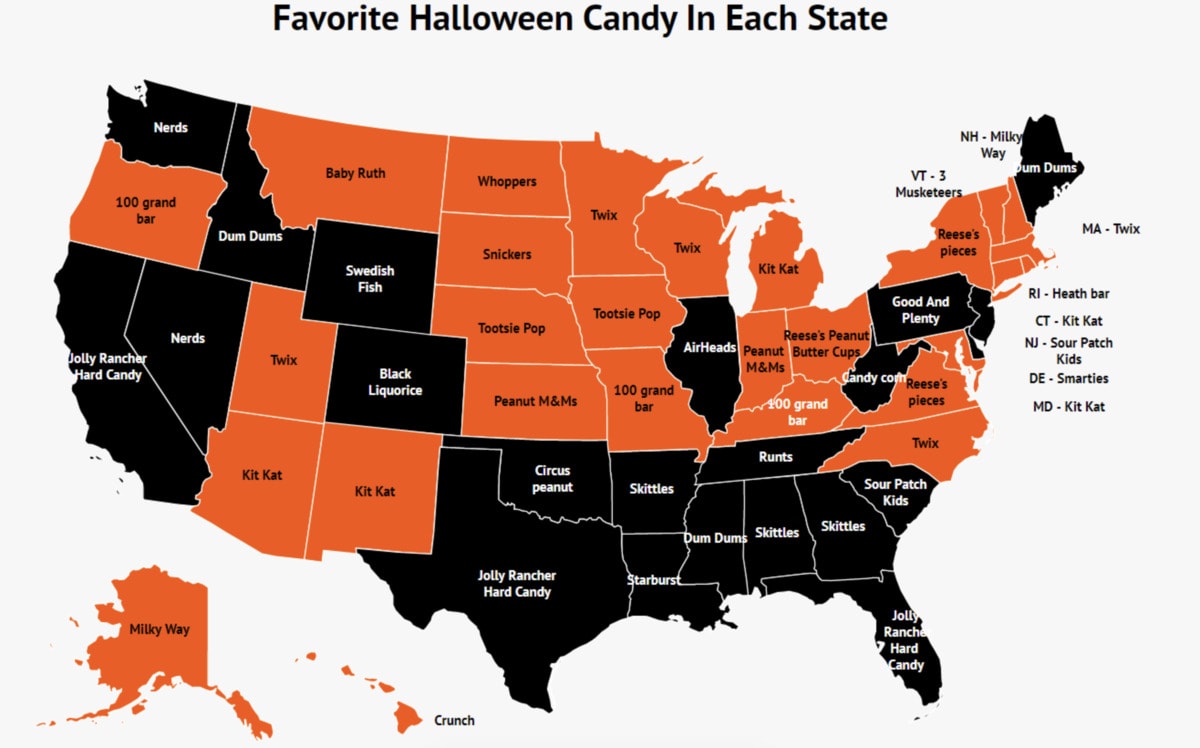 The Most Popular Halloween Candy In Each State (2022)
Since we originally covered this two years, ago, states have changed their taste preferences. Kit Kat is now the reigning champion and West Virginia made a lateral movie and eschewed Tootsie Rolls for candy corn.
Pennsylvania doubled down on their love of plasticky treats, swapping Twizzlers for Good and Plenty.
Most states stuck with the classics, but some candies like Mr. Goodbar, Payday, and Junior Mints evaporated completely, making room for Swedish Fish and more licorice than we expected.
Alabama: Skittles
Alaska: Milky Way
Arizona: Kit Kat
Arkansas: Skittles
California: Jolly Rancher
Colorado: Black licorice
Connecticut: Kit Kat
Delaware: Smarties
Florida: Jolly Rancher
Georgia: Skittles
Hawaii: Crunch Bar
Idaho: Dum Dums
Illinois: Airheads
Indiana: Peanut M&Ms
Iowa: Tootsie Pop
Kansas: Peanut M&Ms
Kentucky: 100 Grand Bar
Louisiana: Starburst
Maine: Dum Dums
Maryland: Kit Kat
Massachusetts: Twix
Michigan: Kit Kat
Minnesota: Twix
Mississippi: Dum Dums
Missouri: 100 Grand Bar
Montana: Baby Ruth
Nebraska: Tootsie Pop
Nevada: Nerds
New Hampshire: Milky Way
New Jersey: Sour Patch Kids
New Mexico: Kit Kat
New York: Reese's Pieces
North Carolina: Twix
North Dakota: Whoppers
Ohio: Reese's Peanut Butter Cups
Oklahoma: Circus Peanuts
Oregon: 100 Grand Bar
Pennsylvania: Good and Plenty
Rhode Island: Heath Bar
South Carolina: Sour Patch Kids
South Dakota: Snickers
Tennessee: Runts
Texas: Jolly Rancher
Utah: Twix
Vermont: 3 Musketeers
Virginia: Reese's Pieces
Washington: Nerds
West Virginia: Candy Corn
Wisconsin: Twix
Wyoming: Swedish Fish
In case you're curious, here was the 2020 map: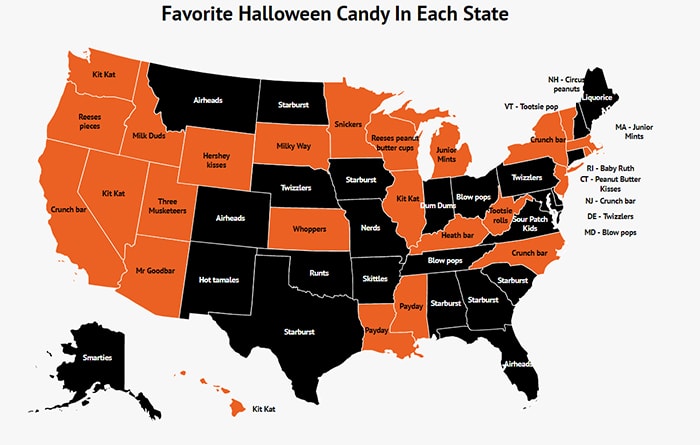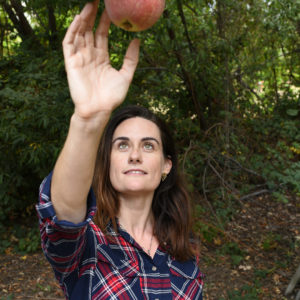 Latest posts by Rebecca Swanner
(see all)