Halloween is almost here. And, we've got you covered with funny couples costumes, costumes that look best with face masks, and more than a cartful of Beetlejuice decorations for your home. That life-size Sandworm is going to look great in your studio apartment.
But, Halloween wouldn't be Halloween without candy. (Without it, it would be Samhain!) And, everyone has their opinions on the best Halloween candy.. and the worst. (It's Sixlets.)
With the help of Google Trends, job hunting site Zippia gathered data to determine what each state's favorite Halloween candy is and whether residents there prefer candy to chocolate. Turns out it's an even split across the nation.
Does your favorite Halloween candy match your state's? Or is it time to pack your bags and head to the land of the Circus Peanuts (that's New Hampshire). Now excuse us while we chow down on some Brach's Pumpkins.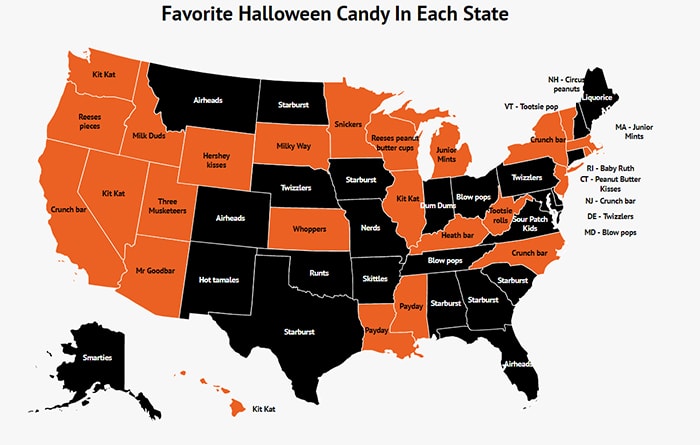 Each State's Most Popular Halloween Candy
Alabama: Starburst
Alaska: Smarties
Arizona: Mr. Goodbar
Arkansas: Skittles
California: Crunch Bar
Colorado: Airheads
Connecticut: Peanut Butter Kisses
Delaware: Twizzlers
Florida: Airheads
Georgia: Starburst
Hawaii: Kit Kat
Idaho: Milk Duds
Illinois: Kit Kat
Indiana: Dum Dums
Iowa: Starburst
Kansas: Whoppers
Kentucky: Heath Bar
Louisiana: Payday
Maine: Licorice
Maryland: Blow Pops
Massachusetts: Junior Mints
Michigan: Junior Mints
Minnesota: Snickers
Mississippi: Payday
Missouri: Nerds
Montana: Airheads
Nebraska: Twizzlers
Nevada: Kit Kat
New Hampshire: Circus Peanuts
New Jersey: Crunch Bar
New Mexico: Hot Tamales
New York: Crunch Bar
North Carolina: Crunch Bar
North Dakota: Starburst
Ohio: Blow Pops
Oklahoma: Runts
Oregon: Reese's Pieces
Pennsylvania: Twizzlers
Rhode Island: Baby Ruth
South Carolina: Starburst
South Dakota: Milky Way
Tennessee: Blow Pops
Texas: Starburst
Utah: Three Muskateers
Vermont: Tootsie Pops
Virginia: Sour Patch Kids
Washington: Kit Kat
West Virginia: Tootsie Rolls
Wisconsin: Reese's Peanut Butter Cups
Wyoming: Hershey Kisses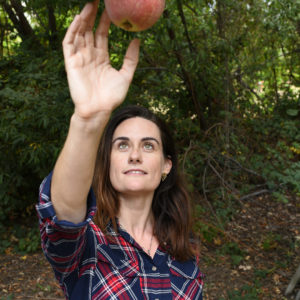 Latest posts by Rebecca Swanner
(see all)