Halloween Bark is an easy way to get into the spooky spirit of October! Simply gather together your favorite candies, chocolate chips, and some fun ghostly decorations to give your bark that final touch and let's get going!
And, to make it super simple, everything you need for this recipe is available at Ralphs!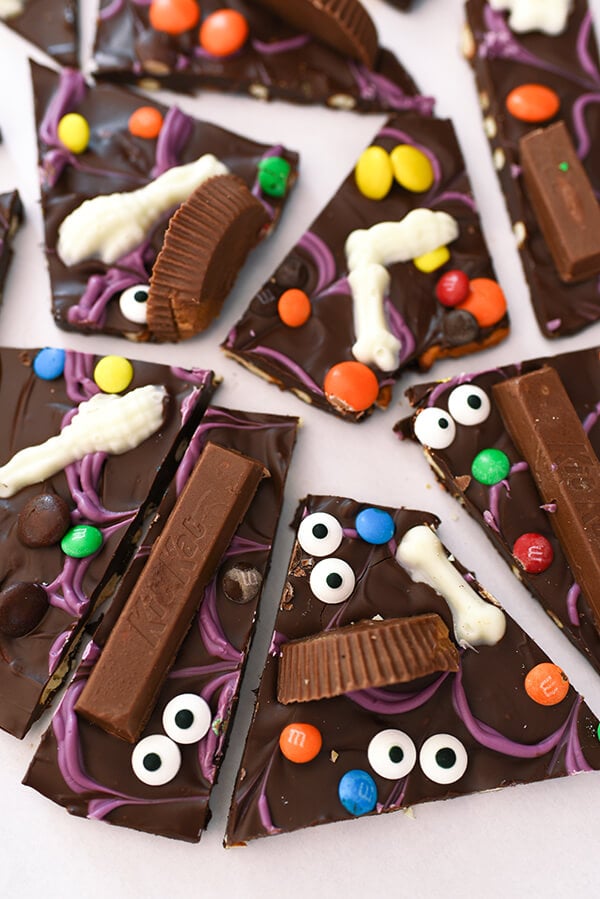 Halloween is, hands down, my favorite holiday. I probably have more boxes of Halloween decorations than Christmas decorations, have thrown some pretty festive Halloween parties, and I usually start thinking about my costume around June. I've spent the last three months training six days a week to be Wonder Woman. That meant three days a week of high-intensity interval training, three days a week of weightlifting, and a high-protein diet to change my physique. Yep, for my costume. I may have gone a bit overboard this time.
But Halloween isn't just about the costumes or the decorations! It's also about the treats!
How to Make Halloween Bark
Even if you're not all that into Halloween (why noooooooot? hmmmm? ::squinty glance::), you'll going to love this sweet and salty Halloween Candy Bark. And, if you have kids, get them in the kitchen for this one. The little ones will have so much fun putting their favorite candies in the bark and adding eyeballs and other ghoulish delights. It's a great way to use that leftover Halloween candy too.
For this Halloween Bark, I started with a single layer of pretzels and then poured and spread a layer of melted chocolate on top. I used dark chocolate for the candy bark, but you can use any type of chocolate. Ralphs' Private Selection line includes 62% dark chocolate chunks, 43% semi-sweet chocolate chips, and white chocolate chips, so take your pick! To melt it, simply place the chocolate in a microwave-friendly bowl for 1 minute at 50% power and stir halfway through.
Once the chocolate had set for another minute, I piped on cobwebby lines of purple candy melts using a small round piping tip, then placed edible eyeballs and pieces of some of my favorite candies and on top. Pop the bark in the freezer, let it harden, and you're ready to enjoy!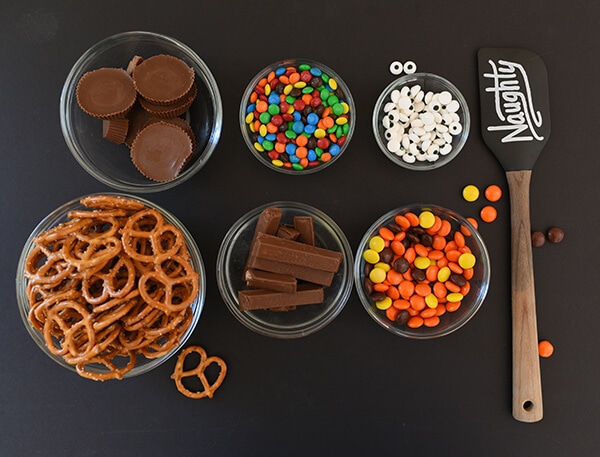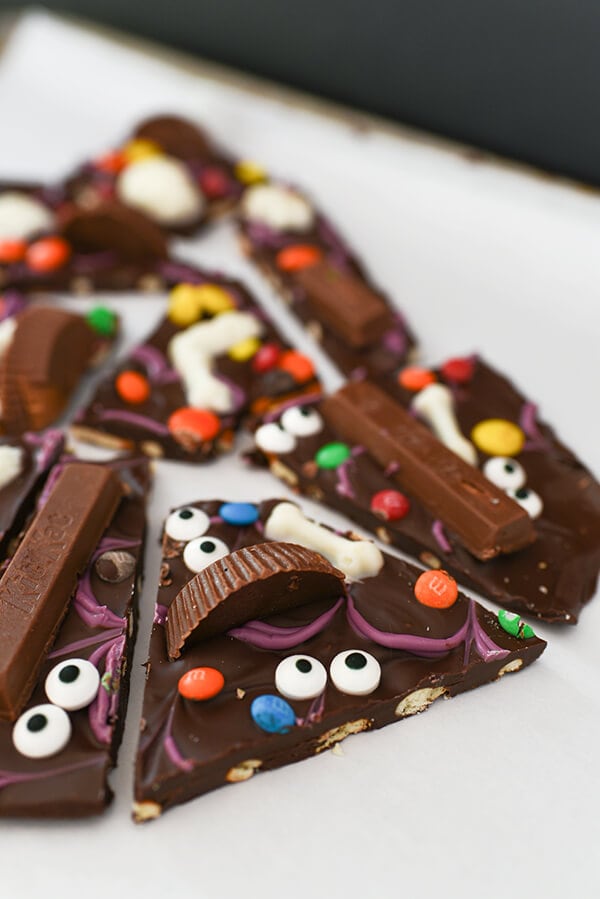 You may also notice there's a skeleton or two floating in the Halloween Bark! I made him by chilling white chocolate in a skeleton-shaped mold, but candy melts would work too.
I found that leaving this in the freezer helped it keep its shape as since you haven't tempered the chocolate, it goes soft when it's at room temperature. You can easily resolve this by tempering the chocolate, which I explain how to do here, but if that sounds scary, just leave it in the freezer. And, if you've ever eaten a cold candy bar or peanut butter cup from the fridge, you know the Halloween Bark will be just as tasty!
Looking for more fall treats? Check out these recipes:
• Baked Chai Donuts
• Pumpkin Spice Cupcakes with Brown Sugar Cinnamon Cream Cheese Frosting
• Bread Pudding with Bourbon Caramel Sauce
• Apple Pie Pull-Apart Bread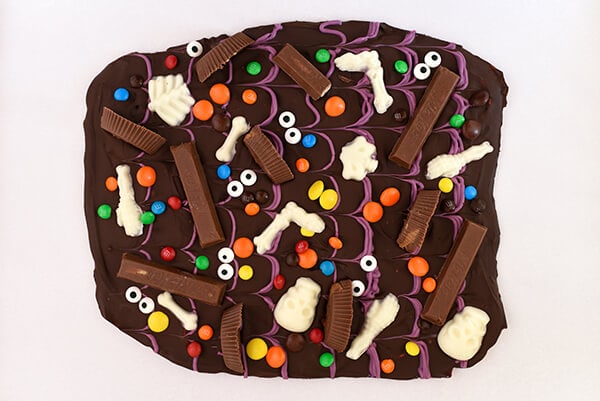 Halloween Bark
Print Recipe
This spooky Halloween Bark is an easy treat to make for October!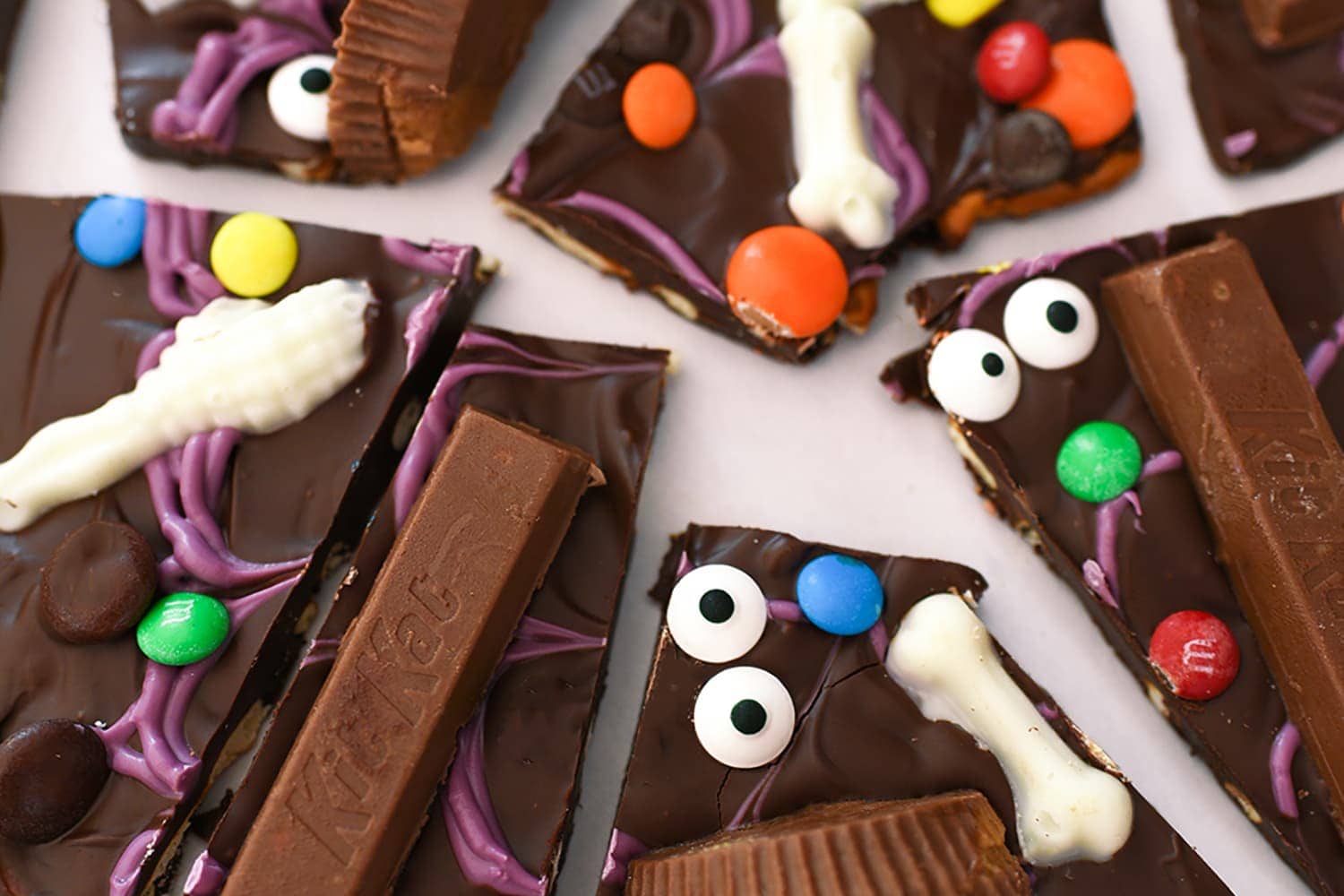 Prep Time: 9 mins
Cook Time: 1 min
Total Time: 10 mins
Servings: 25 servings
Ingredients
2 cups pretzels (twists or rods)
3 cups chocolate chips (or chocolate candy melts)
2 cups assorted candies (broken into bite-sized pieces)
13 edible eyeballs (optional)
Instructions
Create single layer of pretzels on parchment-lined baking sheet


Melt chocolate chips in microwave-safe bowl for 1 minute at 50% power.


Pour chocolate on top of pretzels, carefully spread on top to create layer.


Place candy and edible eyeballs on top.


Store in freezer until ready to enjoy if using chocolate. Store at room temperature in an airtight container if using chocolate candy melts.
Notes
If you want to enjoy this at room temperature (vs keeping it in the fridge or freezer), use chocolate candy melts!
Nutrition Facts
Halloween Bark
Amount Per Serving (1 piece)
Calories 209 Calories from Fat 90
% Daily Value*
Fat 10g15%
Carbohydrates 27g9%
Protein 3g6%
* Percent Daily Values are based on a 2000 calorie diet.

Save
Save
Save
Save
Save
Save
Save
Save
Save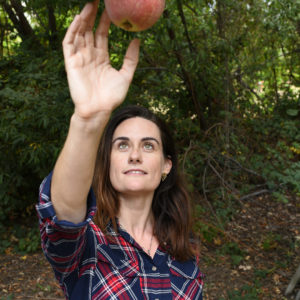 Pleased to meet you. I'm the founder and Editor-in-Chief of Let's Eat Cake: The world's first smart, funny lifestyle site for women.
My background is in publishing (I've worked at Parade, Men's Journal, Us Weekly, Stuff, Blender, Beachbody, and more), mostly with a focus in health, fitness, and entertainment. I've also run my own baking company and competed on Cupcake Wars, so hit me up with your baking questions!
For more details, check out my
full bio
or follow me on
Instagram
,
Twitter
, or
LinkedIn
.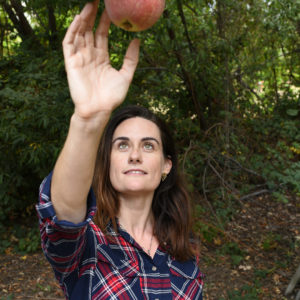 Latest posts by Rebecca Swanner (see all)