This Halloween Bark is a fun way to get into the spooky spirit of October. Just grab some chocolate, candy, and Halloween-themed sprinkles to make this holiday treat.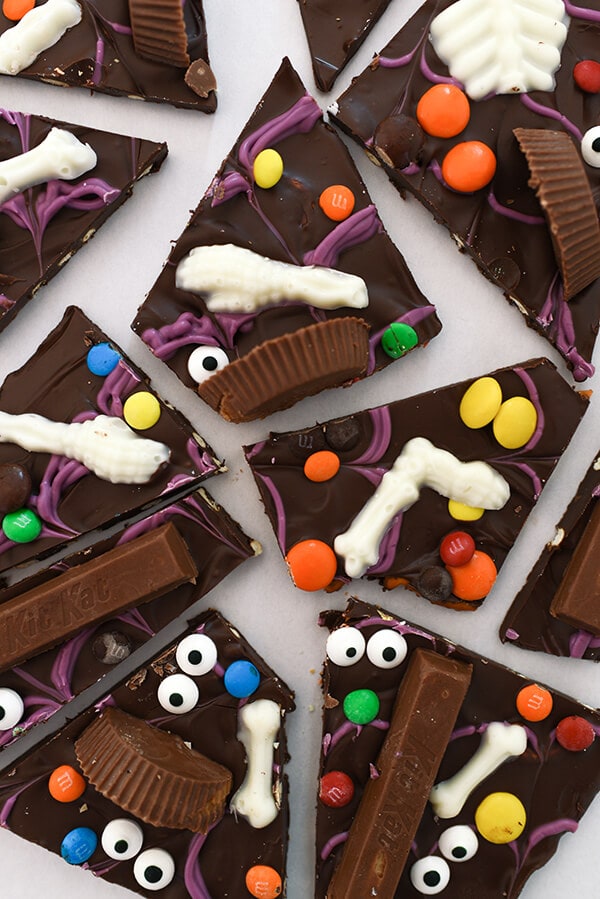 When it comes to themed treats, Halloween desserts and snacks are easily the most fun. Zombie cupcakes? Halloween donuts? Cakes decorated with skulls or to resemble the sandworms in Beetlejuice? If we keep going we're going to get a sugar high.
Halloween is, hands down, one of our favorite holidays around here. From the costumes to the spooky treats, we're big fans.
But, even if you don't like the holiday because the Great Pumpkin gave you nightmares, you'll love this sweet and salty Halloween Bark. After all, it's made with chocolate and candy. Or wing of bat. The toppings are really up to you.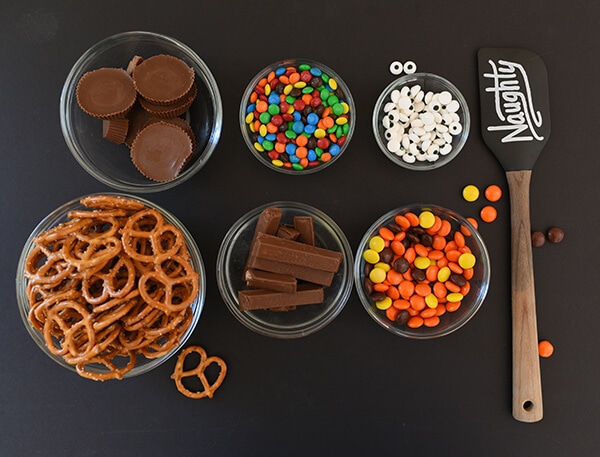 How to Make Halloween Bark
1. Make a Pretzel Layer
Spread out a layer of pretzels onto a parchment-lined baking sheet. This layer is optional, but it adds a salty flavor and crunchy texture that balances out the sweetness of the chocolate.
2. Melt the Chocolate
If you have a double boiler, melt your chocolate in that. Then please give us a tour of your estate's grounds. If you have a microwave, heat the chocolate at 50% power for 30 seconds. Then stir, and repeat until the chocolate is smooth. Pour it on top of the pretzels and let it set for one minute. You can use milk or dark chocolate for your bark.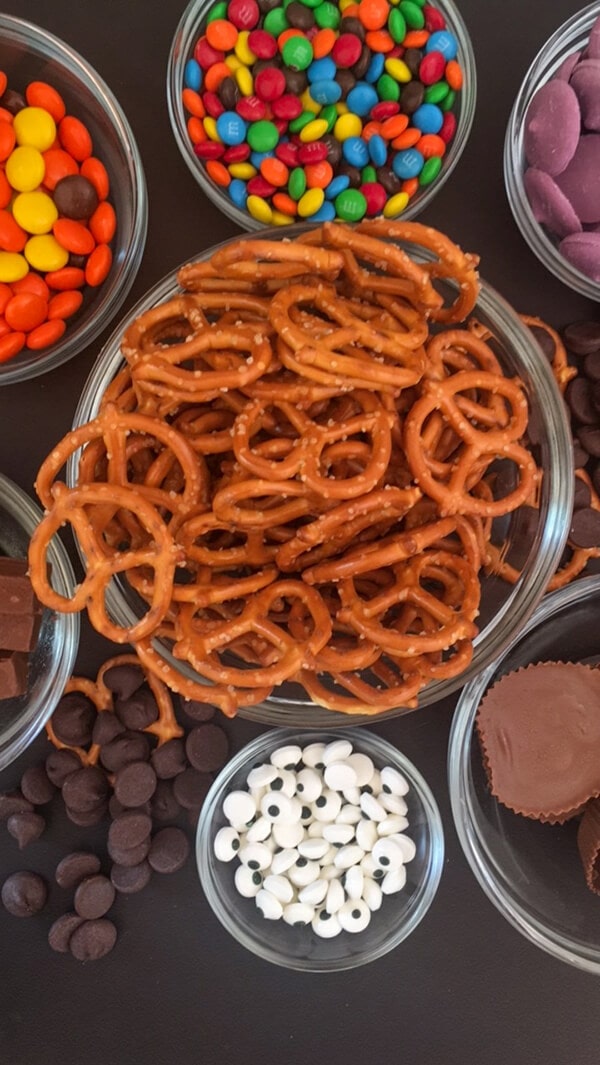 3. Melt the Candy Melts
While your chocolate is setting, melt your candy melts in the microwave. Then, transfer to a piping bag fitted with a small round tip and pipe cobwebs on top of the set chocolate while the melts are warm. This layer is optional, but adds color and flair to your finished Halloween Bark.
You can also use candy melts to create the skeleton shape using a skeleton mold. We used white chocolate to make ours, but white chocolate is fussy and burns really easily in the microwave.
4. Decorate Your Halloween Bark
This is where you get to have some fun with the design. While the chocolate is still warm, top the bark with your favorite Halloween candy, sprinkles, and other decorations like candy eyes.
5. Let the Bark Set
Transfer the candy bark to the fridge so it can fully set. It should set up quickly.
If for some reason your fridge is haunted and it's not setting, pop it into the freezer for a few moments. Then tell Bucky the demon he has to go live somewhere else because he's messing with your Halloween treats.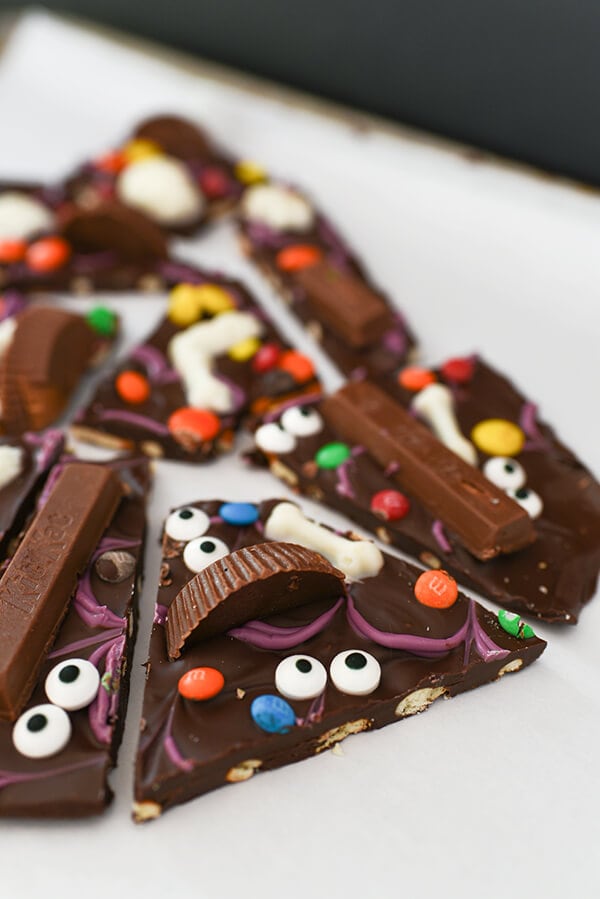 What Can I Top My Halloween Bark With?
You can use almost any candy or edible sprinkles to decorate your bark, but here are some ideas:
Reese's Pieces
KitKats
Oreos
Candy Corn
Purple and green sprinkles
Orange sprinkles
M&Ms
Halloween Bark
Print Recipe
This spooky Halloween Bark recipe is a fun way to get into the October spirit. All you need to make this bark is chocolate and candy.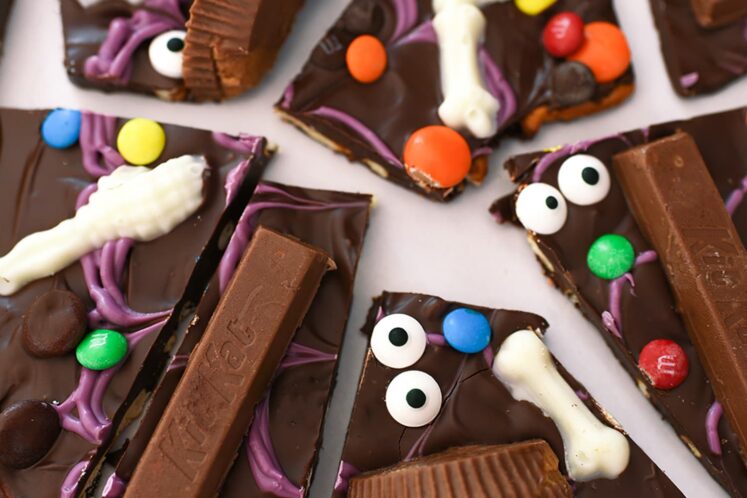 Servings: 10 servings
Instructions
Spread a layer of pretzels onto a parchment-lined baking sheet.

Place chocolate in microwave for 30 seconds at 50% power. Stir. Repeat.

Stir chocolate until smooth, then pour it on top of the pretzel layer. Spread evenly and let set for one minute.

Melt purple candy melts in microwave. Transfer to a piping bag fitted with a small round tip. Pipe on top of the chocolate to create cobwebs.

Place your favorite candies, cookies, and any Halloween sprinkles on top of the chocolate layer.

Store in fridge.
Notes
If you want to enjoy the Halloween Bark at room temperature, use chocolate candy melts instead of chocolate.
To make the skeleton, pour white chocolate or candy melts into a skeleton-shaped mold.
Nutrition Facts
Halloween Bark
Amount Per Serving (1 piece)
Calories 209 Calories from Fat 90
% Daily Value*
Fat 10g15%
Carbohydrates 27g9%
Protein 3g6%
* Percent Daily Values are based on a 2000 calorie diet.
Did you make this recipe?
Leave a review below, then take a photo and tag @letseatcakeblog on Instagram so we can see it!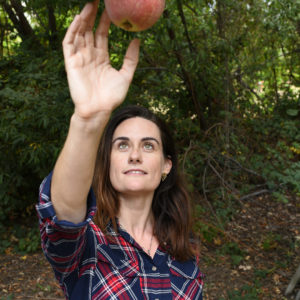 Latest posts by Rebecca Swanner
(see all)