For fall, there are no breakfast foods we love more than donuts. Yeah, you heard us. As much as we love pumpkin pancakes and other squash-based morning treats, nothing really beats a warm apple cider donut for fall — and apple cider can bring its 11 assorted friends along for the victory lap… that ends in our stomachs.
And as far as fall-themed donuts, Halloween's are our absolute faves — at least until someone comes out with a Mooncake-donut mash-up. That's why we're so PSL pumped about Halloween donut season and Krispy Kreme's Halloween donut collection reveal!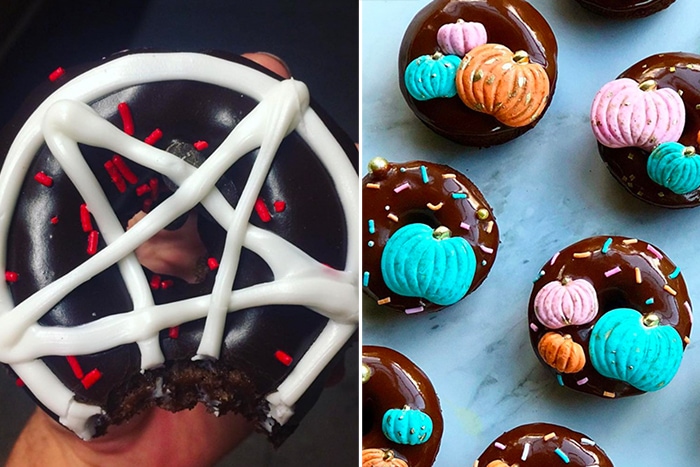 This year's spooky-fun lineup includes the classic Hollywood monsters: mummy, werewolf, vampire, and the monster everyone insists we stop calling "Frankenstein" — as if we're going to read a dumb book written in Boringth Century, AD.
Between now and October 31 — so, like, through the end of the month — if you buy a dozen donuts on a Saturday, you get another dozen glazed donuts, one of which is decorated like a jack-o'-lantern. Or, as we call them, "carved pumpkins."
Krispy Kreme's Halloween Scary-Sweet Monster Donuts Include:
17 Halloween Donuts
Krispy Kreme isn't the only treat-maker dressing up their goods for the holiday. Here are more of our favorites, sourced from smaller donut shops and bakers. Inspired? Get a donut pan, bake up a batch of donuts, and start decorating!
1. Monster Mash
We're going batty over these cute Halloween donuts by Naturally Jo that include everything from classic monsters to spiderweb donuts, ghosts, and one for Día de Muertos (Spanish for "Day of Muertos"). And also a vampire, but in bat form!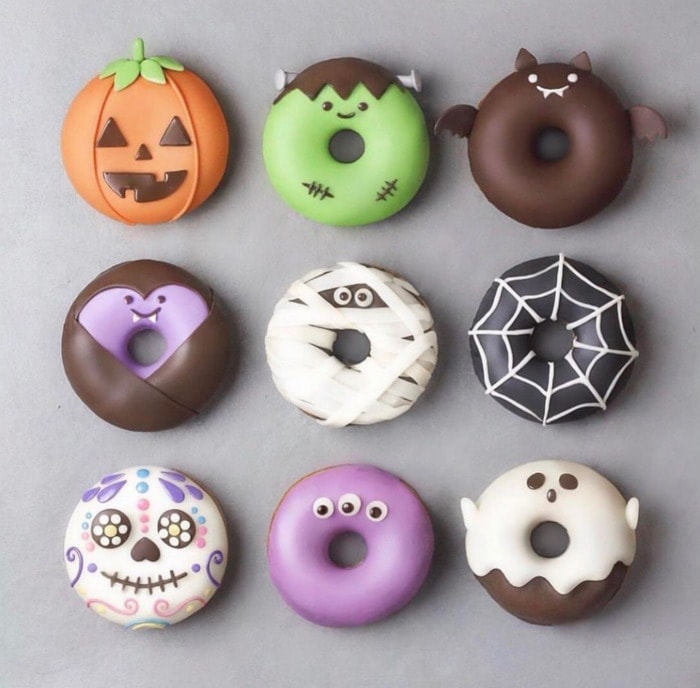 2. Jack and Sally
Sure there are pumpkin donuts in this box, but our eyes are on these Nightmare Before Christmas stars. OMG, can we get an autograph?! "No?" And you're not sentient? Or real? And yet responding to our questions? Oh, man, this just got weird.
3. Pentagram Doughnuts
Voodoo Doughnuts is one of our favorite donut shops — and not just because they specialize in "strange and unusual" donuts. (Actually, that's mostly why.) Their pentagram donut is delicious enough that we wonder if they made a deal with the devil. And by "devil," we mean the donut creator who hopefully got paid fairly for the recipe.
4. Pastel Pumpkins
Nana's Sprinkles Bakeshop in Ontario, Canada, has nailed the cute Halloween donut trend with these chocolate glazed donuts topped with pastel pumpkins. They also nailed their doors shut after we refused to let their "Closed" sign deter us.
5. Mummy Donuts
Inspired by the recent opening of a 2,500-year-old tomb in Egypt, the folks at Date's Donuts in Dinuba, California, created these mummy donuts. Or maybe they're simply for the holiday? We'll never know. Seriously, we're incapable of retaining information.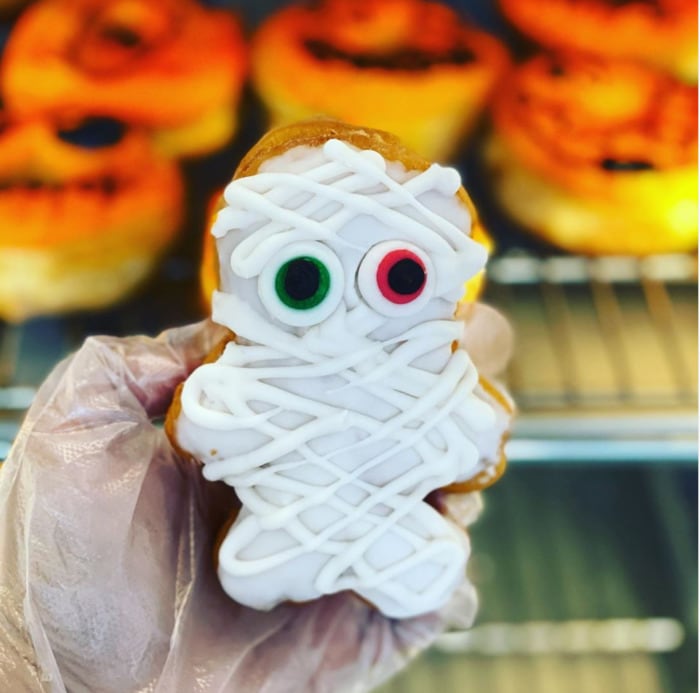 6. Black Cat Donuts
It's definitely bad luck if a black cat crosses your path, so make sure you approach these bad boys from Vicky's Donuts sideways. This is also how we approach intersections. We're big into drifting!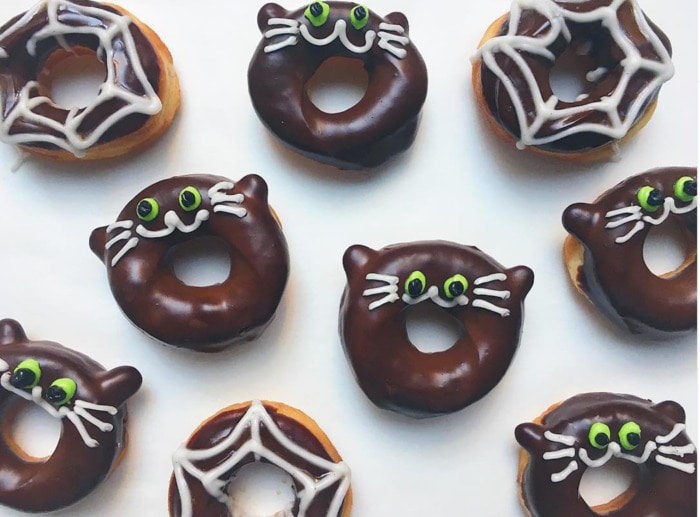 7. Pumpkin Donuts
There are pumpkin-flavored donuts and there are donuts that look like pumpkins and never the twain shall meet. These cheeky donuts are from Sugarbox Donuts in LA.
8. Ghost Donuts
Scare up a sugar high with a ghost donut from LA's California Donuts. And yes, diabetes is no joke, so believe us when we say, "Scare up."
9. Jack Skellington Donuts
Look, the Pumpkin King gets his own entry or it's off with our head. And then we'd have to eat donuts via a hole in our neck! If you somehow make it to Trinidad for October, make sure to order a batch of these from the Bite Sized Baker.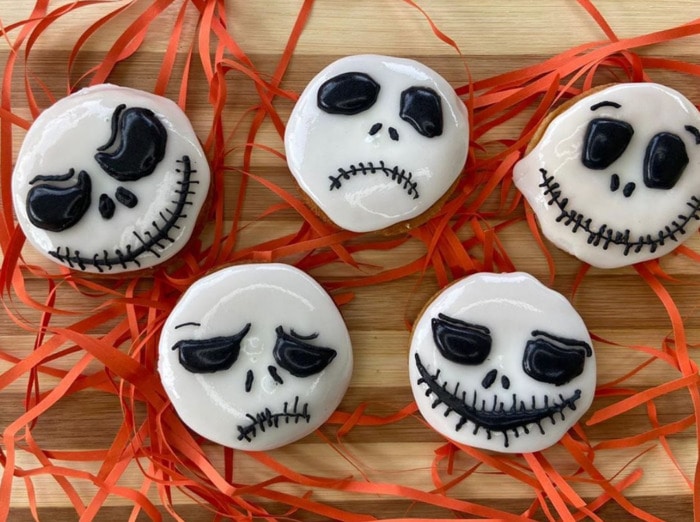 10. DIY Halloween Donuts
Not sure how to start? Buy edible googly eyes, make icing, and train in the culinary arts for years — like this baker did. Also, "donuty" means donuts in Czech and some dialects of Pig Latin.
https://www.instagram.com/p/CFrE392HFzj/
11. Spiderweb Donuts
And this is how you do it. On Friday night. Unrelated, this is how you make spiderweb donuts.
12. Little Shop of Horror Donuts
Ever made donuts that want to eat you back? Ah, love. These airbrushed man eaters were created by Speakeasy Donuts in Salem, Massachusetts — a town that is really famous for that other popular Halloween persona, Spider-Man.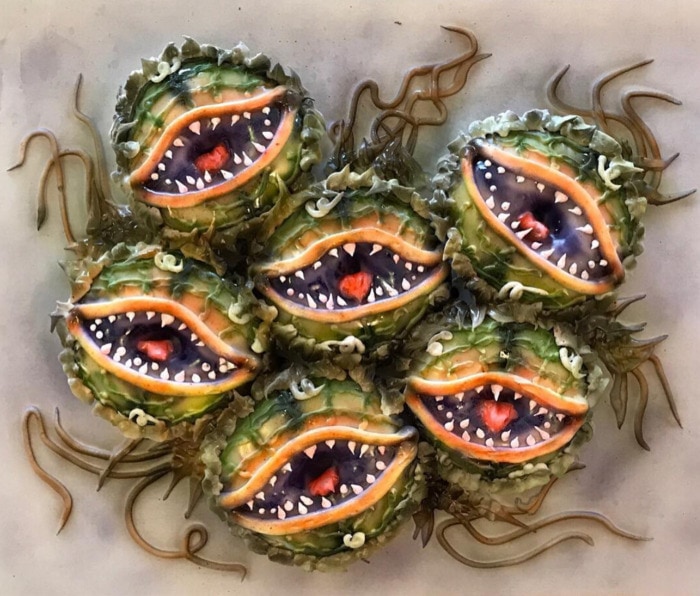 13. Jason Donuts
Nothing says "festive Halloween party" like a dude showing up in a hockey mask. Ugh, how long does that season go?
14. Spider Donuts
If you're making spiderweb doughnuts, you should definitely add some creepy crawlies to plop on top of them. Simply jam a few pretzel sticks into a glazed donut, add some edible googly eyes and call it a day! Yes, everyone watching this will be confused that you're calling a donut a day, but just ignore them!
15. Minimalist Halloween Donuts
These colorful donuts by The Bite Sized Baker look delicious! If you want to make your own version, dip your donut in a black, purple, orange or green glaze and then drizzle a contrasting color over the top. Too simple and need a challenge? Get us to Mars.
16. Purple and Black Donuts
WildChild's witchy black and purple glitter donuts would have won over our stone cold hearts — if we hadn't already given them to Cold Stone Creamery. We're suckers for mix-ins!
17. Gravestone Donuts
Are worms coming out of a grave a bad omen or a good omen? Because Grandpa's gravesite is pretty much covered in maggots. Happy Halloween!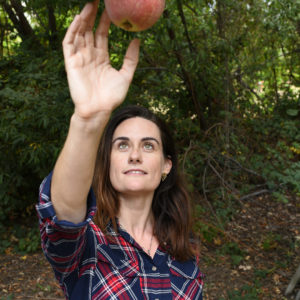 Latest posts by Rebecca Swanner
(see all)