We know it can be hard to think outside of the box for Halloween desserts. But while we wait for you to find your way out of the coffin, here's a devilish spread of the best Halloween cakes and recipe ideas we could find.
After all, a good Halloween party calls for costumes, a good playlist, and a scary cake. Otherwise, it's just a spooky meeting. So, here are our favorite cake ideas featuring everything from frosting ghosts and splatter paint in Halloween colors to spiderwebs.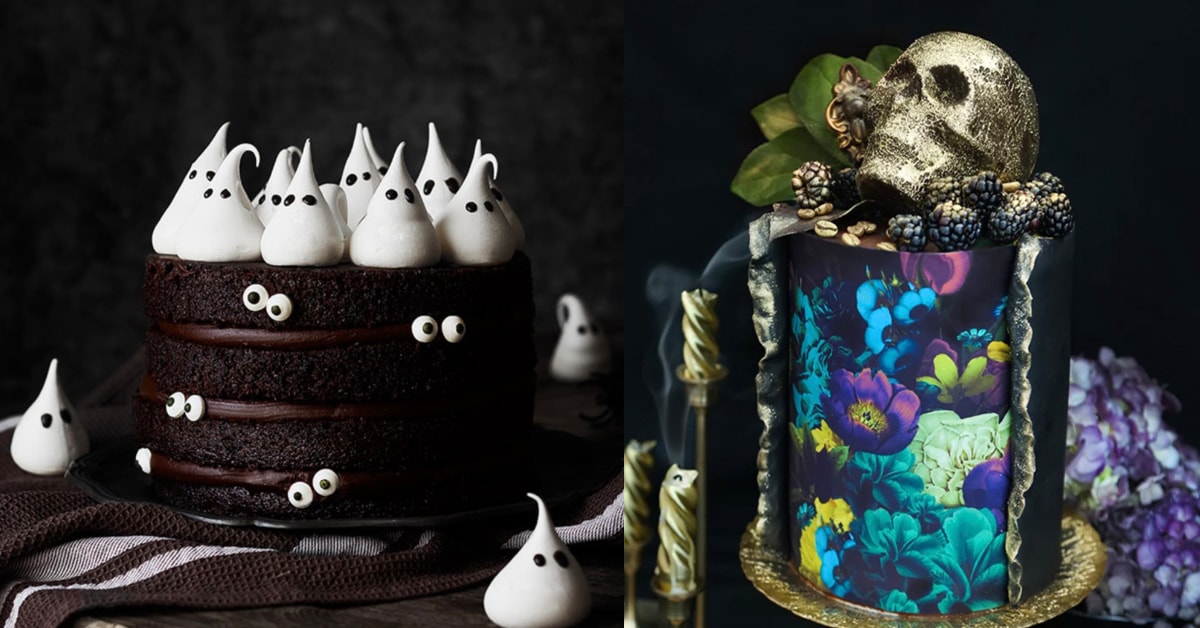 25 Halloween Cakes
1. Ghost Bark Cake
This creepy cute Halloween cake by Sprinkle Bakes features a white layer cake decorated with jet black food coloring, sprinkles, and homemade ghost bark.
The eyeballs will definitely be watching you take a second slice, but aren't there to judge. Disembodied eyes have been known to be very accepting. Will you guys come with us to our next therapy sesh?
Get the Ghost Bark Cake recipe.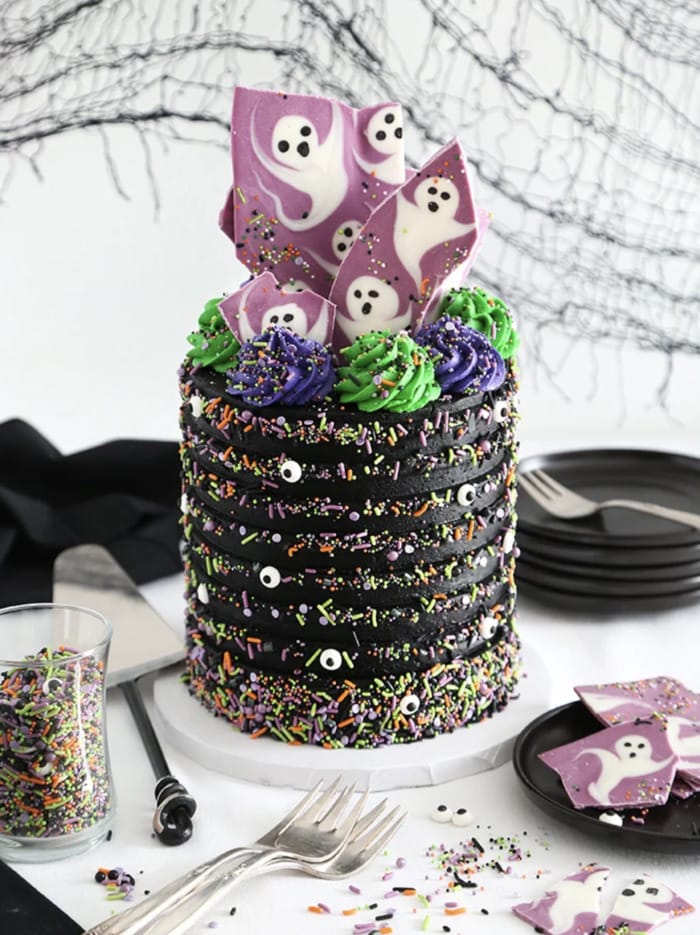 2. Halloween Bundt Cake
What happens if you mix cheesecake and a bundt cake? Apparently, a dark chocolate bundt cake painted by Jackson Pollock and filled with an alarmingly Halloween orange cheesecake center.
Get the Bundt Cake recipe.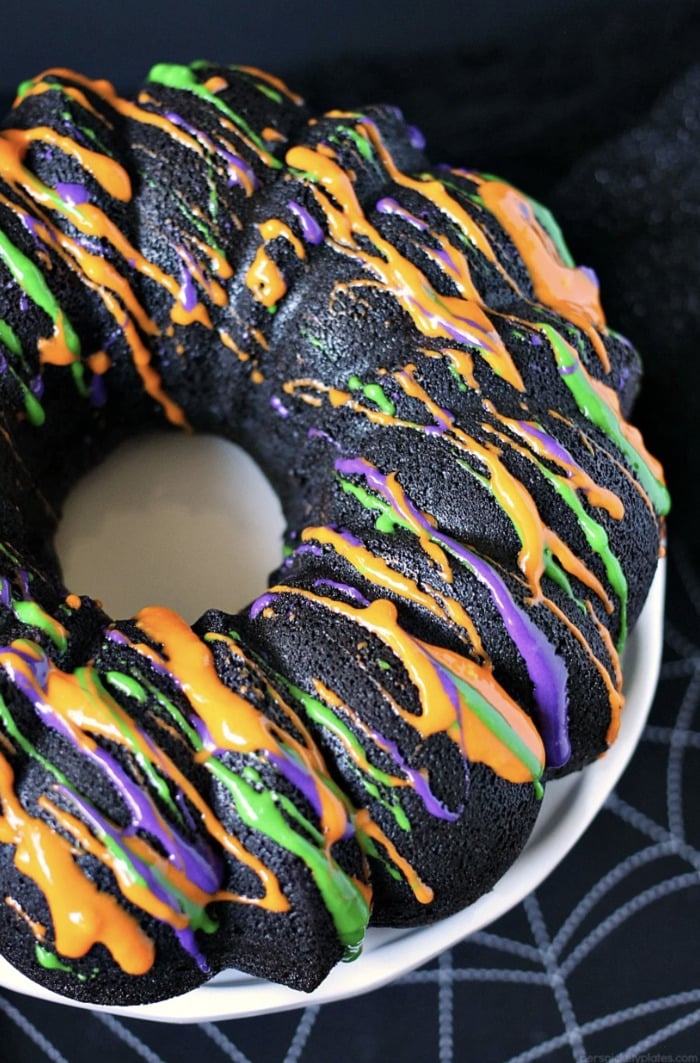 3. Red Vine Monster Cake
Not all Halloween cakes have to be spooky. Some can be adorable, like this Red Vine Monster Cake. The red food coloring make it look like a combination of Tickle-Me-Elmo and a Chia Pet and it probably won't come alive in the middle of the night. Probably.
Get the Monster Cake recipe.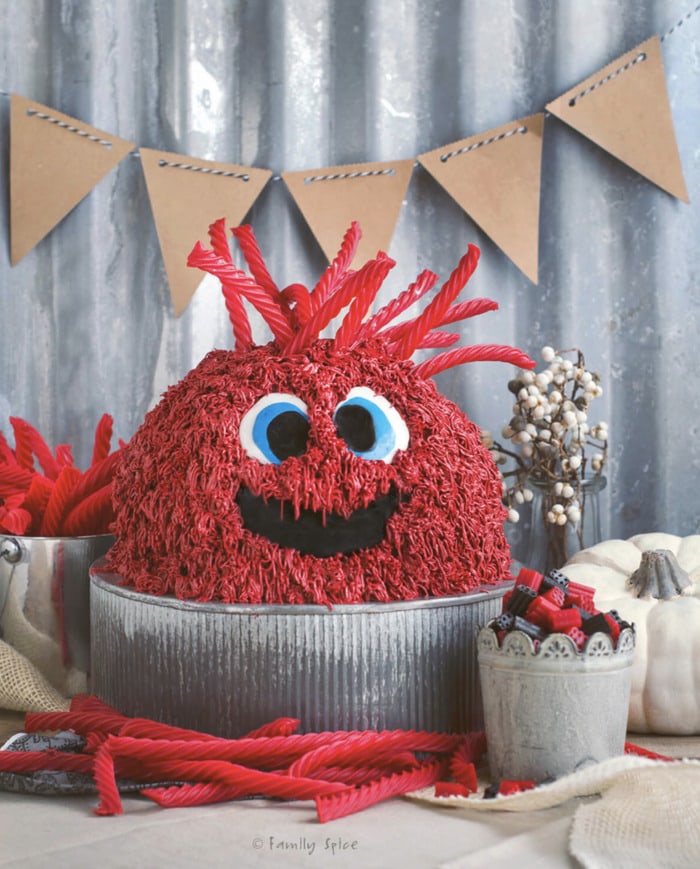 4. Spiderweb Halloween Cake
There is probably nothing creepier than walking into a spiderweb. Liv for Cake's black-and-orange Halloween cake recipe has an intricate spiderweb design made from icing. It's reportedly much tastier than webbing.
Get the Spiderweb Cake recipe.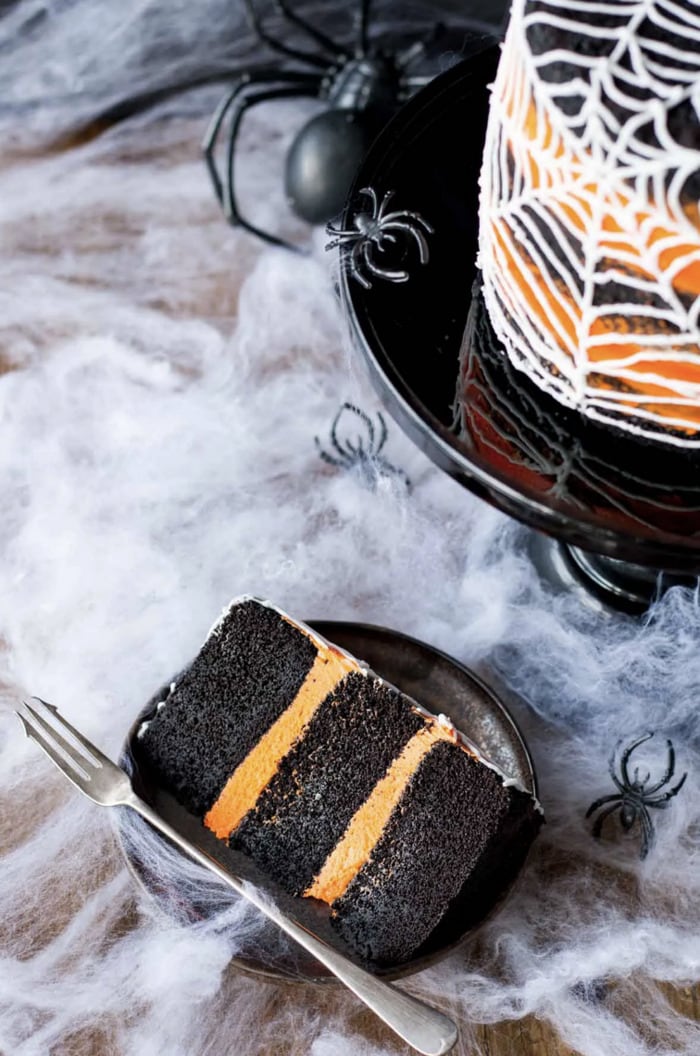 5. Skeleton Hand Cake
Get a little adventurous by making yourself a five-layer cake. Amy Treasure's candy-covered Halloween cake is coated in black buttercream frosting and all kinds of creepy crawlies.
Get the Halloween Cake recipe.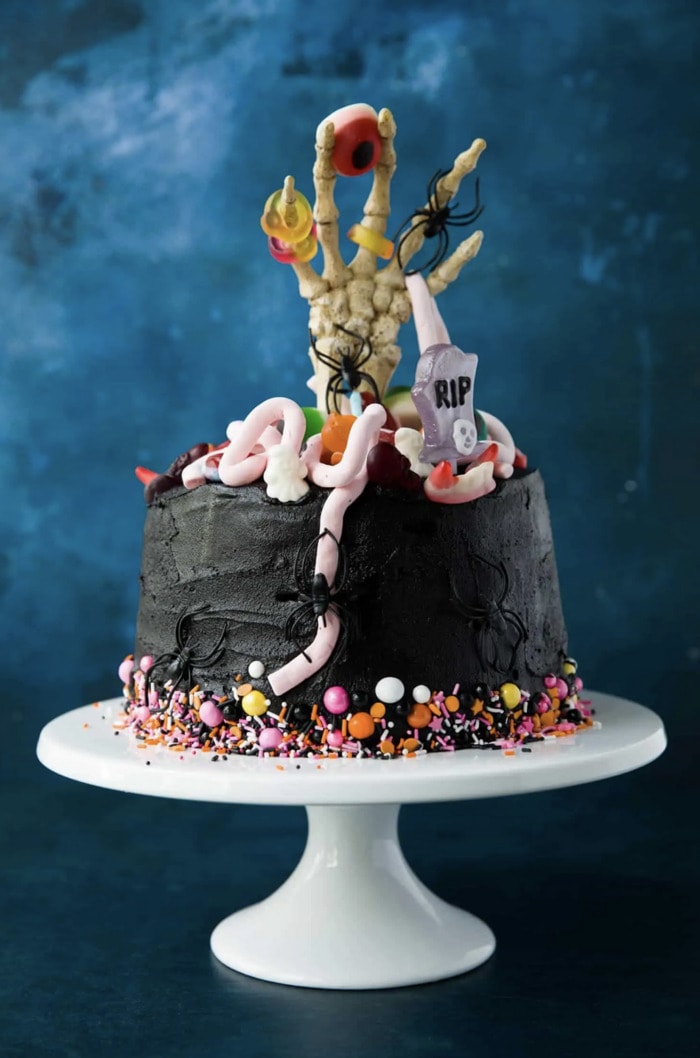 6. Chocolate Ghost Cake
This ghost cake is easy since you don't have to frost the outside. Instead, bake up some chocolate cakes, pipe chocolate frosting in between the layers, and add candy eyeballs and adorable ghost meringues. It's terrifyingly cute. Just like the kid from the Omen!
Get the Ghost Cake recipe.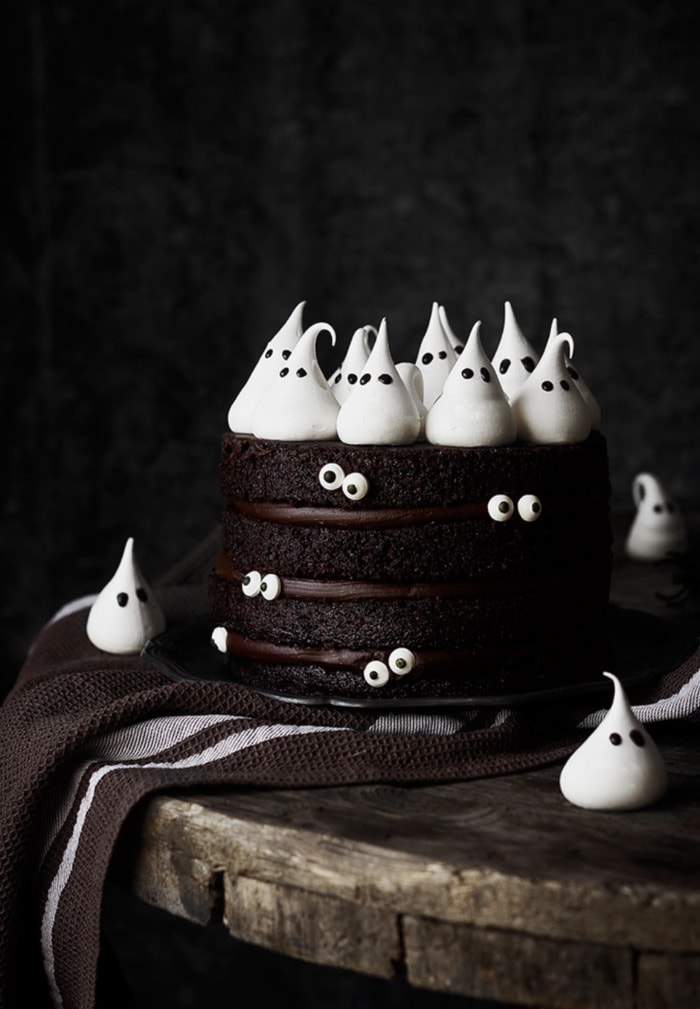 7. Skull Cake with Flowers
This coffee-infused Halloween cake by Sprinkle Bakes has hand-painted watercolor flowers and a bold golden skull. Nice glow up, Yorick.
Get the Floral Skull Cake recipe.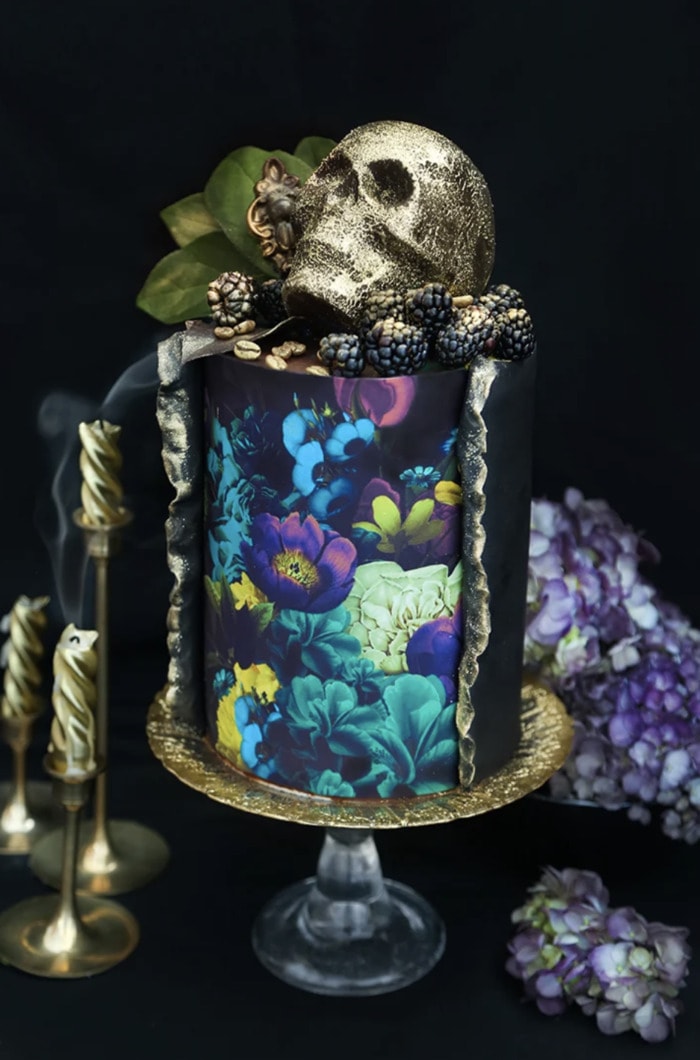 8. Drippy Skull Cake
To make this Halloween cake that wouldn't be out of place in the French catacombs, pick up some mini skull molds, white chocolate, and strawberry jam.
If you get stuck, phone a friend. Like Cerberus.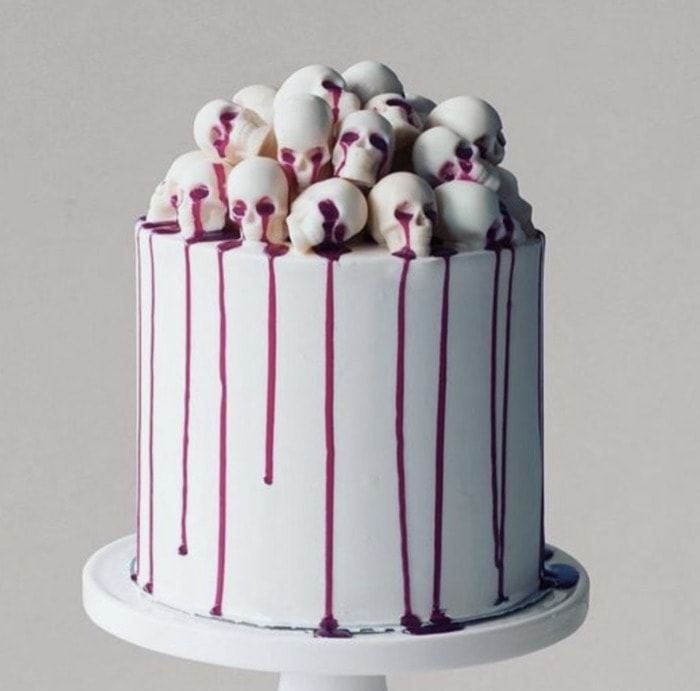 9. Halloween Cake with Bats
You can place this bat cake topper on any cake, though it might be a little out of place for Easter. Grab your detailing knife and a tool of your choosing. We recommend a wooden stake. It's great for detail work!

10. Halloween Pumpkin Cake
This Jack-o-Lantern cake looks like a pumpkin but is actually a cake. Like everything else you know and love.
11. Scary Teeth Cake
Gretchen Baker's monster cake was made with brown butter cream cheese frosting and caramelized pecans. It's preparing to bite you back. Right after it finishes NCIS.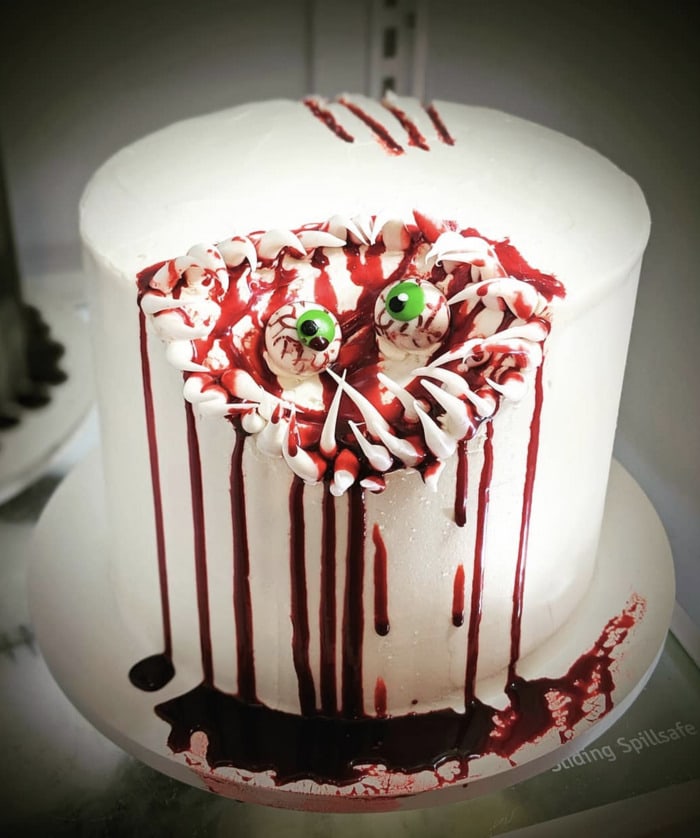 12. Black Halloween Cake with Purple Spiderwebs
Embrace the dark with this black Halloween cake wrapped in purple spiderwebs and topped with blackberries. We have a feeling Morticia Addams would approve, but Thing is so picky!
13. Halloween Bat Cake
It's not fall without at least one Halloween cake flavored with pumpkin spice, like this ombre orange one by Preppy Kitchen. Make it for Bruce Wayne's birthday. Yes, this means you'll have to drag out the bat signal again.
Get the Bat Cake recipe.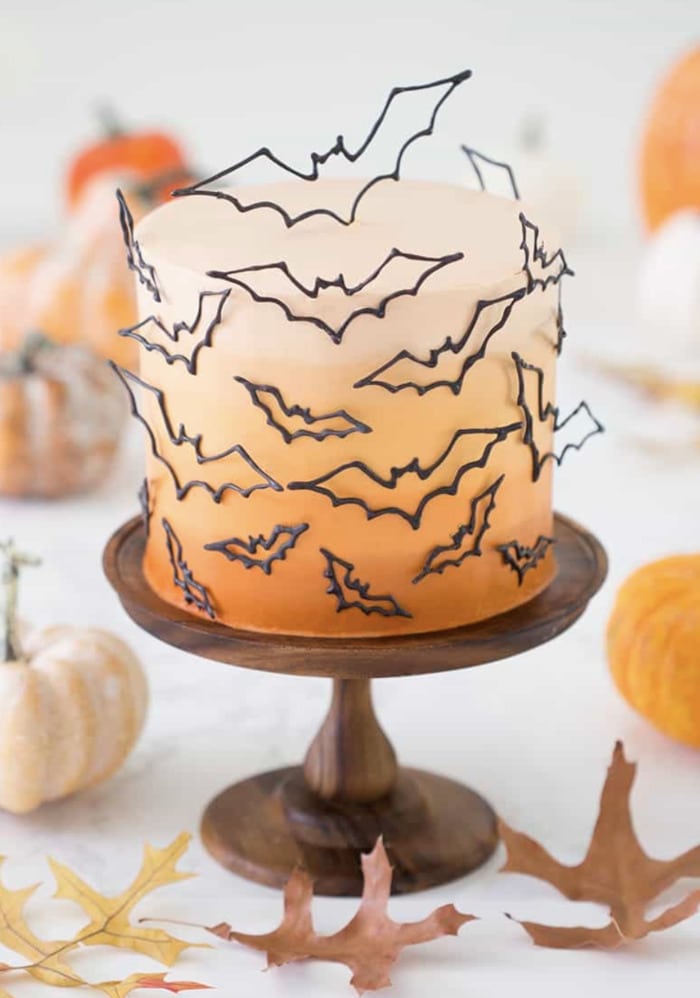 14. Pentagram Demon Cake
Is anything more metal than cake? Don't answer that.
15. Skull Cake
What is better than a Halloween cake with a little surprise inside? Preferably, Chris Evans!
Get Sprinkle Bakes' Skull Cake recipe.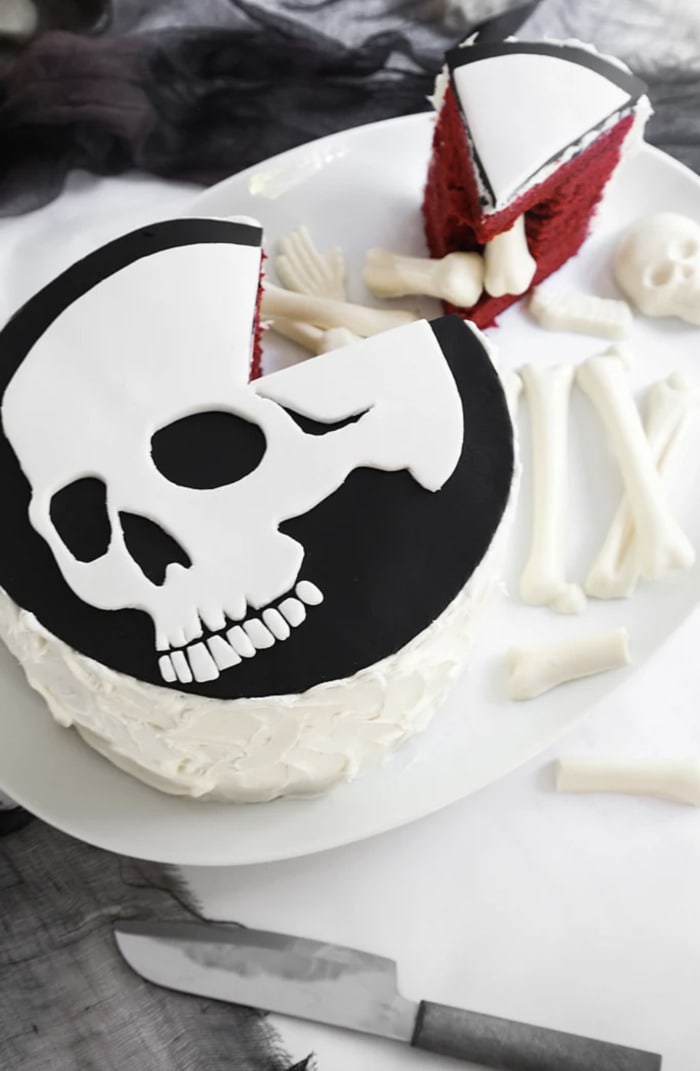 16. Halloween Cake Roll
Duncan Hines knows cakes, so of course they're going to give us a fun monster devil's food cake. Decorate this kooky Swiss roll cake with cake balls that will scream "save us" as you gleefully eat them. Nom nom nom.
Get the Halloween Cake Roll recipe.
17. Skeleton Hand Cake
Loren Bakes decorated this Halloween cake with a skull fondant hand and wafer butterflies. It's honestly almost too pretty to eat. But here we are with a knife in our hand! Um…for the cake, of course.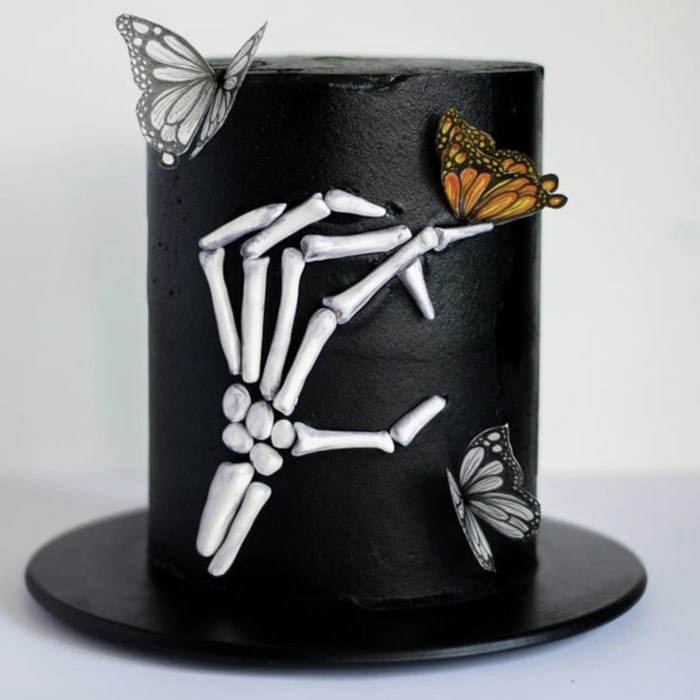 18. Frankenstein Halloween Cake
Technically this is Frankenstein's Monster, but even literary nerds can agree this moss green cake by Sprinkle Bakes is epic. You can easily trace the monster, but a freehand challenge is always fun. Or at least more fun than a root canal.
Get the Frankenstein cake recipe.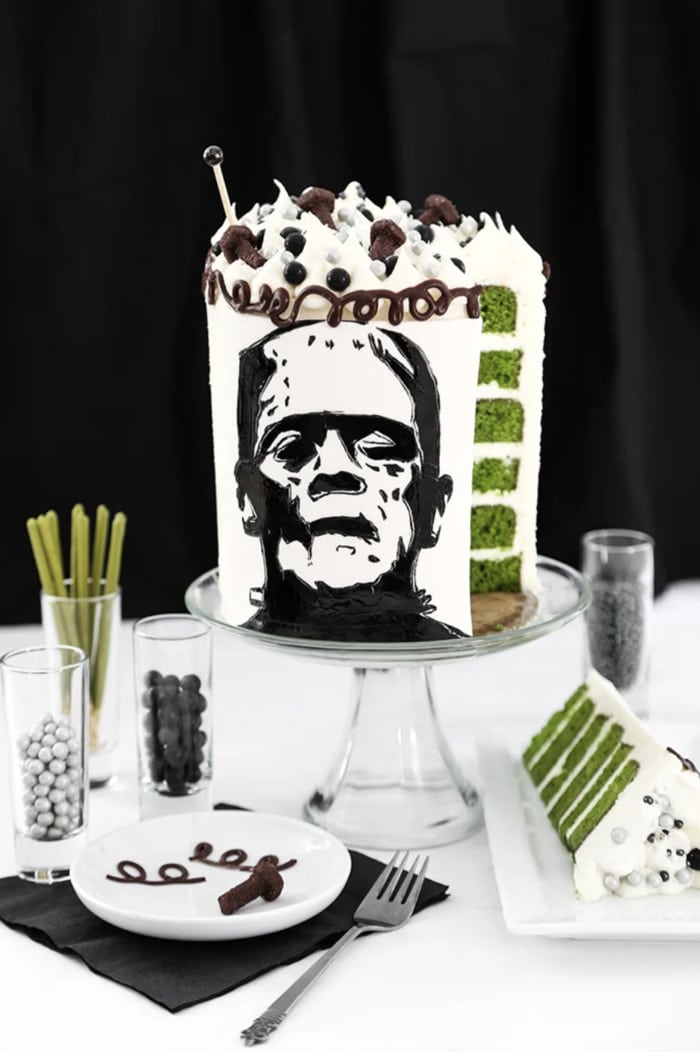 19. Eyeball Cake
We've got our eyes on you. Let your creative spirit come out and and place the candy eyes anywhere on this black-and-purple Halloween cake. We hear moms like to put them on the back of their heads.
20. Cute Ghost Cake
Ghosts aren't always scary, just the ones who have vendettas and insomnia. Decorate a cake like Rachel Fujihara with some friendly ghosts who may or may not be just trying to coexist on a parallel plane. Which is two left turns and a portal down.
21. Beetlejuice Cake
We can't wait to conjure up this yummy Beetlejuice cake for Halloween. Who knew giant sandworms and black and white stripes could be so tasty.
22. Victorian Halloween Cake
If a spooky cake gives you the chills then you know it is doing something right. Master your fondant skills and make some animal skulls, ideally ones that don't require an elementary knowledge of taxidermy.
23. Witch Cake
Whether or not this witch will curse us for eating this Halloween cake featuring her visage is a chance we're willing to take.
24. She's Back Halloween Cake
From where? The store? Her vacation? The salon? Ooooh, great new updo.
25. Snake Cake
This serpent cake isn't specifically a Halloween cake, but somehow we don't think our parents would appreciate us baking it for Christmas.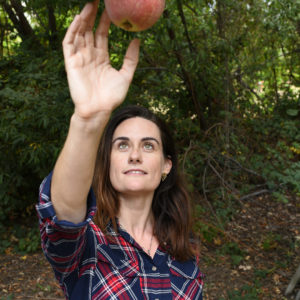 Latest posts by Rebecca Swanner
(see all)