We love monsters all year round, but as we approach Halloween, it feels like the right time to try some monster cakes. Emphasis on try. You go ahead and bake them, please.
We're totally inspired to try and bake and decorate some of these inspiring examples of zombies, monsters under the bed, Mr. and Mrs. Frankenstein, and egregious eyeball aliens. Who knew you could make cakes in so many shapes? Besides the cast of Great British Bake Off.
Some of these monster cakes require exacting skill, while others are so abstract that no one would even know if you mess the design up. So what are you waiting for? The monster in your closet to come help? But really, we could use a second pair of paws.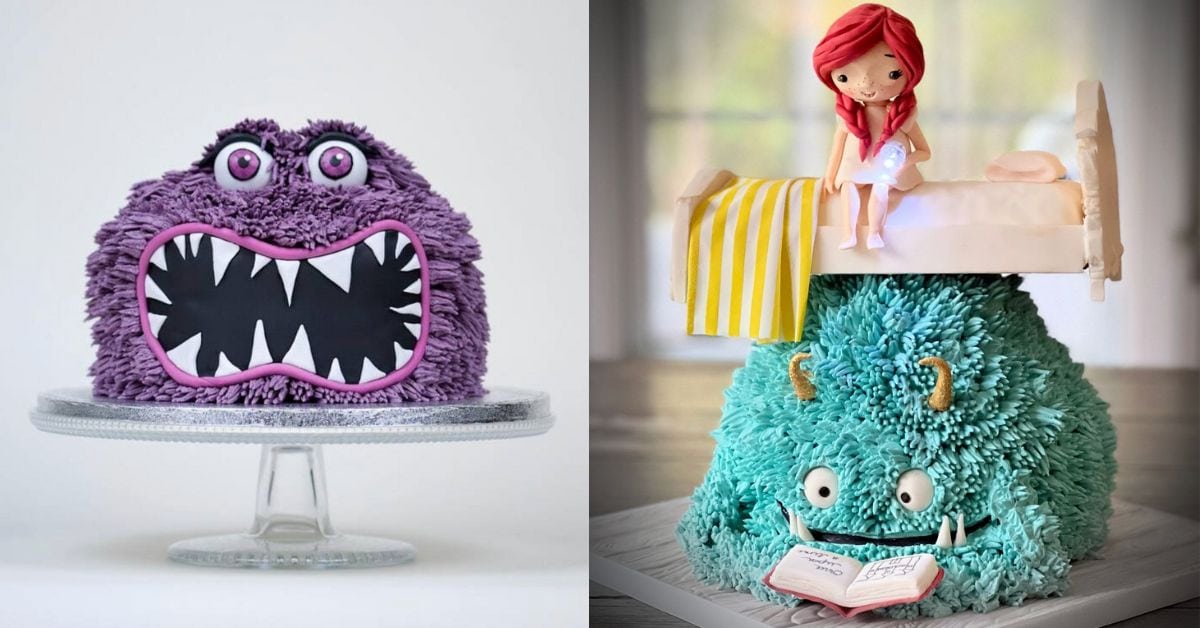 17 Scary Good Monster Cakes
1. Just Another Manic Monster Cake
This riotous sprinkle monster is totally customizable depending on which type of sprinkles you get, how many eyes you choose, icing colors, and more.
That does indeed mean you can make yours look like Sully from Monsters, Inc. Yeah, okay, or Mike. Whatever.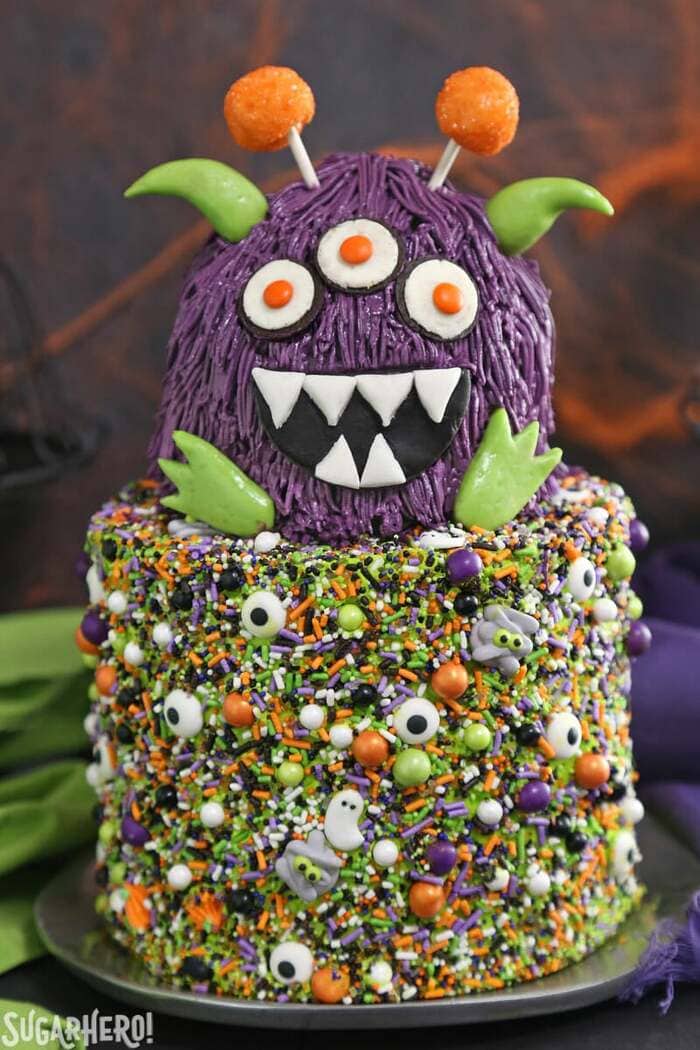 2. Abstract Eyeball Cake
This cake looks like a ship's worth of aliens was dematerialized into a vat of gaseous liquid, with only their confused eyeballs left bobbing around. In other words, it's perfect.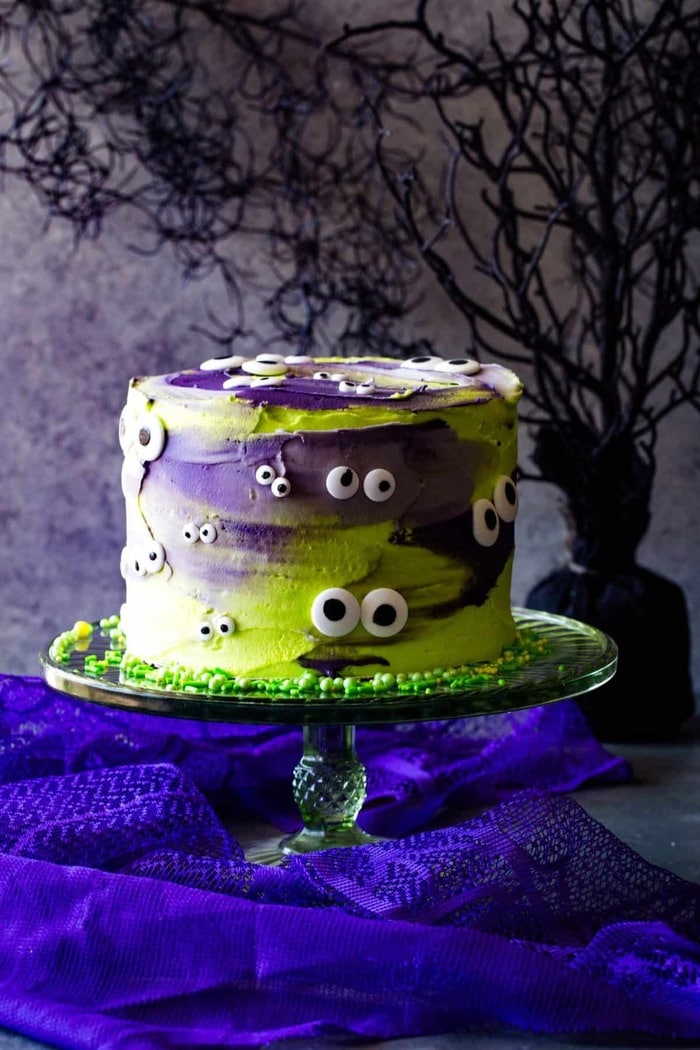 3. Bright Green Bundt Cake
This is a relatively simple recipe, great for a beginner or a project to share with the kids. We're not promising to share the cake with the kids, though. Because we said so.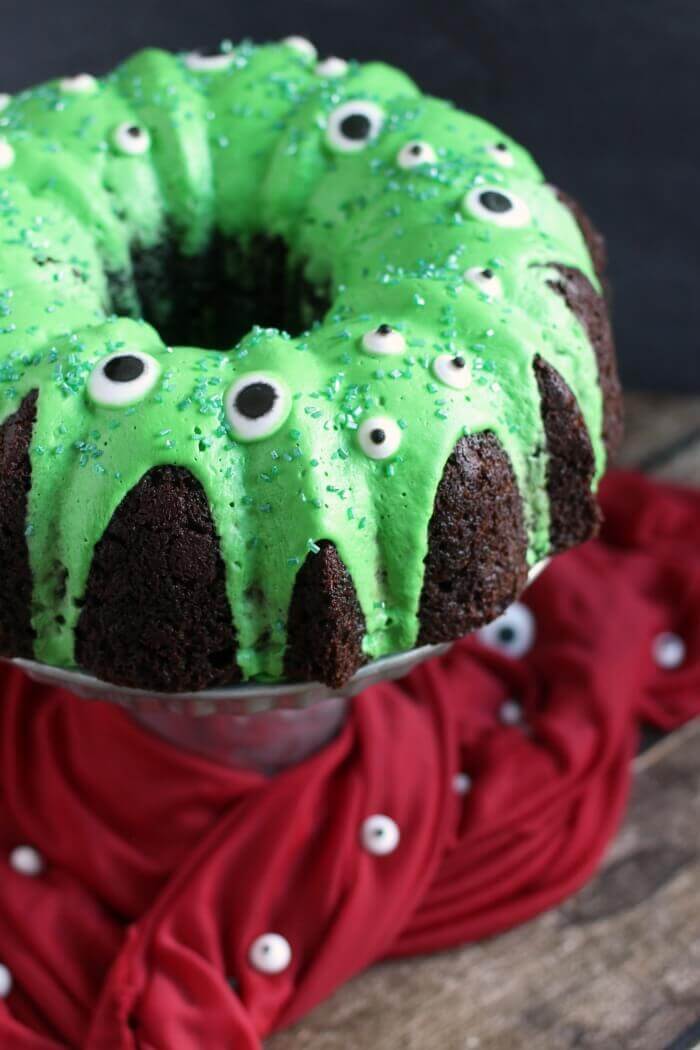 4. Yip Yip Aliens
If you're looking for a cake that looks like a multitude of Sesame Street's Yip Yips got melted together, this is for you. Anyone who ever said you shouldn't play with your food clearly never got to make something this fun.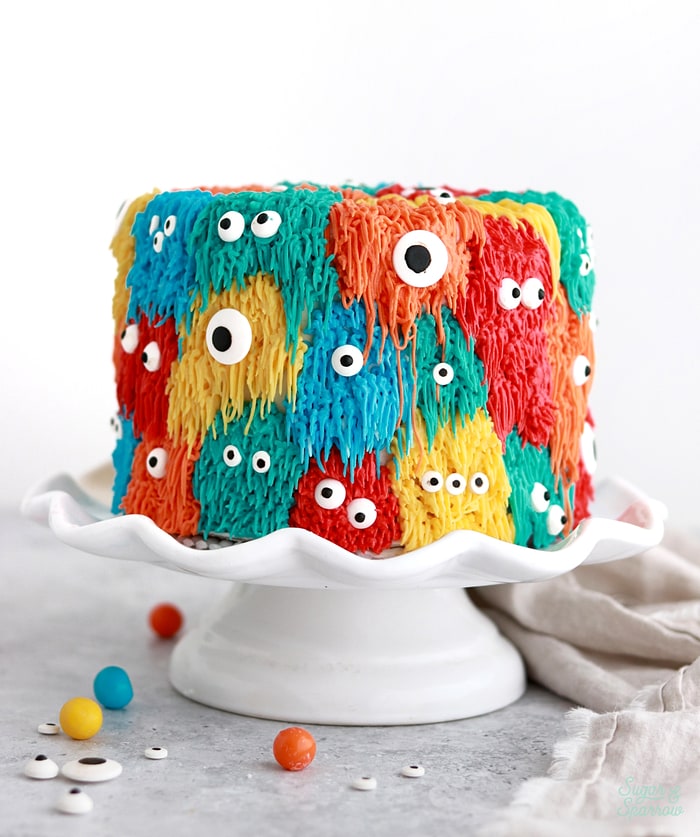 5. Childhood Monster Cake
We love how this creator remade a monster cake from her own childhood. We're glad it worked for her, but we'll skip trying to re-create the hard, lumpy carrot cake we grew up with. Sorry, Mom.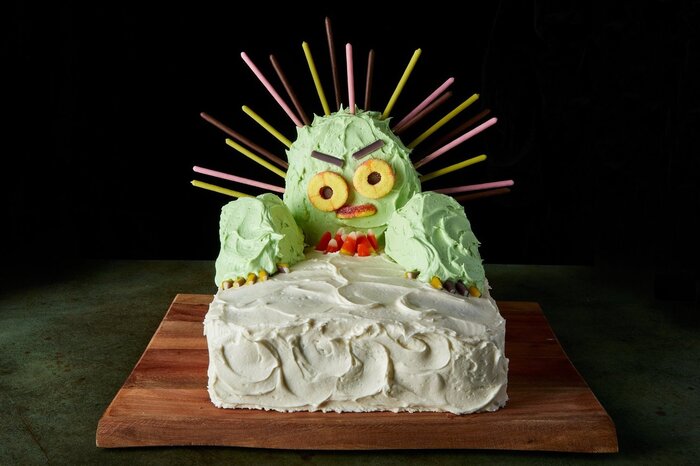 6. A Toothsome Smile
We've been looking for the perfect opportunity to use the new "IJBOL" acronym we hear is trending, and this goofy and gross cake gave it to us. The idea of turning the cake around for a big reveal at a wedding is killing us. If this monster cake doesn't do it first.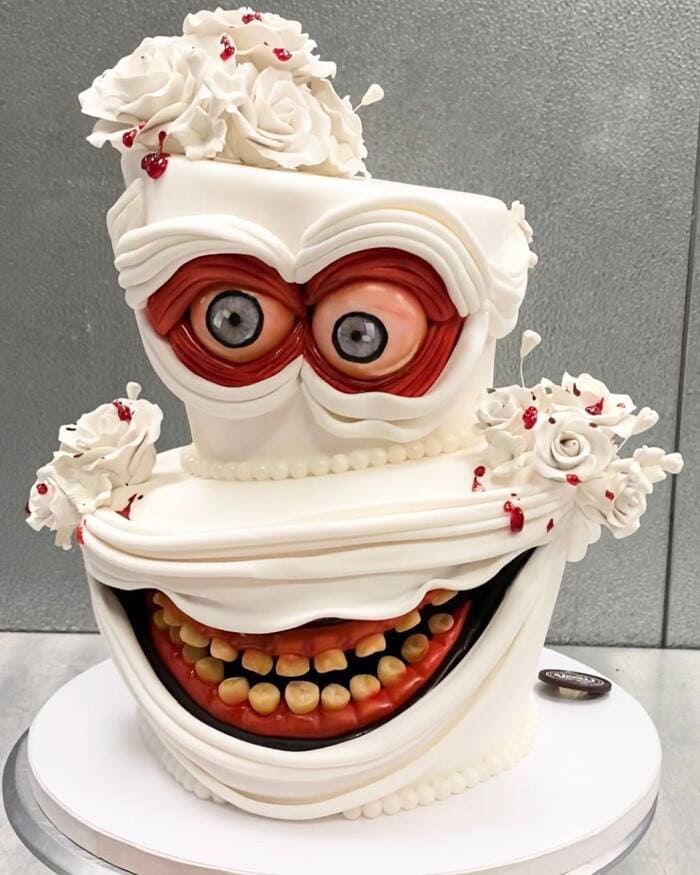 7. Purple People Eater Monster Cake
This monster cake looks like it just found out it showed up late to celebrate Grimace's birthday. By the way, was that really a thing that happened, or did we imagine that?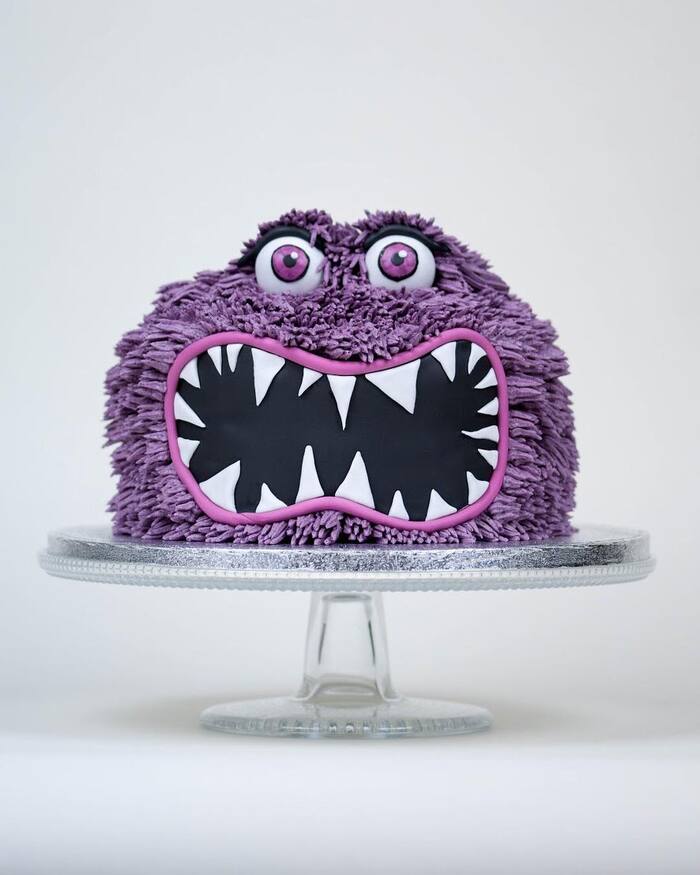 8. Cheerful Monster Friend Cake
It's important to remember that not all monsters are scary and that they need love, too. This bright and colorful guy is just happy you showed up to the party. Ssshhhh, no one has told him he's the main course yet.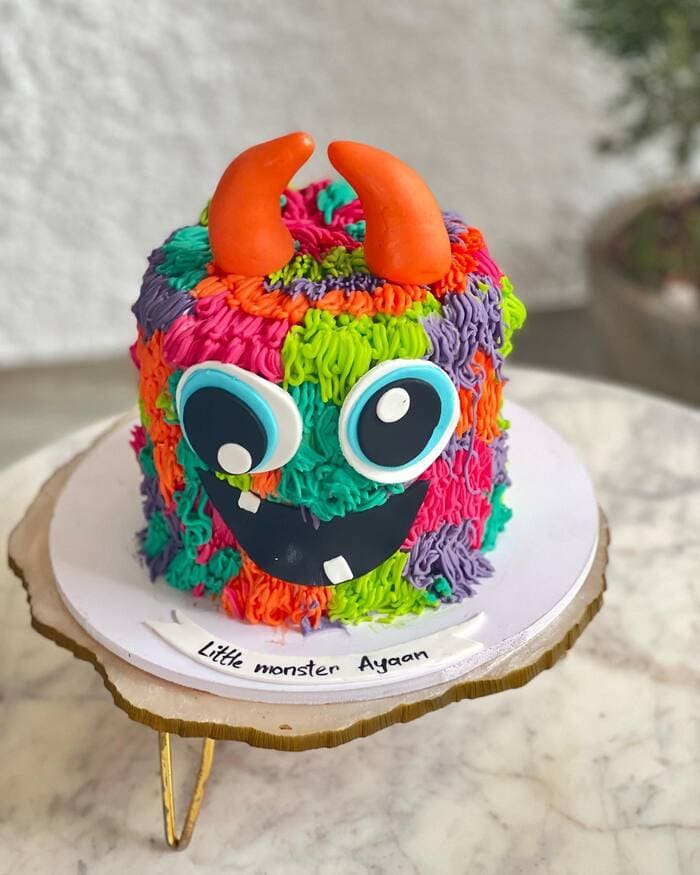 9. Metallic Pumpkin Cake
The metallic copper and purple frosting on this mysterious pumpkin monster elevates it to be much more than a kids' party cake. Go ahead, bust this out for your parents' retirement shindig. We won't stop you, but their nosy neighbor might.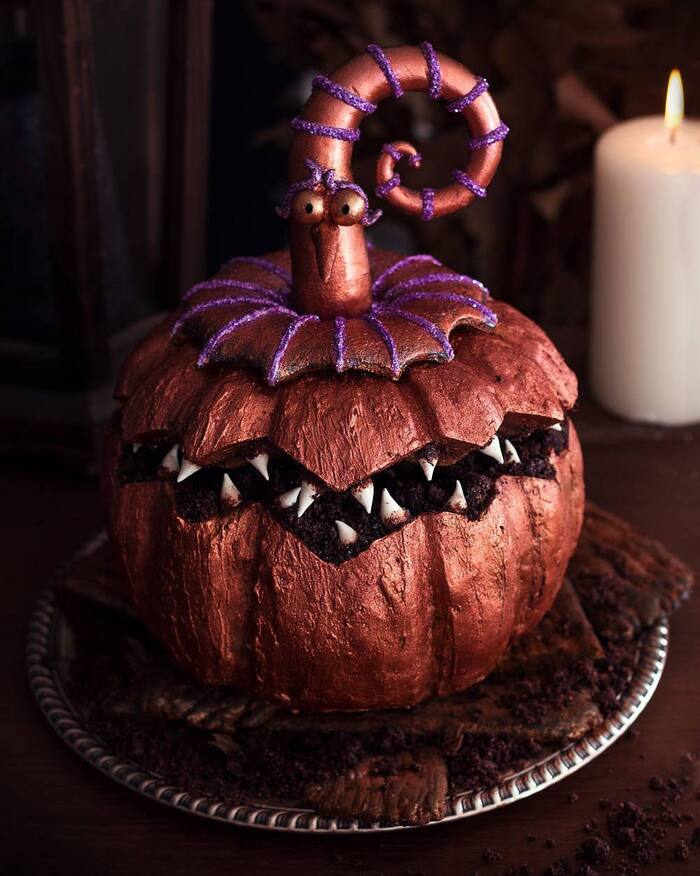 10. Monster Under The Bed Cake
This monster cake is pushing the boundaries of being able to clearly tell "is it cake?" Thanks to the creator for pointing out that the working flashlight isn't edible, because who can be sure these days?
11. Bloody Teeth Cake
We absolutely love a cake that looks like it will bite us before we can bite it.
https://www.instagram.com/reel/CE5qSSSDvv4/
12. Buttercream Beast
This monster looks as shocked as we are that it was born from Magnolia Bakery. Although this is what we tend to look like after waiting in the long, sweltering line for a tiny cup of banana pudding.
13. Undead Delicacy
What flavor is grey frosting? We have no idea, but we're assuming it tastes yummier than this eyeball-popping zombie head looks. Just, uh, close your eyes.
14. Zombie Infection Cake
How did you get this photo of us fighting this season's first bad cold? It's like looking in a depressing mirror.
15. Eyeballs Everywhere Monster Cake
We feel so seen. That's it. That's the caption.
16. Frankenstein Cake
We'll always ship Frankenstein's Monster and The Bride, even if she just screamed when she saw him. We've had dates like that. Ever been on Hinge?
17. Disney Monster Cake
As if we needed more reasons to visit Disney World. We normally associate the parks with a summer vibe, but we'd skip our Dole Whip to try these little monsters.
Who are we kidding? We'll still get the Dole Whip.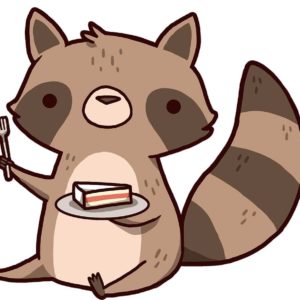 Latest posts by Christine Colby
(see all)