If you're usually in charge of bringing dessert to Thanksgiving, you better start studying these fantastic pie designs for dessert inspiration. We may not be able to create one quite this stunning, but it's good to have goals.
Some have more traditional crust designs like turkeys, while others feature bright colors, pop culture characters, and adorable animals. We don't think we'll ever be satisfied with a plain ol' pie again. Alright, one slice of apple won't hurt.
It may take a few tries to create a masterpiece like these, but that's OK. Even the stupid-looking, collapsed failures will still be edible. You remembered the baking soda, right?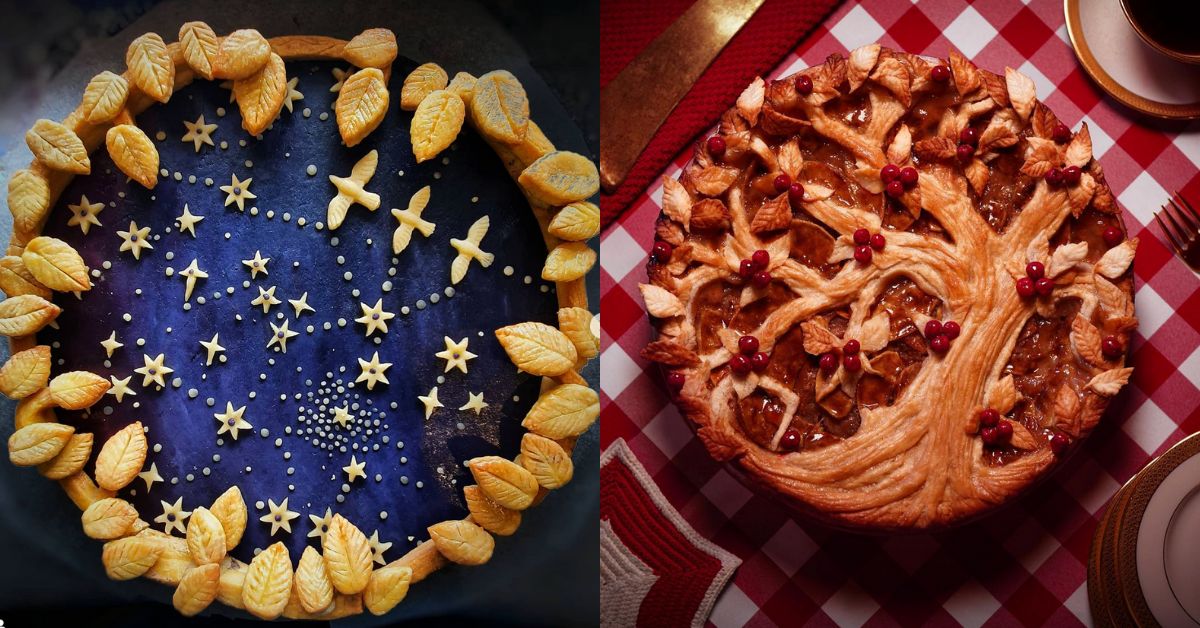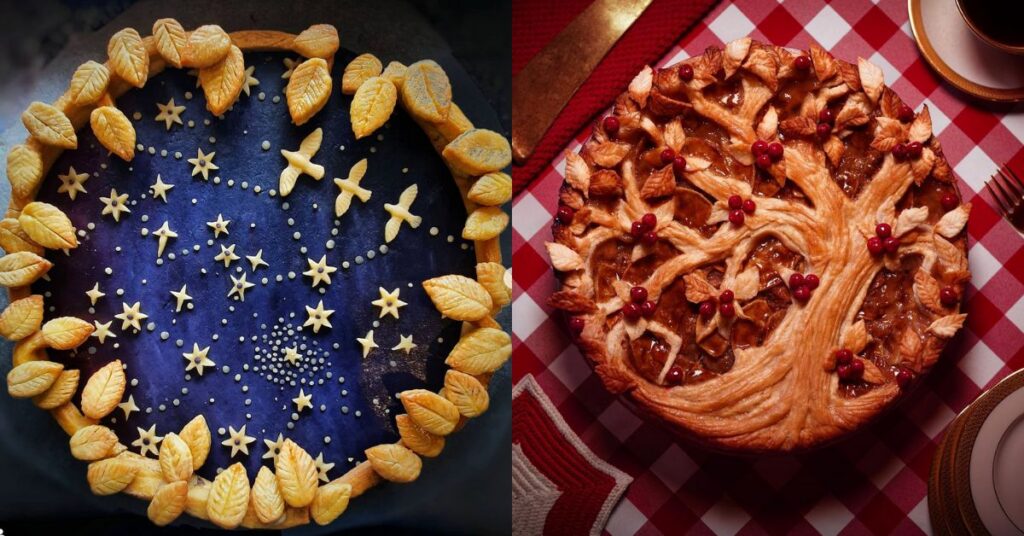 25 of the Coolest Pie Designs You've Ever Seen
1. Bun Bun Pie
Bring this to Thanksgiving dinner so the vegetarians will still feel included.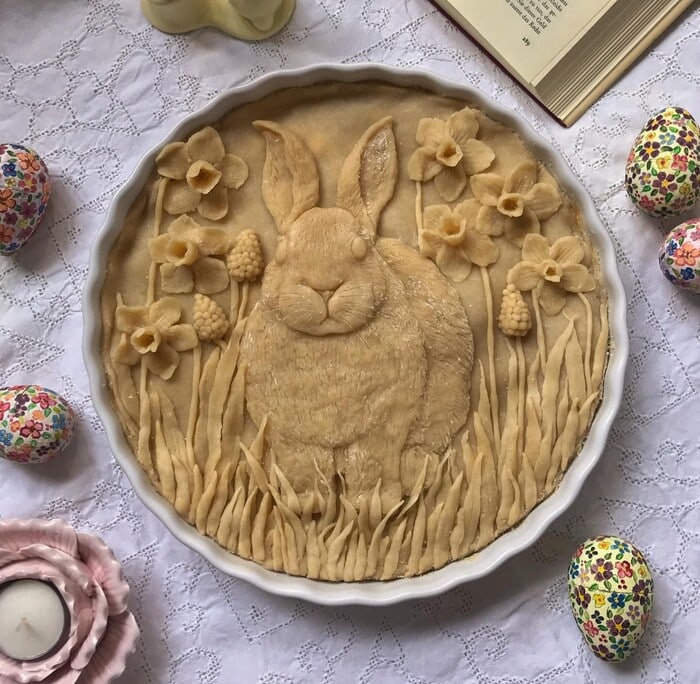 2. Fall Leaf Pie Design
This is the ultimate Fall pie for a leaf-peeping trip. There they are, we see them. And we didn't even have to drive to Vermont.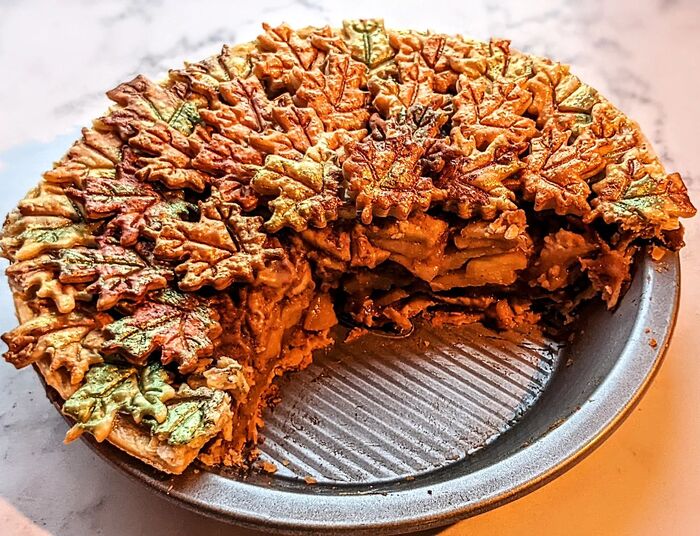 3. Chocolate Turkey Pie
Finally, a turkey that your vegan dinner guests can eat. This has got to be better than whatever a Tofurkey is.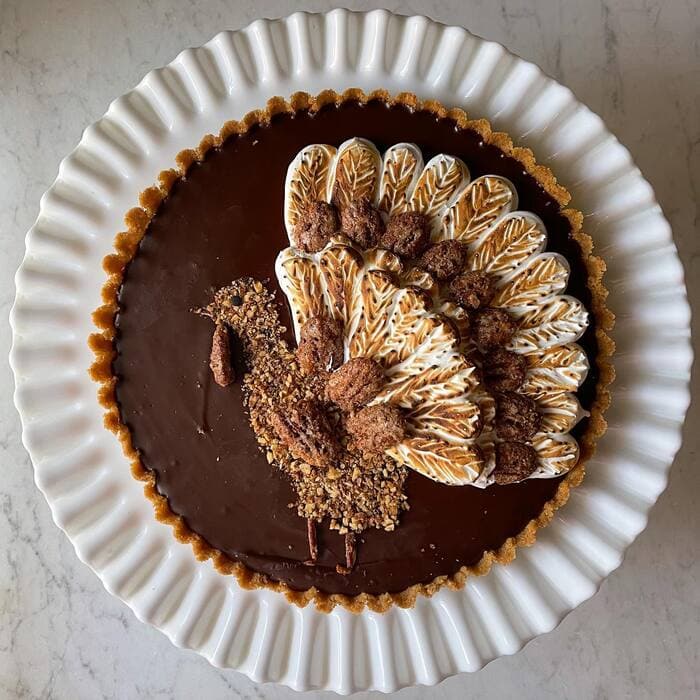 4. Beetlejuice Pie Design
We bet it's hard to resist saying "It's showtime!" when showing off this cool Beetlejuice pie. You earned it.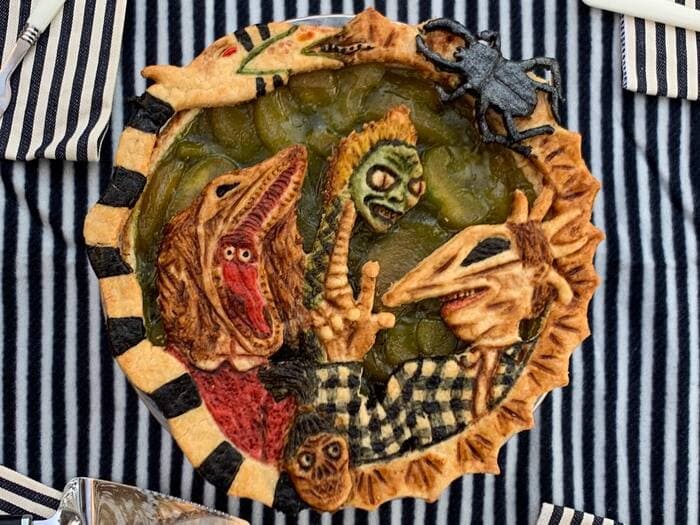 5. Tiana Pie Design
Princess Tiana is always lovely, but especially so when she's set on a bed of plump blueberries. She's wishing on one of those stars that a Hinge match will work out so she doesn't have to kiss a frog.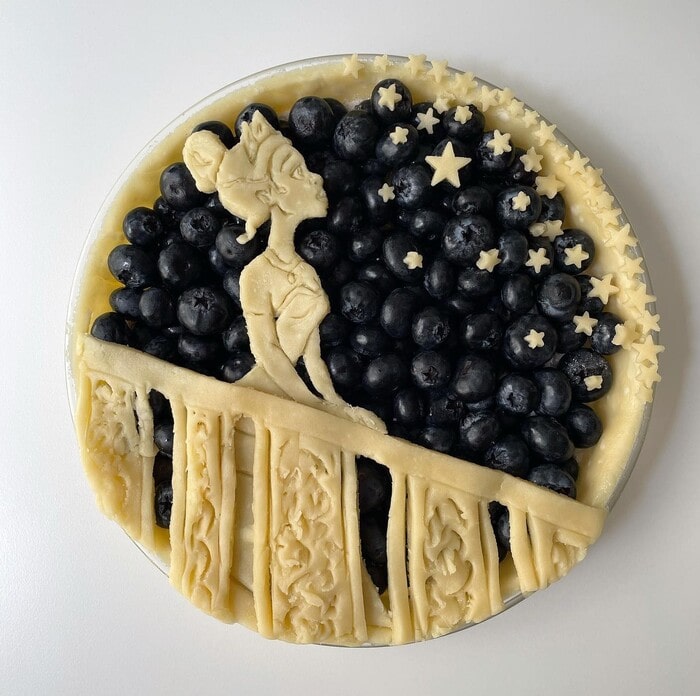 6. Star Wars Porg Pie
We can actually hear this pie. Don't let any other porgs see you eating this, or you'll be shamed like Chewie. Shamed, but full, so…worth it.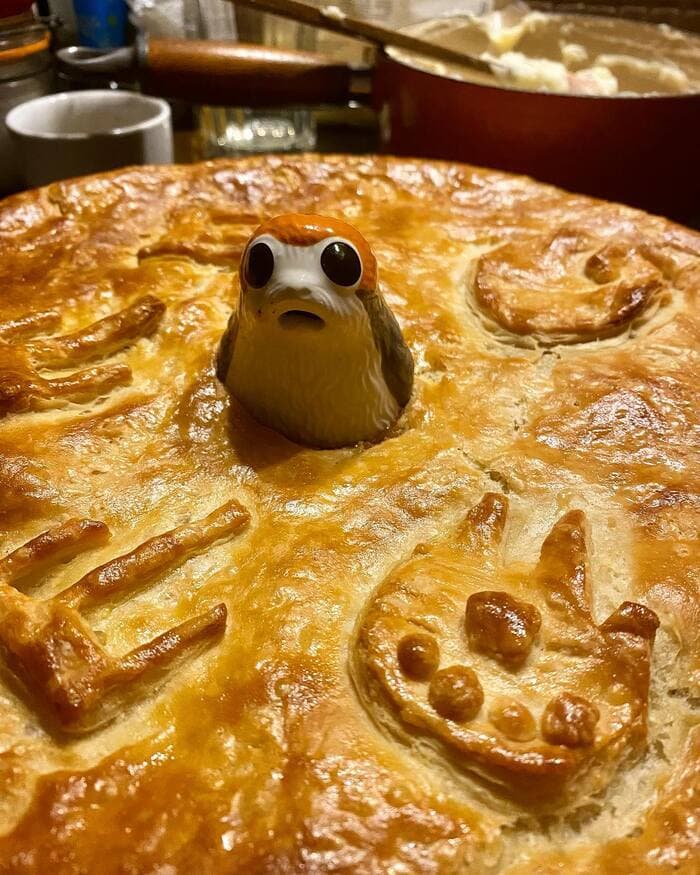 7. Halloween Pie
We know it's technically not spooky season anymore, but what about the "Every day is Halloween" contingent? Don't they deserve an impressive dessert? You got us. We are they.
8. Apricot Bouquet Pie Design
Roses are red, but they can also be made out of apricots. A rose by any other name is just as edible.
9. Green Man Pie Design
This handsome Green Man may be more appropriate for a harvest festival than Thanksgiving, but we'd be happy to set a place for him at our table.
10. Icing Art
This bright white contrasting icing is so stunning. And makes us wonder if Keith Haring ever baked a pie.
11. Pastel Pie Art
This may be bedecked in Easter colors, but we guarantee no one will be disappointed if you bring it to a Thanksgiving gathering. Except maybe the Easter Bunny. He always gets the short end of the stick, even when there's no carrot.
12. Abstract Turkey Pie
What's not to love this bright stained glass turkey. Turkeys are fine and all, but they can be so monotone. What, never heard of feather dye?
13. Poisoned Apple Pie
We can't wait to see the looks on their faces when we show up with this after promising to bring apple pie to the potluck. :insert evil cackle:
14. Creepy Vintage Halloween
Tell them you brought a pumpkin pie, and then whip this bad boy out with apple filling. You'll piss off both contingents of pie fan. It'll be great.
15. Blueberry Night Sky Pie
This artwork totally belongs in a museum. Or at least the museum cafe.
16. Hot Pink Pie
We love looking at this geometric wonder, but it also hurts a little bit. Is this what they mean by "beauty is pain?"
17. Lt. Uhura Lookin' Tasty
This is one of the best portraits of Star Trek's Uhura we've ever seen, edible nature notwithstanding. Hailing frequencies are open, Sir.
18. Fairy Tale Tree Pie
This impressive tree manages to look elegant and spooky at the same time. Which is basically the vibe we're always going for.
19. Cute Kitty Pie
The purrfect pie for Caturday night. Oops, we meant Saturday. Hairball.
20. Blackberry Hair Pie Design
These plump, glistening blackberries are perfect to create a beautiful hairstyle. Alternatively, you could use raspberries and make a scary clown pie. Lost your appetite? Why?
21. Pie In The Sky
We could get lost in this deep blue confection, watching the birds migrate across the starry sky. Just to be safe, enjoy with a GPS close by.
22. Green Pear Pie
This is one of those delicious pies that looks deceptively healthy. It's not, in case you're still unsure.
23. Turkey With Cranberries
Set the bar high at Thanksgiving this year. And then stock it well.
24. Pretty Pink and Red Pie Design
Stun-ning. We don't even know what half the things are on this pretty pie, and we don't care. Our taste buds on the other hand? They can be so rude.
25. The Shining Pie
All work and no pie makes us a very dull girl.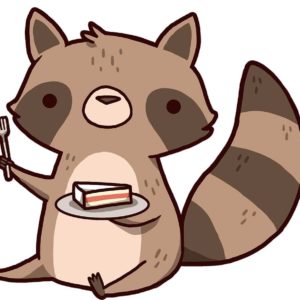 Latest posts by Christine Colby
(see all)