To paraphrase Kermit, "Someday we'll find it, the rainbow desserts. The cupcakes, the ice cream, and me." Well, Kermie, that day is here, because we've got 20 colorful, delicious desserts that'll make you feel like you found a pot of gold hidden in each one.
These sweet rainbow recipes are a perfect way to celebrate the spring holidays, from St. Patrick's Day to Easter. And don't forget to save them for June so you can be a Pride host with the most.
Well, the most colorful cookies. Blake will always beat you out for having the most comic books. But it's not a contest…right?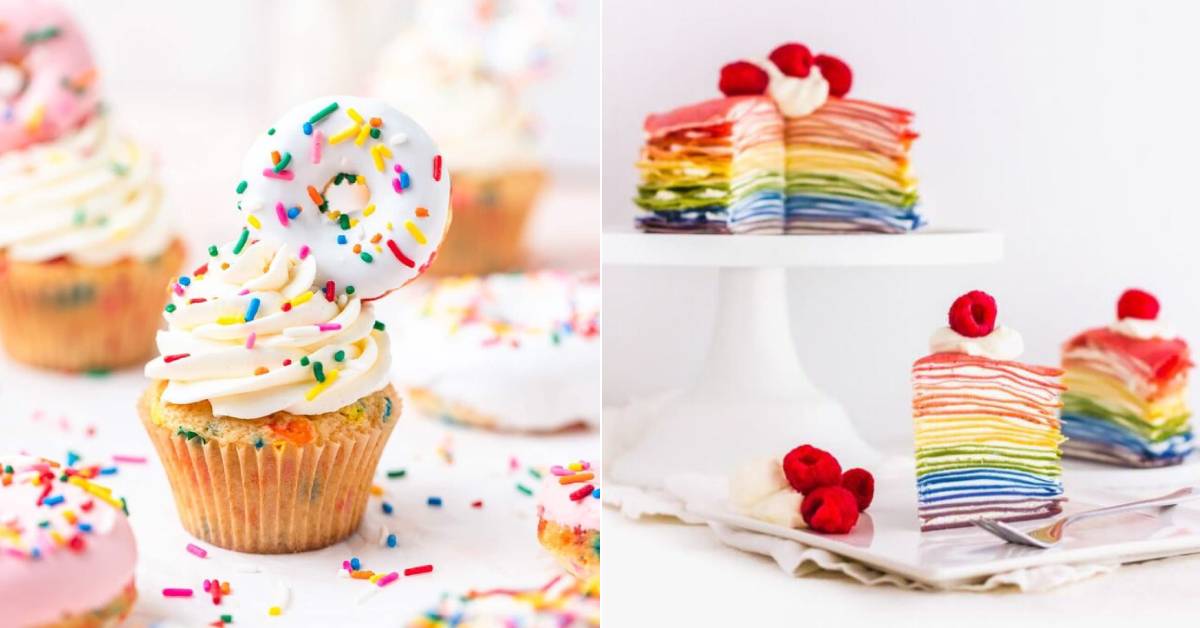 20 Rainbow Desserts To Delight Your Inner Unicorn
1. Funfetti Donut Cupcakes
Donut ask us to have cupcakes without donuts on top ever again. These Funfetti Donut Cupcakes have convinced us that coffee isn't a donut's best friend — it's cupcakes.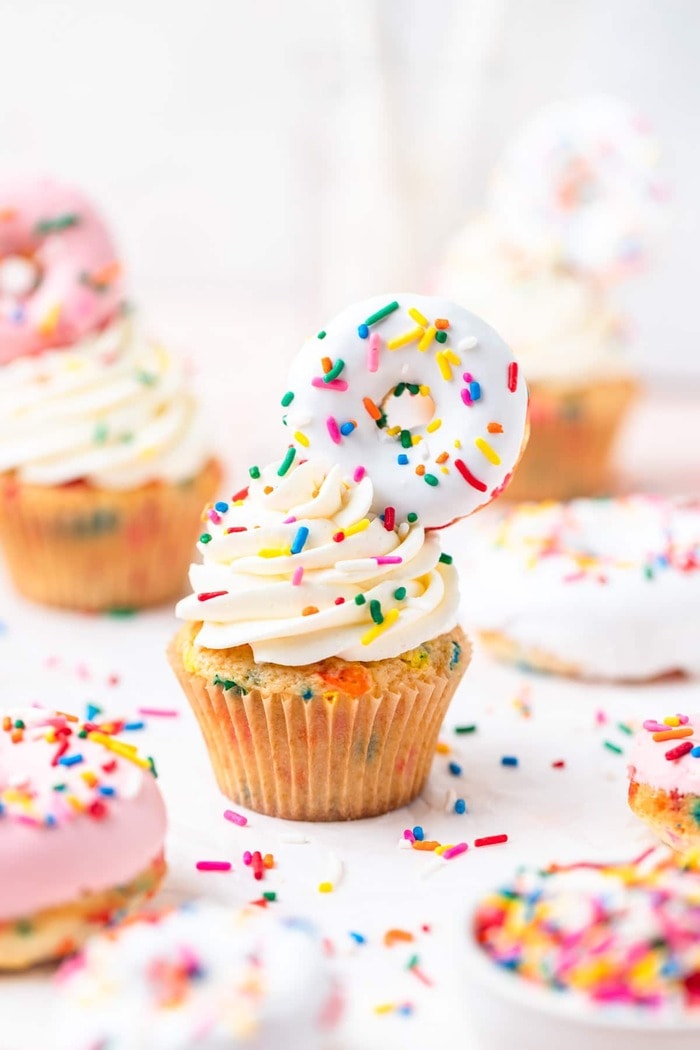 2. Rainbow-Topped Cupcakes
What's at the end of your rainbow? A pot of gold? That's cute. But what's at the end of these Rainbow-Topped Cupcakes is a sky-blue vanilla cupcake. It may not be better financially, but that's what Monopoly money is for.

3. Rainbow Bundt Cake
Bunting in a baseball game may or may not be a good idea. But bundt-ing with this Rainbow Bundt Cake will always be a homerun. (You've just gotta run really really really fast.)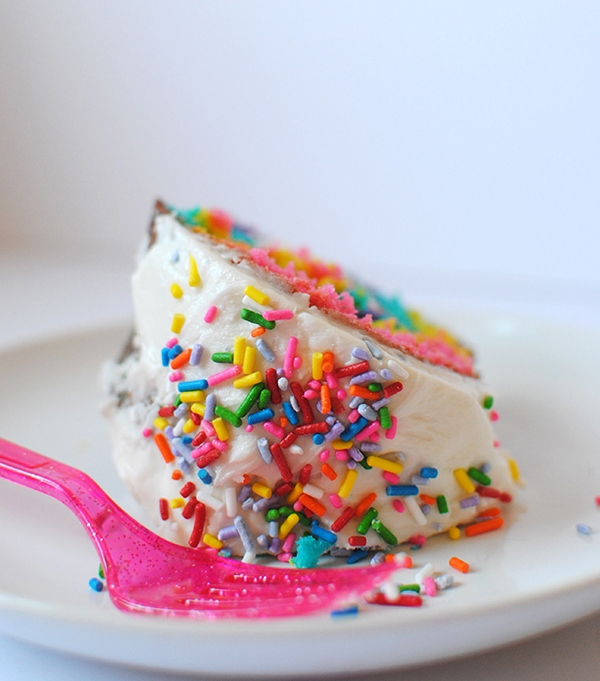 4. Rainbow Ice Cream
This Rainbow Ice Cream is actually pretty vanilla. And no, we're calling it boring – it's literally vanilla ice cream! And it clearly just came out of a meeting with Lisa Frank. We hear she's doing well these days.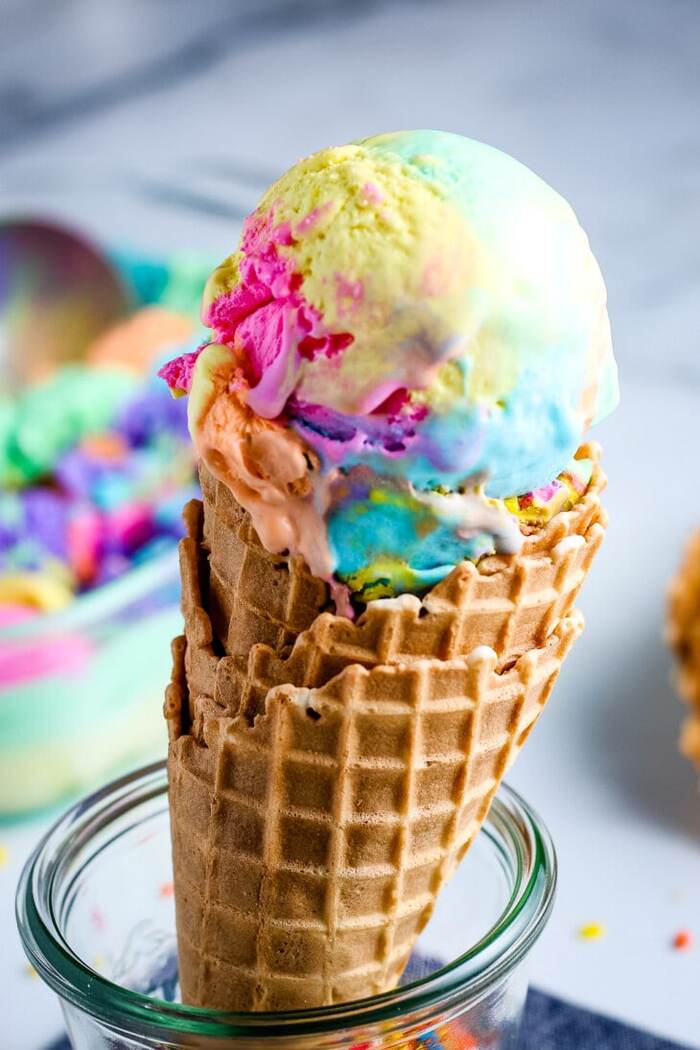 5. Easy Rainbow Fudge
The hardest part of this white-chocolate Easy Rainbow Fudge is remembering which order the rainbow goes in as you layer the colors. Somewhere, our second-grade teacher is yelling, "ROY G BIV!" Whatever that means.

6. Lucky Charms Munch
What's a munch? Well, it's everything good in the world thrown together in one bowl. In this case, Lucky Charms marshmallows, pretzels, M&Ms, rainbow sprinkles, and white chocolate. This Lucky Charms Munch looks like the sugar high of our 6-year-old dreams. If you need us, we'll be in a blanket fort with this mix. Knock before entering.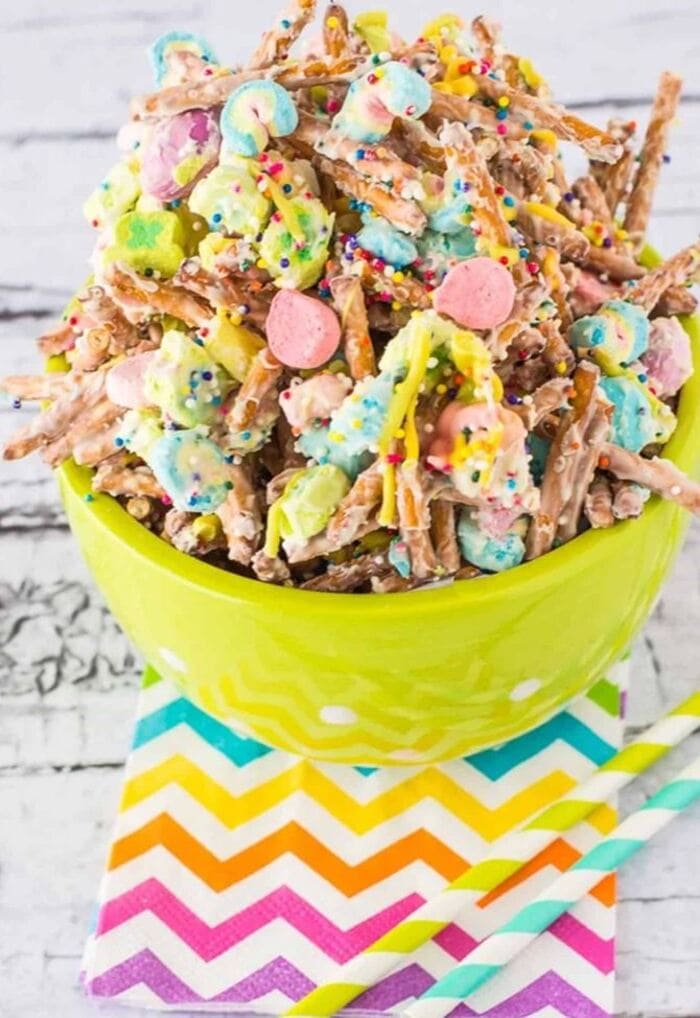 7. All-Natural Rainbow Mille Crepe Cake
Don't worry — you don't have to actually make a million crepes for this All-Natural Rainbow Mille Crepe Cake. But we won't lie…this recipe is a little more time-consuming than the others. Lucky for you, time is an illusion, so does it really matter?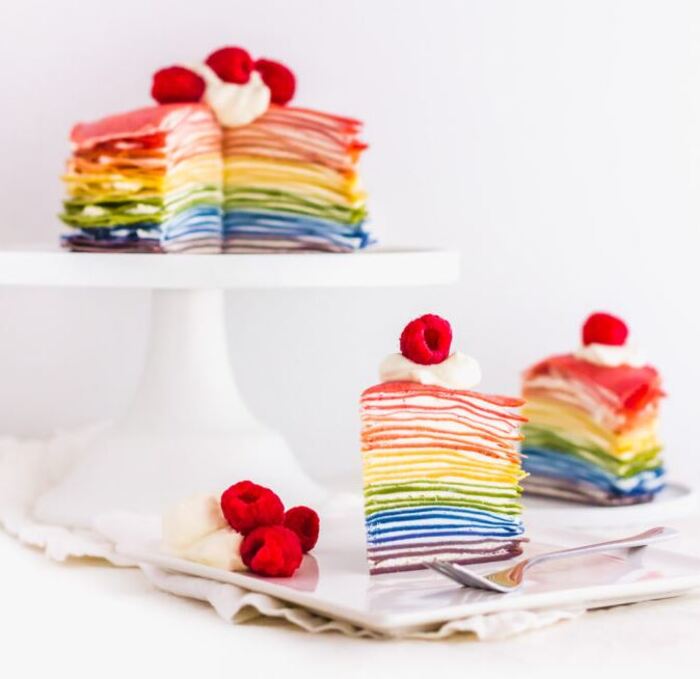 8. Pot of Gold Rainbow Truffles
All you need is cream cheese, golden Oreos, chocolate chips, food coloring, and some sprinkles to make these Pot of Gold Rainbow Truffles. Which means it's a lot less work than actually chasing a pot of gold. We never really nailed the whole "reading a treasure map" thing. Where's Nic Cage when you need him?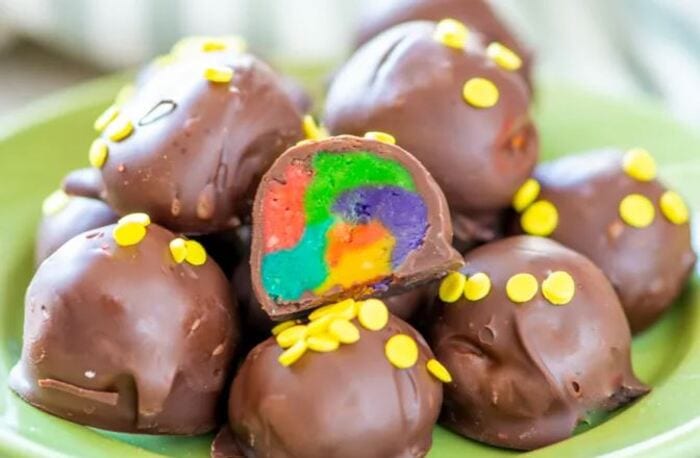 9. Sprinkle Confetti Cookies
Ice cream? Better with sprinkles. Cake? Better with sprinkles. Vanquishing your enemies? Better with sprinkles. So, it's no surprise that these Sprinkle Confetti Cookies, which are already enhanced by the additions of almond extract and cream cheese, are made even better with…rainbow sprinkles!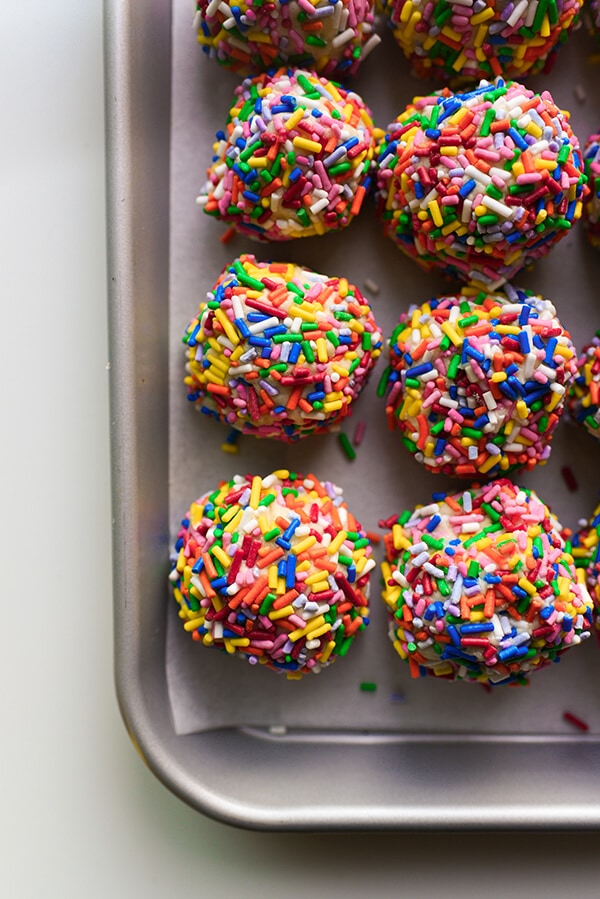 10. Rainbow Fruit Pizza
Fruit on a pizza isn't always bad. (Yes, we're pineapple-on-pizza defenders — come at us.) But this Rainbow Fruit Pizza is actually a giant sugar cookie with cream cheese frosting and a rainbow of sliced fruit. So, if you're an anti-fruit-on-pizza person, you're still safe (even if you're wrong).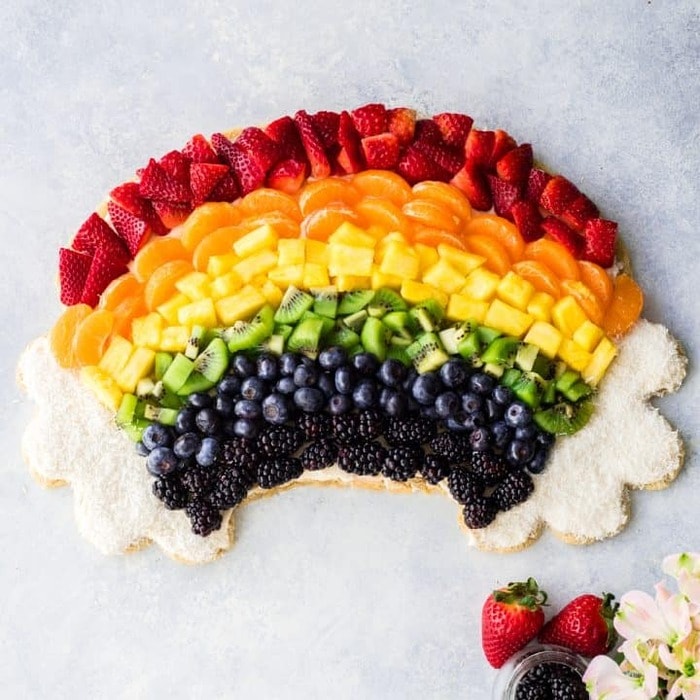 11. Unicorn S'more Dip
Please, sir, can I have s'more? As in s'more of this Unicorn S'more Dip, made from chocolate chips, pastel baking chips, and rainbow marshmallows. Your camping menu just got upgraded. As did your blood sugar levels. Oops.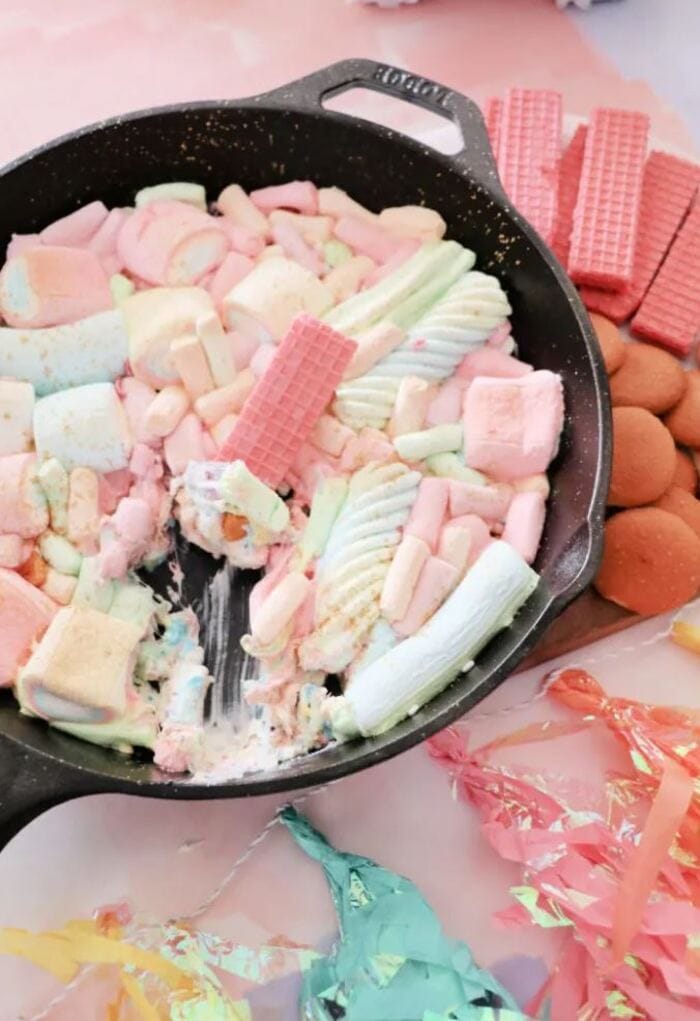 12. Rainbow Puppy Chow
Why's it called puppy chow? Well, usually, it looks a bit like dog food. But we're pretty sure only Spuds MacKenzie would be cool enough for this Rainbow Puppy Chow. Only the best for the "Original Party Animal."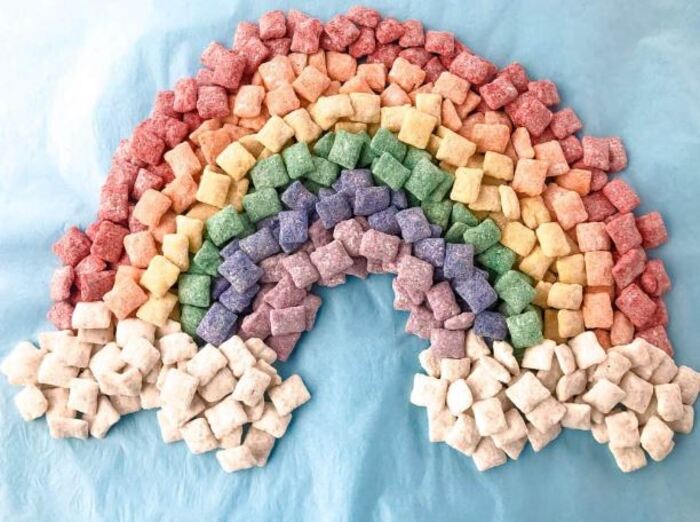 13. Rainbow Mini Egg Cookie Cake
Is there anything better than a cookie cake? Well, maybe that moment when Slack finally breaks and no one from work can get a hold of you. Also, a cookie cake with Cadbury chocolate eggs inside and on top. We'll be staring lovingly at this creation for the rest of the day. Don't bother Slacking.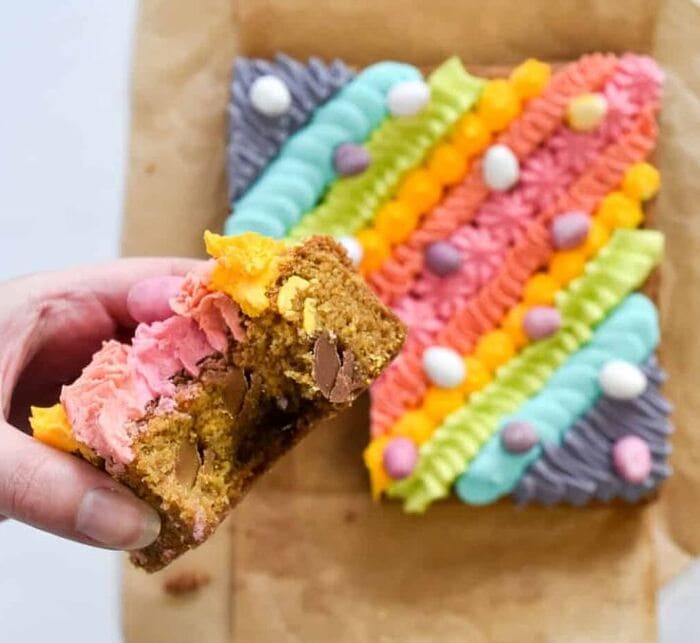 14. Rainbow Fruit Tart
It could be that Season 3 of "Ted Lasso" is almost here. Or it could be that this Rainbow Fruit Tart, made with pecan cookie dough, lime or lemon curd, and fruit is just worth singing about. But now we've got "Rainbow Tart, do, do, do, do, do, do" stuck in our heads. And we're not sorry for spreading that earworm to you.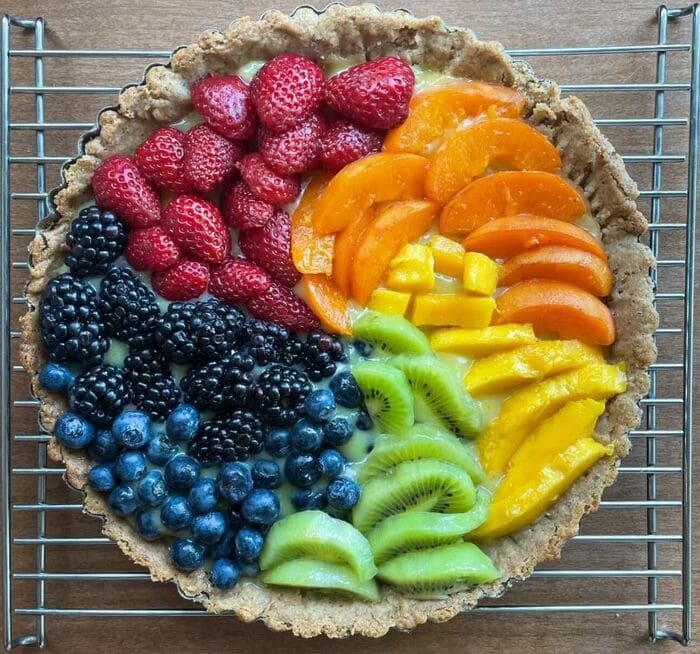 15. Fairy Bread Lamingtons
Two Aussie treats in one! You won't be saying, "Oh, naur, Cleo!" when you try these Fairy Bread Lamingtons. These sponge cakes topped with white chocolate icing and rainbow sprinkles will have you saying, "Oh, yes, Cleo!" Which is admittedly less fun to say in an Australian accent.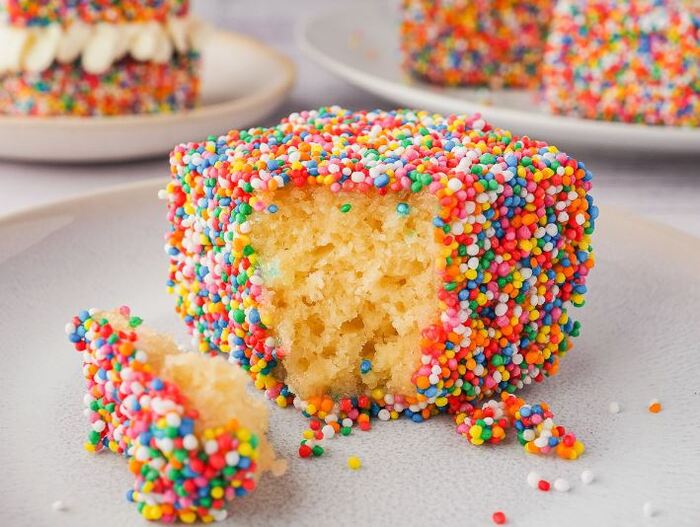 16. Unicorn Poop Meringue Cookies
Society seems to think unicorns poop rainbows. But if we learned anything from watching 15 years of "Supernatural," it's that they actually just toot rainbows. But for the sake of these Unicorn Poop Meringue Cookies, we'll suspend some disbelief.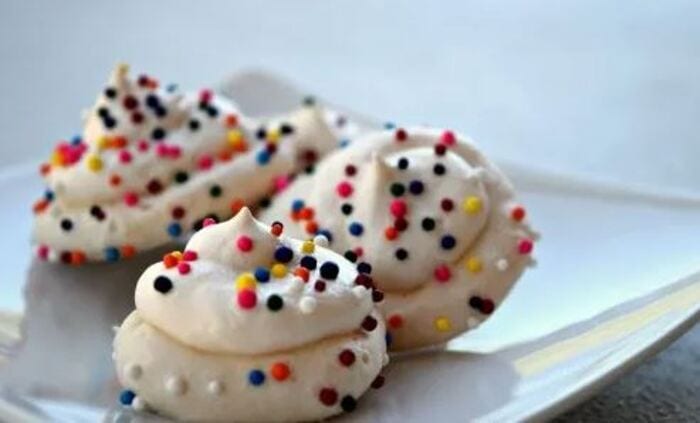 17. Rainbow Chia Pudding
No artificial coloring to be found here! This Rainbow Chia Pudding recipe uses fresh fruit and matcha to create these beautiful colors. If your kids start asking for pudding for breakfast, this recipe is sweet enough to convince them they're doing something naughty, even though you know that this treat is very nice. You go, Mrs. Claus.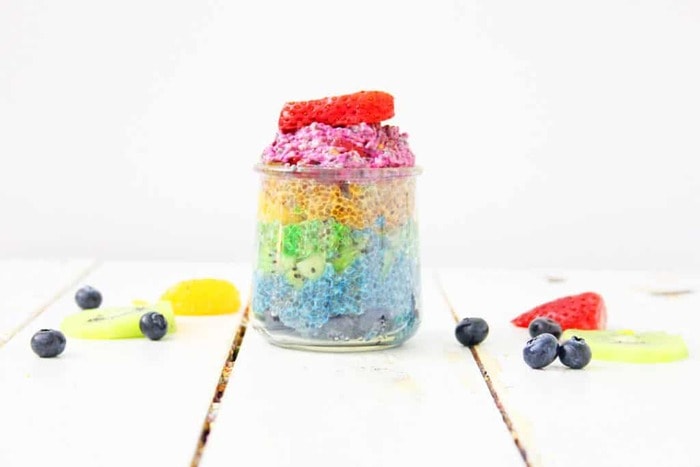 18. Funfetti Blondies
These Funfetti Blondies are vegan, as well as gluten-free and allergy-free. But you know what they're not free of? Fun! Which truly proves once and for all that blond(ies) really do have more fun.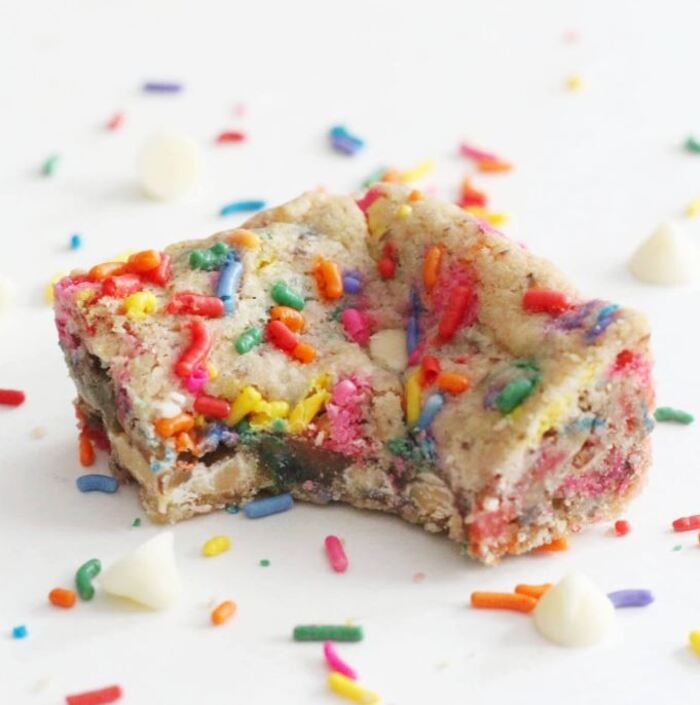 19. Rainbow Rock Candy
You know what rocks? Nickelback. There, we said it, and we won't take it back! You know what else rocks? This slightly less controversial Rainbow Rock Candy. All it takes is some clear rock candy sticks, a little vodka, and food coloring. Then, you'll have the coolest candy around. You should probably take a photograph of it. Just saying.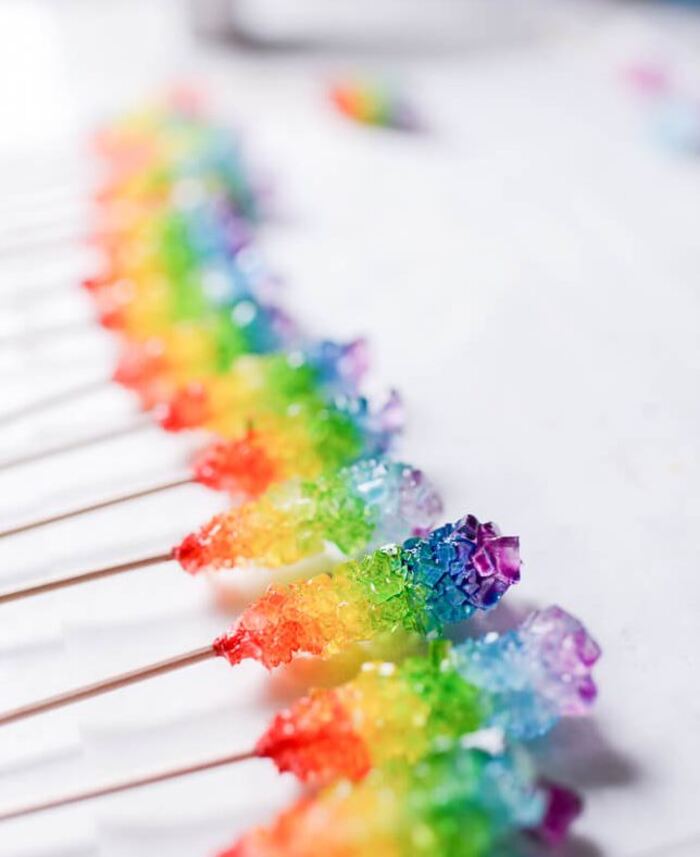 20. No-Bake Fruity Pebbles Cheesecake
No oven? No problem! This No-Bake Fruity Pebbles Cheesecake is about to be the hottest rainbow dessert on the table. But not actually hot since it's…oh, okay, you got it. Great.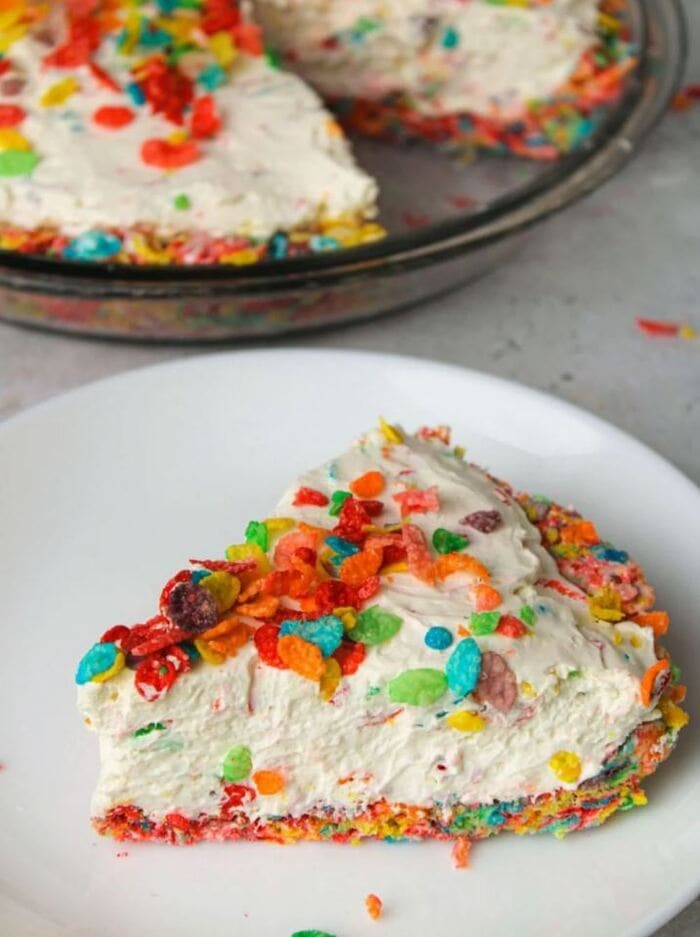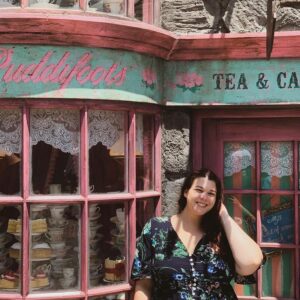 Latest posts by Jacqueline Gualtieri
(see all)