Get ready for sprinkle overload with these Funfetti Cookies that will make any celebration that much more festive!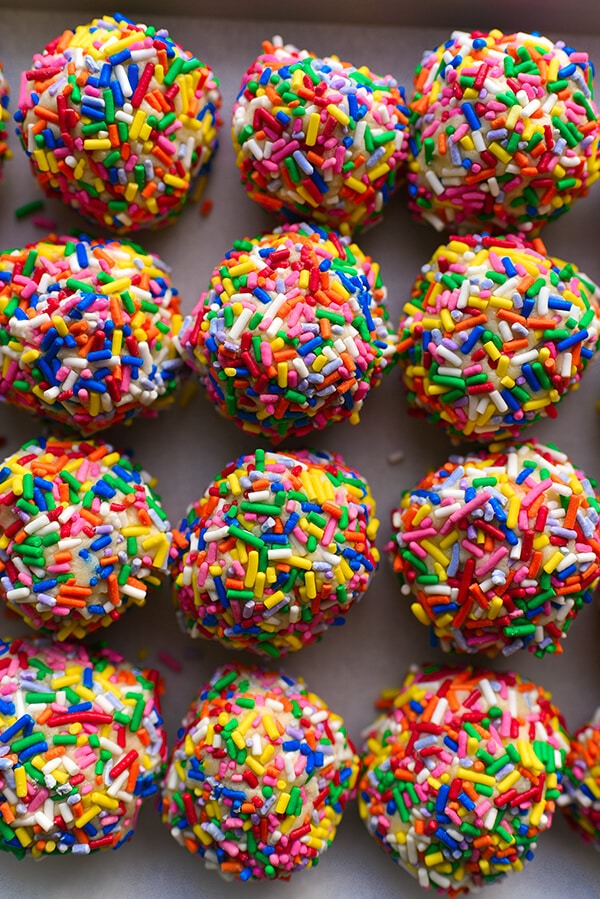 I have a little confession to make: I have a sprinkle drawer. I wouldn't call it a sprinkle "problem" per se, but I definitely love my sprinkles! I have all kinds – from holiday-themed ones with fun shapes to fancy iridescent ones to classic ones. And Funfetti Cookies are all about sprinkles. Flavor, schmavor as long as they are enough sprinkles, right? I kid. Mostly.
Because while these Funfetti Cookies (also known as Confetti Cookies) are tasty (I rarely go overboard with "taste testing" but I ate three of these while photographing them for this post), but without sprinkles they're just not the same!
But apparently, Confetti Cookies are also rather divisive. I ran a poll on my Instagram (come follow me at @letseatcakeblog!) asking you all if you felt "YAY!" or "ICK NO" about these. And, at first, a good amount of you were ICK NO, but then the poll evened out. I think that's because you've probably had terrible Funfetti Cookies. Most of the ones I had before this either taste like nothing at all (except maybe sugar) or they are as hard as a brick. Or both. Gross.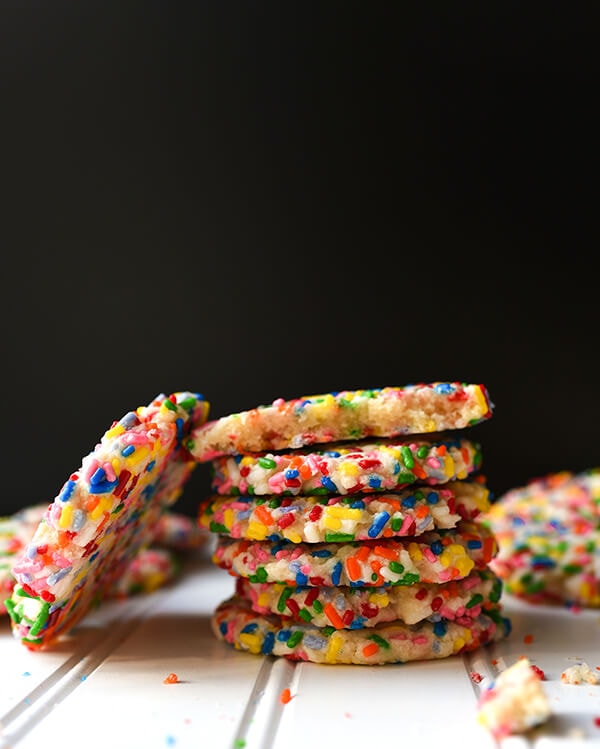 These Funfetti Cookies are softy and buttery and taste pretty much like eating a Funfetti Cake, but in cookie form. I guess that's why some people call them Funfetti Cake Cookies (also probably because some people use Funfetti Cake mix to make these). You start with a sugar cookie base, roll them in oodles of sprinkles, squish them so they're flat, and then bake 'em off. They also have a really nice vanilla flavor – for even more vanilla oomph, add half a vanilla bean – but you could also add almond to give them that classic Italian bakery flair.
Love sugar cookies? Try these Sugar Cookie Bars topped with Chocolate and Coconut Flakes!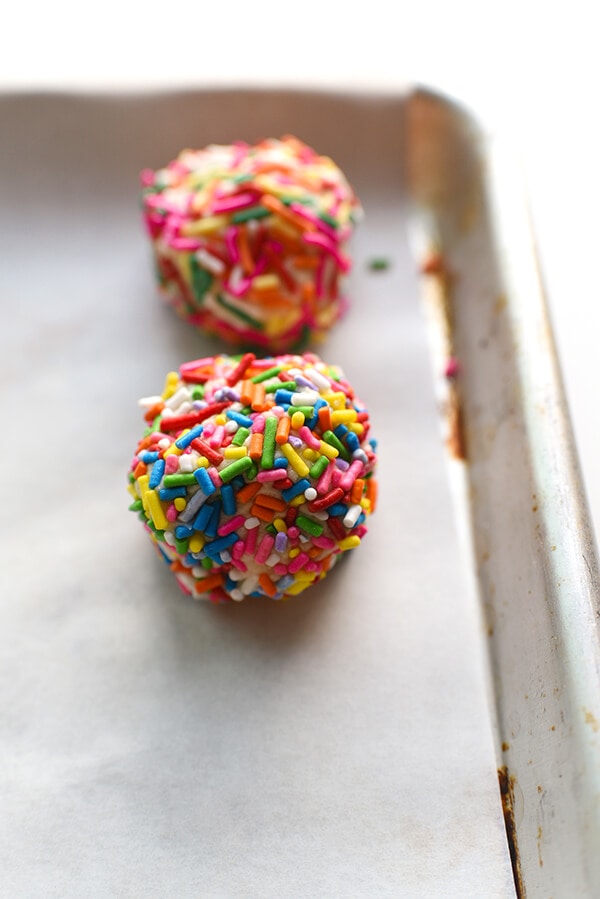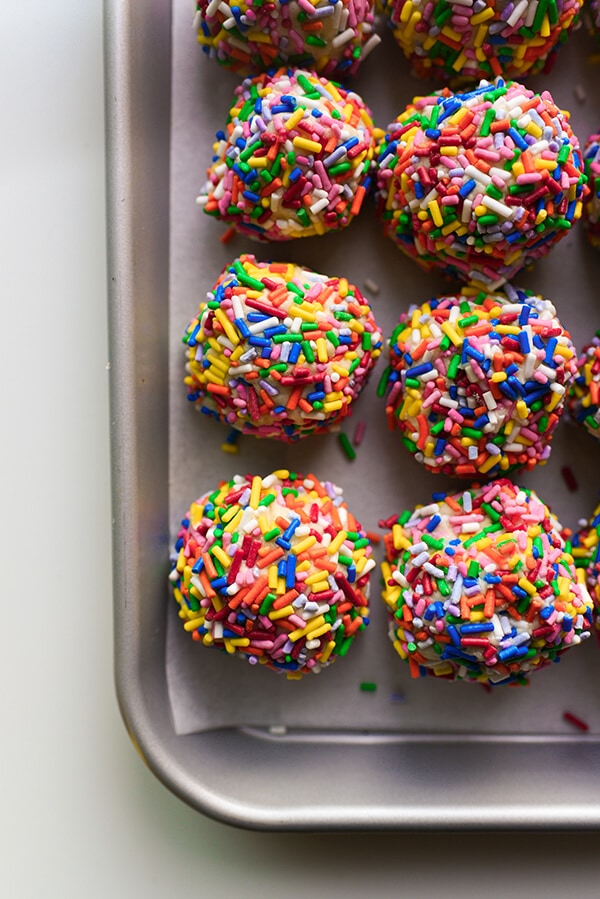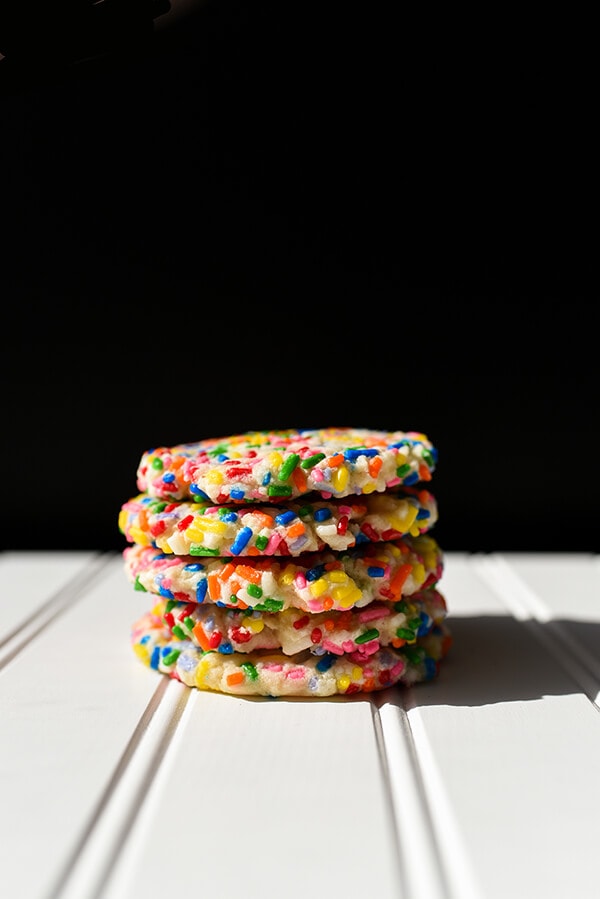 Who Invented Funfetti?
Pillsbury introduced Funfetti Cake Mix to the world in 1989 and are pretty much responsible for kicking off the rainbow sprinkle trend of the last 25-plus years. The original Funfetti Cake Mix is a white cake that's packed with multicolored sprinkles. When baked, the sprinkles in the cake mix melted into the batter, creating a rainbow batter that couldn't help but be festive. They're like the super hipsters/thought leaders of the rainbow cake trend. Without Pillsbury's Funfetti Cake Mix, would we all have leapt at the chance to go "swimming" in a pool of sprinkles at the Museum of Ice Cream? I think not.
Can You Freeze Funfetti Cookies?
These Funfetti Cookies should also freeze well in case you want to make them now for the holidays! Simply make the dough through step 8 then freeze the flattened cookies on a sheet pan, using parchment to separate the layers. Once frozen, load them into a Ziploc bag. Remove as much as air from the bag as possible (we use a straw when we do this when making the family ravioli recipe, but that might be overkill…) and freeze them for up to 3 months. The cookies will need to bake for a few extra minutes until they reach the stage when their edges are the lightest golden brown.
Funfetti Cookies
Print Recipe
Go sprinkle crazy with this recipe for Funfetti Cookies (also known as Confetti Cookies)!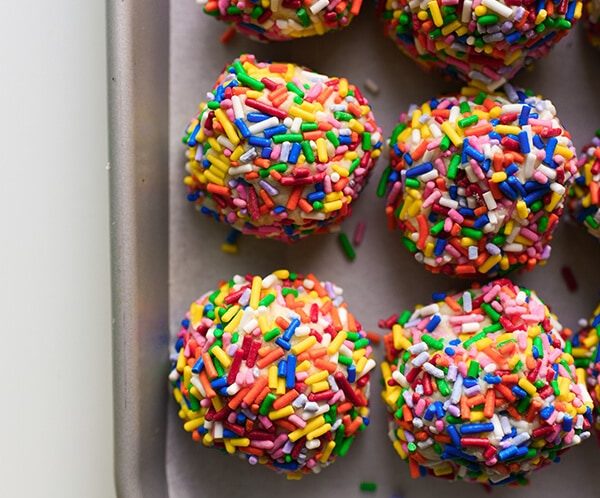 Servings: 25 cookies
Ingredients
2 3/4 cup all-purpose flour
1 1/2 tsp. baking powder
3/4 tsp. coarse kosher salt
1 cup unsalted butter (room temperature)
2 oz. cream cheese
1 1/4 cup sugar
1 large egg
1 1/4 tsp. vanilla
1 1/2 cups sprinkles
Instructions
Preheat oven to 375°F.


Combine flour, baking powder, and salt in medium bowl. Set aside.


Using a mixer on medium-high speed, cream butter, cream cheese, and sugar together for 3 minutes.


Add egg and mix for 30 seconds.


Turn speed down to low and add vanilla.

Add flour mixture and mix on low until just combined.


Place dough in fridge for 10 minutes.


Roll into 1.5" balls about the size of ping pong balls. Roll in sprinkles until cookies are covered. (See note #3)


Place on parchment-lined baking sheet and use glass to flatten cookies to approximately 1/4" thick.


Bake for 9-11 minutes or until edges are just lightly golden. Do not overbake.


Let cool for 5 minutes on baking sheet on cooling rack. After 5 minutes, remove pan and let cool fully on rack.

Notes
* Recipe adapted from Smitten Kitchen and King Arthur Flour recipes.
* If the sprinkles aren't sticking, let the dough warm up a little.
* I used a #50 disher with a little overflow to portion out the cookie dough.
Nutrition Facts
Funfetti Cookies
Amount Per Serving (1 cookie)
Calories 198 Calories from Fat 90
% Daily Value*
Fat 10g15%
Saturated Fat 5g31%
Cholesterol 29mg10%
Sodium 143mg6%
Potassium 7mg0%
Carbohydrates 25g8%
Sugar 14g16%
Protein 2g4%
* Percent Daily Values are based on a 2000 calorie diet.
Did you make this recipe?
Leave a review below, then take a photo and tag @letseatcakeblog on Instagram so we can see it!
Pin to save for later!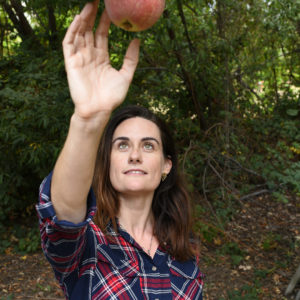 Latest posts by Rebecca Swanner
(see all)