We live in a world that loves taking disparate foods and mashing them together into crazy concoctions. Like macaroni and cheese on burgers, or milkshakes topped with cotton candy and lollipops. And, now donut cakes have entered the game.
Donut cakes come in two variations: regular cakes with donuts on top, or actual donuts made to look like cakes. But, picking one of those is like picking a favorite sister (psst, it's you, Sarah), so here's both types for your birthday cake / wedding cake / Tuesday night cake inspiration.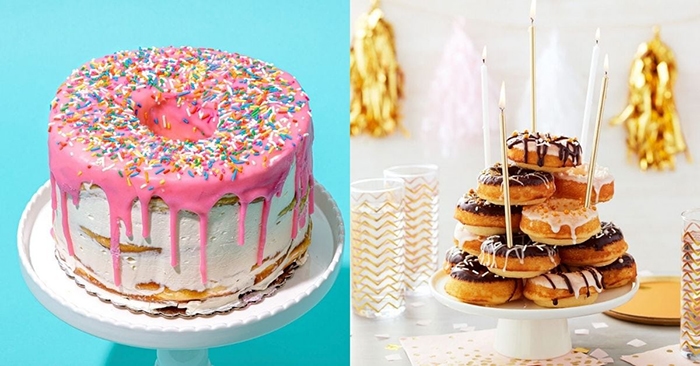 11 Donut Cakes For When You Want Both
1. Absolutely Epic Krispy Kreme Doughnut Cake
This donut cake from Broma Bakery deserves its name. Piling up a bunch of Krispy Kreme donuts and topping them off with whipped cream and chocolate fudge sauce feels more like a scene from The Cat in the Hat than a recipe, but either way, we're here for it.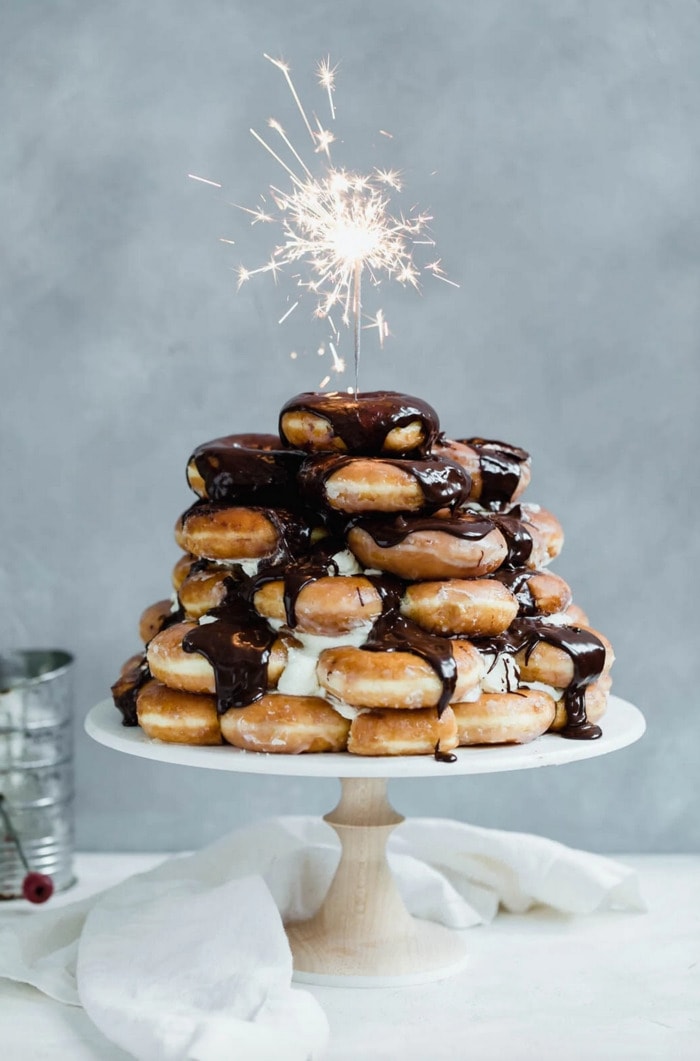 2. Birthday Cake with Donuts
Belgian baker Ann Bakt made a classic birthday cake and topped it off with doughnuts. If you replace candles with donuts, you won't be reminded of how old you are, and you don't have to eat melted wax. It's a win-win.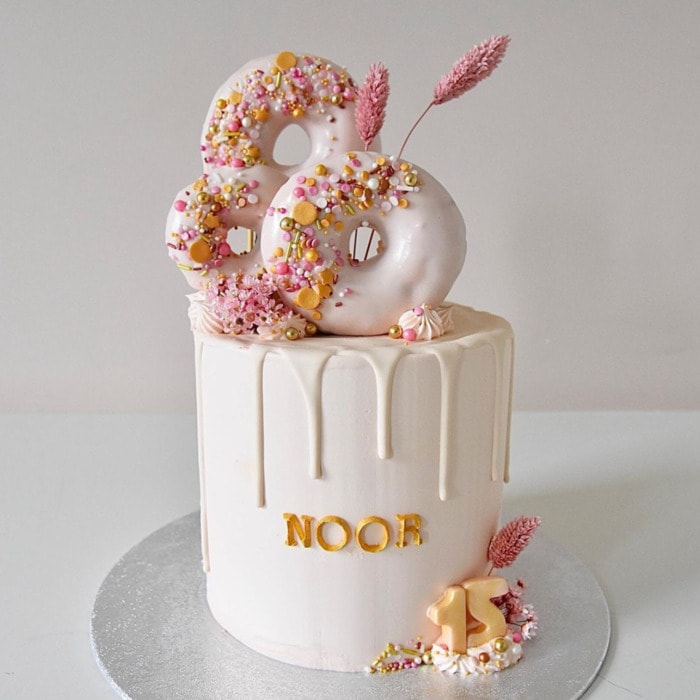 3. Pink Jumbo D'oh!nut Cake
Good news for US residents: you can get this donut cake delivered from Goldbelly! It features three layers of jumbo donuts stuffed with vanilla buttercream and topped with pink icing and sprinkles. We think Homer would approve, and if not, there's more for us!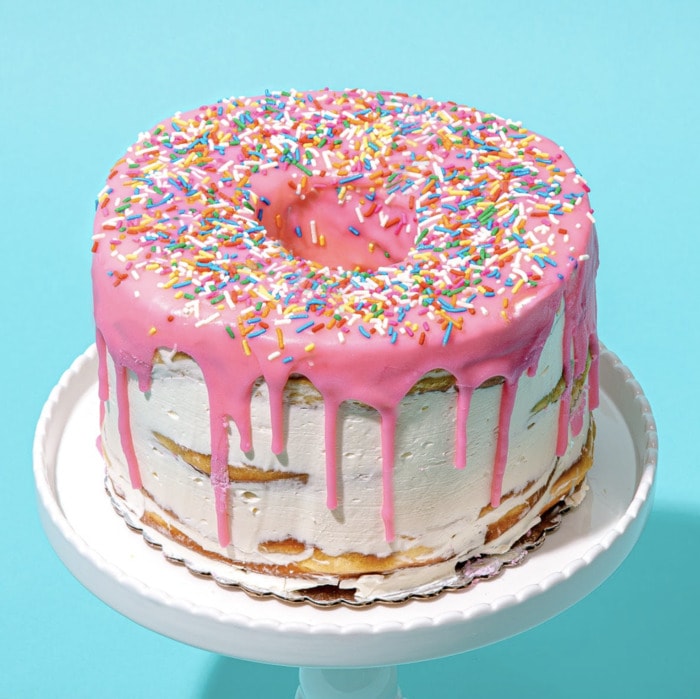 4. Ice Cream Cone Donut Cake
Allie's Donuts in Rhode Island are famous for their donut cakes and will make them in pretty much any shape you request, including a fish, a Tom Brady goat, and a unicorn. As long as they're not Tom Brady flavored, we're okay with it. Maybe even if they are.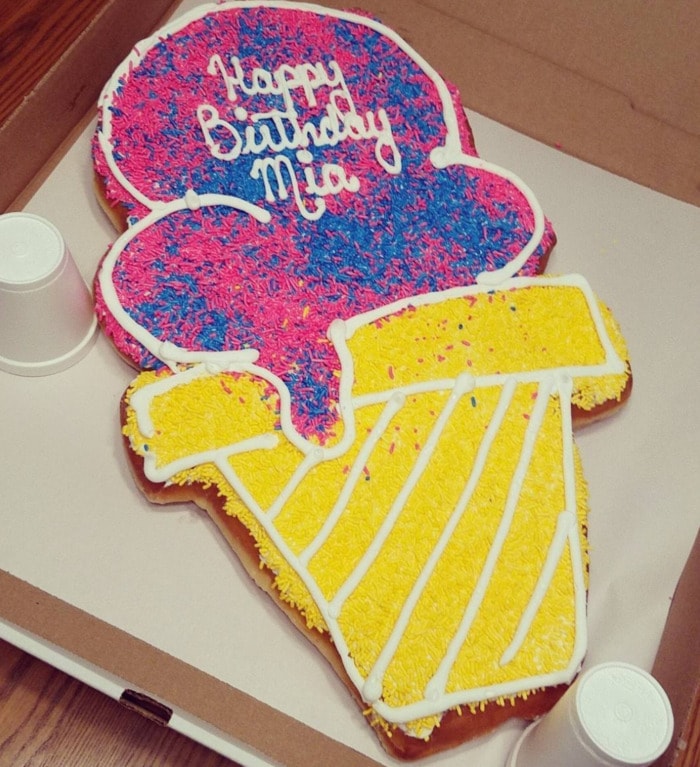 5. Giant Texas Doughnut Cake
Everything's bigger in Texas. Or, in this case, North Carolina. Suarez Bakery in Charlotte makes these giant three-layer doughnut cakes in a variety of flavors. There's also the option to make them vegan.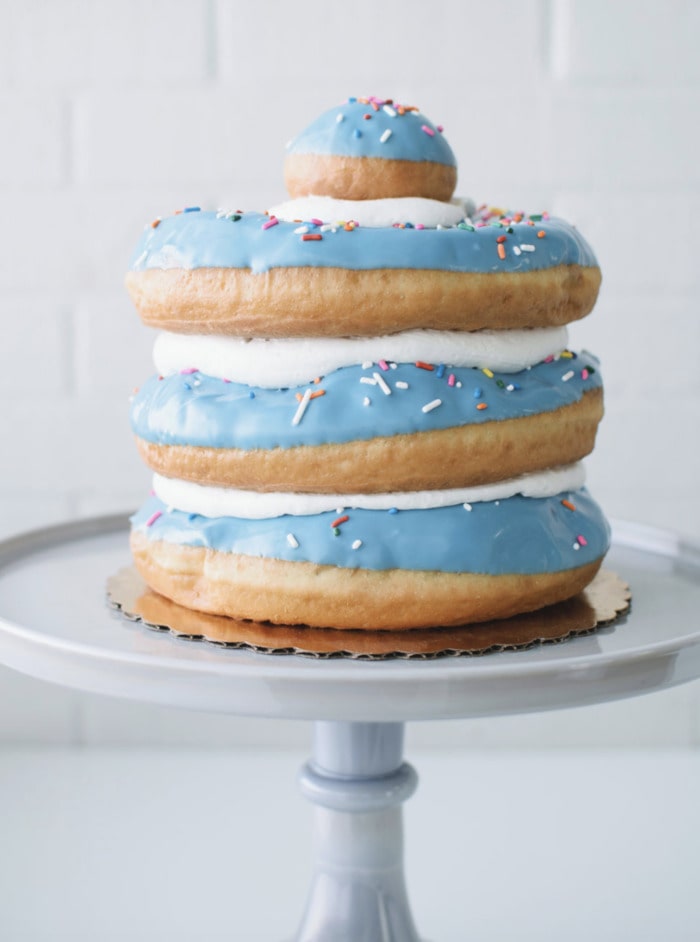 6. Sour Cream Donut Cake
This donut cake from Buttermilk by Sam is what our cake fantasies are made of. Just layer crispy fried doughnuts on top of a moist sour cream cake for a taste that's melt-in-your-mouth heavenly. Or hell-y, if that's more your speed.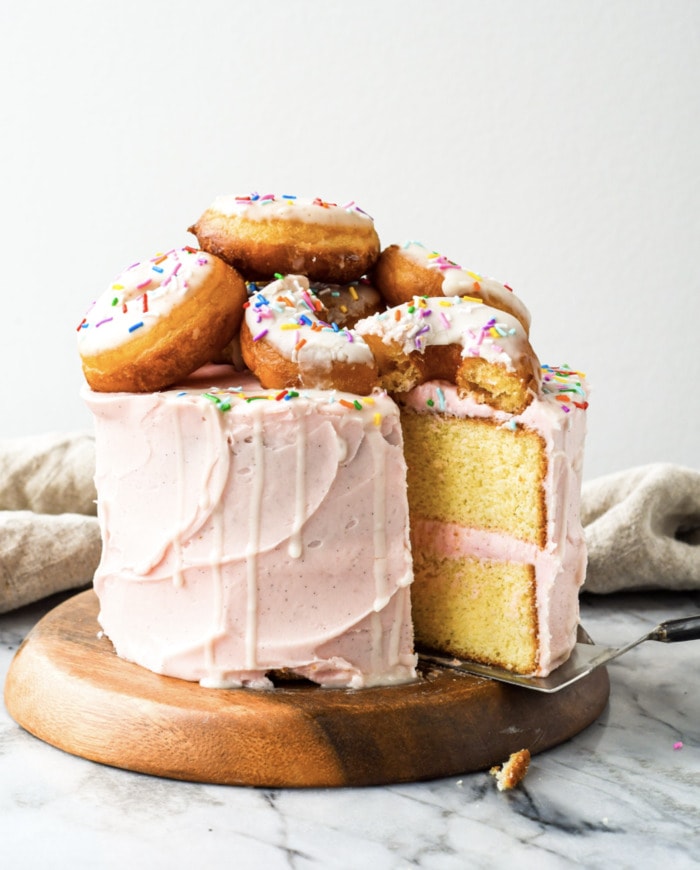 7. Giant Pink Donut Cake
This one is more of a cake shaped like a donut than a cake made of donuts. This recipe from The Baker Upstairs is a super easy option perfect for any special occasion like our birthday. Hint-hint.
8. Gold Donut Cake
This DIY donut cake recipe from Wilton is really all about the decorations. If you're having this as your birthday cake, go all out with cool sprinkles and candles, 'cause it's your birthday and you can eat donuts if you want to. You can also cry if you want to, but then everyone will leave. Which is perfect if you're an introvert!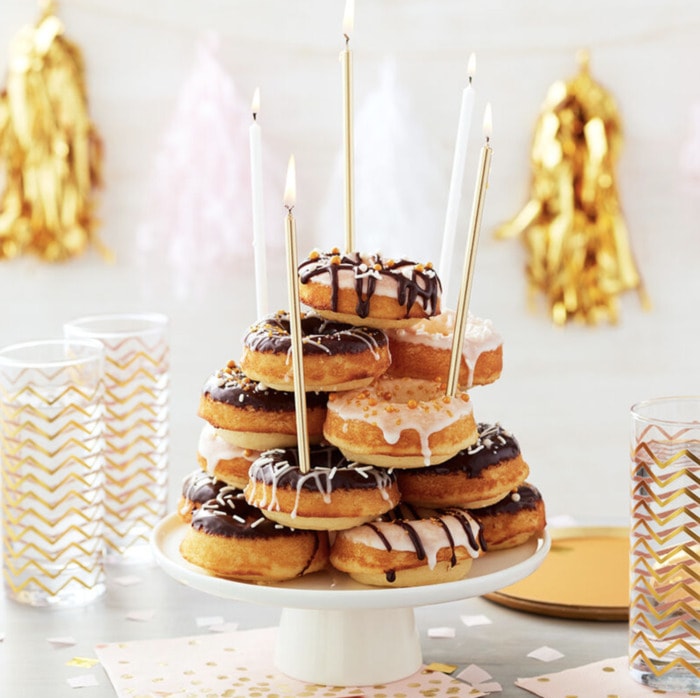 9. Donut Wedding Cake
We're saving this one to our wedding Pinterest board. Our new Hinge match is going to be so happy we've planned ahead!
10. Krispy Kreme Cake
Step 1: bake a cake. Step 2: stick Krispy Kreme donuts all over it. If you're not sure about the physics of it all, call up The Lytham Cake Company to walk you through the calculus.
11. Tiramisu Donut Cake
Blackbird Donuts in Boston offers new donut cakes every month, and right now their special is a Tiramisu Donut Cake. It includes two jumbo vanilla cake donuts, coffee syrup, coffee filling and cream cheese frosting. It's a caffeine and sugar-loaded alternative to your favorite Starbucks frappuccino. Or, you can eat them together. You do you, boo.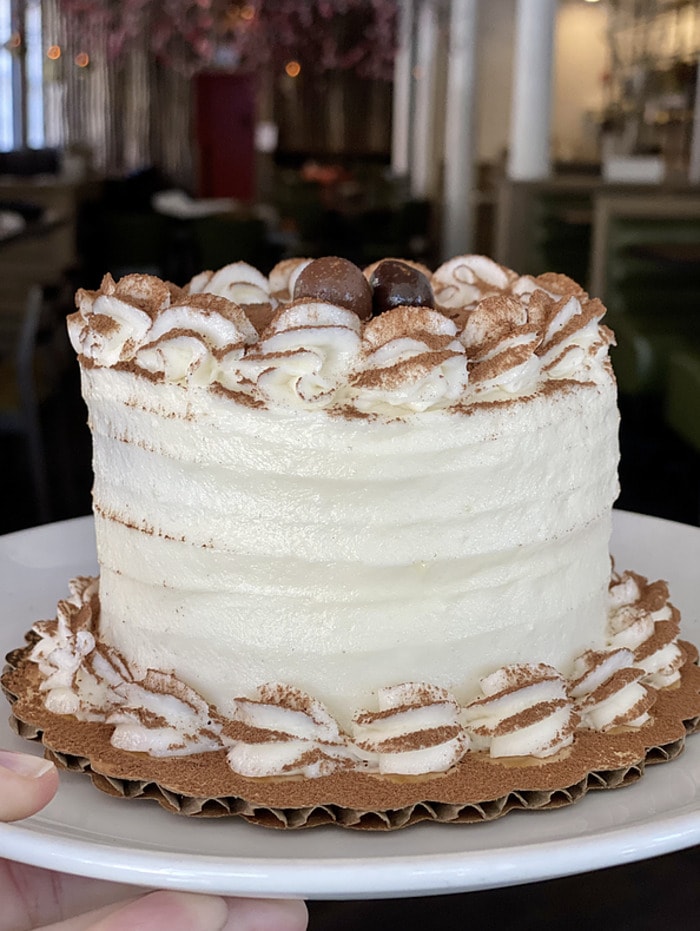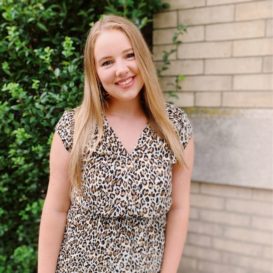 Latest posts by Laura Davis
(see all)