Mondays call for rainbow unicorn cake with Twinkie filling.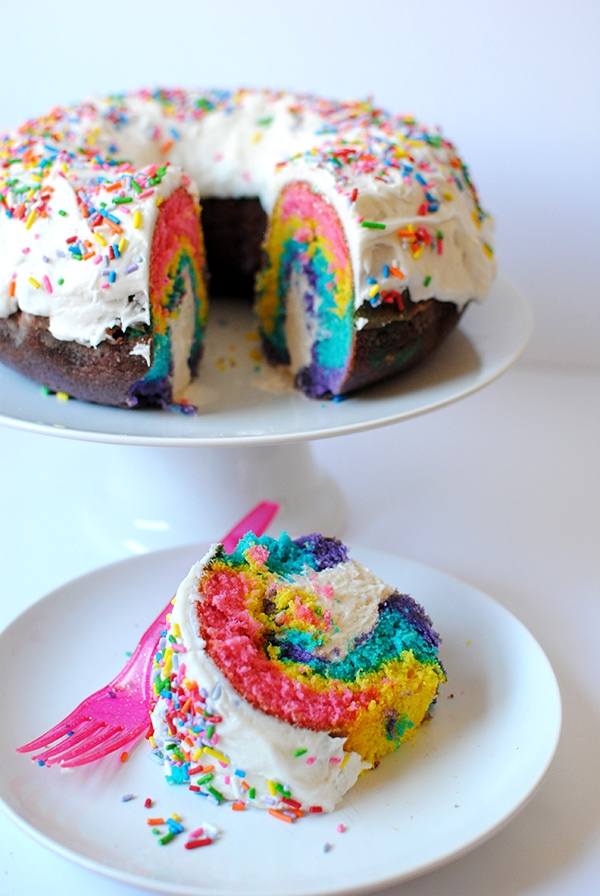 You know what I mean. That oh, it's morning… oh it's really nice out… oh I should — screech — it's Monday?! feeling? Send in the cake!
Because while on Friday a chocolate cake, or a carrot cake, or maybe even a grocery-store bought sheet cake (hold up, let's not get crazy), will do. But, on Mondays, we need something special. And, unicorns are special.
So, yesterday, I made this vanilla rainbow unicorn cake. It's not the first rainbow cake I've made, but I took this one to the next level with vanilla frosting, sprinkles, and a Twinkie filling. It was super fun to make and not difficult at all! The hardest part was not eating it.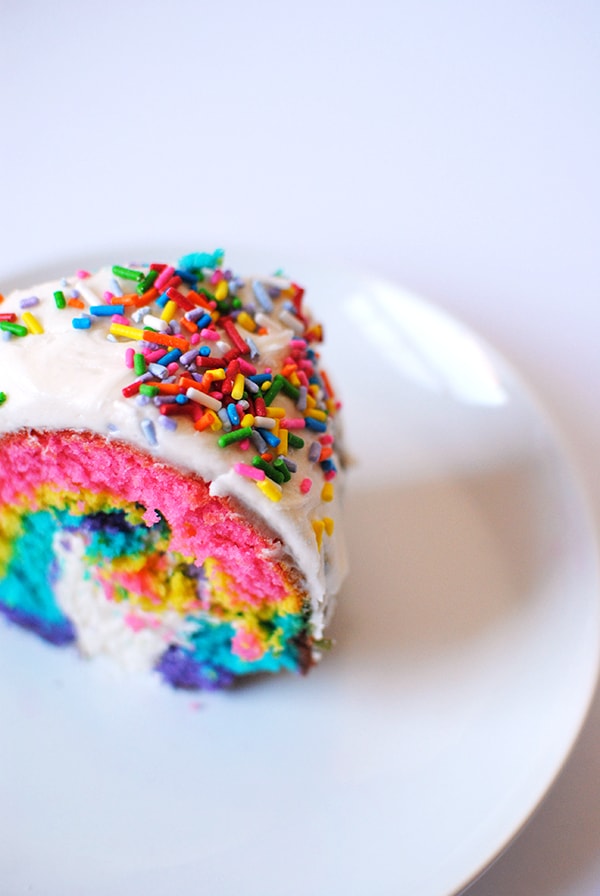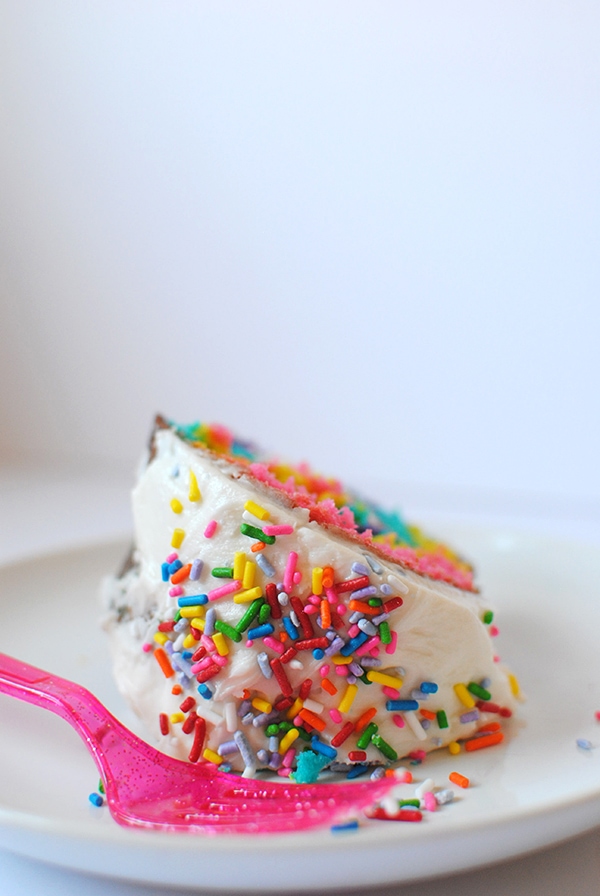 How to Make a Rainbow Unicorn Cake
For this cake, I decided to do a bundt cake, because my cake frosting skills could still use a little help. If you're like me and not the best icer in the biz, this is an easy way to make a fancy looking cake without the fuss of getting the cake frosting just right.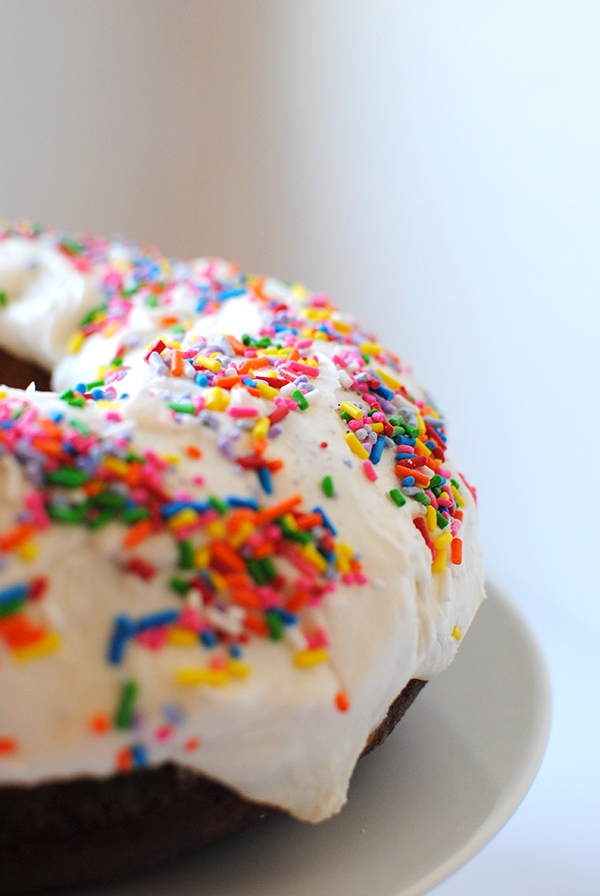 First, preheat your oven to 350°F.
Then you'll want to butter and flour your bundt pan. Simply rub butter all over the inside of the bundt pan, pour in enough flour (about a 1/2 to 1 cup), and hold the outside and shake and tip the pan until the inside is totally coated. You want to make sure you can't see any areas where there isn't flour. If you see a space missing flour (or butter) simply tilt the pan to add more flour, or rub some butter there. To make it easy to add the butter, I usually soften about a tablespoon of butter and rub it on a paper towel and use that.
Next, make your cake batter. I used Sweetapolita's recipe for this cake and I was really happy with the flavor and the texture. It wasn't too sweet and was substantial enough to be hollowed out for Shauna Server's Twinkie filling from her book Pure Vanilla without tasting like a dense cake.
Separate your batter into four bowls. Try to do this as evenly as you can. Then add the colors you like – one to each bowl – and mix until the color is completely incorporated. Now, add the batter, one color at a time, to the bundt pan. You can do this in any order you want. For the cake in the photos, I first put in a layer of pink, then yellow, then blue, then purple. But, you don't have to do it that way! Have fun with it. After all, it's a rainbow unicorn cake.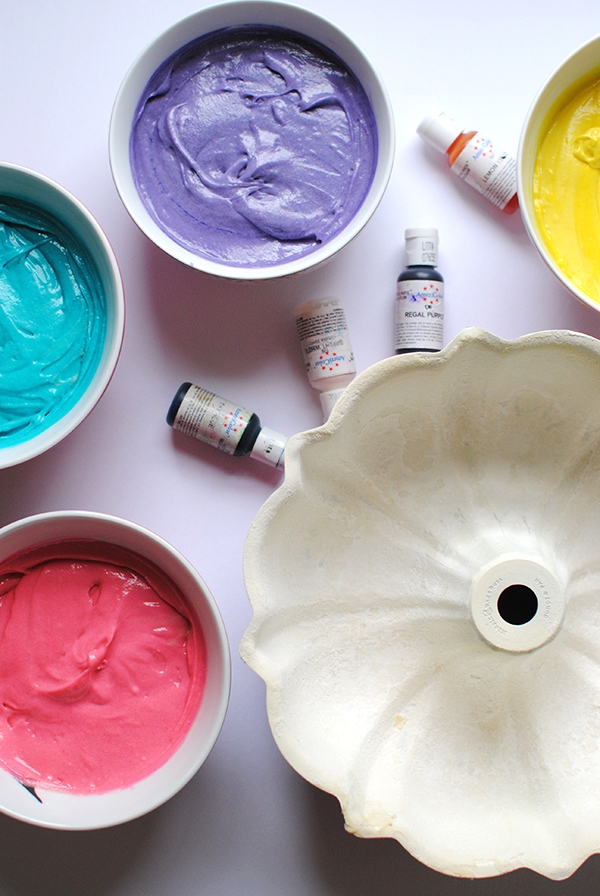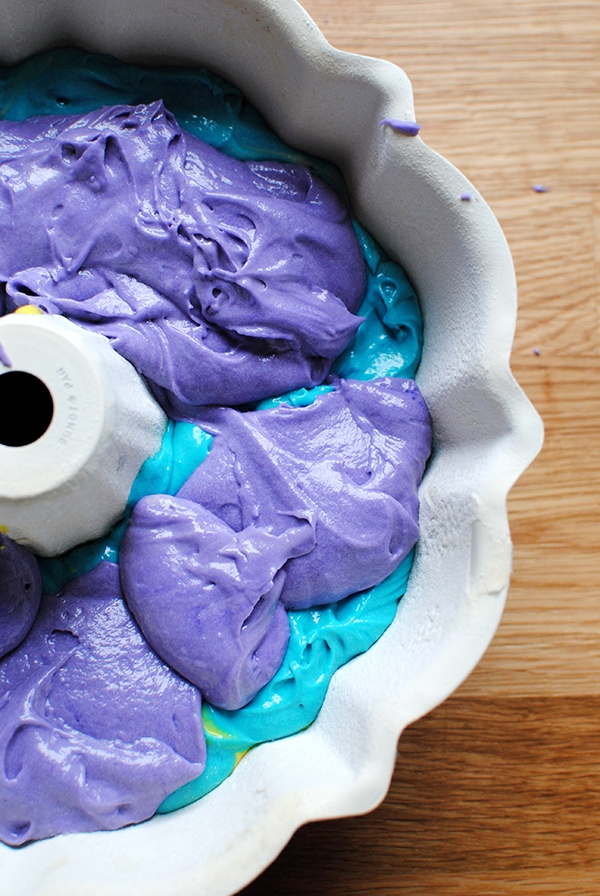 To get the color to layer when the cake is sliced, just make sure that each layer completely covers the one below it. I used a spoon (one per color) to scoop the cake batter in a circle all the way around the bottom of the pan and then I took that spoon and gently moved the batter to cover the layer underneath. Then I moved on to the next color.
Once you all the batter is inside the pan, pop it in the oven and bake for 50-55 minutes. When it's done, a cake tester will come out clean. Remove from the oven and let it cool for an hour on a cooling rack, batter side up.
Once cool, put the cooling rack on top of the pan and flip the pan upside down. Shake the pan gently and the cake should come right out. Now, put the pan back on the cake and flip the whole thing over again. Why bother doing this? Because it's easier to troubleshoot a stuck cake that's not filled with Twinkie filling.
Using a thin knife or — as I preferred, a round piping tip — make 8 evenly spaced holes in the bottom of the cake. One easy way to do this is to do them at 12, 3, 6, and 9, then do one evenly between each of those four. Gently put your fingers in two adjacent holes and dig a little tunnel between them. Repeat until the tunnel goes all the way around inside the middle of the cake.
Make the Twinkie filling and spoon it into a pastry bag fitted with a round piping tip. Insert the piping tip into one of the holes and fill until you feel a little push back and see the cake puff up just slightly. Repeat with the other seven.
Make the vanilla frosting. Now, if you're a skilled cake icer, frosting this cake is no big. But, as I have mentioned, I am not. So, instead, I filled a pastry bag fitted with a round tip and piped three rings of frosting on the top of the cake. I then used an offset spatula to smooth out the frosting. Once your cake is frosted, add sprinkles and enjoy!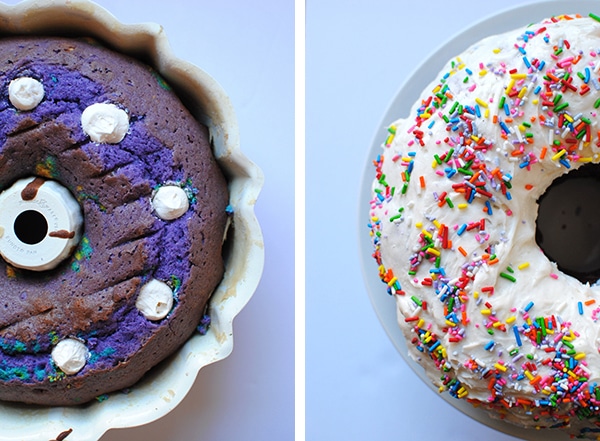 Rainbow Unicorn Cake with Twinkie Filling
Print Recipe
This whimsical unicorn cake is super festive with its layers of rainbow cake, vanilla frosting, and Twinkie filling!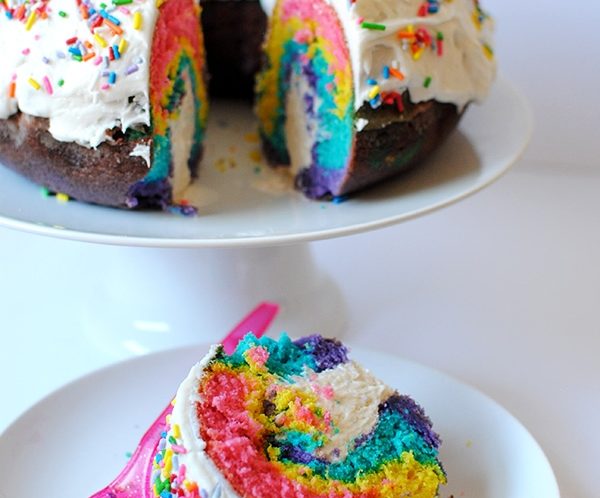 Servings: 12
Ingredients
Rainbow Unicorn Cake Batter
1 cup + 2 Tbsp. unsalted butter (room temperature)
1¾ cup sugar
3 cups all-purpose flour
1 tsp. baking powder
½ tsp. baking soda
½ tsp. salt
2 tsp. vanilla
4 large eggs (room temperature)
1 cup buttermilk
food coloring
Twinkie Filling
1 (7.5-oz.) jar marshmallow fluff
½ cup unsalted butter
1 tsp. vanilla extract
Vanilla Frosting
4 Tbsp. unsalted butter (room temperature)
2 cups powdered sugar
1 tsp. vanilla extract
¼ cup whole milk
sprinkles
Instructions
Rainbow Unicorn Cake Batter
Preheat oven to 350°F.


Flour and butter bundt cake pan and set aside.


Cream butter and sugar together in stand mixer on medium-high to high for 5 minutes.


Meanwhile, combine flour, baking powder, baking soda, salt, and vanilla in small bowl.


Turn speed on mixer to medium. Add eggs, one at a time, to bowl. Let mix for 30 seconds before adding next egg.


Turn speed on mixer to low. Add 1/3 flour mixture. Add 1/2 cup buttermilk. Add second third of flour mixture. Add remaining buttermilk. Add remaining flour mixture. Let mix until just combined.


Divide batter into four bowls. Add coloring to each and mix with a spoon until combined. Layer batter into bundt cake pan, one color at a time.


Bake for 50-55 minutes until cake tester comes out clean.


Let cool for one hour on cooling rack with opening facing ceiling (batter side up).

Twinkie Filling
Invert cake - using cooling rack to help - to make sure cake comes out of bundt pan. Once it does, flip back over and create 8 equally-spaced holes in bottom of cake using round nozzle or thin knife. Using your fingers, gently create a tunnel between the holes in the middle of the cake.

Combine marshmallow fluff/creme, butter, and vanilla in stand mixer until fully combined.


Add filling to piping bag fitted with round nozzle. Pipe into each hole, piping until cake begins to puff up slightly.

Vanilla Frosting
Combine butter, confectioners sugar, and 2 tbsp. milk in bowl of stand mixer on medium high.


Add vanilla. Add milk, 1 tbsp. at a time, until desired consistency is achieved.


Frost cake and add sprinkles!

Did you make this recipe?
Leave a review below, then take a photo and tag @letseatcakeblog on Instagram so we can see it!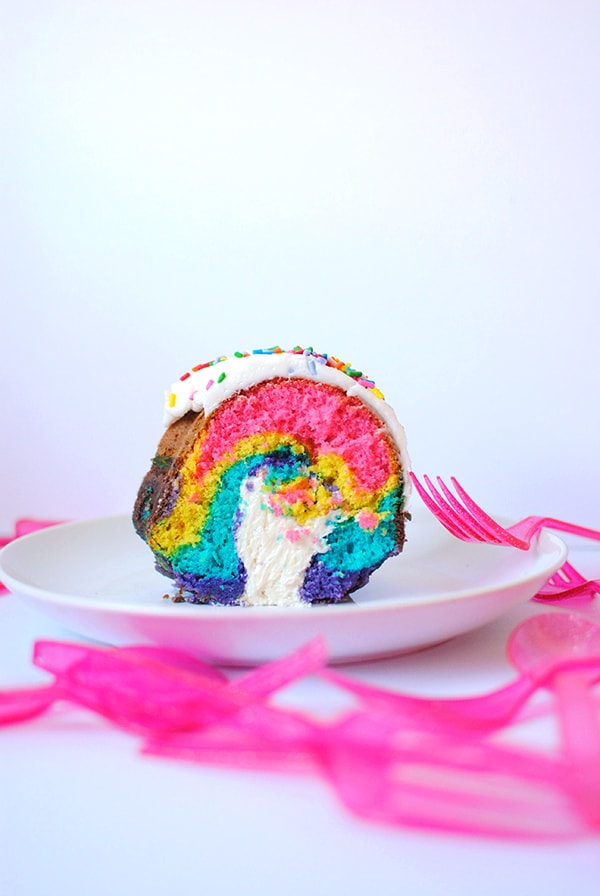 12 Other Unicorn Desserts:
Unicorn desserts have been taking over the Internets lately and I love it! Here are some of my favorites.
Unicorn Ice Cream by Bread Booze Bacon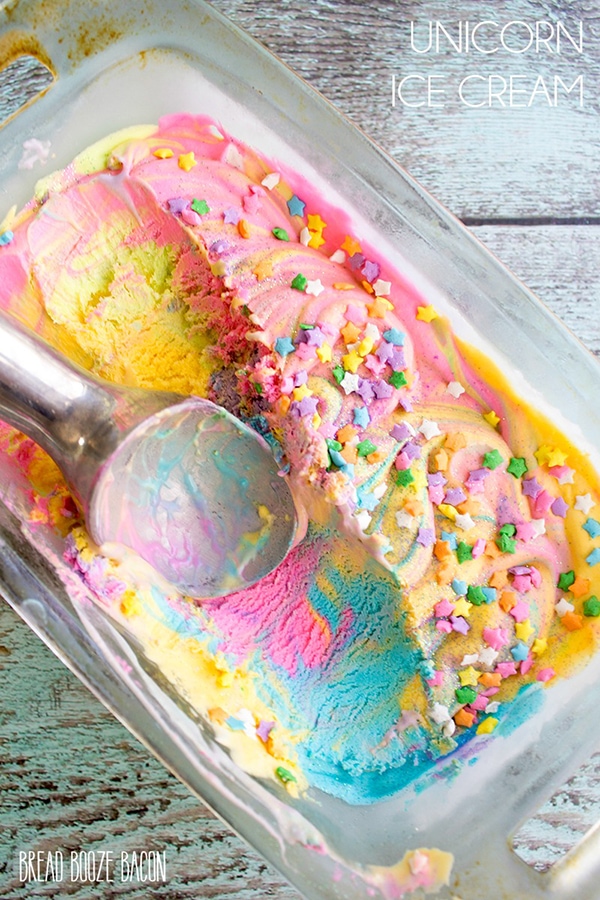 Unicorn Donuts (or if you prefer, Doughnicorns) tutorial video by Christina's Cupcakes
Unicorn Funfetti Dip by Twinspiration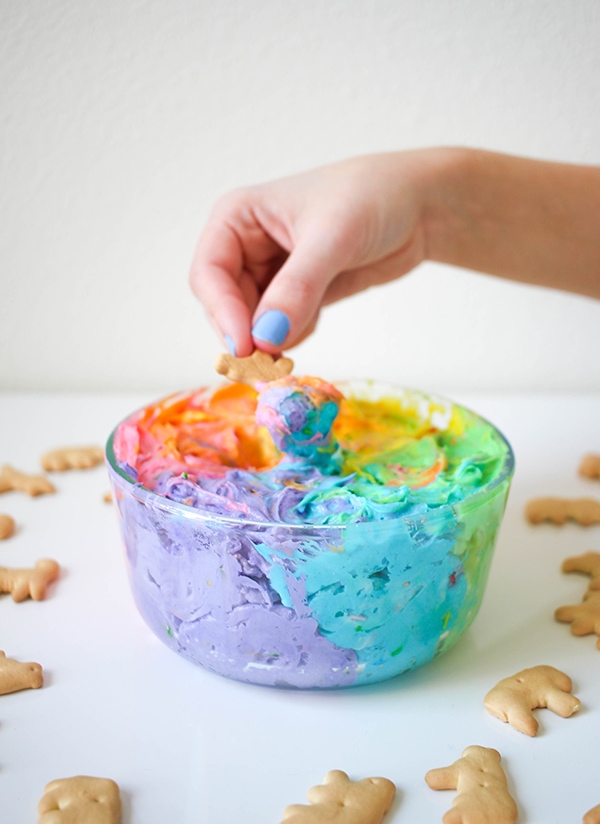 Unicorn Bars by Cookies and Cups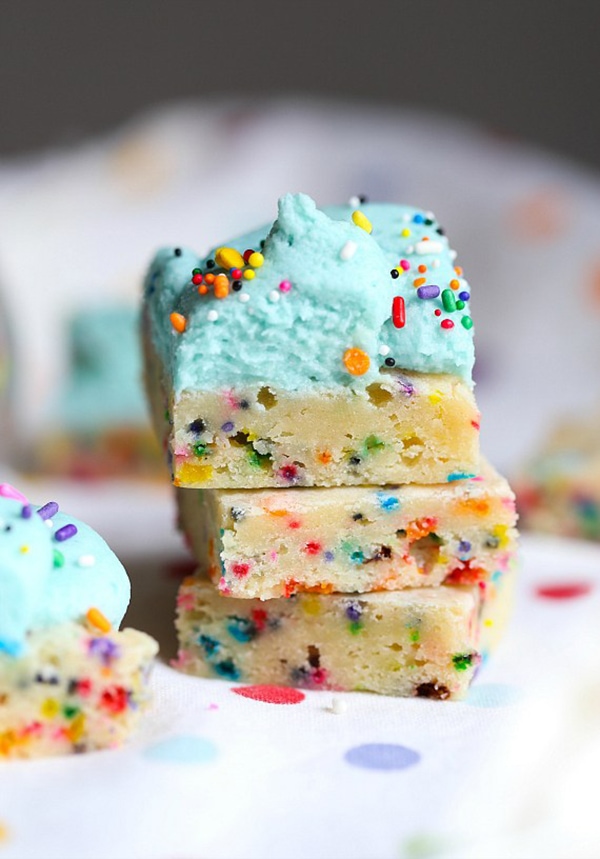 Unicorn Bark inspired by Katherine Sabbath

Unicorn Pop Tarts by Aww Sam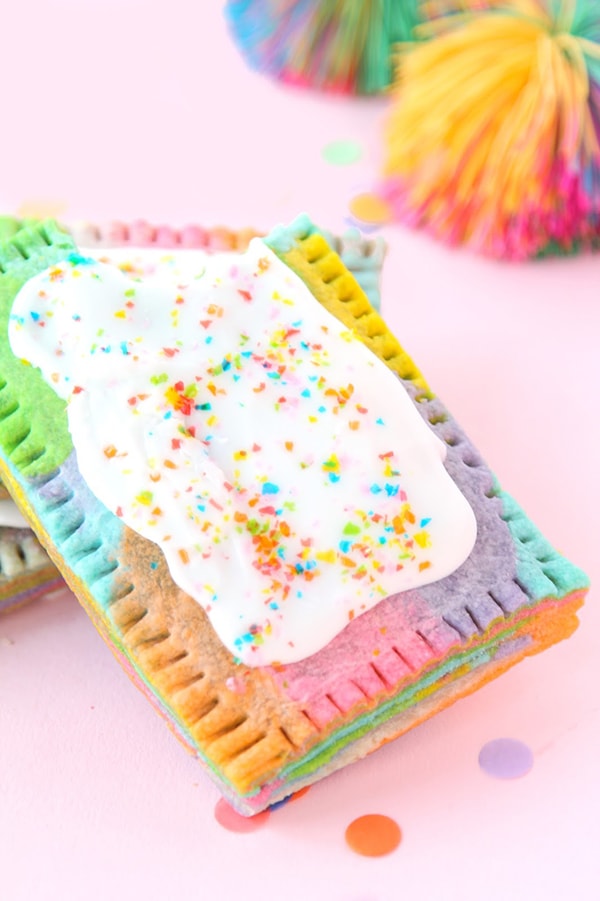 Unicorn Hot Chocolate by Cookies and Cups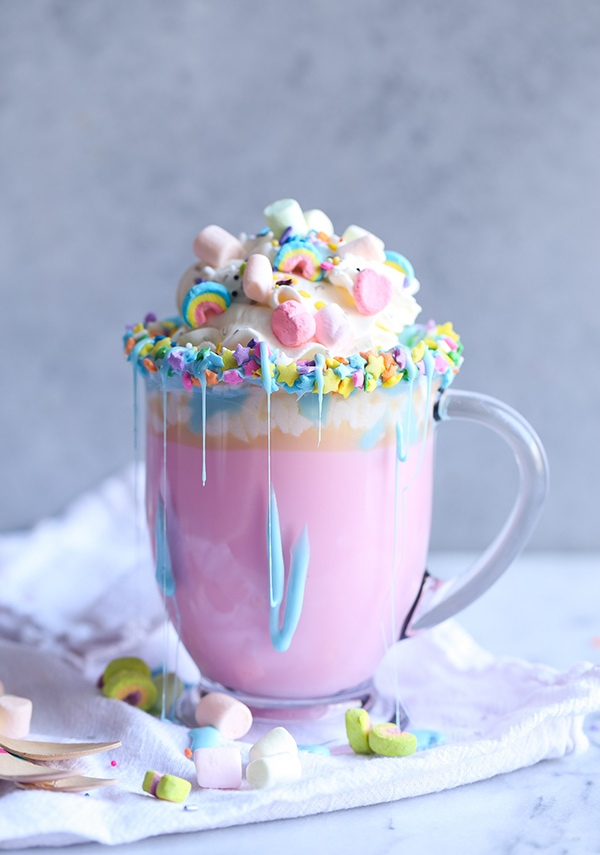 Unicorn Popcorn
Unicorn Cake Pops by Just Add Sugar
Unicorn mini donut (not edible, but adorable)!
Unicorn Popsicles by Ray Ray
Unicorn Macarons by Mac Lab in Duluth, Georgia
And, of course, the famous Unicorn Cake, originally created by Jenna Rae of Jenna Rae Cakes in Winnipeg, Canada. (If you want to learn how to make your own, Craftsy has a great unicorn cake tutorial!)
If you can't get enough unicorn delights, there's the Unicorn Cafe in Bangkok, Thailand that serves everything from unicorn drinks and cakes to unicorn waffles and pasta!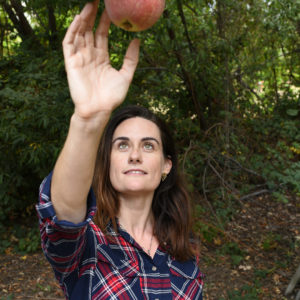 Latest posts by Rebecca Swanner
(see all)