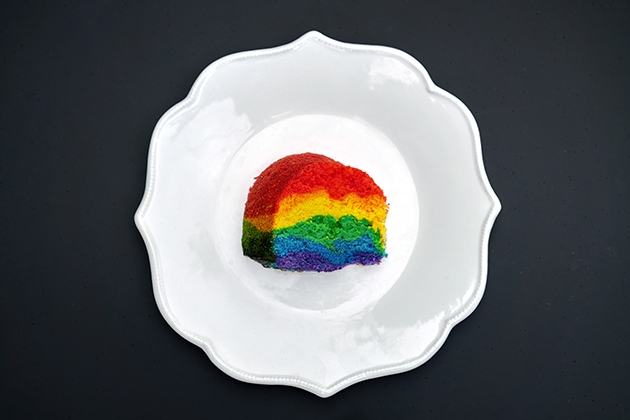 Last Saturday, I woke up and made two bundt cakes. A cinnamon sugar swirl bundt cake and this rainbow bundt cake. I got together with photographer Webb Bland at his place. The day was awesome. We spent it styling, photographing, eating cake, and watching naked cyclists ride by to promote body positivity.
We had a pretty good idea of how we wanted to photograph the cinnamon sugar swirl bundt cake, but when it came to the rainbow bundt cake, we were a little stumped. It already had so much color that adding more to the mix would just make the scene feel busy. In the end, we went with two approaches. One featured a singular slice of the bundt cake on a white plate. The other was more whimsical – we took pieces of the rainbow bundt cake, and crumbled them all over the black board. (That's part of the fun of photographing food – you get to play with it!) Then, Webb had the great idea to stand a slice up over the Fruity Pebble-esque landscape we had created, and use a shallow depth of field so that the bundt cake slice was the primary subject.
And then Sunday happened.
And to be honest, we didn't know what to do with these photos. Suddenly, the whimsical photo became sad. The singular slice became solemn. We didn't know if we should release them. But, we've chosen to.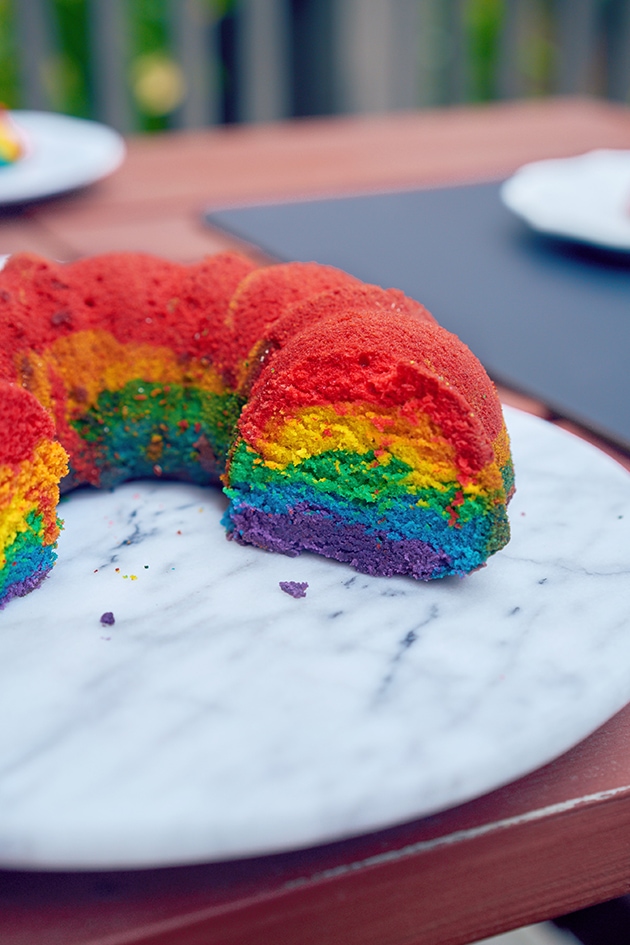 What happened in Orlando was awful. It was an act of hate that hurt so many people and my heart is still so heavy for the LBGT community, for the family, friends, and loved ones touched by what happened. My heart also hurts for those who are now experiencing hatred when they did nothing to provoke it. What I do know is that we cannot fight hate with hate. That gets us nowhere. So I leave you with a few quotes from people wiser than I and with the recipe for the rainbow bundt cake.
"Darkness cannot drive out darkness: only light can do that. Hate cannot drive out hate: only love can do that." – Martin Luther King, Jr.
"It is easy to hate and it is difficult to love. This is how the whole scheme of things works. All good things are difficult to achieve; and bad things are very easy to get." – Confucius
"Hatred can be overcome only by love." – Gandhi
"Hatred does not cease through hatred at any time. Hatred ceases through love. This is an unalterable law." – Buddha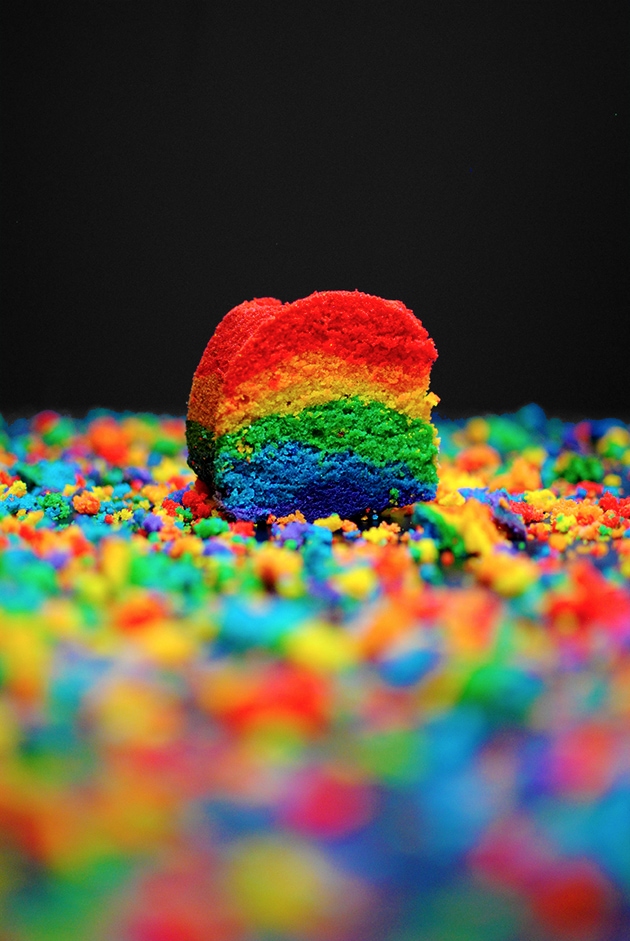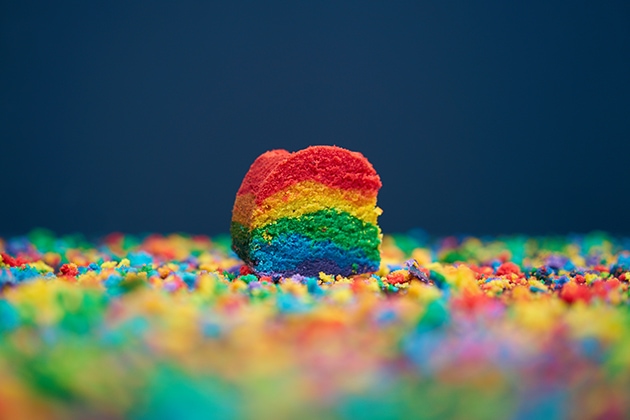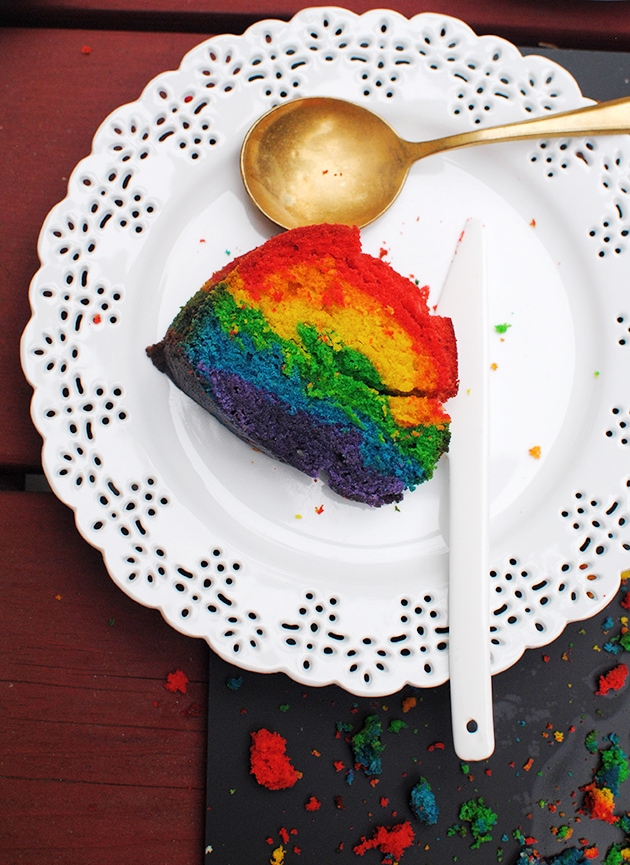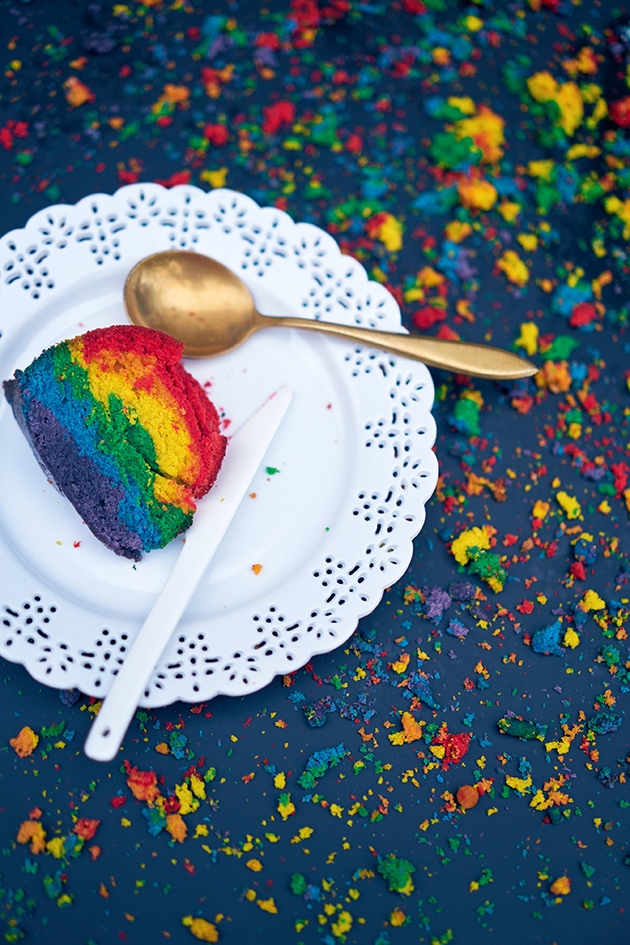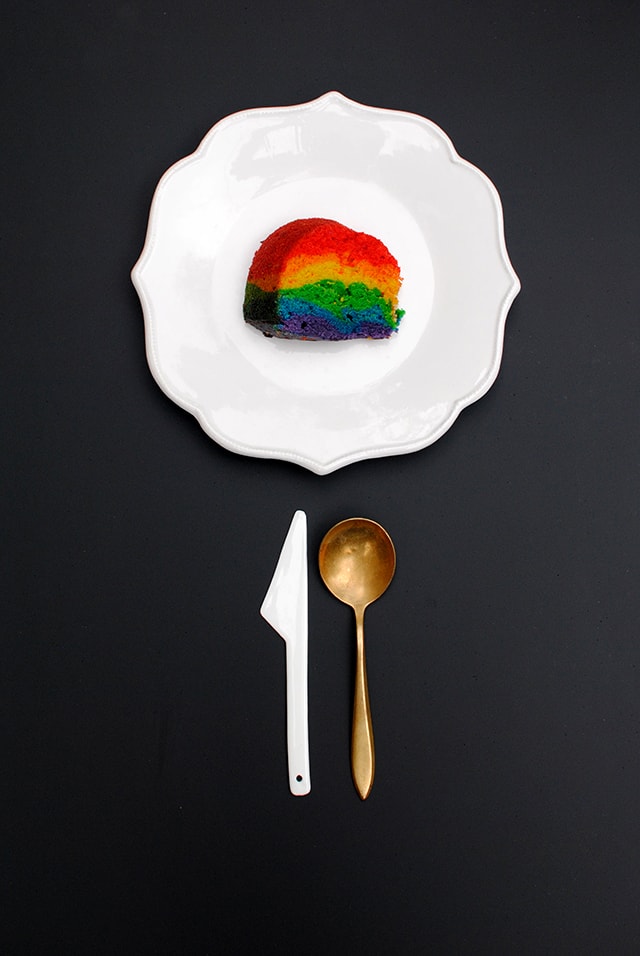 Rainbow Bundt Cake
Print Recipe
This recipe was adapted from
Sweet Paul
. Add spices or citrus zest to give it a more distinctive flavor. It makes more than one large bundt pan, so have a lined muffin tin or small cake pan prepped for the extra.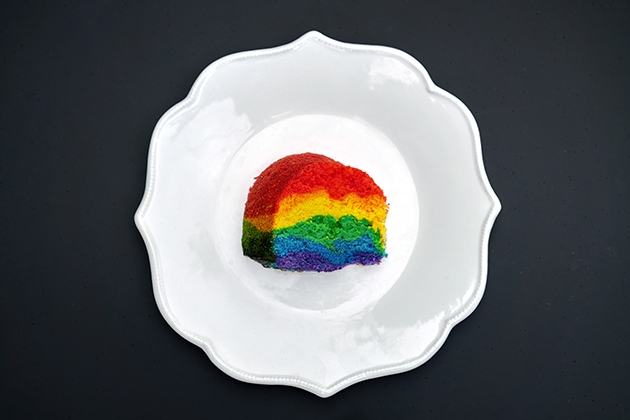 Servings: 2 cakes
Ingredients
1½ cups salted butter
3 cups light brown sugar
5 large eggs
½ tsp. baking powder
3½ cups all-purpose flour
¾ cup milk
1 tsp. vanilla extract
6 Americolor Gel colors
Instructions
Preheat oven to 350°F.

Cream butter and brown sugar for 5 minutes.

Meanwhile, whisk together flour and baking powder in a medium bowl.

Turn mixed to low and add eggs one at a time. Let each mix for 30 seconds.

Add vanilla.

Add 1/3 flour mixture to mixing bowl. Add 1/2 milk. Add another 1/3 flour and remaining milk. Add remaining flour.

Spoon batter into six separate bowls. Add color to each bowl and gently mix until color is uniform.

Beginning with red, spoon batter into the bundt pan. Repeat with orange, then yellow, green, blue, and purple. Use a different spoon for each color and gently spread the batter so one color completely coats the previous color.

Bake for 30-45 minutes or until your cake tester comes out clean. (You can put both cakes in to bake at the same time, but check on the other one after 20 minutes.)

Allow to cool for 10-15 minutes. Turn out onto cooling rack. Let rest until completely cool before moving.
Did you make this recipe?
Leave a review below, then take a photo and tag @letseatcakeblog on Instagram so we can see it!
Save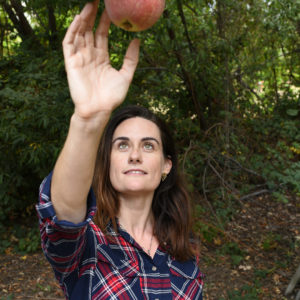 Latest posts by Rebecca Swanner
(see all)