S'mores Donuts definitely feel like a summer dessert, but it's the middle of "winter" here in LA and I wanted s'mores.
Sure, they're perfect in the summer when you can bite into one and enjoy the combination of crunchy graham crackers, gooey chocolate, and that fire-toasted burnt-to-a-crisp marshmallow. But, unless you really want to brave going outside in the winter (and really, who does that when it's below 70°?) then these S'mores Donuts will hold you over until it's finally warm again.
There's no shortage of donut shops in LA, but it's also really easy to make your own homemade baked donuts. And, while, no Virginia, they won't be quite the same as yeasted, fried donuts, I think they're almost just as tasty. And I eat a lot of donuts.
Love S'mores as much as I do? Try this S'mores Cake Roll or these S'mores Cookie Cups!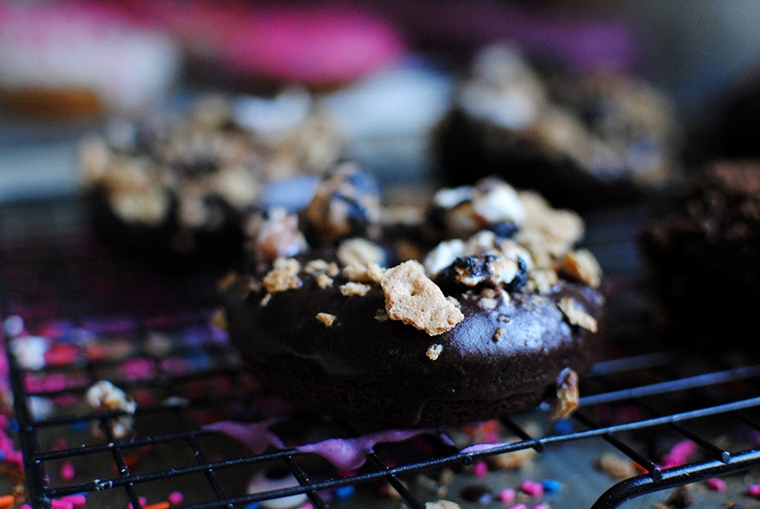 How to Make S'mores Donuts
The chocolate cake portion of this S'mores Donut was inspired by Joy the Baker's double chocolate cake donut recipe, which I topped with a dark chocolate ganache, crushed graham crackers, and toasted mini marshmallows.
I love how simple the chocolate cake base is for these S'mores Donuts! Simply combine the dry ingredients in one bowl, the wet ingredients in another, and melt the butter on the stove or in the microwave. Then, pour the wet into the dry, and mix until combined. Add the butter and mix until everything comes together again.
Pipe the chocolate donut batter into a greased donut pan and bake at 325° F until they spring back when pressed. Let them cool on a cooling rack and start on the chocolate ganache.
While the donuts are cooling, crush up the graham cracker sheets and use a kitchen torch to sear the outside of the mini marshmallows.
Finally, make the ganache for your S'mores Donuts.
Ganache is really just a combination of chocolate and some sort of fat (in this case cream and butter because that's what dreams are made of). The key is to get the fats hot enough so that when you pour them on top of the chocolate, the chocolate melts almost instantly. Let the mixture stand for about 30 seconds, and then begin stirring, making concentric circles with your spatula. At first, it'll look like a brown and white soupy disaster. Then, suddenly, it'll become glossy and smooth.
To finish your S'mores Donuts, dip each cooled chocolate donut in the ganache and top with graham crackers and marshmallows!
S'mores Donuts
Print Recipe
This S'mores Donut recipe is an easy way to enjoy s'mores no matter what time of year it is!
Servings: 8 donuts
Ingredients
S'mores Donuts
Nonstick cooking spray
1 cup all-purpose flour
1/4 cup cocoa powder
1/2 tsp. baking soda
1/4 tsp. kosher salt
1/2 cup light brown sugar (packed)
1/2 cup buttermilk
1 large egg
4 Tbsp. unsalted butter (melted)
1 tsp. vanilla extract
Chocolate Ganache
8 oz. chocolate (chips or callets)
1 cup confectioners' sugar
1 tsp. vanilla extract
1 pinch salt
1 cup heavy cream
1 Tbsp. unsalted butter
S'mores Donut Toppings
4 graham cracker sheets (crumbled)
32 mini marshmallows
Instructions
S'mores Donuts
Preheat oven to 325° F. Spray donut pan with nonstick cooking spray. Set aside.

Melt butter. Set aside.

Whisk flour, cocoa powder, baking soda, salt, and brown sugar in a medium bowl until combined. Set aside.

Whisk buttermilk, egg, vanilla extract in small bowl until combined.

Pour the buttermilk mixture into the flour mixture and fold with a spatula until the mixture is thoroughly mixed together.

Add the butter to the mixture and stir until combined.


Fill a piping bag fitted with a round tip with donut batter. Fill each donut mold until it is ½ to 2/3 full.


Bake for 8-12 minutes or until donuts spring back when pressed.

Let cool on cooling rack for 10 minutes, then remove from pan and let cool fully.

Chocolate Ganache
Place chocolate, confectioner's sugar, vanilla extract, and salt in medium bowl. Stir ingredients together and set aside.


Place cream and butter in a medium saucepan over medium heat. Stir continually until mixture boils.

Pour the cream mixture over the chocolate mixture and let stand for one minute.

Stir mixture in concentric circles until smooth chocolate ganache forms.

S'mores Donut Assembly
Place 3 mini marshmallows on a skewer and roast with a kitchen torch. Remove marshmallows and set aside. Repeat for remaining marshmallows.


Dip cooled donuts halfway into chocolate ganache. Gently shake off extra chocolate. Top each with crushed graham crackers and marshmallows.

Notes
Though it is easier to pipe the S'mores Donut batter using a piping bag, a spoon works in a pinch.
Nutrition Facts
S'mores Donuts
Amount Per Serving (1 donut)
Calories 380
* Percent Daily Values are based on a 2000 calorie diet.
Did you make this recipe?
Leave a review below, then take a photo and tag @letseatcakeblog on Instagram so we can see it!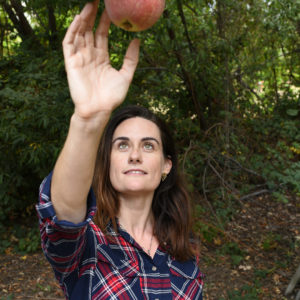 Latest posts by Rebecca Swanner
(see all)