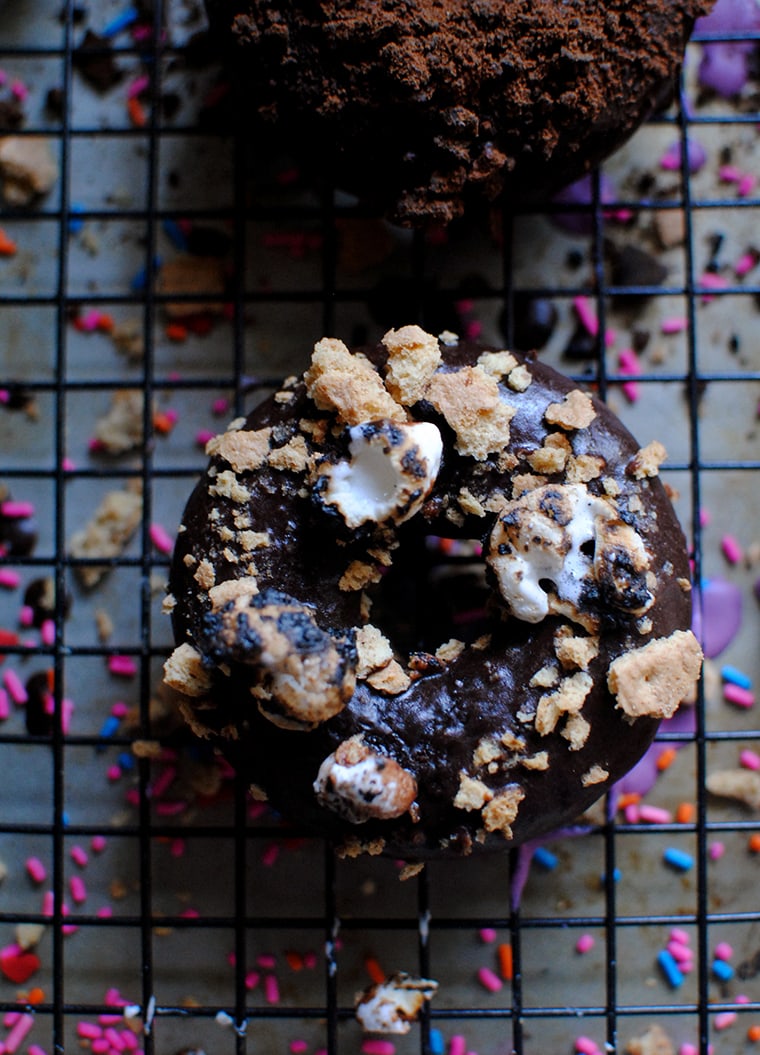 It's the middle of "winter" here in LA and I wanted s'mores. Specifically, s'mores donuts.
Everything has their season. And s'mores, well, they have all of them. They're perfect in the summer when you can bite into one and enjoy the crunchy graham cracker, the gooey chocolate center, and that fire-toasted marshmallow. Because, after all, a classic s'more is basically a dessert sandwich…and who doesn't love a great sandwich?
But what about when it's cold? Drinking cocoa topped with graham cracker crumbles and a fire-licked marshmallow certainly doesn't sound like my idea of a bad time. But…there's also s'mores donuts. They fit any season (along with s'mores chocolate) and they're easy to make.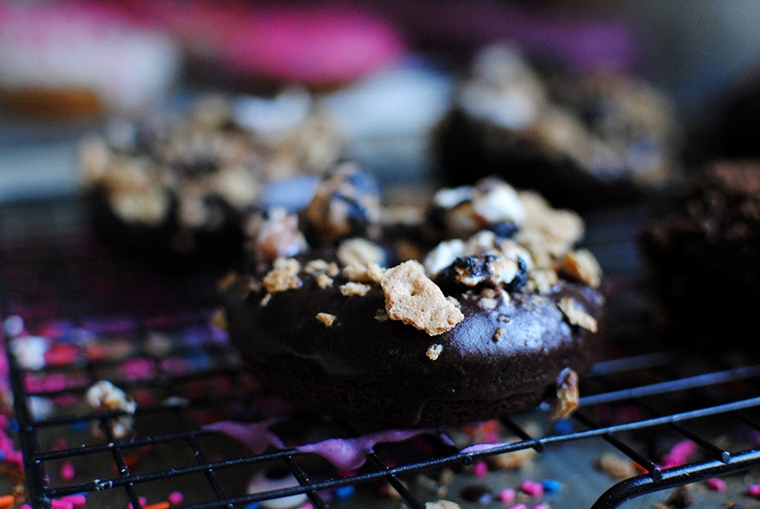 Over Valentine's Day weekend, I couldn't stop thinking about donuts. There are a bazillion (trust me, I've counted), donut shops in Los Angeles. There's the super-hipster donuts at Donut Friend complete with names inspired by rock bands including Chocolate From the Crypt, Jets to Basil, and Stiff Little Butterfingers (that's Rocket From the Crypt, Jets to Brazil, and Stiff Little Fingers in case you were curious) out in Highland Park. The baked donuts dreamed up by pastry chef Waylynn Lucas and Nancy Truman at Fonuts on 3rd Street. The too-cute-for-words letter and panda-shaped ones over at California Donuts. Which also happens to be open 24 hours in case you get a craving for fried dough at 3am.
But, I didn't want to buy donuts. I wanted to make them. And, it turns out, they were really easy. And fun! For the cake part, I followed Joy the Baker's baked donut recipe. Then, I topped them with a glaze of dark chocolate ganache (I almost always use my Callebaut callets for this unless I'm in a real pinch/have run out and don't feel like standing in line forever at Restaurant Depot). Finally, I asked my friend Ben to help me crush up a bunch of graham crackers. This is a great task for anyone who has had a stressful day or for kids as it pretty much just involves smashing. Finally, we skewered some mini marshmallows onto wooden skewers and I toasted (read: set fire to) using the flame on my stove. This was probably not the best idea, but I have not yet purchased a mini torch.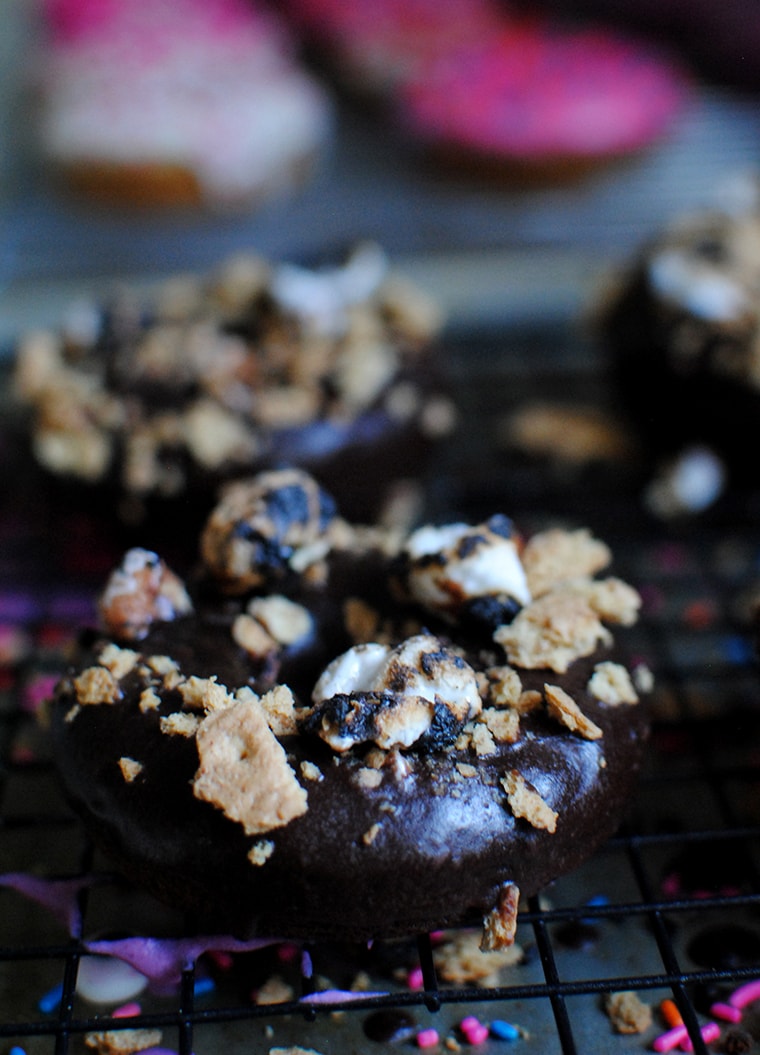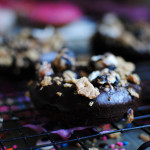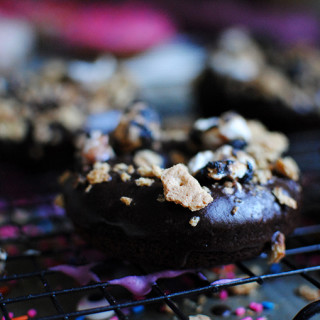 Baked S'mores Donuts
Savory baked s'mores donuts to get you through the toughest part of the year. You know, winter.
Ingredients
For the Chocolate Cake Donuts:
Nonstick cooking spray

1

cup

all-purpose flour

1/4

cup

unsweetened cocoa powder

1/2

teaspoon

baking soda

1/4

teaspoon

kosher salt

1/2

cup

light brown sugar

packed

1/2

cup

buttermilk

1

large egg

4

tablespoons

unsalted butter

melted

1

teaspoon

pure vanilla extract

Piping bag and round tip

or spoon
For the Chocolate Frosting and S'mores Toppings:
8

oz

. dark chocolate morsels

callets, or shavings

1

cup

confectioners' sugar

1

tsp

. vanilla extract

1

pinch salt

1

cup

heavy cream

1

Tbsp

. unsalted butter

4

graham cracker sheets

crushed, 16 individual crackers

32

mini marshmallows

wooden skewers
Instructions
For the Chocolate Cake Donuts:
Preheat oven to 325°F. Spray donut baking baking with nonstick cooking spray and wipe off excess. Set aside.

Heat butter until completely melted in microwave or on stovetop. Set aside.

In a medium bowl, whisk flour, cocoa powder, baking soda, salt, and brown sugar until evenly mixed. Set aside.

In a smaller bowl, whisk buttermilk, egg, butter, vanilla extract until fully mixed.

Pour the buttermilk mixture into the flour mixture and fold with a spatula until the mixture is even and all ingredients are thoroughly mixed together.

Fit a piping bag with a round tip and fill it with the batter. Use the bag to fill each donut mold until it is one-half to two-thirds full. (If you do not own a piping bag, you can use a spoon.)

Bake in the oven for 8-12 minutes or until the donuts spring back at the touch.

Remove donuts from oven and let cool for 5-10 minutes on a wire rack.

Remove the donuts from the baking pan and let cool.


For the Chocolate Frosting and S'mores Toppings:
In a medium bowl, stir together the chocolate morsels, confectioner's sugar, vanilla extract, and salt.

Heat the cream and butter in a medium saucepan until boiling. Stir often so mixture does not scorch.

Pour the cream mixture over the chocolate mixture and let sit for 2 minutes.

While waiting for the chocolate mixture, skewer the mini marshmallows onto the wooden skewers (about 3 marshmallows per skewer).

Whisk until smooth ganache has formed.

Dip the cooled chocolate cake donuts halfway into the chocolate ganache and gently shake off any extra. Top with crushed graham cracker. Repeat until all donuts have been glazed.

Toast the marshmallows with a mini torch or over a safe fire (or, if you're me, the stove's flame). Carefully remove toasted marshmallows from the skewers and place 3-4 onto each of the baked donuts. Enjoy!