S'mores Cake. Just those two words are enough to make my heart flutter. Layers of rich chocolate, crunchy graham cracker, and creamy marshmallow… all in a cake? Yes yes yes.
I have been compensated by The Kroger Co. for this post, but the opinions are mine and mine alone. Keep reading for the S'mores Cake recipe!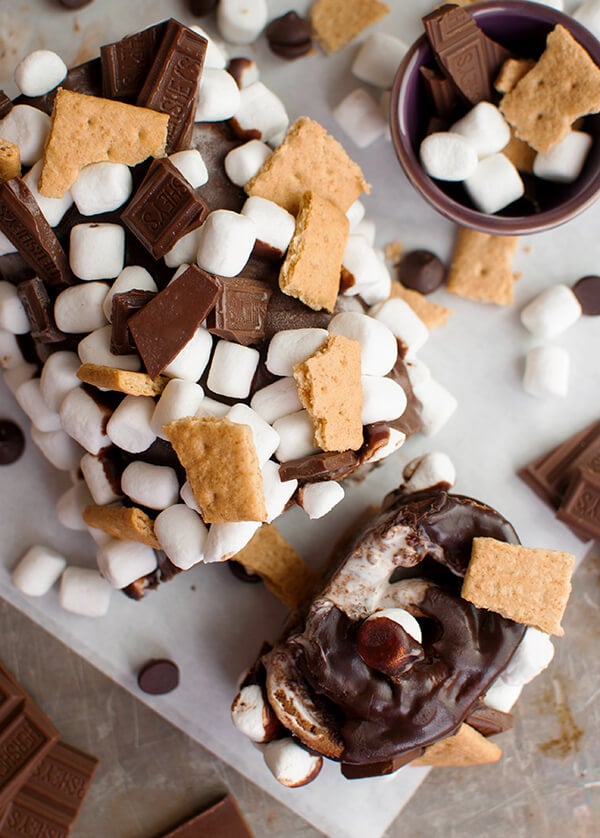 I learned how to make roll cake the other week, so I decided to try another one and combine all three classic S'mores components into a S'mores Cake Roll!
Once you've got the hang of making a roll cake (step-by-step tips here!), making a S'mores Cake is just as easy. The key is ensuring that you have graham crackers, chocolate, and marshmallows on hand. For this S'mores Cake, I went to my local Kroger store (they're called Ralphs here in Southern California) and picked up Honey Maid Graham Crackers, Kraft's Jet-Puffed Marshmallows, and some Hershey chocolate bars. Could a S'mores recipe get any more classic? I don't think so.
How to Make a S'mores Cake
To bake this S'mores Cake recipe, I had figure out how to create a chocolate sponge (i.e. the cake bit) that rolled easily. Because, while I have a chocolate cupcake recipe that's been my go to for years — and which I really should share with you! — it rises a lot and, thus, isn't suitable for making a chocolate roll cake. So, I researched, compared recipes, worked out all the ratios in a spreadsheet (this is totally a normal method, right?) and then was left with a bit of a quandary. Do I use baking powder or no?
Baking powder is excellent at making baked goods rise. And almost every recipe I found for a chocolate roll cake called for baking powder. This didn't seem like a good idea. But, hey, ok, baking powder it is. Since my friend Ashley and I decided to film this, I made a few tester S'mores Cakes in the early morning.
The video is coming soon, but in the meantime, check out her YouTube channel and her recipe for how to make Bulletproof Coffee! —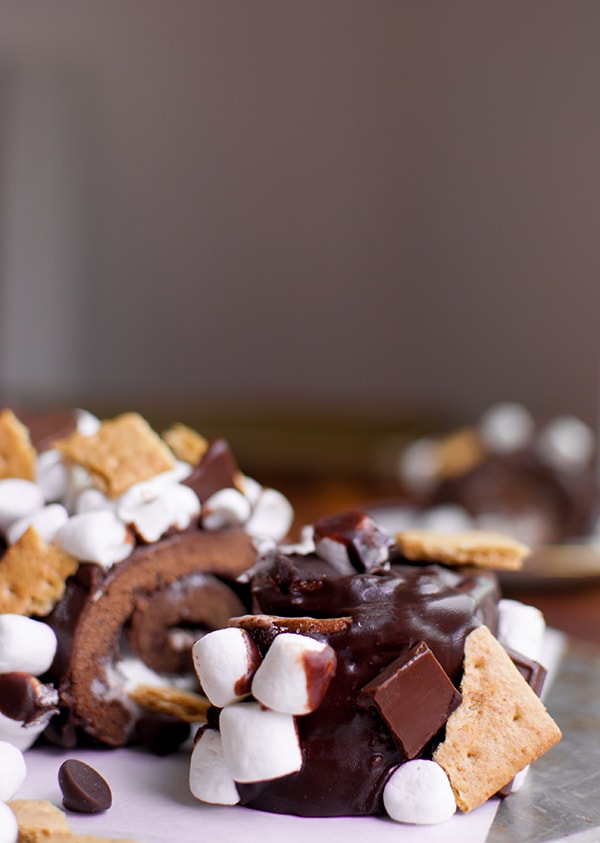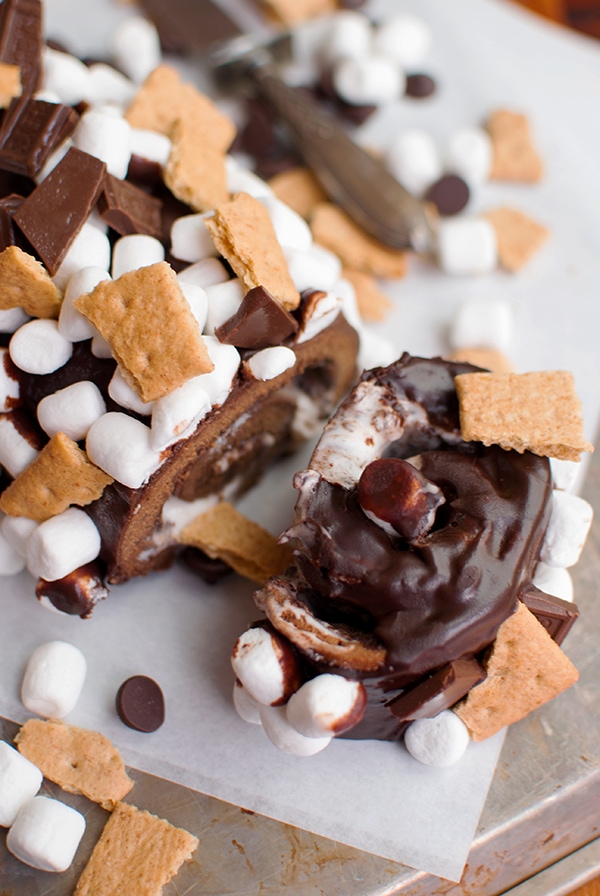 The chocolate cake rolls looked great. They rolled beautifully. And then. And then hours later, when she arrived for filming, they were a hot mess. They stuck to the paper. They crumbled into bits. They basically threw a giant tantrum and refused to participate in any of the fun. I knew the baking powder had to go, but unfortunately, there wasn't time to make another tester… so we had to do it live!
The S'mores Cake without baking powder was thinner, didn't crack, and rolled without fuss. I filled it with a chocolate ganache, marshmallow frosting (I used marshmallow fluff, but a thinner version of this homemade Marshmallow Frosting would work too!), rolled up the chocolate roll cake, then topped it with more chocolate ganache, graham crackers, marshmallows, and chocolate.
Because I'm such a marshmallow fan, I will probably double the amount of marshmallow frosting when I make this S'mores Cake again – and maybe sprinkle graham crackers on top of the frosting, which would add a nice crunchiness to each bite. Actually, I think that's one of the best things about this S'mores Cake recipe: you can totally customize it to your liking!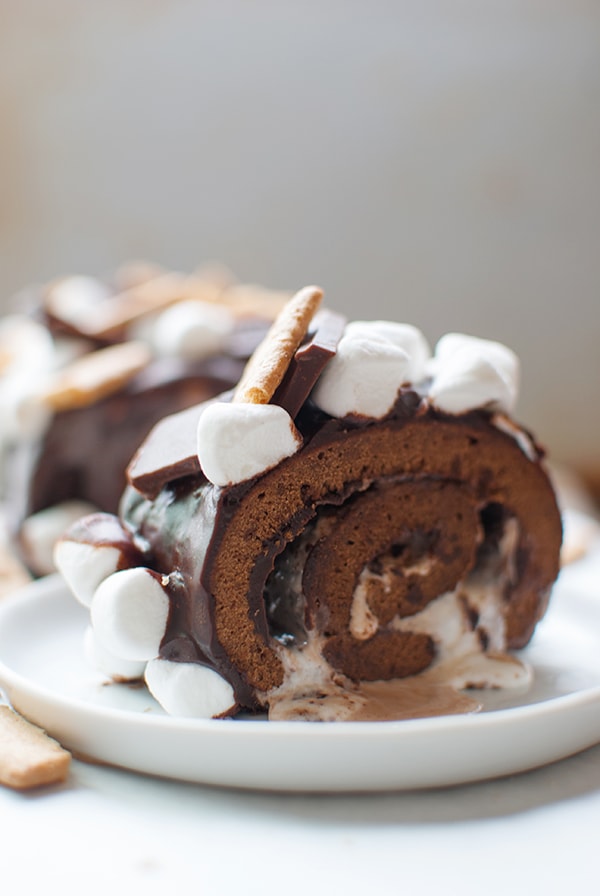 Tell me how you customized this cake in the comments and don't forget to check out this post if you need tips on how to make a roll cake!
S'mores Cake
Print Recipe
This S'mores Cake recipe has layers of chocolate ganache, fluffy marshmallow, and is topped with graham crackers and more chocolate!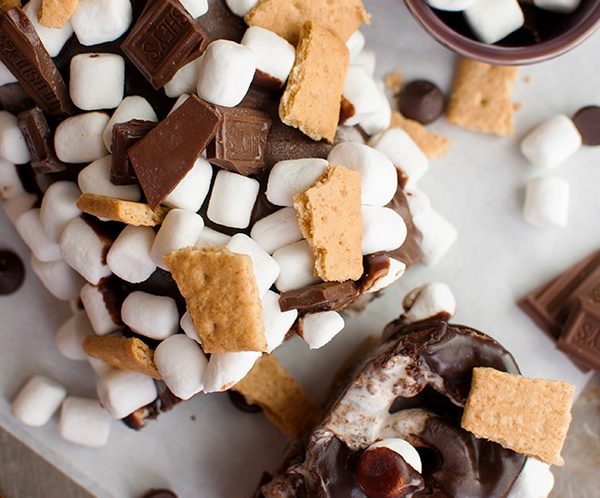 Servings: 16 slices
Ingredients
Chocolate Roll Cake
130 grams all-purpose flour
1/4 tsp. salt
20 grams cocoa powder
4 large eggs (room temperature)
1/4 tsp. vanilla extract
125 grams + 2 Tbsp. caster sugar
50 grams unsalted butter
1 ounce chocolate (chips or small pieces)
Chocolate Ganache
6 ounces chocolate (chips or small pieces)
6 ounces heavy cream
Marshmallow Filling
1 jar (7 oz.) marshmallow creme
1 cup confectioner's sugar
4 Tbsp. unsalted butter (room temperature)
S'mores Cake Toppings
1/2 cup mini marshmallows
1/2 cup chocolate pieces
1/2 cup graham crackers (broken into bite-sized pieces)
Instructions
Chocolate Roll Cake
Preheat oven to 350°F.


Spray 8"x 12" or 9" x13" baking sheet with nonstick spray. Place parchment on top and set aside.


Sift flour, salt, and cocoa powder together in medium bowl.

Separate egg whites and egg yolks into separate bowls.

Whip egg whites on high until it forms soft peaks. Scrape into separate bowl and clean mixing bowl.

Whisk egg yolks, sugar, and vanilla together.

Melt butter and chocolate together in microwave for 60 to 90 seconds until chocolate and butter have melted. Whisk to combine.


Whip egg yolk mixture on high for 5 minutes until it reaches ribbon stage and you can draw a figure 8 that holds for approx 5 seconds.


Whisk in chocolate mixture.

Fold in flour mixture.

Fold in egg whites.


Pour batter into prepared pan and bake for 10-12 minutes until just firm to touch.


While S'mores cake batter is baking, place a new piece of parchment on the counter and dust evenly with caster sugar.


Remove cake from oven, immediately flip onto caster sugar-lined parchment and peel away parchment cake was baked on.


Score cake on short side 1/2" from end closest to you, fold parchment paper over this end and carefully roll cake. Leave in parchment and set aside until cool.

Chocolate Ganache
Place chocolate in bowl. Heat heavy cream in small saucepan until almost boiling. Pour over chocolate chips and let stand for 1 minute. Stir until combined.
Marshmallow Filling
Using mixer, combine marshmallow fluff, confectioner's sugar, and butter until smooth.
S'mores Cake Assembly
Carefully unroll chocolate cake roll.


Spread half of Chocolate Ganache on chocolate cake roll. Let cool for 5 minutes.

Spread Marshmallow Filling on top of chocolate ganache.


Reroll cake roll. Some filling may ooze out the sides.


Pour remaining Chocolate Ganache over top of chocolate cake roll.


Let ganache set then top with marshmallows, chocolate pieces, and graham crackers.

Nutrition Facts
S'mores Cake
Amount Per Serving (1 serving)
Calories 438
* Percent Daily Values are based on a 2000 calorie diet.
Did you make this recipe?
Leave a review below, then take a photo and tag @letseatcakeblog on Instagram so we can see it!

This is a sponsored conversation written by me on behalf of Kroger. The opinions and text are all mine.
Save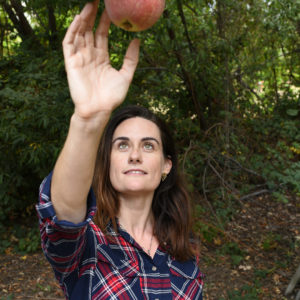 Latest posts by Rebecca Swanner
(see all)