What's the best way to sweeten up any party? We can think of a few ways — a confetti cannon, a piñata full of whiskey, adding Manny Montana to the guest list. But it's a lot easier to just make a dessert charcuterie board.
Yeah, we realize "charcuterie" is technically meat. But we're not in charge of naming these things. They're also called dessert grazing boards. (Which is decidedly worse.) And they're perfect for any party. After all, who doesn't love sweets? That was a rhetorical question. If the answer is you, don't tell us. Also, why are you here?
The best part is you can put together a respectable dessert board that looks like you put a ton of thought and effort into it in pretty much no time at all. Not creative? Get some inspiration from the queen of dessert boards, Ain't Too Proud to Meg.
Or, look below as we've scoured the 'net (that's what the youths say, right?) for the best dessert charcuterie board ideas and tips.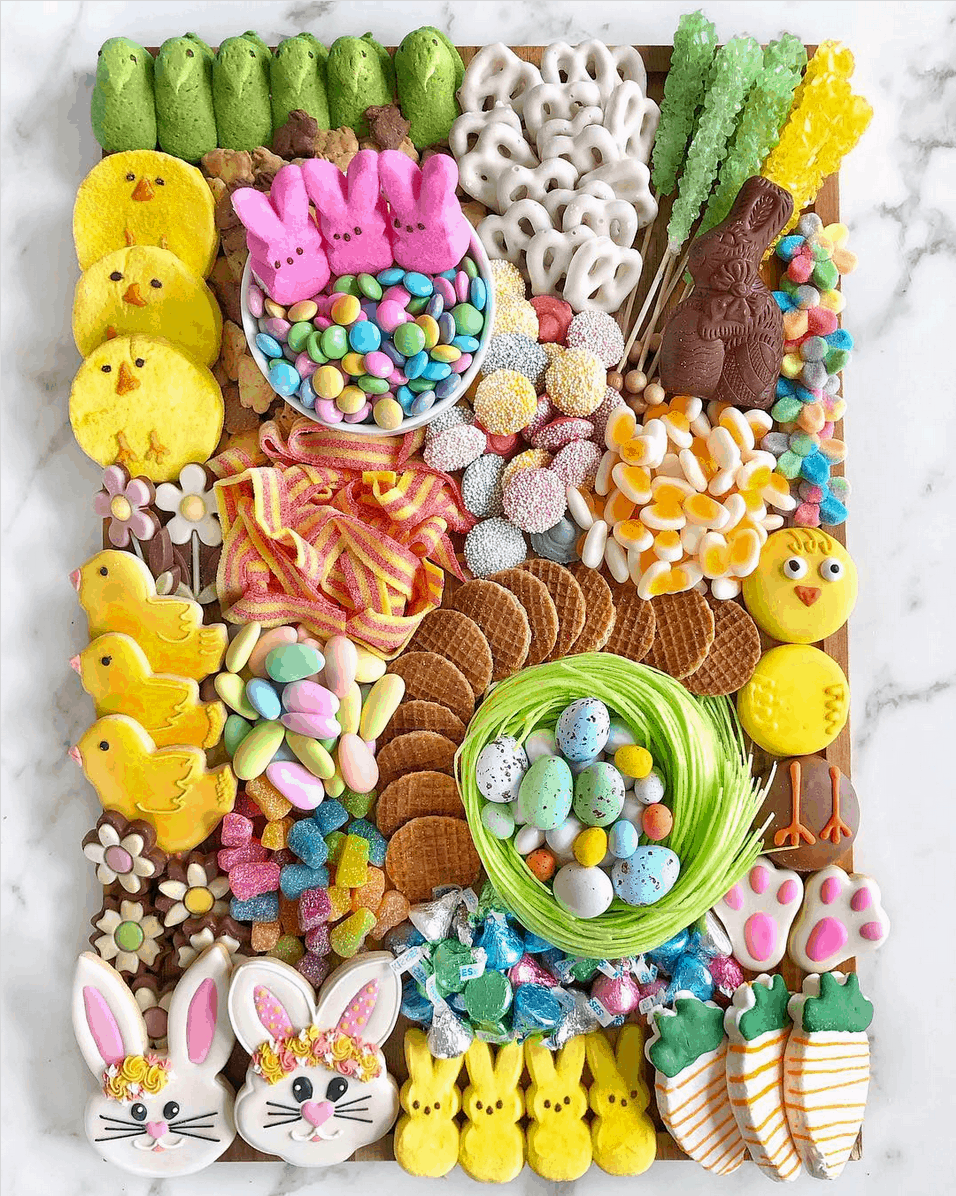 What Goes on a Dessert Charcuterie Board?
Anything sweet is fair game! You can pick a category or theme, or you can literally just pile on all your favorite desserts ever. We won't judge. Unless you put Necco wafers on there. Here are some foods you can mix and match to create your dessert charcuterie board:
Baked Goods
Brownie bites
Mini cookies
Mini doughnuts
Cake pops
Fruits
Berries
Melon balls
Sliced tropical fruit
Citrus fruits
Dried fruit
Candies
Jelly beans
Sour gummies
Chocolate. All of it.
Dips
Melted chocolate
Nut butters
Caramel
Dessert Charcuterie Board Ideas
1. Girls' Night Dessert Board
This Valentine's Day-inspired board from Domestikated Life mixes salty and sweet flavors. It's got potato chips and chocolate, cranberry goat cheese and beetroot crackers, and cured meats and berries… everything you need for the ultimate girls' night dessert board (minus booze.) Best enjoyed while streaming Legally Blonde.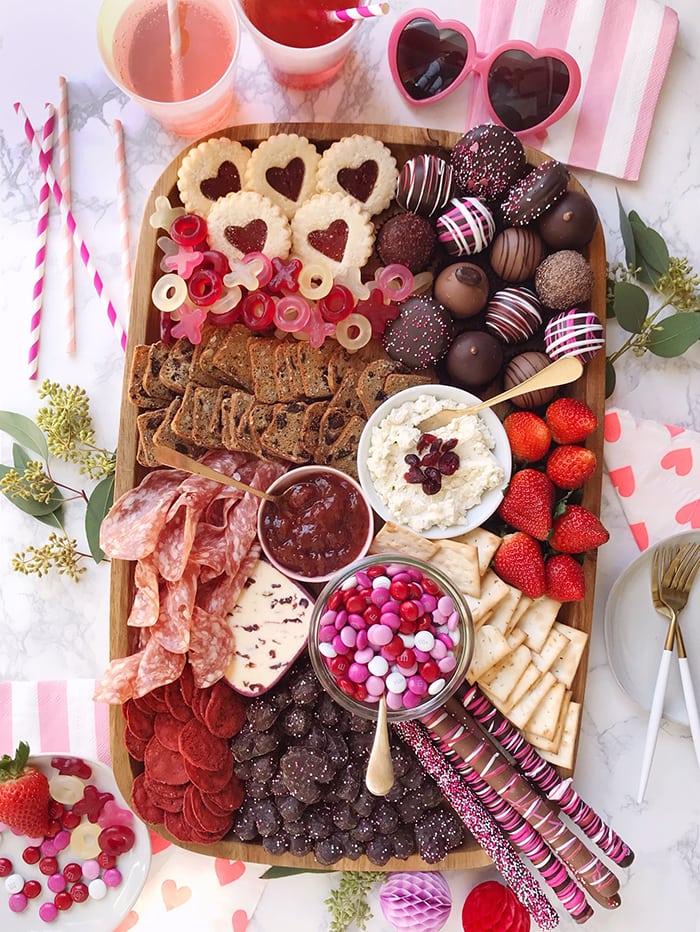 2. Healthy Rainbow Board
If you're looking for healthy dessert charcuterie board ideas, get inspired by this gorgeous fruit rainbow board by Grazing Affair. Load it up with fresh, dried, and candied fruits in every hue, then add some chocolate hummus for dipping. It's the perfect excuse to try some new fruits. Maracuja or persimmon, anyone?
And if you want to add some ube desserts to the purple section, don't worry, we won't tell anyone it's a veggie. (Actually, yes we will. We wrote a whole article about it.)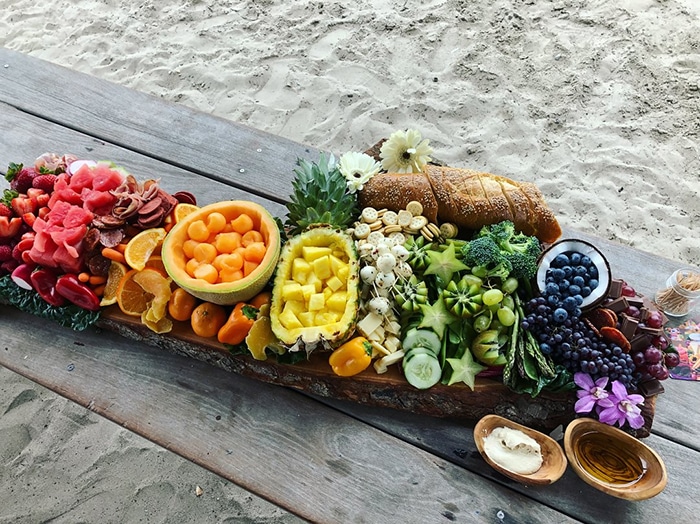 3. Chocolate Charcuterie
This dessert charcuterie board by Life is a Party is giving us serious chocoholic vibes. Add anything your chocolate-covered heart desires — we suggest chocolate-covered pretzels and almonds, pirouette cookies, Kit Kats, brownie bites, and every single variety of Reese's. We also suggest inviting us to your party and leaving us alone in the kitchen with this board for 10-15 minutes.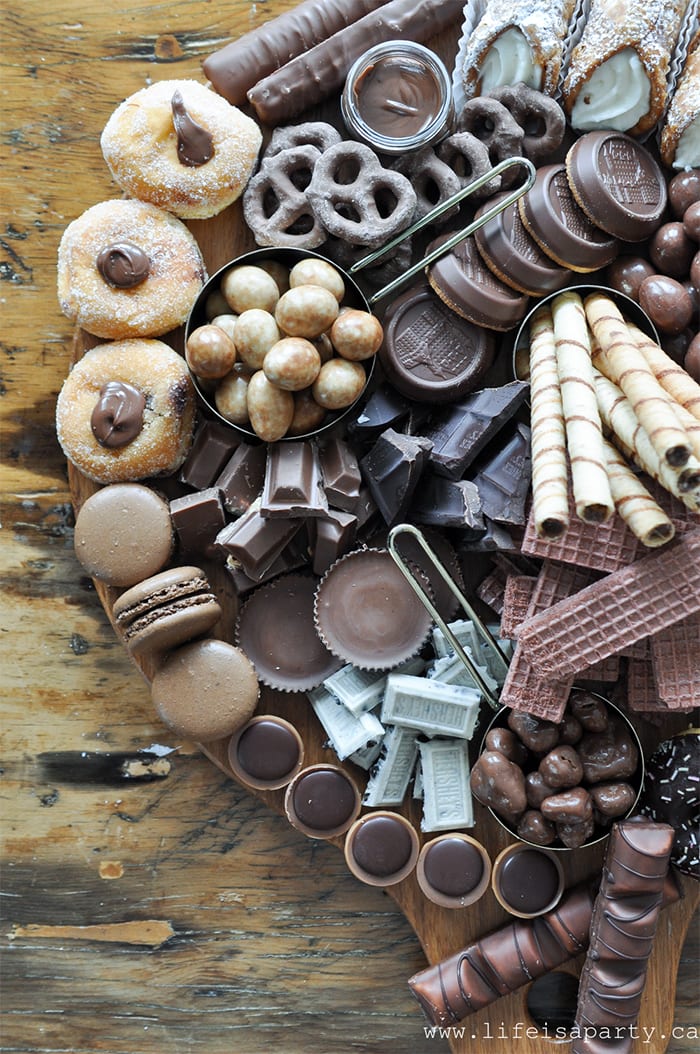 4. Candy Boards
Don't feel like chopping fruits or baking brownies for your dessert charcuterie board? Create a colorful candy board instead, like the ones that make our eyes pop every time Ain't Too Proud to Meg posts one to her Instagram. Just pile on your favorite neon-hued sweets like Sour Patch Kids, jelly beans, and M&Ms and you're good to go. Dibs on the Swedish Fish. We need our omega-3s.
5: S'mores Dessert Board
Add campfire vibes to your backyard party with this S'mores Charcuterie Board by Life is a Party which includes homemade marshmallows, graham crackers, and caramel dulce de leche. Add a batch of S'mores Cookie Cups for your friends who are too lazy to build their own s'mores.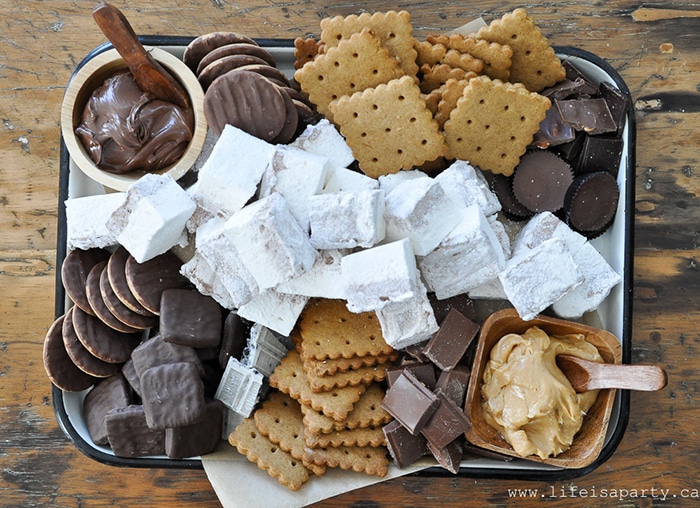 10 Simple Dessert Charcuterie Styling Tips
Go for variety. Choose foods with different sizes, colors, and textures to keep your board looking interesting.
Cut foods into bite-sized pieces. The idea behind a dessert board is to graze, so make sure guests can sample a little bit of everything.
Choose the right size board. Your board should fit all the food you plan to cram onto it. No one wants to see a half-empty board, but you also don't want your bourbon balls falling off and rolling onto the floor.
Put bowls on the board first. Then fill in around them with the rest of your items.
Pair sweet and salty. Or pair sweet and sweet. Don't pair chocolate and garlic unless your town is overrun by vampires.
Avoid foods that turn brown. We're looking at you, apples and avocados. You know what you did.
Avoid messy foods. Skip anything that melts, like popsicles or ice cream sandwiches. And consider your surroundings — if your party host has a white carpet, you might want to avoid the pomegranates. And the chocolate. And people who have carpet.
Scope out bargains. You don't want to spend a month's rent trying to fill up your dessert board. Shop the sales, and if you're garnishing with fruits, buy what's in season.
Add color. Going all-chocolate? Adding fun details like flowers, candies, colorful bowls, or hints of pink with ruby chocolate!
Get creative. The best part about dessert charcuterie boards is that they're supposedly low-stress, so don't be afraid to put your own spin on it, OK?!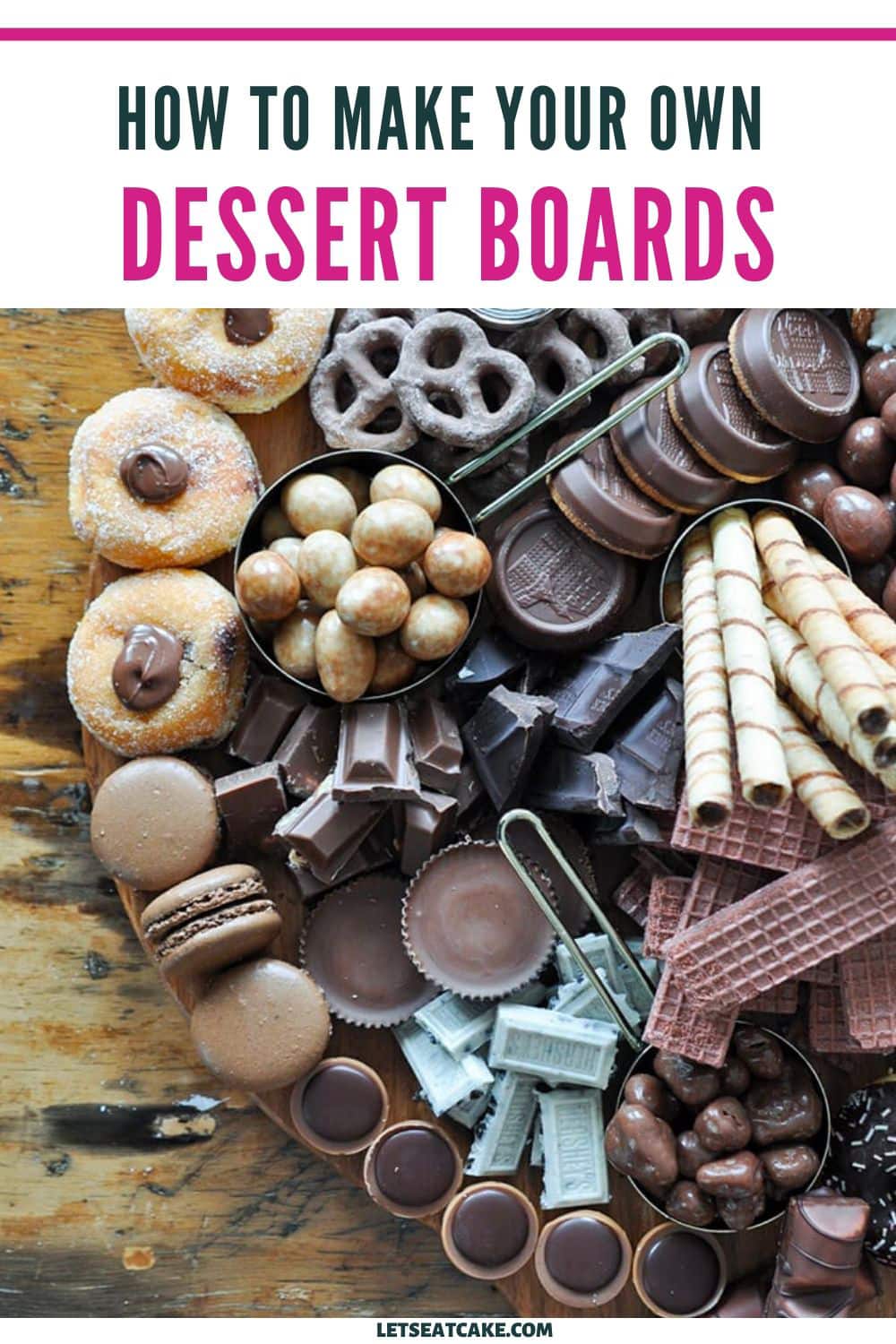 Latest posts by Kelsey Frey
(see all)