Move over, goth foods. The latest dessert trend is ruby chocolate. As much as we enjoyed everything from hamburger buns to ice cream dyed as black as our hearts, we're loving this brand-new chocolate and its millennial pink pastel hue.
We know what you're thinking: "Pastels? For Summer? Groundbreaking." And that's a great Miranda Priestly impression, reader, but we haven't been this ready to throw our money at a trend since we first heard about unicorn foods.
What is Ruby Chocolate?
Ruby chocolate was invented by Swiss chocolate manufacturer Barry Callebaut and they revealed the product to the world in 2017. Within a few months, pink KITKAT bars made with ruby cocoa beans had hit the shelves in Japan.
The pink confection was touted as the fourth type of chocolate — if you're keeping a running tally, the others are milk chocolate, dark chocolate, and white chocolate — and it's the first "new" chocolate since Nestle introduced white chocolate nearly 90 years ago in 1936.
If you've ever received a box of waxy Valentine's Day chocolates, you know that pink-colored chocolate is nothing new. But ruby chocolate isn't just dyed pink — it's actually pink.
Side note: if you want a great box of chocolates, these La Maison du Chocolat truffles are our favorite. Or just make these chocolate caramel truffles.
How is It Made?
Ruby chocolate is made from the same ingredients as milk chocolate: cocoa butter, cocoa mass, milk powder, sugar (as well as emulsifier, soy lecithin, citric acid, and vanilla flavoring). Ostensibly, the amount of cocoa can vary, but for now, the only ruby chocolate chips (or callets if you want to get fancy about it) they sell contain 47% cocoa.
Ok, But Why is Ruby Chocolate Pink?
Barry Callebaut uses special ruby cocoa beans, a new varietal found in Cote d'Ivoire, Ecuador, and Brazil. The bean retains its pink color throughout the chocolate-making process, but Barry Callebaut has been secretive about the process, but it produces made-for-Instagram confections.
The chocolate is slowly making its debut in the U.S., but you'll probably hear it called "ruby couverture" here. That's because the FDA has strict guidelines for what can be called chocolate — apparently stricter than their guidelines for pacemakers and hip replacements, but that's a matter for John Oliver. We're just here for the chocolate. (Er, we mean the couverture. We probably should've paid more attention in French class.)
If this sounds familiar, that's because white chocolate went through the same regulatory rigamarole. White chocolate only got the stamp of approval to call itself chocolate in 2002 — up until then, it was marketed as a confection.
Fun fact: It isn't trademarked, so we can't imagine it'll take long before another chocolate company hacks the recipe. Maybe if the folks at Barry Callebaut watched more Archer, they'd be corporate espionage experts like we are. In a related story, we hope they don't notice the secret army of squirrels we sent to steal their recipe.
What Does It Taste Like?
We are so glad you asked. Barry Callebaut's website describes it as having "a tension of fresh berry fruitiness and luscious smoothness," which sounds like the kind of thing a pretentious Bumble date would say when he's pretending to know about wine.
Basically, it's just a long-winded way of saying it doesn't really taste like any chocolate you've had before.
When this new chocolate was first announced, so many reviewers noted the berry flavor that I expected it to taste like a raspberry truffle. But the flavor is pretty unique — it's rich, but stops just short of being fruity.
Where Can I Get It?
Currently, it's only available in a handful of specialty stores, and you know, Amazon.
Though it's rolling out slowly, it's only a matter of time before this pink chocolate is everywhere. Chocolate trend forecasters — which is a real job and one I wish my guidance counselor had told me about — predict that in 30 years, it will be a $12 billion industry. Resistance is futile, and the pink facial will definitely be a thing soon.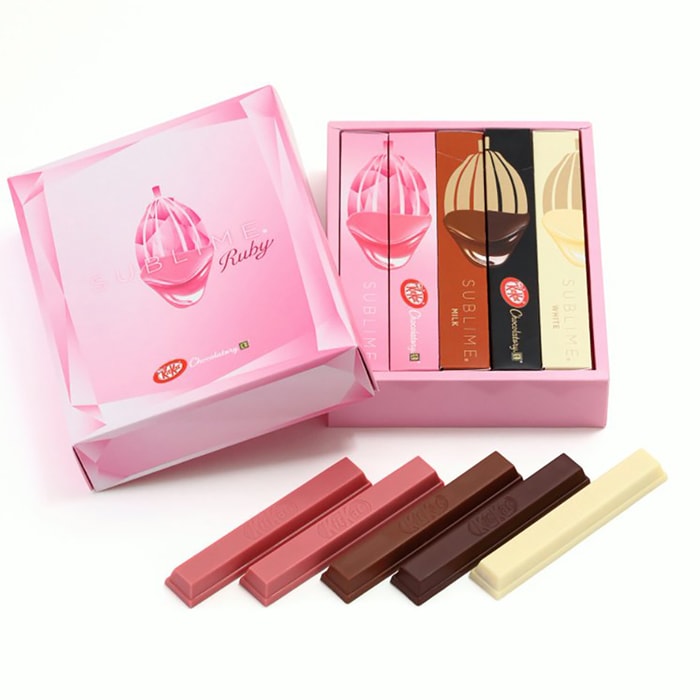 Pink KITKAT Bars
Ruby chocolate has been on the market in Japan since January 2018, when Nestle first used the pink confection in KITKAT bars sold at KITKAT Chocolatery stores in Japan and South Korea. These KITKATs — marketed as "Sublime Ruby" — were the O.G. product.
Japan's KITKAT bars are already known for having fun flavors. Since 2000, they've released more than 300 flavors including adzuki, soy sauce, sakura, butter… and of course, matcha. They also have a slightly different taste than American KITKATs, which are made by Hershey. But you already knew that since your friend went to Japan for three days last summer and hasn't shut up about it.
Ruby chocolate KITKATs launched in the UK earlier this year, and they've been popping up in the United States. Although for now, they're as elusive as Billie Eilish concert tickets.
The good news? The Internet exists, and you can just order them online for $3 each. The chocolate, we mean. You're going to have to sell a kidney if you want the concert tickets.
Where to Buy It in the U.S.
The most widely available naturally pink chocolates in the U.S. go by the name "Ruby Cacao," which is easier to pronounce than couverture and slightly less difficult to spell. If we can't have a liveable wage, we can at least have premium chocolate! Here are a few of the available products.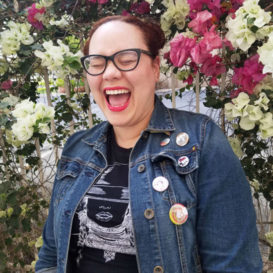 Latest posts by Allison Mick
(see all)