I love scones. If I had to, I could probably happily live off scones and dumplings and be just fine with that. So, for the holiday season, I thought I might make some Cranberry White Chocolate Scones. They go well with unwrapping presents, morning coffee, and doing your best not to text your ex over the holiday break.
For me, a good scone isn't overly sweet. These Cranberry White Chocolate Scones have some sweetness thanks to the fresh cranberries I used and from the half cup of Private Selection White Chocolate Chips, but for me, the best scones are light, fruit-forward, have a crunchy top, and taste more like biscuits than cupcakes.
These are exactly that. They're sweet and tart with a dry top and a moist center. I think you'll love them too.
What flavor of scones are your favorite? Tell me in the comments.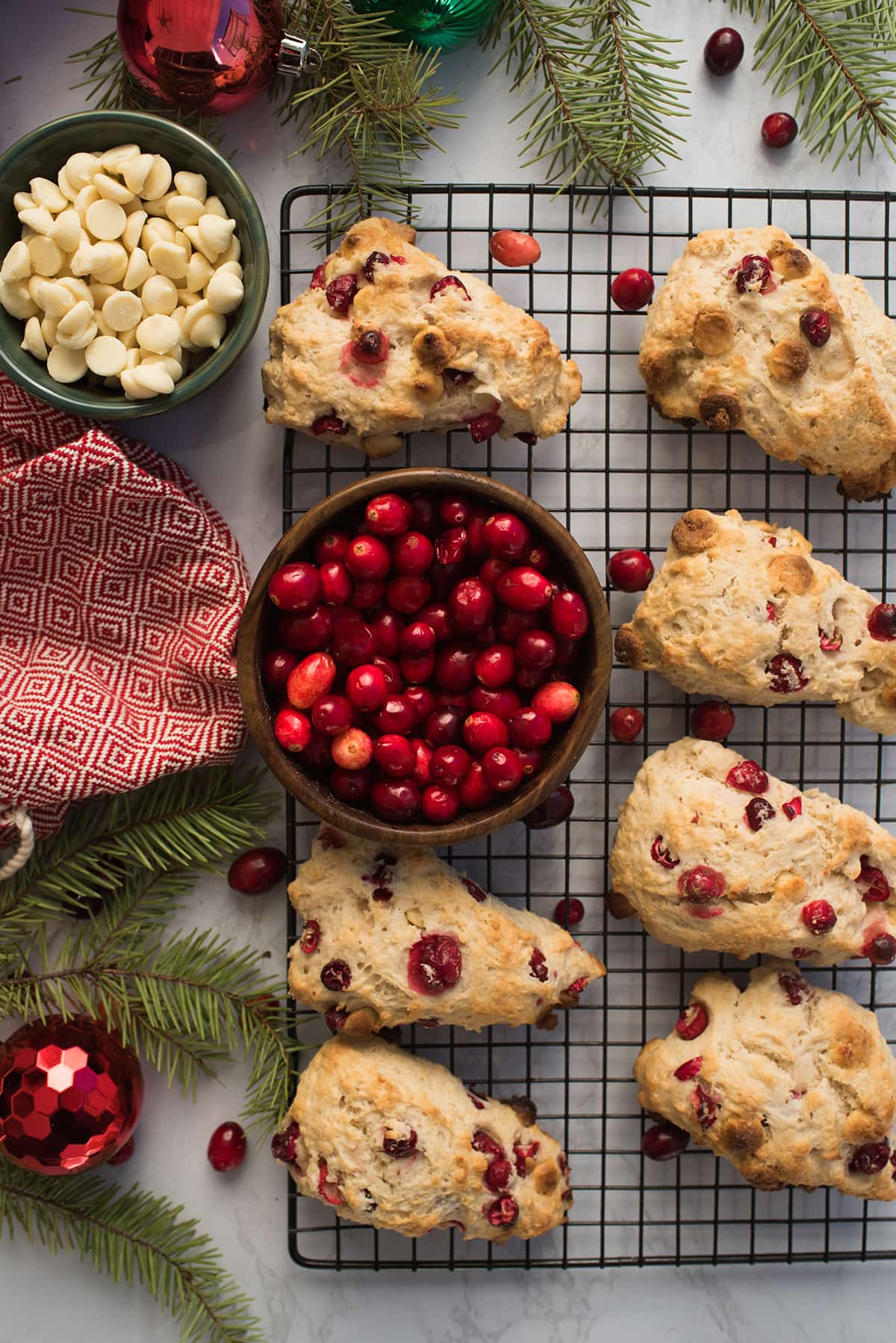 How to Make Cranberry White Chocolate Scones
This scone recipe is surprisingly simple! It's a 30-minute one-bowl recipe that can be easily adjusted to accommodate your favorite fillings!
If you look at other scone recipes on Internet, you'll find most scone recipes call for the same ingredients (or variations thereof).
Essential Scone Ingredients:
Butter
Flour
Sugar
Salt
Baking Powder (some recipes also call for baking soda depending on the type of dairy)
Scone Ingredients that vary by recipe:
Egg (mostly only in recipes that don't call for buttermilk)
Dairy: Buttermilk, half and half, heavy cream, sour cream, or yogurt
Spices and other flavorings (vanilla, cinnamon, cranberries, chocolate – this is where it gets fun!)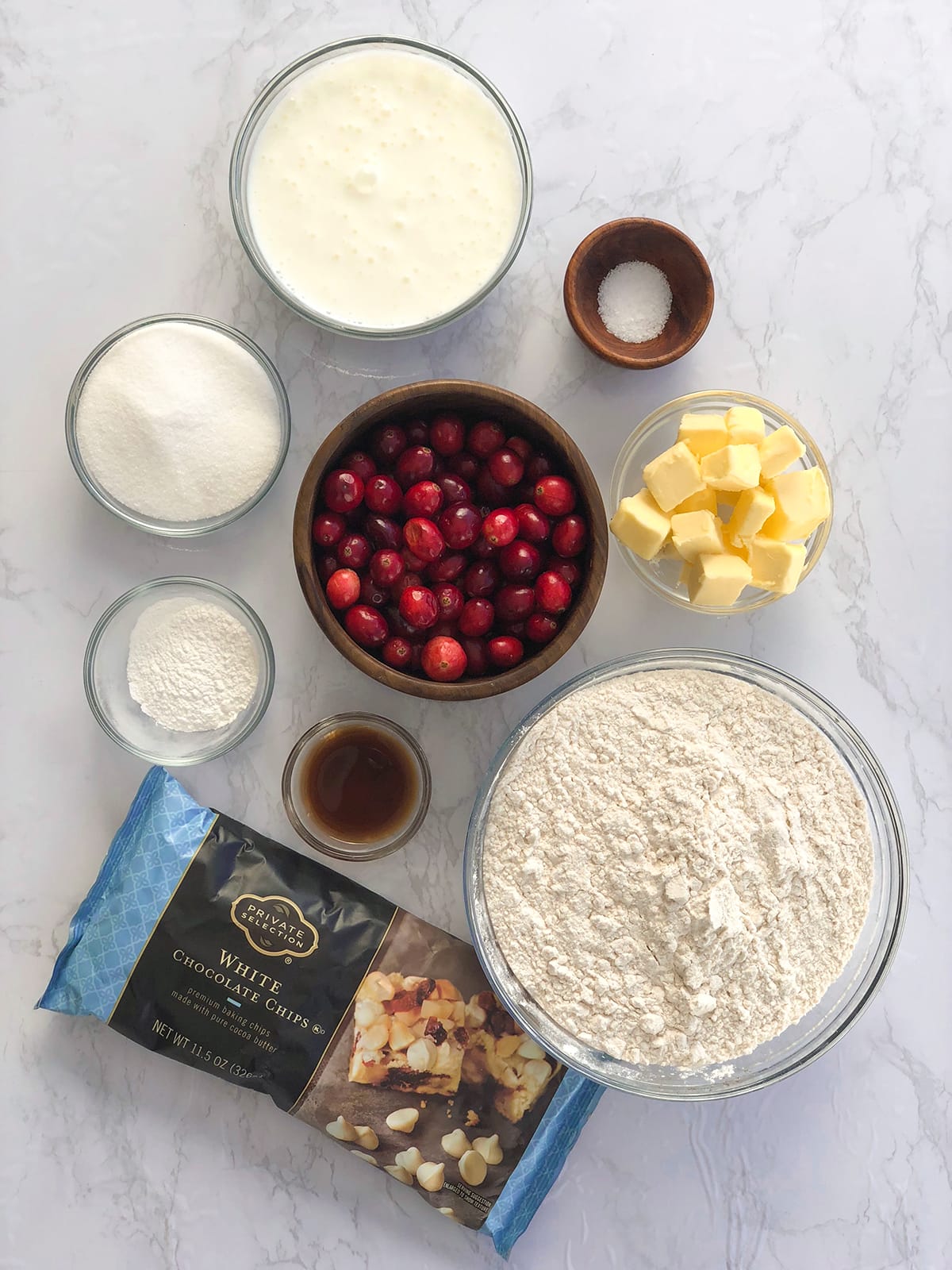 When making scones, first combine all of your dry ingredients (flour, sugar, salt, baking powder, and any spices you're using) in a large bowl. Preheat the oven to 400°F.
Then, cut in the butter using your hands, knives, or a pastry blender. I prefer to use the pastry blender to get things started. I then use my hands to work the rest of the butter into the dough. This should take about a minute. When you're done, all of the butter should be coated with flour and you shouldn't see any large butter chunks. If the butter starts to get warm, stop.
Add the buttermilk (and vanilla) and stir this into the dough. (I actually use my hands again here because I find it to be less messy, but I also don't mind getting my hands covered in everything when I'm baking.). Work the dough until the buttermilk is just combined. The dough should be sticky but the buttermilk shouldn't be sloshing around.
Fold in your flavorings. For this scone recipes, that's the cranberries and white chocolate chips. Do this gently so you don't continue to work the dough.
Transfer the dough to a cutting board and shape your scone dough into a round disc. Cut this into 8 equal triangles and place these on a parchment-lined baking sheet.
Bake your Cranberry White Chocolate Scones (or whatever flavor you're making) for approximately 15 minutes or until their tops are light golden brown. Place the baking tray on a cooling rack to cool, then enjoy!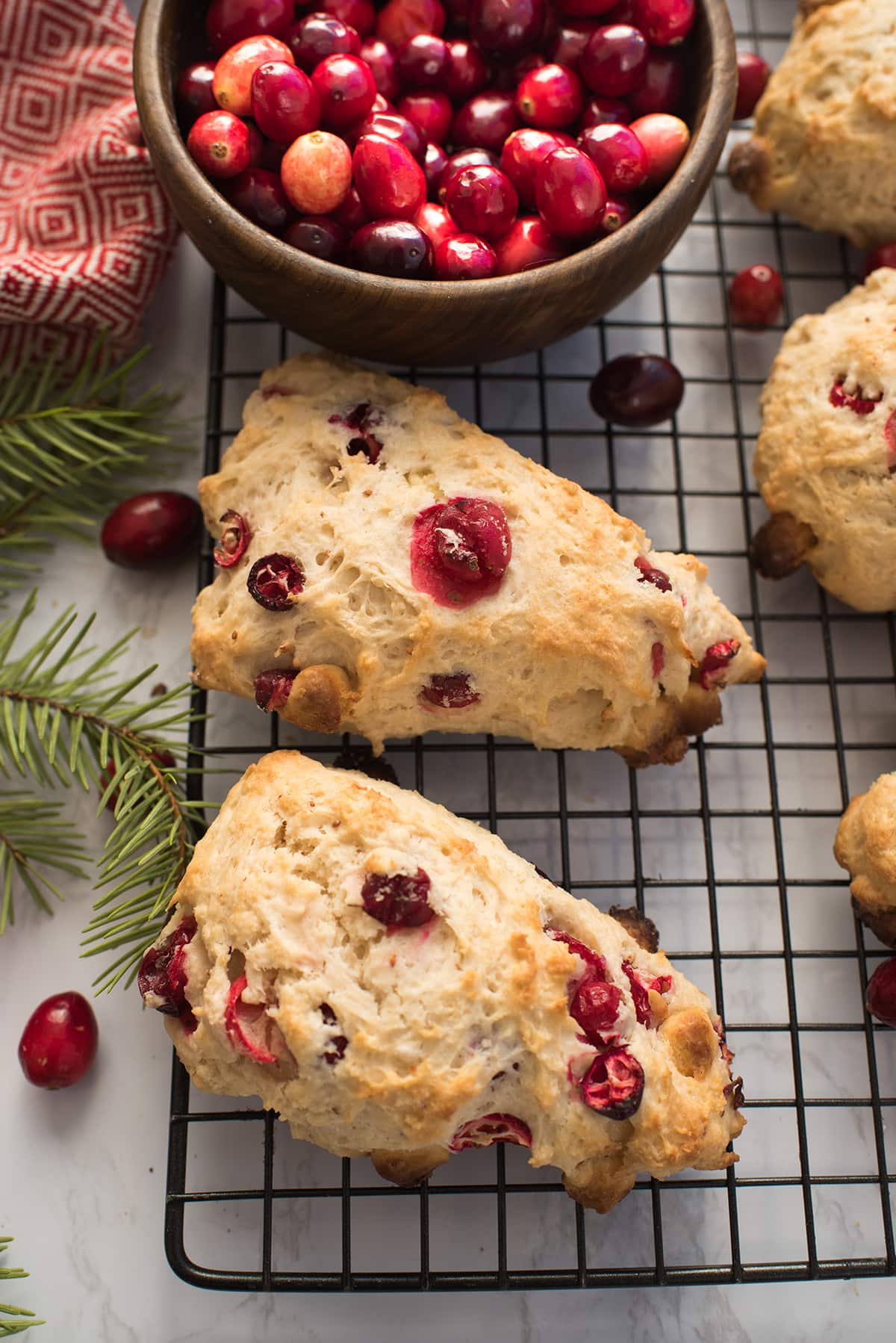 Oh, one more thing. I'm sure I don't need to remind you, but when you're making simple recipes, it's so important to use quality ingredients.
For this recipe that means fresh cranberries, delicious white chocolate chips like the Private Selection ones I used, and good butter. I almost always use Simple Truth Organic Unsalted Butter because it's rich, flavorful, and organic. And, all of these ingredients are available at my local Ralphs, part of the Kroger family of stores!
Tips for the Best Scones:
Use cold butter. I dice the butter first, then place it back in the fridge so it stays cool when I'm preparing the rest of the ingredients.
Don't overwork the batter once you add the buttermilk. You want to make sure the buttermilk is fully mixed in, but overworking the dough will make it tough. The dough should still be sticky when you shape it.
Use a hot oven. The high temperature and short cooking time will help them rise high quickly.
If you want to use berries to make blackberry scones or strawberry scones, make sure to thoroughly dry them so you don't add any extra moisture to the scone recipe.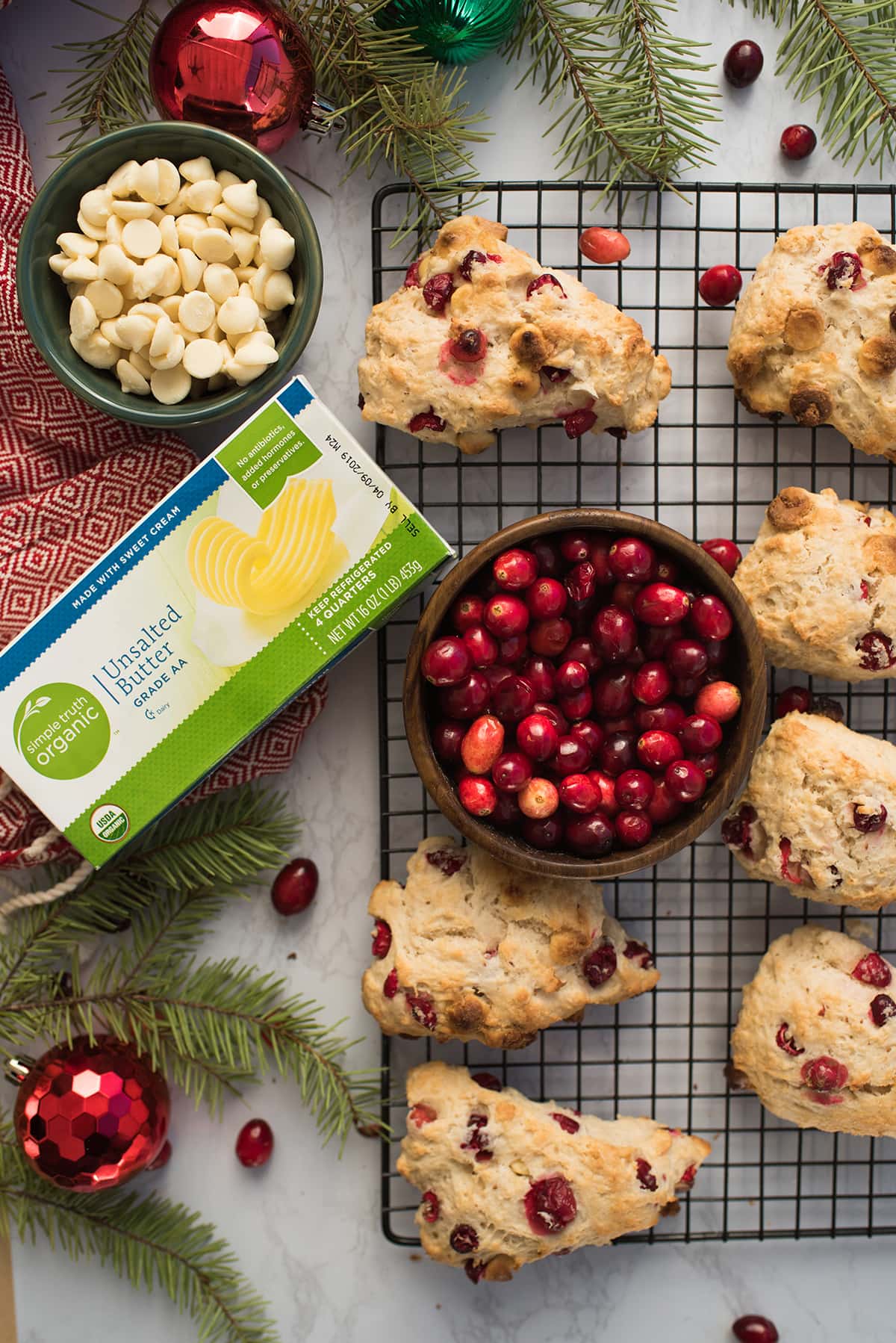 Cranberry White Chocolate Scones
Print Recipe
These Cranberry White Chocolate Scones are an easy holiday recipe that require just one bowl. They could be on your table in 30 minutes!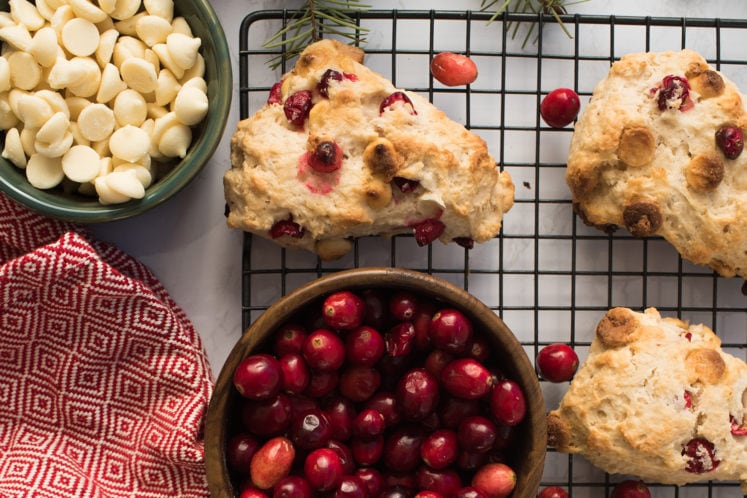 Servings: 8 scones
Ingredients
2½ cups all-purpose flour
5 Tbsp. sugar
2 tsp. baking powder
½ tsp. salt
6 Tbsp. unsalted butter (diced)
1 cup buttermilk
1 tsp. vanilla extract
1 cup cranberries (chopped)
½ cup white chocolate chips (such as Private Selection White Chocolate Chips)
Instructions
Preheat oven to 400°F.

Stir flour, sugar, baking powder, salt together in a large bowl.

Work butter into flour mixture using knives or a pastry blender.

Add the buttermilk and vanilla extract to the flour mixture and mix just until the buttermilk is absorbed.

Fold in cranberries and white chocolate chips.

Transfer dough to cutting board and shape into round disc.

Slice dough into 8 equal triangles and place on a parchment-lined baking sheet.

Bake for 15 minutes or until tops are light golden brown.

Remove from oven and place baking sheet on cooling rack. Let cool, then enjoy.
Nutrition Facts
Cranberry White Chocolate Scones
Amount Per Serving (1 scone)
Calories 205
* Percent Daily Values are based on a 2000 calorie diet.
This post has been sponsored by The Kroger Family of Stores, but the Cranberry White Chocolate Scone recipe, scone tips, and opinions are ours.