These Chocolate Peppermint Cupcakes are delicious at any time of the year, but they're dressed to impress for the holiday season! The combination of a rich chocolate cupcake base, peppermint buttercream frosting, and crushed candy canes make them impossible to resist.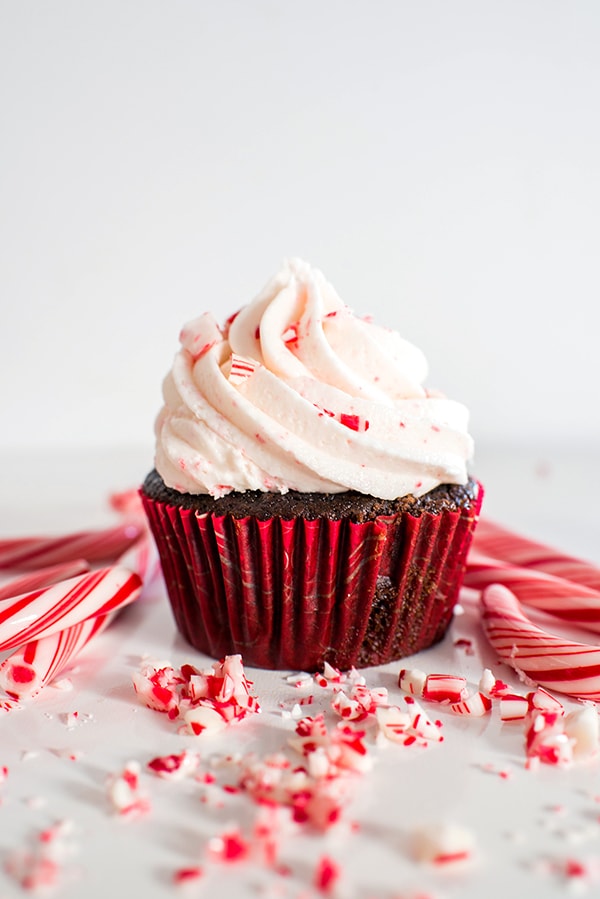 One of the things I love most about baking is how the flavors change through the seasons. Because while you can certainly eat cupcakes year round — and I do! — you're probably more likely to enjoy a strawberry cupcake in the summer and a chocolate peppermint cupcake in the winter. Not that there are really rules about these things. Buuuuut while I am not a fan of the cold — seat heaters are a must in my car and I live in Los Angeles – winter flavors are some of my favorite. Gingerbread, chai, and cardamom are tops, but the combo of chocolate and peppermint is really where it's at.
Back when I lived in New York (where it was actually cold, versus LA cold, which trust me is plenty chilly), I used to have a habit of going to Starbucks almost every day in December and getting a Peppermint Mocha Latte after work or on my lunch hour. I think one day I got two of them! Then, I'd wander around the city, admiring the lights. New York is pretty magical in December. These Chocolate Peppermint Cupcakes remind me of those days.
But, not only do these peppermint cupcakes remind me of one of my favorite NYC moments, they also combine two of my favorite flavors, and have a great texture. Because you mix crushed candy cane into the frosting and top it with a little extra, in every bite you get the rich, pillowy chocolate cake, luscious peppermint-studded buttercream frosting, and crunchy peppermint candy cane sprinkles.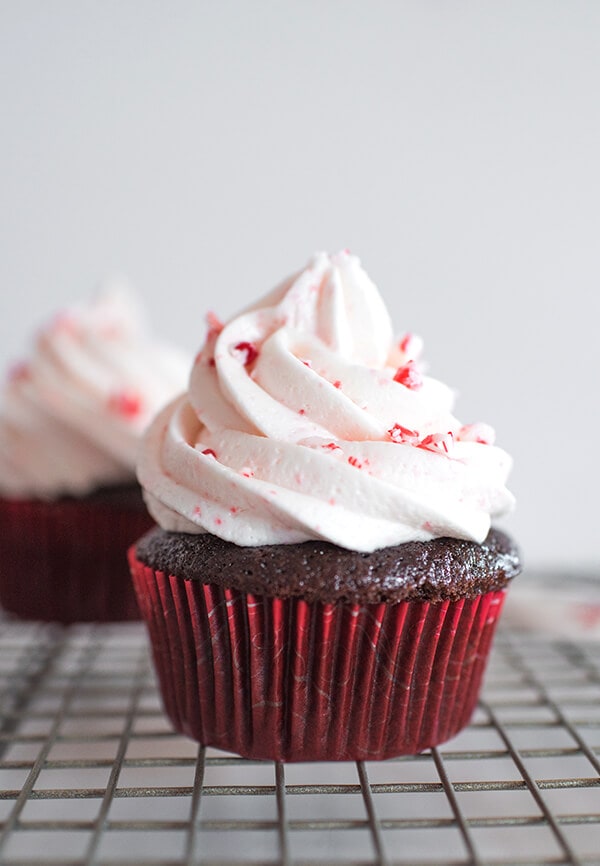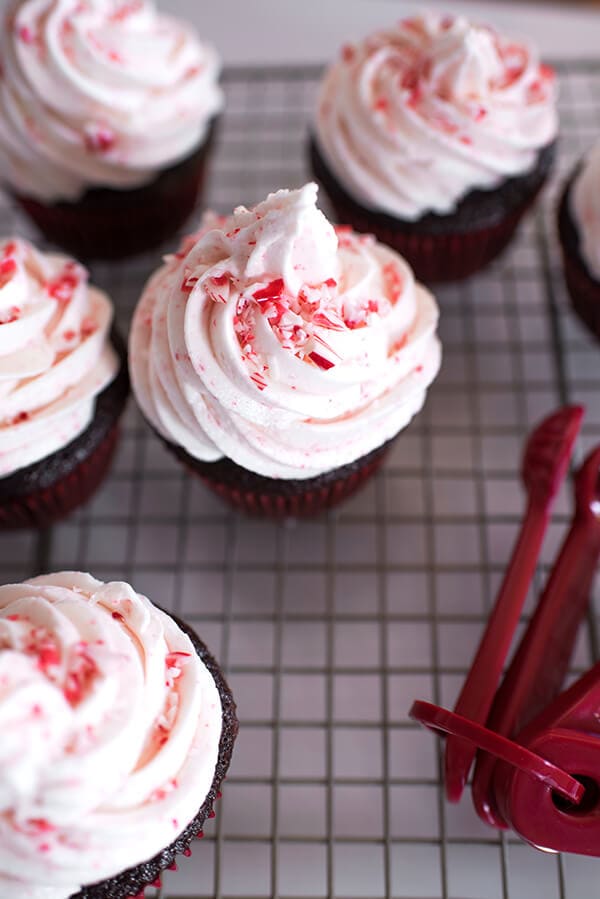 How to Make Peppermint Cupcakes
For these Peppermint Cupcakes, I like to use my favorite Chocolate Cupcake recipe for the base, but you can use any cupcake recipe that you love. (You could even use a box cupcake mix if you're really in a hurry.) If you don't like chocolate cake, swap in vanilla! But, I would, however, caution against using a cupcake recipe that has an intense flavor profile (like gingerbread), since you want something that will complement, not compete with, the peppermint.
Preheat your oven to 350°F and place 16 liners in two cupcake pans. I think the red and white liners look pretty against the chocolate brown of the cupcake and the candy cane peppermint frosting, but if you can't find them, don't stress.
Place all of the dry ingredients — sugar, flour, baking soda, salt, and cocoa powder — and stir the ingredients until they're just combined.
Then, place one ounce (about 2 tablespoons) of chocolate (I prefer 53% dark, but milk is ok) in a small bowl and set aside. Boil about a cup of water on the stove. You're only going to use three ounces, but some will boil off and this will give you enough. Once the water is boiling, carefully measure 3 fluid ounces and pour it on top of the chocolate. Whisk the two together until the chocolate and water have combined. Set this aside.
Next, whisk together the egg, vanilla extract, buttermilk, vinegar, and vegetable oil in a medium bowl. Add the chocolate mixture and whisk until combined. Pour the dry ingredients into the wet ingredients and stir until just combined.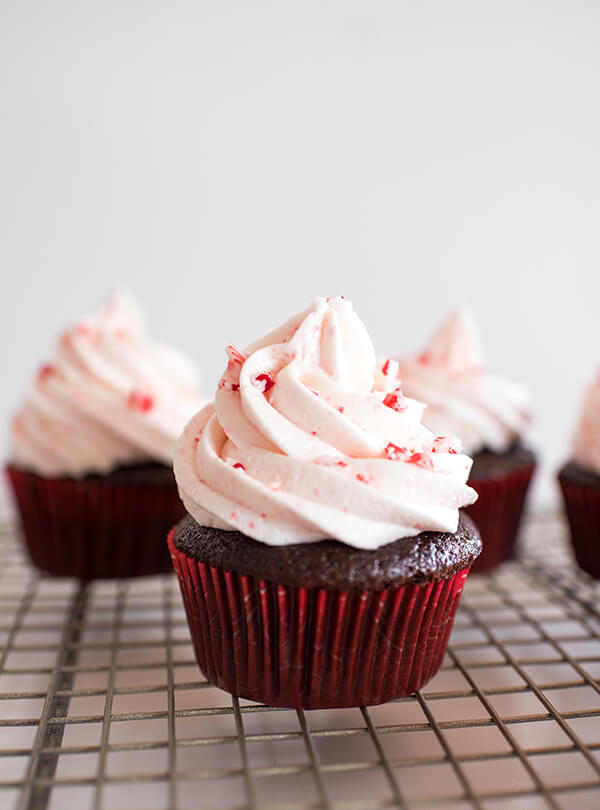 Use a size 16 disher or a 1/4 cup measuring cup and fill your cupcake liners. The chocolate batter will be a bit liquidy. Bake the cupcakes for 24 minutes or until they bounce back just slightly when you touch the tops. Remove and let cool on a cooling rack for 10 minutes, then remove liners from cupcake tins and let cool fully on the cooling rack.
How to Make Peppermint Buttercream Frosting
To make the Peppermint Buttercream Frosting, combine 1/2 cup room temperature butter with 3 cups of powdered sugar and let the mixer run on high until it looks like small pebbles. Then, reduce the speed and add 1/4 teaspoon of peppermint extract. Add one tablespoon of milk at a time, until the mixture looks fluffy. Add the crushed candy cane and let it all come together. Taste the mixture to see if it needs more peppermint.
I used 1/2 teaspoon of the Nielsen-Massey peppermint extract in my Peppermint Buttercream Frosting, but how much you add really depends on your palate and the intensity of the extract you use. If you find the mixture is too dry, add a little more milk. Too wet? Add a little more powdered sugar until it's just right.
Once the Peppermint Cupcake bases have fully cooled, top each with a swirl of peppermint buttercream frosting using an open star tip, and sprinkle more crushed candy cane on top. If you really want to go for it, add a shard of Chocolate Peppermint Bark and a drizzle of dark chocolate.
Peppermint Cupcakes
Print Recipe
Rich dark chocolate, fluffy peppermint buttercream frosting, and crushed candy canes combine to create a festive holiday dessert!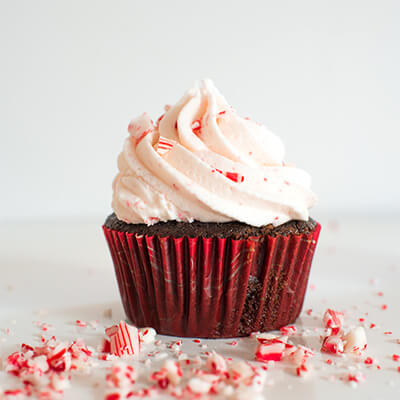 Prep Time: 10 mins
Cook Time: 24 mins
Total Time: 34 mins
Servings: 12 cupcakes
Ingredients
Peppermint Cupcake Batter
1 cup sugar
4.1 ounces all-purpose flour (or just shy of 1 cup)
½ tsp. baking soda
½ tsp. coarse kosher salt
¼ cup Dutched cocoa powder
1 large egg
½ cup buttermilk
1 tsp. vanilla extract
1 tsp. white vinegar
1/3 cup vegetable oil
2 Tbsp. chocolate chips (or 1 ounce)
3 fl. oz. boiling water
Peppermint Buttercream Frosting
3 cups powdered sugar
½ cup butter (room temperature)
½ tsp. peppermint extract (add more as needed to taste)
1 Tbsp. whole milk
¼ tsp. peppermint extract
¼ cup + 1 cane crushed candy canes (divided)
Instructions
Preheat oven to 350°F. Line a cupcake tin with 12 cupcake liners.

Place sugar, flour, baking soda, salt, and Dutched cocoa powder in small bowl. Stir until combined. Set aside.


Whisk egg, buttermilk, vanilla, vinegar, and oil together in medium bowl. Set aside.


Place chocolate chips in small bowl. Bring one cup of water to boil and pour 3 fl. oz. over chocolate chips. Whisk to combine. Pour into egg mixture and whisk until combined.


Pour dry mixture into wet mixture and stir until combined.


Use ¼ cup scoop or measuring cup to fill cupcake liners with cupcake batter.


Bake for 24 minutes or until tops bounce back slightly when touched.

Peppermint Buttercream Frosting
Add butter to mixer fitted with paddle attachment. Add powdered sugar. Cover bowl.

Turn speed to medium and mix until mixture looks like pebbles.

Add peppermint extract and milk. Turn speed to high.

Add ¼ cup crushed candy canes.


Add powdered sugar and/or milk as needed until you reach desired consistency. Add additional extract if needed.


Use open star tip to decorate peppermint cupcakes with peppermint buttercream frosting. Top each with remaining crushed candy cane.

Nutrition Facts
Peppermint Cupcakes
Amount Per Serving (1 cupcake)
Calories 397 Calories from Fat 162
% Daily Value*
Total Fat 18g 28%
Saturated Fat 6g 30%
Polyunsaturated Fat 3g
Monounsaturated Fat 6g
Cholesterol 36mg 12%
Sodium 164mg 7%
Potassium 52mg 1%
Total Carbohydrates 59g 20%
Dietary Fiber 1g 4%
Sugars 48g
Protein 2g 4%
* Percent Daily Values are based on a 2000 calorie diet.


Here are a few more delicious peppermint dessert recipes to try this holiday season!
Peppermint Bark Crepe Cake – i am a food blog
Peppermint Oreo Truffles – Just Add Sprinkles
Homemade Peppermint Patties – Dinner at the Zoo
Instant Pot White Chocolate Peppermint Cheesecake – Simply Happy Foodie
White Chocolate Candy Cane Macarons – The Little Blog of Vegan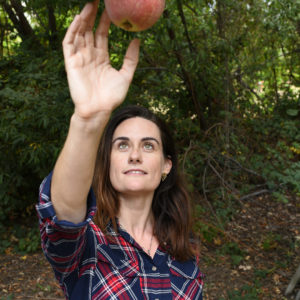 Pleased to meet you. I'm the founder and Editor-in-Chief of Let's Eat Cake: The world's first smart, funny lifestyle site for women.
My background is in publishing (I've worked at Parade, Men's Journal, Us Weekly, Stuff, Blender, Beachbody, and more), mostly with a focus in health, fitness, and entertainment. I've also run my own baking company and competed on Cupcake Wars, so hit me up with your baking questions!
For more details, check out my
full bio
or follow me on
Instagram
,
Twitter
, or
LinkedIn
.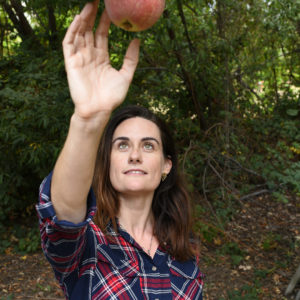 Latest posts by Rebecca Swanner (see all)