Do you believe the way to the heart is through the stomach? We totally agree. Mostly because it's way less awkward to ask for ice cream than a foot massage when on a first date. So for the most romantic holiday, try a Valentine's charcuterie board to drum up the love.
A Valentine's Day food platter is an automatic crowd pleaser at any kind of gathering, whether it's with your long-time partner, best girlfriends, or your mailman who has inadvertently become your dream therapist.
Here are our favorite V-Day meat and cheese boards, plus a few that feature candies and chocolates.

Valentine's Day Charcuterie Boards You'll Love
1. Sweet Mini Hearts
These charcuterie cups may be the only time when you want something mini on Valentine's Day. They're definitely not for the bedroom.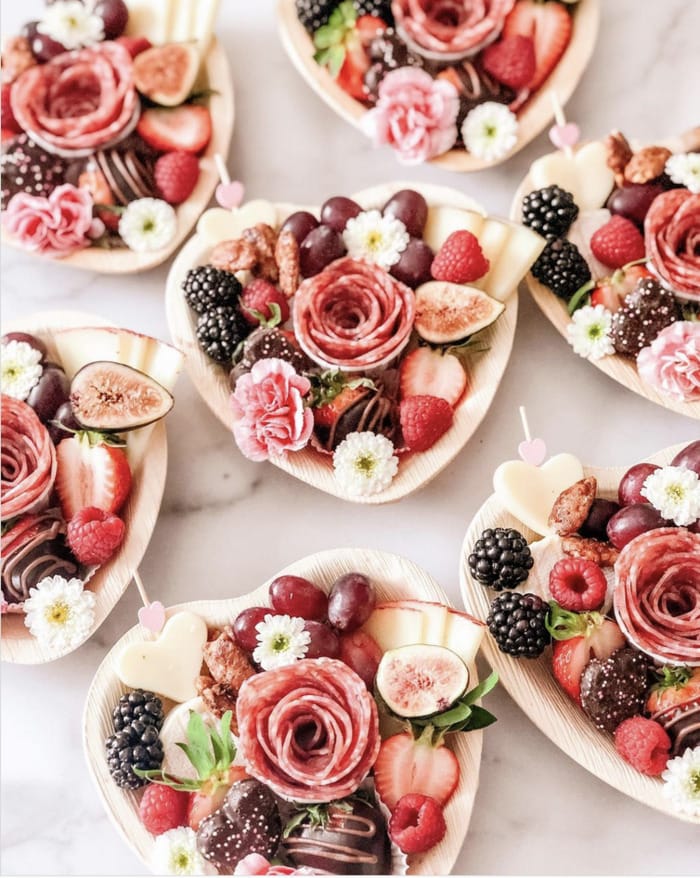 2. Pretty in Pink
Monochrome is so in style this year. And not only because we stress out over making too many decisions.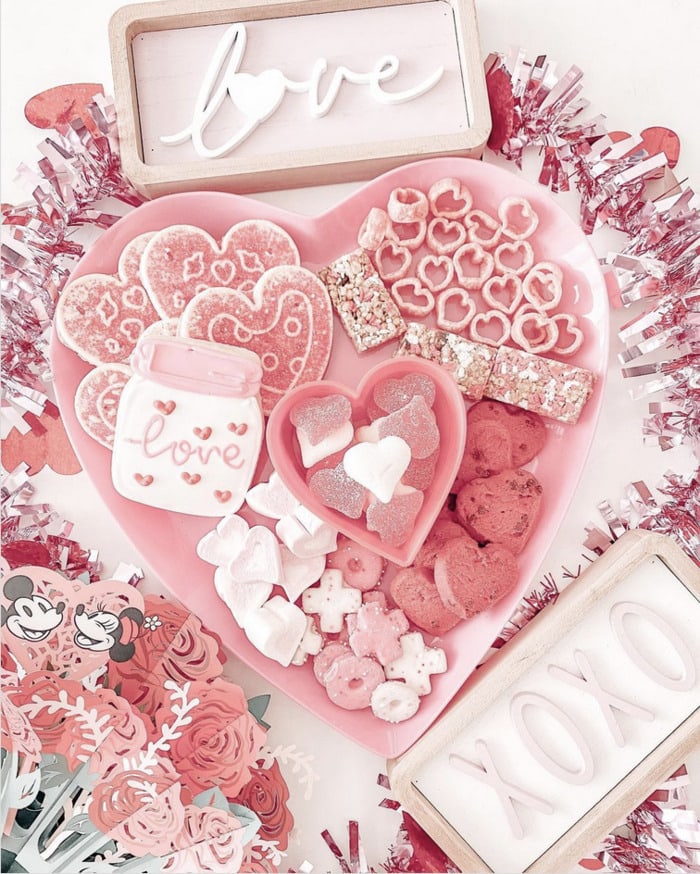 3. Savory Meets Sweet
They say that opposites attract, and there's no better example of this than a sweet and savory Valentine's Day charcuterie board. And a pickle-eater for every pickle-hater. Just don't touch those heart-shaped macarons, ok?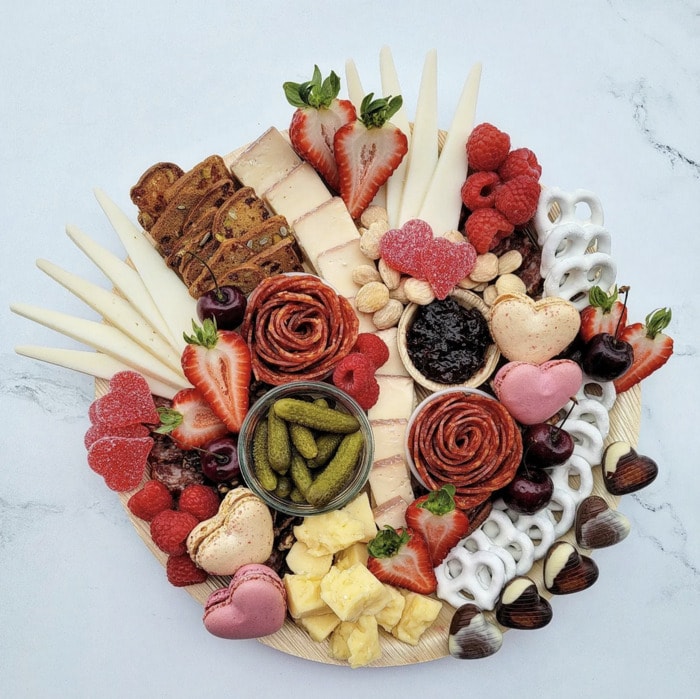 4. Classic Candies
Your inner 90s child will love this candy mix featuring old-school faves. Didn't you miss having Airheads permanently lodged in your teeth?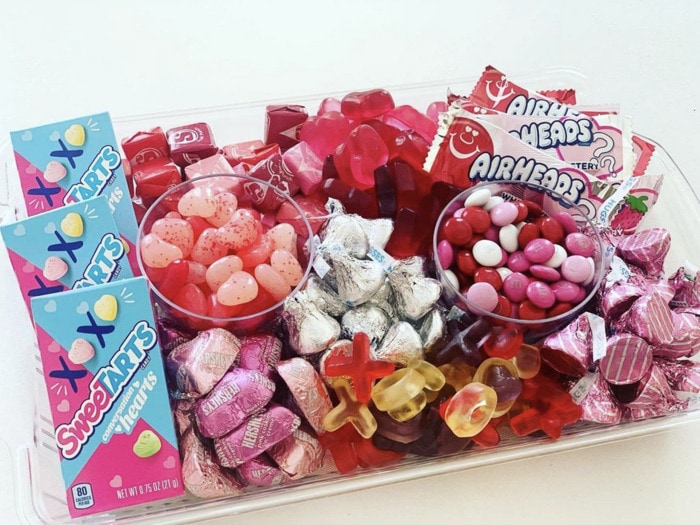 5. Bring the Bubbly
The only thing that would make this heart-shaped Valentine's Day platter is a real bottle of bubbly. Our coworker said that wouldn't be appropriate for a work meeting, but Boris Johnson disagrees.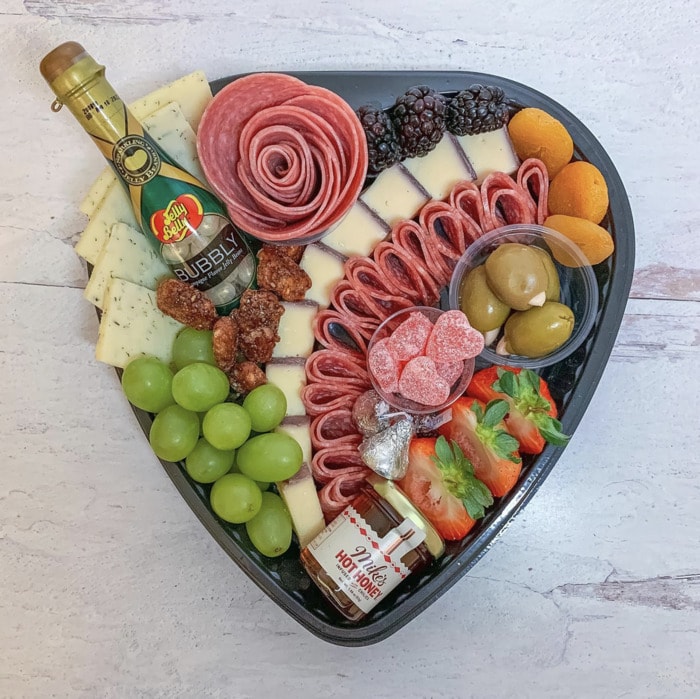 6. Vegan Love
Nothing says "I love you" like being mindful of dietary preferences. This vegan Valentine's Day charcuterie board features wine brined "cheez," a veggeroni rose, and plenty of fruit. We hear that's usually vegan-friendly.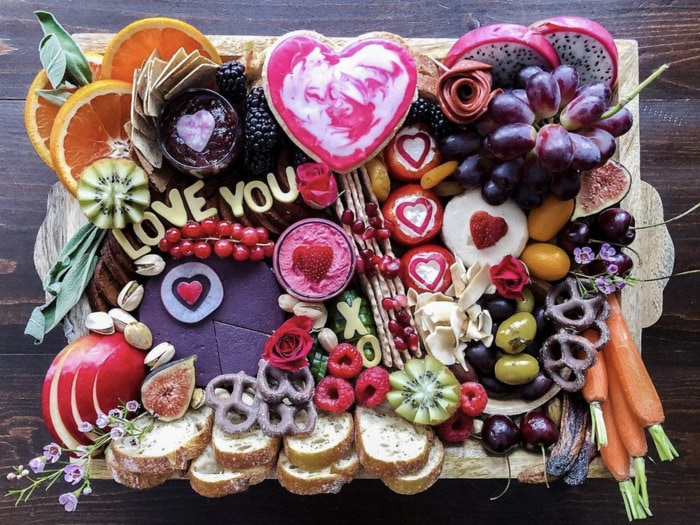 7. Dark Chocolate Romance
If you want a love like Gomez and Morticia, serve up this deep, rich, dessert board, with an abundance of dark chocolate and enchanting berries. Pair it with some lovely thorns and singing vultures, and you're set!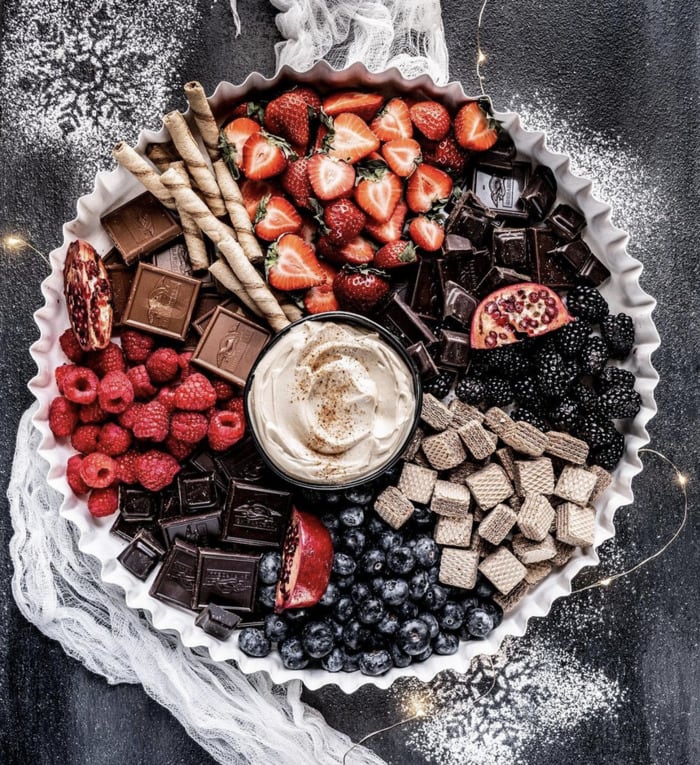 8. A Tasty Bouquet
If you don't have a great track record for keeping flowers alive, try these salami roses. They work way better than real roses on a Valentine's Day charcuterie board. Those thorns are just so hard to eat.
9. Queen of Hearts
Here's a Valentine's Day charcuterie board fit for the king or queen of your heart. And since it's a holiday, everyone gets to keep their head.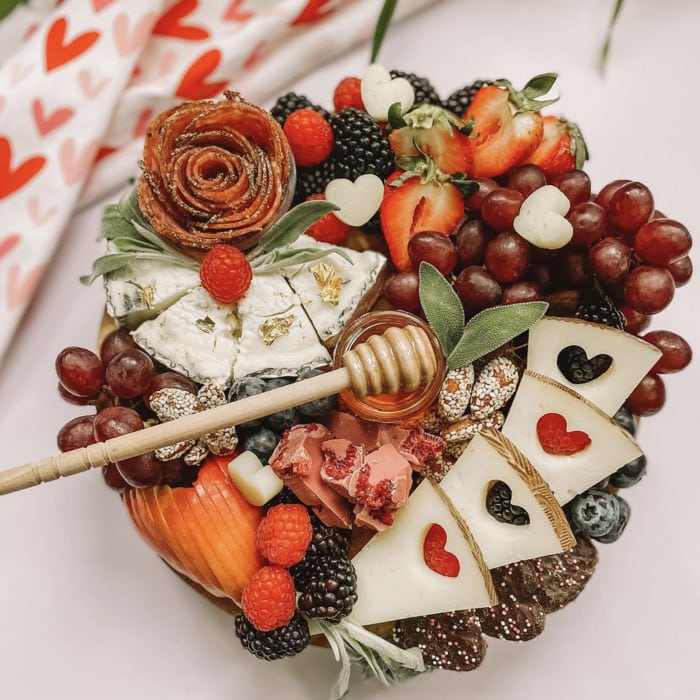 10. Hearts Aglow
Featuring a mix of heart-shaped sweets and savory snacks, you'll want to put this lovely thing together for an evening of Netflix and chill. And by chill, we mean chilled wine. Did you bring a bottle for yourself?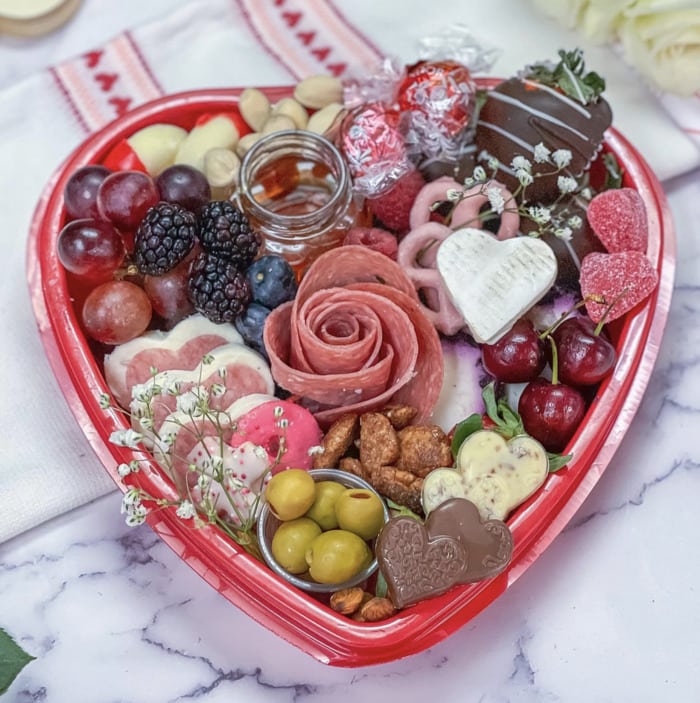 11. The Way to Their Heart
Take your gal pals on a lunch date, and give them these tiny picnic boxes as a little token of your affection. If you're lucky, the ants will perform their rendition of Love on Top. They've really improved their choreography!
12. Candy Darling
This beautiful little board of pink candies, roses, and berries will satisfy the sweetest of sweet-tooths. Who would have thought that would be your dentist!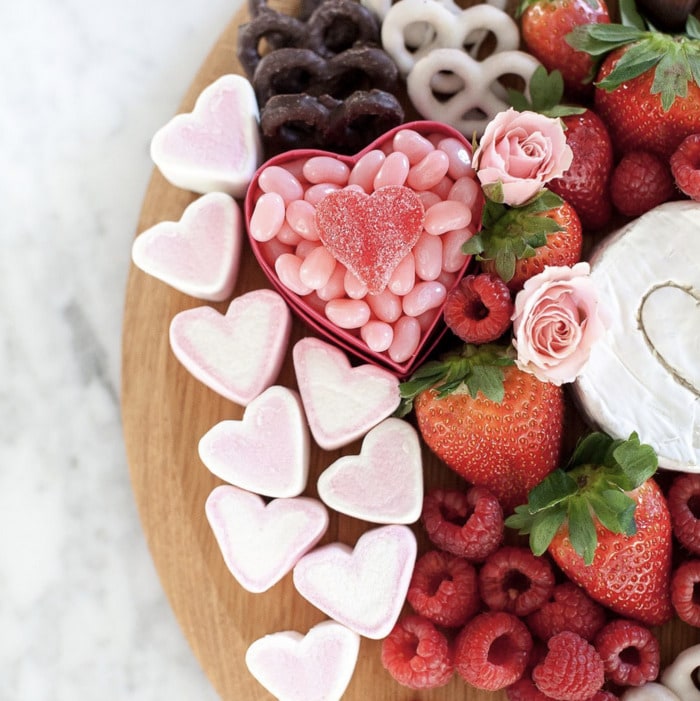 13. I Love You Berry Much
This V-Day snack board has it all: meats, cheeses, fruits, and flowers. The only thing missing? Someone to make it for us. We haven't had a steady enough hand for something this delicate since we started drinking coffee in high school.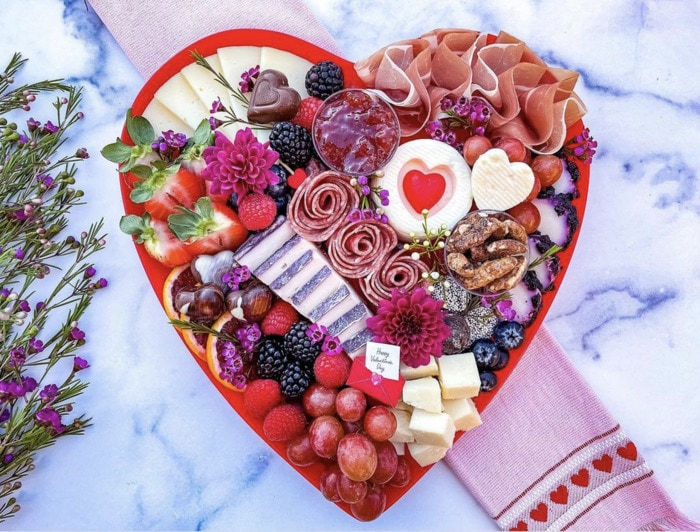 14. Candy Girl
Is your lover a tad oblivious? Spell things out for them with this cheese, chocolate, and cookies charcuterie box. And for good measure, maybe add "trip to Paris" in writing on the side.
15. Love is in the Air
If food is your love language, then show your devotion with this simple and stunning Valentine's Day cheese and meat plate. It had chocolate on it too, but it must have…melted…
18. Candy and Cheese Valentine's Day Charcuterie Board
This sweet and salty board features strawberries, prosciutto, yogurt-covered pretzels and everything else you need for V-Day grazing. Try not to eat the roses this time, ok?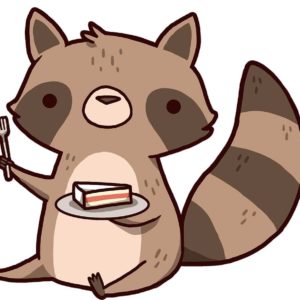 Latest posts by Erica Magdalene
(see all)