Quit mourning Halloween, because Thanksgiving is coming and not only is it underrated, you can make a Thanksgiving charcuterie board to celebrate it.
Sure, you might think of Thanksgiving as that pesky pit stop before we get to Christmas and all the warm fuzzies (and gifts, lots of gifts) that come with it. But a holiday with the intention of giving thanks and eating tons of food and pie can't be all bad. Even if our digestive systems disagree.
If you're not in the mood for Turkey Day just yet, these Thanksgiving charcuterie boards are sure to get you there. Only some turkeys were harmed in the making of these cheese boards. But mostly just cheese.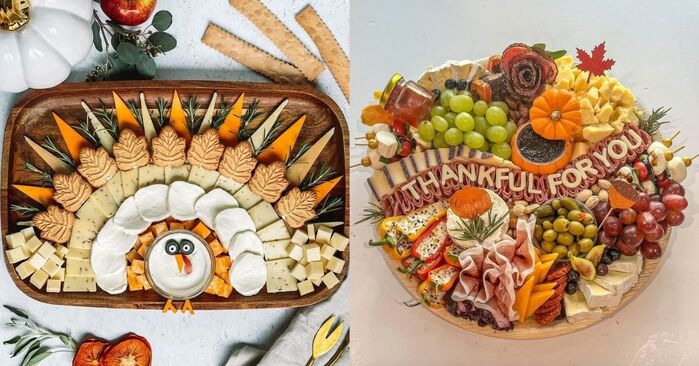 15 Thanksgiving Charcuterie Boards for the Neglected Holiday
1. Leafy Autumnal Charcuterie Board
Saratoga Grazing Co. just gave us another reason to move to Canada. The downside is that then we wouldn't be able to celebrate Thanksgiving. But we would get to celebrate Orangemen's Day, and the Kool-Aid man is hyped.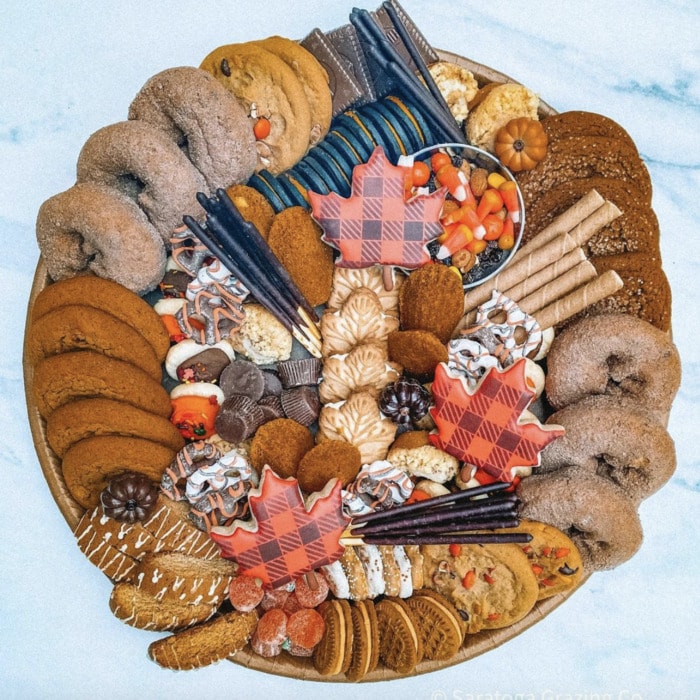 2. Thanksgiving Charcuterie Board
We're mostly just impressed with how Goodness Grazers managed to make prosciutto look somewhat appealing on this charcuterie platter. We bet it still tastes like feet, though.
3. Thankful for You Spread
We're thankful for this board and that gourd. Overall, we're just floored. Who invited Dr. Seuss for Thanksgiving this year? If you live near Yacima, Washington, you can order one of your own from Boards by Brooke.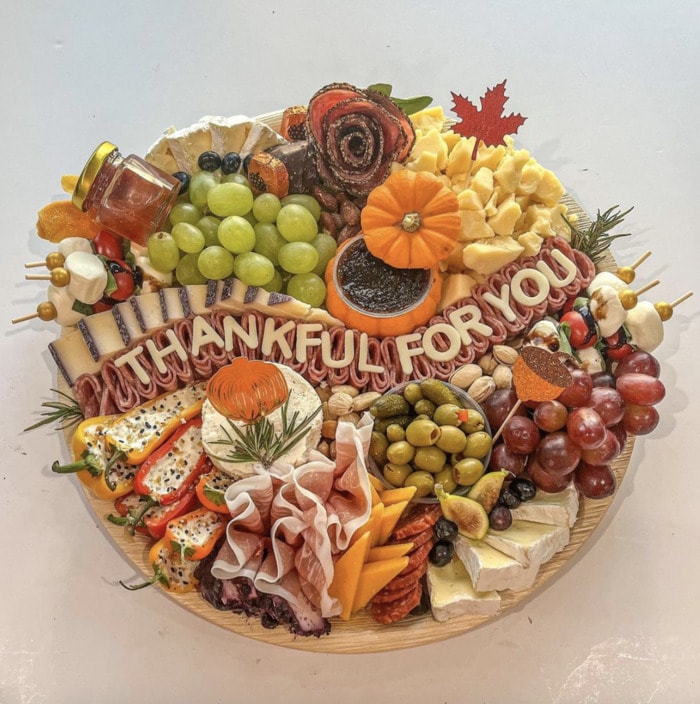 4. Thanksgiving Charcuterie Board
Save a bird, eat charcuterie. Er, sorry cows and pigs? This cheese board from Cheese, Please has us counting down the days 'til Thanksgiving. How out of character!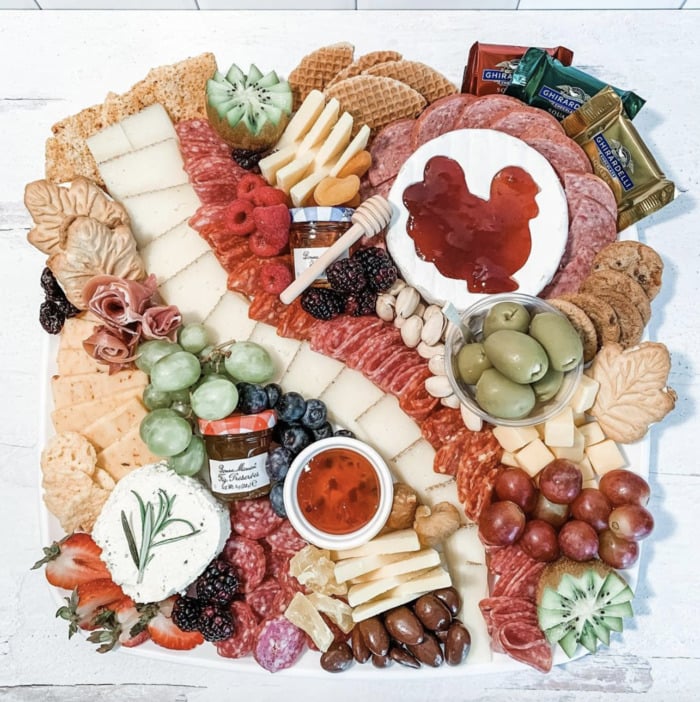 5. Turkey Snack Board
We know we should cut back on the snacking, but we can't just quit cold turkey. Especially not in the presence of this snack board featuring pretzels, dried fruit, and a turkey shaking its tail feathers by The Living Platter. Oh, stop. We're blushing.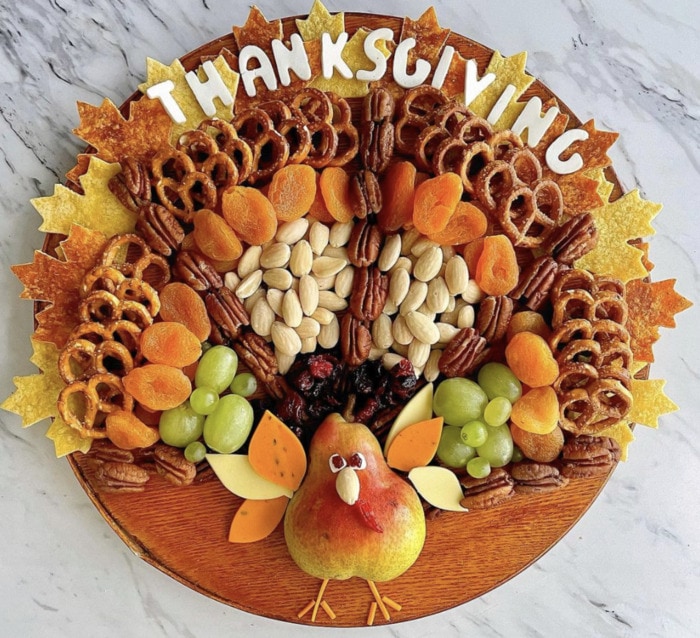 6. Gather Around the Cornucopia
Harken back to Thanksgiving's roots with this chocolate cornucopia platter by Chic Concepts NY. Okay, okay, we'll share. You can have the candy corn!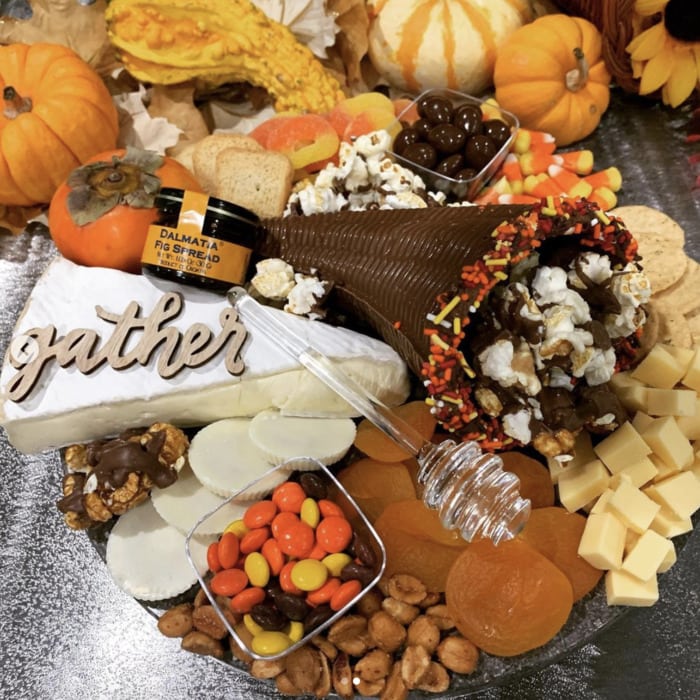 7. Thankful Charcuterie Platter
Charcuterie by Cait has done it again, and by 'it' we mean made us drool. If they design our cookie plate for Santa, maybe he'll finally get us a Peloton. Our other clothes rack is full.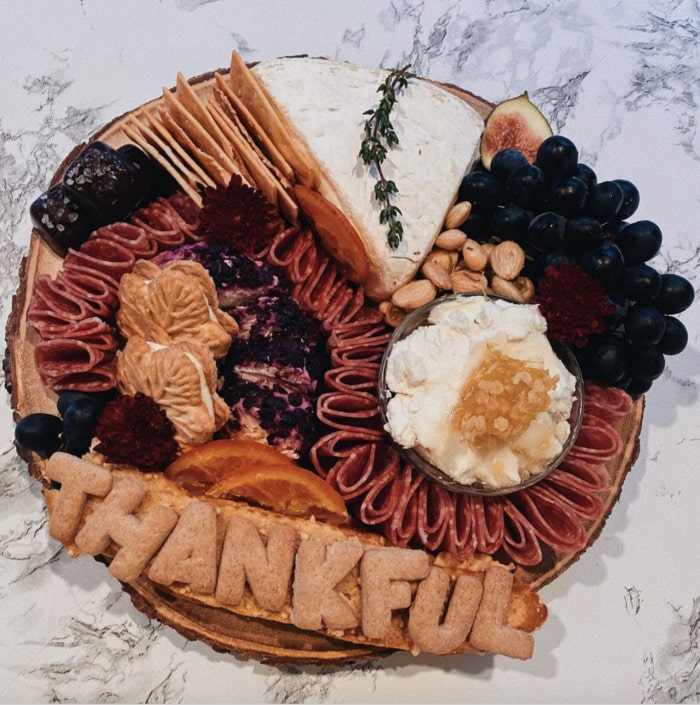 8. Turkey Charcuterie Board
Social Spreads created this turkey-shaped charcuterie that will steal the show from the actual turkey on your Thanksgiving table this year. Your vegetarian cousin approves. And calls dibs.
9. Turk-cuterie Board
This charcuterie board by Party Pinching brings in Thanksgiving-themed cookie cutters to add to the theme. It's the apple of our pie. Except the pie is pumpkin.
10. Turkey Day Charcuterie Platter
If we've learned anything today, it's that you can't go wrong with turkey-shaped charcuterie like this one from A Board Above. Also that we have more words to say about Thanksgiving boards than we thought.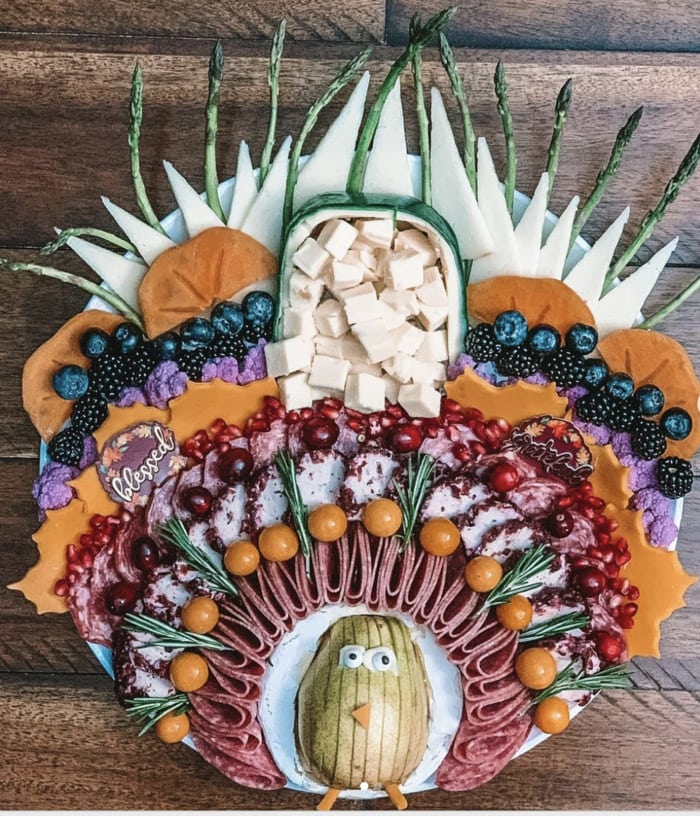 11. Football Charcuterie Board
If your family is nuts about sports, the silver lining is this football charcuterie board by Emi-Dee Charcuterie that everyone will be too distracted to eat while you watch hockey on your phone and chow down on this.
12. Harvest Grazing Platter
The only problem with this spread by Lucky Graze is that we won't have any room for dinner. The good news is there is room for us at the adult's table this year.
13. Turkey Bowl
Use a turkey-shaped bowl as an easy hack to create a Thanksgiving charcuterie board like this one from Grace Your Tables. This spread just cured our fowl mood, but not terrible puns.
14. Thanksgiving Dessert Board
If you're less salty and more sweet, go with a dessert board, like this one by Sugar & Charm. We're only a little salty, but that's mostly because our sister just spilled the last of the gravy.
15. Pumpkin Cheese Platter
Bring the PS in PSL through to Thanksgiving with this cheese board from Board NJ. It's pumpkin spice and everything nice. Until someone has too many glasses of wine.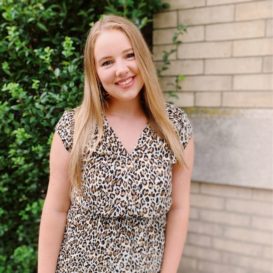 Latest posts by Laura Davis
(see all)