Last year was the year of mini pancake cereal. And this year? It's all about the charcuterie boards. These boards have gone way past meat and cheese platters and morphed into something new altogether. There's dessert boards and s'mores boards and now, pancake boards to make breakfast even better.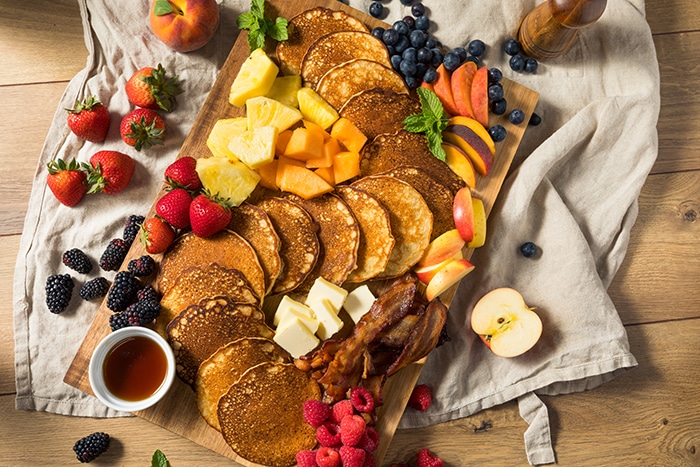 Because why not turn your favorite breakfast food and our favorite activity, grazing for food, into the most Instagram-worthy brunch and call it a day? Sunday, perhaps?
On top of all the traditional pancake toppings like maple syrup and whipped cream, you can add more obscure ones and even other breakfast foods. Because you still need sides. In order to fuel your inspiration, here's some ideas and tips to make your own.
How to Make Your Own Pancake Charcuterie Board:
Find a good base. You can use anything flat, like a large wooden cutting board or bread board.
Get your toppings. Grab fresh fruit, chocolate chips, whipped cream, maple syrup, butter, and anything else you want to put on top of your pancakes.
Make pancakes! Dollar size or mini pancakes would work best unless you're using a very, very large surface and have Guinness on the other line.
Arrange the pancakes down the middle of your board. Then place your toppings around them. It'll look even better if you place items of similar shapes and colors on opposite sites of the board so they mirror each other.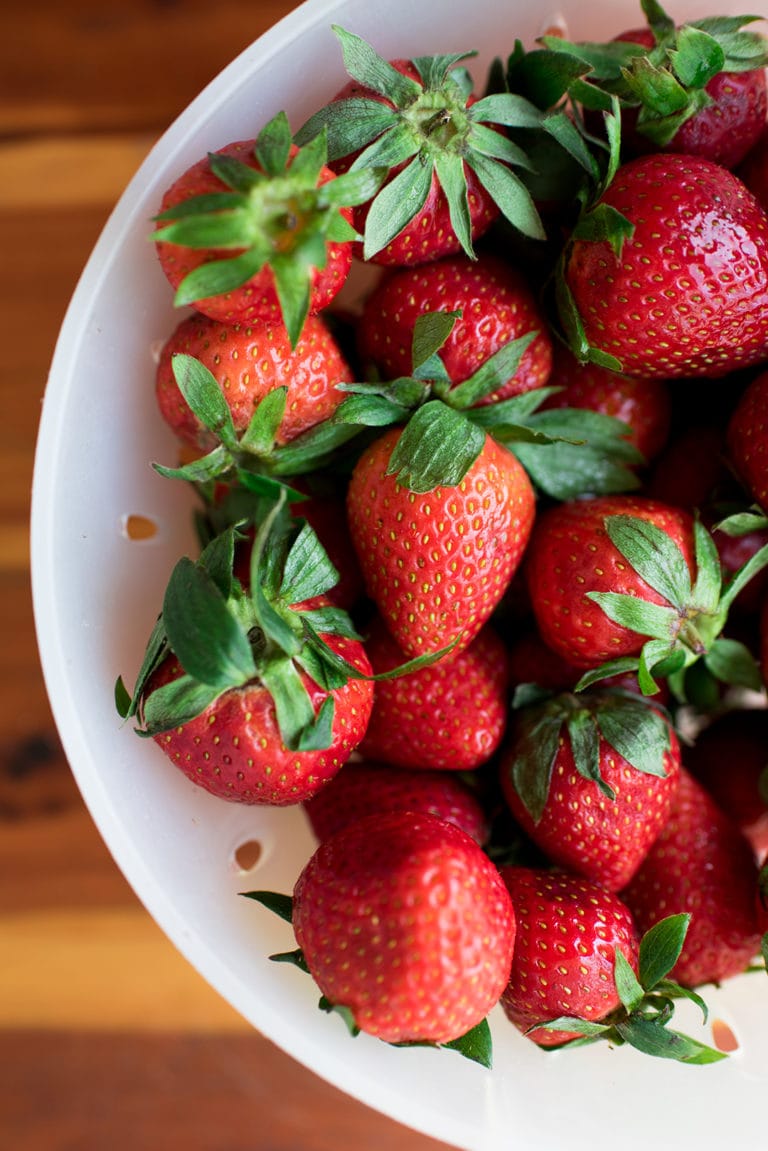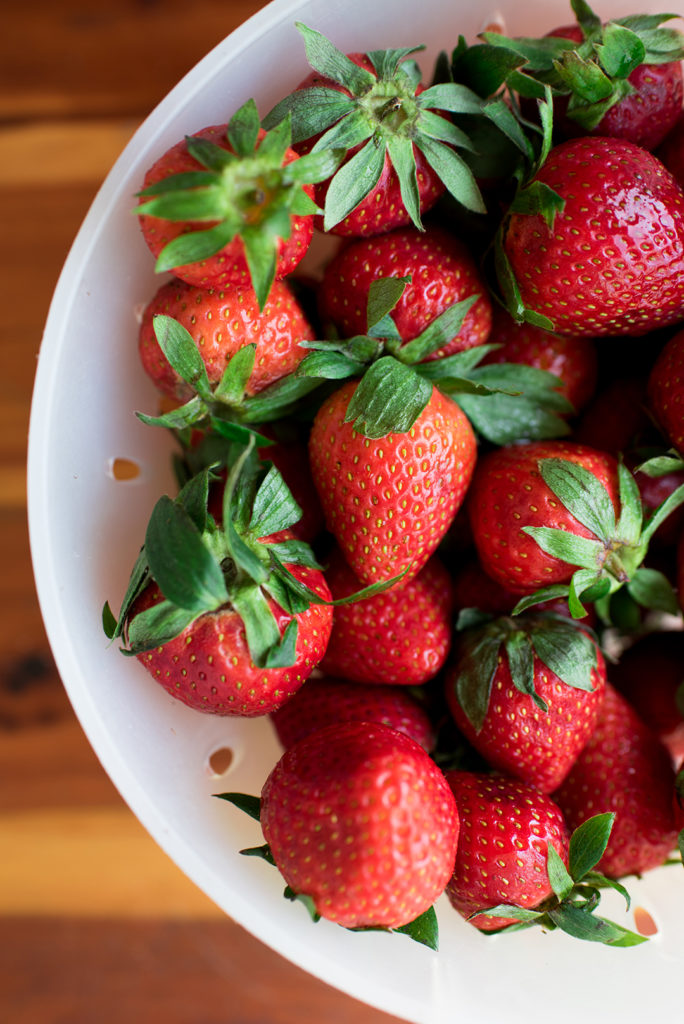 What to Put on Your Board:
Pancakes — use this pancake mold for perfectly round, mini pancakes.
Chocolate chips (dark, milk, white)
Fruit (berries, bananas, kiwis are all popular options)
Peanut butter
Marshmallows
Melted chocolate for dipping or drizzling
Nutella
Syrup
Butter
Jams and preserves
Whipped cream
Nuts
Cinnamon
Powdered sugar
Cereal (Cinnamon Toast Crunch, Lucky Charms – we fully blame IHOP for this one)
15 Pancake Charcuterie Board Ideas
1. Classic Pancake Board
A simple traditional pancake board. Oh there's marshmallows, just kidding.
2. Valentine Charcuterie Board
Be a rebel and replace pancakes with waffles using this heart-shaped waffle maker.
3. Halloween Pancake Charcuterie Board
Our inner goth loves this Halloween-inspired board complete with pumpkins and bats. Too bad they almost ruined it by adding cantaloupe.
4. Pancakes and Waffles
This half-waffle half pancake board is perfect for those who can't make up their mind or ever pick a Netflix show to watch. Looking at you, Gina. (If you need a cute mini waffle maker for under $10, we love this one.)
5. Fruit Forward
When you're really more of a topping girl.
6. Gluten Free
Gluten-free pancakes, kiwi fruit, strawberries, and nuts. We're so glad they went with kiwi fruit and not kiwi birds this time.
7. Rainbow Pancakes
Eat the rainbow with this colorful Pride-inspired pancake board. That teal is a natural color, right?
8. Peanut Butter and Berry Board
You say breakfast. We say reward snack for getting through that project we've been dreading all week.
9. Sprinkles and Chocolate Chips
Make your pancakes extra festive by adding sprinkles. Who says Aussies get to have all the fun? We're not taking any of them up on a drinking challenge, but we are definitely stealing their Fairy Bread idea.
10. Picnic Pancake Charcuterie Board
This perfect date idea is also great way to do some ant watching!
11. Stacked Pancake Board
Don't have a giant platter? Get creative with a bread board. Don't have a bread board? Use a plate! Don't have a plate? Try your hand!
12. Canadian Bacon Board
We see your pancake board and raise you some bacon. Or is that ham? We really need to get our prescription updated.
13. The Works
This board featuring hash browns, Oreos, and pancakes lives rent-free in our brain.
14. Matching Boards
Finally two pancake boards for two so your partner doesn't have to feel left out.
15. Pumpkin Pancake Board
This fall charcuterie board has everything from dates to mini muffins to pumpkins. Those are a little crunchy for our taste, but you do you, boo.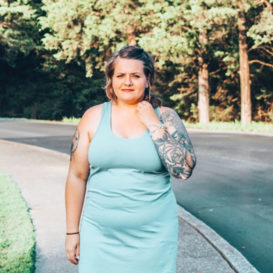 Latest posts by Ashley Hubbard
(see all)