You thought cheese boards were good, but then came dessert boards — and you swooned. But just when you thought food boards had peaked, here comes something even tastier for summer: s'mores dessert boards! Quit underestimating boards already!
View this post on Instagram
How to Make Your Own S'mores Charcuterie Board:
1. Get a board. Or a plate. Or a platter. Or an inflatable raft. Really, anything will do so long as it's relatively flat.
2. Place chocolate, marshmallows, graham crackers, and anything else you want to layer into your s'mores on your board. To demonstrate a bare minimum of effort, make a pile of items in one section of the board and try to mirror it on the other side of the board with stuff that's a similar color. A pile of marshmallows on the left side and yogurt pretzels on the right or graham crackers in one corner and a glob of peanut butter on the other, for instance.
3. Figure out what you'll melt your marshmallows with and put that out, along with skewers. Good: a fire pit. Not-so-good: Aunt Nancy's dragon-etched Zippo, especially as she's trying to quit smoking and you don't want to trigger her.
4. Light up that sucker, toast some 'mallows, and stack up some crackery-chocolately-melty goodness. Forget the standard Hershey's-marshmallow-between-two-graham crackers tiredness, and make your s'mores with added chocolate sauce, a peanut butter cup, and any other toppings you want. Now please get out of the way, as you're blocking us from a pile of fresh mint leaves with our name on it. (We Sharpie'd it on there earlier.)
What to Put On Your S'mores Dessert Board:
Graham crackers
Marshmallows
Reese's Peanut Butter Cups (try our homemade ones!)
Fruit (what our mom calls "nature's candy" and what we call a lame substitute for sugar + fat)
Peanut butter for dipping
Melted chocolate for dipping, drizzling, or pouring directly into your mouthhole.
Cookies. Oreos or chocolate chip cookies work. Some s'mores boards we saw on Instagram featured Girl Scout Cookies. If you have GSC in your freezer, please email us your address so we can send you a framed willpower award — and you we can also ransack your refrigerator.
Skewers. Opt for a bunch of inexpensive bamboo sticks as opposed to the long metal ones intended for fire-roasted vegetables.
Forget the graham crackers and just use waffles. This is a waffle board now.
Dessert Board Platter Options
Are those pretty platters or you just really really happy to see us?
S'mores Dessert Board
Print Recipe
S'mores dessert boards are an easy way to create a fun summer dessert. Elevate it by creating a platter of marshmallows, melted chocolate, graham crackers, and more.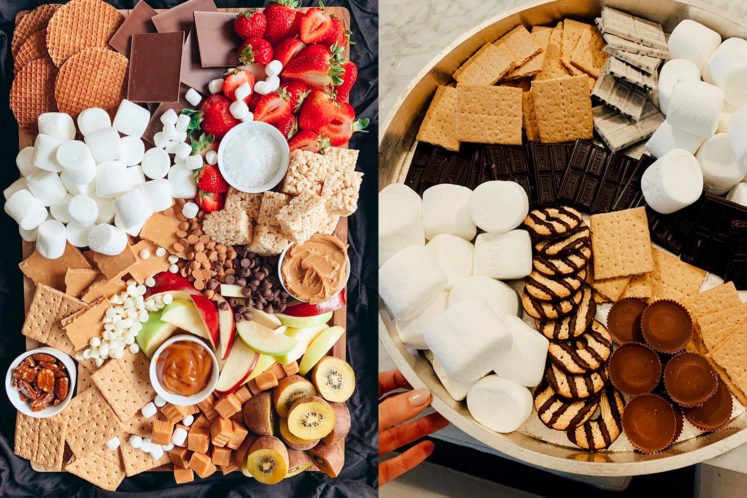 Servings: 10 people
Ingredients
chocolate (milk, dark, white, or ruby)
graham crackers
marshmallows (regular size or jumbo)
skewers
peanut butter cups (optional)
cookies (optional)
fruit (optional)
peanut butter (optional)
stroopwafels (optional)
pretzels (optional)
Nutella (optional)
Instructions
Place each ingredient in a group.

Arrange on plate as desired. Have colors mirror each other for a more dramatic effect.

If using peanut butter or melted chocolate, place in small bowls and tuck into platter.
Notes
If you don't have a way to melt the marshmallows, use marshmallow fluff instead.
Did you make this recipe?
Leave a review below, then take a photo and tag @letseatcakeblog on Instagram so we can see it!
15 S'mores Boards to Inspire Yours
In school, this would be cheating. But here on the Internet, you can steal to your tummy's delight!
1. Classic S'mores Board
2. This one also has apples, rice krispie treats, peanut brittle, and are those Stroopwafels?! @Ashleymerry, you're fancy.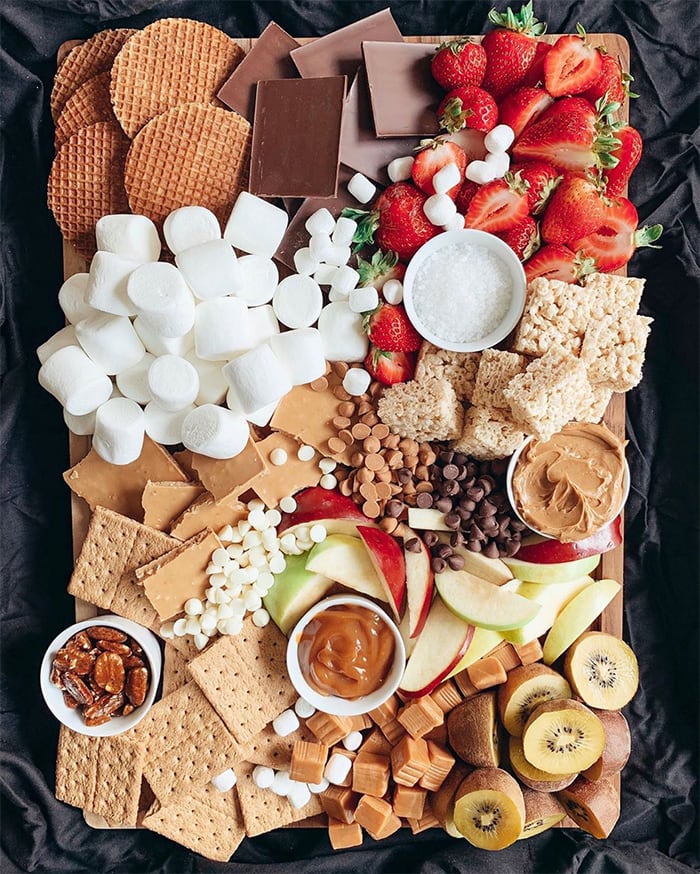 3. We can respect a tray that's mostly marshmallows and cookies.
4. We don't usually like hot dogs on our s'mores, but we'll try anything once.
5. We're taking bets that this was made by a Virgo.
6. We can't get enough of the the marshmallow dip in the miniature cast iron pan! Get your own here.
7. Super simple s'mores dessert board with a cameo from those love-em or hate-em Brach's pumpkins by @ourforeverrfarmhouse.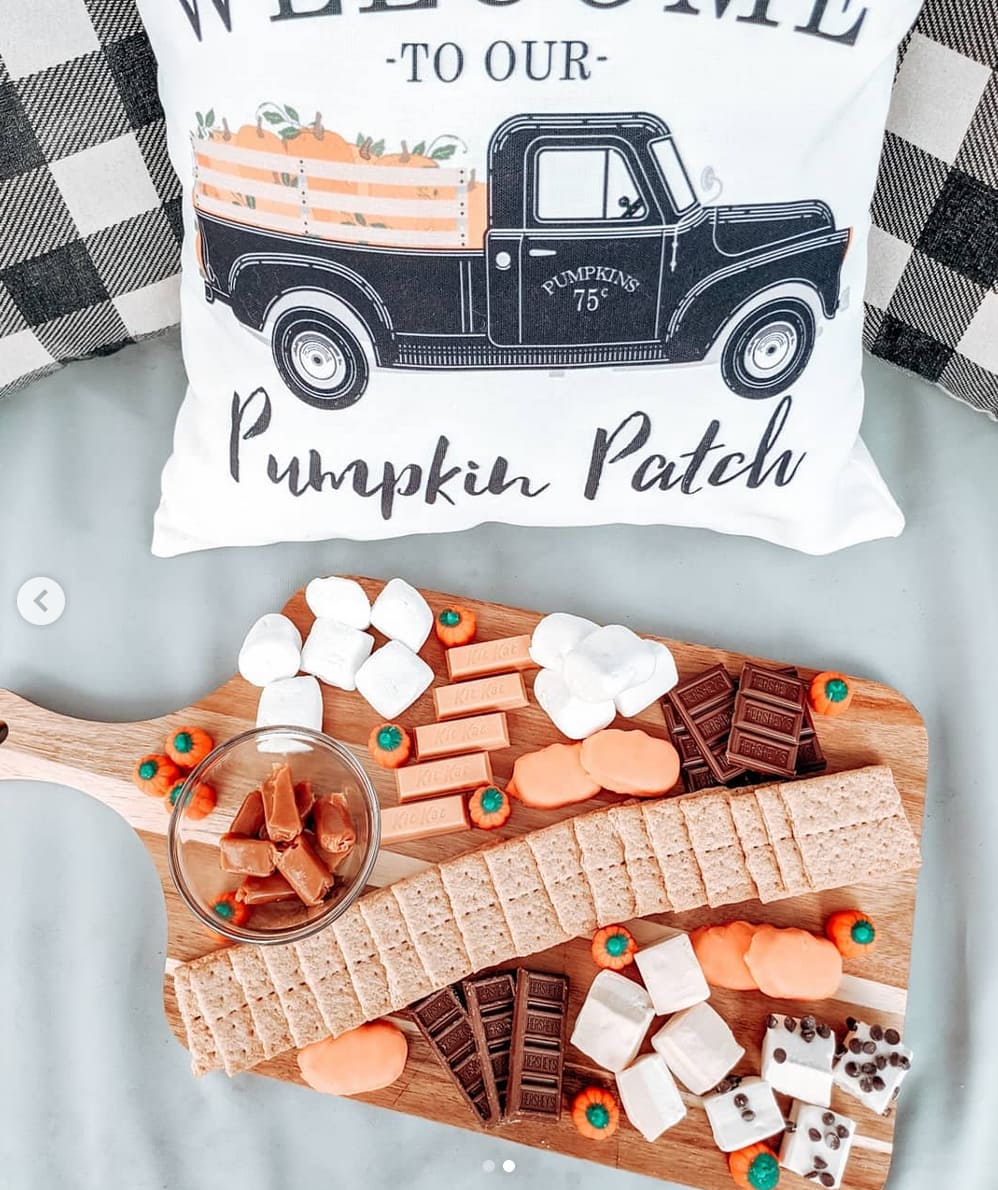 8. The ants really loved this one.
10. This one says "perfect hostess gift." (You just have to eat everything to reveal it.)
https://www.instagram.com/p/CEaGFX5nPvD/
11. Finally, a charcuterie board for one.
12. Not gonna lie, at first we thought those marshmallows were dice. Fool us once dice, shame on you. Fool us twice…
13. The miniature Nutella jars are a sweet touch.
14. Oreos make their grand entrance.
15. We are simultaneously eager to dive into this and are scared to at the same time. Oh, that's what simultaneously means? Cool.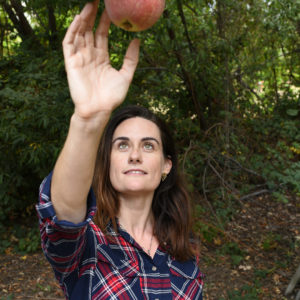 Latest posts by Rebecca Swanner
(see all)