With pie, as with people, it's what's inside that matters most — but looks can go a long way, too. That's why we're so enamored with these unique pies crafted by pie artists like Kansas City area-based baker Pie Goddess Kristin Brumm.
Some people craft with gingerbread or cake, but for Brumm, pies are her creative outlet. "Each pie is like a blank canvas and it allows me to express what I'm feeling," Brumm says. "I really enjoy doing playful designs to make people smile."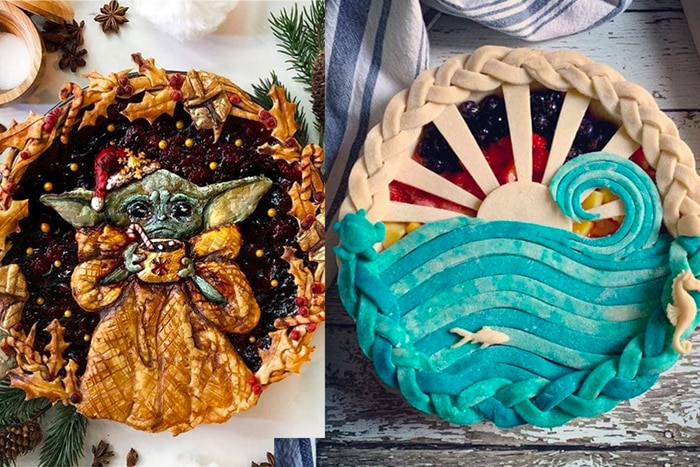 How Brumm Makes Her Unique Pies
Brumm begins building her pies a couple of days in advance as pie dough needs regularly chilling between design work. She works on her design for only a few minutes at a time before putting it back into the fridge so the dough doesn't get too soft.
All in all, one pie takes between three and six hours over several days with work done in minutes at a time — kinda like how we watch The Matrix trilogy.
But, she's not the only baker out there making unique pies! "There are some really amazing pie artists out there and I love them all. "The Pieous is a favorite because I love her sense of fun. Helen Nugent of @BatteredNBaked makes some really stunning designs, as well."
As to her fruit-filled babies, Brumm does have favorites — or one favorite, anyway. "I really like how the Kansas bison pie came out, with the contrast of the bright red filling and the crust. I made that for a local charity fundraiser."
How to Make Your Own Unique Pie
Brumm has some stone-cold advice for someone wanting to create their own pie art or someone who is intimidated by pies in general. Or, intimidated by the prospect of making pies, anyway. If you're pastry-phobic, you're pretty much effed. Whelp, more for us!
"Just remember that heat is the enemy of a good pie crust," Brumm advises. "Chill your dough frequently and try not to overwork it. Other than that, just play around and have fun with it. Even if the design doesn't come out the way you imagined in your head, it's still going to taste amazing!"
25 Unique Pies to Inspire You
1. Baby Yoda Christmas Pie
This raspberry pie, or "RaspBaby" as the artist likes to call it, depicts everyone's favorite little glutton: Baby Yoda. And as if that's not enough cuteness, he's holding a teeny tiny mug of cocoa — and silently judging you.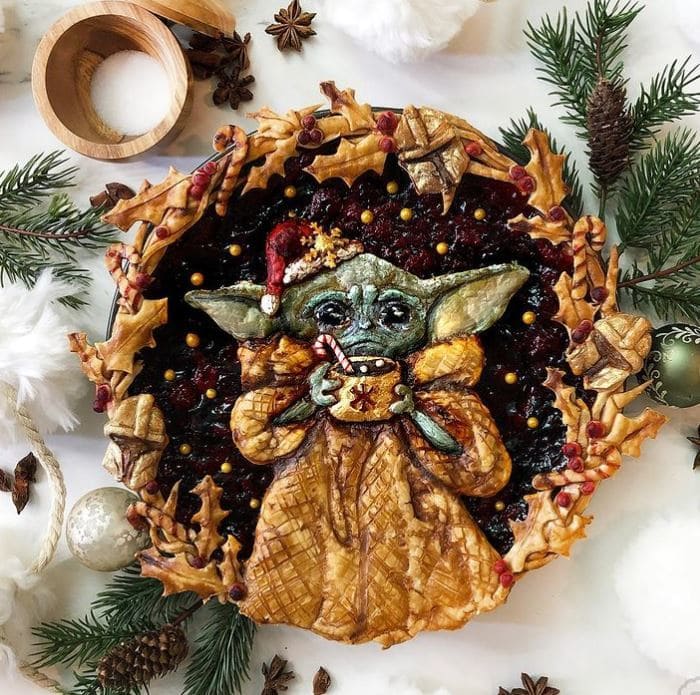 2. Little Red Riding Hood Pie
This "narrative-style" pie by Inspired to Taste features Little Red Riding Hood making her way to her grandmother's house. Wait until she finds out Grammy's been devoured by a wolf!
3. IT Pennywise Pie
Pie is exactly what Pennywise would need to offer to get us down in that sewer. No regrets.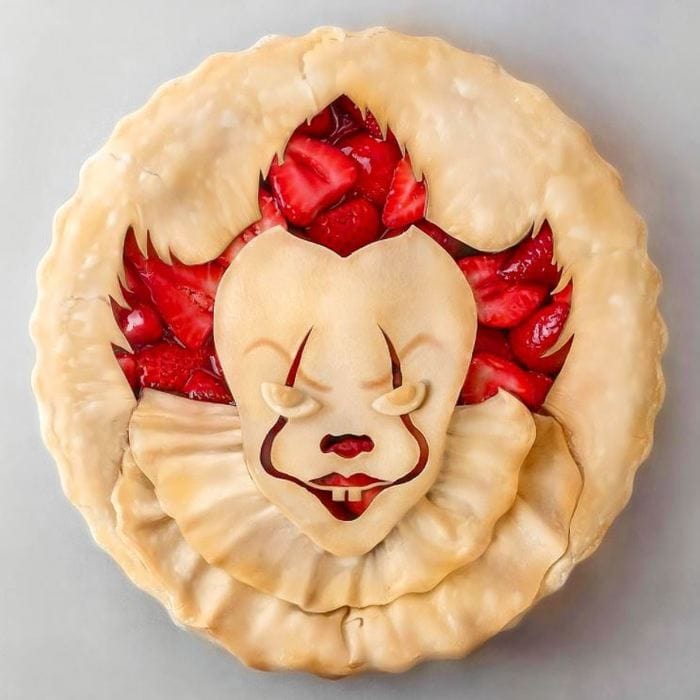 4. Ocean Pie
This "Blue Wave Pie" from Brumm combines the delicious flavors of blueberry, strawberry, and mango in layers to create a sunrise over the ocean.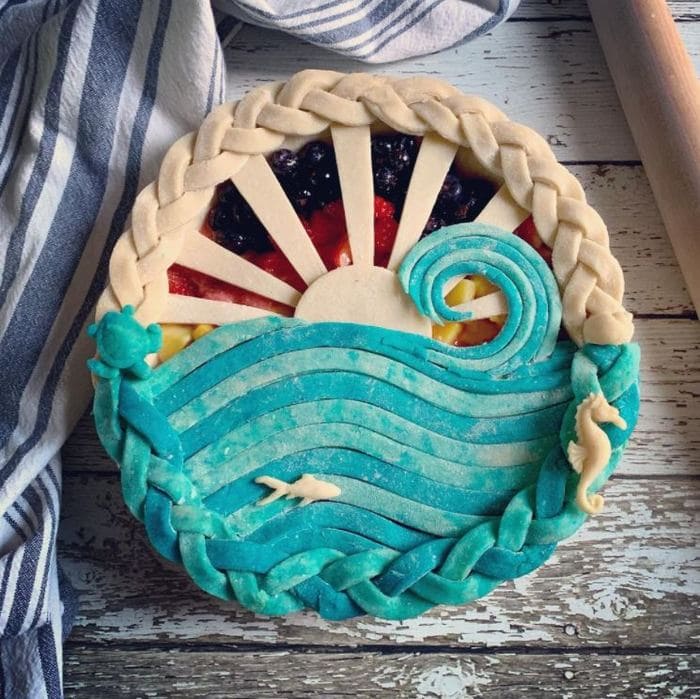 5. Apple Rose Pie
Take note: We're done with avocado roses and moving on to apple roses — like these of @TheCrumbCrush's apple pie. Someone please TikTok this memo so Gen-Z gets it.
6. Blueberry Spirometry Pie
@LokoKitchen creates the most perfectly geometric pie designs. This blueberry pie is created from other pies' scraps — one pie's trash is another pie's treasure.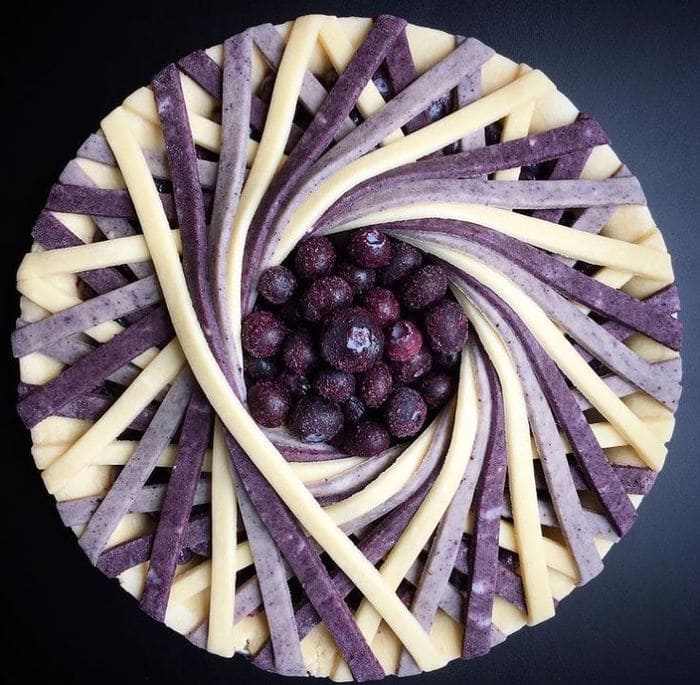 7. Kraken Pie
This amazing piescraper by @ThePieous is Kraken all the pie barriers. Speaking of cracks, our funny bone just ruptured.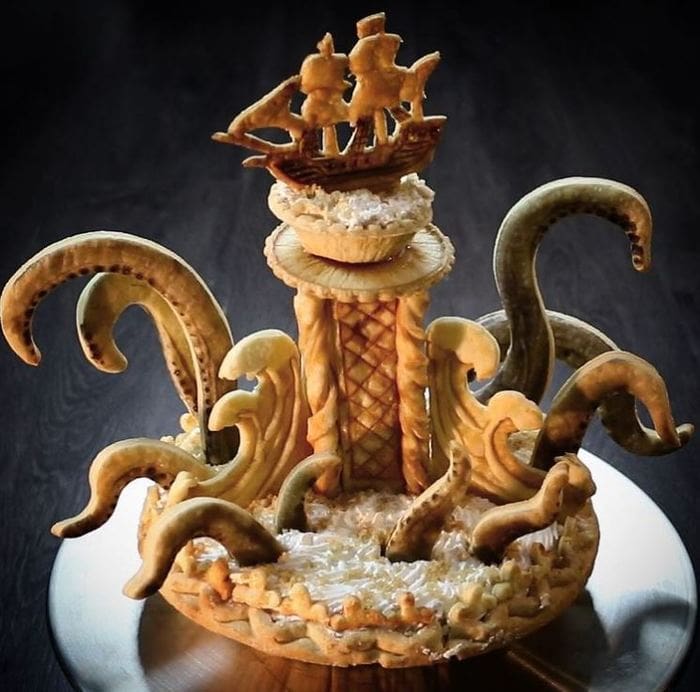 8. Bee Pie
This apple-honey filled pie by @Lucie.Bakes with an almond flour shortbread crust proves there's no place like comb. (Lucie also teaches Livestream classes if you need a little extra help. If you need a little extra help with eating them, you can call us.)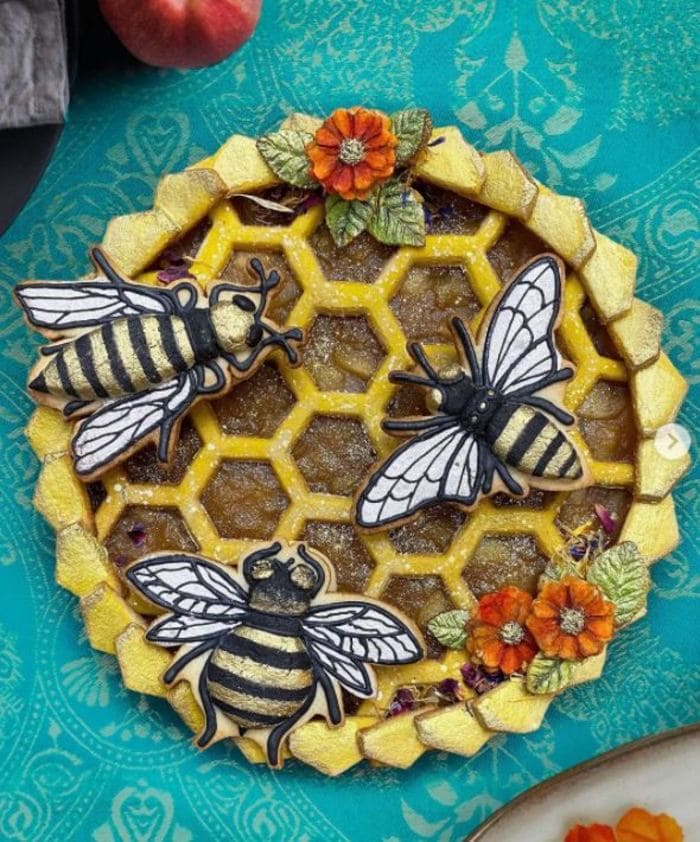 9. Intricate Apple Pie
Karin Pfeiff Boschek describes this as "apple water lilies on a rhubarb sea." We describe it as a whole lot of patience we don't have.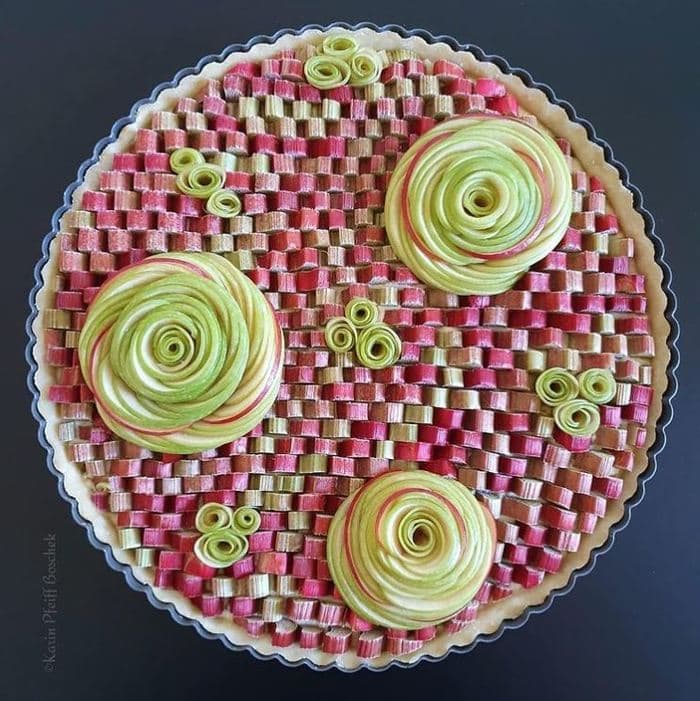 10. Rest in Pies
Arlene of @ArloDesigns, the creator of this tombstone pie, agrees with us that death by pie is a good way to go — second only to death by chocolate.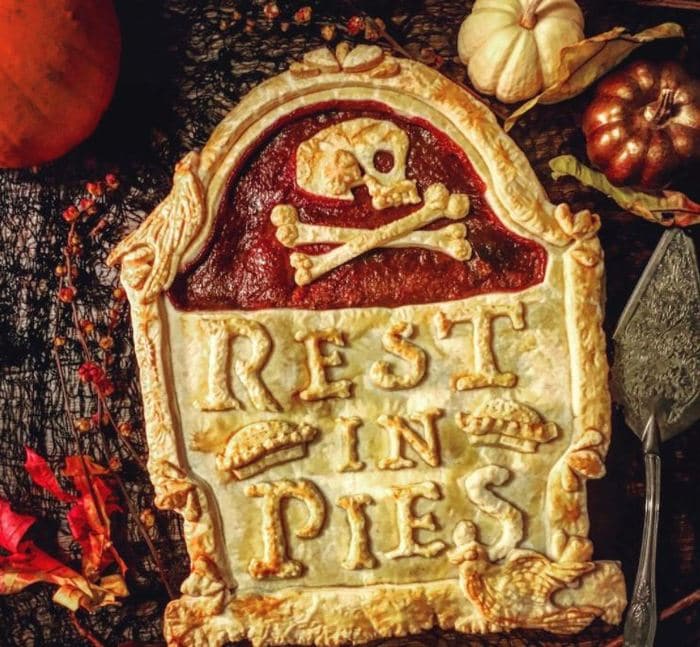 11. Ugly Christmas Sweater pie
A new Christmas tradition we can get behind: Matching our pies with our ridiculous sweaters — and vice versa. We challenge someone to make this Taco Bell one.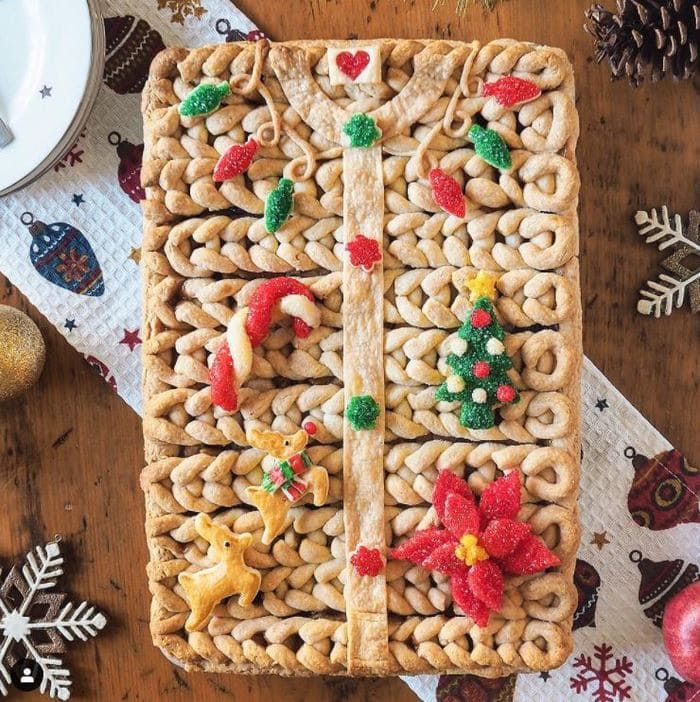 12. Pirate Ship Pie
Pies create the perfect setting for puns — as demonstrated by this pie-rate ship apple pie.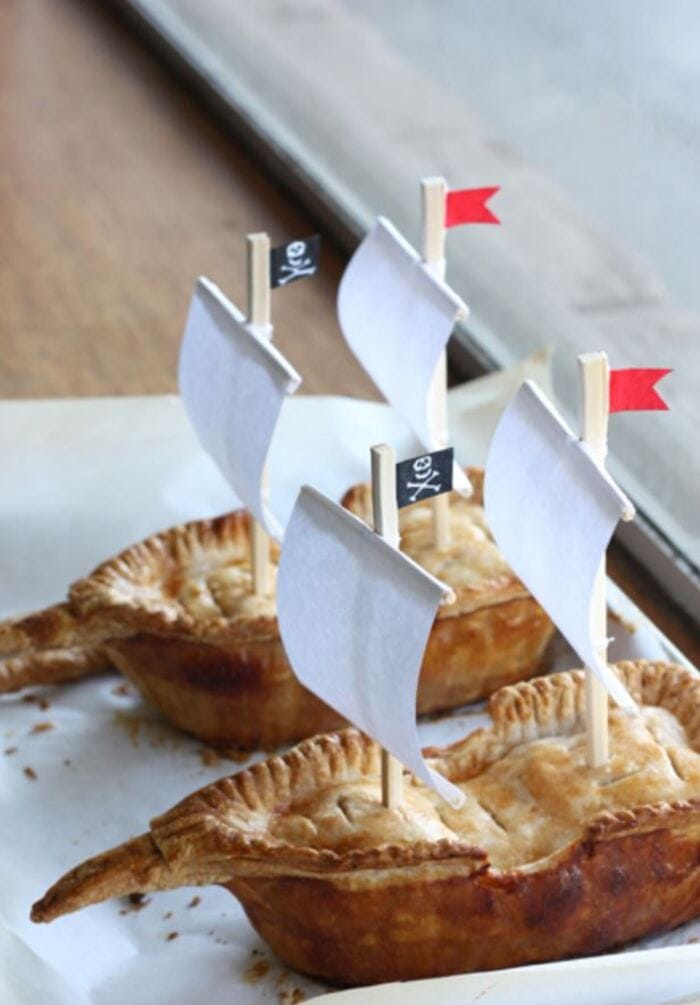 13. Cookie Crust Pie
Too often we've been forced to make a difficult choice at dessert time: a slice of pie or a pie crust made of cookies. No more! @InspiredToTaste created this cookie crust and filled it with a lemon, blueberry, and spirulina filling.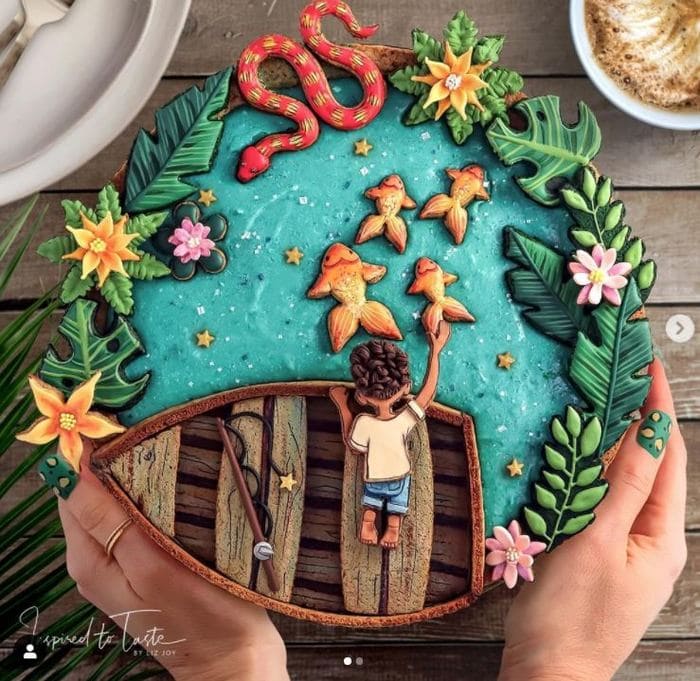 14. Moon and Stars Pie
Reach for the sky with this celestial design by @InspiredToTaste.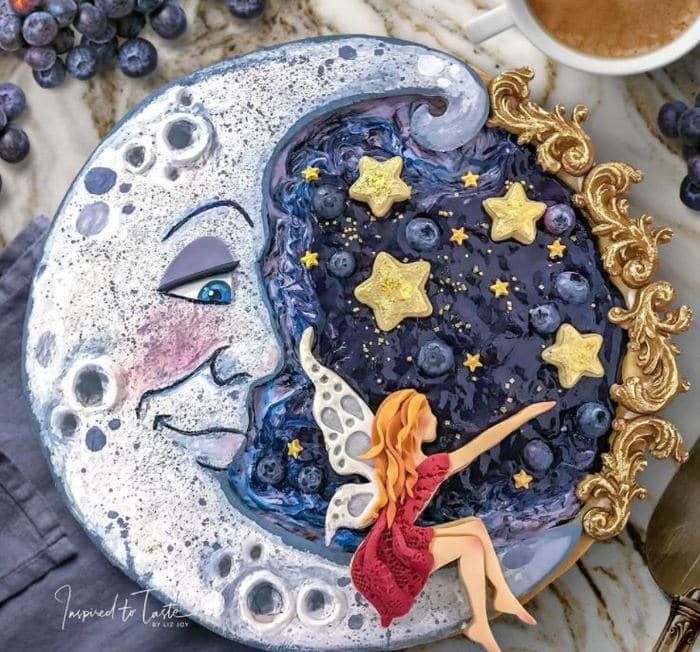 15. A League of Their Own Pie
Turn the Rockford Peaches into a peach pie à la @InspiredToTaste's design. Remember, there's no crying in pie-making or if your tear ducts are clogged.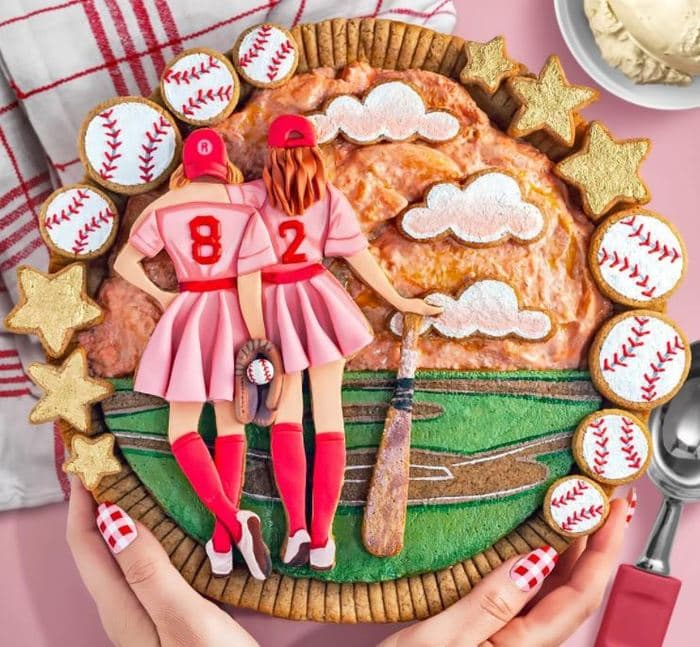 16. Honey Lemon Chiffon Pie
Baker @HostTheToast created this cheerful and sunny honey lemon chiffon pie and generously included instructions to make it. You'll be shocked to learn how to make the honeycomb. We were, though that may have been from web browsing while in the tub.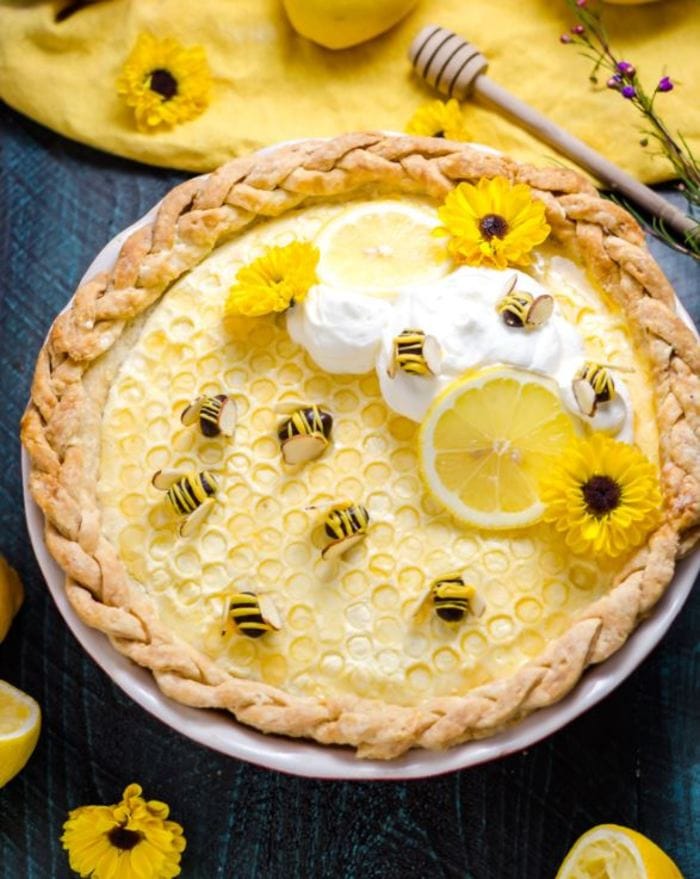 17. Blueberry Pie
This blueberry pie by @WifeMamaFoodie includes a purple berry crust colored with freeze-dried berries and blueberry filling that is free of dairy, refined sugar, and gluten. If you're interested in baking this unique pie, here's the recipe.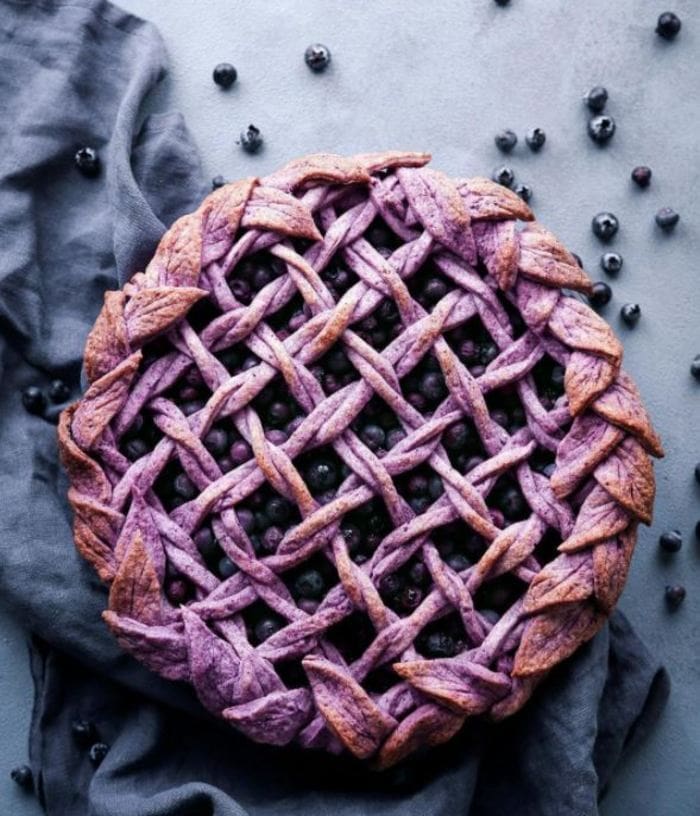 18. Jensen Ackles Skittles Pie
Created for the charity scavenger hunt known as GISH, this Skittles pie may have been made for a fun challenge, but it is also extremely unique and impressive. Inspired by the Jensen Ackles Supernatural character with a tiny thing for pie, @BronzeBakery created this pie with a lemon fluff base.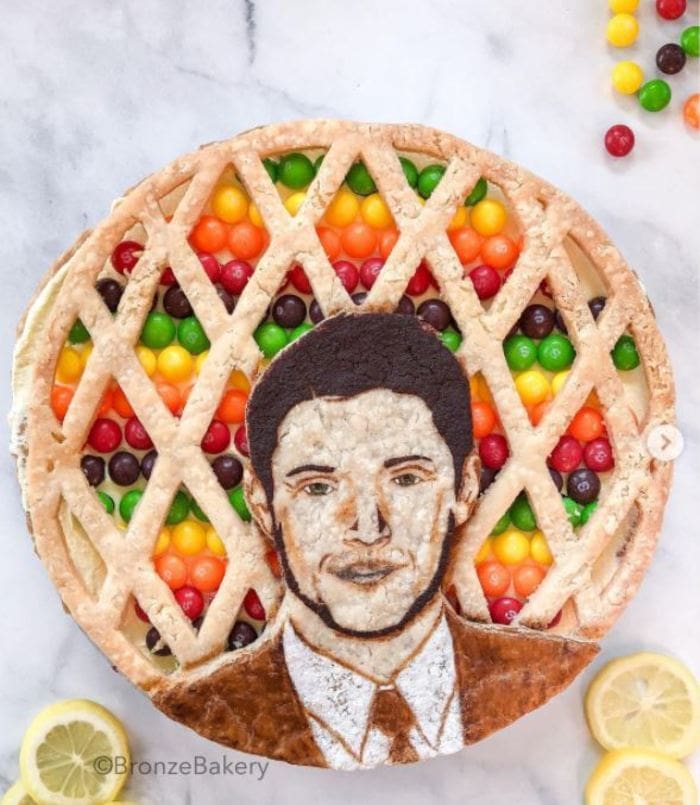 19. Hedgehog Pie
This hedgehog pie by @artistic_el exemplifies everything about cottagecore that we love — mainly the fantasy of subsisting on berries and wearing leaves.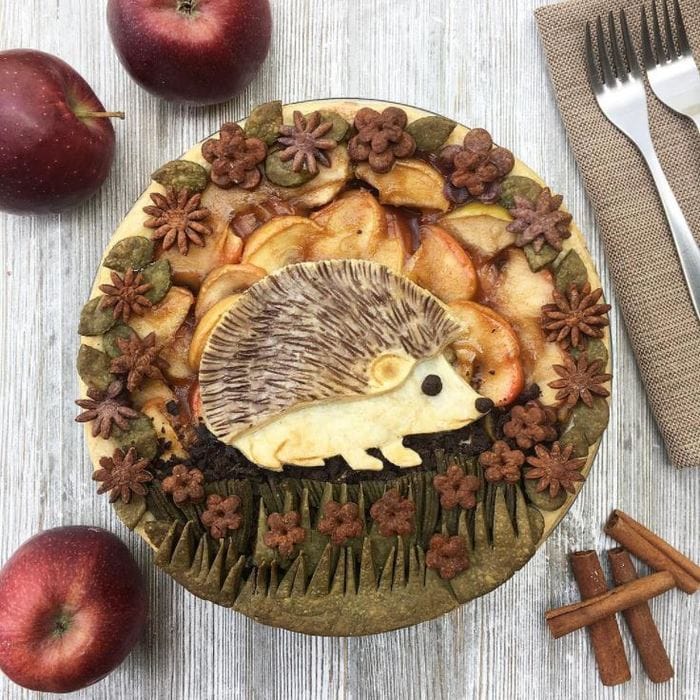 20. Witch Pusheen Pie
Pusheen eating pie on this pie by The Pieous is one of the most adorable things we've ever seen. And we've seen baby penguins IRL!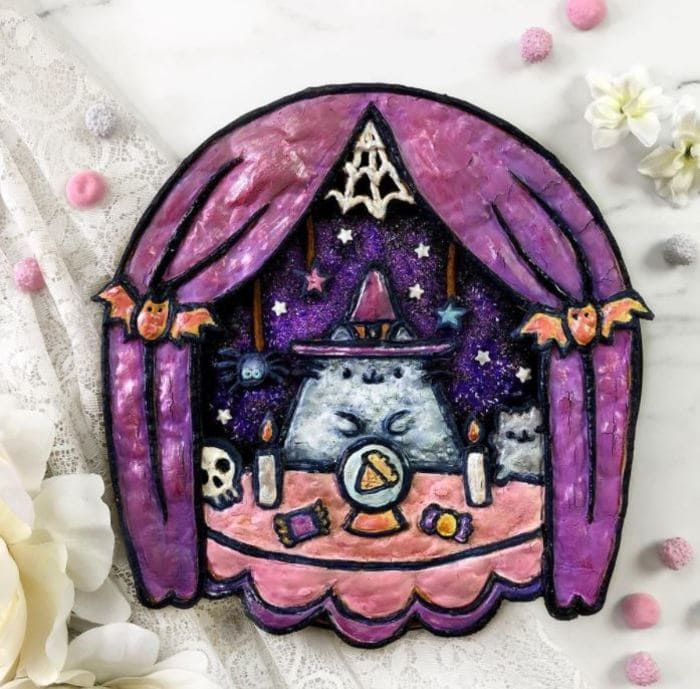 21. Alien Pie
Christine McConnell proves yet again why she's the queen of horror-themed desserts with this chestburster Alien pie.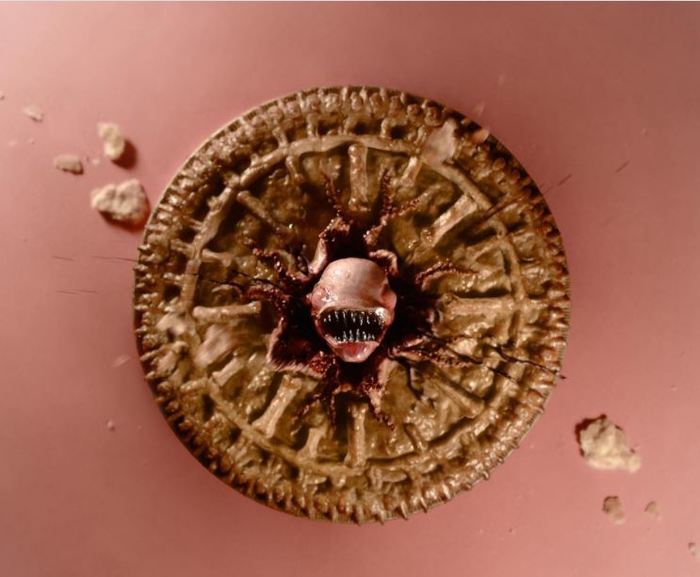 22. Cinderella's Carriage Pumpkin Pie
What happens to your carriage after midnight? It turns into a pumpkin pie. We feel like this is a much better turn of events than Cinderella's.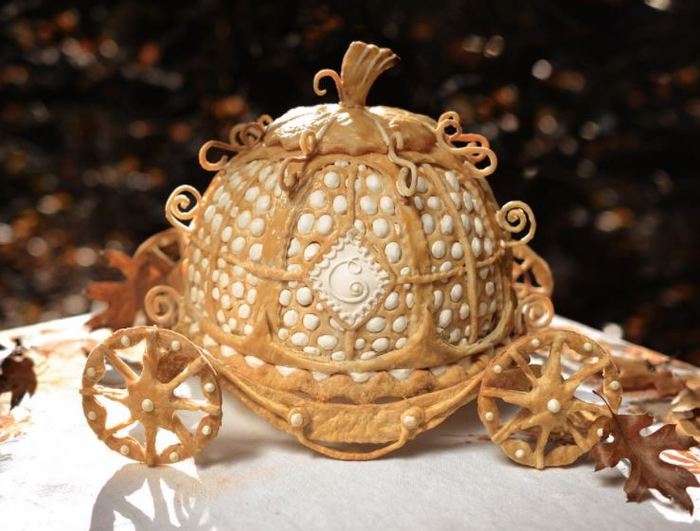 23. Jurassic Park Pie
One could say that Tracy of @PierannosaurusRex is a "clever girl" with this blueberry vegan velociraptor pie. She's baked a whole bunch of other dinosaur pies and keeps promising us that the dilophosaurus is coming any day now.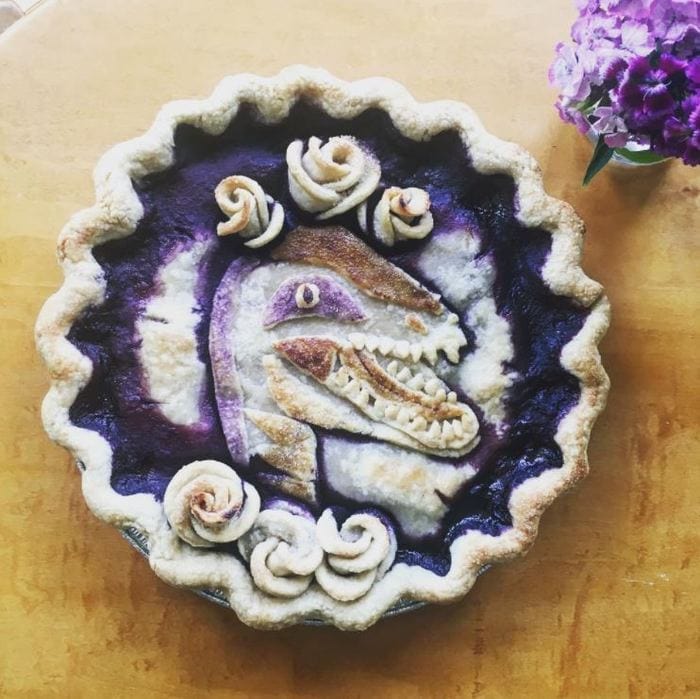 24. Harry Potter Hogwarts Crest Pie
What's better than pie? A four-flavored pie! Hufflepuff is peach, Gryffindor is cherry, Slytherin is matcha apple, and Ravenclaw is blueberry.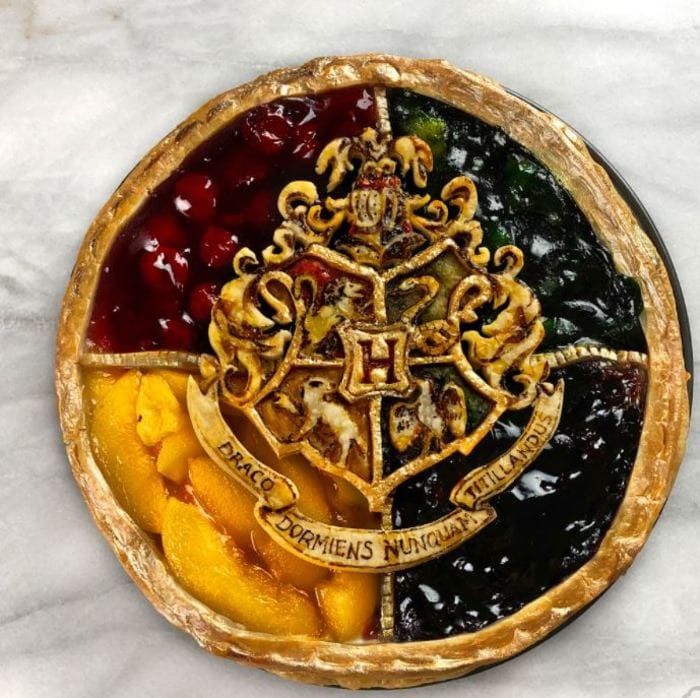 25. Crystal Clear Pumpkin Pie
This interesting pumpkin pie by Simon Davies is crystal clear. We assume the less you can see, the more you can eat.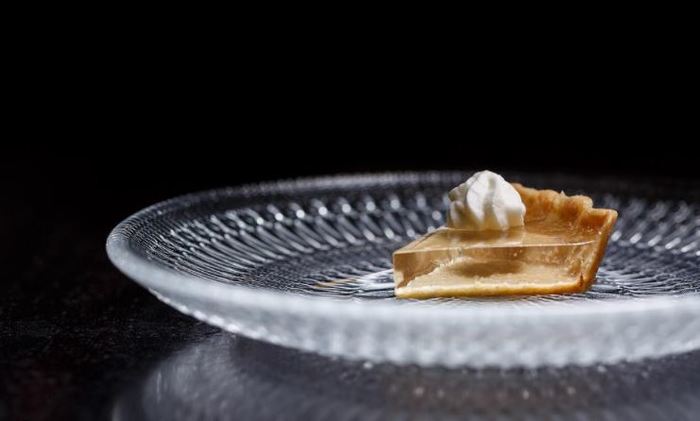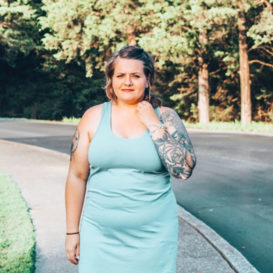 Latest posts by Ashley Hubbard
(see all)