Gingerbread houses are fun. But life-size gingerbread sculptures in the shape of xenomorphs, Darth Vader, and Groot take our nerd-culture-loving sugar high to a whole new level that we're pretty sure is illegal.
Olso-based Caroline Eriksson is to gingerbread men what Michelangelo is to non-gingerbread men. But let's be honest, if he had thought of this he would have done the same.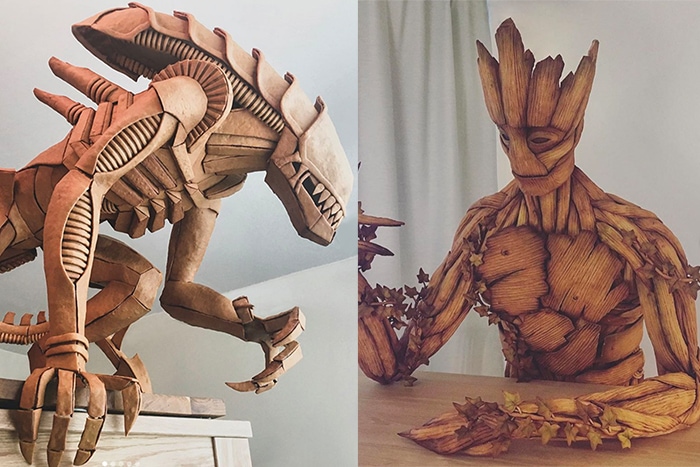 Starting around early November, Eriksson begins her work on her main life-size sculpture for the year. She hasn't revealed this year's theme yet, but she did tease that her Instagram followers gave her a lot of great ideas, so it could be one of those.
We suggested a gingerbread version of the reward box Han Solo receives in Star Wars, so here's hoping!
How Eriksson Discovered Her Passion for Gingerbread Versions of Sci-Fi Stuff
Eriksson started pushing the gingerbread envelope in 2013, when the self-professed movie nerd built a gingerbread Optimus Prime and entered it into a gingerbread contest.
"I had been thinking of creating a more advanced gingerbread creation after having already gone from building houses to boats and castles," Eriksson says. "I went to the cinema and saw Transformers and it occurred to me that the robots were constructed of mostly square shapes, and got the crazy idea to give it a try and build a robot in gingerbread!"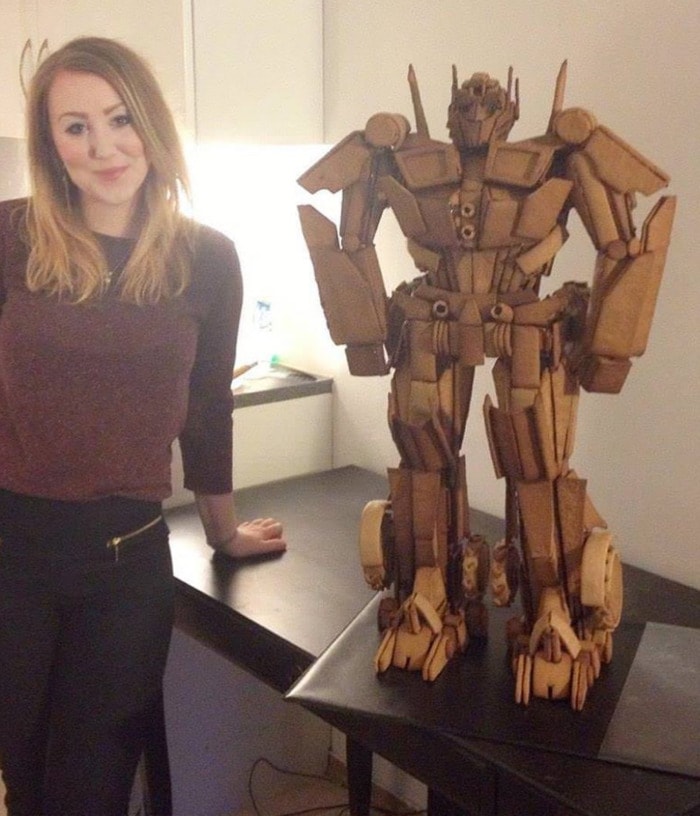 The gingerbread dough she made to create the Transformer character was actually the first she'd made from scratch, and she claims she's still learning how to bake.
"I'm learning as I go, trying out different recipes and techniques, still burning things and setting off the fire alarm."
"I started with simpler square shapes using only gingerbread," Eriksson says. "Now I try to challenge myself with more organic shapes and adding different textures, as well as airbrushing with edible colors [like she did with Venom]. I'm also trying out different recipes depending on what I'm creating. A lot has changed, and I'm hoping to keep developing and finding new challenges. That's what I find most fun."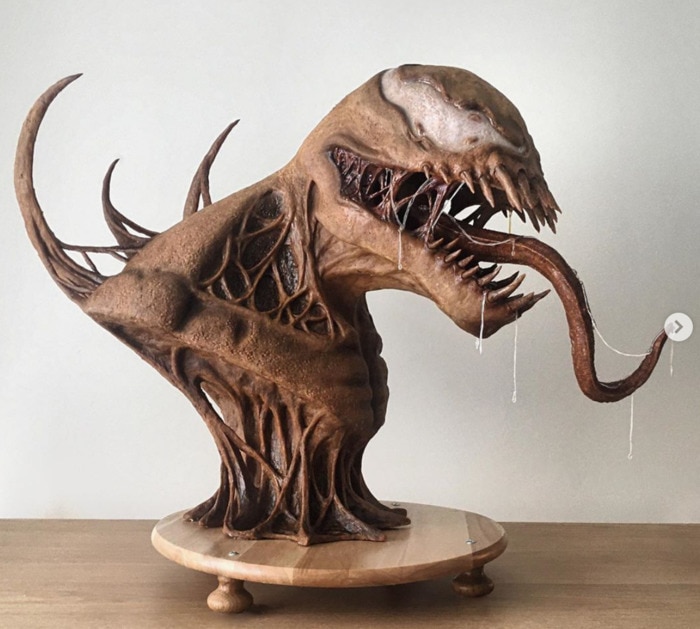 What Goes Into Each Life-Size Sculpture (Besides Gingerbread)
It takes Eriksson about seven weeks to complete each sculpture. That includes five weeks of building, two weeks of researching and sketching, and zero weeks answering our insistent emails about when it'll be done.
Sculptures like the Alien xenomorph use upwards of 1,000 pieces of gingerbread, which sounds like a lot — until you consider that it's nearly 4" high and 5" long from head to tail. Actually, that is still a lot, and we're done considering stuff like dimensions or whatever.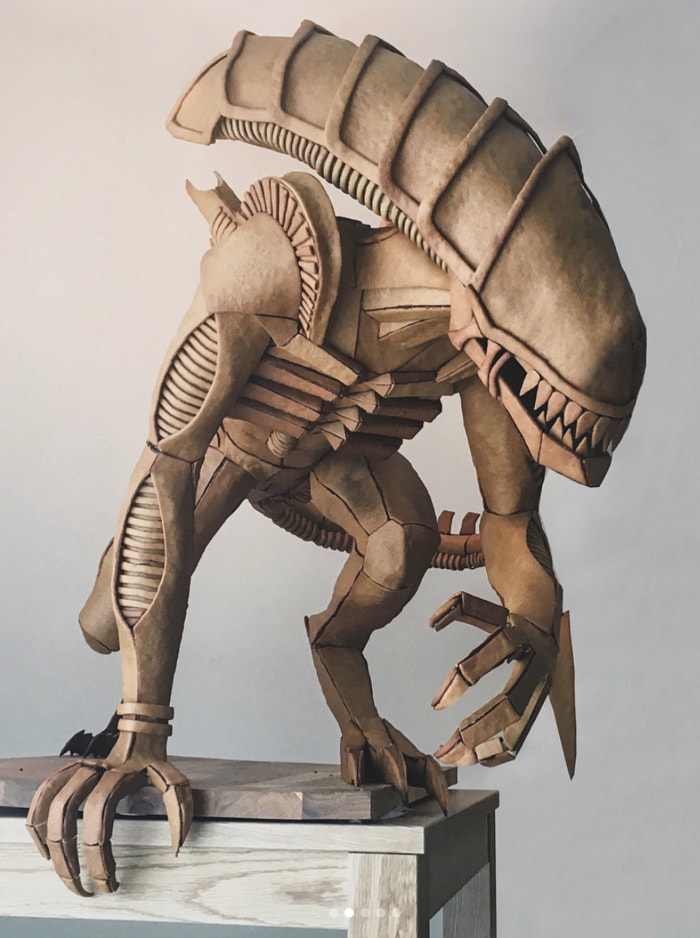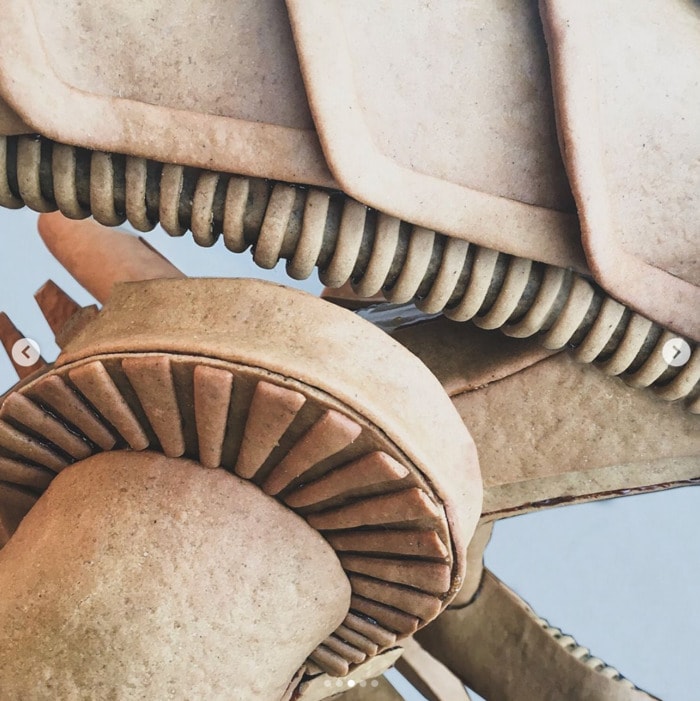 After the sculptures have been built and photographed for Insta, they don't just go in the wastebin. Well, at least most of them don't.
"Some of them I have displayed, but for creations such as Groot that was impossible because I integrated him into my kitchen table. He just sat there as my flatmate for a couple of weeks before I had to deconstruct him."
If you're making your own gingerbread house (or boat or Infinity Gauntlet) this year, Eriksson has a recommendation.
"You should always do a little bit of planning before you start creating something more advanced!" Eriksson says. "Think about scale and weight. If you want to build something big, you will need extra support. The last thing you want is your creation to break!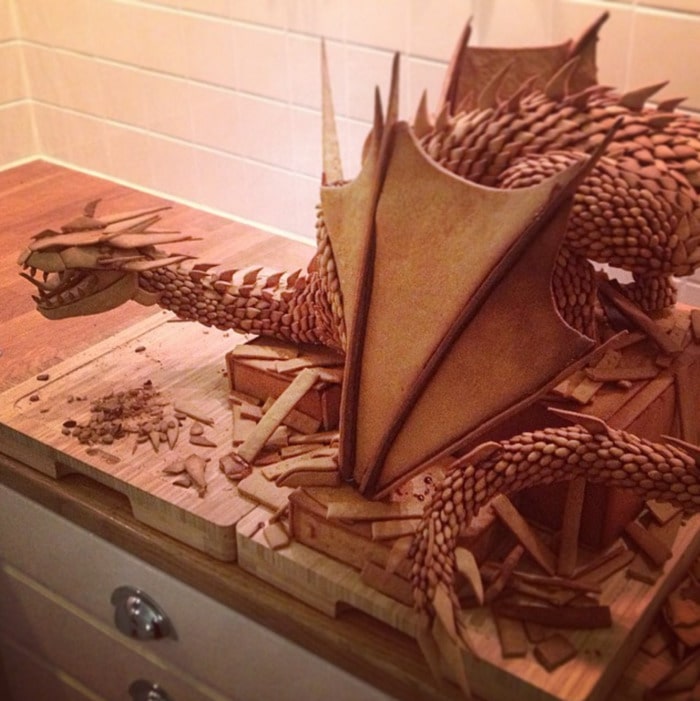 "And it's cliche, but the most important thing is to have fun and be excited about what you are making. No matter how crazy your idea is, just give it a go!"
That said, our idea for gingerbread Mandalorian armor was pretty crazy and did not help much against Baby Yoda's charms.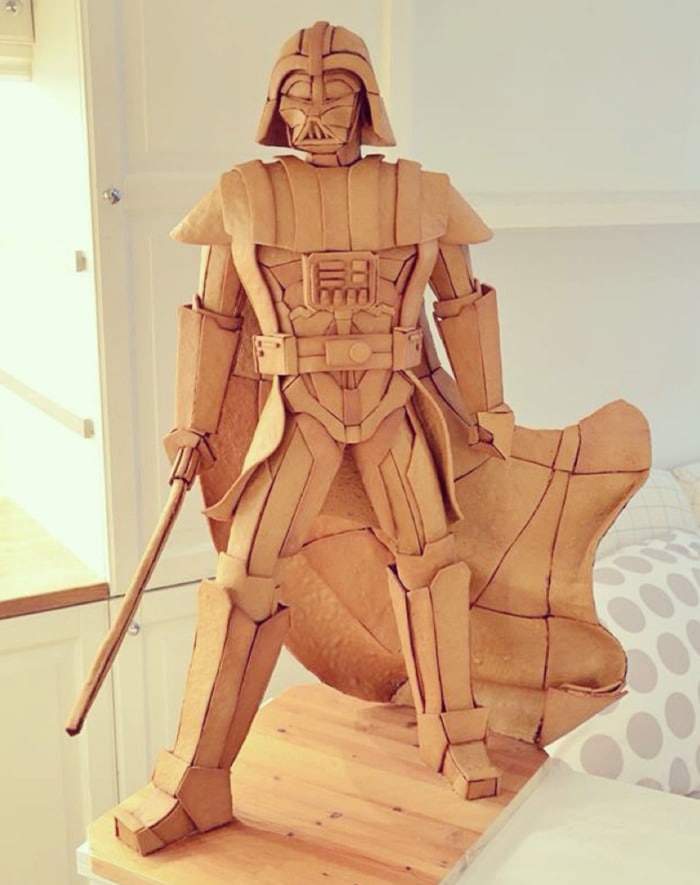 How To Make an Awesome Gingerbread Sculpture
1. Start with wire.
Eriksson tries to use only gingerbread, but says that, "For bigger pieces, like Groot and the xenomorph, I start with a base structure of wire to fill it out first. An internal structure also gives me the possibility for a cooler pose. I usually start with bending steel wires and wrap with wire netting." (Available at your local hardware store or chicken coop.)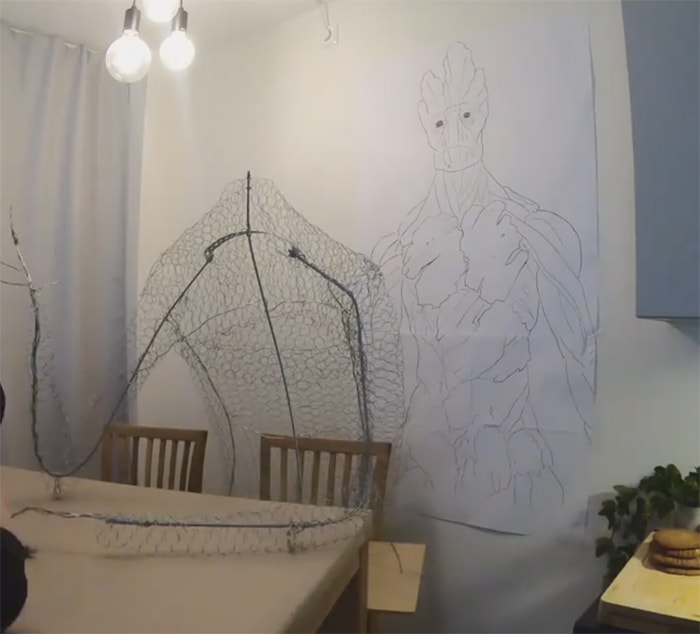 2. Add adhesive tape.
Eriksson covers the wire structure with some form of tape to give the gingerbread pieces something to stick to.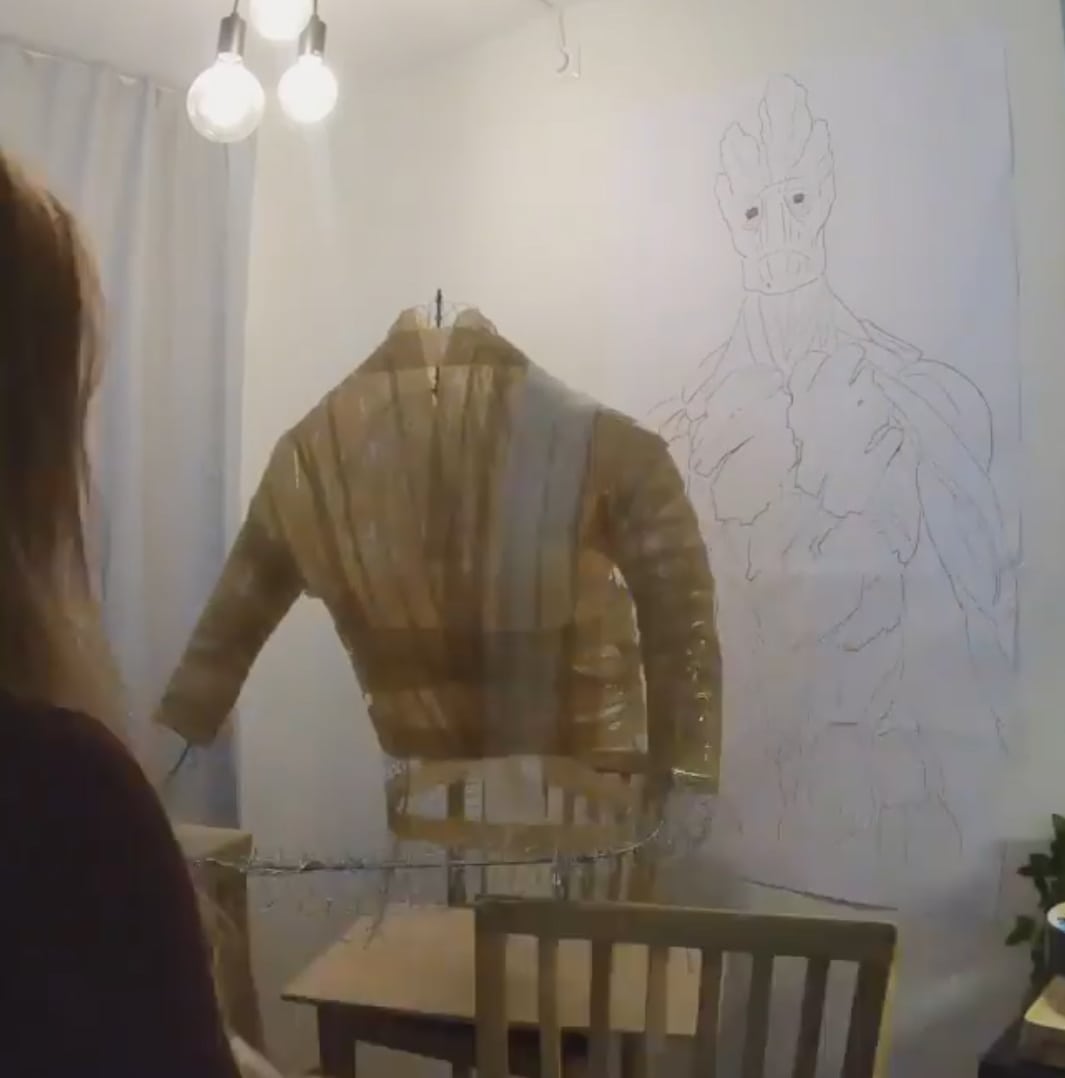 3. Then layer on the gingerbread.

4. Just keep adding baked dough until your sculpture is complete.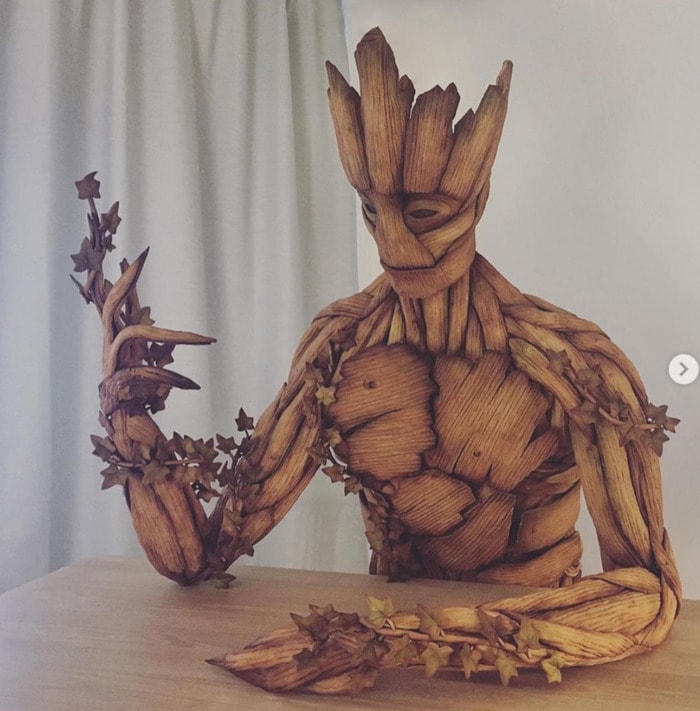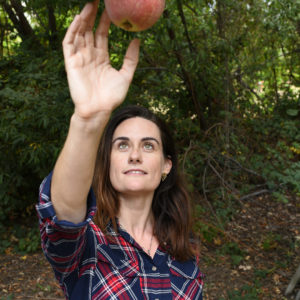 Latest posts by Rebecca Swanner
(see all)