Seven years ago, I made a No Bake Peanut Butter Pie. And seven years later, I still think about it once a week.
Not just because I love the combination of creamy peanut butter and chocolate, but also because it was possibly the most dangerous, decadent, delicious dessert I've made.
So, I made the peanut butter pie again.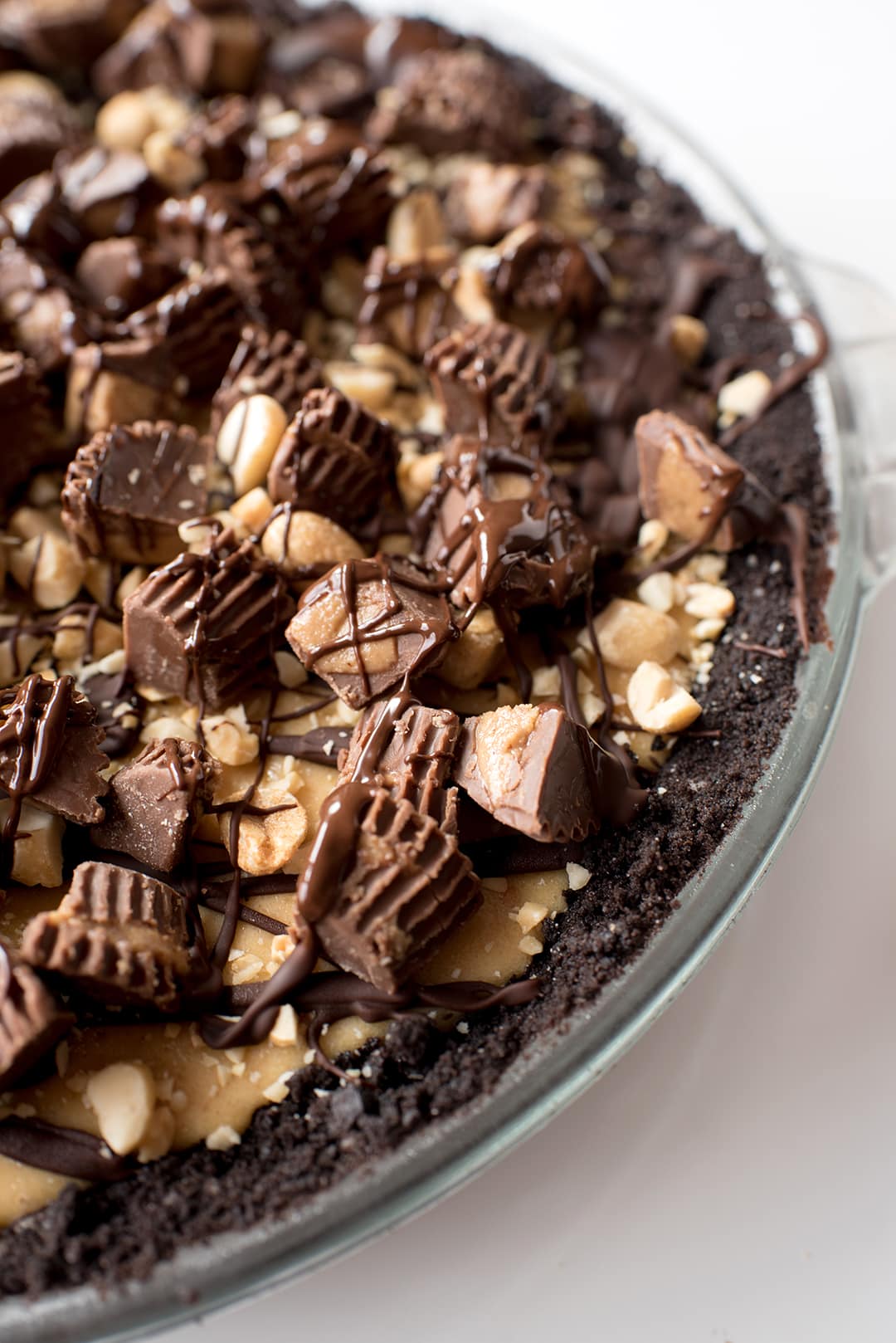 The Peanut Butter Honeycomb Pie was beyond addictive. It had a crunchy graham cracker crust and a rich, creamy, slightly salty filling that just beckoned you to take one… more… bite.
I couldn't resist.
For two days, I stole bites of it from the fridge until I insisted that my then boyfriend take it to his house. It lasted two days there before he bought it back to mine, confessing that he couldn't stop eating it either. So, we gave it away to friends as quickly as we could. That no bake pie was one tempting son of a gun.
Fast forward to yesterday. I made the no bake pie again. But this time with a few alterations. I used the delicious Simple Truth No Stir Crunchy Peanut Butter instead of the creamy variety to give the filling more texture. To make it easier to bake at home, I swapped the whole vanilla bean for vanilla extract. I replaced the ¾ cup of butter with 1 cup of nonfat Greek yogurt.

I loved the no bake pie with the graham cracker crust, but I'd just made one of those for the 4th, I swapped that for a chocolate cookie crust made from Simple Truth Chocolate Sandwich Crème Cookies instead. (You can get the cookies and the peanut butter at Ralphs, part of the Kroger family of stores). And, yes, technically you bake the crust… I guess you don't have to… but I prefer a crunchier crust.
I also replaced the honeycomb topping with chocolate peanut butter cups, though let's be honest, that's not really making a difference in the calorie count. (Hey, it is still pie.)
I've made other chocolate peanut butter recipes, like these Peanut Butter Pretzel Cookies, Peanut Butter Chocolate Overnight Oats, and Chocolate Peanut Butter Cupcakes, but honestly, this is a whole new level. It's a make and bring to friends immediately kind of no bake dessert.
If you're looking for a peanut butter pie without cream cheese, look no further. This is it.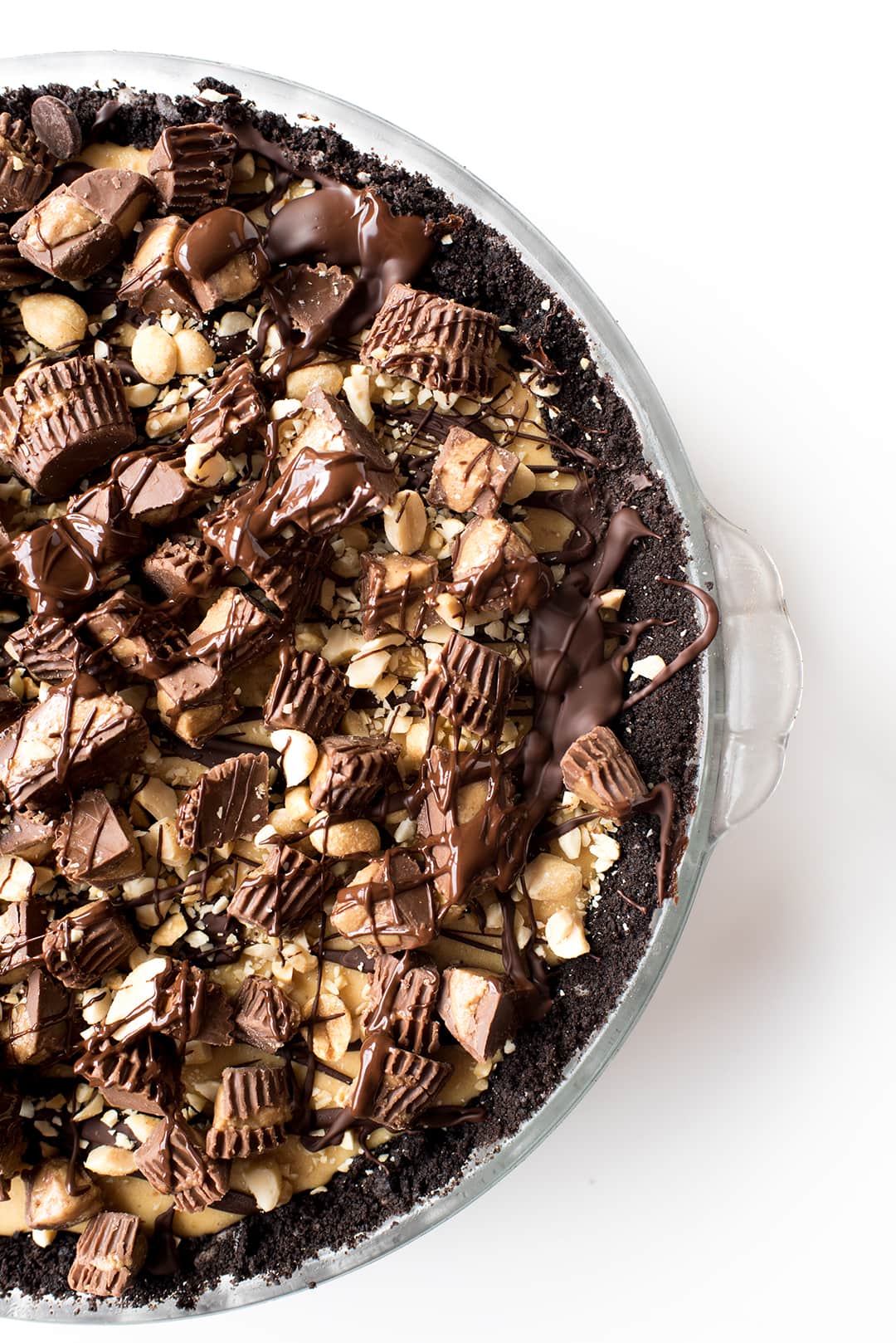 No Bake Peanut Butter Pie Tips
When in doubt, keep whisking. After whisking the egg yolks + sugar together for one minute, there will still be visible yolk. After you scrape the sides and whisk for one more minute, it should look "thick." When you tilt the mixer head back, a "ribbon" should drizzle back into the mixture. You also need to whisk continually when the pot is on the stove. Otherwise, your mixture will overflow or the eggs will curdle.
What on earth is a "ribbon"? Yeah, that's how I felt too the first time I made this pie. Just look for the mixture to come off the whisk in a steady stream. If it comes off in large drops, it's not there yet. (If you've been whisking for a long time on high speed, you might have gone too far. Which is fine… but stop.)
Use the guard. If you have a guard for your mixer, use it. You know in those superhero movies when one hero turns to the other and says, "Now would be a good time to use your superpowers!" It's like that. This one doesn't cause you to fly or anything, but it does prevent hot milk from flying all over the kitchen and into your eyeball/all over your computer. If you do not have a guard, I sometimes make a makeshift one by taking two paper towels and wrapping them around the mixing bowl.
Use your favorite peanut butter. Now is the time to use the good stuff! I used the Simple Truth Organic No Stir Crunchy Peanut Butter to give the pie's creamy filling a bit more texture. I love the organic Simple Truth products because they're free from 101 artificial ingredients preservatives, so they help me eat a little bit healthier. You can use the variety that's just peanuts and salt, but it's won't firm up quite the same. I recommend getting a jar of that and saving it to make peanut butter sandwiches instead.
Pre-bought crust is ok. If you want to save a few steps and go the pre-bought no bake chocolate cookie crust route, that's totally ok! No judgment over here. I might then crumble a handful of the Simple Truth Chocolate Sandwich Crème Cookies on top though…
Go nuts with the toppings. How you decorate this creamy and delicious dessert is up to you! I chopped 20 chocolate peanut butter cups into halves and quarters, melted ¼ cup of chocolate chips in the microwave, and rough chopped ¼ cup of roasted peanuts and drizzled and sprinkled it all on top. But you could top it with whipped cream or chocolate cookie crumbles!
Keep it in the freezer. Perhaps because the pies uses Greek yogurt instead of butter, it gets super soft if you keep in the fridge, so store wrapped in foil in the freezer.
Ask for help! Look, I'm the first to admit that this is not the easiest peanut butter pie ever. Most So, if you get stuck, hit me up on Instagram at @letseatcakeblog. I look at all my DMs and answer pretty quickly!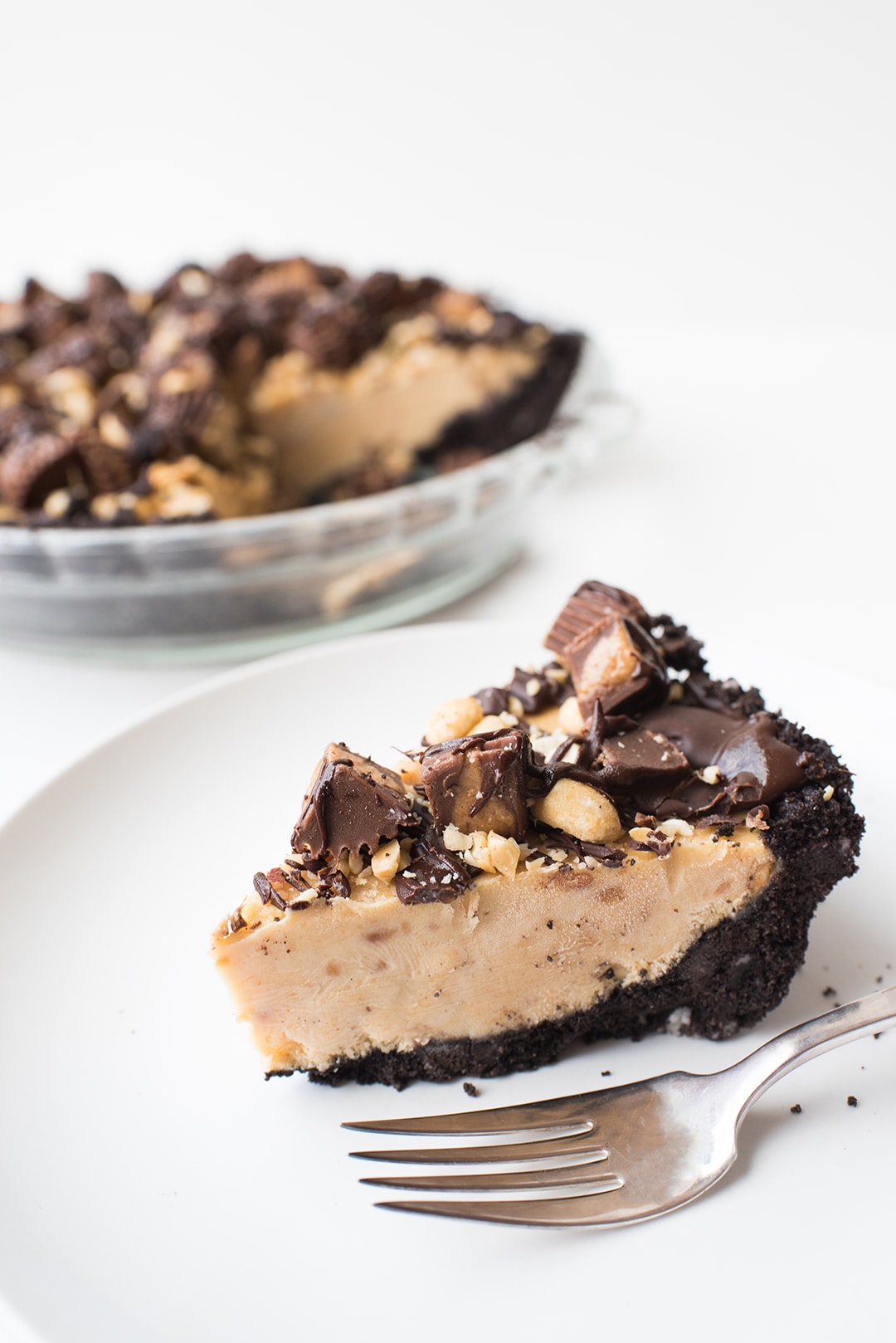 See More of Our Easy No Bake Pies!
No Bake Peanut Butter Pie
Print Recipe
This No Bake Peanut Butter Pie combines two of the best things ever: Chocolate and peanut butter. It has a chocolate cookie crust crust and a rich, peanut butter filling!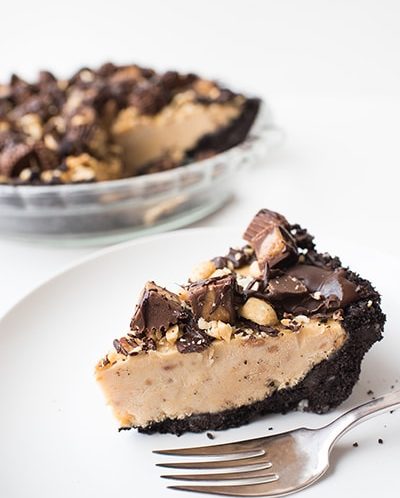 Servings: 8 servings
Ingredients
Chocolate Cookie Crust
5 Tbsp. unsalted butter (melted)
Peanut Butter Filling
8 large egg yolks
12 Tbsp. sugar (divided)
1½ cups whole milk
1½ tsp. vanilla extract
1 cup Greek yogurt
¾ tsp. coarse kosher salt
Pie Topping (optional)
¼ cup roasted peanuts (roughly chopped)
20 chocolate peanut butter cups (half chopped into halves, half chopped into quarters)
¼ cup chocolate (melted)
Instructions
Chocolate Cookie Crust
Preheat oven to 350°F.

Crush or food process Chocolate Sandwich Crème Cookies.

Combine cookies with butter until fully mixed together.


Press into 9" pie pan and bake for 10 minutes. (optional - see notes)


Place on wire rack until fully cool. (optional - see notes)

Peanut Butter Filling
1. Beat egg yolks and 6 tbsp. sugar in electric mixer fitted with whisk for 1 minute at high speed.

Scrape sides and beat for one more minute until you see a steady stream or "ribbon" when you lift the whisk.

Add vanilla extract. Mix on high speed for 30 seconds.

Combine milk and 6 tbsp. sugar in small saucepan and bring to a boil over medium heat, whisking continually. Remove from heat and let cool for one minute.

Place guard on mixer and pour the milk mixture into egg mixture with mixer running on medium high speed. Once combined, pour mixture back into saucepan.

Clean mixing bowl.

Bring milk mixture to boil over medium heat, whisking continually.

Remove saucepan from heat, carefully pour into mixing bowl, and beat on high speed until cool, about five minutes.

Switch whisk to paddle attachment.

Place Greek yogurt, peanut butter, and salt in mixing bowl. Mix on medium speed until combined.

Place in freezer for 2-3 hours until solid.

Decorate with topping if desired.
Notes
If you prefer a truly no-bake pie, place the chocolate crust in the freezer while making the peanut butter filling instead of baking it in the oven. Calorie count does not include the topping.
Nutrition Facts
No Bake Peanut Butter Pie
Amount Per Serving (1 slice)
Calories 671
* Percent Daily Values are based on a 2000 calorie diet.
Did you make this recipe?
Leave a review below, then take a photo and tag @letseatcakeblog on Instagram so we can see it!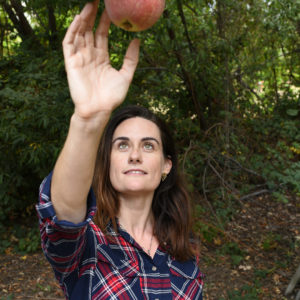 Latest posts by Rebecca Swanner
(see all)