Peanut Butter Overnight Oats are magical. With just four simple ingredients, you can make an easy breakfast that's high in protein, rich in fiber, and get your chocolate peanut butter fix!
Love overnight oats? Check out this basic overnight oats recipe which also has more tips you'll love.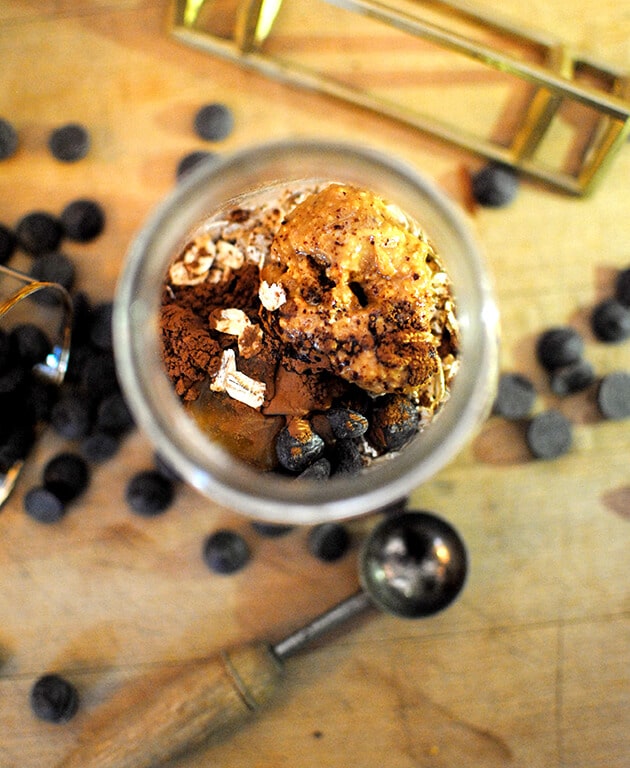 I'm so excited about this recipe for chocolate peanut butter overnight oats. But first, let's talk about overnight oats for a second. I think this "new" hashtag food has got to be one of the best "trending" food that's hit the foodie community for a while. It felt like we were going to be stuck with kale forever. Not that, you know, I don't um love kale (I mean oh kale yeah… right?) but it was kind of getting like that lingering guest at the party that was never. going. to. leave.
Not to say other things haven't popped up before overnight oats hit the 'gram by storm. There was Dominique Ansel's Cronut®, matcha-flavored everything (which made my heart go pitter patter), smoothie bowls galore, and rainbow bagels. But then this idea of set it and forget it became hip and instant pots, slow cookers, overnight oatmeal, and chia pudding all suddenly became very trendy.
The last one can just go away. It tastes like slime.
Overnight oats on the other hand are downright magical. They're inexpensive, they can be modified in all sorts of ways — try them with salty crunchy peanut butter instead of plain! or try them with almond butter or cashew butter — and they take literally 5 minutes to put together! Overnight, the oats soak up the moisture of the liquid and create a hearty, fiber and protein-rich breakfast.
You've got to admit, oats + milk/alternative milk + berries/nuts/nut butter is a pretty yummy breakfast combo.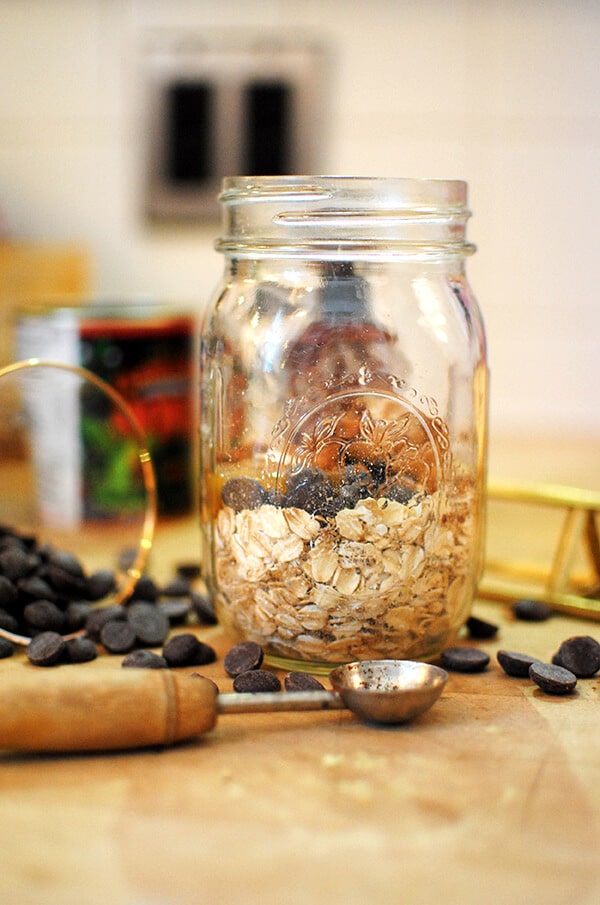 How to Make Overnight Oats
Put 1/2 cup of oats into a mason jar.
Add berries and/or 1 Tbsp of nuts, spices, nut butter, or chocolate.
Add 1/2 cup plain yogurt, Greek yogurt, or milk.
Add the lid, put in fridge and enjoy your overnight oats in the morning!
Tip: Don't have a mason jar? Use Tupperware or any food-safe container that will hold two cups of ingredients.
Reese's Peanut Butter Chocolate Overnight Oats
As a huge peanut butter and chocolate fan, I went with that combo for my chocolate peanut butter overnight oats. For more fiber, you could add 1 tablespoon of chia seeds and/or swap out the peanut butter and chocolate for berries. And if you're looking to add protein, add plain Greek yogurt. If you want to cut down on the calories, enjoy this in two servings, use powdered peanut butter, or swap the whole milk for skim or almond. Now, I haven't tested this with thsoe swaps, but I'd love to know if it works for you!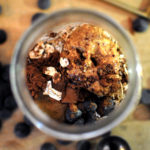 Peanut Butter and Chocolate Overnight Oats
Peanut butter overnight oats are an easy and affordable breakfast that's made with just four ingredients!

Ingredients
1/2

cup

rolled oats

1

Tbsp

peanut butter

1

Tbsp

chocolate chips

1/2

cup

milk
Instructions
Add peanut butter and chocolate chips and mix together with the oats.


Add milk and swirl until all ingredients are combined.


Put lid on jar, tighten, and place in fridge overnight.
Nutrition Facts
Peanut Butter and Chocolate Overnight Oats
Amount Per Serving (1 jar)
Calories 418
Calories from Fat 171
% Daily Value*
Total Fat 19g 29%
Cholesterol 12mg 4%
Sodium 119mg 5%
Potassium 334mg 10%
Total Carbohydrates 50g 17%
Protein 14g 28%
* Percent Daily Values are based on a 2000 calorie diet.
Foodies Fighting Hunger
The cost per serving for this recipe? $1.20.
I bring this up as this post is part of the Foodies Fighting Hunger movement. We're a group of food bloggers who have come together to raise awareness about the fact that 1 in 7 Americans struggles with hunger by creating a meal that costs less than $5 to make.
No matter what your income, you're probably living on some sort of budget. And perhaps there have been times in your life when you've struggled to make ends meet. I know there have been for me. But I still can't help but be shocked that 48.1 million Americans (including 15.3 million American children and 5.4 million seniors) struggle with hunger or food insecurity. Take a moment and mentally combine the populations of New York City, Chicago, and Los Angeles. That's how many children in this country struggle with hunger. Mississippi is the state that struggles the most, and 22% of those living there are food insecure, meaning they do not have consistent access to adequate food due to money or resources at times during the year.
If you're as struck by these numbers as I am and want to help, here's how:
• Add your voice to the advocacy campaigns MAZON is working on.
• You can educate yourself and others about the state of hunger in this country and beyond.
• Donate to or volunteer at your local food bank. Here's a food bank finder to make that easier.
Foodies Fighting Hunger recipes that have been posted so far:
Jewhungry: Ramen Alfredo with Fresh Herbs
Greens & Fries: The $5 Kale Tortilla Salad
¡Hola! Jalapeño: Spring Sopita de Letras
A Nutritionist Eats: Black Beans and Cheesy Tortillas
The Kosher Spoon: Avocado Toast with Soft Boiled Egg
Foodie Crush: Spaghetti Carbonara
Cake Over Steak: Sweet Potato Burrito Lunch Bowls
What Jew Wanna Eat: Fried Green Tomato Sabich
Kosher Like Me: Crustless Veggie Frittate
Kosher By Gloria: $5 Baked Eggs and Vegetarian Sausage
The Bonjon Gourmet: Spicy Tomato Chickpea Pasta
A Jew's Bouche: Roasted Tomato Galette with Caramelized Onions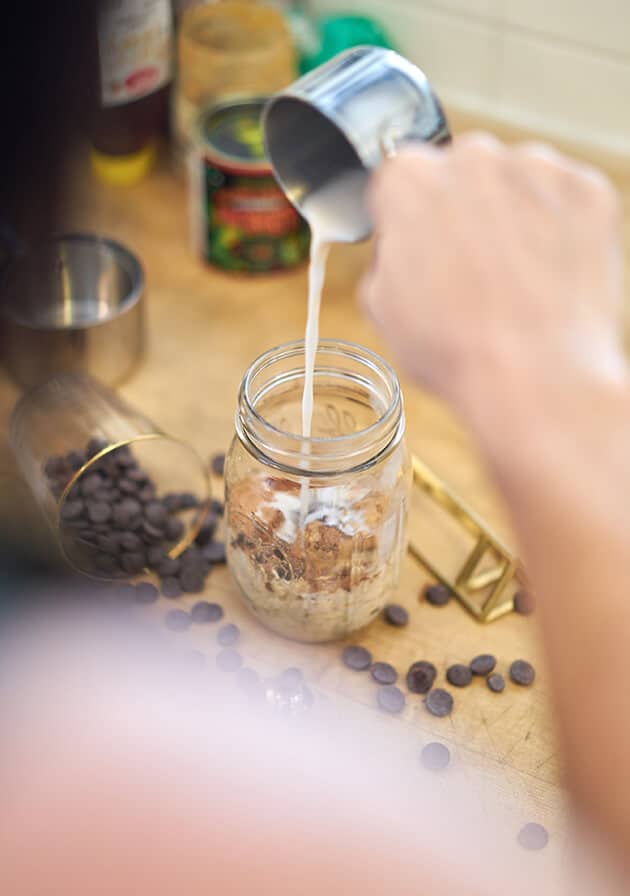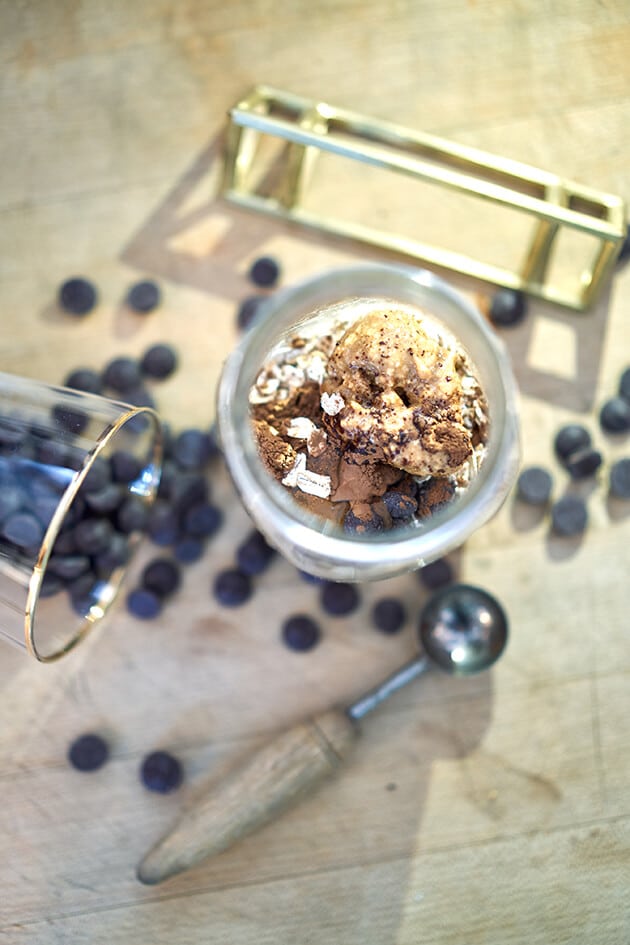 Save
Save
Save
Save