This basic Overnight Oats recipe is not only easy to follow, it's one of the quickest healthy breakfasts you can make. Once you've gathered your ingredients, it takes a minute to make. Possibly less.
What are overnight oats? They're different from your traditional oatmeal recipe, because instead of cooking the oats, you cover them in water or milk. Overnight in the fridge, the oats absorb the liquid and soften, which "cooks" them. Try the basic recipe below or get creative, like we did with these Peanut Butter Chocolate Overnight Oats!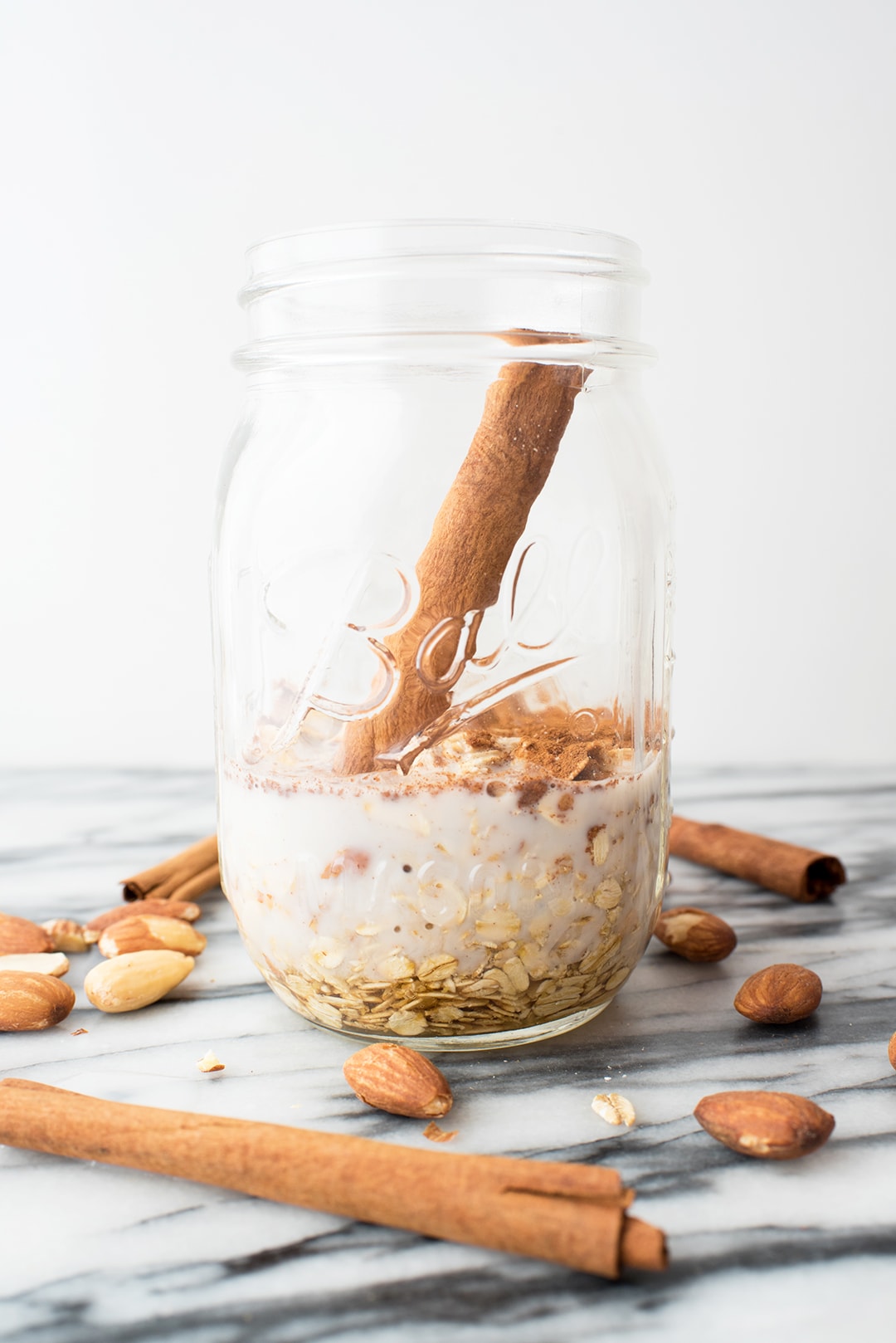 How to Make Basic Overnight Oats
My recipe for easy overnight oats is as follows:
½ cup oats
½ cup liquid (water, milk, or yogurt)
1 tsp. sweetener (maple syrup or honey, optional)
¼ tsp. spices (optional)
2 to 4 Tbsp. other mix-ins (banana or other fresh fruit, nuts, seeds, chocolate, etc.)
Add all ingredients into a Mason jar, except those you want to be crunchy later. (If you put fruit, granola, or nuts in the jar, they will also absorb liquid so you can wave bye-bye to their crunchy factor. Yup, there it goes.) Put the lid on, shake, and stick it in the fridge until the morning.
Some people like to add pinch of salt. I don't. I am a salt fiend, but I don't like it in my oats.
Also, I should let you know I like my oats thick. Like turn the Mason jar over and they don't move thick. Do you also like the texture of concrete? Didn't eat cereal with milk until your late 20s? Stick with the ½ cup of liquid. Looking for something creamier and more porridge-like? Go up to 1 cup for a 2:1 ratio of liquid to oats.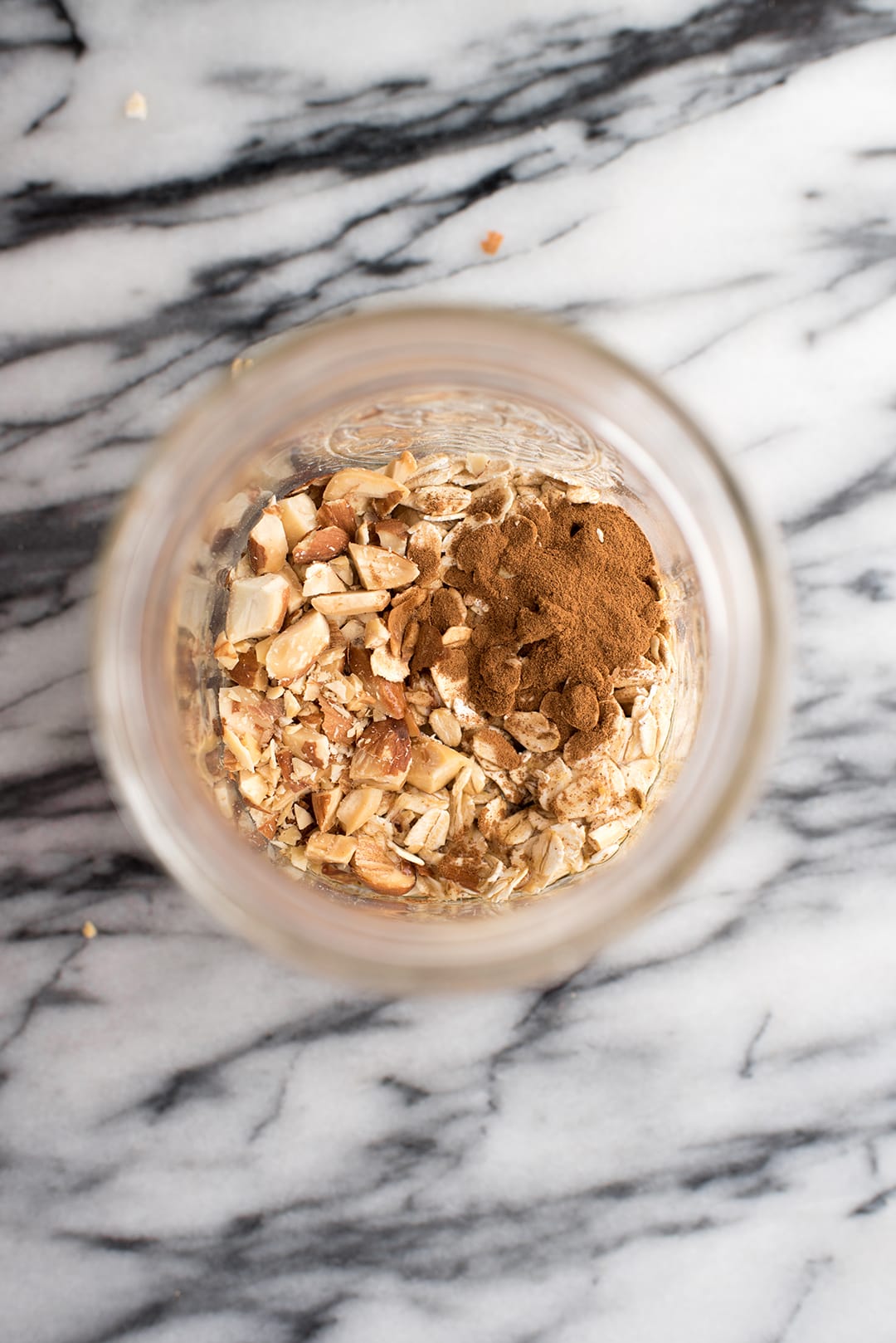 How Long Can You Leave Overnight Oats in the Fridge?
What kind of science experiments are we doing here? If you store your overnight oats in an airtight container, they should last you in the fridge for up to 5 days, though they'll continue to absorb liquid during that time.
If they're green, obviously don't eat them. Unless you put matcha or spirulina in your recipe, in which case they're probably fine, minus that whole "this tastes like grass" problem. Because they do last for a while, this makes it easy to make them batches. Make four at a time, varying each if you feel like it with different mix-ins. No kale. Put down the kale.
Also, supposedly overnight oats can be ready to eat in less than eight hours in case your breakfast is getting less sleep than you are. Hopefully you're getting at least five, though, because that's about how long it takes them to absorb the liquid and plump up the oats.
Can You Make Overnight Oats with Milk or Water?
You can make overnight oats with water or milk or almond milk or oat milk (oats infusing oats!) or I think you get the picture here. Heck, you can even make it with yogurt, which has just enough liquid that the oats can soak up. Milks (dairy or non-dairy) add more flavor than water will to a basic overnight oats recipe, as will yogurt.
Do You Eat Overnight Oats Hot or Cold?
I like my overnight oats cold. I also like milk in my tea.
But you can enjoy them hot or cold! Either stir and enjoy the oats straight out of the fridge or heat them up a little in the microwave. Either way is tasty. (Cold is better.)
Basic Overnight Oats
Print Recipe
Make tomorrow's breakfast in about a minute with this basic overnight oats recipe!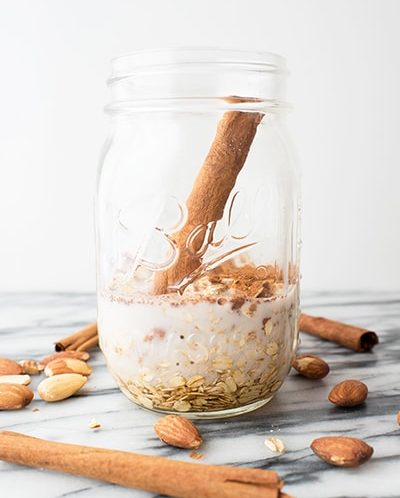 Servings: 1 serving
Ingredients
1/2 cup rolled oats
1/4 tsp. ground cinnamon
1 tsp. maple syrup
1/2 cup unsweetened almond milk
10 almonds (chopped)
Instructions
Add rolled oats to Mason jar, 1/4 cup at a time (prevents spillage).

Add cinnamon, maple syrup, almond milk, and almonds.


Add cinnamon stick if desired.


Seal with lid, shake, and place in fridge for 8 hours.

Notes
Increase almond milk to 1 cup if you prefer creamier overnight oats.
Video
Nutrition Facts
Basic Overnight Oats
Amount Per Serving (1 jar)
Calories 286 Calories from Fat 90
% Daily Value*
Total Fat 10g 15%
Saturated Fat 1g 5%
Polyunsaturated Fat 3g
Monounsaturated Fat 6g
Sodium 82mg 3%
Potassium 293mg 8%
Total Carbohydrates 44g 15%
Dietary Fiber 10g 40%
Sugars 9g
Protein 8g 16%
Vitamin A 5%
Calcium 33%
Iron 17%
* Percent Daily Values are based on a 2000 calorie diet.