Smoothies aren't necessarily hard to make. You just throw some stuff into a blender, pulse it for a completely arbitrary amount of time, and then pour out a semi-liquid slurry of nutrients that you can slam down in half the time it would take to actually chew and swallow solid food.
But if you're wondering how to make a smoothie that actually tastes good, or how to make a healthy smoothie… well, that requires a bit more finesse.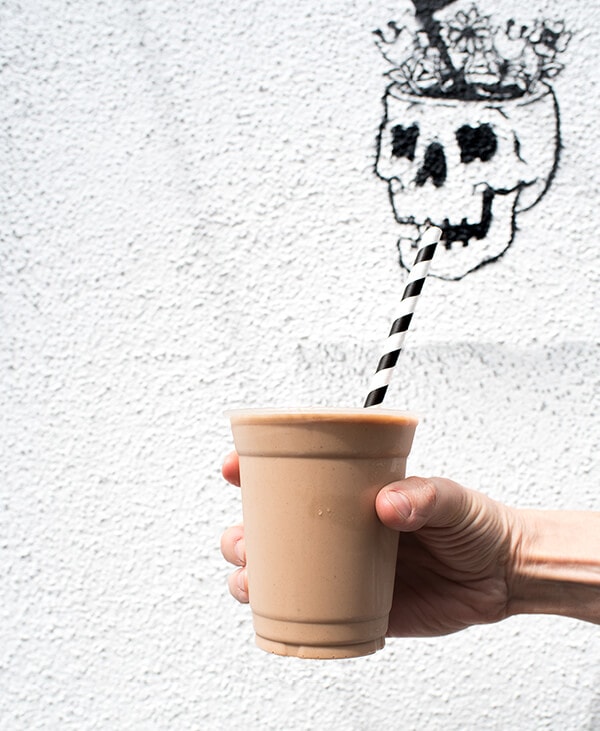 We tend to overestimate how healthy smoothies are because, hey, there's fruit in there! And maybe even…vegetables! But there are plenty of smoothie ingredients that can turn a healthy drink into a sugar bomb.
Whether you're specifically trying to make a healthy smoothie or simply trying to make a smoothie that doesn't taste disgusting, the process can go very wrong in a variety of ways.
With one wrong move, you can make it taste like a bag of grass clippings or create a drink that's got more sugar and calories than a full-blown hot fudge sundae. (For reals: a medium hot fudge sundae at Dairy Queen is 430 calories and 52 grams of sugar. A medium Aloha Pineapple Smoothie at Jamba Juice is 410 calories and 90 grams of sugar… some of which is fruit and dairy sugar, and some of which is sherbet.)
Luckily, I'm here to help. Here's how to make a smoothie recipe that doesn't suck, and a list of some of the best and worst ingredients you can put in that blender you made your partner buy you last holiday season and haven't used since.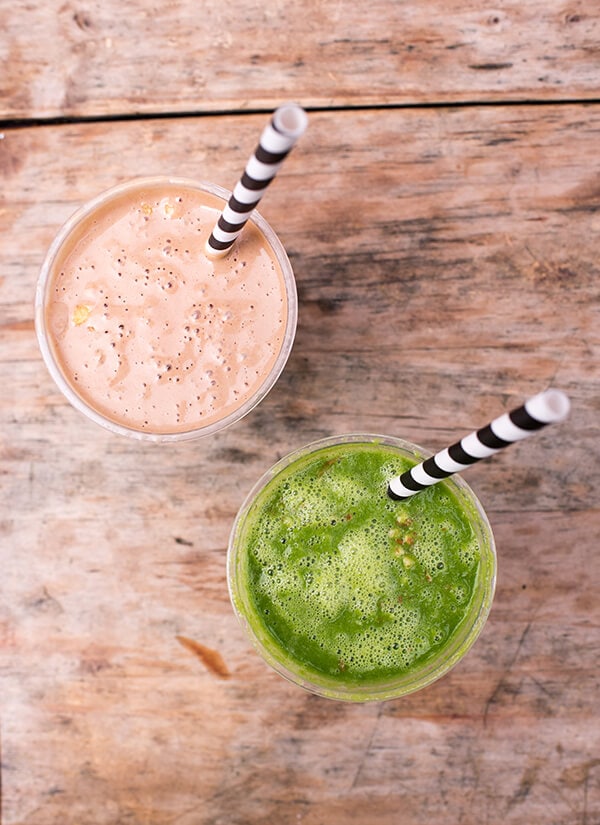 How to Make a Smoothie: 7 of the Best Ingredients
These ingredients are going to be the all-stars for your best smoothie recipes. Sure, they're healthy, but they taste so good they'll trick your brain into thinking otherwise. We like to think of them as the real smoothie MVPs.
1. Peanut Butter
If a smoothie is a salad, then peanut butter would be the croutons. Peanut butter smoothies are not only delicious, peanut butter has the ability to mask the taste of just about any healthy ingredient you stuff into your blender. Hate the taste of kale? Cover it right up with some PB!
Add crunchy peanut butter to really up the "crouton" factor and give your smoothie some texture, or use powdered peanut butter to save yourself roughly 143 calories and 14.5 grams of fat per two tablespoon serving. And if you're looking for a real treat, throw in a teaspoon of cocoa powder to make yourself a chocolate peanut butter smoothie. Then give it to us.
If you want to make a smoothie as healthy as possible, you're better off opting for natural peanut butter, a.k.a. the kind you have to stir and that makes a mess all over your counter.
You can use sunflower butter if you want a similar taste without the peanuts, or you could use cashew butter if you want something that tastes incredible, but costs as much per jar as your peanut butter budget for the year.
2. Blueberries
Starting with mixed berries is a typical rookie mistake when it comes to making a fruit smoothie.
Even though strawberries, raspberries, and blackberries are full of antioxidants and other healthy stuff, they're also filled with seeds, which can make drinking your smoothie about as pleasant as downing a tumbler full of really cold gravel.
Blueberries, on the other hand, give you lots of berry benefits – like carotenoids, flavonoids, and 36% DV of vitamin K – without jamming seeds so far into your gums that you get a tongue cramp trying to pry them out during your morning meeting.
3. Kale
Mmmm…kale smoothies. Whether you're Team Kale or Team Kale No, it's not a bad idea to throw some green stuff into a recipe every now and then. And, kale is a great green smoothie option. It adds a slight bitter taste, which I actually like with the salty peanut butter and the sweet berries. Plus, it gives you fiber, 6888884% DV of vitamin K, and loads of vitamins A and C.
But, most importantly, you get to post on Instagram about the fact that you're eating kale. In fact, it's literally against the law in some states to eat kale without alerting your Instagram followers, so be sure to check your local legislation before having it. Then, people will be asking you how to make the best smoothies. Smoothie-master status achieved.
4. Whole Milk
Sure, it's twice the calories of nonfat milk, but in terms of satiation and mouthfeel (which is the most pretentious way we could think of to describe what it tastes like to drink), whole milk makes a huge difference in smoothies.
Trying to drink a skim milk smoothie after you're used to whole milk shakes is like transitioning from driving a Ferrari to riding a public bus teeming with weasels. We'll stick with our 488, thanks.
5. Almond Milk or Oat Milk
If you'd rather make dairy-free smoothies, you can substitute whole milk with almond milk or oat milk. Just make sure you opt for the unsweetened stuff to save yourself from unnecessary added sugar and extra calories. If it's going to taste like a watered-down smoothie that's gone through the dishwasher, it might as well actually be healthy for you.
6. Protein Powder
It might seem like an elusive task to make high-protein smoothies that aren't gag-inducing. For years, I subscribed to the "hold your nose and pound the entire shaker cup" method of getting protein powder into my body.
But, like with kale, you can mask the disturbingly scientific taste of most protein powders by cramming them into a smoothie recipe. Just be careful with your flavor choice and the amount. Sure, that banana cream protein powder may have been on clearance, but is it worth it if you have to drink it while pinching your nose and fantasizing hard about an ice cream sundae just to make it palatable?
7. Spirulina
If you're really on the healthy-smoothie kick (no audible judgment), then consider throwing in some spirulina. I typically limit myself to one green thing per smoothie recipe, but this blue-green algae is worth the shock of the green poop that comes later.
Check out some of spirulina's health benefits, which include loads of vitamins and minerals like vitamin E, zinc, copper as well as an impressive 4g of protein per 20 calorie tablespoon. It tastes about what you'd expect actual algae to taste like, but it's really good for you. And your poop will literally be green. That part isn't a joke, even if it is hilarious.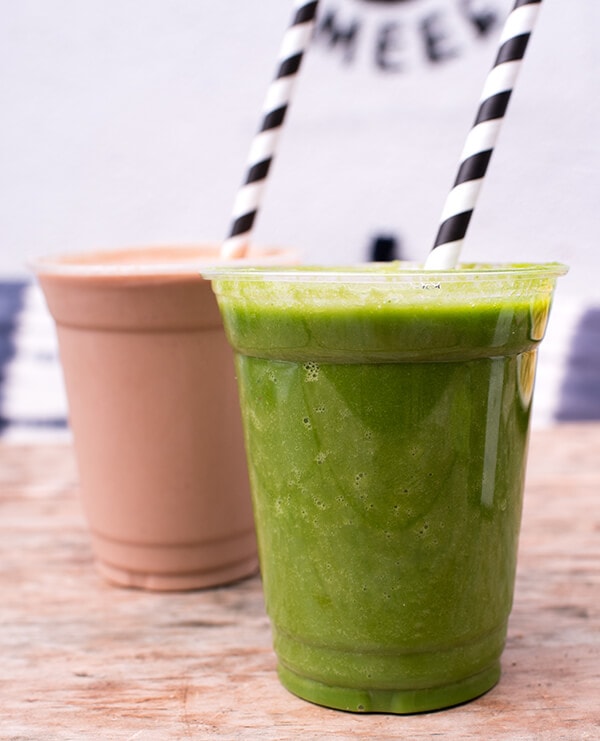 3 Smoothie Ingredients You Can Probably Leave Out
Most smoothie recipes are handed down from generation to generation, but there are some ingredients that simply take up space in your delicious cup of goo without offering enough deliciousness or health benefits to earn their keep.
Bananas
Do you want your entire smoothie to taste exclusively like bananas? It doesn't matter how small the piece of banana you put in, it will single-handedly overpower every other ingredient you threw in there.
Oh, you only put in two slices of banana? Well guess what, pal, your fruit smoothie is now exclusively a banana smoothie. Unless you really need the potassium, they're not worth the hostile takeover.
Ice cubes
One of the best fruit smoothie hacks is to keep your fruit frozen instead of using plain ice cubes. Those seemingly innocent cubes are really just little, flavorless shards that ruin your drink. Seriously, don't come over here crashing our smoothie party with your frozen water nonsense.
Chia Seeds
They're small, they're good for you, and they'll turn your smoothie into a weird gel that's like drinking the inside of an ice pack. Sure, some people like a good chia seed smoothie. Coincidentally, these are the same people who used to drink Orbitz. I prefer my chia seeds in overnight oats, thanks.
How to Make a Smoothie Healthier

At the end of the day, food should be nutritious. But as a website that features way more cakes that carrot sticks, we're not going to tell you how to live your life.
However, if you're looking into how to make a smoothie healthier, you're going to want to make a smoothie that has a balance of carbs, fats, and protein. The right combination of those will help keep you satiated longer, the same way a cheeseburger does. Anyone got a blender?
High-Protein Ingredients
Greek yogurt
Cottage Cheese
Tofu
Whole milk
Soy milk
Whey protein
Pea protein
The Best Fruit and Vegetable Ingredients (i.e. carbs)
Blueberries
Bananas (mmhmm.)
Raspberries
Apples
Strawberries
Pomegranate
Peaches or Apricots
Kiwis
Mangoes
Coconuts
Watermelons
Pineapples
Cherries
Melons
Cucumbers
Spinach
Peas
Kale
Beets
The Best Healthy Fat Ingredients

Avocado
Natural Peanut Butter
Cashew Butter
Almond Butter (you get where we're going.)
Chia Seeds
Flax Seeds
21 Basic Smoothie Recipes

From green smoothies to peanut butter smoothies to berry smoothies, you can't go wrong with these recipes. Flavorwise. Our lawyer says we can't make any claims about what you do while drinking them.
Mango Kale Smoothie
This Mango banana smoothie also has kale in it, so feel good knowing it's hipster approved.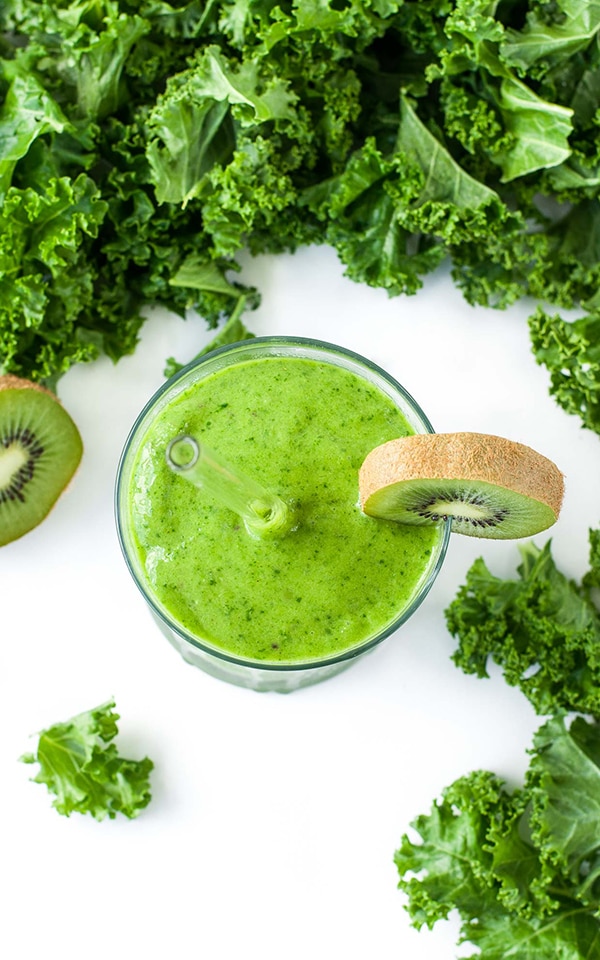 Katie Price Smoothie
We're not sure how we feel about "detox smoothies" but we do like that there's practically a whole vegetable garden blended into this drink.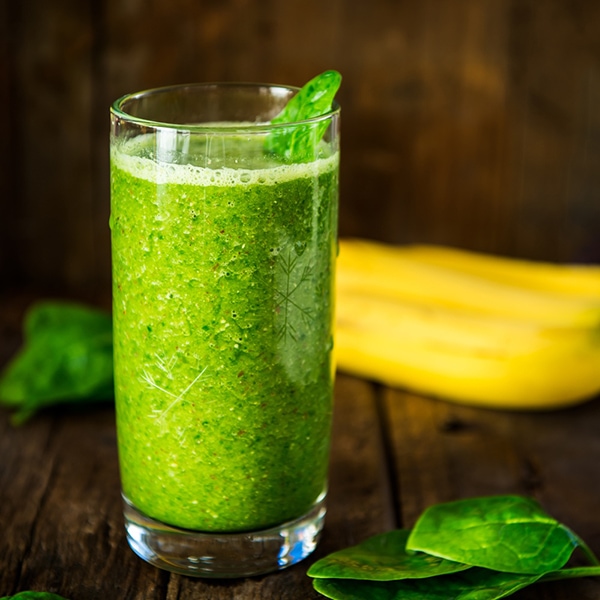 Green Goddess Smoothie Bowl
This bowl by the dressing which was inspired by the William Archer's Green Goddess play. Stay tuned to find out what happens between Lucilla and Traherne!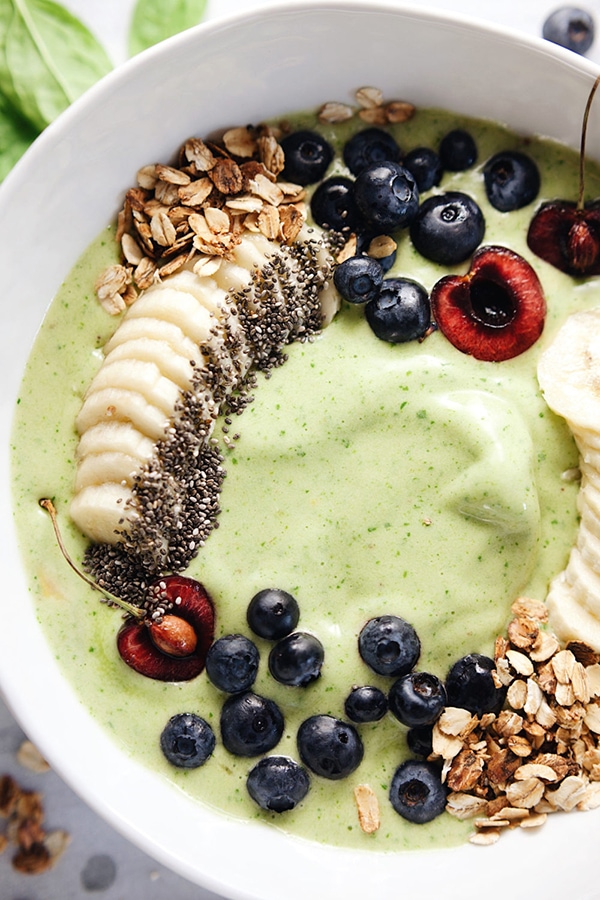 Spinach Smoothie
Spinach is great unless you hate vegetables. In that case, Garnish and Glaze have you covered with this vegetable smoothie, because there's better way to bury the taste of spinach than with pineapple! Except maybe with banana.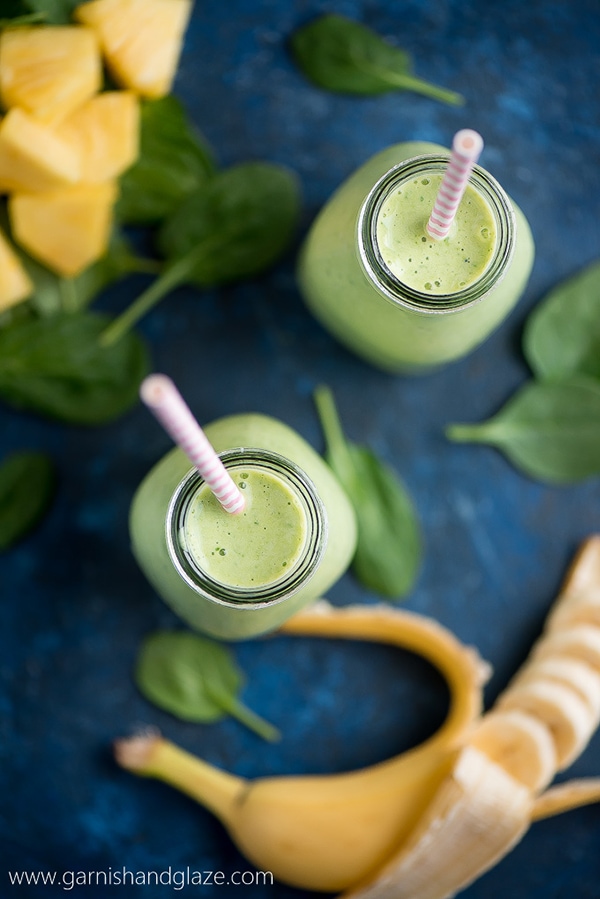 Zucchini Smoothie
The paleo, low carb smoothie recipe tastes like vanilla and cinnamon but looks healthy. Like that Raymond Chandler book that was supposed to be about stolen coin but ended up being about murder instead. Oops, spoiler alert!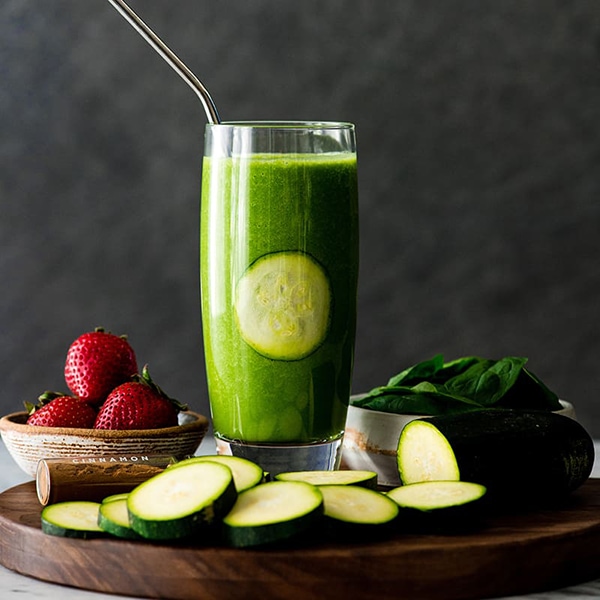 Mint Chocolate Chip Smoothie
This glowing green smoothie is definitely what we'll be drinking instead of a Shamrock Shake next St. Patrick's Day. Or maybe the morning after.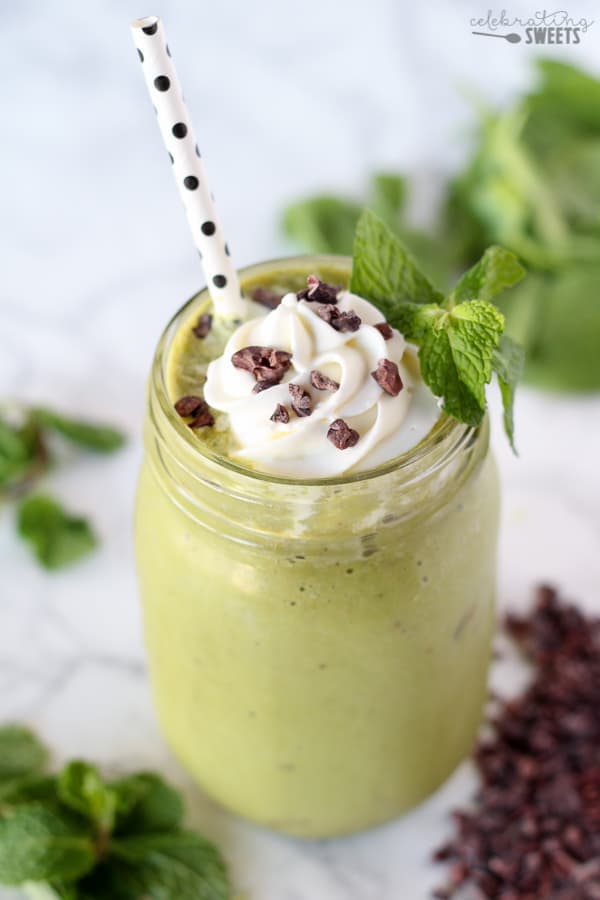 Creamy Avocado Smoothie
Avocado, coconut, hemp, and ginger all combine to make one delicious meal replacement smoothie. As we like to call it, an appetizer.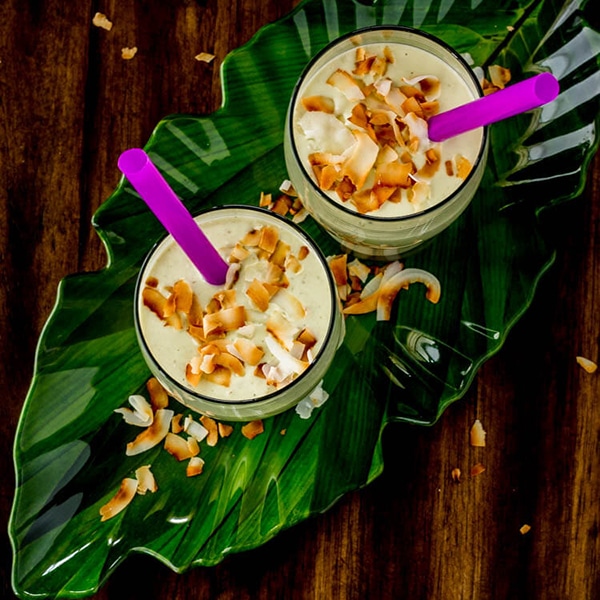 Strawberry Banana Smoothie
We know. We're breaking our banana rule on this one. But the combo is so classic we couldn't leave it out. It just kept giving us the saddest eyes. THE SADDEST.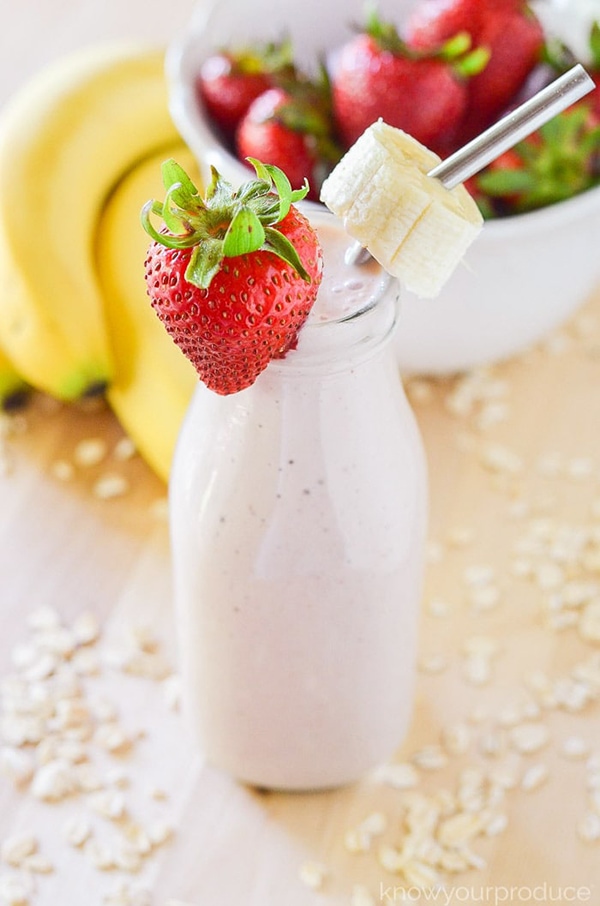 Blueberry Pie Smoothie
And, uh on this one too. But look, it sounded really good. Blueberries, oatmeal, Greek yogurt, almond milk and a few more ingredients made it sound just like a pie. And we really like pie.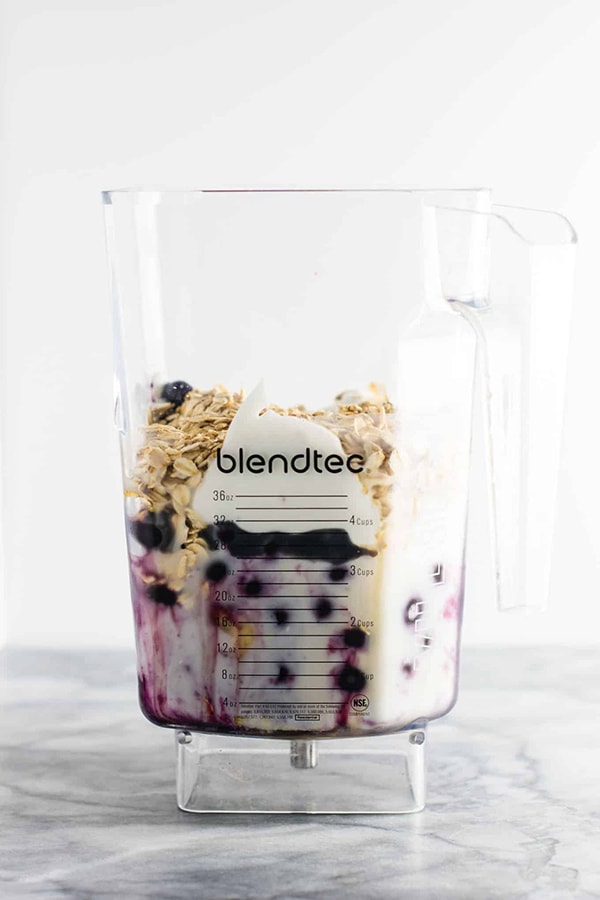 Blueberry Lime Smoothie
If we didn't have to eat other things to keep this mortal coil running, we'd probably subsist on a diet consistently of these.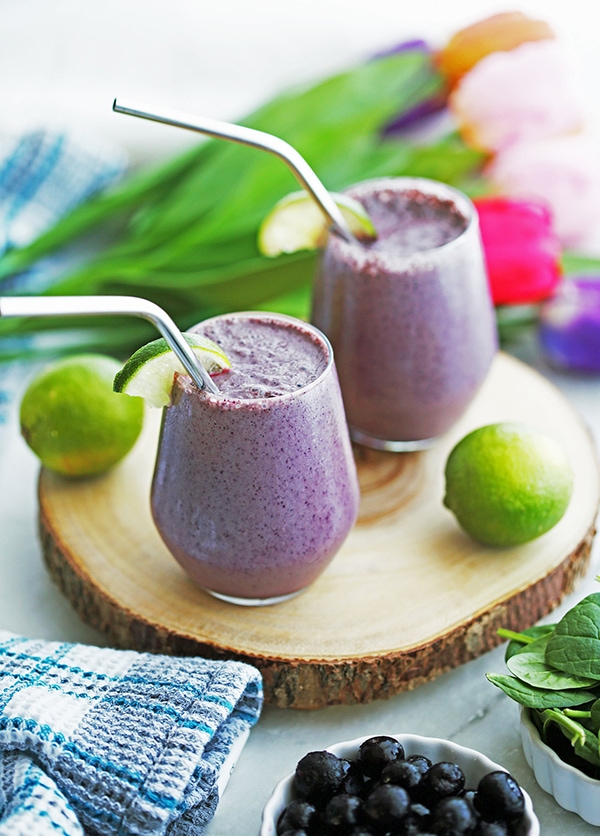 Berry Spinach Smoothie
This sweet smoothie can be customized with any berries you want. And maybe also with vodka?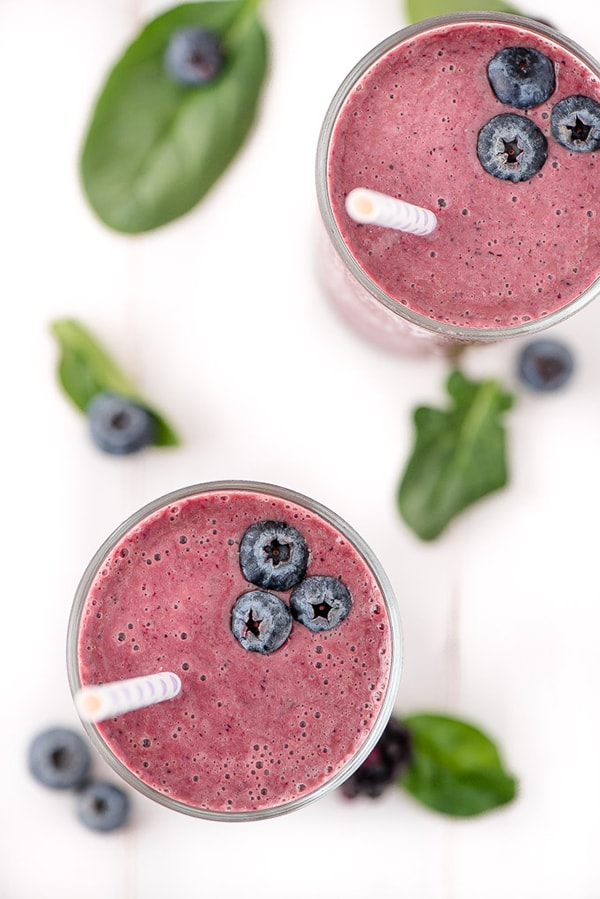 Balsamic Roasted Berry Smoothie
Recipes From a Pantry sidesteps the mixed berry problem by roasting the berries first then whirring them in a blender and adding a bit of balsamic vinegar. The result is a rich, bright smoothie that doesn't require a toothpick.

Blueberry Mango Smoothie
Oh goodness, another one with bananas. We're a sucker for a pretty face. Or a pretty smoothie. We can't tell the difference.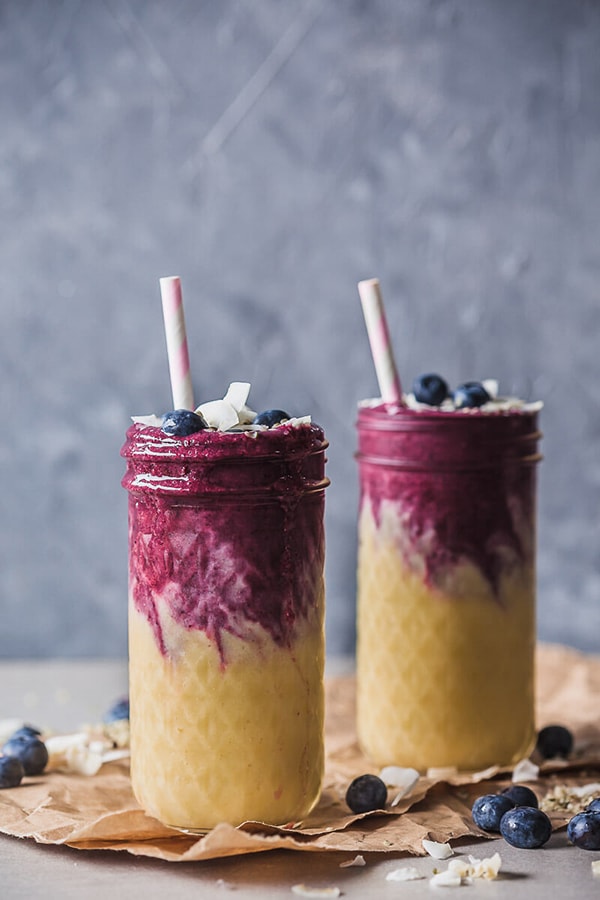 Pineapple Smoothie
If you're looking to cut down on your pina colada consumption, swap in this mango pineapple smoothie made with coconut milk by I Heart Naptime instead. Best enjoyed alongside these pina colada cupcakes.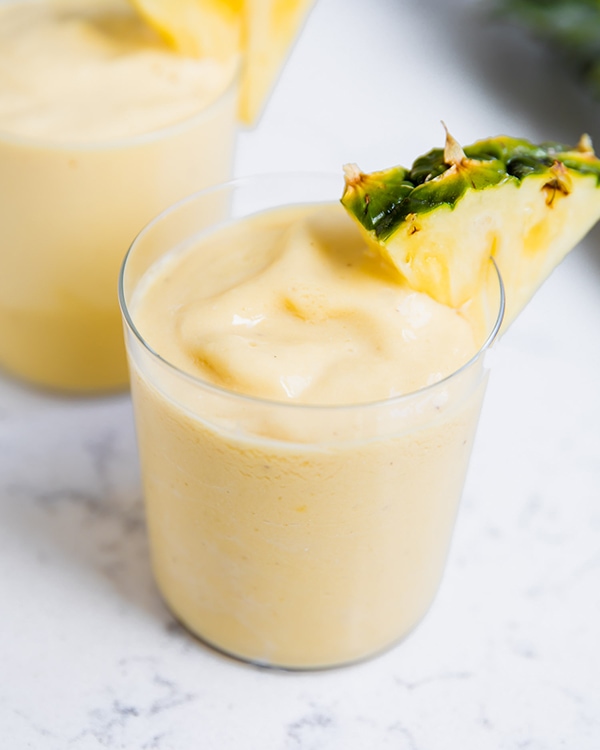 Dairy-Free Peanut Butter and Jelly Smoothie
We have tried eating peanut butter powder with a spoon and trust us, it's way easier to enjoy in this low carb smoothie.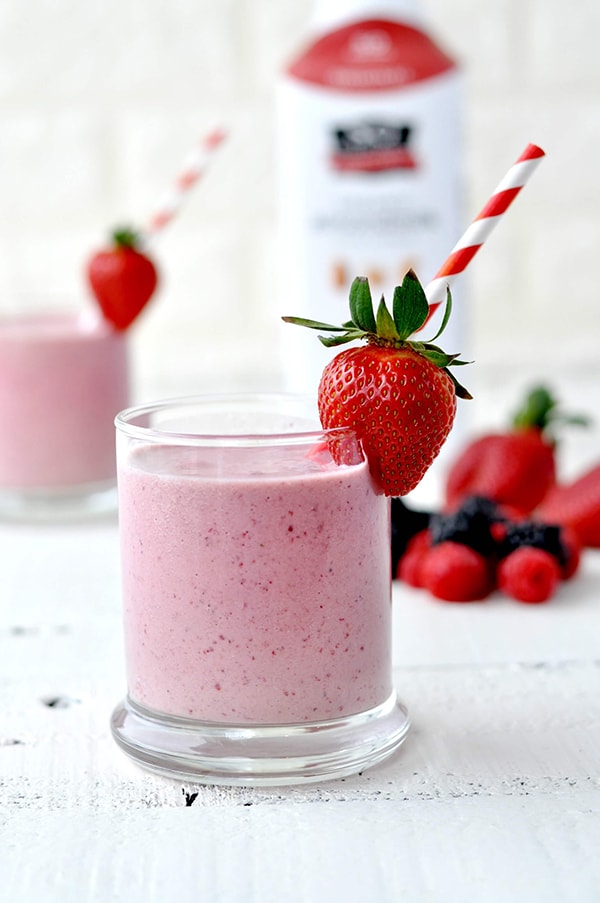 Peanut Butter Smoothie Bowl
There is no possible way we could make a smoothie bowl look this pretty. It combines two smoothies – a berry and a mango one, both of which use peanut butter powder. But we're pretty sure it would taste out of this world delicious even if it looked like mud.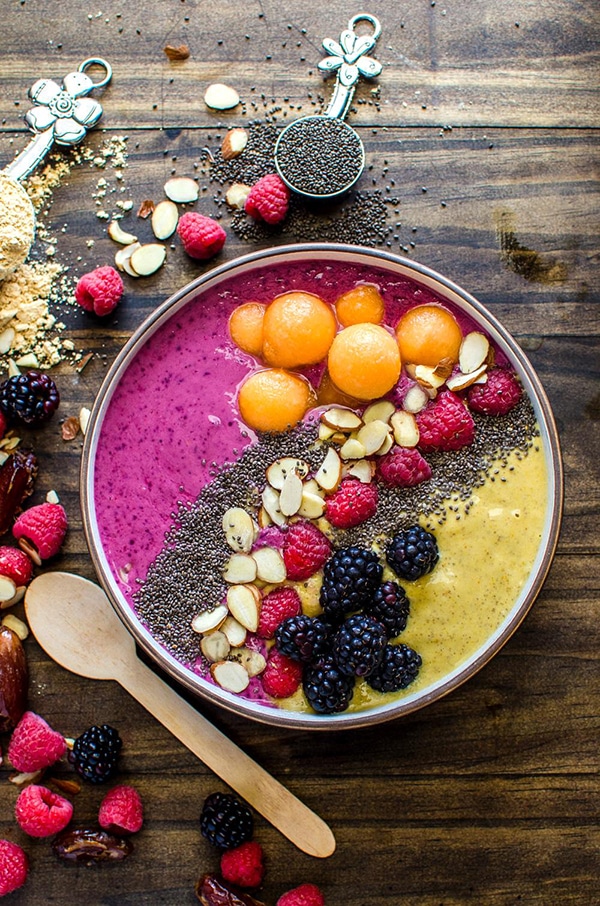 Chocolate Peanut Butter Banana Smoothie
[Shouts to assistant] Hey! Can we get one of these chunky monkey things? Like on the double? [Cat looks up, unamused.]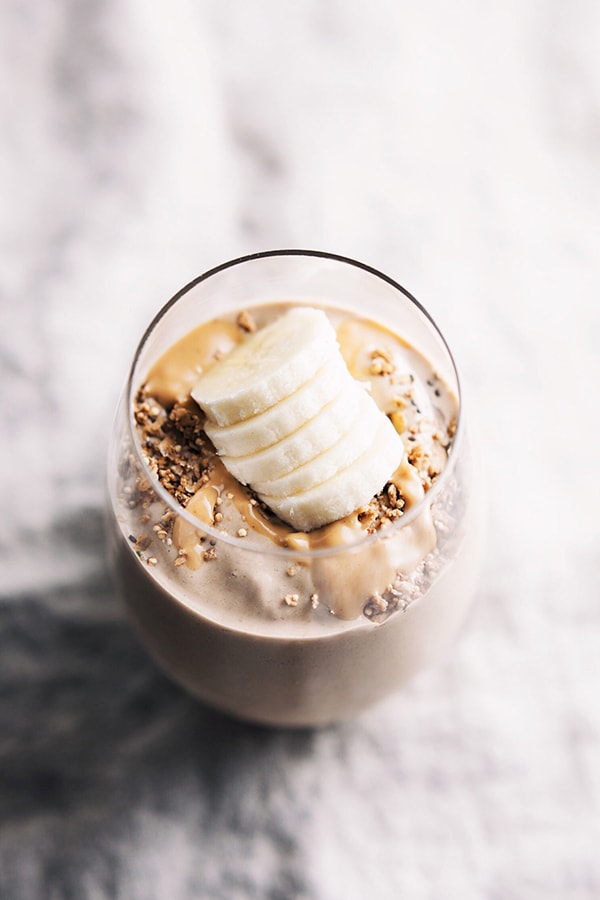 Autumn Glow Smoothie
Pinch of Yum nails fall with this almond milk, almond butter, and sweet potato smoothie that has us impatient for the cooler months.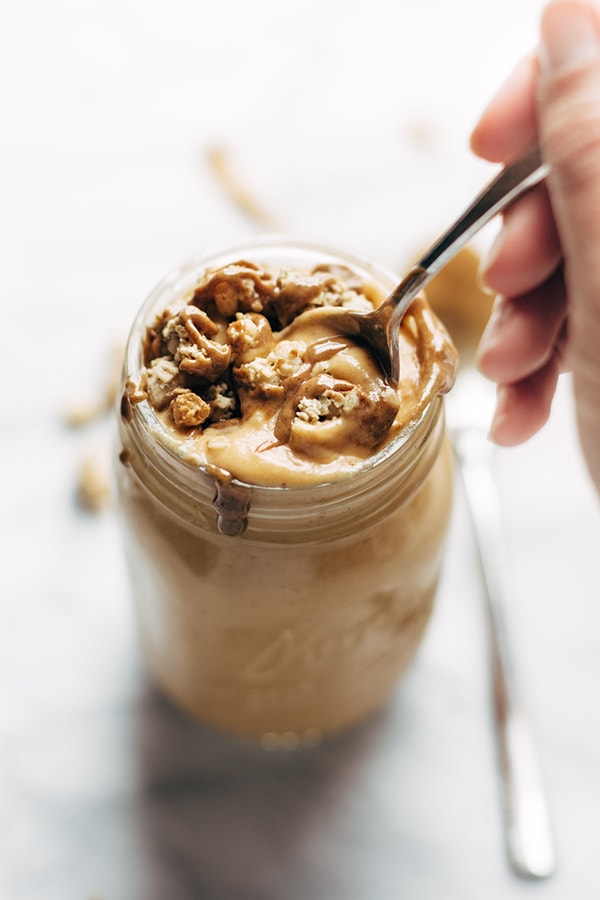 Espresso Chocolate Chip Smoothie
We approve of this smoothie version of the mocha. It's healthy so that means we can have two croissants!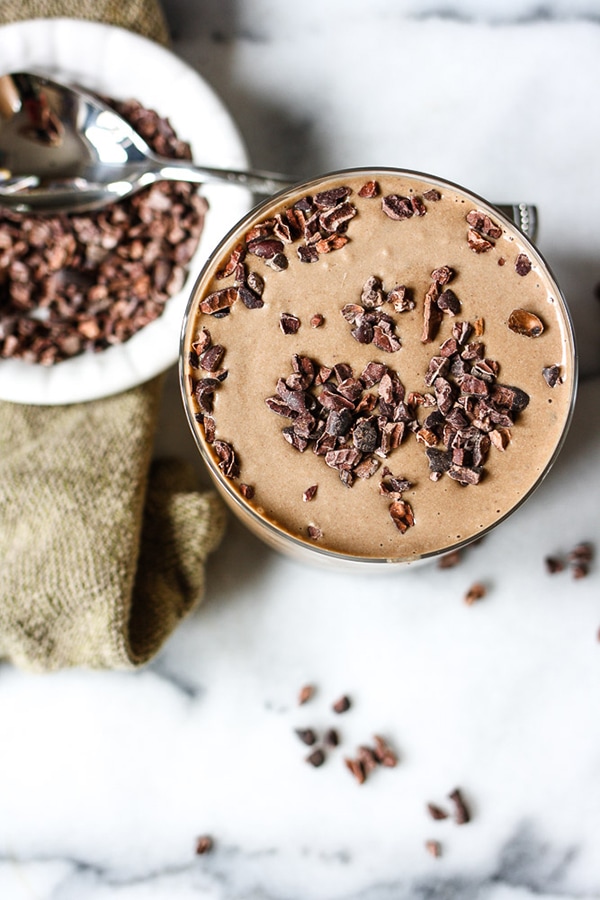 Mint Chocolate Smoothie
This decadent rich chocolate mint smoothie feels like the holidays but without the why-is-it-so-darn-cold factor.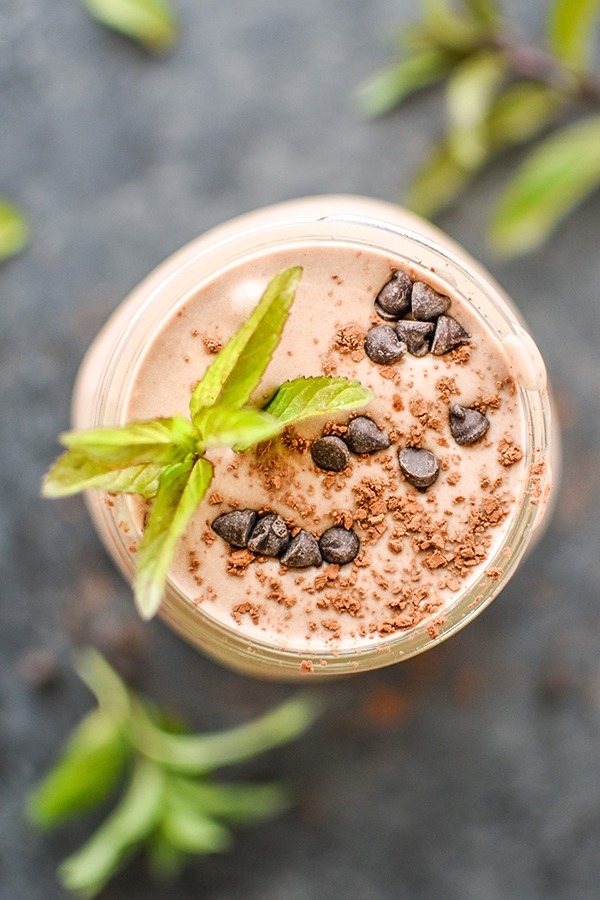 Pumpkin Pie Smoothie
You can't have fall without pumpkin pie and you can't have a smoothie without… uh a blender? Grab one of those here and let us know which smoothie was your favorite in the comments below!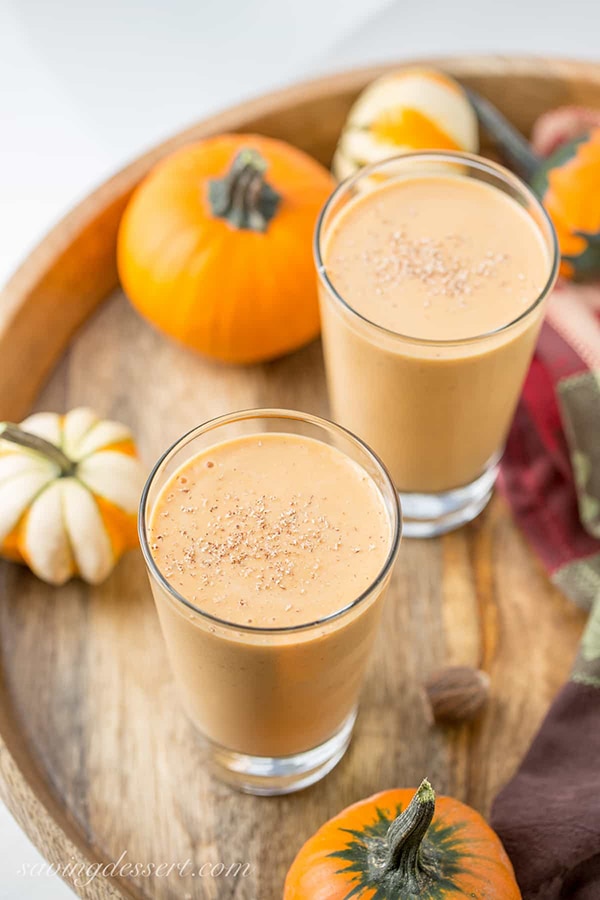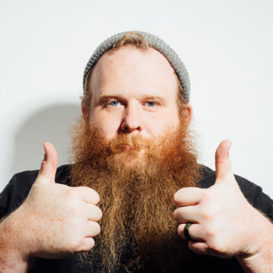 Latest posts by Stan Horaczek
(see all)