These Easy Protein Pancakes are gluten-free, easy to make, and don't require a blender! You'll combine oats, egg whites, and whey protein (and a few other ingredients) to make light, fluffy pancakes that have 21 grams of protein per serving.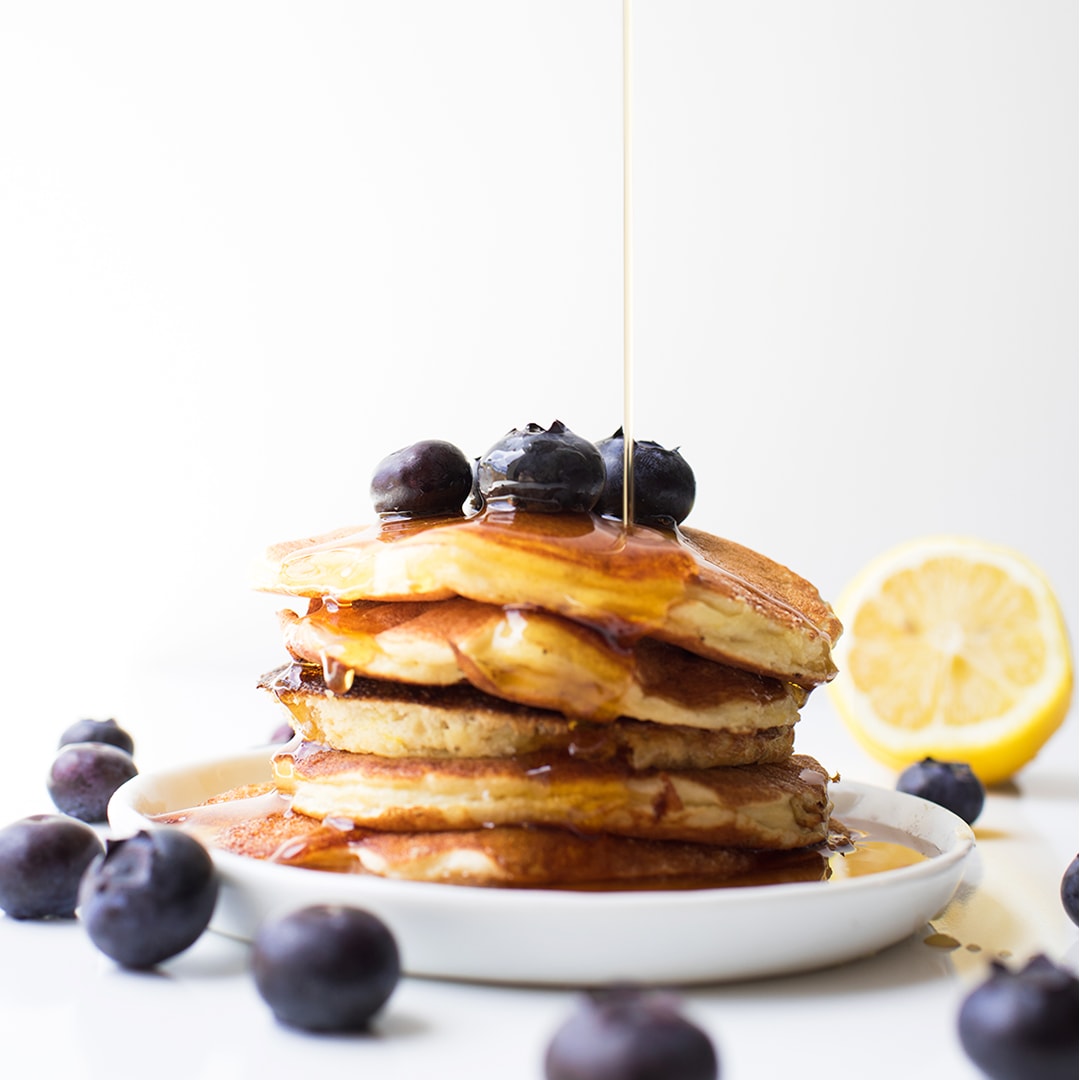 Healthy Protein Pancakes
Most of the time, my breakfast is simply a whole milk latte. But, I like the idea of eating a healthy breakfast in the morning, so I've been stepping it up with basic overnight oats and now, this easy protein pancake recipe!
I admit, I was a little hesitant to make these because most protein pancakes are gummy or flat or grainy or just plain gross. Why bother having "healthy pancakes" if they're going to be nasty? Just have egg whites instead. Tastier, better, and not a crime against breakfast.
These healthy protein pancakes are good. Like really good. Like maybe I could swap these for my classic pancakes every so often good. (That said, I won't pass up truly delicious ones, like these super fluffy pancakes by Grace and Good Eats or this pancake cereal.)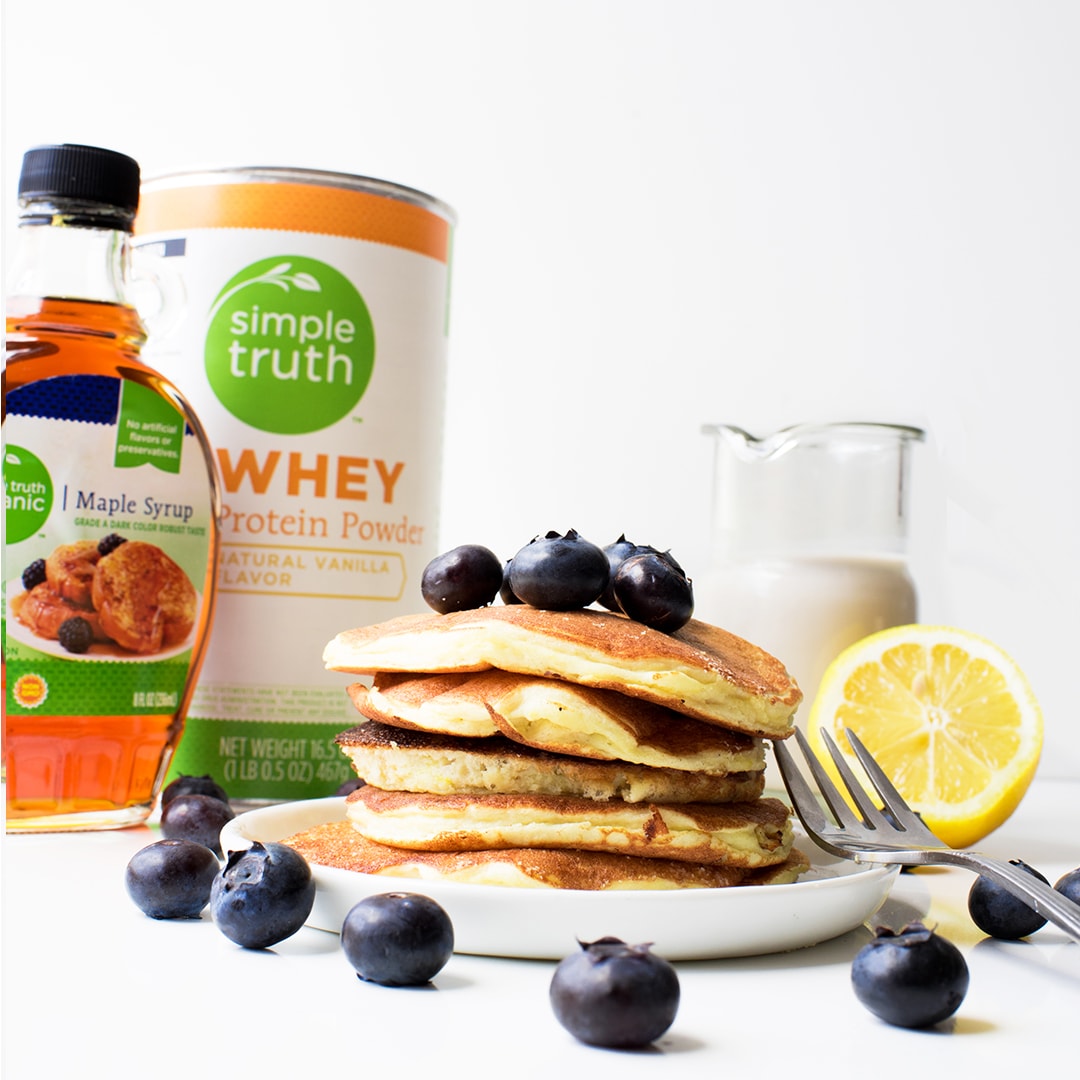 How to Make Healthy Protein Pancakes
For these easy protein pancakes, I used egg whites, Greek yogurt, oats, and whey protein powder. Here are some tips that will help:
For fluffy protein pancakes, whip your egg whites in your electric mixer until they're stiff. Then, gently fold them into your other ingredients.
The quicker you cook these, the better. Overtime, the egg white will deflate, so the final pancakes will be less fluffy.
Your pancake batter should resemble a meringue pie topping more than traditional pancake batter, but it will cook up the same. Don't be tempted to add more oats or more coconut flour as that will change the texture.
Use a ¼ cup measuring cup to transfer the batter to a nonstick skillet sprayed with a healthy cooking spray (like coconut oil or avocado oil).
Add the blueberries after transferring the pancake batter to the pan and cook each pancake for one minute on medium-low heat. Then flip with a spatula and cook for 90 seconds to 2 minutes or until golden brown.
You can use any type of protein powder, but I used the Simple Truth Whey Protein Powder that's available at Ralphs (part of the Kroger Family of Stores) and has 18 grams of protein per scoop. I like it because whey protein isolate is the primary ingredient, it has less than a gram of sugar (from stevia).
Easy Protein Pancake Ingredients:
For this protein pancake recipe, I used the following ingredients. Feel free to change it up and add your own toppings, like peanut butter and chocolate chips!
egg whites
rolled oats
Greek yogurt
coconut flour
baking powder
maple syrup
lemon zest
blueberries
If You Liked These Healthy Easy Protein Pancakes, Try:
Easy Protein Pancakes
Print Recipe
These Easy Healthy Protein Pancakes are made with whey protein, Greek yogurt, and egg whites.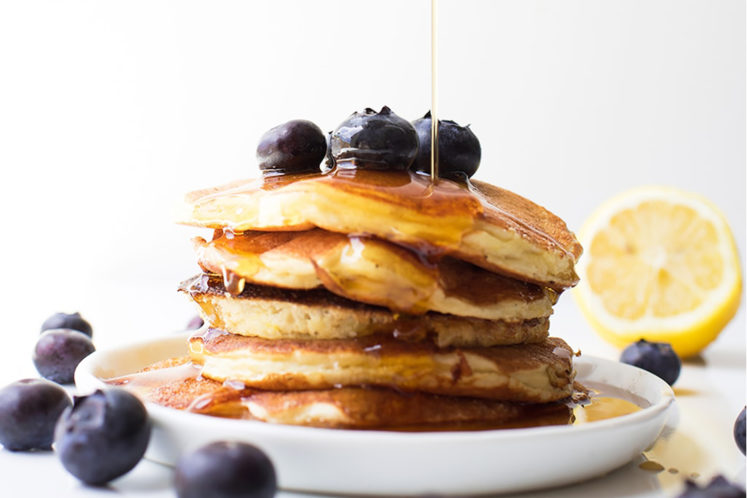 Servings: 2 servings
Ingredients
1 scoop Simple Truth Whey Protein Powder
5 large egg whites
¼ cup rolled oats
1/3 cup fat-free Greek yogurt
2 Tbsp. coconut flour
1 tsp. baking powder
2 tsp. maple syrup
1 lemon (zested)
½ cup blueberries
Nonstick spray (such as coconut oil or avocado oil)
Instructions
Place egg whites in the bowl of electric mixer and whip for 5 minutes or until they are stiff.

Stir oats, Greek yogurt, coconut flour, baking powder, maple syrup, lemon zest together in a medium bowl until fully combined.

Carefully fold stiff egg whites into oat mixture.

Spray large nonstick skillet with nonstick spray and turn heat to medium low.

When skillet is warm, add ¼ cup of batter for each protein pancake. Place 4-5 blueberries on top.

Let cook for 1 minute. Flip with spatula.

Cook pancake on second side for 90 seconds to 2 minutes, until golden brown and set. Remove from heat and set on plate.

Repeat with remaining batter.
Nutrition Facts
Easy Protein Pancakes
Amount Per Serving (1 serving)
Calories 271 Calories from Fat 18
% Daily Value*
Fat 2g3%
Saturated Fat 1g6%
Cholesterol 10mg3%
Sodium 493mg21%
Potassium 132mg4%
Carbohydrates 24g8%
Fiber 5g21%
Sugar 11g12%
Protein 21g42%
Vitamin C 10.7mg13%
Calcium 80mg8%
Iron 1.4mg8%
* Percent Daily Values are based on a 2000 calorie diet.
Did you make this recipe?
Leave a review below, then take a photo and tag @letseatcakeblog on Instagram so we can see it!
This post has been sponsored by the Kroger Family of Stores, but the Easy Protein Pancake recipe, tips, and opinions are ours.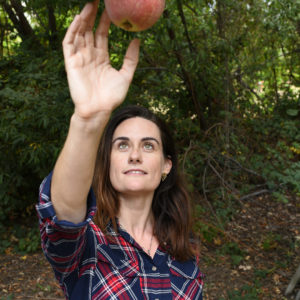 Latest posts by Rebecca Swanner
(see all)