Trying to eat healthier? These healthy dessert recipes (like the homemade Snickers below) will satisfy your sweet tooth without sacrificing your healthy eating efforts!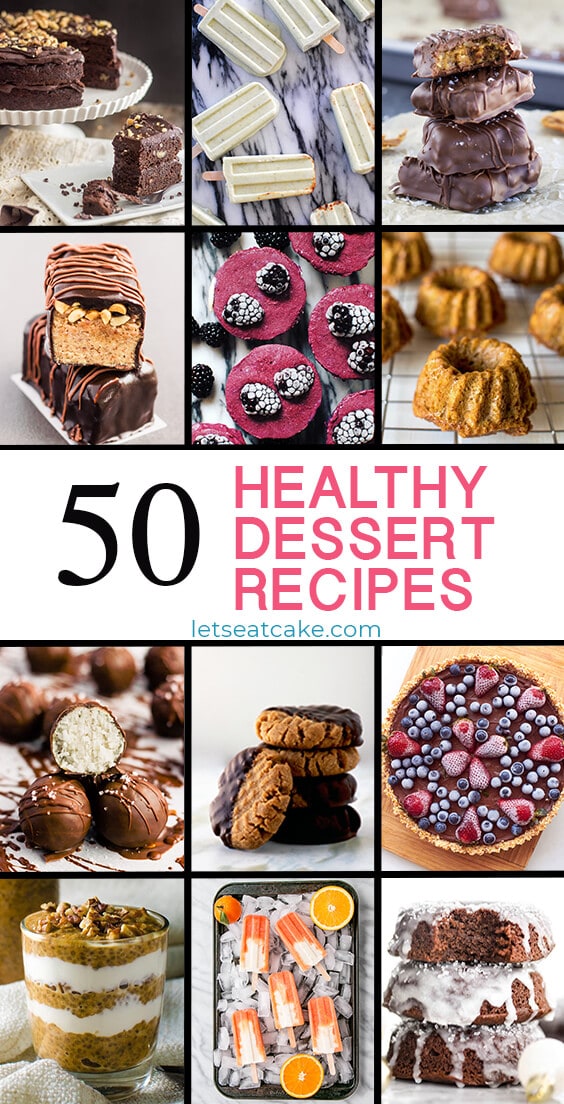 Whether it's the New Year and you're determined to stick to your new resolution to eat healthier or you're trying to overhaul your diet, you're probably on the lookout for healthier recipes. But what about dessert? The two don't usually go hand-in-hand, but these 50 healthy dessert recipes will help you stick with your plan.
What Are Healthy Desserts?
I primarily eat desserts made with refined sugar and all-purpose flour and butter. But, I also like healthy desserts and I've found that you can make desserts that are just as delicious without sugar, butter, or your standard flour. There are some bloggers who specialize in creating incredible easy healthy dessert recipes. I've tried my hand at a few and developed the Key Lime Cheesecake Bars and these Vegan Blackberry Cheesecake Bites, both of which you'll find in the healthy dessert recipes below.
When selecting the recipes for this healthy dessert recipes collection, I tried to choose recipes that were lower in refined sugar and/or those had healthy ingredients like fruits, veggies, or fiber-rich grains in them. I guarantee that not all of the healthy baking recipes in the list below will match with your vision of what a healthy dessert is to you, but I do believe that you'll find at least few that you'll want to make!
What Is Healthy Eating?
Before sharing the list of healthy dessert recipes, I wanted to take a moment and talk about this. I know that by even posing this question I'm treading into piranha-infested waters. HEY BITEY! CUT IT OUT!
All kidding aside, that's because healthy eating means something different to everyone. To some, that means no refined sugar, dairy, or grain. To others, it means eating vegan, Paleo, gluten-free, low-carb, low-fat, low-sodium, or Whole 30. Not to mention to those whom it means simply sticking to, above, or below a certain calorie threshold. I'm not going to tell you what eating healthy means to you. I'm going to tell you what it means to me.
To me, healthy eating means eating the right amount of nutrient-rich calories to fuel my body for what I want it to do. When I'm training — like I was from July through October — I was working out six days a week and eating a ton of fruits, vegetables, healthy fats, and lean proteins. My diet was about 30-35% protein, 35-40% carbs, and 30% fat. I loved the results I got and now that the holidays are over, plan to return to this tomorrow. Because this morning I started the year with Bacon Mac and Cheese and it was glorious.
But even when training, I still ate desserts. And drank whole milk lattes. And went out for drinks with friends. Because, for me, healthy eating for me is also about balance. Training on not, I'm gonna eat that donut.
But for when you do want a healthy dessert, I wanted to pull together a list of healthy dessert recipes you could bookmark! So from healthy cookies and brownies to ice cream and cake, these 50 healthy desserts will keep you inspired all year long!
50 Healthy Dessert Recipes to Try

Healthy Cookie Recipes
Healthy Oatmeal Chocolate Chip Cookies
Averie Cooks proves that healthy chocolate chip cookies can be a thing with this recipe. Vegan, gluten-free, and prepped in 5 minutes.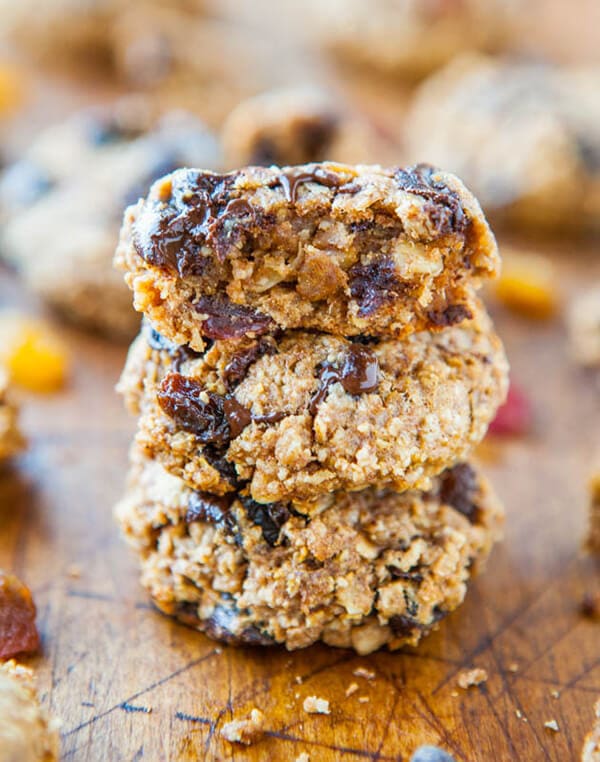 Healthy Peanut Butter Cookies
Yup, sold. You'll want to check with the blogger behind Occasionally Eggs, but if you must swap the peanut butter for almond butter or cashew butter that's probably ok too.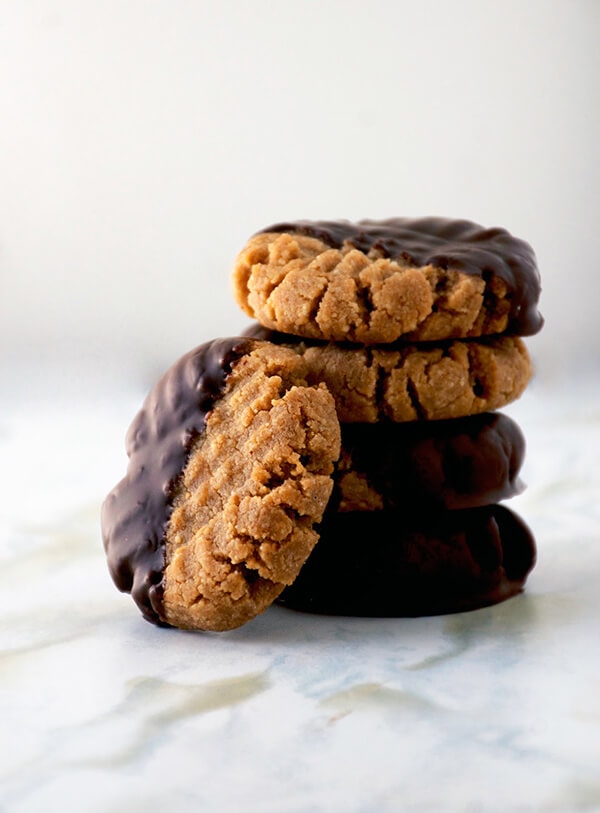 Healthy Oreos
I love Oreos, but even though they're vegan, I generally wouldn't put them in the "healthy dessert recipes" category. Sorry, Oreo. However, Chocolate Covered Katie's homemade Oreos made with spelt flour and coconut oil give these classic cookies a healthier spin.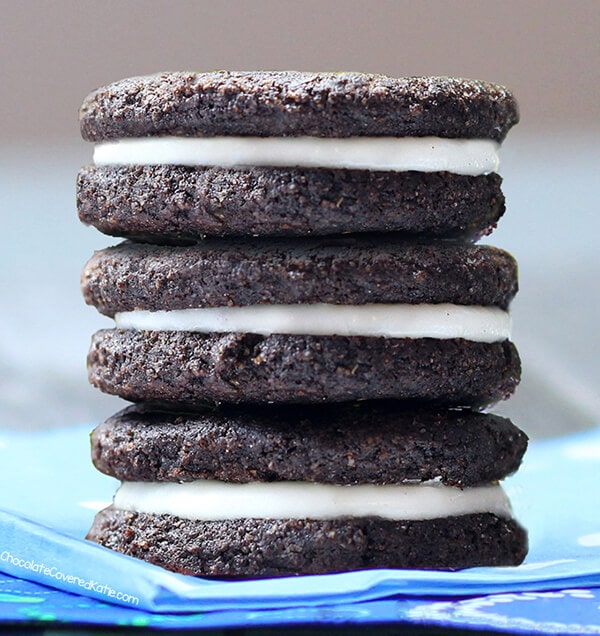 Healthy Brownies and Bars
Healthy Cake and Cupcake Recipes

Spiced Apple Bundt Cake with Apple Almond Butter Frosting
Paleo, gluten-free, and full of flavor, this healthy dessert will prove 2017 wasn't the only year that was all about the bundt cake.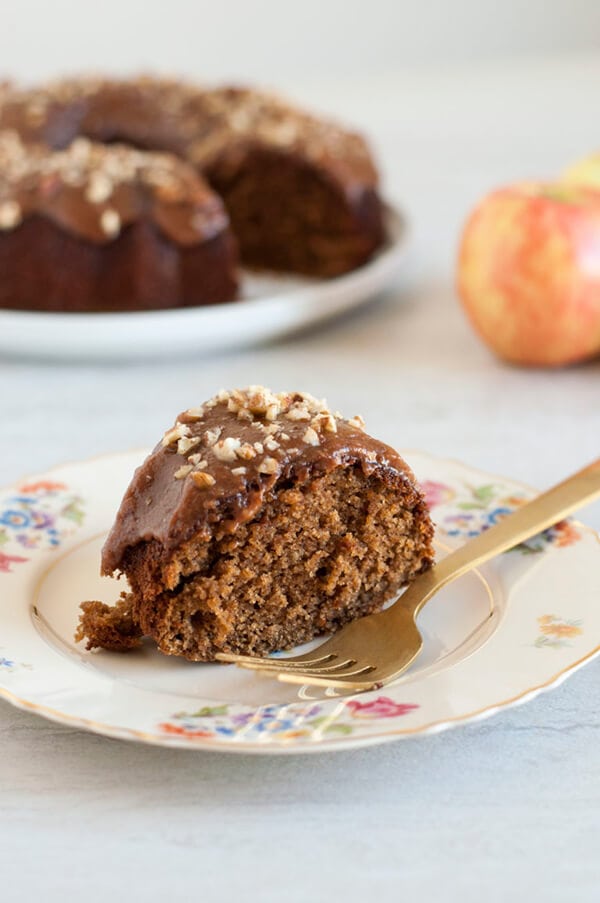 Other Healthy Baking Recipes
Healthy Ice Cream and Popsicle Recipes

Healthy Candy Recipes
Healthy Pudding and Parfait Recipes

Healthy Energy Bites Recipes

More Healthy Dessert Recipes