These Snow White Poison Apple Pie Pops will have you feeling positively villainous. And they're easier to make than you think.
When it comes to Disney characters, there's no shortage of creative choices to inspire your baking! I've always loved the look of the Snow White Poison Apple and wanted to share with you how to make an edible version!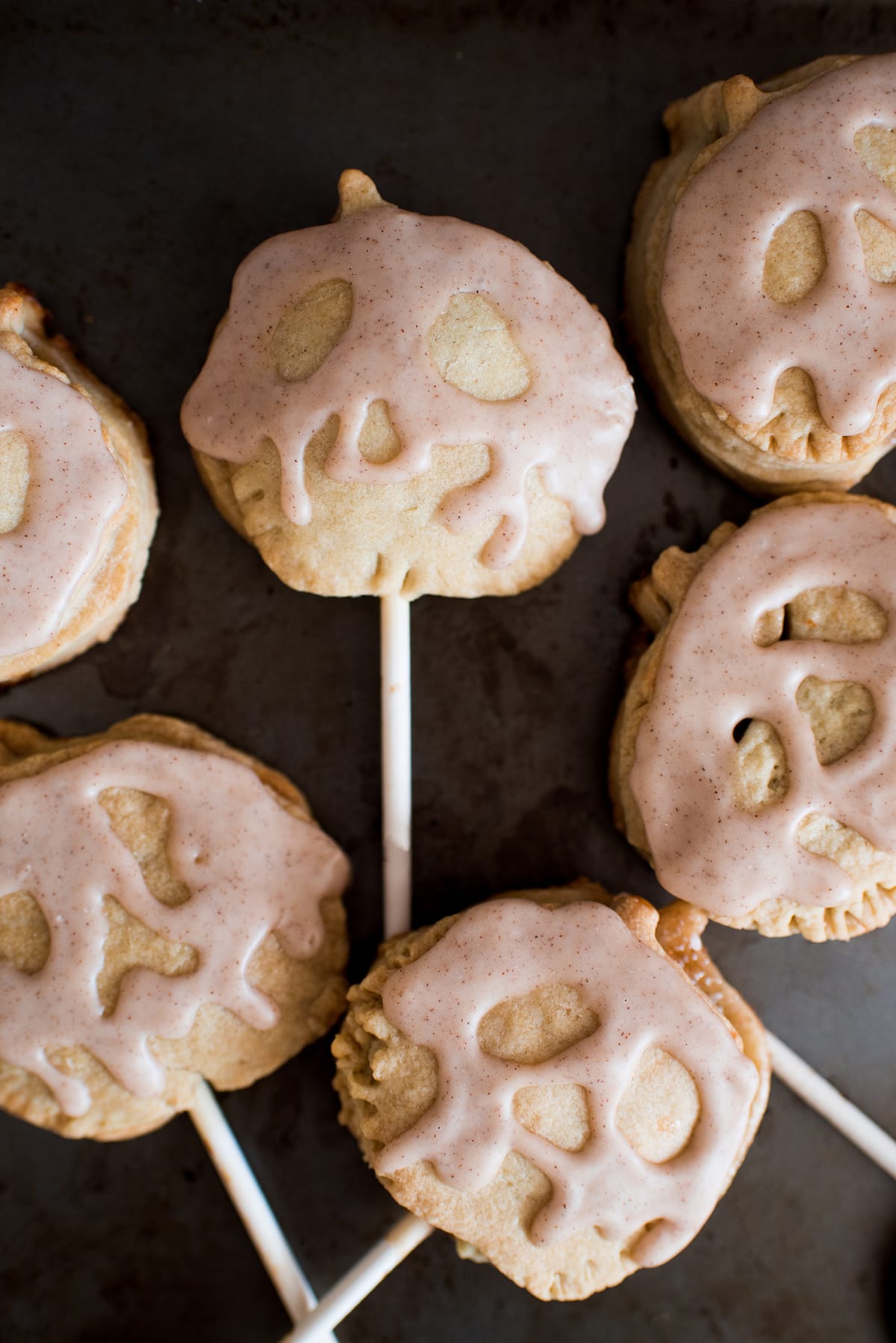 If you're not sure what the Poison Apple it's the apple the Evil Queen gives to Snow White to try and kill her. When the Queen lifts the apple out of her cauldron, the liquid drips off of it and creates a delightfully creepy skull. And then she turns it blood red so it looks appetizing to Snow White.
Why Snow White chose the Red Delicious apple instead of the Granny Smith or Pink Lady is beyond us… but she's also cool with birds crimping her gooseberry pie crust with their feet. We're bringing takeout the next time she invites us over.
How to Make Poison Apple Pie Pops
The apple pie pops might look tough, but they're actually really easy. First, create the cinnamon icing so it has time to set up. In a medium bowl, whisk together powdered sugar, milk, cinnamon, and vanilla extract until it's a smooth consistency. This icing will create that spooky skull look. Place it in the fridge while you make the pie pops.
Next, make a pie filling or use your favorite store-bought one.
Then, preheat the oven to 375° F and roll out your pie crust dough (bought or homemade) to at least 1/4″ thick, if not thinner, on a parchment-lined baking sheet.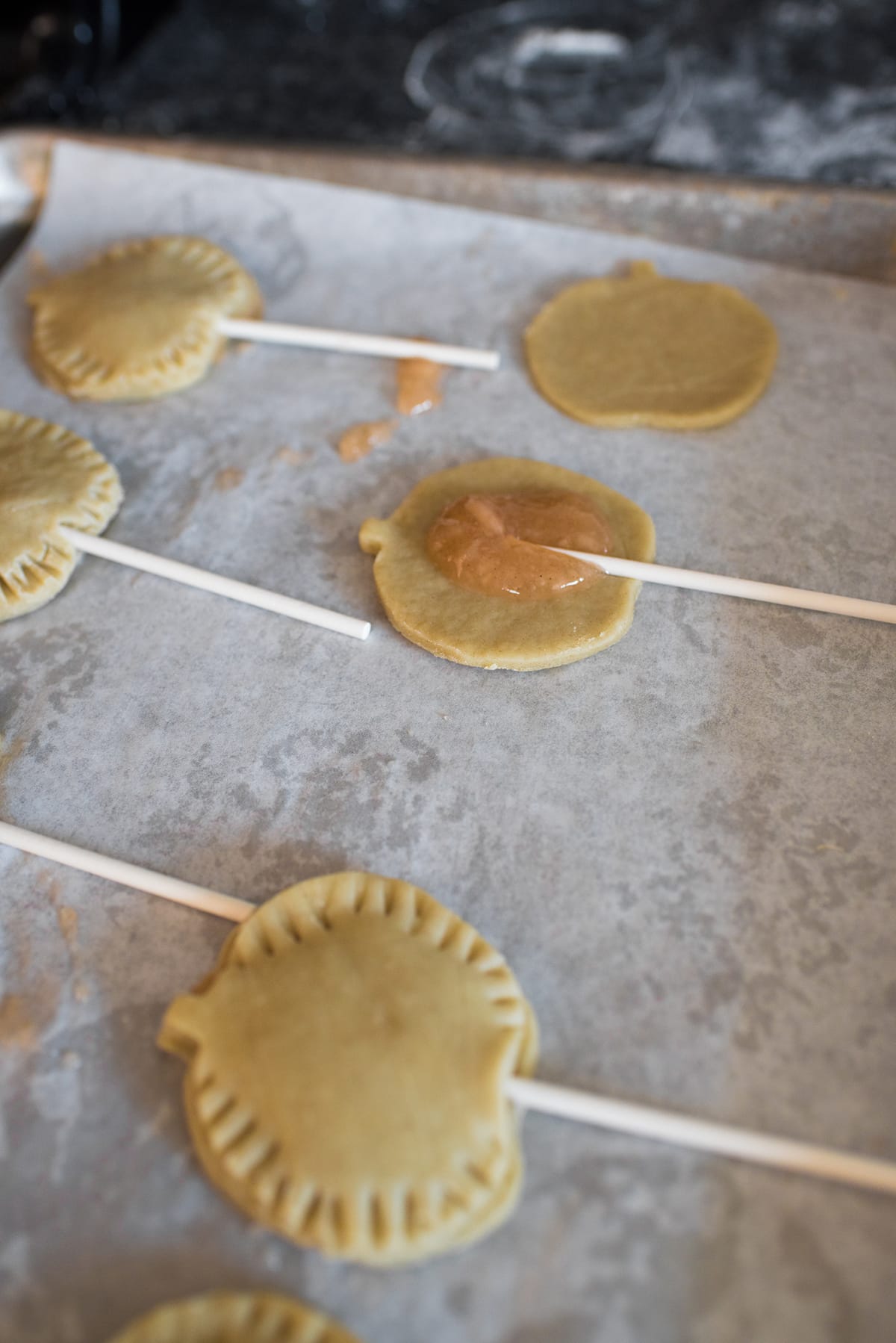 Cut out apple shapes with a cookie cutter. Re-roll scraps and keep cutting out apples until you run out of dough.
Fill half of the shapes with up to two teaspoons of apple pie filling.
Place a lollipop stick in the middle, top with an unfilled apple shape, crimp the edges with a fork, and brush with egg wash. Bake the apple pie pops for twelve to fifteen minutes or until they're baked through, then let them cool.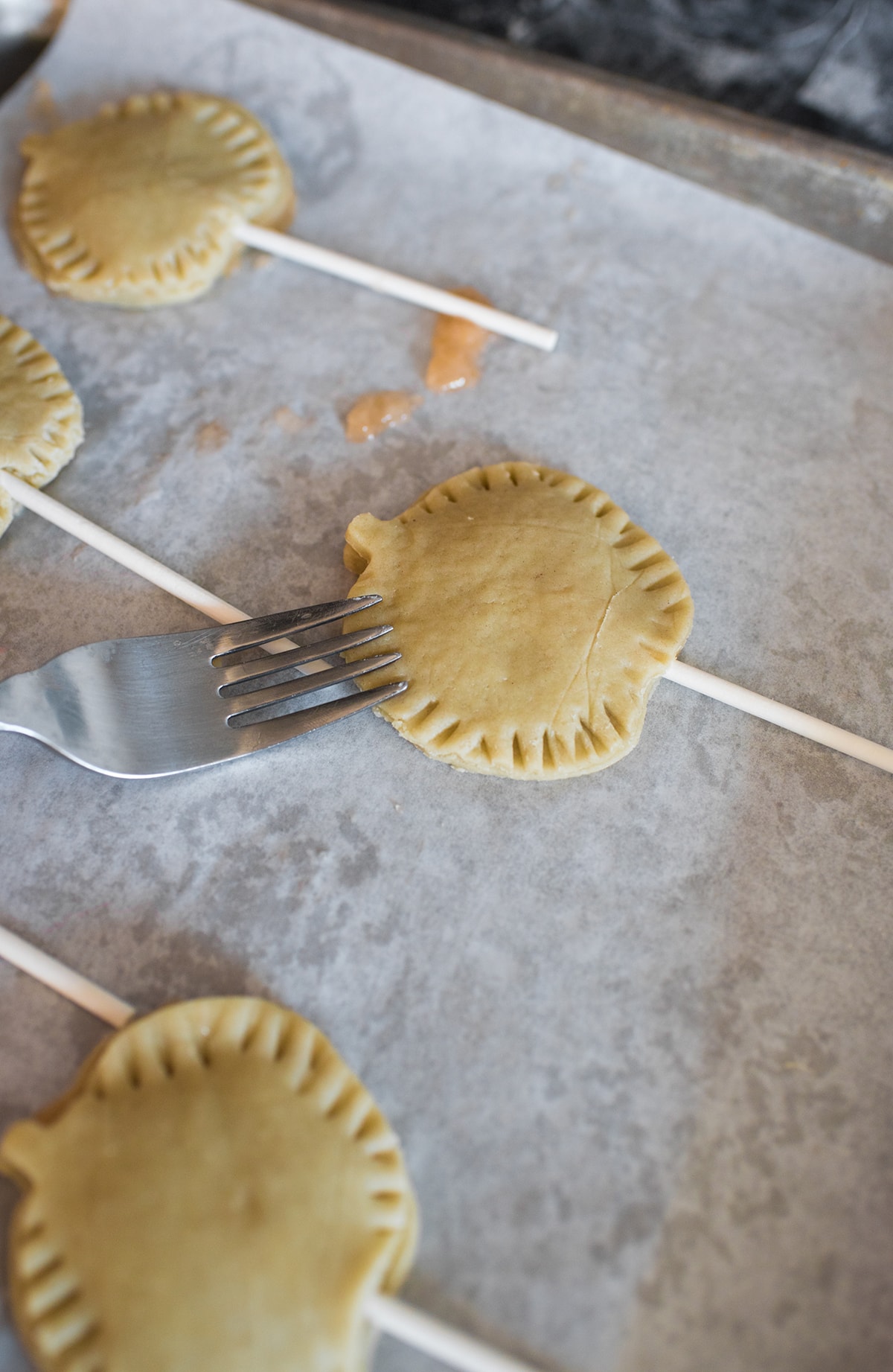 Transfer your cinnamon icing to a piping bag fitted with a Wilton #1 or #2 tip and pipe on the skull! Start on one side and trace the outline of the skull and the outline of the eyes. Then, fill it in. If you've ever made sugar cookies, it's a similar concept, except you're not using the same icing consistency for the border and the flood filling.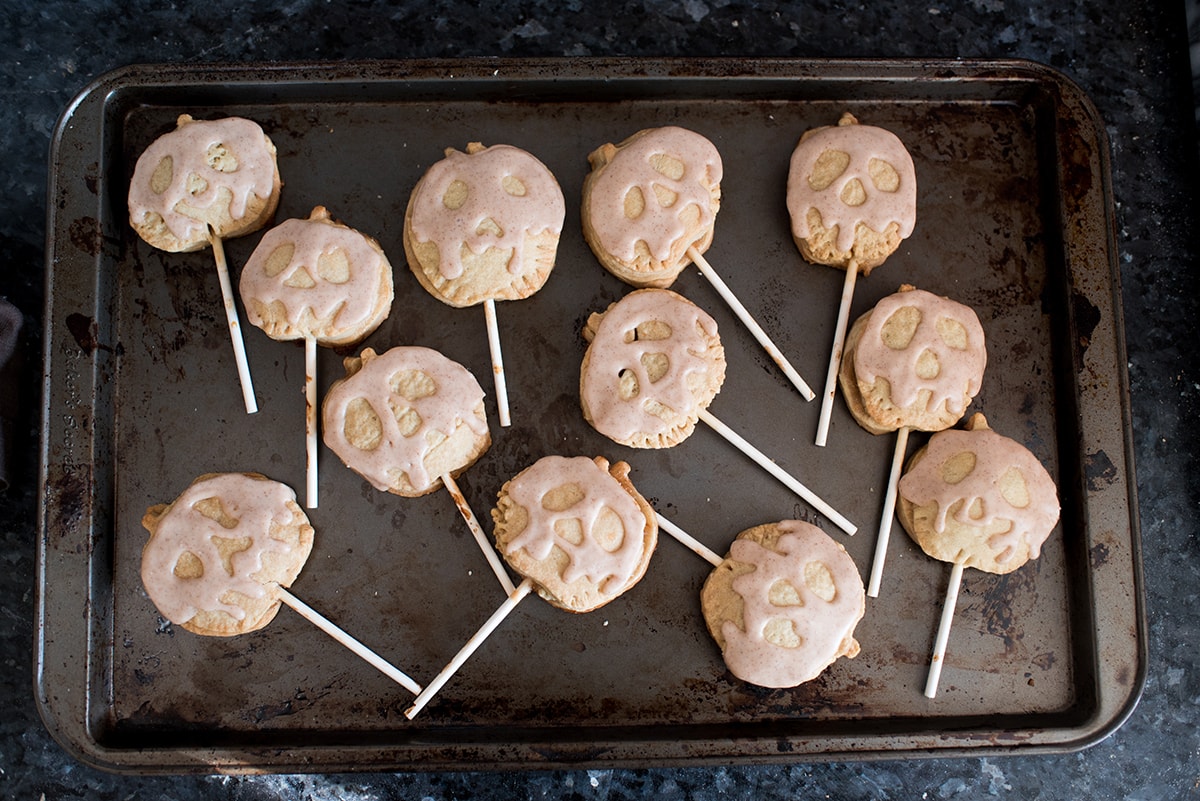 Poison Apple Pie Pop Tips
The thinner you make the dough, the more filling you'll taste, but don't go too thin or else it'll be really hard to work with.
Don't have an apple cookie cutter? I used a combo of the top of a pumpkin cookie cutter and the bottom of a pineapple one to make these.
If you overfill the pops, the filling will seep out everywhere and burn when you bake it, so err on the side of less is more. (Truth bomb: These apple pie pops taste more like pie dough than pie, so gift them to friends who prefer pie crust.)
When I made these, I had some leftover pie filling from my Apple Pie Bread, so I used that. You don't need much, so if you're making some to create these, you'll probably want to make a batch and a half so you have enough to make a proper apple pie with.
Make sure to crimp near the lollipop stick to help prevent it from falling out.
I found this image helpful to keep near me as I was piping the poison apple design.
The cinnamon in the icing is optional.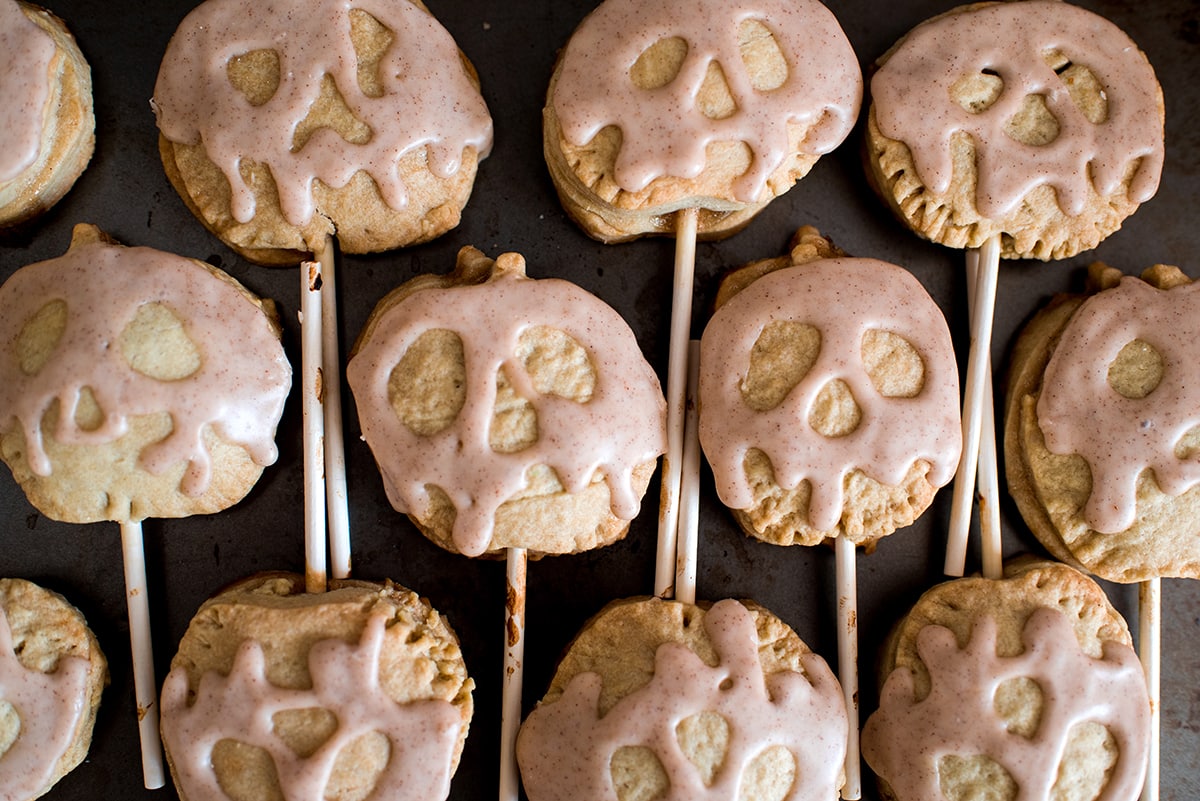 And, check out this rad video on how to make Snow White Poison Apple Cake Pops from Baker Girl Steph! She has tutorials for the raddest treats on her YouTube channel.
Snow White Poison Apple Pie Pops
Print Recipe
These Snow White Poison Apple Pie Pops are delightfully spooky and perfect for Halloween.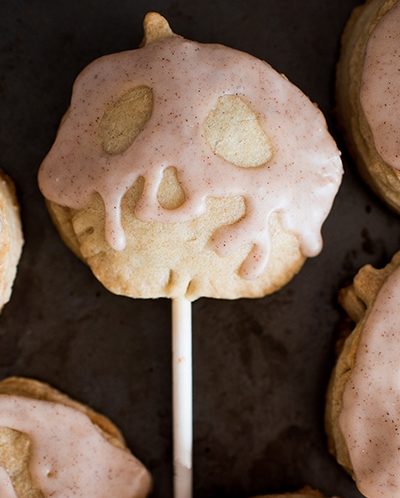 Servings: 12 pie pops
Ingredients
Snow White Poison Apple Icing
¾ cup powdered sugar
1 Tbsp. milk
½ tsp. ground cinnamon (optional)
¼ tsp. vanilla extract
Apple Pie Pops
1 batch apple pie filling (storebought or homemade)
1 batch pie dough (storebought or homemade)
lollipop sticks
1 apple cookie cutter
1 egg (beaten)
Instructions
Whisk together powdered sugar, milk, cinnamon, and vanilla until fully combined. Place in fridge.


Make your favorite apple pie filling. Set aside.


Make your favorite pie dough.


Preheat oven to 375° F.

Roll pie dough to ¼-inch thick, if not thinner, on parchment-lined baking sheet.


Cut out apple shapes. Re-roll scraps and continue cutting shapes until out of dough.


Place up to 2 teaspoons of filling on half of the shapes. Be careful not to overfill.


Place lollipop stick on top of filling. Top filled shapes with unfilled shape. Crimp edges, especially around lollipop stick.


Brush each apple shape with beaten egg.


Bake for 12-15 minutes or until they're baked through. Remove apple pie pops from oven and let cool.


Transfer cinnamon icing to piping bag fitted with Wilton #1 or #2 piping tip.


Begin at edge of pie pop and pipe outline of skull, eyes, and nose. Fill in skull design with icing. Let icing set and enjoy!

Nutrition Facts
Snow White Poison Apple Pie Pops
Amount Per Serving (1 pie pop)
Calories 126 Calories from Fat 36
% Daily Value*
Fat 4g6%
Carbohydrates 22g7%
Protein 1g2%
* Percent Daily Values are based on a 2000 calorie diet.
Did you make this recipe?
Leave a review below, then take a photo and tag @letseatcakeblog on Instagram so we can see it!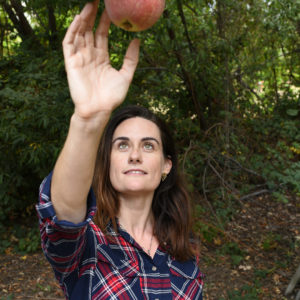 Latest posts by Rebecca Swanner
(see all)