We are still trying to enjoy the last stretch of summer, we swear. There are some pool days left, and we have the mosquito bites to show for it. But these easy apple desserts are getting us ready to ditch the bikinis and locate our oversized sweatshirts.
We won't bore you with an anecdote about how we went apple picking at an orchard in upstate New York and came home with so many apples that we had to don our apron and get to baking. That doesn't mean it didn't happen, though.
But the worst part about having an abundance of apples is deciding what to do with them. And sometimes, we don't have the patience for a lengthy recipe that'll require seven mixing bowls and two business days to complete.
Enter: easy apple dessert recipes, which contain a relatively chill amount of ingredients, and minimal prep and baking time. From apple crumble to dessert tacos to dump cake, you'll be drooling over one of these babies in no time.

30 Easy Apple Desserts
1. Cinnamon Apple Chips
We're not sure we should even call this a recipe, it's so easy. Aside from the apples (duh), all you need is some good quality ground cinnamon. These Cinnamon Apple Chips are shake and bake, for real.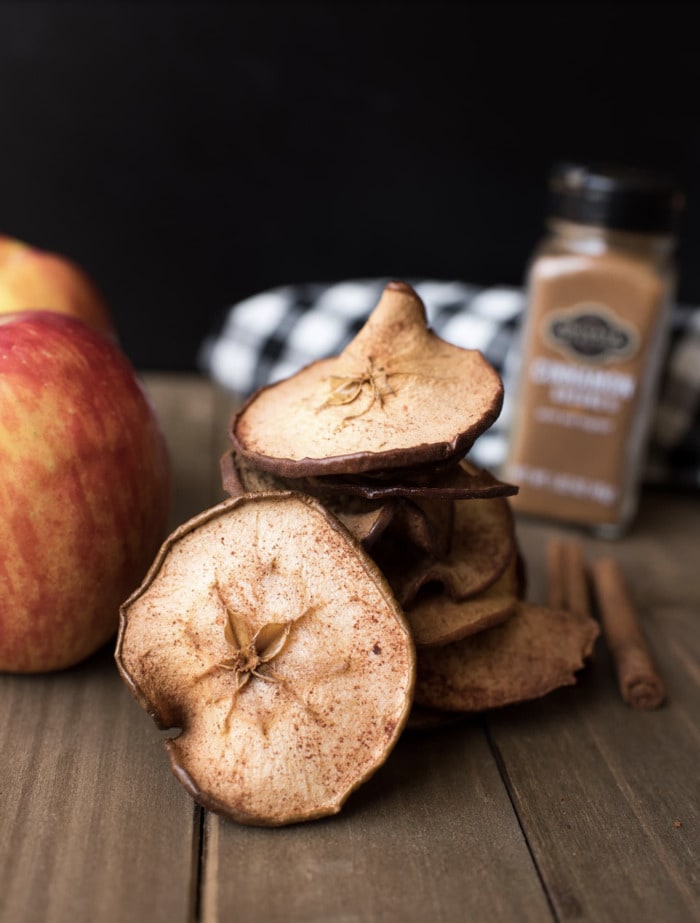 2. Snow White Poison Apple Pie Pops
These Snow White Poison Apple Pie Pops are the perfect combo of traditional fall flavors and and an ooky spooky Halloween treat. We especially love how the skull is messy on purpose, so those of us who… ahem… are not expert dessert icers can still make a go of it.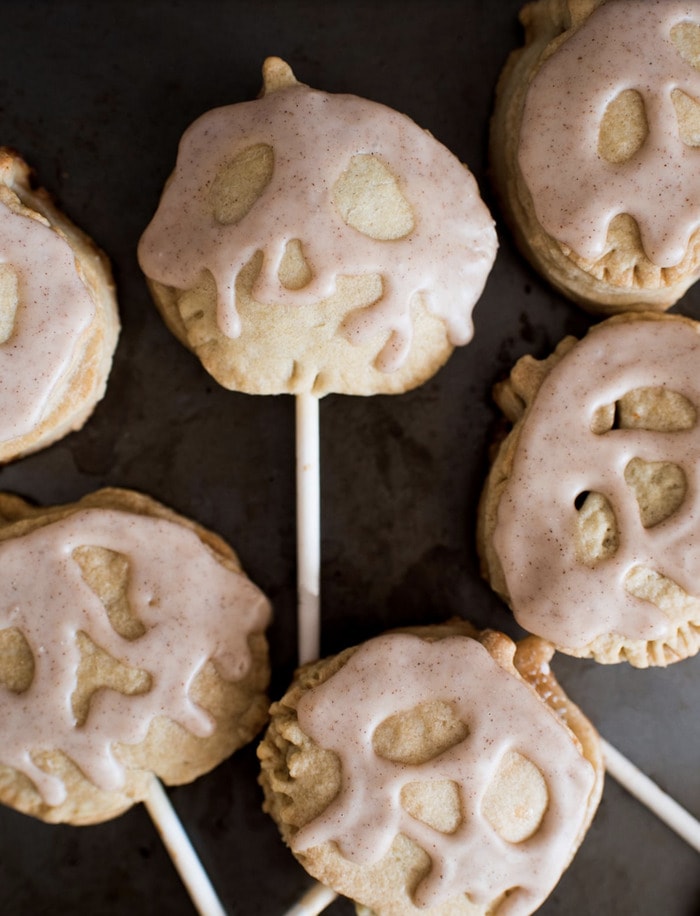 3. Caramel Apple Bars
These luscious Caramel Apple Bars are at the threshold of "easy" recipes, with six ingredients. Sub in canned apple filling, which will leave you plenty of time to house half the tray once they're baked. Or the whole tray.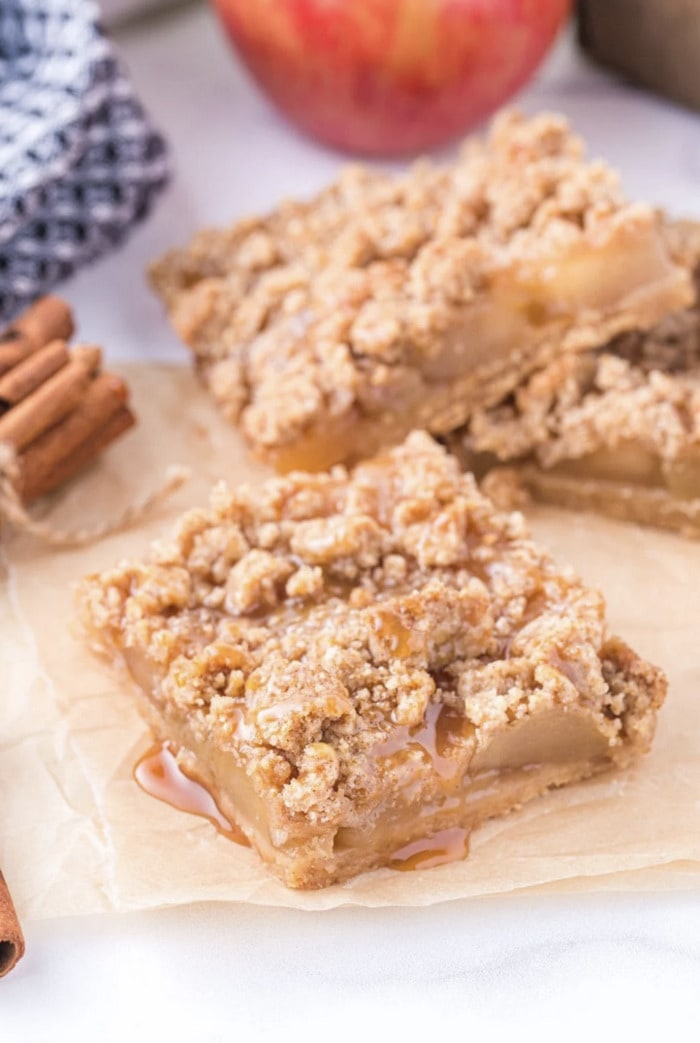 4. Apple Pie Tacos
These Apple Pie Tacos are the perfect ending to your taco Tuesday munch fest. We love how basically anything can go in a taco. Except the tequila.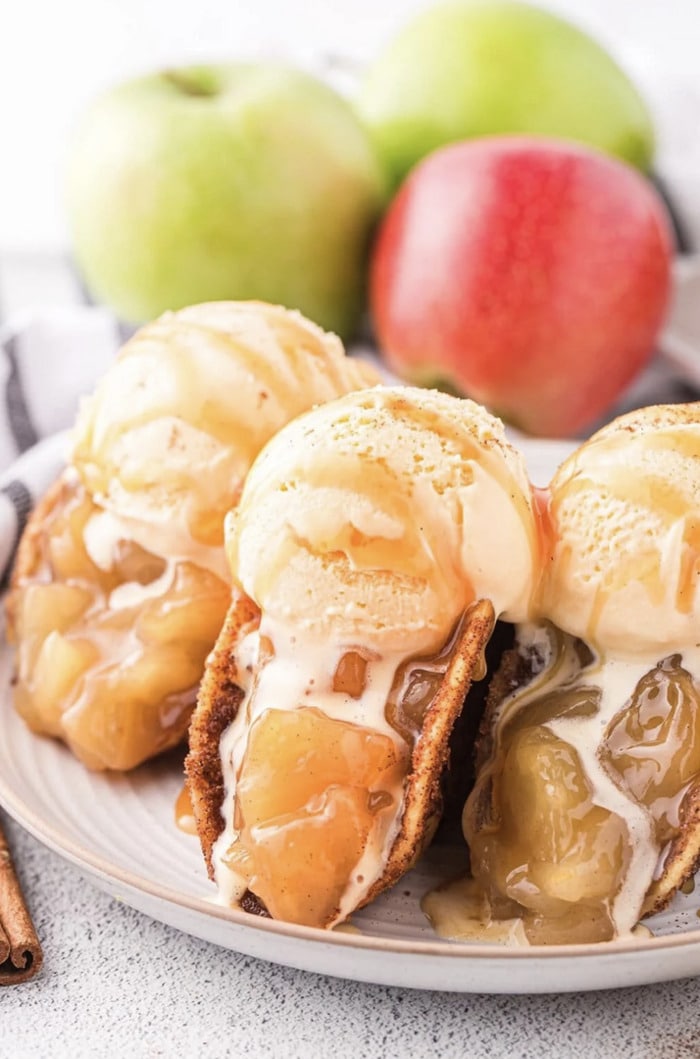 5. Caramel Apple Dump Cake
We love this Easy Caramel Apple Dump Cake because it's a practically effortless way to achieve the taste of an old fashioned apple pie. It's like we said, "Alexa, make us an apple pie" and then walked away. Maybe in the next update?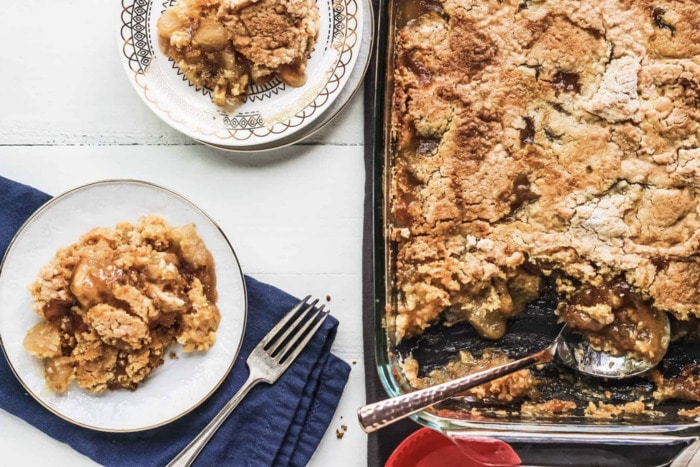 6. Instant Pot Baked Apples
It almost Instant Pot season! Is there anything it can't do? This Instant Pot Baked Apples recipe produces two apples, so it can be a fun date night. Just make sure your date isn't expecting something else when you say "pot" and "baked."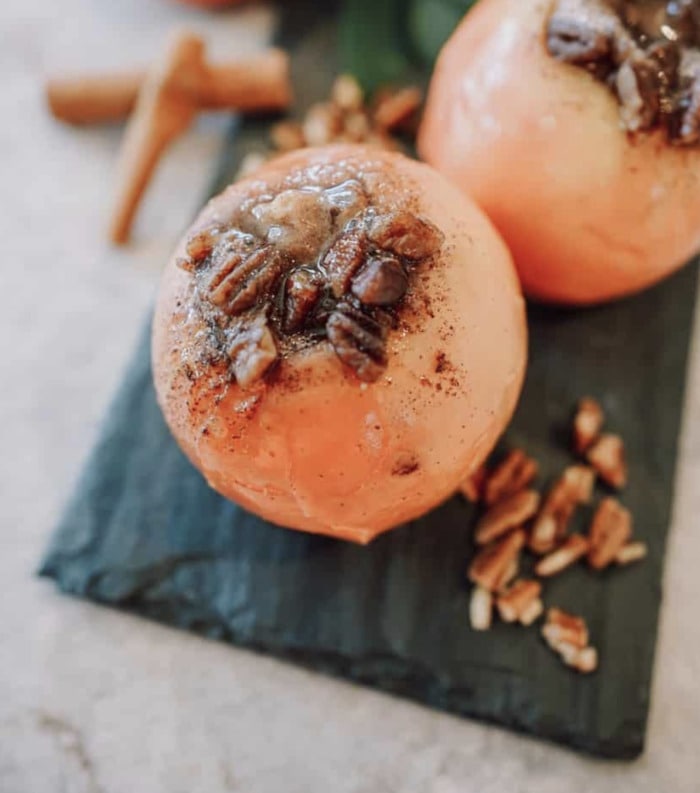 7. Air Fryer Apple Crisp
Any form of warm apple dessert will sing when vanilla ice cream is added. Based on experimentation, this Air Fryer Apple Crisp can handle at least three scoops on top. Anyone who said we "drowned" it can't be trusted.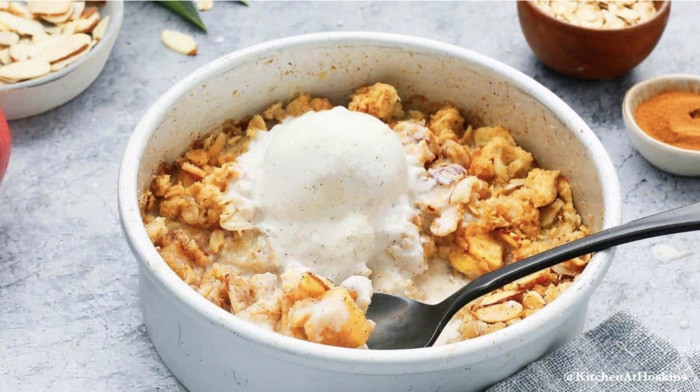 8. Caramel Apple Dip
There is no kid on Earth who will turn their head away from fruit when it's served as this Caramel Apple Dip. But if they do, more for you.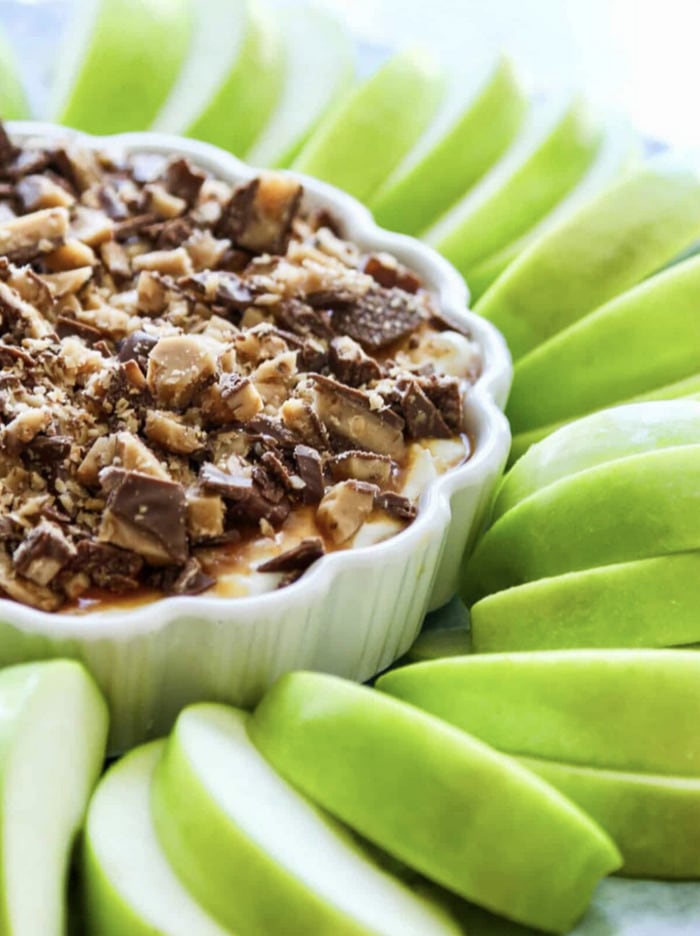 9. Apple Cider Donut Loaf Cake
We love the newish trend of "apple cider donut" as a flavor, as opposed to the more traditional "apple cider" flavor. It definitely makes us more interested to try this Apple Cider Donut Loaf Cake.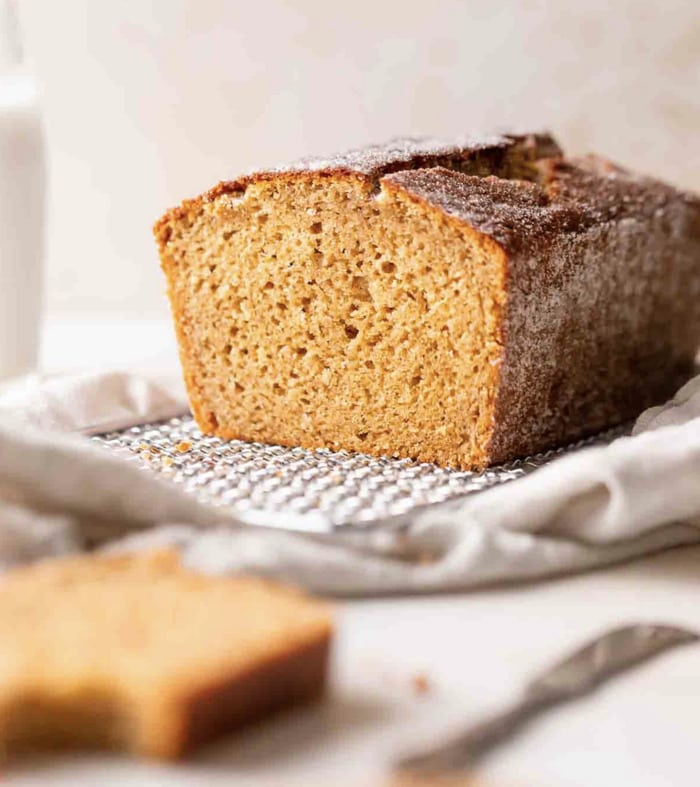 10. Cinnamon Apple Pie
Easy is in the eye of the beholder, but don't let this Cinnamon Apple Pie recipe intimidate you just because it has a few more ingredients than others. It's still easier than trying to decipher the recipe your great grandma wrote down in pencil back in 1912.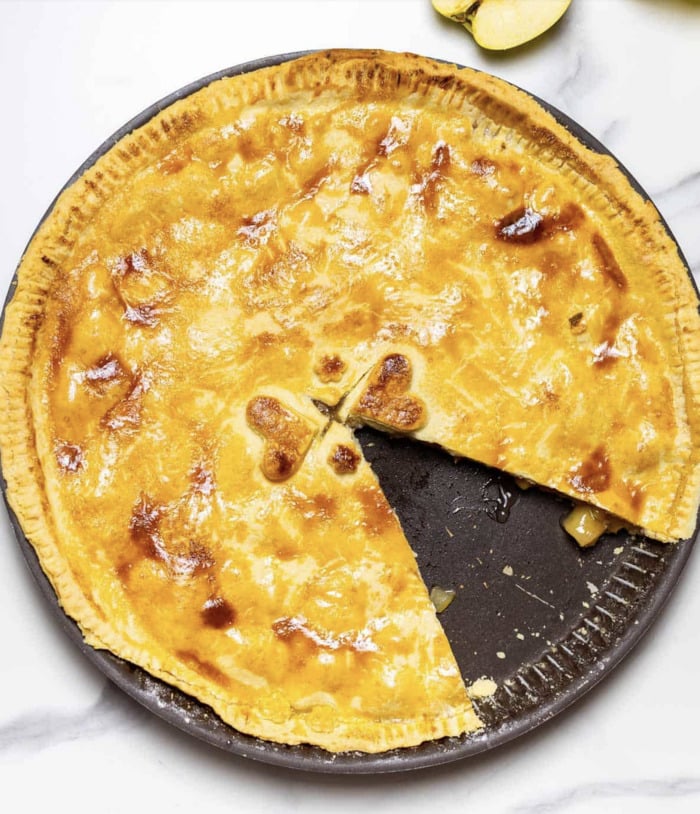 11. British Apple Scones
Sometimes, we like to pretend we're fancier than we are, which means making involved recipes. Oh, and scones. But this low-impact British Apple Scone recipe will have us enjoying Elevenses with our pinky up in no time.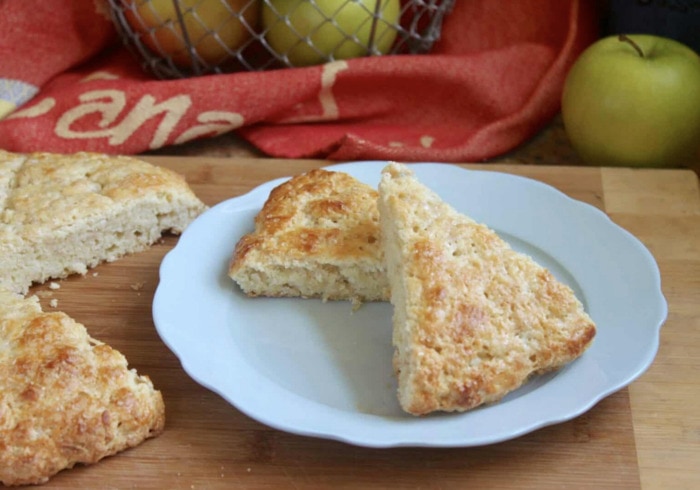 12. Apple Pie Cookies
This is the same trending Apple Pie Cookie recipe you've been seeing everywhere, but adapted to use fridge crust and canned filling, so it's not as annoying to make. Finally, someone gets us.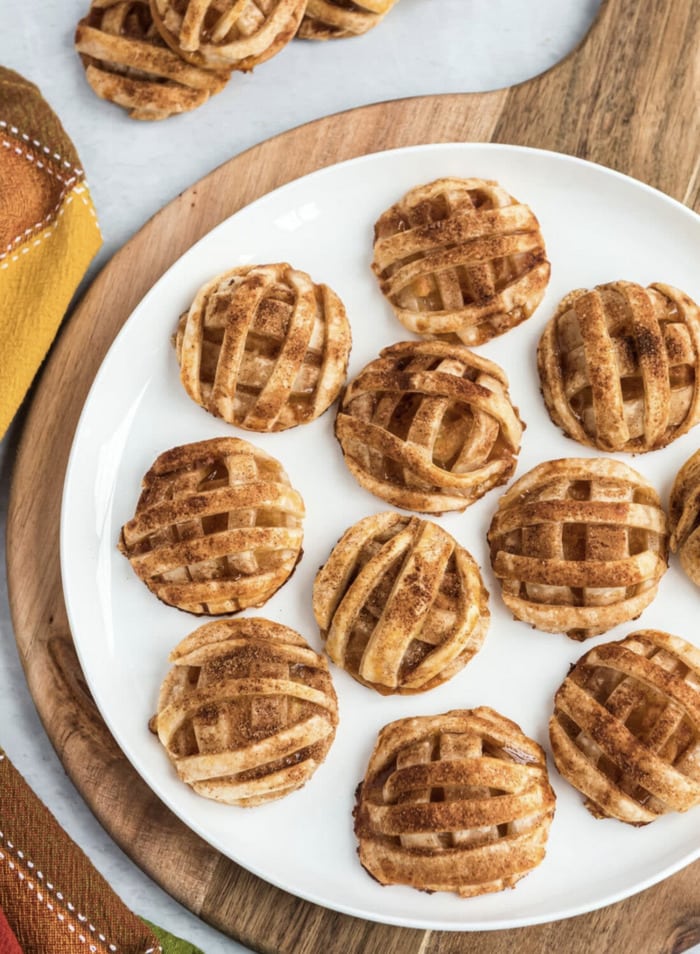 13. No-Peel Apple Cake
The most time-consuming part of many apple recipes is peeling the fruit, and thankfully this No-Peel Apple Cake skips that step. Also, it can be served warm, room-temp, or cold, so it's really the best for lazy and/or distracted people. Us. That's us.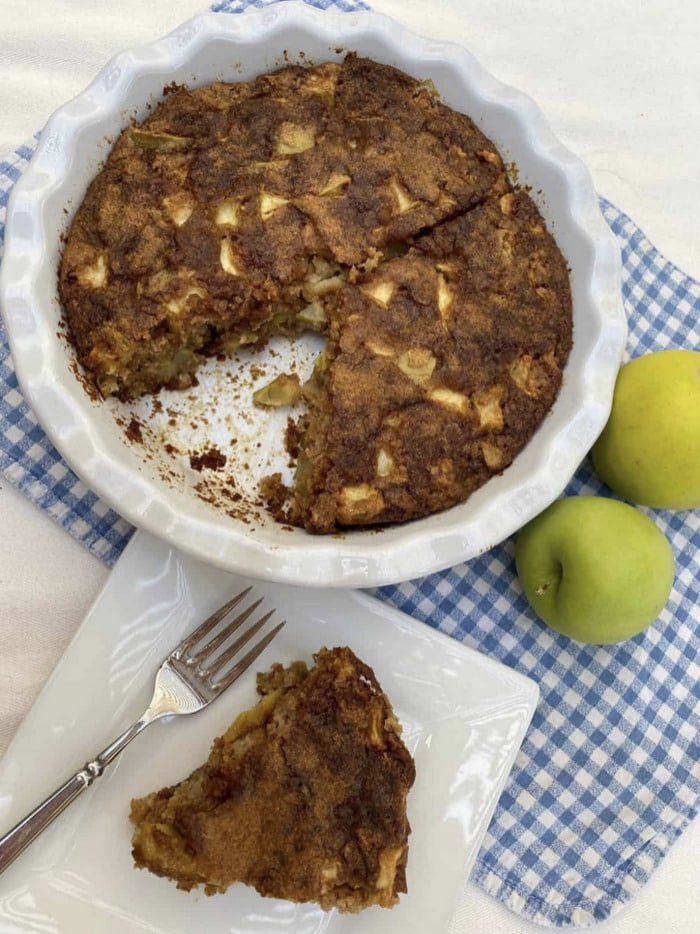 14. Apple Crumble
There are enough steps here that you may want to reserve this classic Apple Crumble for special occasions—like the October 6 season premiere of Loki. Our calendars have been marked for a totally reasonable amount of time, why do you ask?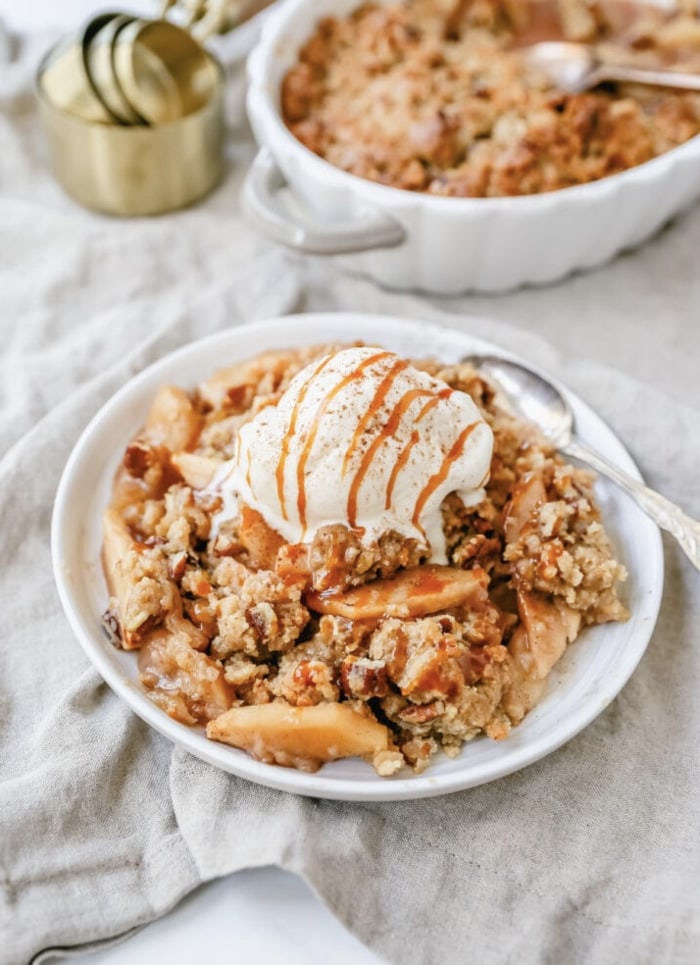 15. Apple Tarte Tatin
This Apple Tarte Tatin literally takes three days to make, but don't let that scare you. That's just the time the apple slices need to chill out in the fridge. Taking "me time" is important.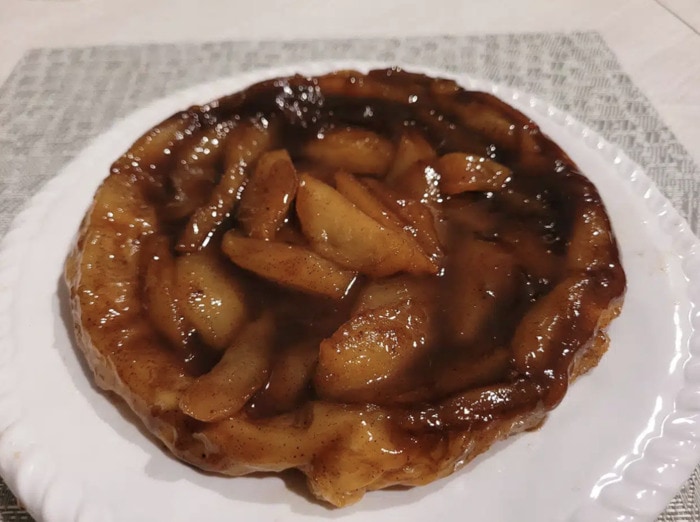 16. Sour Cream Apple Bars
Putting these Sour Cream Apple Bars together takes only about ten minutes, and the rest is baking time. Who says it's too late to start on a summer tan?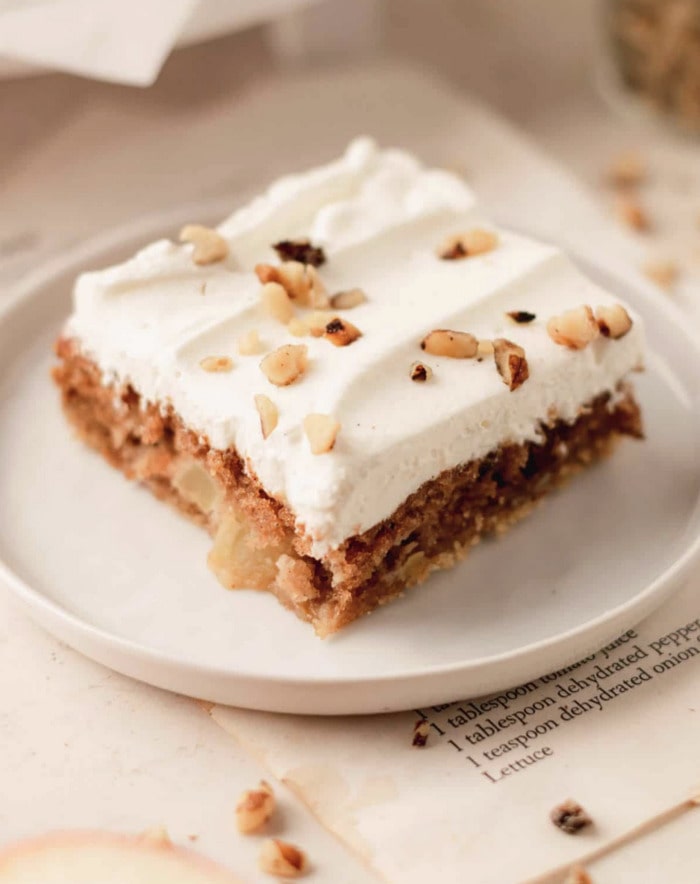 17. Apple and Blueberry Crumble
If you're a high-functioning planner type, this will work for you, as you can make the dough and filling for this Apple and Blueberry Crumble days in advance. We'd probably forget it's in there, but we're happy for you.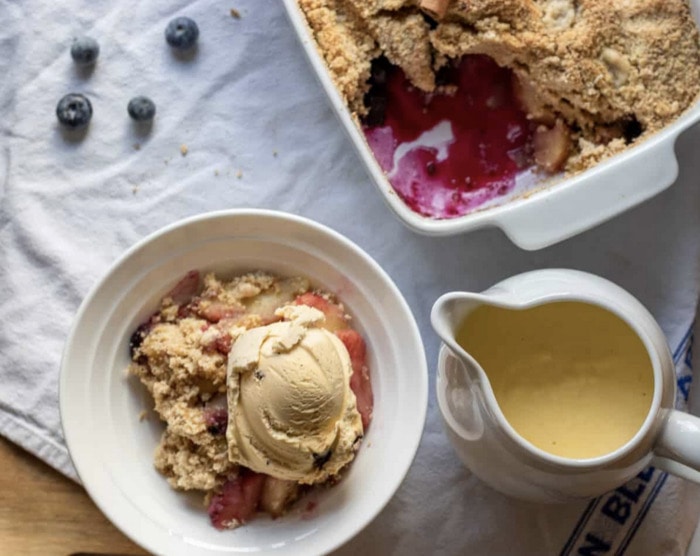 18. Puff Pastry Apple Pie
This Puff Pastry Apple Pie is very similar to a traditional apple pie recipe, but you can use store-bought puff-pastry sheets instead. Read: more time to focus on the important things, like grooming your cat and binge-watching old Halloween movies.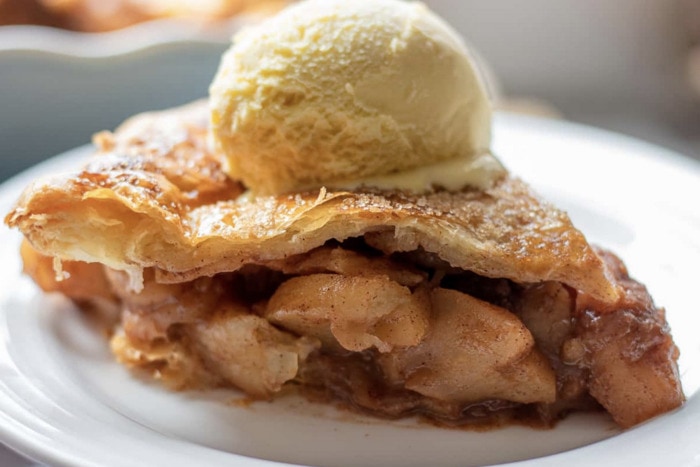 19. Taffy Apple Salad
Sure, it's a salad. A Taffy Apple Salad. That magic word allows us to feel healthy while we chow down on Snickers bars and marshmallows. Why don't we call everything a salad?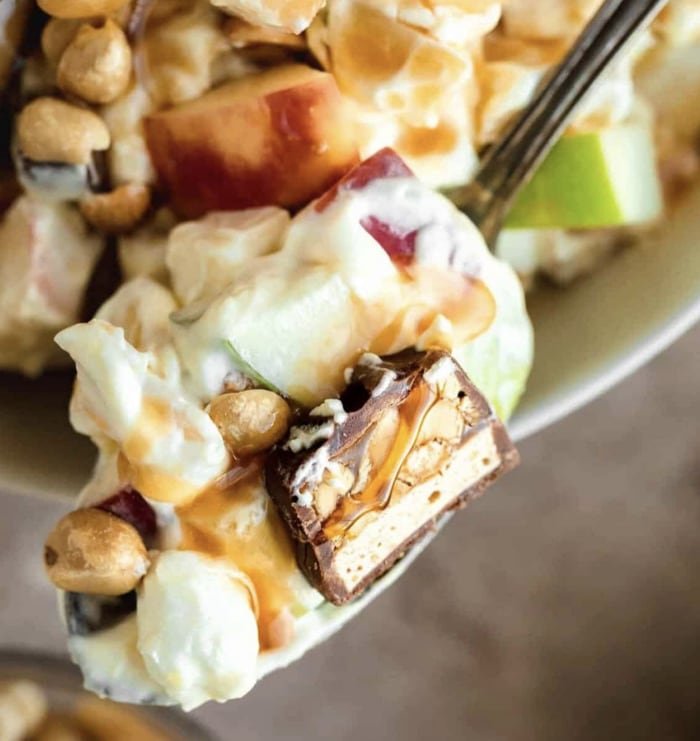 20. Lithuanian Apple Yogurt Cake
If you want to expand your horizons by trying this Lithuanian Apple Yogurt Cake (and we know we do), you'll have to think in Celsius. Just flip the switch in your brain. Sorry, ours is in the shop.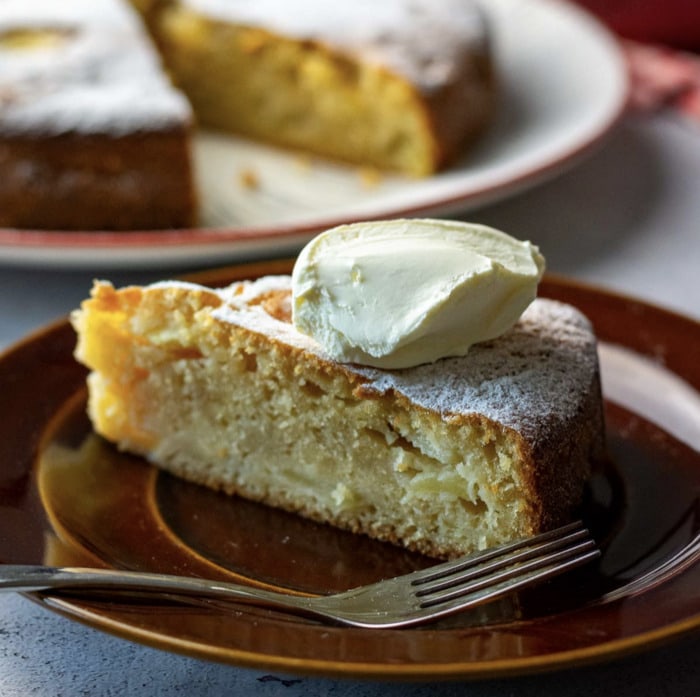 21. Upside Down Apple Tarts
The inclusion of brie in this Upside Down Apple Tart recipe takes it to the next level. Take this as a reminder to add brie to more stuff. Like our lunch box every morning. Thanks, bestie.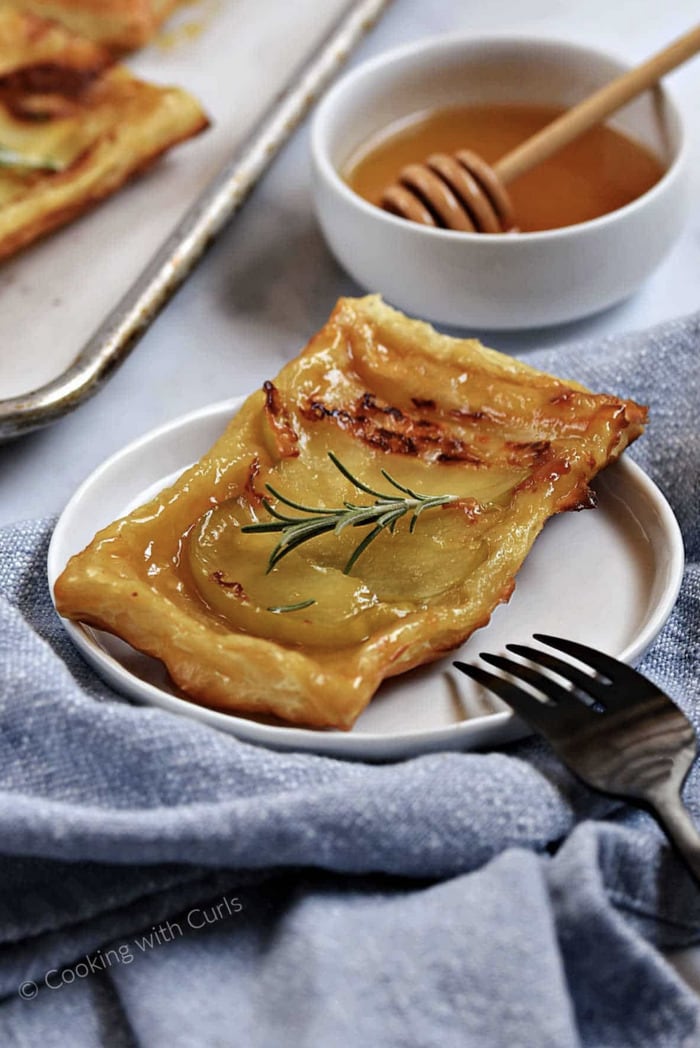 22. Apple Butter Pound Cake
This is the perfect Apple Butter Pound Cake recipe to serve at fall gatherings, if you can find your Bundt cake pan. We think ours is lost behind our George Foreman grill.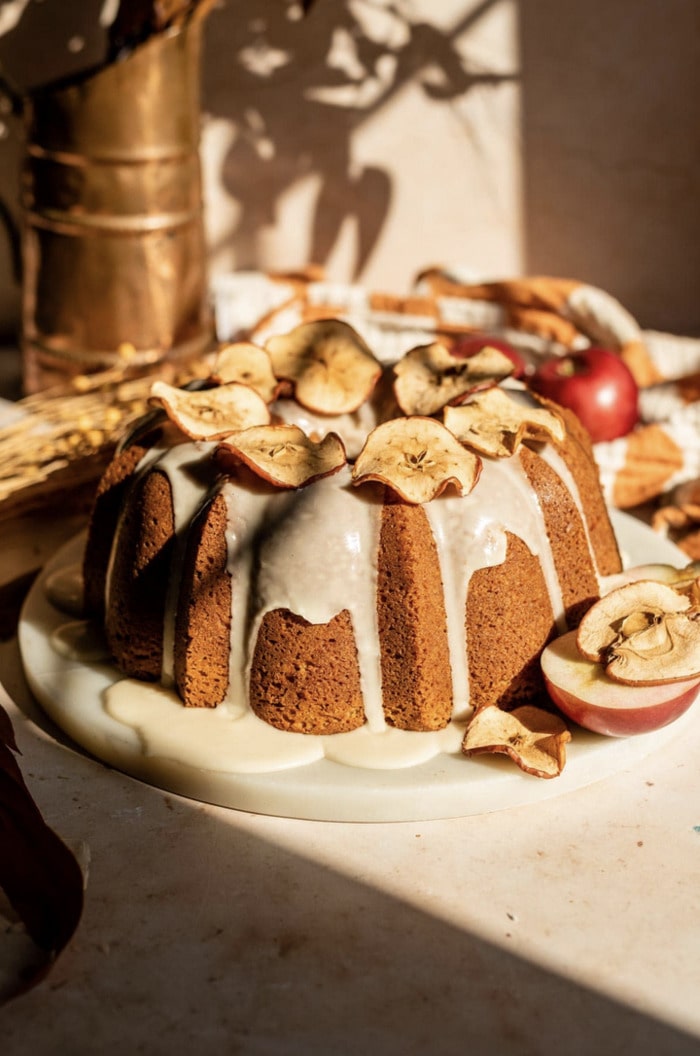 23. Apple Hand Pies
Hand pies are awesome for packing in lunches or taking on picnics and camping trips. These Apple Hand Pies have instructions for vegan and gluten-free substitutions, so there is something for everyone. Even your annoying cousin.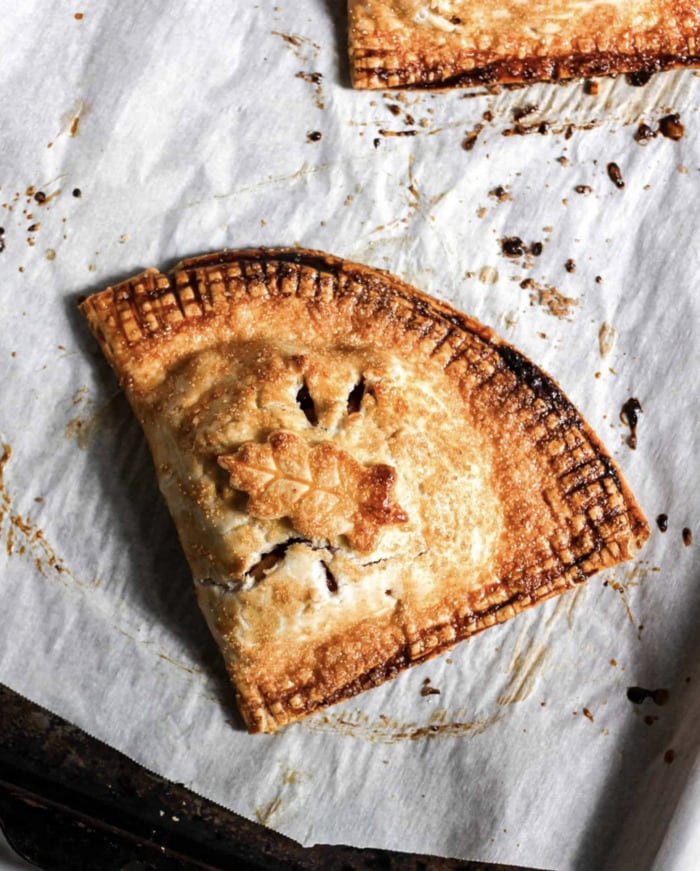 24. Caramel Apple Spice Cookies
Caramel apples are super messy, so try these Caramel Apple Spice Cookies if you want the same vibe without getting your hair stuck all over it. We could still find a way, though.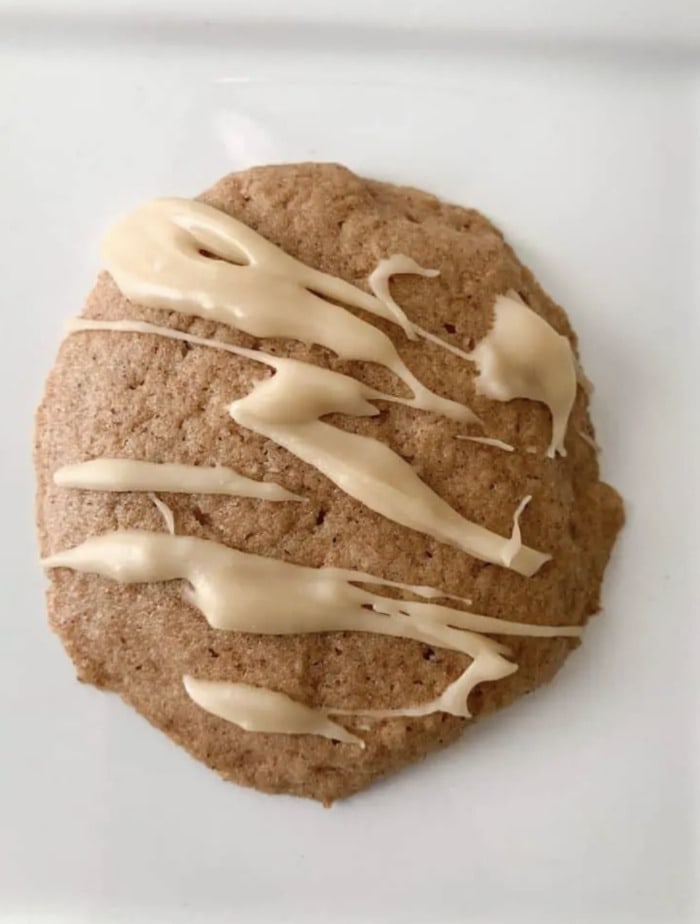 25. Apple Custard Bars
Apple Custard Bars are one of those dessert recipes that are easy to convince yourself are wholesome enough for breakfast, too. Go ahead, have one with your morning Dunkin'. Or the whole batch.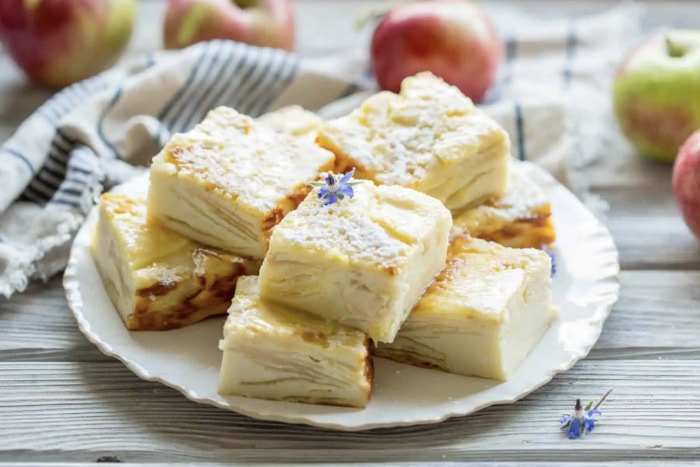 26. Apple Pie Crescent Rolls
This Apple Pie Crescent Roll recipe has unlocked so many childhood memories of those refrigerated rolls that go "pop!" But these are definitely grown-up enough to serve anytime. Sound effects not included.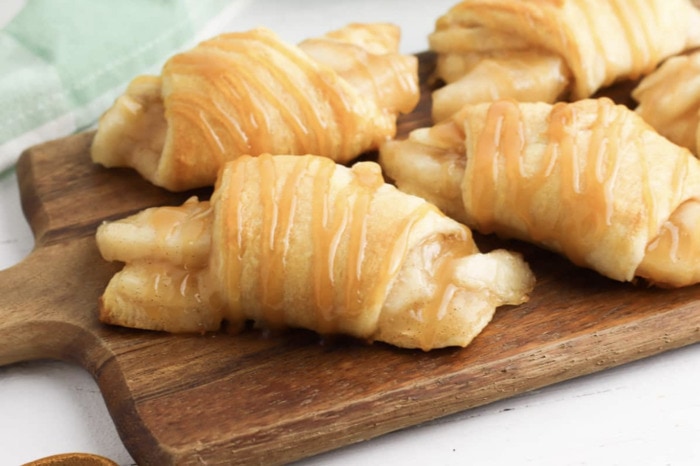 27. Apple Samoas
These Apple Samoas are such a genius (and healthy) way to satisfy that craving for Girl Scout cookies. Hey, come back here, Girl Scout! We didn't say we wouldn't still take ten boxes.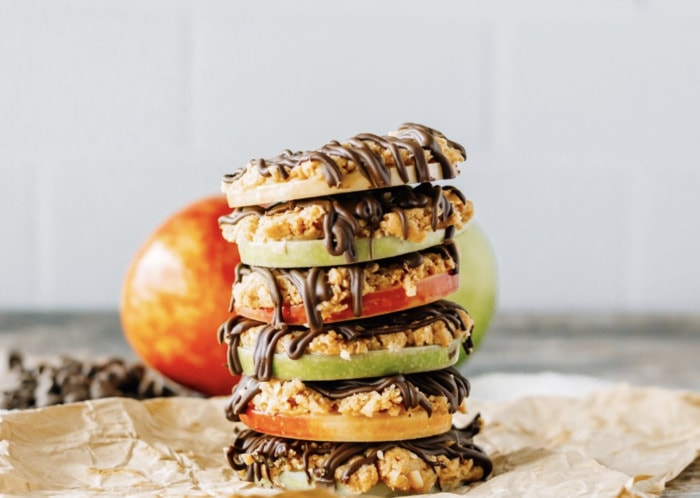 28. Apple Strudel
This Austrian Apple Strudel is suggested for Oktoberfest, and you know what that means. It's totally OK to rock your lederhosen while you make it. No, we didn't poll your neighbors before making that claim.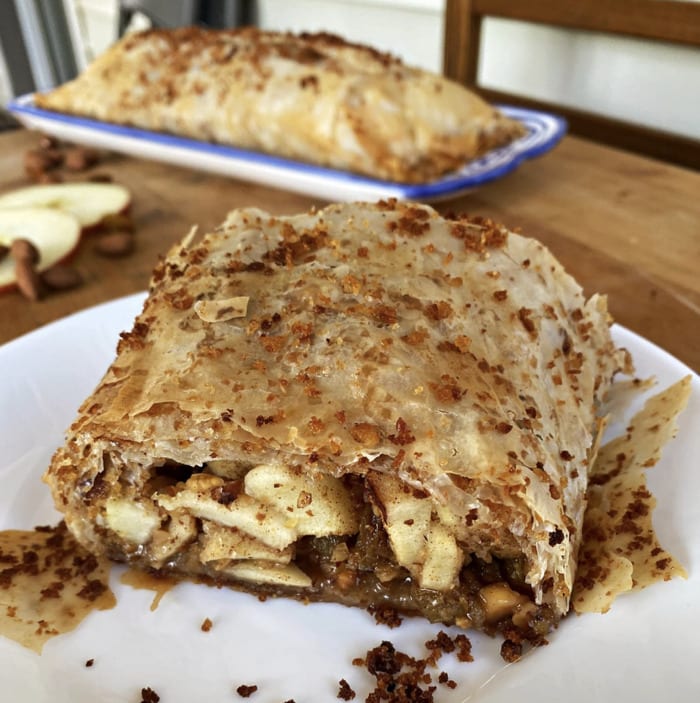 29. Eve's Pudding
Eve's Pudding takes a traditional apple dessert and adds custard to make it even more delectable. Now who do we have to call to get a pudding named after us?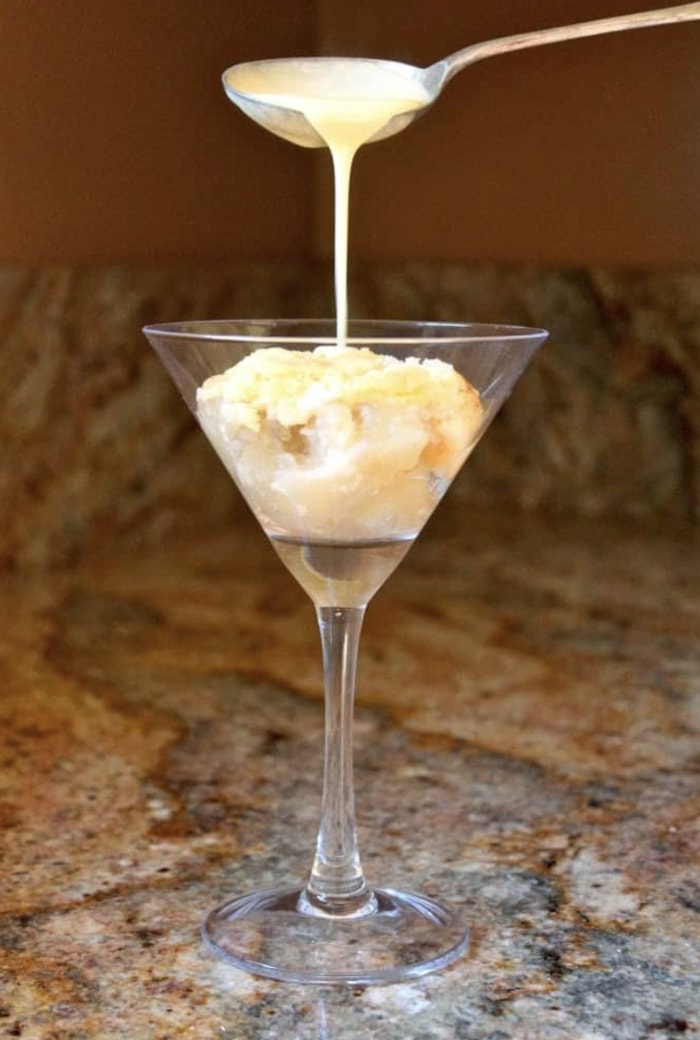 30. Air Fryer Apricot Cinnamon Dumplings
These Air Fryer Apricot Cinnamon Dumplings are like dessert samosas. Genius idea alert! Do not pass Go before falling down this rabbit hole.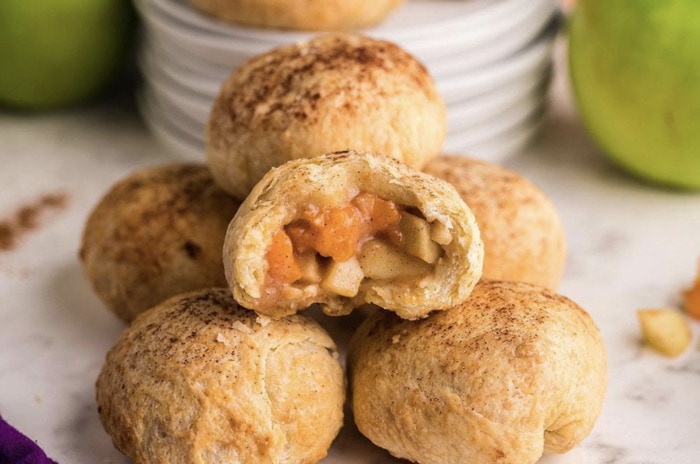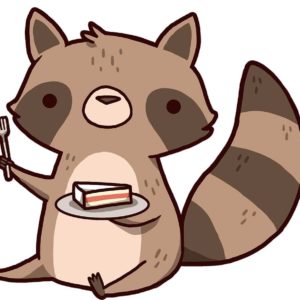 Latest posts by Christine Colby
(see all)