Summer puts us firmly in the mood for vanilla ice cream. And piña coladas, but we digress. Whether it's soft serve at a little shop on the beach or scooped out of a gallon jug you got at the supermarket, enjoying a cup or cone of vanilla ice cream is practically a summer rite of passage. But, which brand has the best?
And it's true that vanilla ice cream gets a bad rap for being "boring" or "plain." We think this is simply a bad take. After all, vanilla is the base for so many of our favorite flavors: cookie dough, chocolate chip, and cookies and cream to name a few. Plus, it's easily customizable with toppings so you can switch up the vibe each night. Toss in some Oreos, add sprinkles, drizzle on some caramel sauce. The options are limitless.
Does butter pecan offer the same variety? We think not. That's why it's still sitting in the back of your freezer, collecting ice. Okay, let's be real, the only thing sitting in the back of our freezer is the frozen fruit we swore we'd blend into smoothies three years ago.
We set out to prove the versatility of the most universal ice cream flavor by buying one of each brand at our local grocery store. After much careful consideration (and numerous brain freezes), we present to you a ranking of the best and worst vanilla ice cream flavors.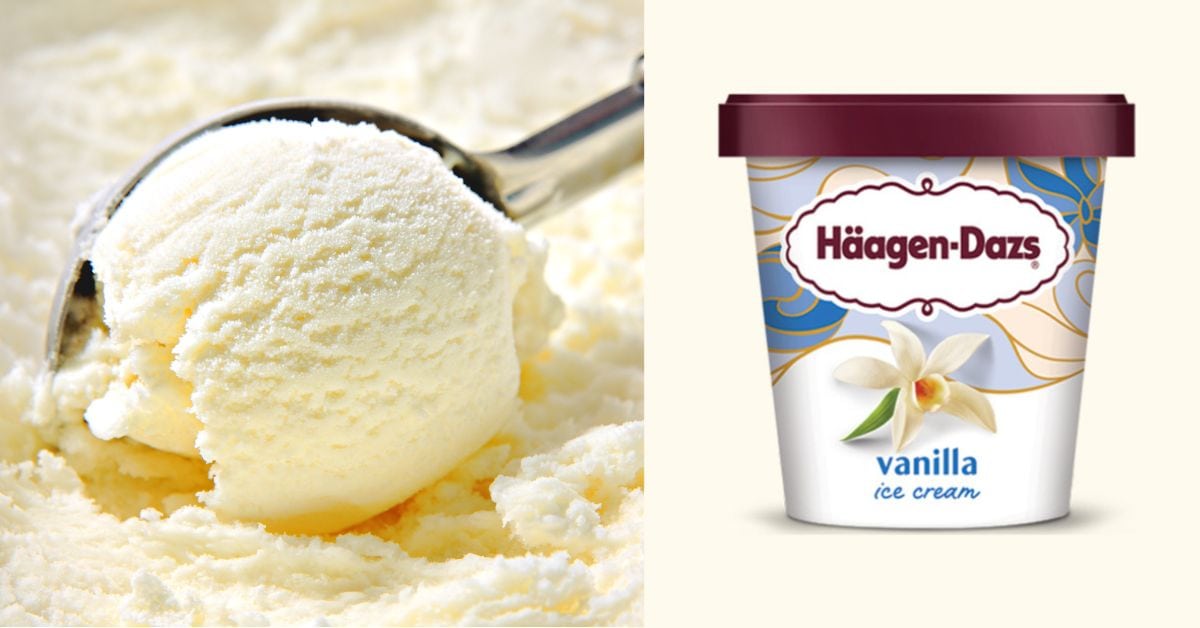 The Best Vanilla Ice Cream, Ranked Worst to Best
11. Oatly Vanilla 100% Vegan Ice Cream
Look, we respect the effort. Oatly offers a frozen dessert option that is gluten free, vegan, non-GMO, and non-dairy. Unfortunately it's also non-edible as a result, but we suppose that's an occupational hazard.
We thought because it's made with oat milk, it would be creamy (like it is when added to coffee), but it was actually surprisingly chalky. The best way we can think to describe the flavor is cardboard. The chalk-like consistency coated our throats and left an unpleasant aftertaste. After a few bites of this, we relegated it to the part of the freezer that only the frozen peas see.
To be fair, if we tried this on its own without direct comparison to other full-dairy ice creams, we might have enjoyed it more. But next to the others, it just didn't stack up. Take the L, oats. You've got enough good PR.
Available at Oatly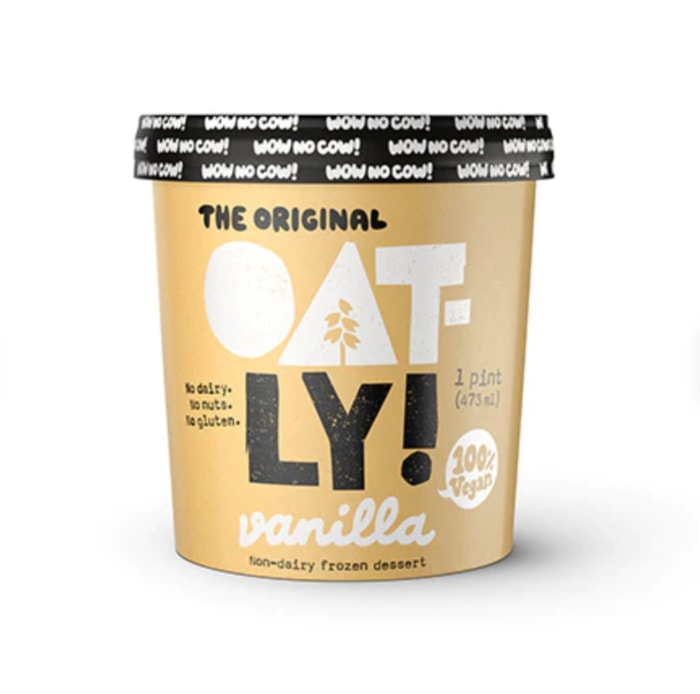 10. Rebel Natural Vanilla Ice Cream
Let us start by saying that this one isn't necessarily bad, it's just worse than the rest. The Rebel brand is keto friendly, so this ice cream is made with 0g of sugar and low carbs. Rebel claims to produce the lowest glycemic index ice cream with 85 to 90 percent of its calories coming from animal fats.
Now that you have all the context, here's the review. You know how a lot of things with zero grams of sugar taste like they have zero grams of sugar? It's that artificial sweetness that hangs around long after you've finished chewing. This ice cream has a lot of that unpleasantness.
If you're on a keto diet and it's necessary to avoid added sugars, this is a great option. But if you're not, we ask: why put yourself through this? We'll probably finish it on one of those days where we haven't shopped in three weeks and things are getting desperate, but all it will do is spark a grocery run, stat.
Available at Rebel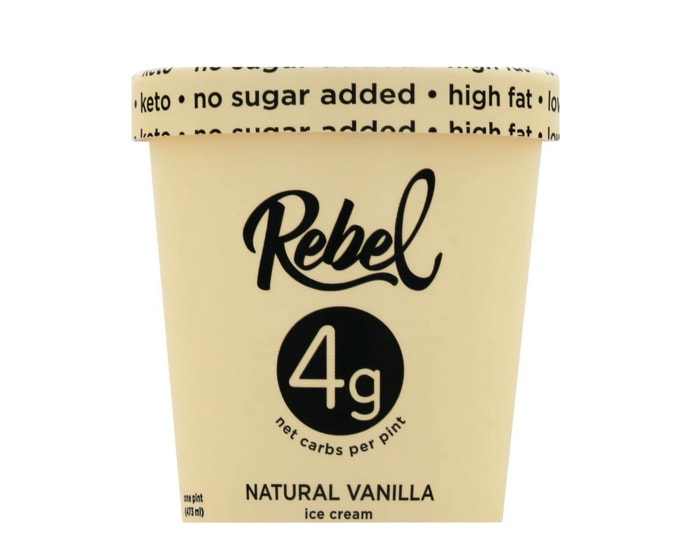 9. Nick's Swedish Vanilj Ice Cream
Ranking the middle chunk of flavors was honestly tough, and this one gave us the hardest time. It's good, but doesn't taste like vanilla ice cream. It tastes like cake batter ice cream. Straight up, 100 percent cake batter. And we like cake batter, so we liked this. But it's not vanilla.
Another option that's keto friendly, an entire pint of Nick's only has 230 calories, which is super low for ice cream. It has no added sugar, and it's gluten free.
Aside from the fact that this tastes like cake batter, the flavor is incredibly strong, which isn't something you usually associate with vanilla. We think it comes from the use of coconut oil. You can definitely pick up on coconut notes. Coco-notes, if you will. And we will. We're allowed to take such liberties. We're the ones writing this article.
Available at Nick's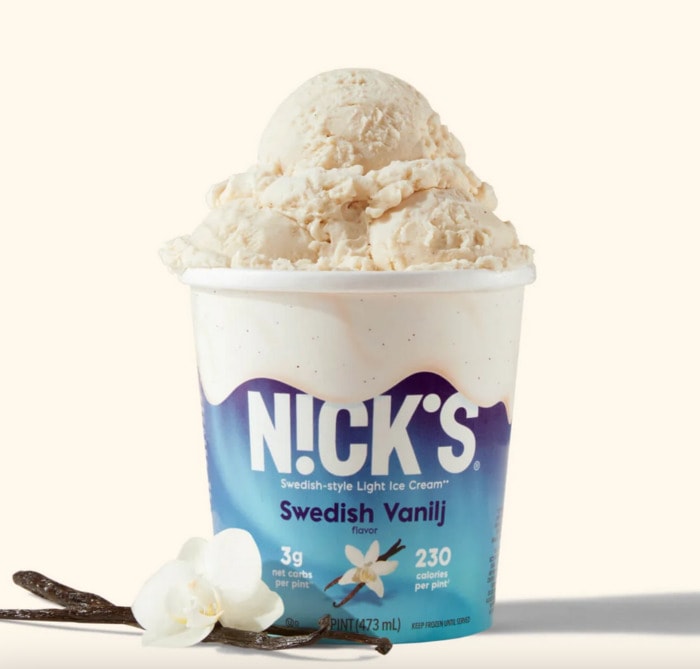 8. Signature Select Vanilla Ice Cream
Now introducing… another vanilla ice cream with a weird aftertaste. The store-bought brand version of vanilla tastes like what you'd expect. It's… edible. With enough sprinkles, it may be good. Heck, drown it in hot fudge and it might even be great.
But it's nothing special, and if any of the other options higher on this list were in stock, we'd never get this again. Obviously. This is how rankings work.
The other issue we have with this is that it's the only one on this entire list that isn't gluten free. It's a weird move for a product that should be naturally gluten free, so as much as we love bread, it loses points for that.
Available at Star Market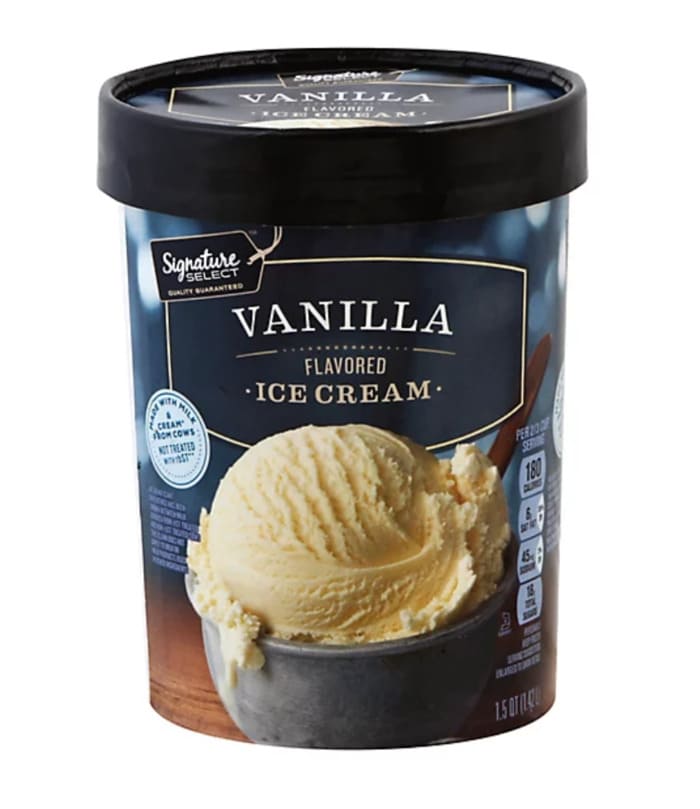 7. Edy's Vanilla Ice Cream
We were disappointed with this middle-of-the-road outcome for Edy's. It's one of those classic freezer brands that you think you can count on, but the word "tinny" came up more than once as we sampled this flavor.
The aftertaste didn't entice us to go back for seconds, and certainly not for thirds. And, as notorious "go back for thirds" folks, this is a red flag.
We will say that this flavor is incredibly creamy, so texture isn't the issue. This is all flavor, baby. It's not us, it's you.
Available at Edy's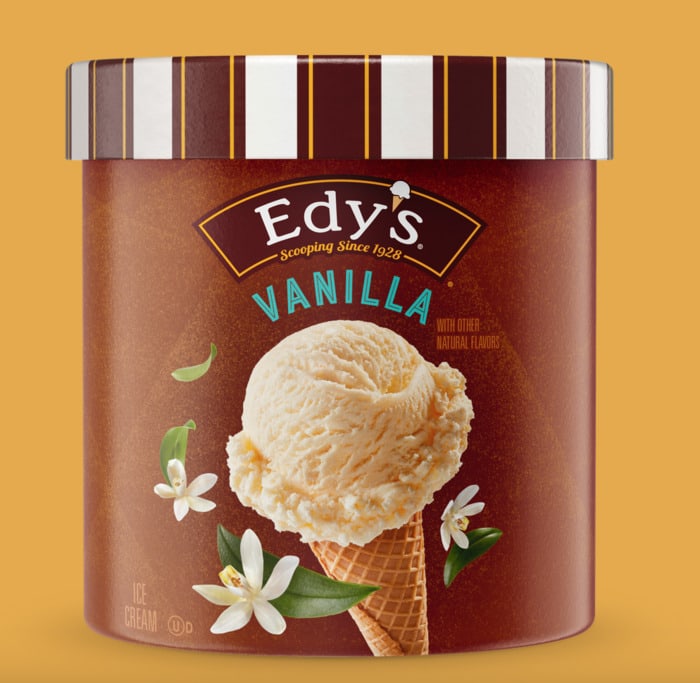 6. Ben & Jerry's Vanilla Ice Cream
Okay, we feel obligated to start this review by saying we are Ben & Jerry's stans. Our freezer is currently stocked with a pint each of Everything But The, Half Baked, and The Tonight Dough. However, their vanilla offering just doesn't quite hit the mark.
This is probably the point in our ranking where we should point out that there are many different varieties of vanilla ice cream. You've got your vanilla bean, your slow-churned, your French vanilla. For this article, we tried to stick to just the classic Vanilla for the fairest comparison, but everyone has their own preferences.
For us, we're all about the creamy vanilla flavors, and this one is closer to that icy, vanilla bean offering. The flavor was slightly metallic, and we just couldn't get over it. The texture was great, but it wasn't giving us that slow-churned, homemade ice cream vibe that took the cake for us. Or… took the ice cream section at the grocery store. That phrase doesn't quite have the same ring to it.
Available at Ben & Jerry's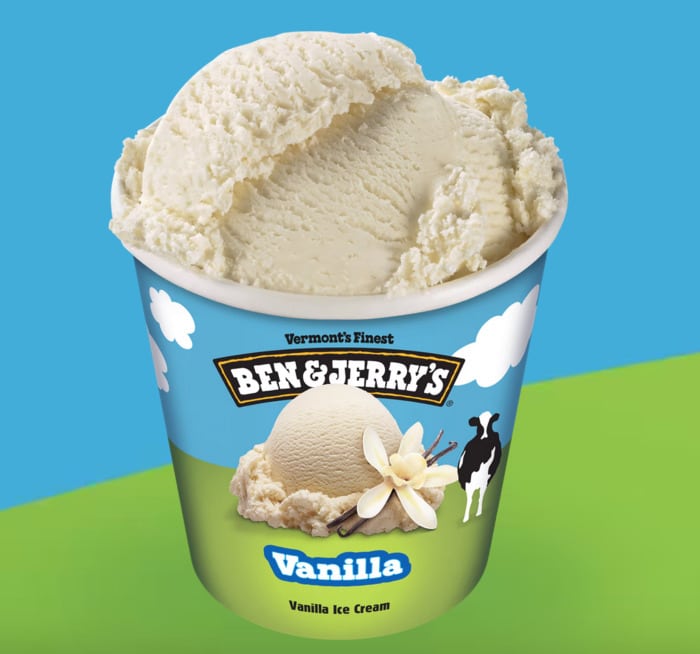 5. Breyers Homemade Vanilla
We're getting into the top five heavy hitters here. Any of these options are worth picking up.
Compared with some of the higher ranked ones, this just didn't wow us in the flavor department. It mostly tasted sweet, but not particularly like vanilla. It's sort of like the cotton candy of ice creams. Yummy, and does the job, but doesn't taste like anything identifiable.
It is perhaps the creamiest one on this list, which is a plus. And Breyers has the ice cream formula down pat, where nothing they produce is really, truly bad. Good news for an ice cream brand. Anyone over there want to help out Crocs?
Available at Breyers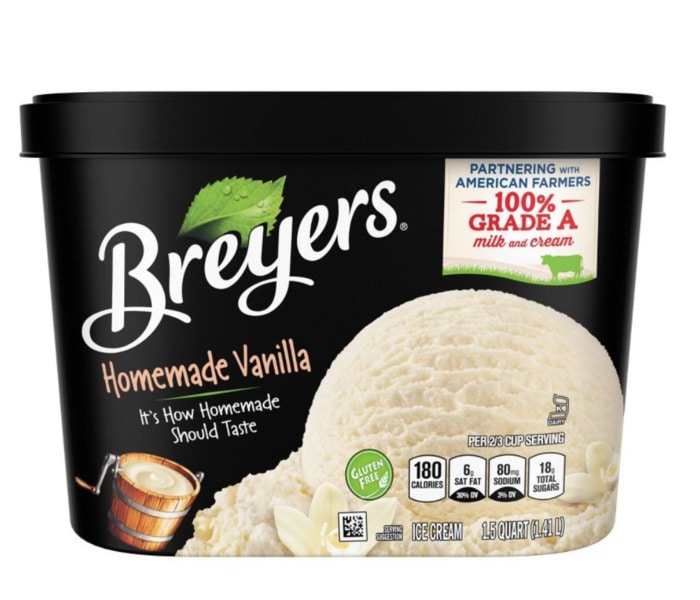 4. LACTAID Lactose-Free Vanilla Ice Cream
We know what you're thinking. A lactose-free ice cream made it into slot number four on this list? Who even are you people?
Here's the thing: we're just as surprised as you. This was the dark horse of the ranking, and it had a super strong showing. And maybe the fact that it is so surprisingly good boosted it a slot or two higher than it should have, but we're confident that this flavor is genuinely tasty. We think. Now you have us second guessing everything!
It's creamy and perfect for anyone who's lactose sensitive. We are too, but clearly we don't care given that we spent the last hour eating eleven different jugs of ice cream.
Available at LACTAID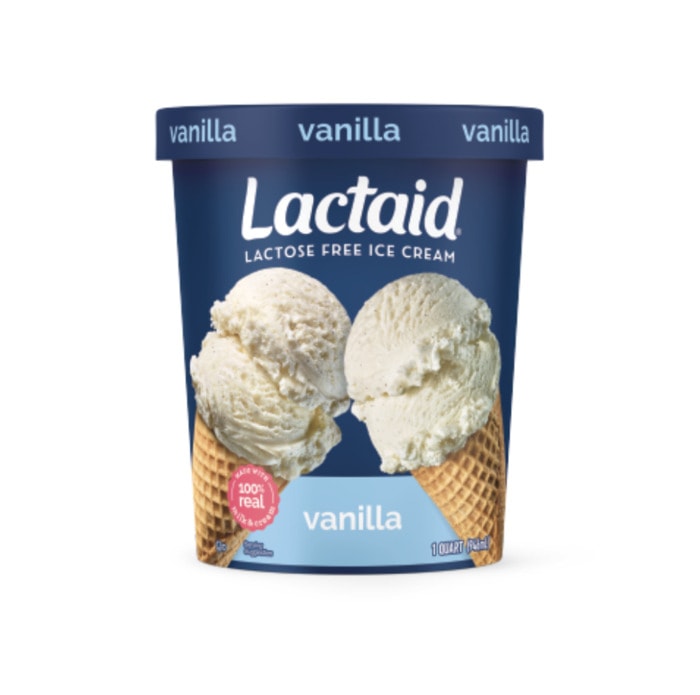 3. Häagen-Dazs Vanilla Ice Cream
The best way we can describe this flavor is that it tastes like the vanilla ice cream you'd get on the boardwalk at the beach. It's like a soft-serve vanilla flavor, but in a hard ice cream. It is definitely the sweetest tasting of the bunch, and felt lighter and fluffier to eat.
Despite this not being the creamiest offering in the lot, the flavor and consistency is genuinely delightful. We found ourselves going back again and again and never being disappointed by a bite of this.
Considering that ice cream is what we tend to drown ourselves in whenever disappointment strikes in life, that might not be saying much, but we really like this one. Now leave us to our sorrows and our pint.
Available at Häagen-Dazs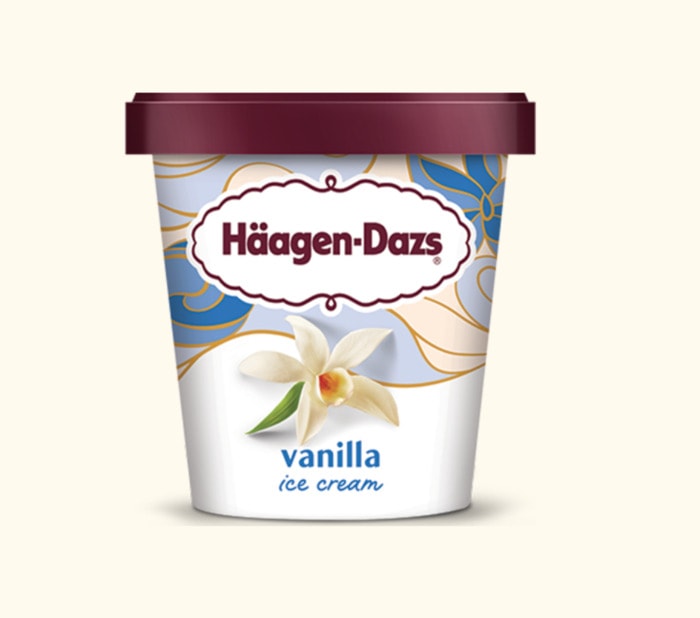 2. Breyers Natural Vanilla
No, you're not seeing things. Breyers is indeed on this list twice. Since it's the most popular store-bought ice cream, we decided to try two of their vanilla offerings, and boy are we glad we did.
As for the Natural Vanilla flavor, this is the OG. It's on the icier, less rich and creamy end of the spectrum. You can even see this difference in the color. It's a lot whiter, which indicates that "natural vanilla."
With only five ingredients, this option truly shows how you don't need a lot of gunk to make a delicious ice cream. The vanilla comes through cleanly, tastes fresh, and we'd go back for fourths. Only after everyone else has had their firsts, of course. We're not monsters. Unless it's a full moon.
Available at Breyers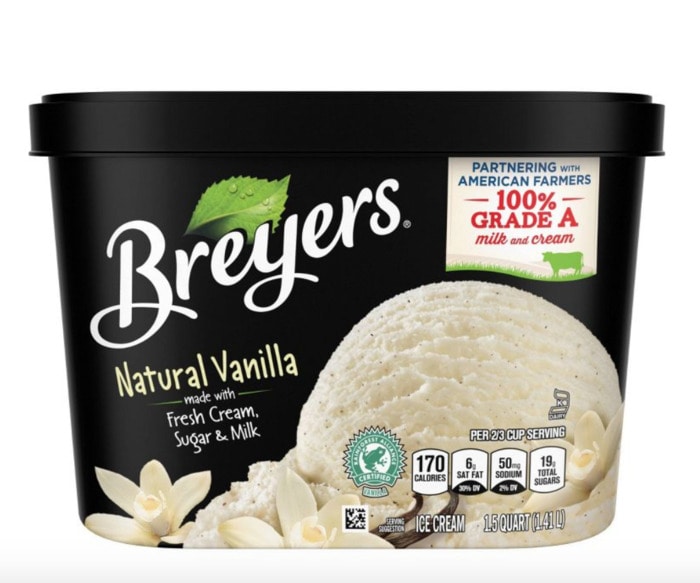 1. Turkey Hill Homemade Vanilla
Turkey Hill beat out what we thought for sure would be the winner of this epic battle. Two of our three reviewers ranked this as the clear winner, while the other one had it in their top three.
Interestingly enough, this one has slightly less sugar than most of the other dairy ice creams on this list. If we've learned anything, it's that the super sweet options tended to drown out that actual vanilla flavor and make for a worse product. You don't have that problem here. It's sweet, but balanced. And, it tastes like vanilla.
Turkey Hill Homemade Vanilla is a super creamy, pale yellow vanilla ice cream, so it probably won't hit as well if you're more of a vanilla bean gal. But we couldn't get enough of it. Seriously. Our body content is about 50 percent water and 25 percent vanilla ice cream at this point. Send help.
Available at Turkey Hill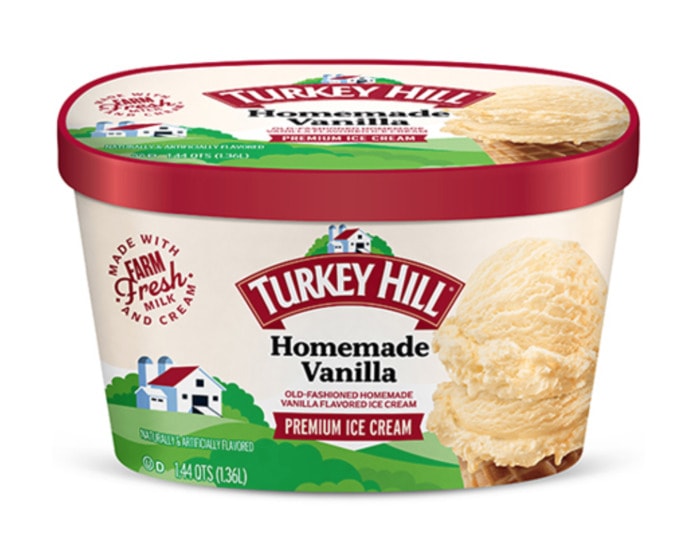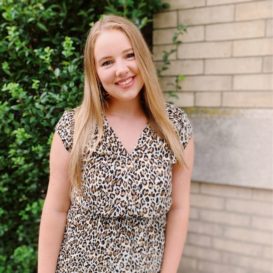 Latest posts by Laura Davis
(see all)