When it comes to weird ice cream creations, Van Leeuwen might be leading the pack. Are the people behind this brand masterminds? Or are they crying out for help? Our list of Van Leeuwen's ice cream flavors ranked worst to best might help answer that.
This ice cream brand has some competition from Salt & Straw, but they're also responsible for some truly odd concoctions like Kraft Mac and Cheese and Dijon Mustard.
They started off in 2008 selling their unique flavors out of an ice cream truck in New York City's Soho neighborhood. Now more than 3,000 stores carry their line which includes ice cream flavors for every occasion — from date nights and dinner parties, to tricking your rude coworker into eating frozen ranch dressing.
From the unhinged, to the adventurous, to the totally classic, here's a look at the Van Leeuwen flavors from past and present.

25 Van Leeuwen Ice Cream Flavors, Ranked From "Never Again" to "More Please"
25. Hidden Valley Ranch (Limited Edition)
The award for the unlikeliest of collabs goes to Van Leeuwen and Hidden Valley for this, um…unique product. What's next? Thousand Island ice cream? Italian Dressing flavor? Where does the chaos end? (Actually, can we get a special sauce while y'all are at it?)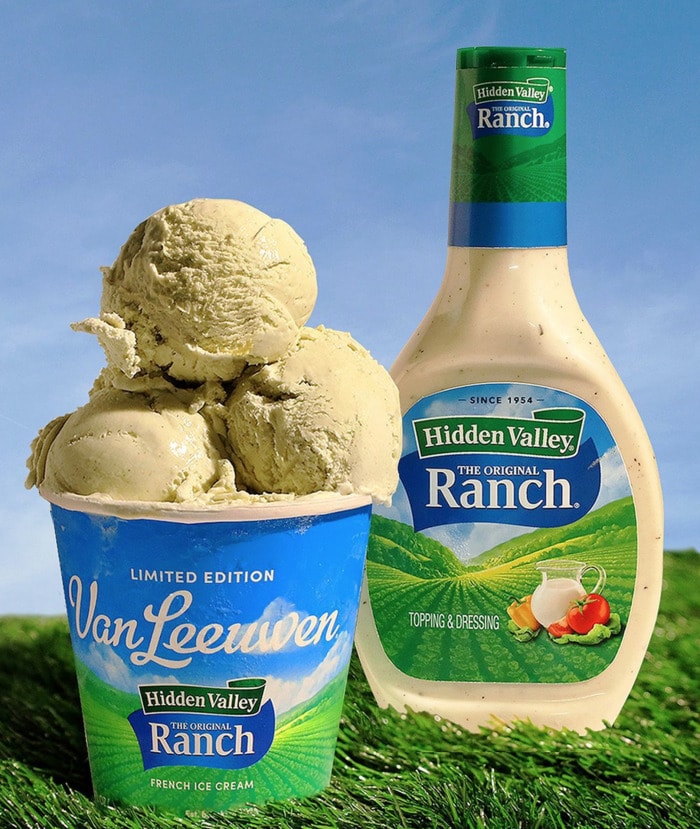 24. Kraft Macaroni & Cheese (Limited Edition)
Though artificial cheddar cheese is the most nostalgic childhood flavor, it shouldn't have ever crossed paths with ice cream. If ketchup becomes the best topping for your sundae, you've officially entered a Rick and Morty episode.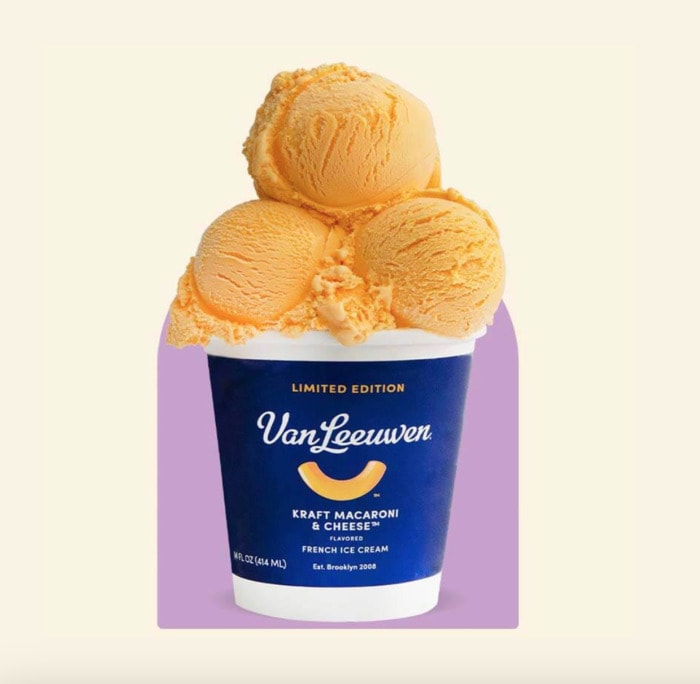 23. Pizza (Limited Edition)
It may be gourmet as heck — a mozzarella ice cream with swirls of tomato jam and basil cookie pieces — but when we said we wanted pizza and ice cream, we didn't mean this.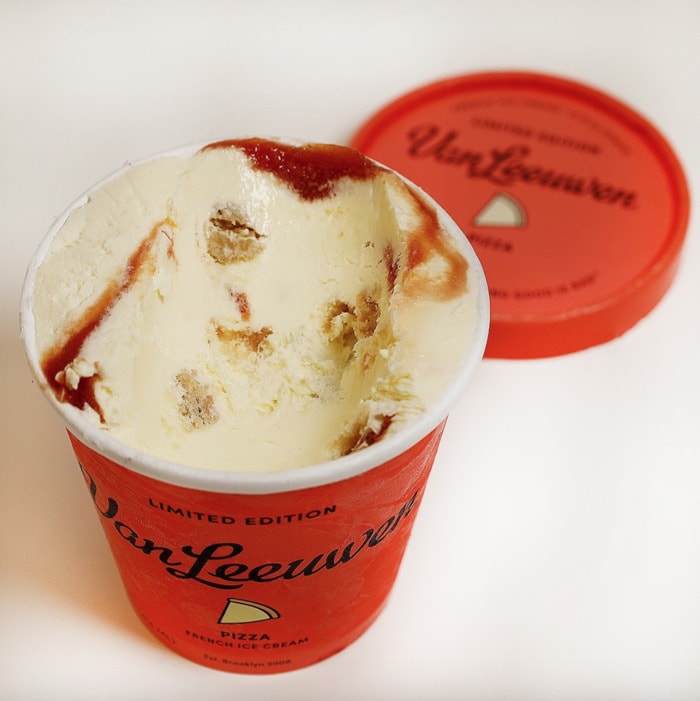 22. Glass Onion Mystery Flavor (Limited Edition)
Spoiler alert: this mystery flavor does, in fact, include onion. Inspired by Rian Johnson's 2022 whodunit film, this Van Leeuwen flavor combines a vanilla ice cream base with Greek yogurt, swirls of Bourbon onion jam, and pineapple honeycomb.
It does not, however, include Benoit Blanc giving a passionate and slightly arousing monologue about the most recent crime he solved, which…honestly is a bummer. Send it back and try again.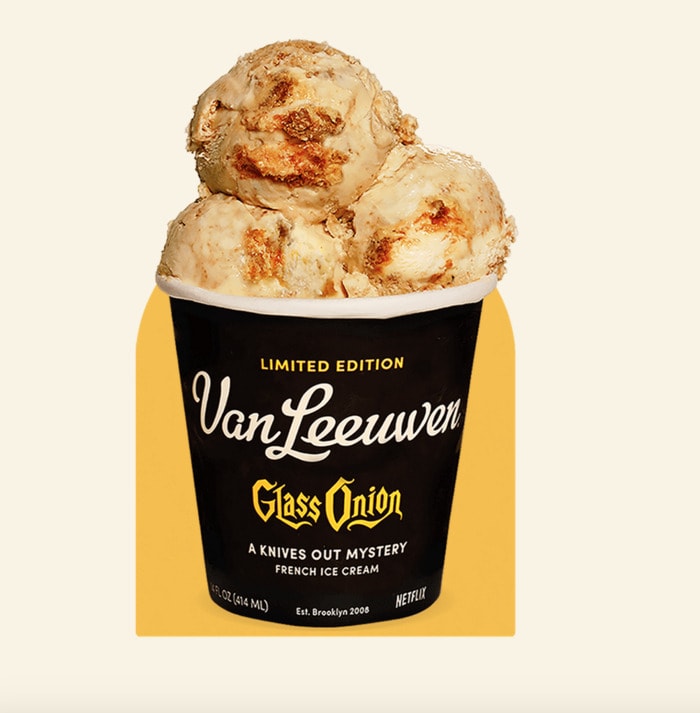 21. Grey Poupon with Salted Pretzels (Limited Edition)
You may recognize the Grey Poupon name from the bottle of Dijon mustard on your fridge door. And that's precisely where it should stay, far away from the unassuming vanilla ice cream in your freezer.
The only thing that makes this a little more bearable is the fairly normal inclusion of salted pretzels. It's like someone was trying to make a new flavor while they were planning a picnic…and then let the intrusive thoughts take over. At least they get a paycheck out of it. We just get, "why are you ruining our family vacation again?"

20. Royal Wedding Cake (Limited Edition)
We love queens and we love cake, but this elderflower and lemon ice cream is a bit extra for our palate. And it doesn't even come with a tiara!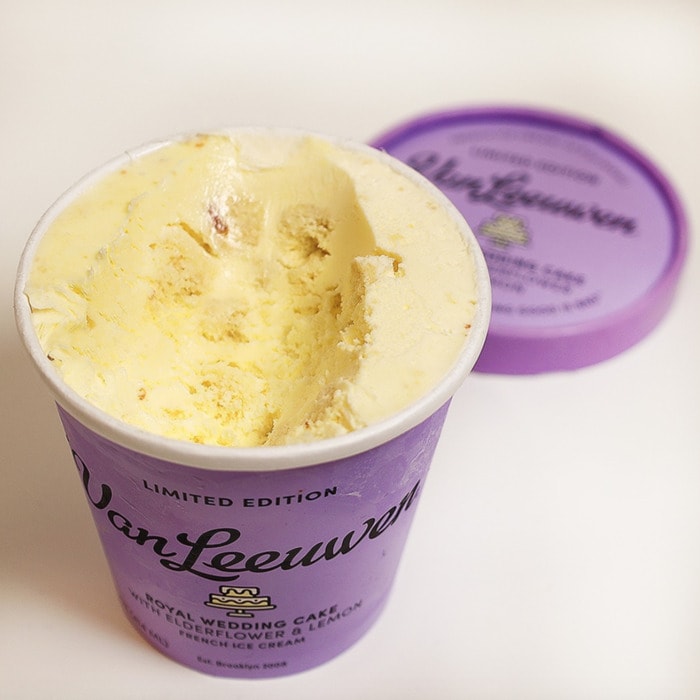 19. Bourbon Cherries Jubilee (Limited Edition)
We have just one, very important note: not enough bourbon. Again. The jubilee, however, is very pronounced! Who knew it tasted like the Scholastic Book Fair?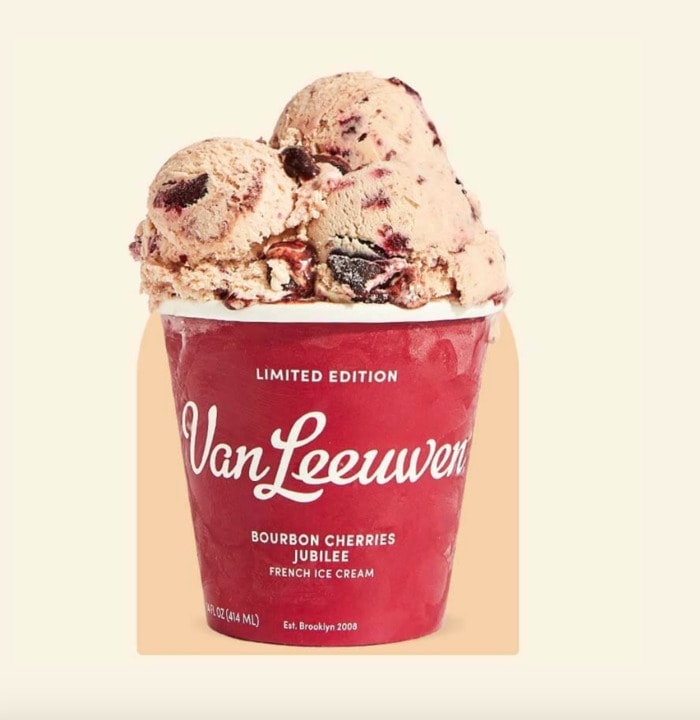 18. Tapatío Mexican Hot Chocolate (Limited Edition)
If you love a spicy and sweet combo, this might be higher on your list. This cold treat definitely brings the heat, but the Tapatío flavor doesn't last long.
Now if you want something that will permanently burn your soul, try Ghost Pepper Ice Cream Popsicles. They're ready for their Hot Ones debut any day now!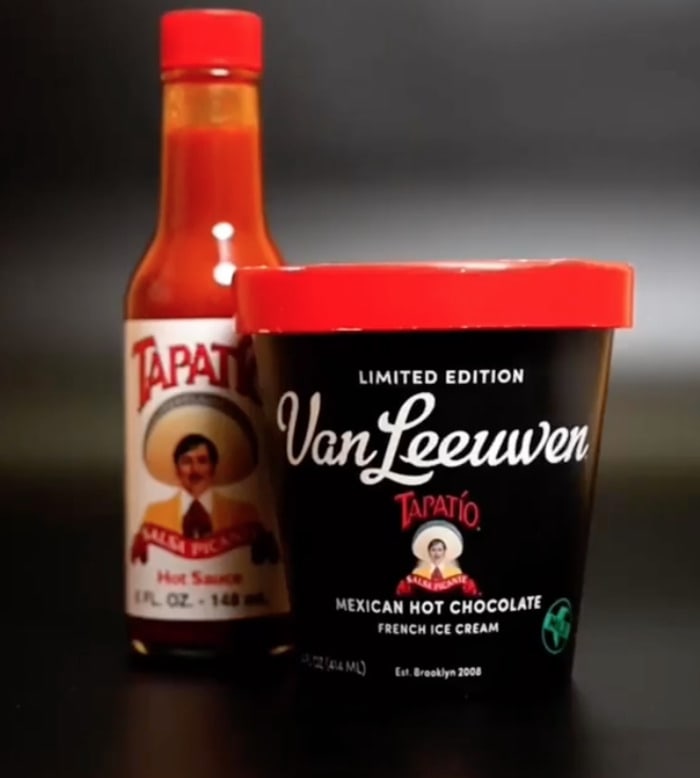 17. Planet Earth (Limited Edition)
Pieces of matcha cake add nice texture to the blue spirulina and vanilla base, it's just not quite flavorful enough to push this Van Leeuwen creation higher up on our list. Major points for aesthetics, though. It does look like planet Earth! David Attenborough, is that you?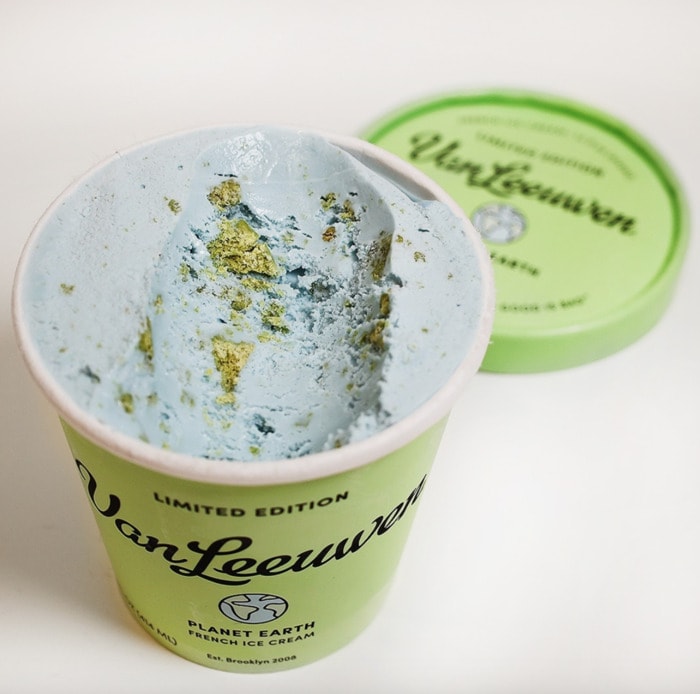 16. Idaho Malted Milkshake & Fries (Limited Edition)
If you ever put potato chips on your ice cream, then this malted flavor is for you. Close your eyes, and be transported to a classic vintage diner. Wait, is that Jared Leto in a catsuit? This might be a dream, actually.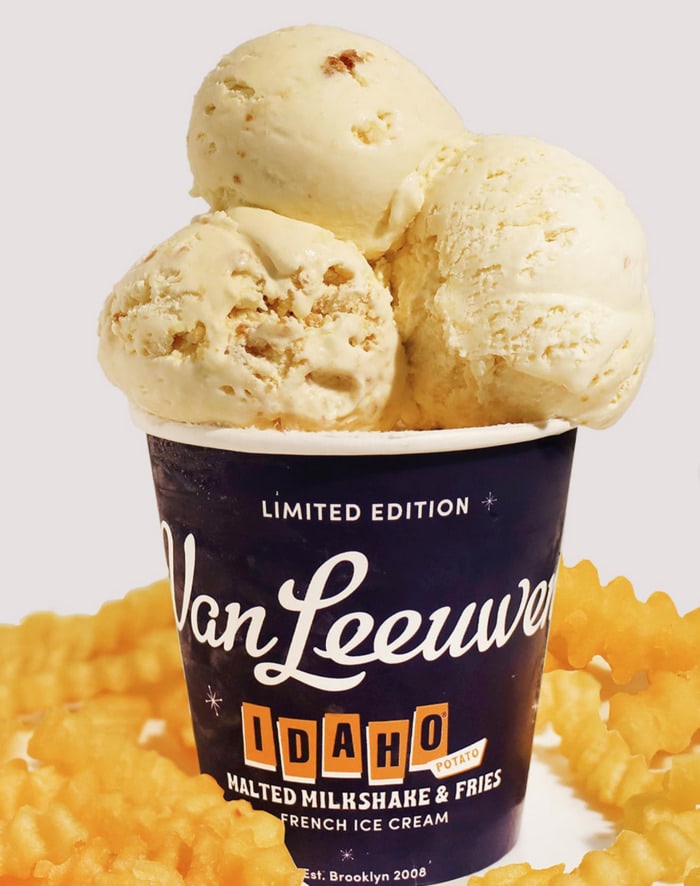 15. Hot Honey (Limited Edition)
This Van Leeuwen ice cream flavor tastes so reliably like hot honey that all we need to make the meal complete is a hunk of brie and a baguette. And that beret our dog ate four months ago.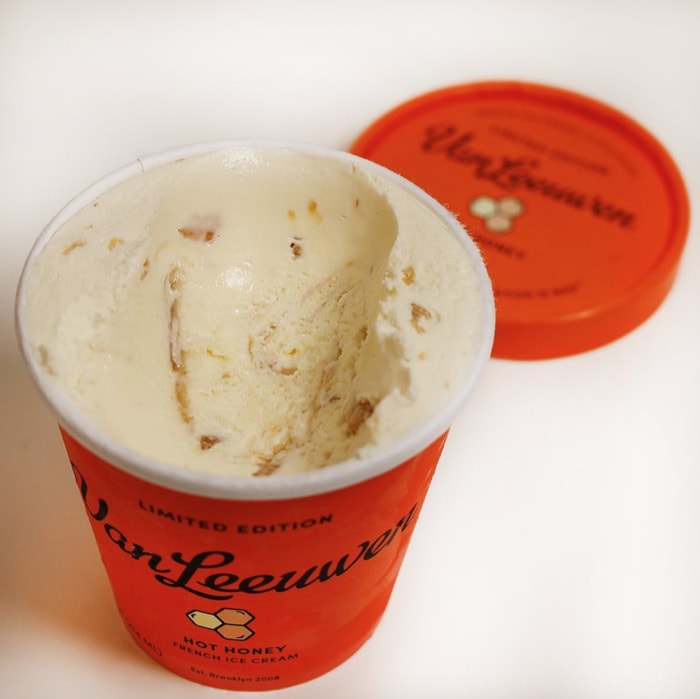 14. Wild Blueberry Shortcake (Limited Edition)
Though this combination of vanilla ice cream, tart blueberries, and buttery crust is *chef's kiss* perfection, it's so rich we could never eat a whole pint. That's what we're ranking here, right?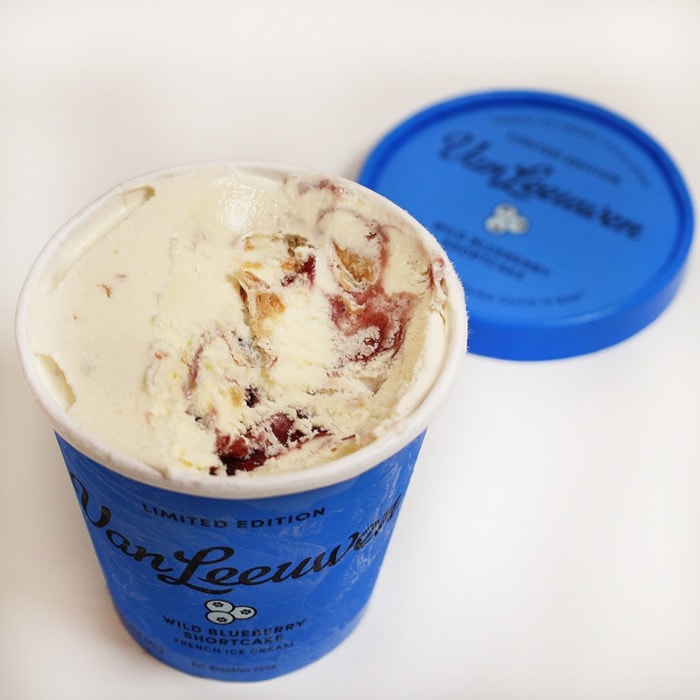 13. Buttermilk Berry Cornbread
The buttermilk ice cream cuts the typical ice cream sweetness just a little in this delicious Van Leeuwen flavor. Add honey cornbread and raspberry swirl and boom. You just scared off all the birds in a 10-mile radius. Sorry, guys!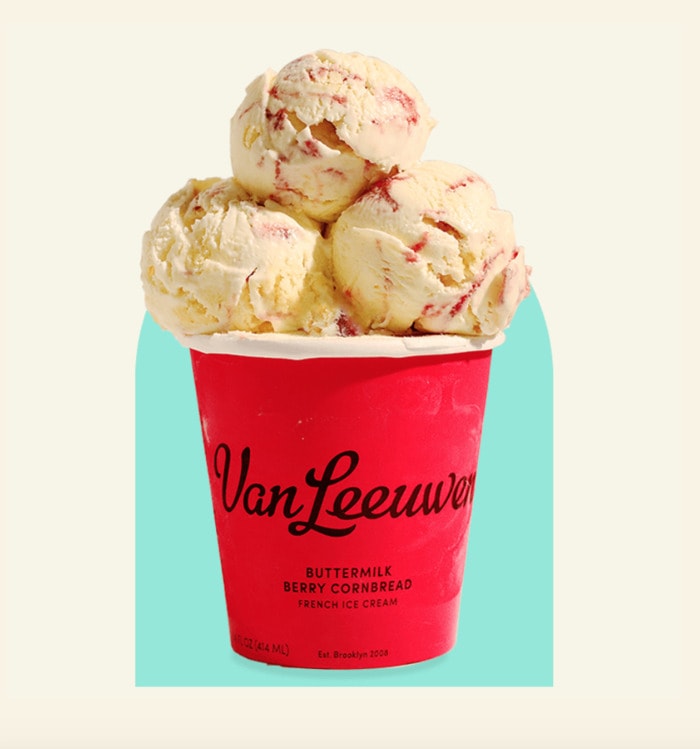 12. Lemon Poppyseed Muffin
As classic as the real thing, but so much better. This delectable combo features lemon ice cream, poppy seeds, swirls of lemon curd, and chunks of honey cornbread muffins. In shorter words, breakfast.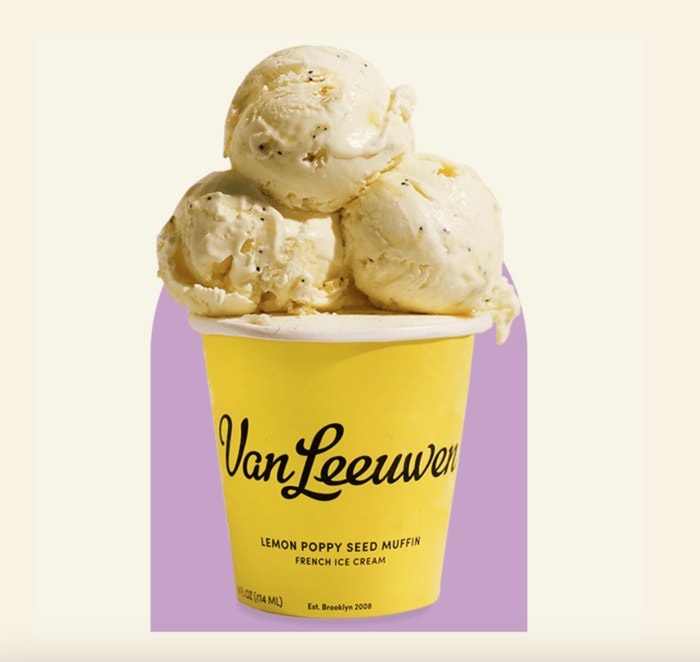 11. Malted Cookie Dough Shake
Move over Ben & Jerry's, Van Leeuwen is coming for your title of having the best cookie dough ice cream. That's a showdown we would gladly watch.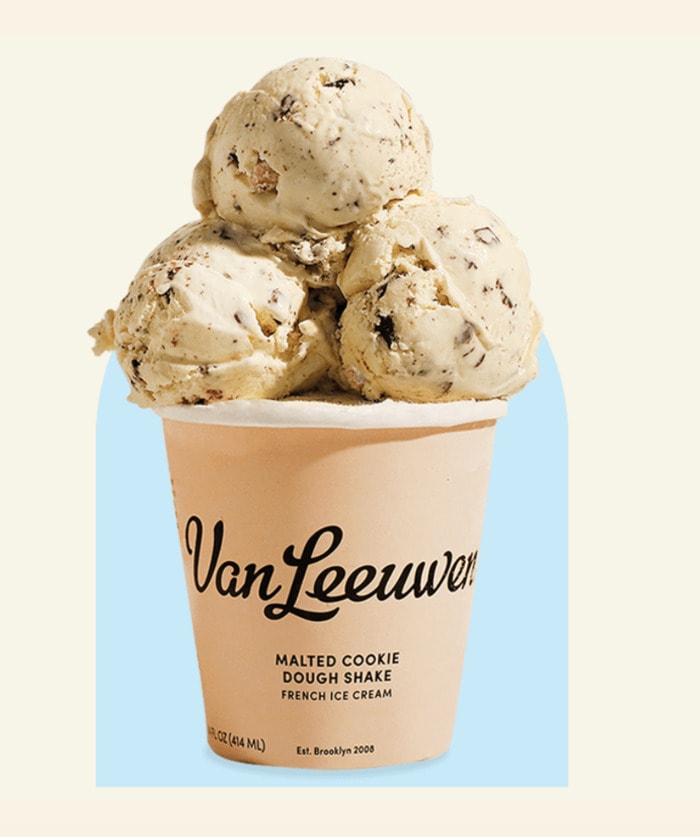 10. Peanut Butter Brownie Honeycomb
This chocolate peanut butter flavor may be richer than Elon Musk, but it's also infinitely more fun to hang out with. Get off your phone already, dude.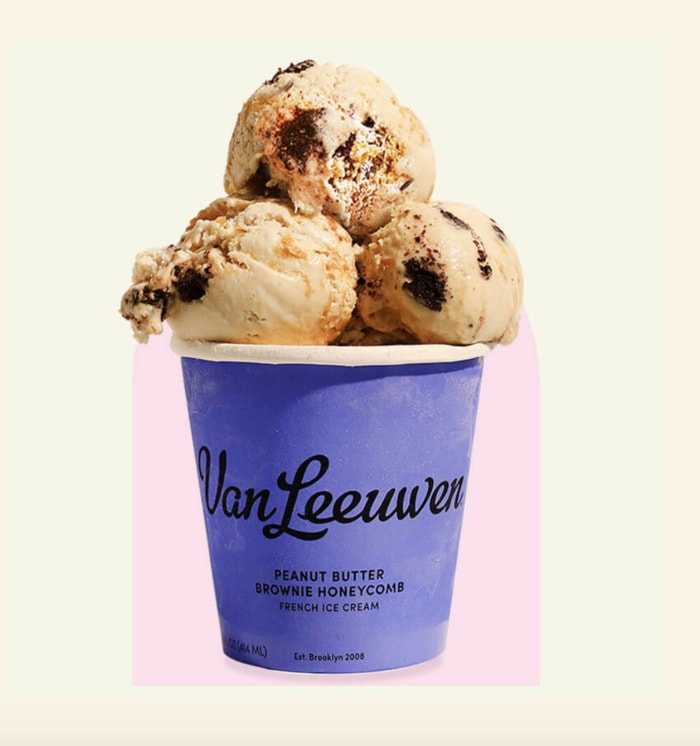 9. Marionberry Cheesecake
Berries and cream? Yes please. We hope all the little lads enjoy this summer-y ice cream flavor.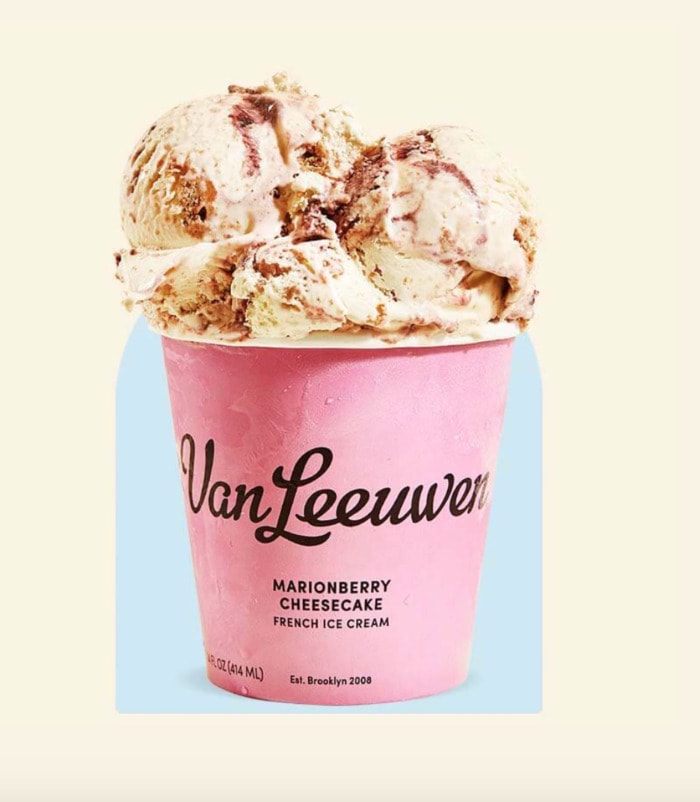 8. Brown Sugar Chunk, with Cookie Dough, Brownies, and Walnuts
If you like to eat ice cream like an archeologist on a dig, this flavor is for you. This creation is delicious, but there's just so much to search for! If you find gold, let us know.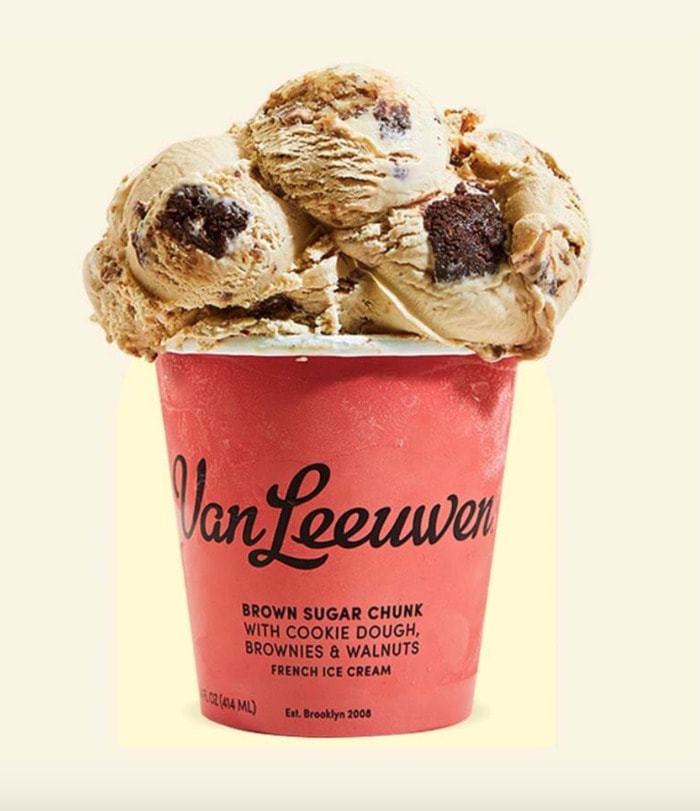 7. Praline Butter Cake
Now this isn't a flavor you see every day. Sweet cream ice cream with praline and brown butter cake? Yup, this is official proof that everything is better with butter. Except for Slip 'N Slide. Or…so our friend says.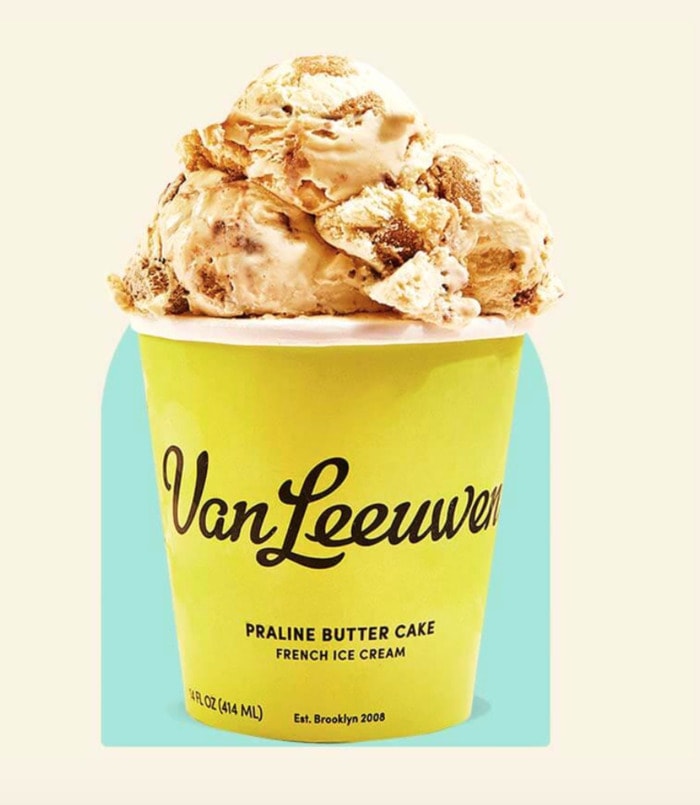 6. Hazelnut Fudge Cookie
We guess the classic pairing of hazelnut and chocolate are now in a throuple with speculoos cookies. We're here for it. Even if we're a bit upset we didn't get invited. Vanilla and cinnamon…you up?

5. King Cake (Limited Edition)
A classic Mardi Gras treat, this flavor is sweet cream ice cream, swirls of purple, yellow, and green, and cinnamon blondie cake pieces. And you don't even have to throw any beads!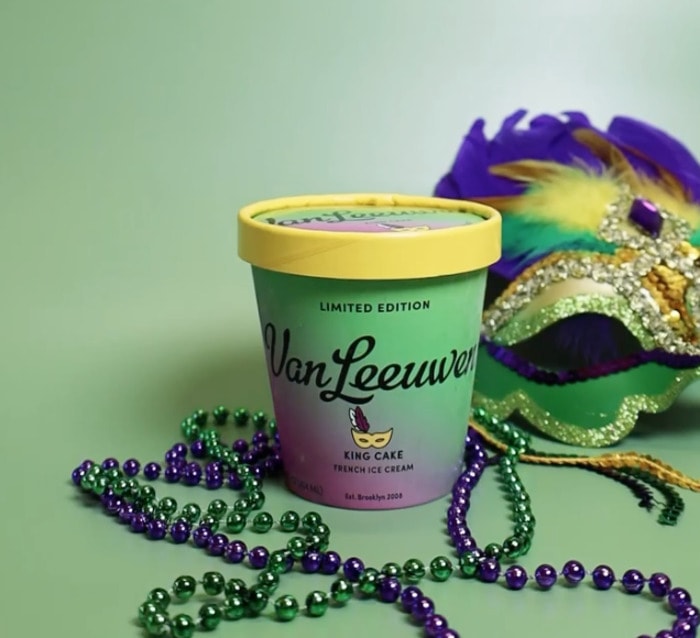 4. Sicilian Pistachio
This is elite ice cream right here, folks. Van Leeuwen's pistachio is made with nuts that only come from Mount Etna in Sicily. Or at least they studied abroad there once.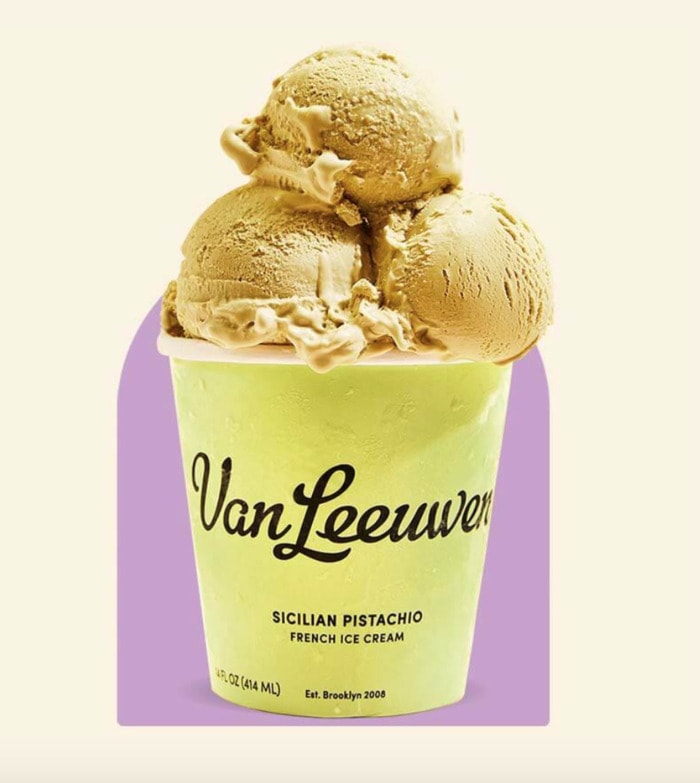 3. Affogato
This collaboration with BIGFACE Coffee checks all the boxes. Well, it checks the most important one, which is that there's coffee.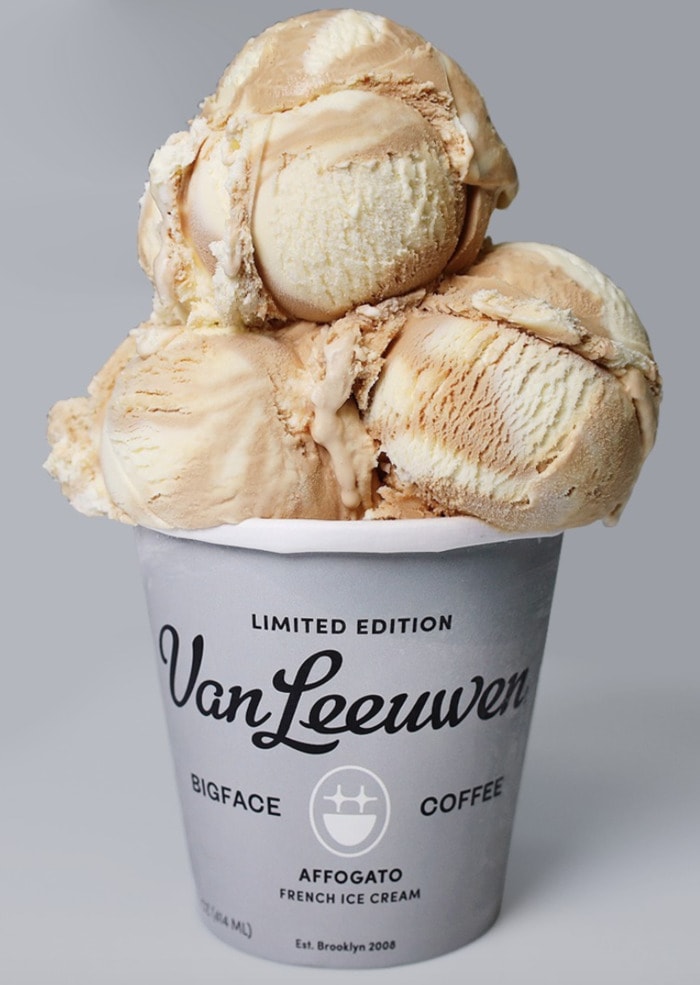 2. Earl Grey Tea
Be sure to lift your pinky while you enjoy this dainty, decadent flavor. Best if served in your best china, and eaten with silver spoons. Just keep the bulls away.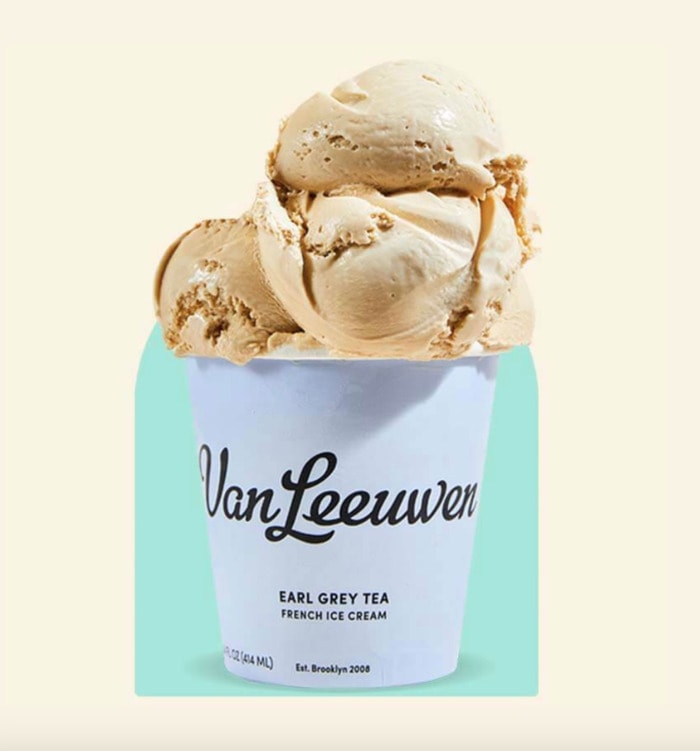 1. Honeycomb
Van Leeuwen's honeycomb ice cream tops the list because it's perfection on its own and it goes with everything. Surprisingly, there's no honey in this flavor – this outrageously creamy ice cream is created using caramel candies.
But before you develop trust issues, we promise it's mind-blowingly delicious. Recommended portion? At least one pint. Plus an extra one to share with us.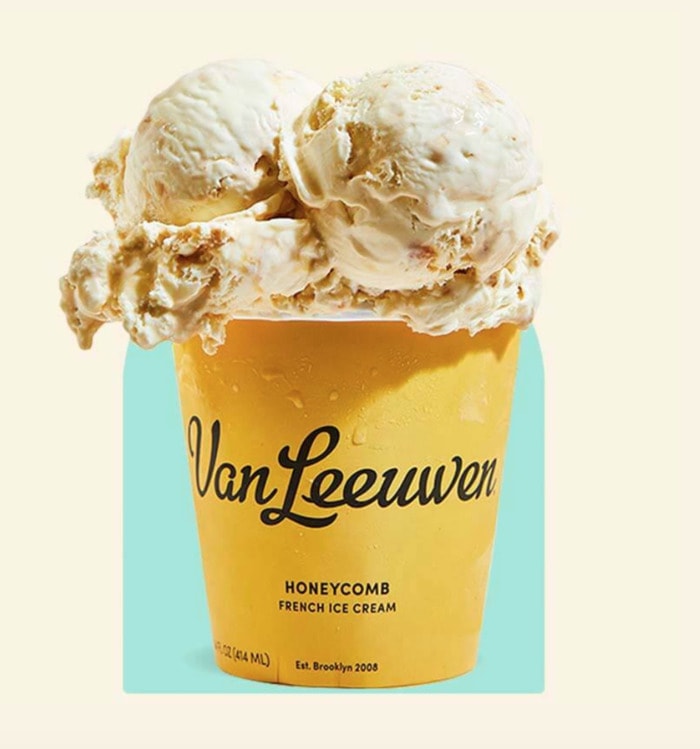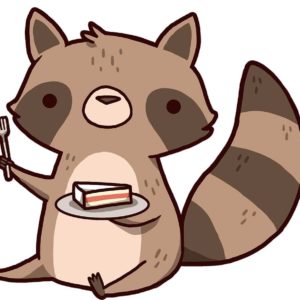 Latest posts by Julia Taliesin
(see all)