When it comes to ice cream flavors, you have a wide variety of choices. You can get a scoop of a classic like chocolate or strawberry or go out on a limb with spiked Eggnog and Blue Moon. Or, if you're Kraft and you think April Fool's is happening year round, Kraft Mac and Cheese ice cream.
Kraft (yeah that one) decided that their candy-flavored Mac and Cheese wasn't quite nausea-inducing enough, so they teamed up with Van Leeuwen to create ice cream. Which broke our brain, the Internet, and (along with it) Van Leeuwen's site.
So WTF is this Concoction?
Kraft Macaroni & Cheese ice cream is exactly what it sounds like. The creamy French ice cream is made with only ingredients you can pronounce like sodium triphosphate and annatto. What aisle are those in again?
If you've never thought about eating mac and cheese and ice cream together — except perhaps as your last meal — now's your chance. Well, at least for a little while. It's limited-edition. We can't wait to see what Kraft comes up with next. Oreos? (Nabisco, please don't take their call.)
Cheese-based ice cream itself isn't that strange. Keso ice cream is a classic flavor in the Philippines and artisanal purveyors have been blending fruit with ribbons of goat cheese for more than a decade. It's just usually made with something that actually resembles cheese.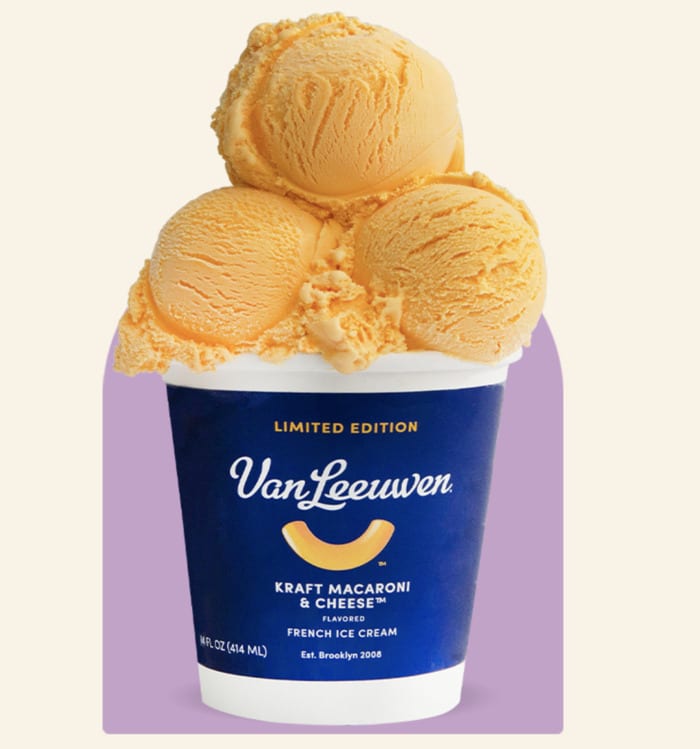 Ingredients in Van Leeuwen's Kraft Mac & Cheese Ice Cream
The ice cream is made from: cream, milk, cane sugar, egg yolks, Kraft cheese sauce mix (whey, milkfat, salt, milk protein concentrate, sodium triphosphate, contains less than 2% of tapioca flour, citric acid, lactic acid, sodium phosphate, calcium phosphate, with paprika, turmeric, and annatto added for color, enzymes, cheese culture).
Where Can You Get It?
The neon-orange ice cream (hey at least it's on-trend) is available on July 14th at their scoop shops in New York, California, Texas, and New Jersey. And — until it sold out — there were $12 pints on the Van Leeuwen site for nationwide shipping.
Some of the Best Twitter Reactions to Kraft Mac & Cheese Ice Cream
1. We're just gonna not take this one personally.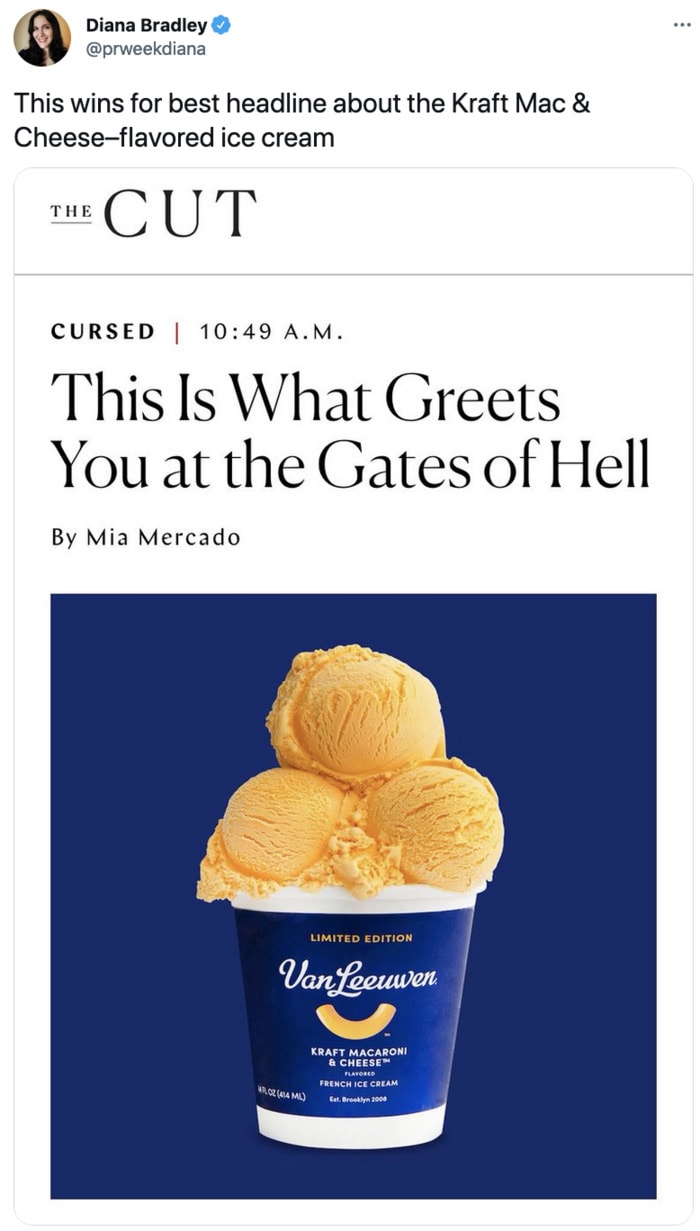 2. Elon, a word?
…Kraft macaroni and cheese ice cream.

This planet has jumped the shark. pic.twitter.com/FavWYA51tD

— Dashie (@DMDash71) July 14, 2021
3. Honestly, we're surprised that that isn't Kraft's next collab.
Kraft Mac N Cheese Ice Cream is the new PS5 pic.twitter.com/TUn7MDNsiL

— Eric Zerkel (@EricZerkel) July 14, 2021
4. Literally no one.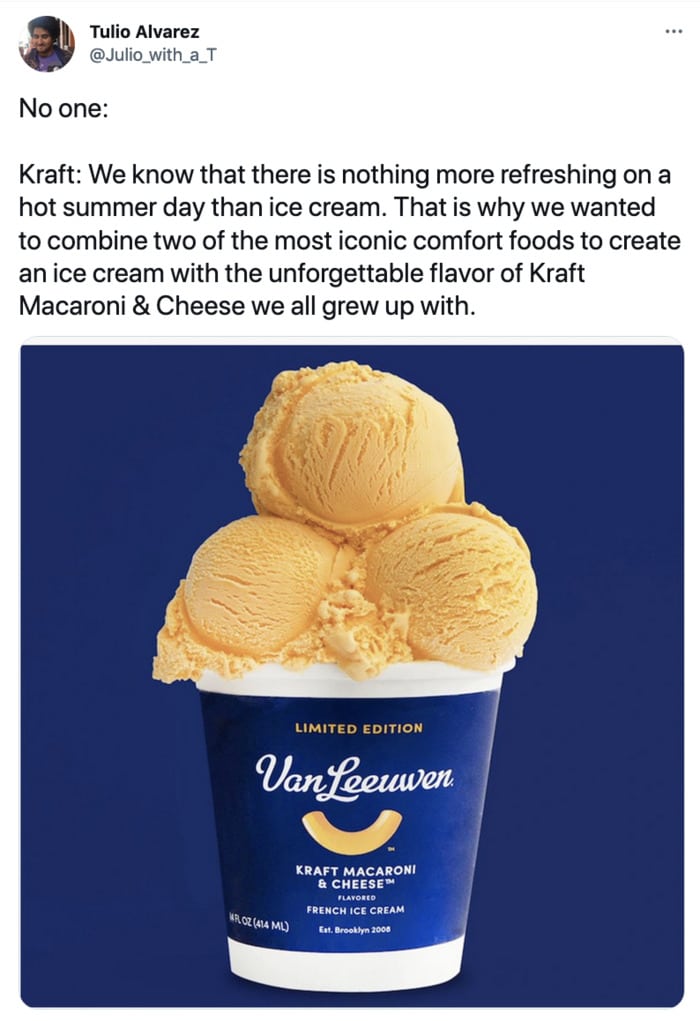 5. How about Cotton Candy flavored?
KRAFT ICE CREAM?!?!

yeah, if you eat this stay away from me….that's just foul pic.twitter.com/PJZ0iMAlu5

— Vice Höff ♨️ (@xHoffy412) July 14, 2021
7. Kraft, is this a cry for help?
I'm just hoping for the sake of anyone who ordered this it tastes more like cheese cake ice cream rather then actual kraft dinner flavoured ice cream.

— Doom (@Doom_SB_) July 14, 2021
8. Yes, but.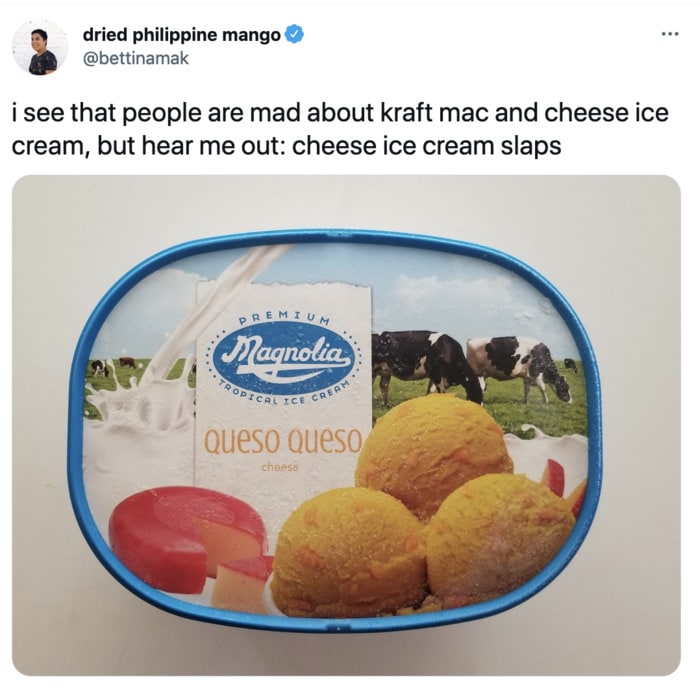 9. Just when we thought Salt & Straw was getting weird with their turkey ice cream.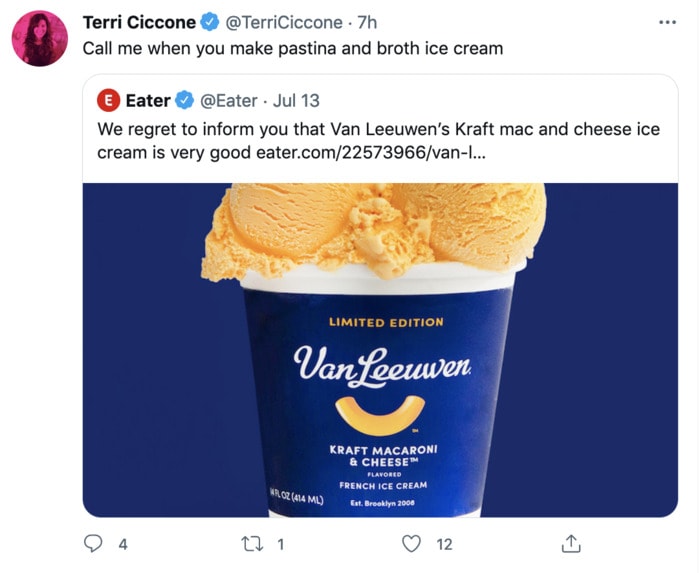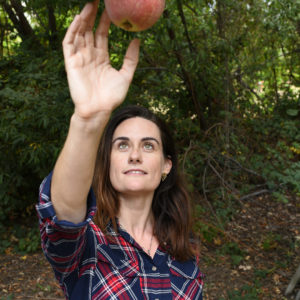 Latest posts by Rebecca Swanner
(see all)