There's a lot to love about summer. It's warm, sunny, and it gives us an excuse for our day drinking. It also blesses us with an endless supply of glorious frozen treats, namely gelato and ice cream.
But what is the difference between these two creamy sensations? Is gelato just American ice cream's Italian cousin? Here's the scoop on the differences between the two.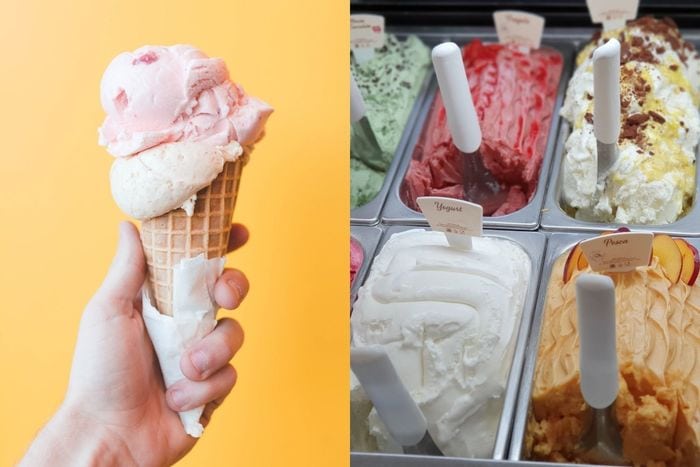 Gelato vs. Ice Cream: Are They Different?
While both treats contain milk, cream, and sugar, ice cream usually also contains eggs, whereas gelato doesn't. If you needed a justification to eat ice cream for breakfast, there it is.
There's also a difference in their calorie and fat amounts. Not to give away any spoilers, but you can't technically call something "ice cream" if it doesn't have at least 10 percent fat. Gelato clocks in a few percents below that.
Ice cream and gelato are kind of like Mary Kate and Ashley Olsen. They've got a similar vibe and aesthetic and frequent the same social circles. But on the inside, gelato and ice cream reportedly have their own personalities.
A Brief History of Ice Cream and Gelato
There have been about as many iterations of theses sweet treats as there have been of the email you've been crafting to request time off. The festivities kicked off in Ancient China, Egypt, and Greece where they flavored ice with fruit and juice, or honey and wine.
Moving into the ripe young ages of 400 BCE, Persia swapped out the rice for pasta and called it Faloodeh, which only sounds odd until you hear that the Chinese Tang Dynasty decided to throw horse milk into the mix. We'd judge, but we can't act like we've never made weird food concoctions at 2AM.
For better or worse, the horse milk inspired the notion that this flavored ice could be creamy, and that all eventually made it to Italy, and then to France. The rich folks kept this delicacy all to themselves for a while. Finally in the 19th century, ice cream (mostly as we know it) became available to the rest of us.
While all those other countries were busy messing around with Seabiscuit and ice, the Italians were trying to make gelato.
But of course, nothing is ever original. In the 11th century they were actually riffing off the idea of sorbet that had been created from an Arab sugar syrup called shrb.
It wasn't until the Renaissance that the world got to taste the first gelato flavor: fior di latte, which is simply milk and sugar. Then, in 1686, Sicilian Francesco Procopio Cuto introduced gelato to the public at his Café Le Procope in Paris.
Exploring the Differences Between Ice Cream and Gelato
Ingredients
Ice cream and gelato both contain the holy trinity of milk, cream, and sugar. But ice cream usually contains egg yolks (an ingredient incorporated by the French), whereas most gelato doesn't.
Ice cream is also has much more fat than gelato. According to the U.S. Food and Drug Administration, it's only ice cream if it contains at least 10 percent fat, though most ice cream has between 14 and 25 percent.
Cover your ears, CrossFitters: this all means that although low-fat scientific marvels like Halo Top aren't technically ice cream. But you already knew that in your heart.
Gelato, on the other hand, typically contains between four to nine percent butterfat, and unsurprisingly has fewer calories than ice cream, too. A ½ cup serving (i.e., a portion fit for a garden gnome) of vanilla ice cream typically contains 210 calories and 16 grams of sugar. In contrast, an equivalent serving of gelato has about 160 calories and 17 grams of sugar.
Flavor Profile and Texture
Despite the lower fat content, gelato is still dense and creamy and not even a little bit like eating chalk. That's because gelato is churned without incorporating as much air into the mixture.
The lower fat content allows other flavors to reach their full potential, since fat can obscure some of a dish's subtler flavors. You know, like the delicate vanilla notes of a deep-fried Twinkie.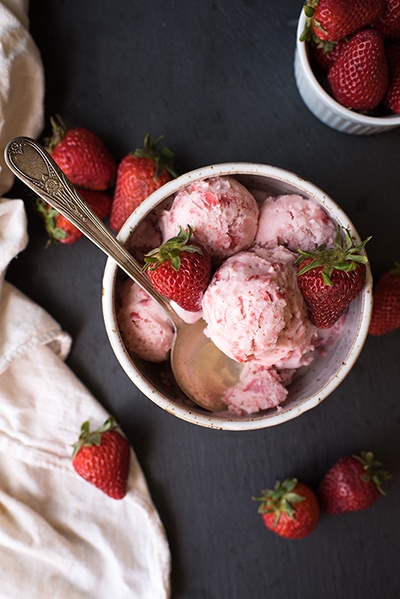 A nod to their respective heritages, ice cream and gelato, tend to come in different flavors too.
According to the International Dairy Foods Association, the best selling ice cream flavors in the U.S. are vanilla, chocolate, cookies n' cream, mint chocolate chip, chocolate cookie dough. We're shocked, we mean shocked, that ghost pepper ice cream didn't make the list.
With gelato, some of the most popular fruit flavors include chocolate, pistachio, hazelnut, and straight-up sexy options like bacio, which means "kiss" and is a hazelnut-chocolate blend.
There's also sette veli, which means "seven veils." This flavor, which is essentially all the chocolate and hazelnuts and pralines, gets its name from the sensual dance Salome did for Herod in the Bible.
Temperature
Speaking of hot, Italian gelato is typically served about 10 to 15 degrees Fahrenheit warmer than American ice cream. According to iced dessert experts, this another flavor-enhancing technique. It also helps the gelato retain its silkiness.
Serving Style
Gelato and ice cream are also dished out differently, partially because of their different textures. Gelato is usually served with a flat spade, while ice cream is scooped up. Generally, cones aren't as standard in gelaterias as in ice cream parlors either.
But in the end, there's no right or wrong way to eat either. Anyone who tells you otherwise is probably still thinks that Halo Top is real ice cream.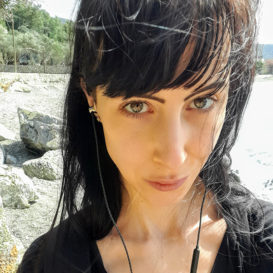 Latest posts by Kate Daniel
(see all)