People have wanted the return of the Viennetta Cake almost as much as they wanted The Office to come back to Netflix. After almost 30 years of begging and pleading, Good Humor has kicked off 2021 by giving the people what they want: Dessert. (And Michael Scott.)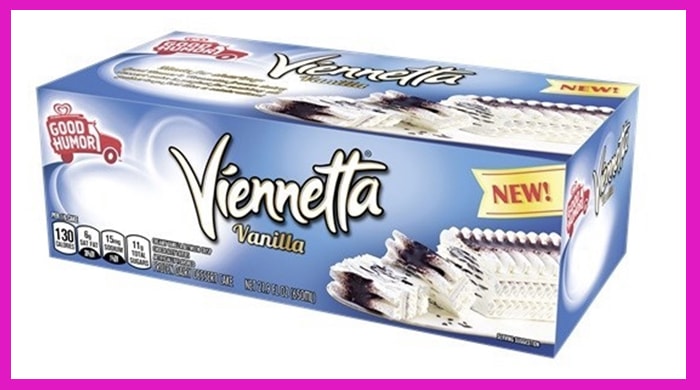 What is The Viennetta Ice Cream Cake?
The Viennetta cake is a loaf cake, but it's made out of ice cream. Which sounds like an absolute dream, or a nightmare if you are vegan.
If you've never had the pleasure of tasting this sweet treat, the cake is made from signature waves of vanilla ice cream with thin sheets of chocolate in between each layer. Then they freeze the luscious chocolate to give it that crunch we all fantasize about.
The combo of the creamy vanilla and the crispy chocolate really live up to the Viennetta slogan: "one slice is never enough." Which is all to say, you're gonna need a bigger wine glass.

So far, the vanilla flavor is the one that's been announced. We're crossing our fingers that someone didn't lose the recipes for the mint, chocolate, and pistachio flavors so they can make a triumphant return as well.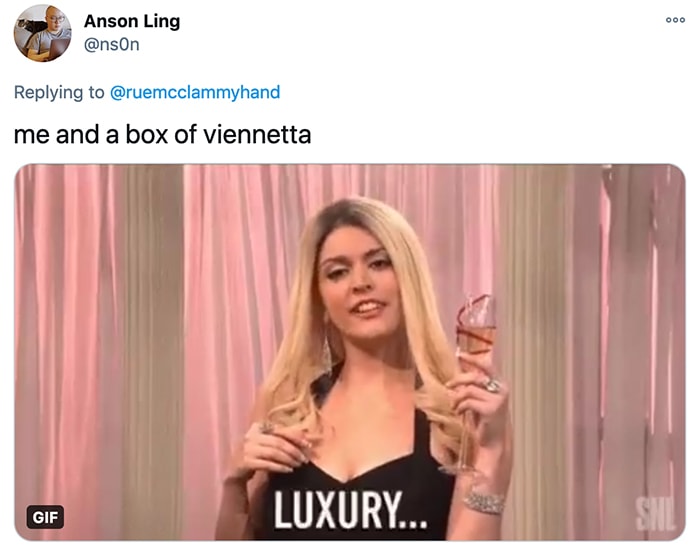 Where Can I Buy the Viennetta Vanilla Cake?
If you're reading this across the pond, then you've been enjoying Viennetta for years. For us Yanks, we'll be able to find it in our American grocery stores by the end of January. You can find your closest store at the Good Humor website. In the meantime, you can just patiently wait by the local freezer section, like your dog waiting for you to come home from work.
How Do I Make My Own?
Can't get to a store that sells it? We know that this is what's been keeping you up at night, but do not worry.

There are plenty of recipes out there on the Internet for you to try your hand at making your own Viennetta. All you need is a loaf pan, a tub of ice cream (preferably Breyers, the company who originally blessed the world with the cake), and melted chocolate. If you are really confident in your skills, you can even make your own ice cream.

Twitter is Also Pretty Excited About the Vienetta Cake's Return
What I'm buying with my stimulus check. #viennetta pic.twitter.com/vmL4JYdpFF

— Hi, I'm Jon Matteson (@JonMatteson) January 8, 2021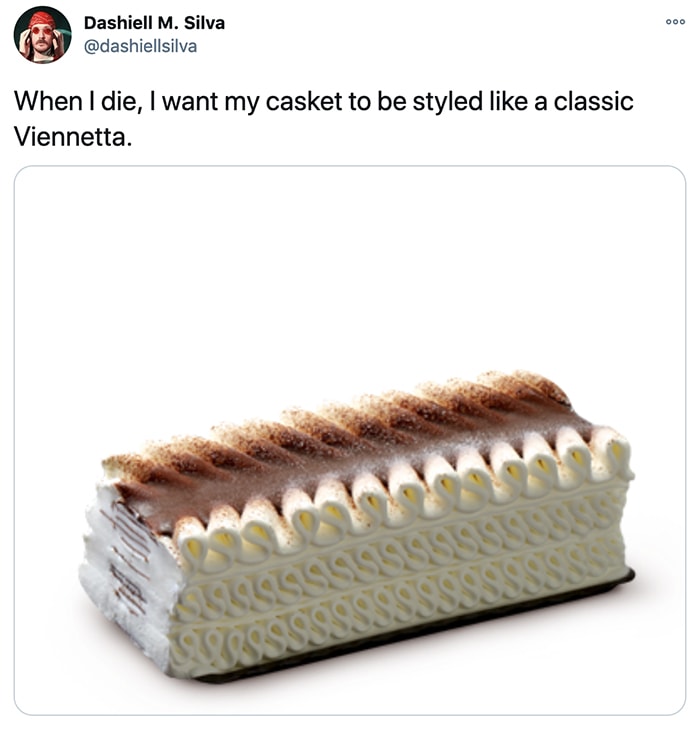 Once viennetta is finally back whose great-aunt's house are we going to have dinner at

— yawny paul (@menoselojo) January 8, 2021
Idk but my body is ready #viennetta pic.twitter.com/PXkx7x0rRp

— Minna Kim (@MoxieMinna) January 9, 2021
Me when I ate Viennetta Ice Cream https://t.co/0Bmfrujpjt pic.twitter.com/8gWg2N40qI

— B***h, do you know what Google says!!! (@Gregs_Anatomy) January 8, 2021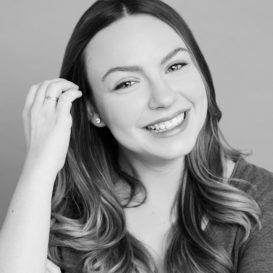 Latest posts by Katie Schindelheim
(see all)