If you're the type of person more likely to have a wine glass on hand than a knife, then this wine glass cake cutting hack is just for you. TikTok has not ceased to provide some amazing baking hacks and food trends this year.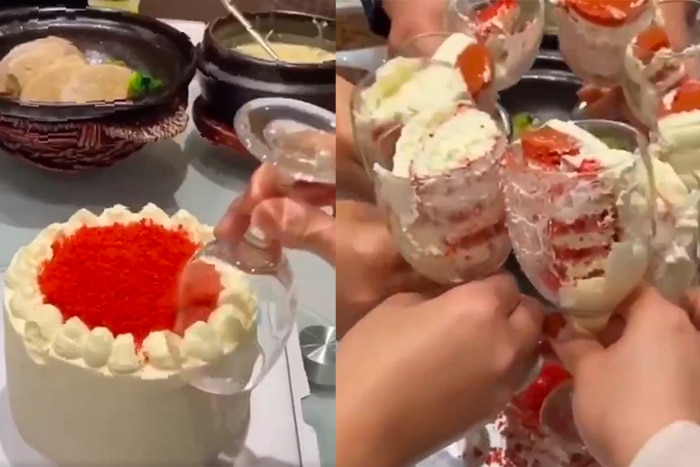 Between the mini pancake cereal, White Claw slushies, and Dalgona coffee, you could spend all your time watching TikTok videos and cooking. It's not quarantine if you don't have something to show for it, right?
The latest food hack requires only a wine glass (preferably empty) and some cake – something you should have on hand at all times. If you don't have a cake handy, here's a recipe for a rainbow one.
Here's the technique in action:
cheers pic.twitter.com/pVFNfVXHUY

— Food (@fooduz) November 28, 2020
What Is This Cake Cutting Hack?
Well, it's exactly what it sounds and looks like. And, no sharp knives, pesky plates or precision needed.
Simply take a wine glass, flip it upside down, and press it into the edge of the cake. Once you reach the bottom of the cake, flip that glass right side up, grab a fork and eat your cake!
The wine glass serves not only as a knife, but also a bowl. And, this is great for germaphobes (or current times) because no one has to touch anyone else's plate or the cake itself.
Some Cake Cutting Tips:

The concept really requires no instructions, but here are a few good suggestions when using this genius hack at home.
Use a deep wine glass with a stem to hold onto. Unless, you want your hand in the cake. In which case, party on.
Best for a small-medium cake. Otherwise, you'll have a lot of cake leftover with minimal icing. Which will lead to maximum sadness.
Don't press down too hard to prevent pieces of glass in your cake. If you need to press that hard, the cake is likely a bit too done.
Someone prefer cake over icing? Have them wait til the end when the middle is left.
Start using it on other foods. Brownies. Lasagna. Next year's Thanksgiving turkey. The world is your oyster.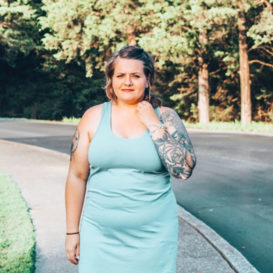 Latest posts by Ashley Hubbard
(see all)