By now, you've perfected the original recipe for whipped coffee and are ready for some Dalgona Coffee variations. Let someone else deal with the chemistry experiment of making Diet Coke Cupcakes.
The origin of this whipped coffee drink is highly disputed — might be Greece, might be India, might be Macau. But let's be real, we discovered it on TikTok, and making it seemed a lot easier than trying to learn the Renegade dance. All you (usually) need is instant coffee, milk, water, and sugar. The variations below play with the theme, and some are even caffeine free.
9 Dalgona Coffee Variations
1. Ube Dalgona Coffee
We're big fans of ube, and once we saw this lavender ube coconut whipped coffee, we were in love. Made with powdered ube, lavender syrup, and chilled coconut milk, it's both pretty and delicious. Which is more than we can saw for passion fruit. Sorry, little buddy! Here's Nom Life's video showing how to make it step-by-step.

2. Rose Dalgona Coffee
Want to rosè all day but also get work done? This rose dalgona coffee recipe by Zheelicious actually removes all the coffee from the equation. So, if you don't need caffeine to get through the day, this one's for you, you magical unicorn. Swap the coffee for rose syrup and your whipped topping will have a slightly floral taste.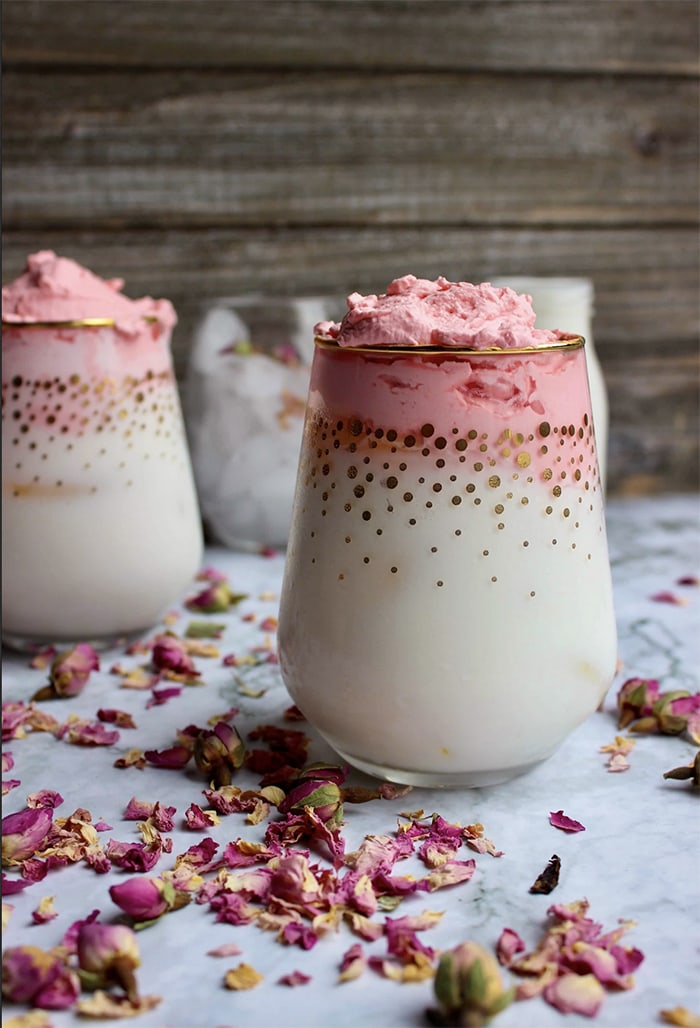 3. Whipped Strawberry Milk
Remember the days when all we had to worry about was sipping on strawberry milk and being mad at our parents for getting us a Tamogotchi instead of a Nanopet? This nostalgic drink flavored with homemade strawberry syrup will bring you back. It may not have caffeine, but it should give you enough of a sugar rush to spawn some scorpions on your Animal Crossing island.
4. Whipped Matcha Dalgona Coffee
This is matcha version by one of our favorite Instagrammers Food is Why I'm Broke, is another coffee-free variation. But hear us out, matcha is packed with caffeine. And, the whipped topping, made with matcha powder, sugar, and heavy cream, reminds us of frosting. It also reminds us that we can have cake for breakfast because there are no rules anymore.
5. Keto Dalgona Coffee
This keto dalgona coffee variation is sweetened with Swerve, so it's not only TikTok approved, but also keto friendly. We love a good collab! This recipe makes two cups, but we're probably not going to share. (We don't always love a collab.)

6. Nutella Dalgona Coffee
Honestly, you could slather Nutella on just about anything and we'll eat it. Toast? Yes. Rice cakes? Sure. An old sock? Let's do it. So we're definitely in for this Nutella Dalgona coffee. Use Nutella in place of the coffee in the whipped topping — so it's basically just a Nutella milkshake.
Which is probably better than a sock milkshake. Try it and get back to us.
7. Peanut Butter Dalgona Coffee
If you're looking for a variation you can have for dessert, try this peanut butter Dalgona coffee. Make it with whipped peanut butter and cream, then pour it over cold (preferably chocolate) milk in a glass rimmed with peanut butter and Reese's Pieces.

8. Dalgona Mocha Coffee
It's rich, it's velvety, and it actually has coffee in it. and it's the perfect symbiotic combination of coffee and chocolate. This recipe proves it only takes a tablespoon of cocoa powder to level up the original recipe. Just like it only takes a tablespoon of whiskey to level up a Zoom conference call.
9. Cinnamon Dalgona Coffee
Having a rough morning? This decadent cinnamon creme brulee variation by Yeji's Kitchen Stories should put your day in the right direction. Simply get out all of your morning frustration by lighting your coffee on fire. If that doesn't work, there's always wine. We mean meditation. It's so easy to confuse the two.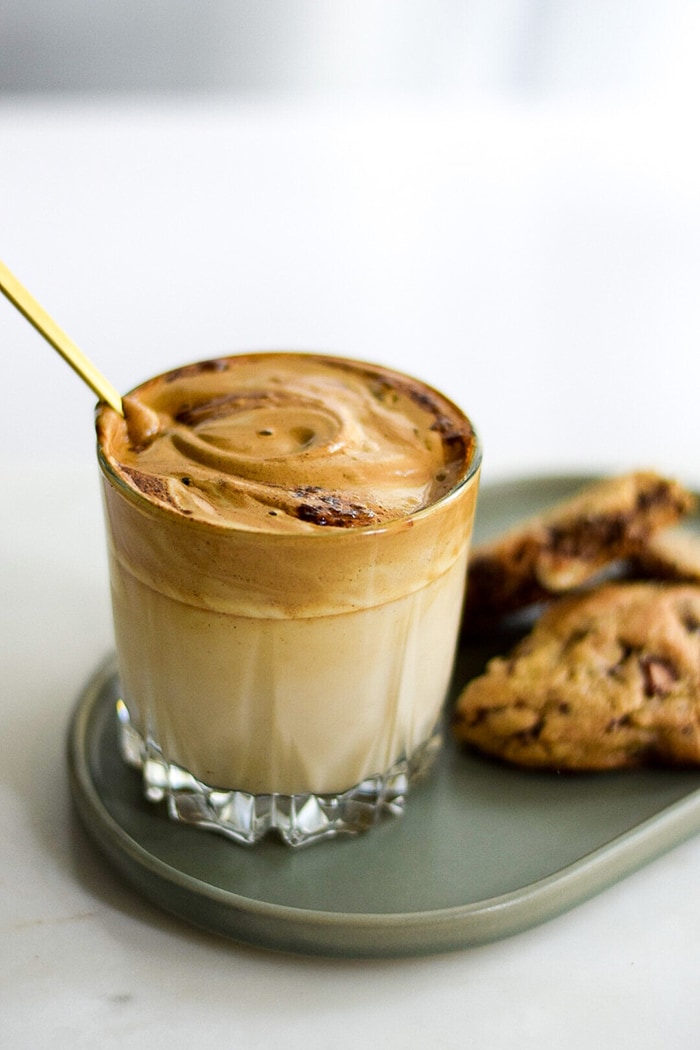 Latest posts by Hedy Phillips
(see all)