When it comes to Thanksgiving desserts, there's unusual… and there's this: The Baskin-Robbins Turkey Ice Cream Cake. You read that correctly.
No, it doesn't taste like turkey, unlike those wacky colas from Jones Soda or Salt and Straw's somehow actually really tasty Thanksgiving ice cream flavors. (This year they've included House Rolls with Salted Buttercream and yes we will be buying a pint.)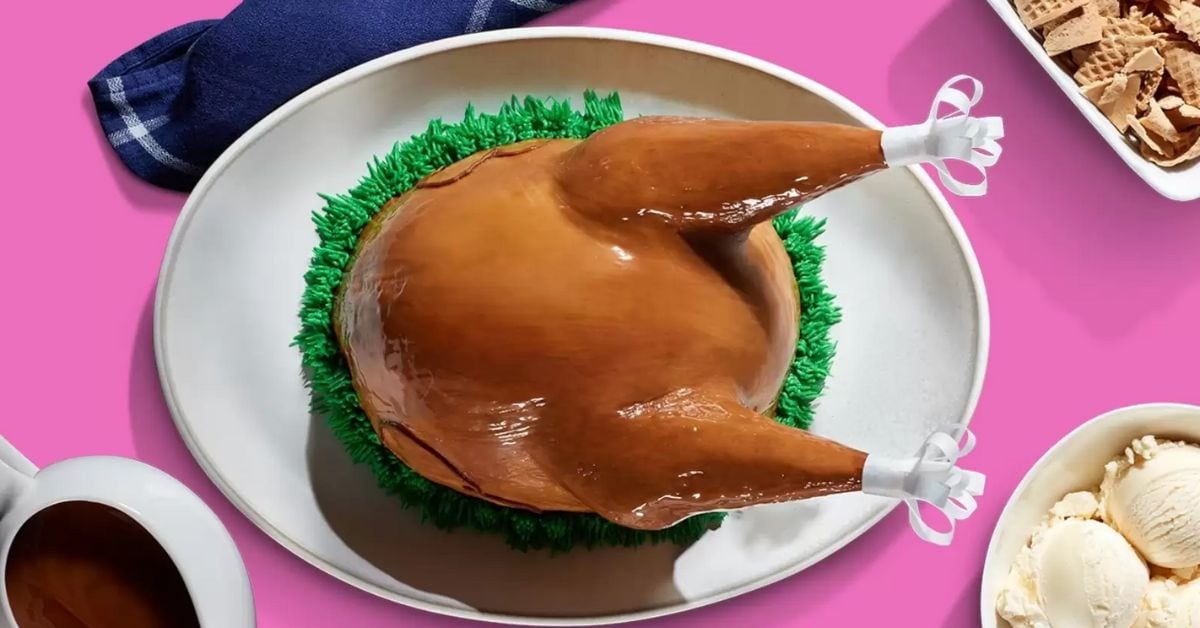 This is not the first time Baskin-Robbins has made a turkey ice cream cake.
Oh, no. They have been making it for a decade at least. But, we weren't paying attention. In the years since, Van Leeuwen has come out with mustard ice cream, Kraft Mac and Cheese ice cream, and pizza. Please, just stop.
Baskin Robbins has an ice cream cake that looks so much like a turkey – hilarious! http://twitpic.com/388u9f

— Rachel Atkinson (@Rachel_Atkinson) November 19, 2010
How Do I Order the Baskin-Robbins Ice Cream Cake?
We thought, just go online and order it. Yeah, no, that doesn't work quite as well as we thought.
All the stores around us were out of the Thanksgiving cake, and even when we tried switching states (desperate times call for desperate measures), we still couldn't locate one. Though we did find this adorable reindeer cake.
Your best bet is to… call the store nearest you or go in and see if they have the cake.
Gobbling up the most delicious dessert this month with the return of the Baskin-Robbins® Turkey Ice Cream Cake! 🧡 Surprise your friends and family with this tasty staple at your next gathering that's made perfect for the season.
Order yours online today!  https://t.co/HATWbdLIcn pic.twitter.com/XbyVruUqe7

— Baskin-Robbins Canada (@BaskinRobbinsCA) October 3, 2022
How Much Is the Turkey Cake?
This year, the Baskin-Robbins turkey cake sells for about $44.99, a significant leap up from its $32.99 price. Everyone boo inflation.
It doesn't appear that they're bringing back the individual turkey legs this year. But if they do in the future, we imagine they will look something like this:
The wishbone is overrated. Go for the turkey leg. pic.twitter.com/MX4D0uSWyS

— Baskin-Robbins (@BaskinRobbins) November 9, 2013
What's Actually In The Baskin-Robbins Turkey Cake?
The chilly bird serves eight to 12 people and is made with your choice of ice cream, then covered with a caramel praline glaze and topped with sugar cone legs.
And, of course, it's both 1000% more moist than your average turkey and easier to carve. It's also less stressful than trying to bake a pie at the last minute.
When carving, Sarah Cox, Baskin-Robbins R&D Manager and Cake Designer recommends letting the cake rest to allow the ice cream to soften. She does not recommend dropping it into a pot of boiling oil beforehand and blowing up your garage.
When carving, Cox says to start with the legs first. Then, she says, continue carving as you would a traditional turkey.
Or, simply cut the cake into squares if you have no idea what you're doing with a carving knife.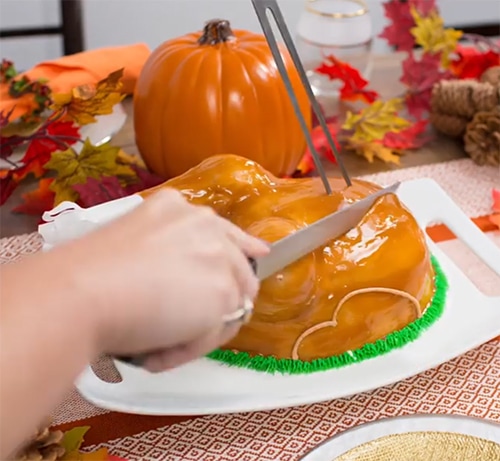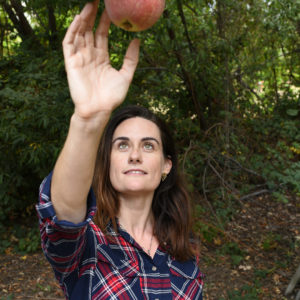 Latest posts by Rebecca Swanner
(see all)