For many people, dairy is the devil. If pouring milk or a dairy creamer into your morning coffee is the first step to a sabotaged day and a ruined pair of underwear, these vegan coffee creamers are for you. And we promise most of them are way more enticing than all that sounds.
Made from a variety of dairy alternatives like oat, coconut, almond, and soy, these creamers come in different flavors and textures. Though they're not all winners (we're looking at you, coconut milk options), many of them are.
We tried each of these on their own, as well as in coffee, to give you the full scope of how they taste. And if you need an idea of what it feels like to be over-caffeinated, we can let you know how that is, too. Anyone up for a 20 mile run?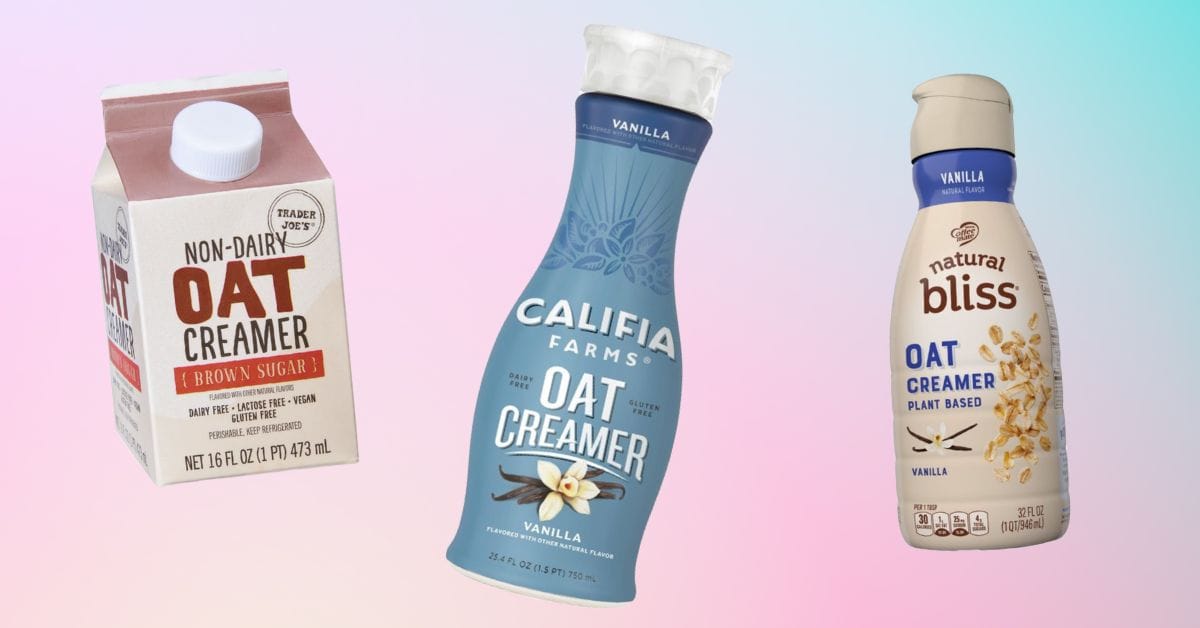 11 Vegan Coffee Creamers, Ranked from Worst to Best
11. 365 by Whole Foods Market Vanilla Almond Creamer
As soon as you open this bottle, you're greeted by an ugly beige color that slightly resembles our late grandma's orthopedic shoes. It gets worse, though.
The flavor is indescribable in the most awful way. There's no vanilla to be found, and only a hint of almond that tastes like it's gone sour, if nuts can do that.
Fortunately that all fades away once it's poured into coffee. But there's also just no flavor at all, so what is even the point? If you have an answer, let us know. In the meantime, we're donating this one to the neighbor's cat.
Available on Amazon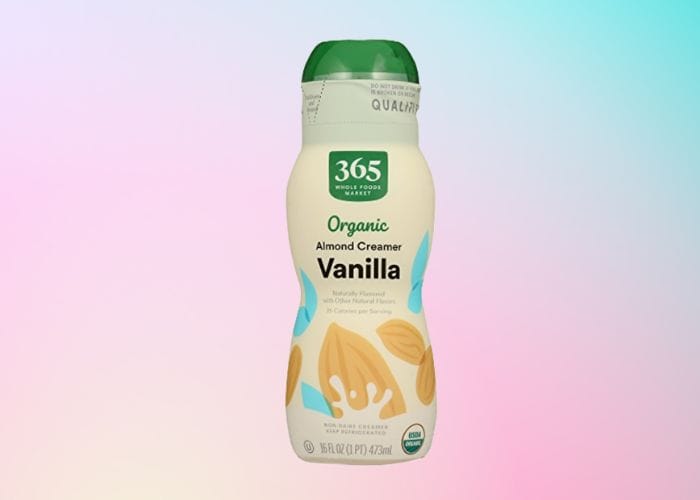 10. Trader Joe's Original Coconut Creamer
We are generally of the belief that Trader Joe's can do no wrong. And then we tried the store's coconut creamer. We're not mad, Joe. Just disappointed.
To be fair, we don't love the milk-of-magnesia-ness of coconut milk to begin with, and you definitely get that flavor here. While we love coconut as a flavor profile, this is just real watery, and a bit sad. It's better than a poke in the eye, but only slightly.
9. Nutpods Almond Coconut Creamer with Vanilla
This Nutpods creamer doesn't have any added sweetness, and wow is it obvious. If you're someone who likes your coffee to be as bitter as your boyfriend's ex-girlfriend, go for this one. No offense, Molly, we just needed a good quip. And you do that whole "staring daggers" thing.
This vegan creamer somehow made our espresso even more bitter, with no vanilla flavor to be found. We even searched in the spot in the couch that always sucks up the remote. The only advantage it has is that it's not only made from fake-tasting coconut milk.
Available on Amazon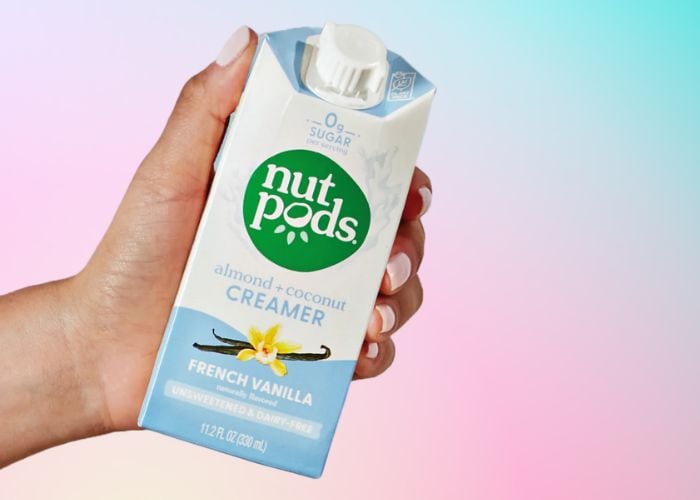 8. Califia Farms Vanilla Oat Creamer
Like all of these vegan creamers, we tried this one on its own as well as in a bit of espresso. And we got…nothing. Aside from the Amazon package we'd been waiting on.
It's not sweet and doesn't have much vanilla flavor. So if you just want a dairy-free alternative that'll cut through the bitterness of your coffee, this one could work. But if you want to actually taste the things you're drinking, it's a skip.
Available on Amazon

7. Califia Farms French Vanilla Almond Creamer
As long as you don't smell this creamer before you pour it into your coffee, you'll be fine. Heck, you might even enjoy it! We don't know you.
The smell is synthetic, which is a bit off-putting. However, once you pour this into your coffee, you're graced with a semi-sweet and very nutty addition to your morning. It's our preferred version of "nutty," over the zany old guy who occasionally walks outside without pants.
Available on Amazon

6. So Delicious French Vanilla Coconutmilk Creamer
This creamer definitely has a kick of sweetness. But much like anything made with coconut milk, it has that chalkiness that's really unpleasant. What can we say? We're not nuts for coconuts! Unless they're filled with a frozen pina colada.
This So Delicious vegan creamer is incredibly sweet. But when you pour it in coffee, it dissipates. So, you definitely need to add in a good amount of this to really get French vanilla flavor. And possibly don a beret. Then you'll have a sweet, slightly flavored cup of joe. Enchanté!
Available on Amazon

5. Silk Vanilla Soy Creamer
Soy milk is one of our top choices for dairy alternatives because it's also pretty neutral. This soy creamer, though, has a bit of a grassy taste, which doesn't pair the best with our morning donut.
While it comes across more pleasantly in the coffee, you may still get a bit of an unpleasant aftertaste if you use too much of it. What can we say? Some of us are just too much in large doses. Not us, of course. But some people. Ahem.
Available at Target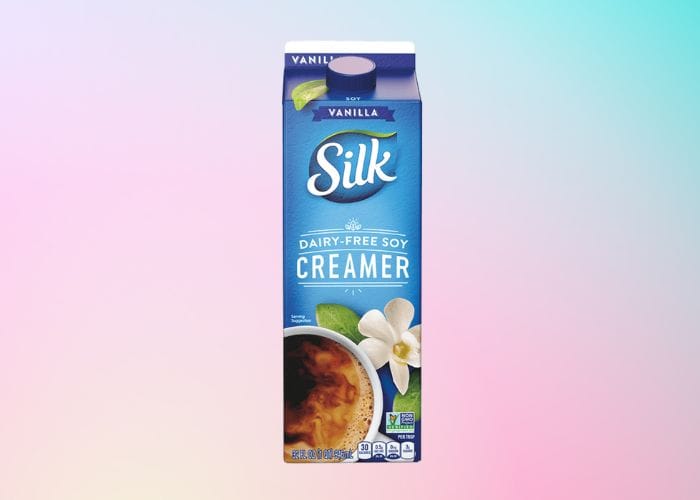 4. Coffeemate Natural Bliss Oat Creamer Vanilla
The beauty of oat milk is that it's neutral in flavor, which is perfect for people who want a vegan alternative for milk, without being mad that they're drinking a vegan alternative for milk.
This creamer is quite sweet. So, you don't need any added sweetener in your drink unless you're a toddler or Willy Wonka's protégé. The sweetness is actually borderline too saccharine, but we've had worse. Did we mention that we're Willy Wonka's protégé?
Available at Target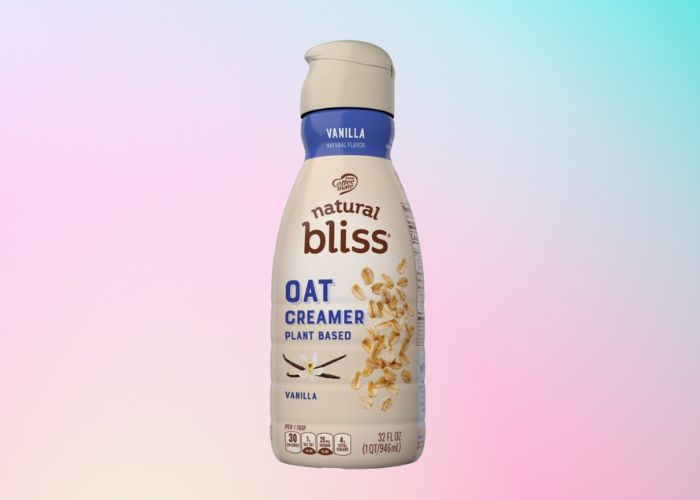 3. Califia Farms S'mores Oat Creamer
We could quite literally drink this straight from the bottle and be so happy. It's really, really sweet, which a lot of people won't vibe with. But rest assured that once you pour it into your coffee, the bitterness of the coffee mutes it.
We used it in espresso to cut through the sweetness even more, and it was perfect. Not so perfect that we aren't still tempted to forgo the coffee and drink this straight from the bottle, though. Mmm, marshmallows. There's nothing like whipped sugar.
Available on InstaCart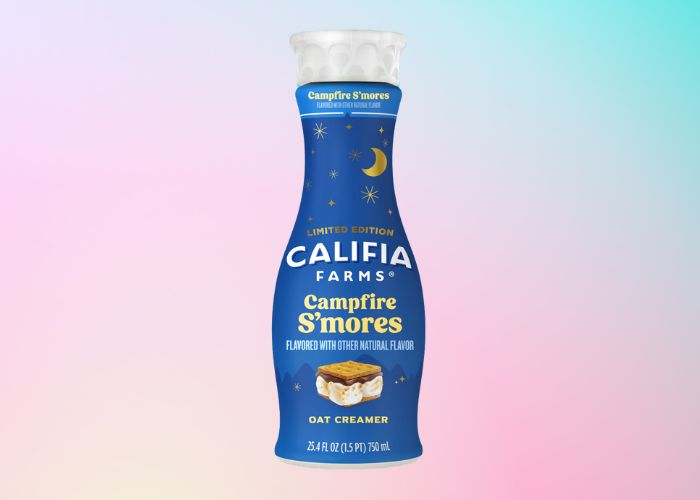 2. Starbucks Almond and Oat Hazelnut Creamer
Obviously Starbucks knows what it's doing with everything related to coffee. This hazelnut variety sure is sweet, but it has a bold flavor. Sweet and bold, much like our sassy niece.
Unlike some of the other vegan creamers here, it doesn't have a weird aftertaste or a chalky texture. In coffee, it provides a rich creaminess and plenty of hazelnut flavor — and no dairy stomach aches. Is it too soon to call this love?
Available at Target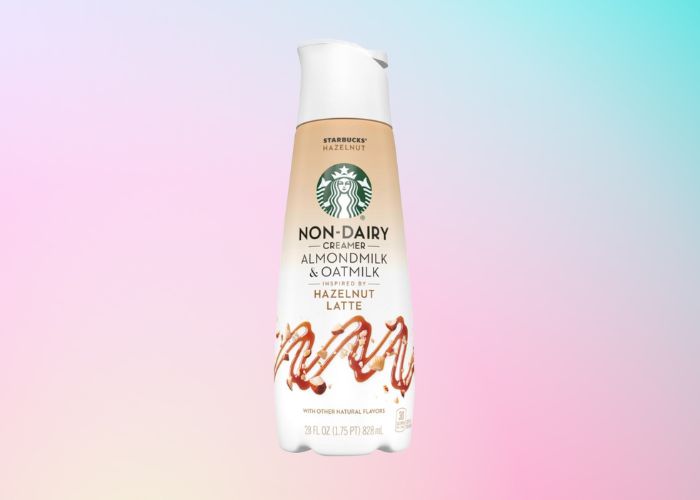 1. Trader Joe's Nondairy Oat Brown Sugar Creamer
If you've ever wanted to dump maple syrup into your coffee, let us introduce you to Trader Joe's brown sugar creamer. This sweet creamer is made with oat milk. While it packs a sugary punch when consumed plain (which we don't recommend), it thins out significantly in your coffee.
We're not sure how many people are drinking creamer plain, but our lawyer said we should mention that. We can't be held responsible for sugar rushes.
And best of all, there's no weird aftertaste that you sometimes get with dairy alternatives. 10 out of 10, and we don't say that lightly.
Available at Trader Joe's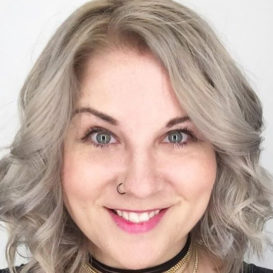 Latest posts by Hedy Phillips
(see all)