We publish a lot of Starbucks secret menu recipes. And, a while back, we tinkered with the Cookie Butter Iced Latte. But, truth be told, I spend a lot of my time making coffee at home or grabbing a latte from one Los Angeles's many independent coffee shops instead of crafting custom drinks. However, Starbucks new Oleato line of olive oil-based beverages had me intrigued, and I was curious to see if I could come up with a secret menu Oleato drink.
Meet, the Salty Italian. (If you prefer, you can call it the Piedmont or the Torta di Nocciole.)
Made with hazelnut syrup, caramel, salt, and olive oil, this taken on the Starbucks Iced Oleato Shaken Espresso is the perfect thing to whisk you away to Italy. Well, second to an actual mode of transportation. Here's how to order it — preferably, in the airport on your way to your gate — and what it tastes like.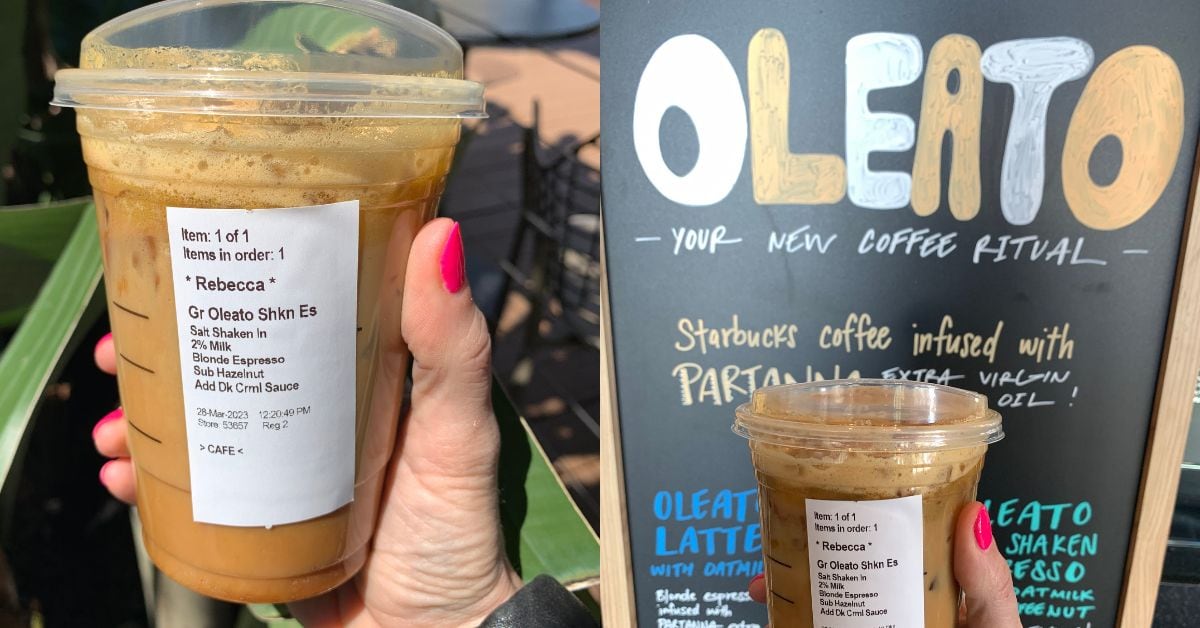 What Is Starbucks' Oleato?
Starbucks launched the Oleato in Milan, Italy in February, and then on March 23rd in select stores in Chicago, NYC, and Seattle. On Monday, March 27th, the three olive oil-based drinks became available in neighborhood stores in Seattle and Los Angeles. Presumably, if customers like it, it'll make its way across the U.S.
That said, at the moment the prevailing mood is "ew. I don't want olive oil in my coffee." So we still have to wait and see if former CEO Howard Schultz's wild idea takes off.
Challenges with Making Oleato Secret Menu Drinks
When it comes to creating secret menu drinks that incorporate the Partanna olive oil, there are some creative constraints. According to a Starbucks spokesperson, "In Starbucks stores or in the Starbucks app, customers can customize Starbucks Oleato beverages by modifying the type of milk, amount and types of espresso or flavors.
Customers can also choose to add a press of Partanna extra virgin olive oil (equivalent to 1 spoonful) in select beverages when ordering in stores. This includes drinks such as an iced latte or Frappuccino blended beverage."
Or, you can start with either the Oleato Iced Shaken Espresso, the Oleato Caffè Latte, or the Oleato Golden Foam Cold Brew. I was feeling something iced and the store was out of Golden Foam, so Shaken Espresso it was.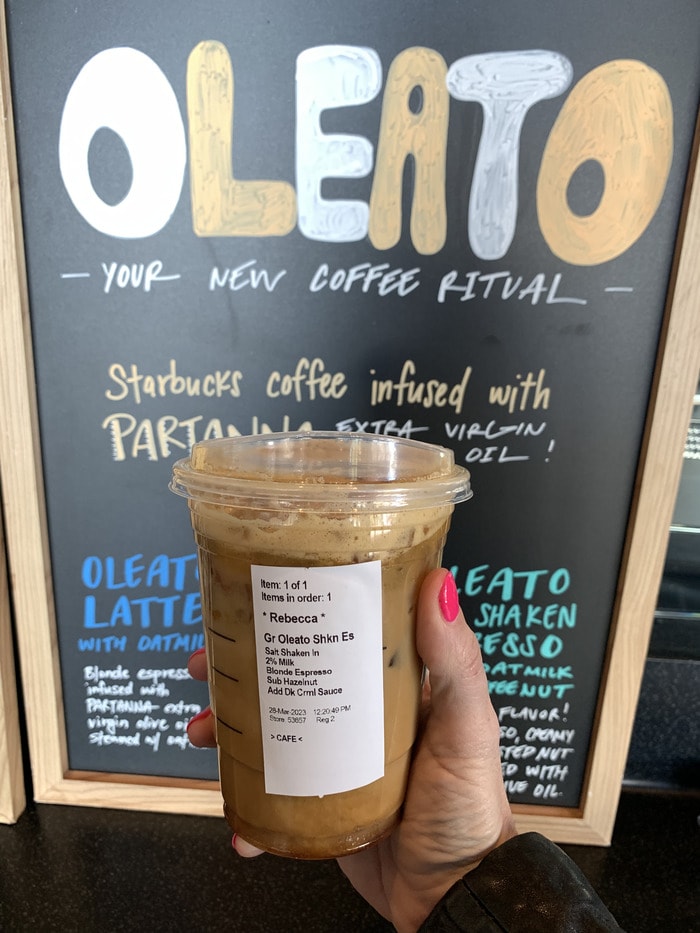 How to Make a Salty Italian Shaken Espresso
If you're in my family, you can accomplish this in all sorts of ways. Suggest using store-bought pasta sauce with the freshly made ravioli. Root for the Dallas Cowboys. When it comes to this custom Starbucks drink, however, here's what you need to say when you order.
"May I please order a grande Iced Oleato Shaken Espresso. But, can I sub the toffee nut syrup for hazelnut, add dark caramel sauce, and have salt shaken in? I'd also like to use [insert your preferred milk here] instead of oat milk."
How to Order:
Order an Oleato Iced Shaken Espresso
Ask to sub the toffee nut syrup for hazelnut
Ask for dark caramel syrup
Ask for salt shaken in
Ask to sub the oat milk for your preferred milk
You can also call it the Piedmont or the Torta di Nocciole if you prefer. (Piedmont is Italian region known for their hazelnuts and a Torta di Nocciole or "hazelnut cake" often incorporates olive oil into the cake batter.)
But, I named it thus because hazelnuts, olive oil, and coffee are popular Italian foods. And, it's also an ode to one of the best Italian desserts ever: the caramel budino or crème caramel. Throw in a little salt, and there you have it, the Salty Italian.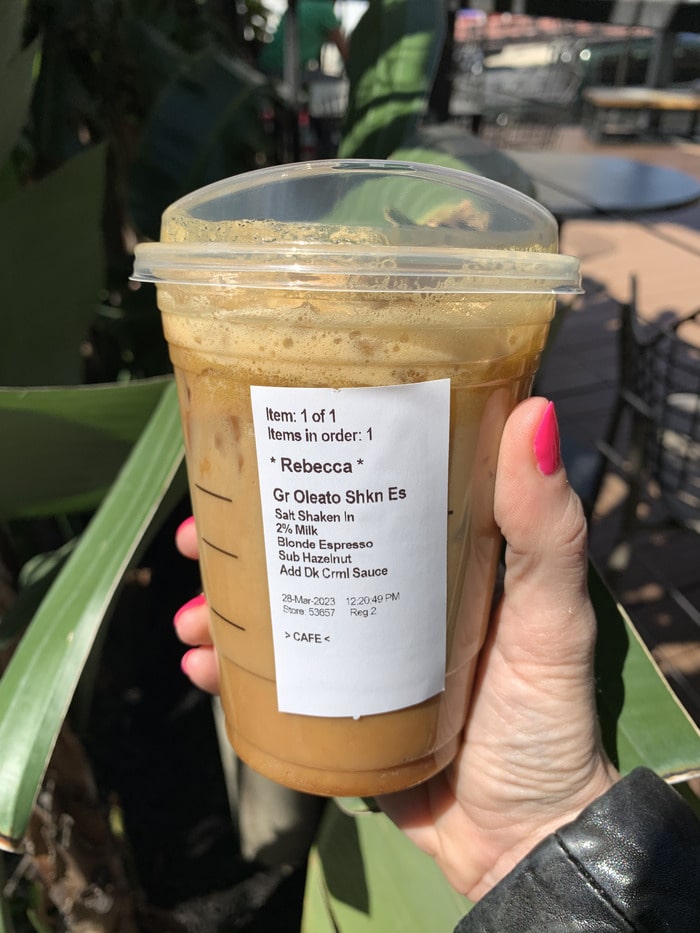 What Does the Salty Italian Taste Like?
This custom Shaken Oleato Espresso tastes like slightly sweet and nutty. There's a hint of umami from the combination of these flavors with the olive oil and salt. It should theoretically taste sweeter as there are four pumps of syrup and caramel sauce in there, but the olive oil really cuts through it.
Honestly, I thought it was tastier than the standard Oleato Shaken Espresso. That drink was my least favorite of the three here in Los Angeles, and this custom beverage, might be my new fave. Try it — ideally in a reusable cup — and let us know what you think.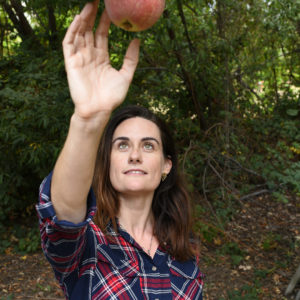 Latest posts by Rebecca Swanner
(see all)