Is it Spring here? According to the calendar and Starbucks, absolutely. Pay no attention to the snow in Los Angeles or Boston! Spring is here, and with it comes Starbucks' new Cinnamon Caramel Cream Nitro Cold Brew and floral spring cups and tumblers. Your backyard has florals too, you just have to look under the snow.
According to the product sheets we've seen, Starbucks is releasing spring cups today (March 7th) so all you St. Patrick's Day fans have new cups for the festivities.
There will be additional cup releases for Easter and Mother's Day. None of which will call your mom for you. (They will, however, call the Easter Bunny.) Reported release dates for more spring cups are March 28th and April 11th.
And, somewhere around there, you'll also get to try the olive-oil based drinks… or not.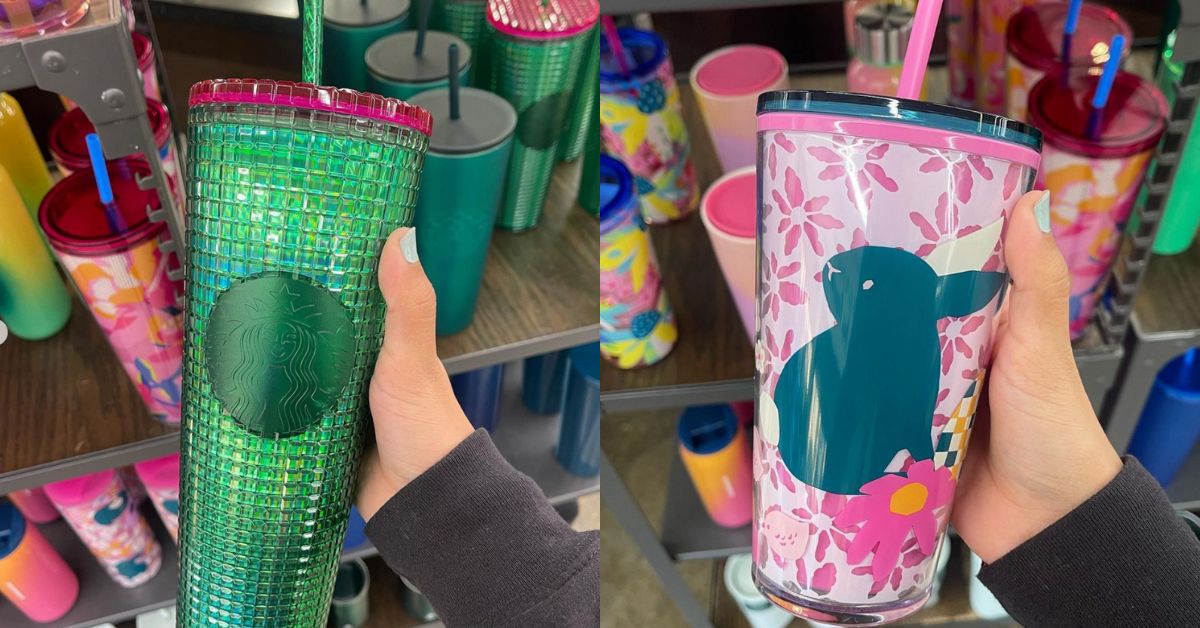 The Starbucks Spring Cups for 2023
1. Checkered Cold Cup, 24 oz. $19.95
Have you ever wanted to dress in purple and orange plaid like you were preparing for a Tupperware party? Well, now at least your Starbucks' coffee can.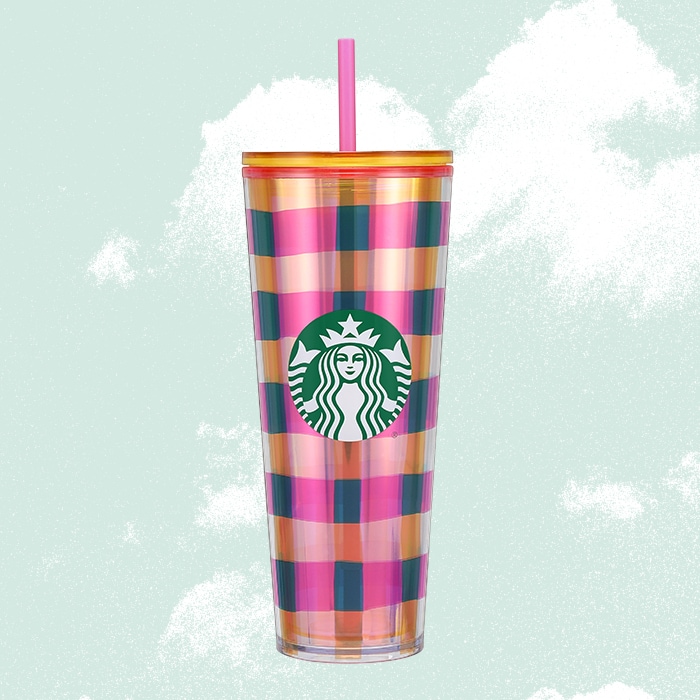 2. Green and Pink Grid Cup, 24 oz. $22.95
Watermelon, we like your new look. a little crunchy, but still good.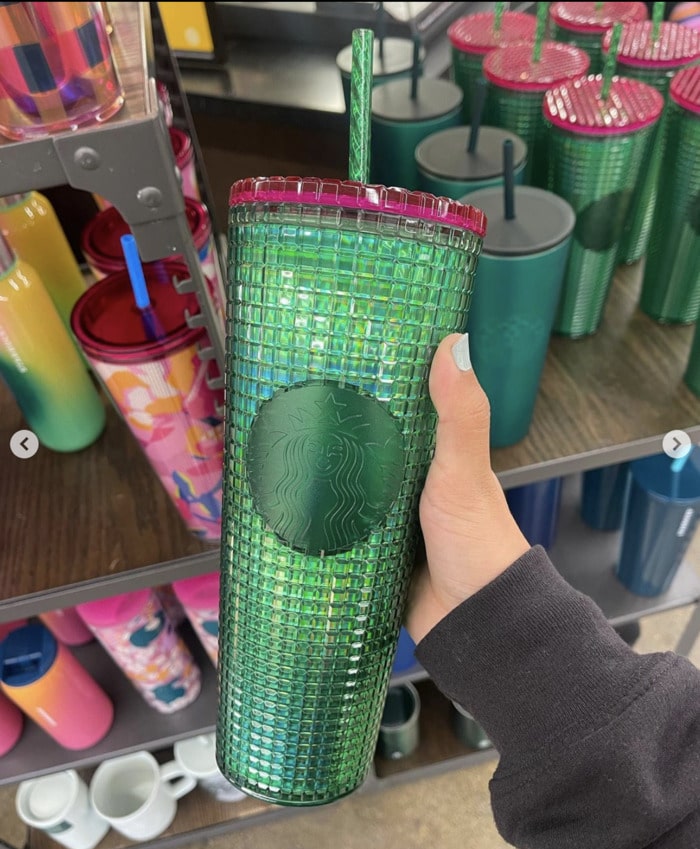 3. Pink Floral Cold Cup, 24 oz., $19.95
Why yes we are excited for the Barbie movie. How did you know?
4. Bluebell Soft Touch Cold Cup, 24 oz, $19.95
We're not going to be the ones to break it to Starbucks that bluebells are actually purple, but someone should.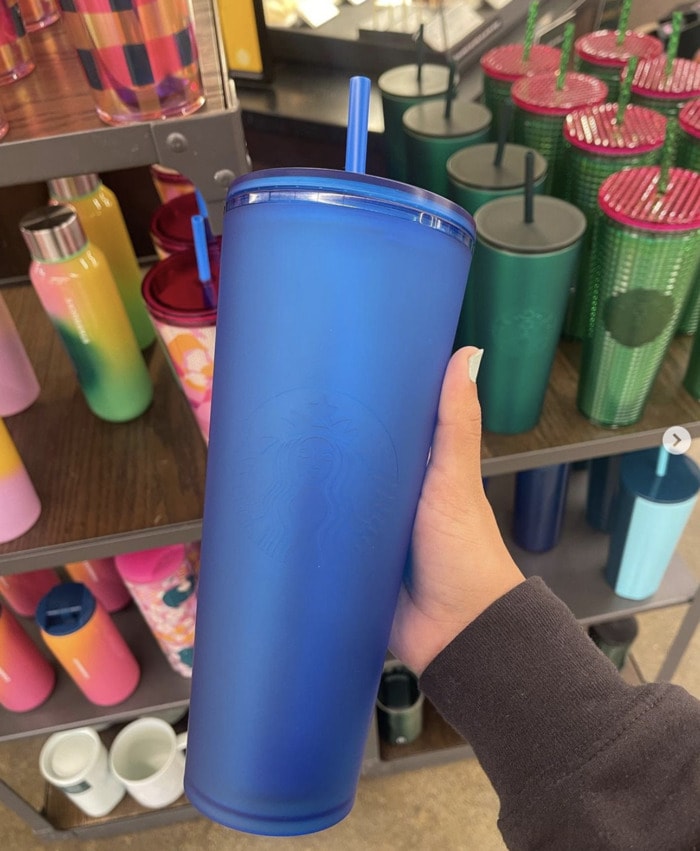 5. Floral Cold Cup, 16 oz, $19.95
We're not saying you should bring this trippy daisy cold cup to Coachella but it wouldn't be exactly out of place.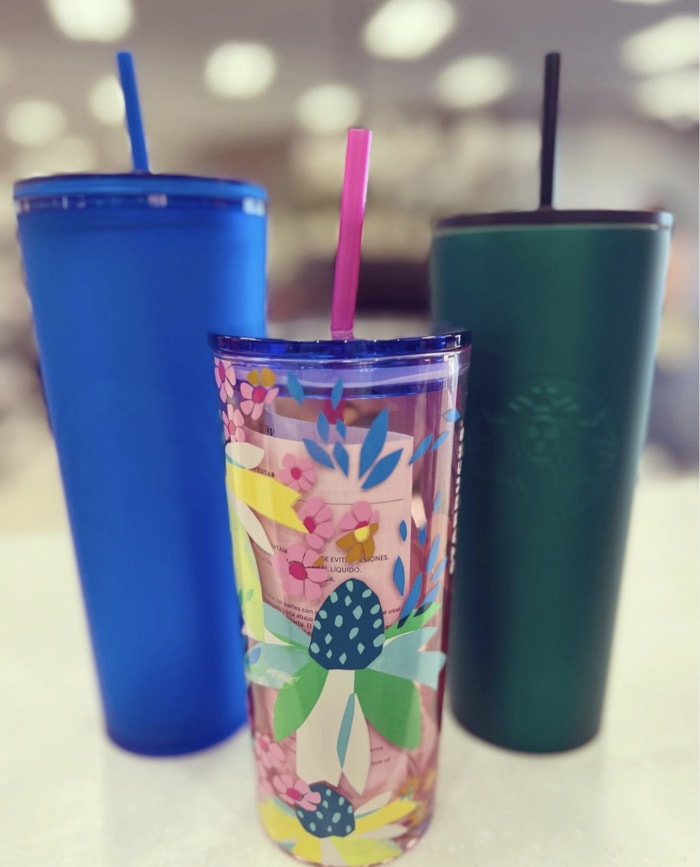 6. Citrus Mug, 14 oz., $14.95
This spring mug has "I painted this in fifth grade" vibes. Who knew our abstract art skills were so good?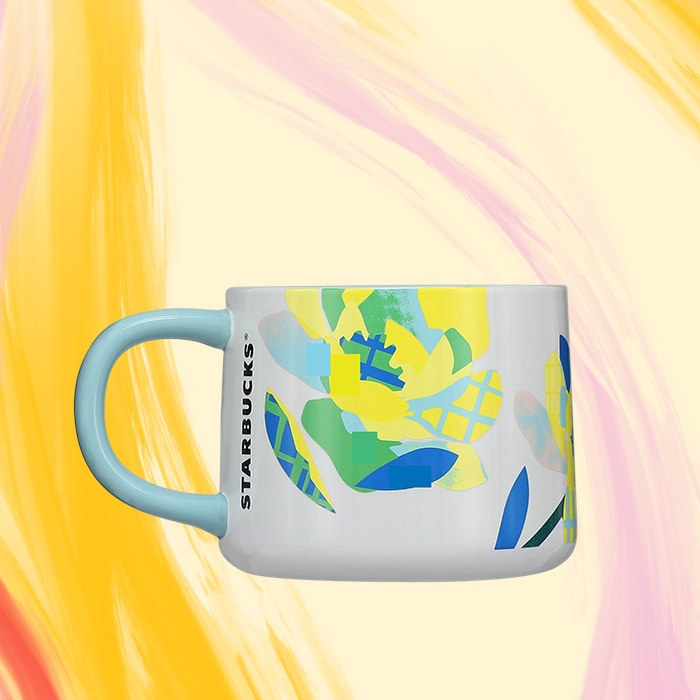 7. Pink and Orange Gradient Tumbler, 24 oz, 22.95
Starbucks says this ombre tumbler has "shades of sunset," but all we're seeing is sherbet. Can you tell we haven't eaten breakfast yet?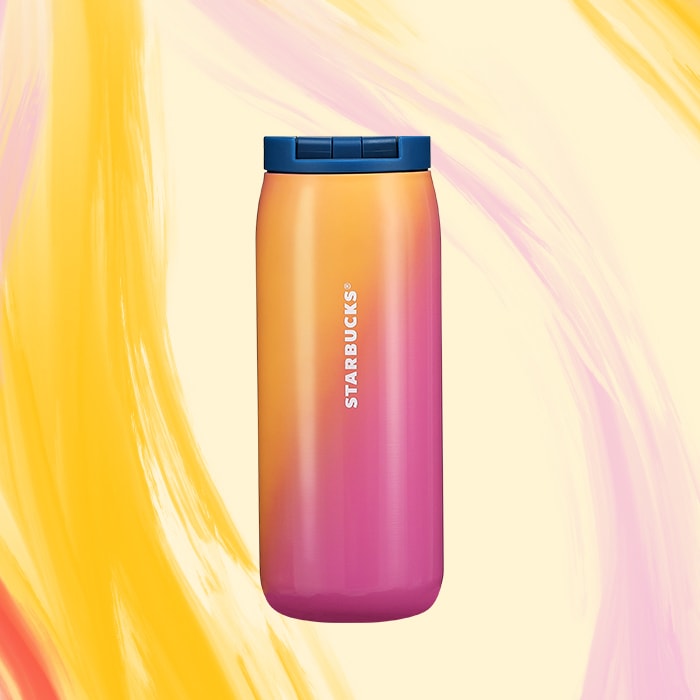 8. Petunia Tumbler, 12 oz., $19.95
Wow. Do you even need coffee if you have this? Don't answer that.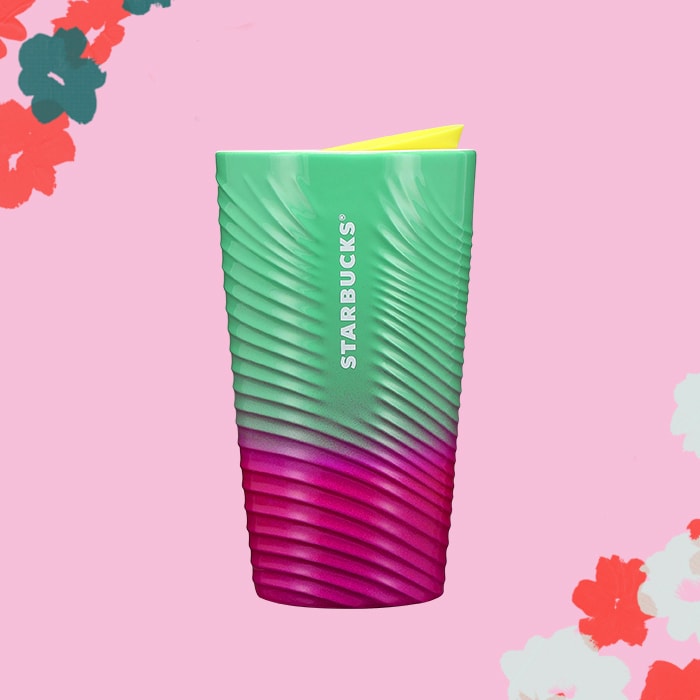 9. Green Yellow and Pink Multicolor Glass Water Bottle, 20 oz., $24.95
For the next time you're caught in Alice in Wonderland fever dream. Dinah, send help. And more caffeine, please.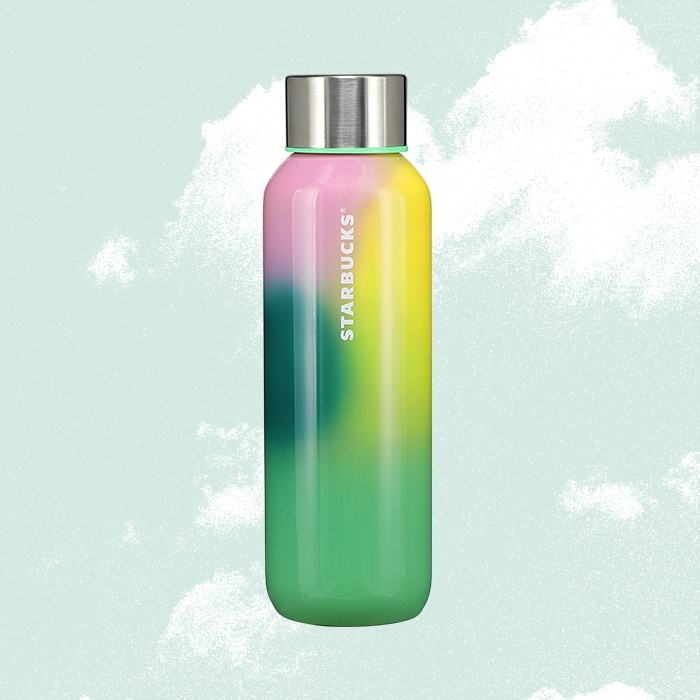 10. Orange and Purple Pastel Tumbler, 12 oz, $19.95
The 90s rave scene never knew what hit it. Mainly because this watercolor tumbler can't go back in time. Yet.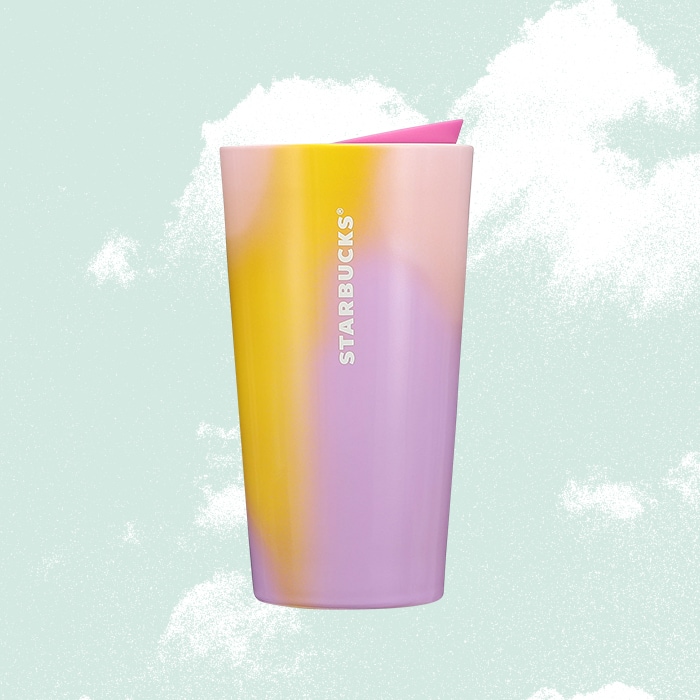 11. Green Stainless Steel Tumbler, 20 oz., $22.95
Tell everyone you're ready for summer with this bright green spring tumbler that whispers watermelon. And "order a kiddie pool now."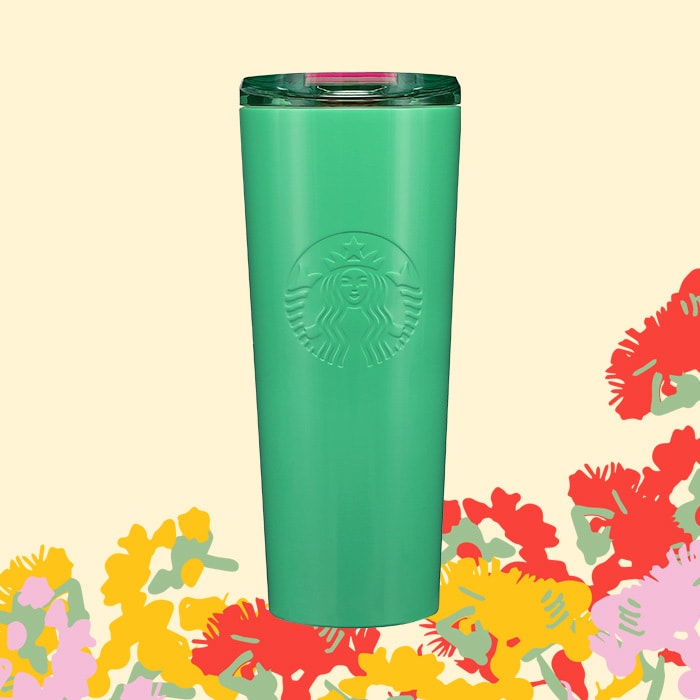 12. Checkered Easter Cold Cup
For the next time you're caught in Alice in Wonderland fever dream complete with the White Rabbit. Dinah, send help. And more caffeine, please.
13. Two-Toned Blue Geometric Tumbler
For all those regions where Spring hasn't quite arrived, yet, Starbucks has graciously come out with this wintry blue on blue geometric tumbler.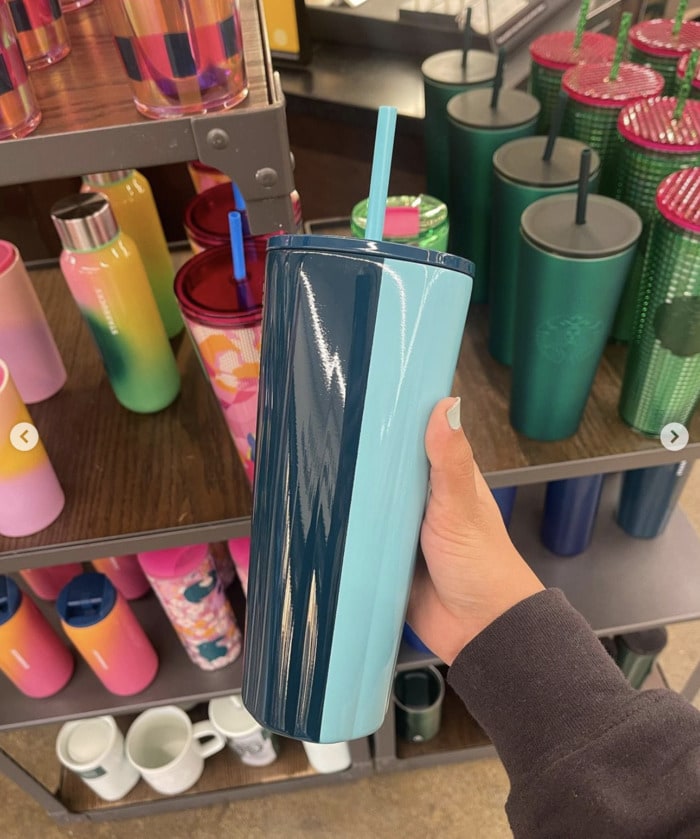 14. Floral Easter Cold Cup
Oh to be a bunny in a field of flowers. But what would we do without the Internet?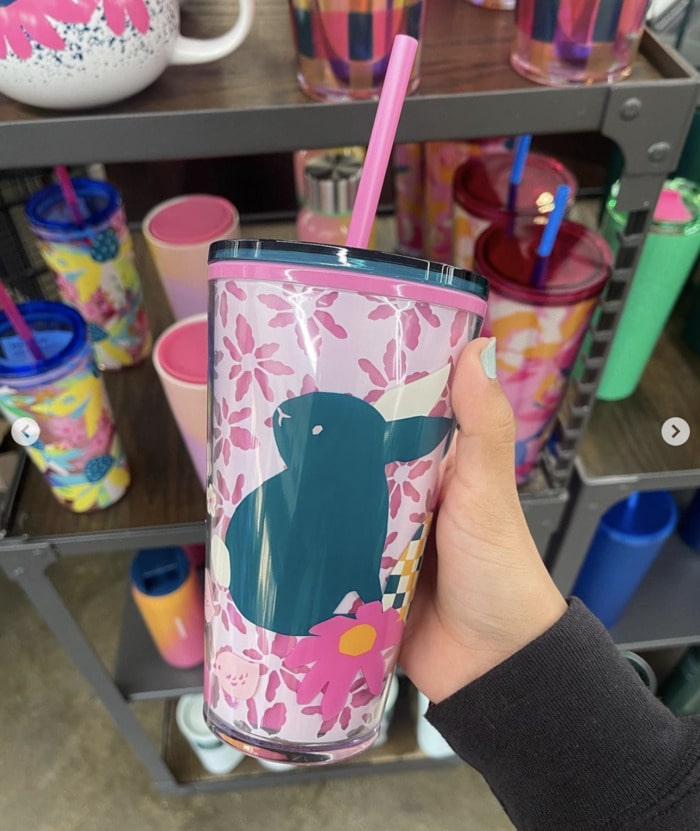 15. Ceramic Floral Mug
Remember, the lessons of Aristotle: It's only ok to eat some flowers.
16. Blue Mermaid Tumbler
This siren isn't quite ready to be done with winter, but her hair sure is.
17. White Pearl Tumbler
Sure, we'll take some coffee with our oat milk. I guess.
18. Mermaid Tail Ombre Cup
We know it's supposed to look like the scales on the siren's tail, but we're just going to pretend this green and purple ombre cup is actually dragon scales. Who's with us?
19. Recycled Glass Tumbler
This subtly green recycled glass mug has is simple, understated, and the Starbucks tumbler everyone wants for Spring.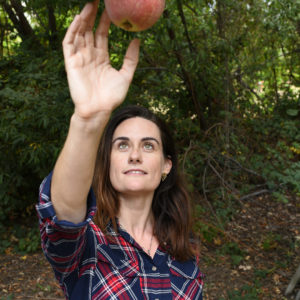 Latest posts by Rebecca Swanner
(see all)