Think back to the year 2015. We were all awkwardly dancing to Drake's "Hotline Bling." 50 Shades of Gray movie was making us feel a lot of things. Some rap musical was making history cool again. And the Starbucks Cold Brew Coffee was released, kicking off our obsession with year-round iced coffee.
Here's a little bit about the Cold Brew, including everything on the official menu, the seasonal variations, and some secret menu cold brew drinks you can order.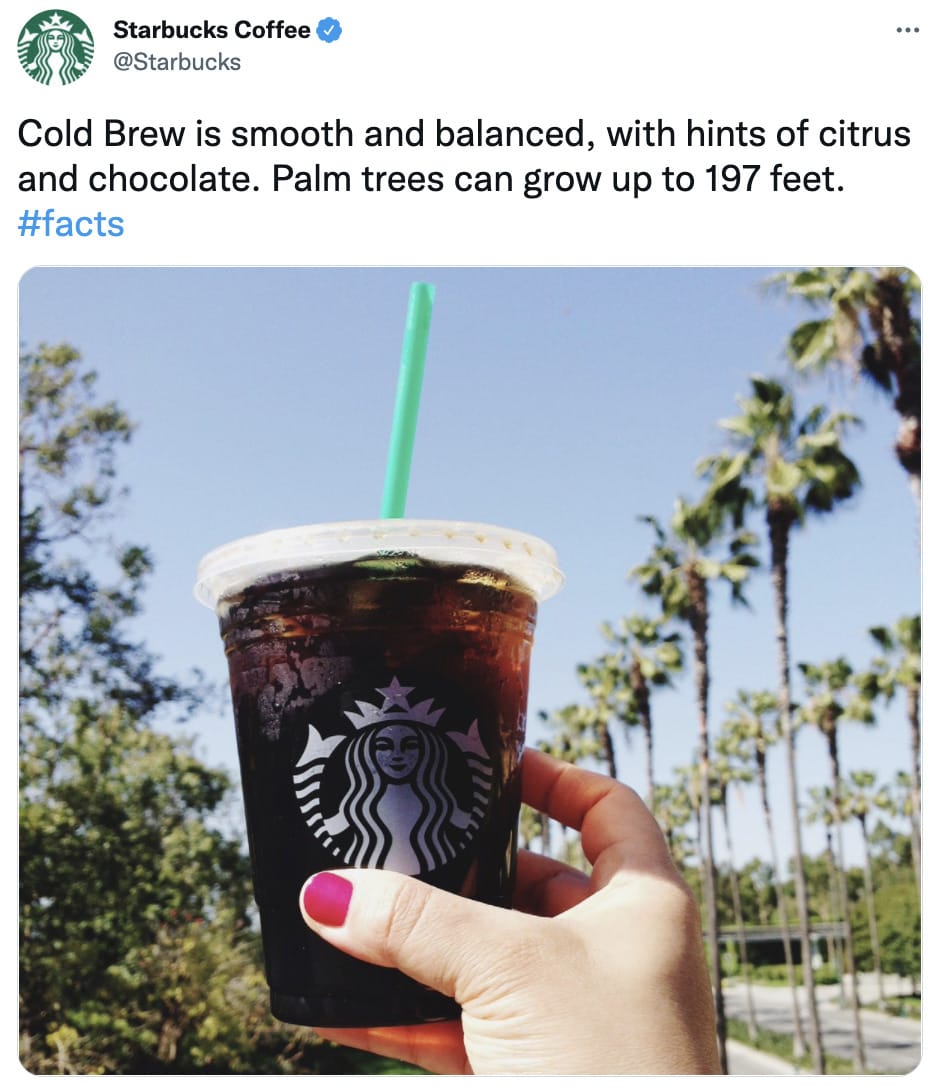 What Is Starbucks Cold Brew?
First of all, cold brew is entirely different from iced coffee – both at Starbucks and your local coffee shop. It all comes down to the distinctive brewing process.
To make cold brew, coffee shops combine coffee grounds with cool, filtered water. It's then left to steep for 12 or more hours. Starbucks soaks its cold brew for 20 hours, prepares it small batches, and uses their Narino blend of beans from Narino, Colombia.
Cold brew is naturally unsweetened. But thanks to the long steeping process that gradually pulls flavor out of the beans, it actually tastes somewhat sweet, and often very smooth. It's actually less acidic than regular ol' coffee.

Iced coffee is literally hot coffee poured over ice. Or, hot coffee left to cool down, and then served over ice. Groundbreaking stuff.
Official Starbucks Cold Brew Options
1. Starbucks Cold Brew Coffee
The traditional cold brew is literally just coffee and ice. It typically tastes less bitter and slightly sweeter than regular coffee. Some claim it has notes of chocolate and citrus. But ours only left us a note to take out the trash.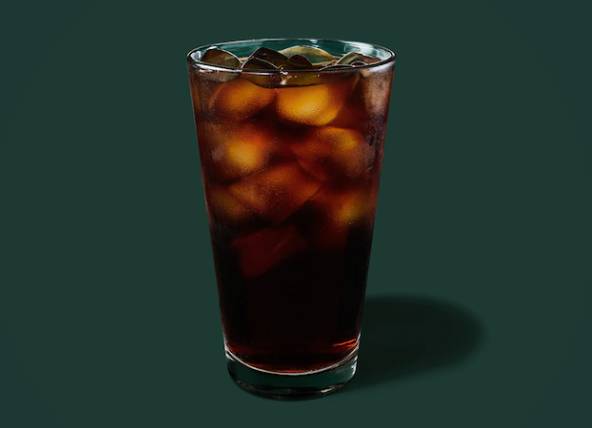 2. Starbucks Cold Brew Coffee with Milk
The same as the traditional, but with a splash of milk. Your only job is deciding what type of milk you want. Preferably before you get to the register.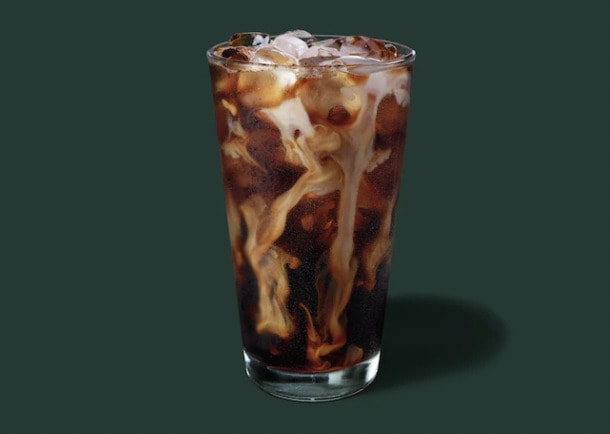 3. Starbucks Reserve Cold Brew
If you're visiting a Starbucks Reserve, specially-trained baristas can make this for you. Not only is this coffee brewed in small batches, it's also roasted in small batches. As long as it's not a small cup, we're good.

4. Nitro Cold Brew
Want a cold brew that's sweeter and smoother than the original? Just get it infused with nitrogen to make a Nitro Cold Brew. Think of it like the Henry Golding of cold coffee.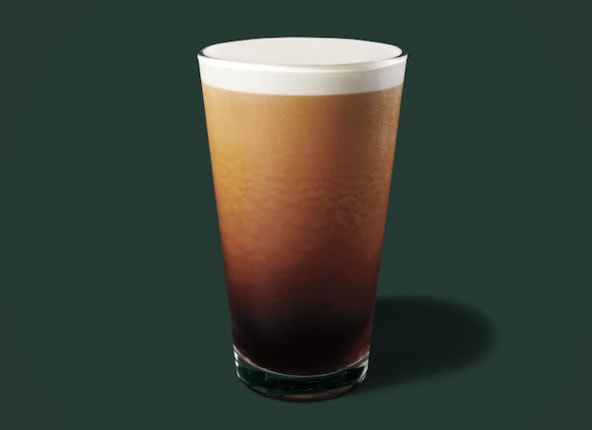 5. Starbucks Reserve Nitro Cold Brew
The top dog of Starbucks cold brews combines the Reserve beans and the nitro-infusion method. It's going to cost you a little bit more money, but it's arguably worth it. And by a little bit more, we mean a flight to wherever there's a Reserve store. Where's Chris Olsen when you need him?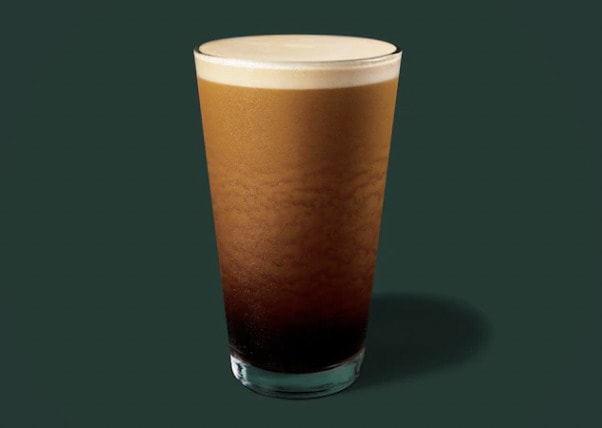 6. Salted Caramel Cream Cold Brew
This drink combines the natural sweetness of cold brew and caramel with salted cold foam. Sweet and salty – just like our Grandma Mildred. She really loved the ocean.

7. Vanilla Sweet Cream Cold Brew
Less salt and more sugar will get you to to this cold brew drink. And it's anything but vanilla. Well, in theory. In reality, it really is vanilla. But like, in a "vanilla who studied abroad" kind of way.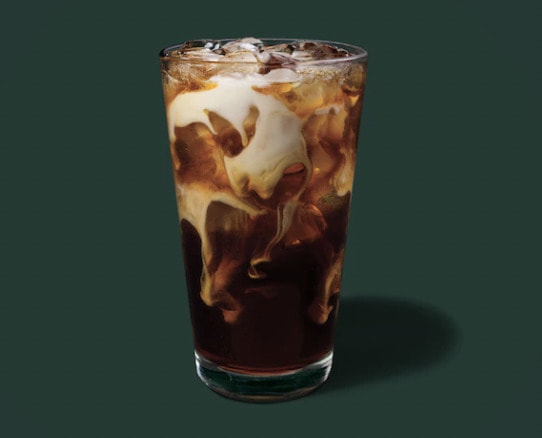 8. Vanilla Sweet Cream Nitro Cold Brew
This one is like the traditional cold brew, but with nitrogen-infused coffee and vanilla sweet cream plopped on top. You got it by now – right?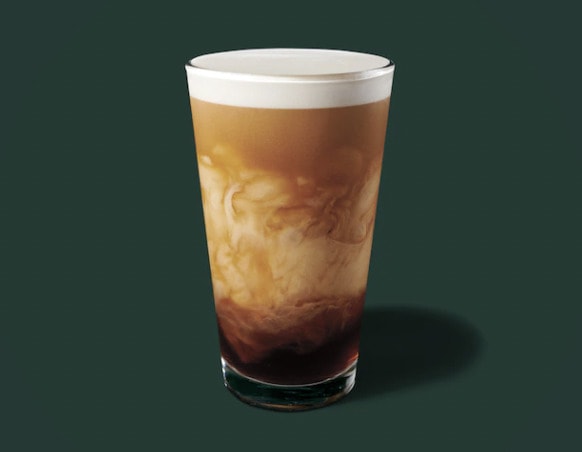 9. Honey Almondmilk Cold Brew
This newly-added cold brew concoction is lightly sweetened with honey and topped with almond milk. Because even though the naming convention for their drink sizes is confusing, Starbucks can be really straightforward with their drink names.
If you're vegan, you can ask for no honey. Then it's just a Starbucks Cold Brew Coffee with Almondmilk.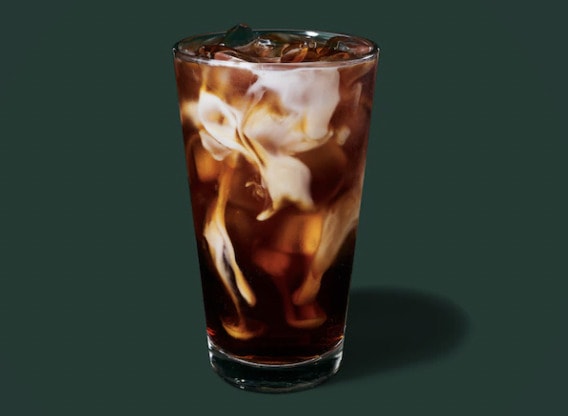 Seasonal Cold Brew Options
1. Irish Cream Cold Brew
The Irish Cream Cold Brew is a crowd favorite that's available during the holidays. It features Irish cream syrup, vanilla sweet cream cold foam, and a hint of cocoa. There's only one thing that could make this Irish coffee better. And that's gold. What'd you think we say?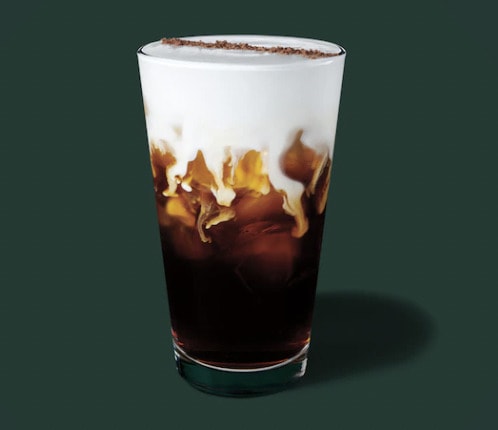 2. Pumpkin Cream Cold Brew
Cold brew is combined with vanilla syrup, and topped with pumpkin cream cold foam and pumpkin spice. You can do without your PSL one time to try the first pumpkin drink added to the Starbucks menu since 2003. On second thought…might as well get both.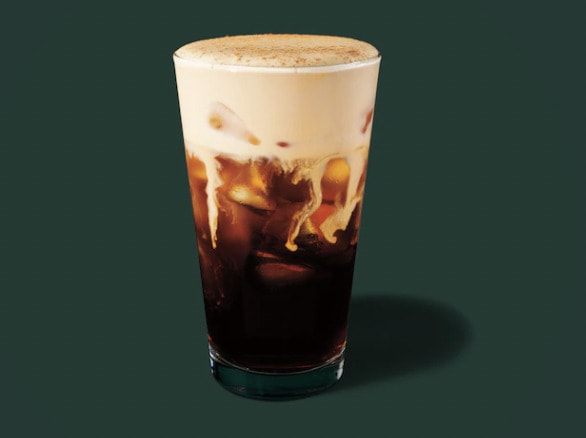 Starbucks Cold Brew Customization Ideas
There are many ways to customize the Starbucks Cold Brew drink to make it as unique as your niece's art project that you were forced to put on your fridge, in fear of losing your left pinky. Here are a few ideas:
Add the syrup of your choice. There are numerous syrup flavors you can add to your cold brew, including brown sugar, cinnamon dolce, hazelnut, and raspberry.
Add the milk of your choice. The cold brew doesn't automatically come with milk, but you can definitely add whatever milk choice you like – dairy or plant.
Add espresso. If you want to increase the caffeine and decrease the sweetness, just add an espresso shot or five. We'll see you in the next dimension.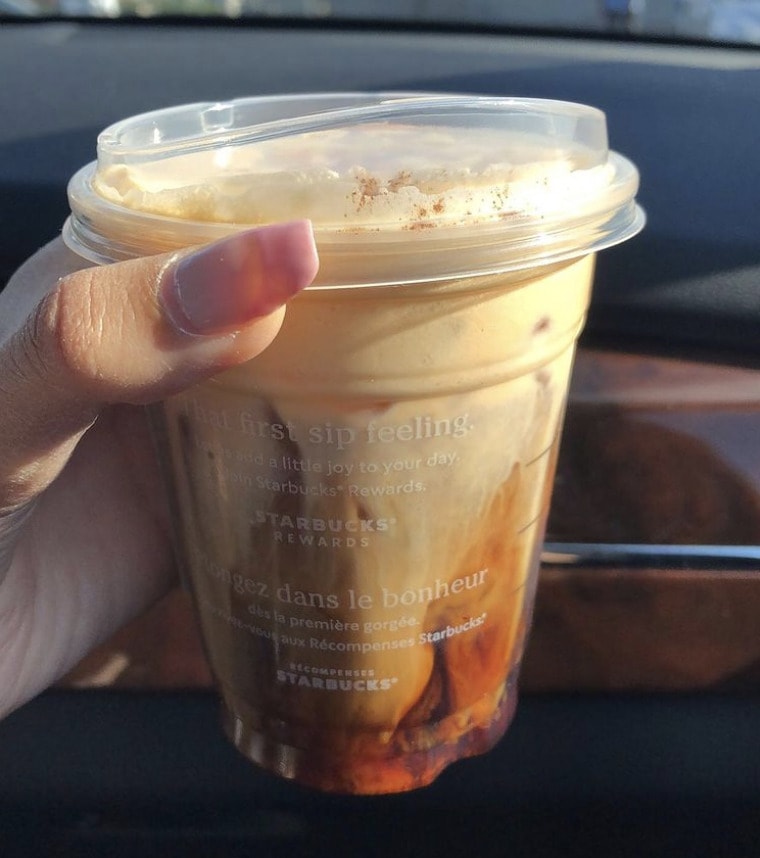 Starbucks Cold Brew Secret Menu Drinks
1. Cookies and Cream Cold Brew
Order a Venti Cold Brew with vanilla sweet cream cold foam
Add 2 pumps of vanilla syrup
Add 4 pumps of white mocha syrup
Add 2 pumps of mocha syrup
Ask for cookie crumbles on top of the sweet cream foam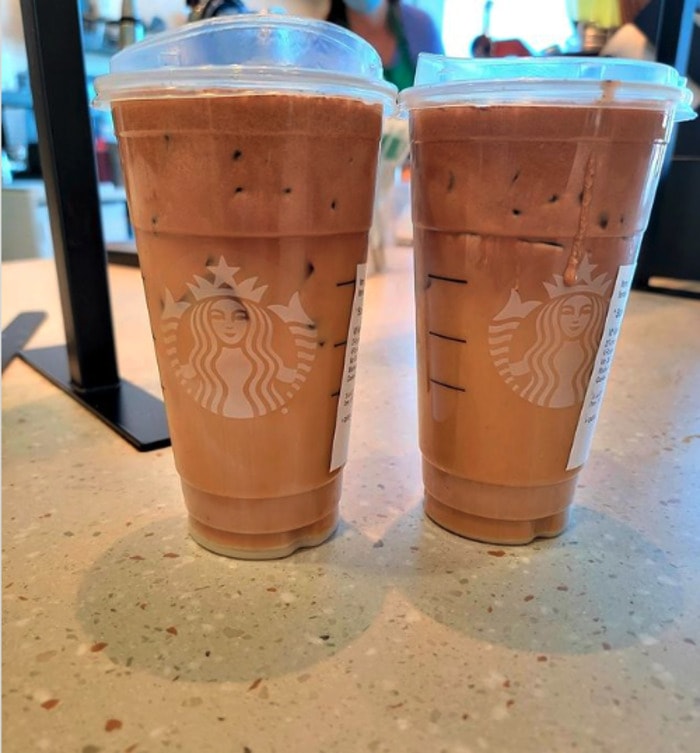 2. Toasted Vanilla Cold Brew
Order a grande Cold Brew
Add 2 pumps of toasted vanilla syrup
Top with vanilla cold foam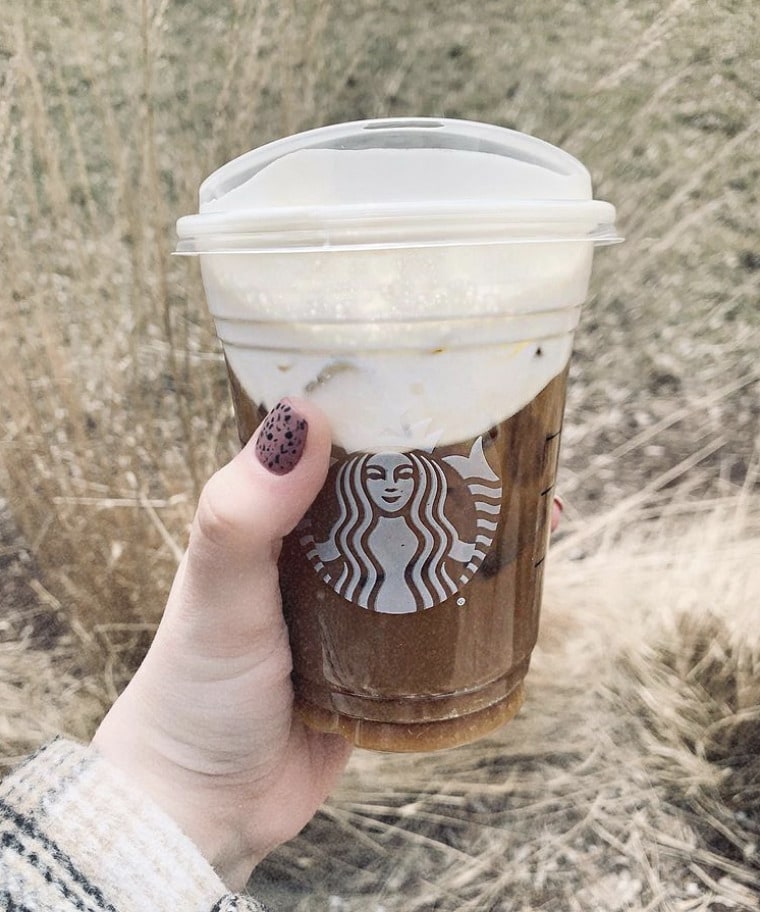 3. Salted Caramel Brown Sugar Cold Brew
Order a Venti Cold Brew
Add 2 pumps of brown sugar syrup
Ask for salted caramel cream cold foam
4. Shamrock Cold Foam Cold Brew
Order a grande Cold Brew
Add 2 pumps of Vanilla Syrup
Top with vanilla sweet cream cold foam with 1 scoop of matcha in it
Top with cinnamon powder
5. Snickerdoodle Cold Brew
Order a Grande Cold Brew brew
Add 1 pump of white mocha syrup
Add 2 pumps of cinnamon dolce syrup
Ask for light cream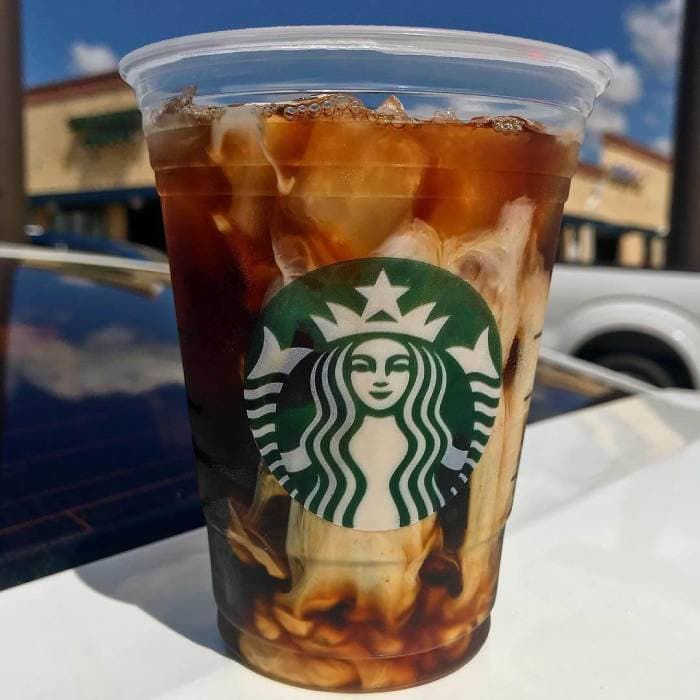 6. Salted Caramel White Mocha Cold Brew
Order a Venti Cold Brew
Add 4 pumps of white chocolate mocha syrup
Ask for salted sweet cream foam
Drizzle with caramel sauce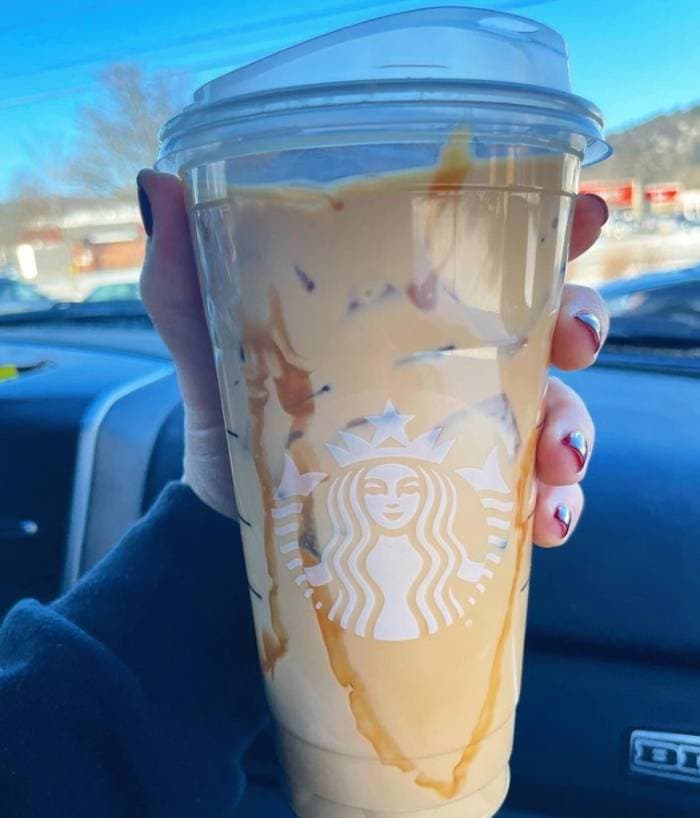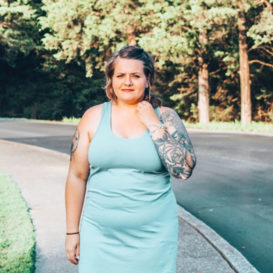 Latest posts by Ashley Hubbard
(see all)