Another day, another new drink at Starbucks. And their newest beverage? The Cinnamon Caramel Cream Nitro Cold Brew. The flavors are simple: caramel, cinnamon, coffee — and yet Starbucks hadn't smashed them all together into this specific drink. At least not officially before. So, we wanted to review the new spring drink.
The time is now for this new drink to have its moment — and unlike some of Starbucks' menu items, this one is sticking around for good. Now the question is, does it deserve that permanent spot on the menu or should it be tossed out like the mixed greens lingering in the back of your fridge?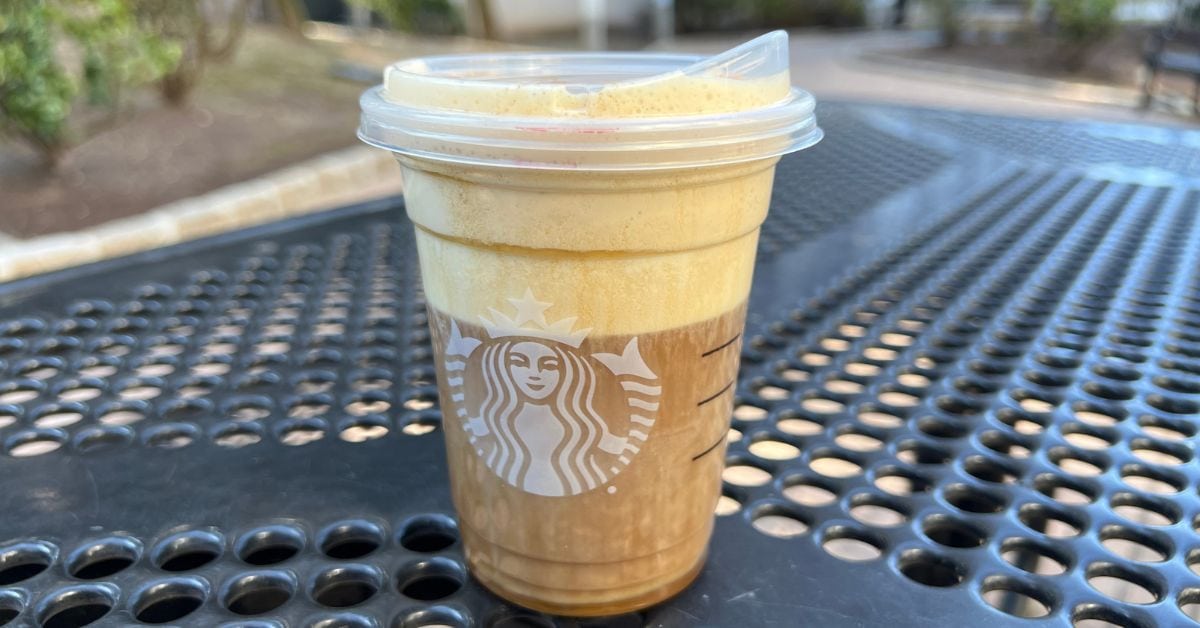 What Is the Cinnamon Caramel Cream Nitro Cold Brew?
Starbucks' Cinnamon Caramel Cream Nitro Cold Brew — which might be the longest name for a coffee drink yet — is the latest innovation in their cold brew family. Once you get past the tongue-twister of ordering it, you'll get a dressed-up version of the brand's Nitro Cold Brew.
According to Starbucks, the drink "offers flavors of cinnamon and caramel that are swirled into Starbucks Nitro Cold Brew then topped with cinnamon sweet cream cold foam and a dusting of cinnamon dolce topping."
We didn't want to get too excited reading this description, but at first glance, everything sounds like a flawless combination. Starbucks said the inspiration for the drink was salted caramel, and we're not kidding when we say you could drizzle salty caramel on just about anything and we'd be down to eat it. No, we take that back. Everything.

Starbucks has had some misses over the years, though, and yes we're talking about the Unicorn Frappuccino that still gives us nightmares. The Cinnamon Caramel Cream Nitro Cold Brew, however, seemed like it would be a sophisticated drink for a lady, though, and we are nothing if not sophisticated she-devils.

How Much Caffeine Is In the Cinnamon Caramel Cream Cold Brew?
A grande version of the drink contains 185 mg of caffeine. The tall version has 145 mg of caffeine.
Here's a complete look at the nutritional information for the grande cold brew:
Calories: 250
Fat: 12g
Carbs: 33g
Protein: 2g
Sugar: 33g
Our Review: Does the Cinnamon Caramel Cream Cold Brew Actually Taste Like a Cinnamon Roll?
Right off the bat, from your first sip of the Cinnamon Caramel Cream Nitro Cold Brew, you're hit with the scent of cinnamon. But, much like Shrek, this drink has layers. They all blend together as you sip. In a tastier way then if you were drinking a melted ogre.
Anyway… what we like about Starbucks' Nitro Cold Brew is that it's rich and velvety without an acidic bite. So, when paired with the sweetness of caramel, the result is a luscious texture and flavor. And then there's the cold foam that we could eat with a spoon.
Where it seems to hang out on the top of the Pistachio Cold Brew, in this drink, it sinks slowly into the coffee sea below to add more sweetness to the drink and blends with the cinnamon.
Some people have likened the drink to a Cinnabon and we have to agree. The Cinnamon Caramel Cream Nitro Cold Brew tastes just like a cinnamon roll, frosting included. Now, if only we could get a warm version for the holidays…ahem, Starbucks?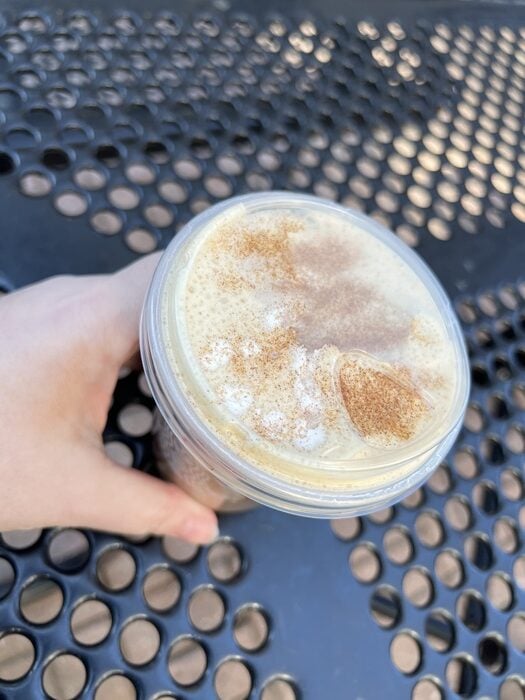 How Sweet Is the Drink?
If you're someone who likes a strong hit of coffee flavor, this drink ain't it. The Nitro Cold Brew has a more subtle flavor and the addition of the sweet cream and caramel, neutralizes the coffee flavor even more.
If you have an intense sweet tooth, you'll probably like this drink, too. The closer you get to the bottom of the drink, the sweeter it is — all the goodness sinks to the bottom for a sugary last sip.
But even though you aren't necessarily getting a bold cold brew kick, you will likely still feel the rush of cold brew. Your fingers may not stop shaking and your brain may be whirring from that sweet, sweet jolt of caffeine for the rest of the day.
Your boss is going to love your enthusiasm. The amount of emails you send with all caps, maybe not so much.
Latest posts by Hedy Phillips
(see all)