These days, it feels like there's an endless variety of Frappuccinos you can order at Starbucks. But, back when the Frappuccino first arrived in 1995, it came in two flavors: coffee and mocha. And neither came with whip. That was until 1999 when the coffee giant debuted the now iconic Caramel Frappuccino.
Now, thanks to customer secret menu creations, there's every possible variation you can think of, from the Twix Frappuccino below to pretty pastel versions that make it look like you're sipping on pure sugar. Oh, you are? Carry on, then.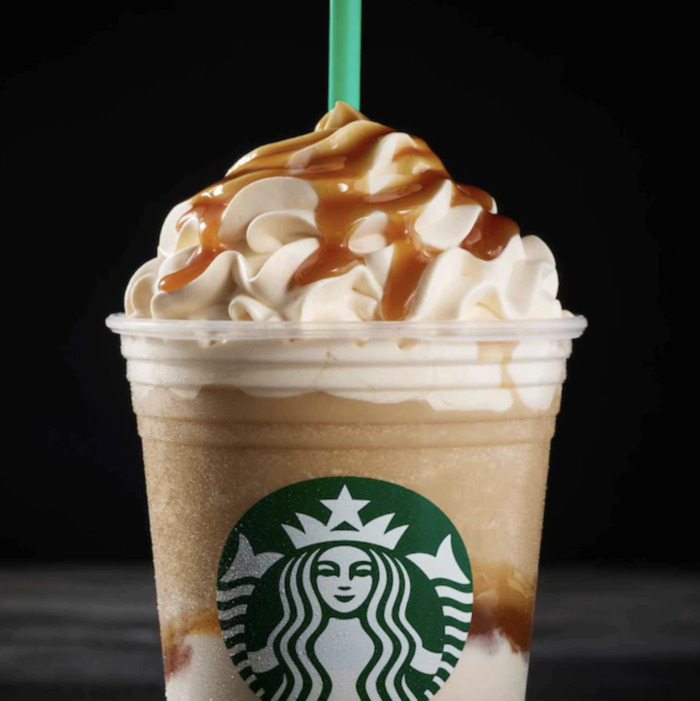 Despite the need for a stronger cup of coffee in the morning these days, we still find ourselves drawn to our O.G. Starbucks order when the summer heat hits just right. And if Juicy Couture can be trendy again, we can certainly drink one of these in the afternoon.
So, here's a look at the history of the Caramel Frappuccino and a some different ways you can order it.
When Did Starbucks Launch the Caramel Frappuccino?
Starbucks debuted the Caramel Frappuccino in 1999. It was just a few years before The O.C. catapulted Death Cab For Cutie to mega stardom and people hadn't started wearing jeans under their dresses.
The new slushy beverage was the first on the Starbucks menu to be crowned with a mountain of whipped cream, a dome-shaped lid, and the now iconic green straw. Which even though Starbucks is now thankfully phasing out in lieu of more environmentally-friendly reusable cups and tumblers.
"At the time, domed lids were radical thinking, so was the idea of adding whipped cream," said Dina Campion, Starbucks Director of Partner & Asset Protection who then managed the Southern California stores. She is one of the managers responsible for bringing Frappuccinos to the mass market.
Secret Menu Variations on the Caramel Frappuccino
1. The Light Caramel Frappuccino
This isn't a true secret menu option, but if you're looking to shave a few calories off your Frapp, order the drink "light." The barista will make it with sugar free syrup, nonfat milk, and without whipped cream. It'll be 100 calories.
2. Twix Frappuccino
Order a Grande Caramel Frappuccino.
Ask for 1 pump caramel syrup.
Ask for 1 pump hazelnut syrup.
Ask for dark chocolate curls and whipped cream blended together.
Top with whipped cream, caramel sauce, and mocha sauce.
3. Caramel Lover
4. Starbucks Copycat Caramel Frappuccino
If you're far from a Starbucks or want to make your own at home, blend all of the following ingredients and top with whipped cream.
½ cup coffee, brewed strong
½ cup milk (they recommend low fat)
3 Tbsp.caramel sauce
4 tsp. sugar
1 cup ice
Order a grande Caramel Ribbon Crunch Frappuccino without the caramel syrup.
Ask for 2 pumps white mocha syrup.
Ask for
Add chai syrup (1 pump for a tall, 2 for a grande/venti or 3 pumps if you prefer extra sweet)
Latest posts by Leah Mulroney
(see all)